Campaigners lose court case to stop Ugandan forest clearance | Global development
Conservationists in Uganda have condemned as "shallow and absurd" a court ruling that authorised the government to allow swathes of a tropical forest to be cleared for a sugar-cane plantation.
Three environmental groups had taken the government to court over a decision to allow Hoima Sugar Ltd to build on 5,500 hectares (13,500 acres) in the Bugoma Forest Reserve.
Alongside sugar, the firm plans to build schools, a market and a hospital, as well as develop an ecotourism centre.
The Water & Environment Media Network, the National Association of Professional Environmentalists and the Africa Institute for Energy Governance (AFIEGO) filed a lawsuit against the government's environmental agency, the National Environment Management Authority (Nema), and the company in September.
The contested land was leased to Hoima Sugar in 2016 by Solomon Iguru Gafabusa, king of the ancient kingdom of Bunyoro-Kitara, who said the land was ancestral and not part of the protected forest.
Last week, Justice Musa Ssekaana, head of the high court civil division, threw out the case. He said it was based on unsubstantiated allegations to win public sympathy and mislead the court.
"It appears the applications in this matter were premised on distorted facts and the applicants have attempted to suppress the real facts in order to make a 'flowery' case in court by exaggerating that the entire forest is being cleared for sugar-cane planting," said Ssekaana in his ruling.
Dickens Kamugisha, chief executive of AFIEGO, said: "The whole ruling is very shallow and absurd. The judge completely failed to appreciate the legal questions relating to the issues to be determined."
Robert Akugizibwe, secretary of the Association for the Conservation of Bugoma Forest, said: "We express our dissatisfaction that once again a court of law is wasting an opportunity to clear the ground on the shameful matters related to the destruction of Bugoma forest."
The reserve, 155 miles (250km) north-west of the capital, Kampala, covers more than 40,000 hectares (100,000 acres). It is the largest remaining block of natural tropical forest along the Albertine rift valley and was due to be designated a national park.
Campaigners said the reserve plays an enormous role in preserving wildlife migration corridors. They plan to appeal against the decision.
The forest is home to more than 34 species of mammals, including nine on the International Union for Conservation of Nature's Red List of Threatened Species, including grey-cheeked mangabeys and 600 chimpanzees. There are 255 species of birds and 260 species of trees.
'Cancer care can't stop': flood-hit Assam hospital uses boats to reach patients | Global development
When the flood water roared into her home in Assam, Jyoti Bora* saw the morphine pills she takes for head and neck cancer swept away along with all her belongings. At the relief camp she was evacuated to, Bora, who uses a wheelchair, found a boat to take her to the hospital to get more medication.
But when she got to Cacher cancer hospital and research centre she found the entrance flooded – the water was 1.5 metres high. A hospital orderly and a nurse were dispatched in a raft, made from planks of plywood tied to tyre inner tubes, to collect her.
"Initially, she refused to get on. She was very frightened. As it is she is frail. But she knew she could not manage without her morphine injection," says her doctor, surgical oncologist and deputy director of Cacher, Ritesh Tapkire. "That's how our outpatients have been coming for radiation, chemotherapy and pain relief for the past week."
About 5 million people in Assam, in India's north-east, have been affected by the worst floods in decades, which began in April and show little significant signs of easing. Entire villages have been submerged. More than 114,000 hectares (280,000 acres) of crops have been damaged and 5,000 livestock washed away. The army and relief workers are providing food, medicines and drinking water to 780 camps for those displaced by the flooding.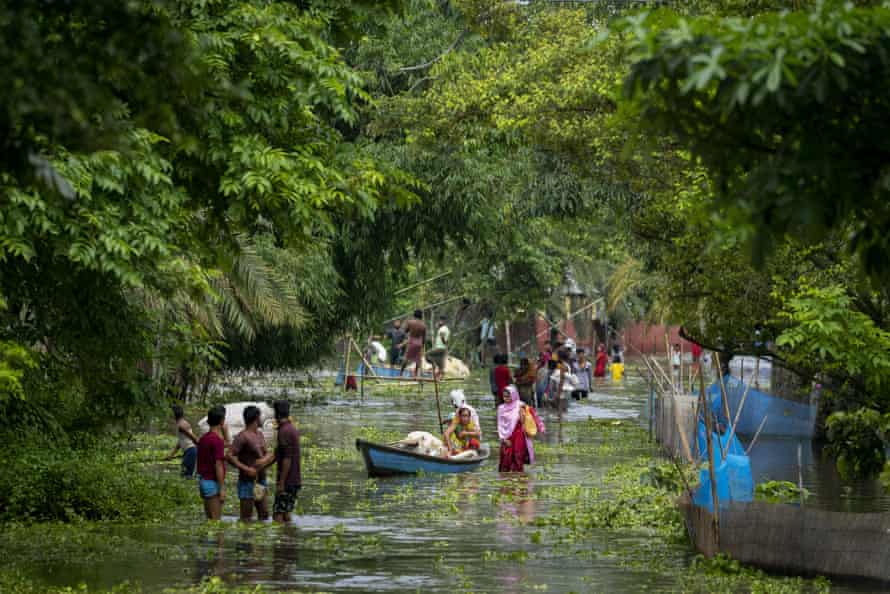 Cacher hospital, which has 150 beds and treats 20,000 patients a year, got off fairly lightly. One building was flooded at the end of June, along with the nurses' hostel, but the wards were spared as they are built on higher ground. Radiation and chemotherapy have continued for the 100 patients admitted to the hospital, although a lack of anaesthesia meant only four operations were carried out in a week, instead of the usual 20.
Since the floods, the big issue for staff has been ensuring patients continue receiving treatment. People travel to Cacher hospital from all over the state. It is run by a non-profit and most patients are on low incomes and receive free or subsidised treatment. The north-east of India is known as the "cancer capital" of the country, and cases are double the national average. Lifestyle is a big factor – high consumption of alcohol, betel nut and tobacco – combined with low awareness of symptoms, late detection and a lack of oncologists and facilities to diagnose and treat cases.
Cacher staff have been calling patients who have not kept appointments to check they have enough medication. They have also got into boats to collect people from their homes and bring them to the hospital, and made rafts to take them inside. They have also set up a makeshift outpatient department (OPD) on a patch of dry land outside the hospital to give out basic medicines and pain killers. Morphine injections given here too, in the middle of swirling flood waters, for patients too scared of the raft ride into the hospital.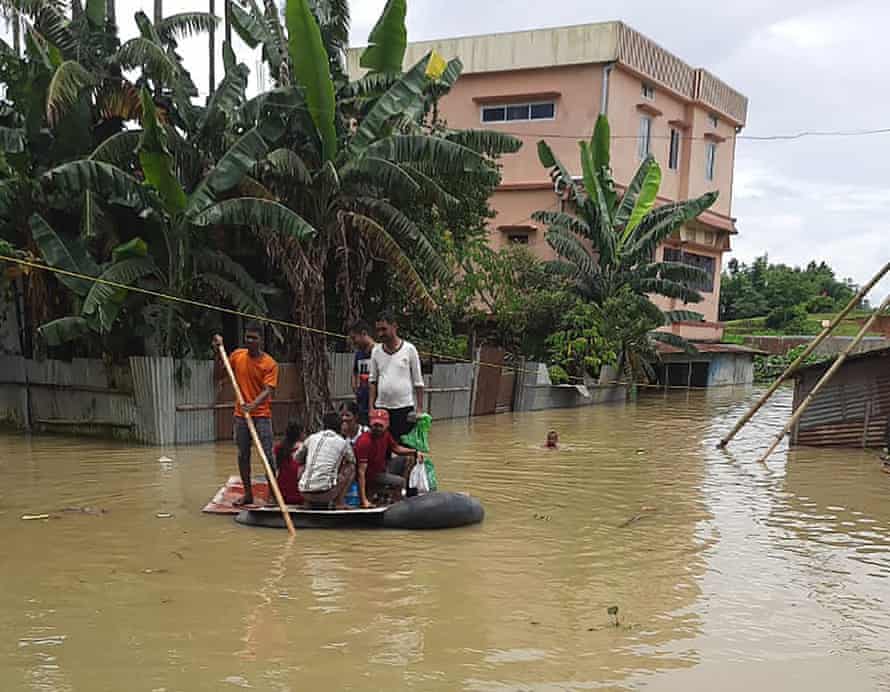 "A patient with multiple myeloma came for her chemotherapy session and she refused to get on to the raft. She was petrified. Fortunately, her chemotherapy was only one hour long, did not need close monitoring or have side-effects, so after checking her vitals, we administered it on the dry patch," says Tapkire.
Last Monday, the niece of an elderly woman with metastatic breast cancer called the hospital in tears, asking for help. The hospital director, Dr Ravi Kannan, dispatched a team from the hospital to collect her. The woman had to be lowered from the second floor of her home, where she and her family had sought safety, into a boat and taken to the hospital.
The State Disaster Response Force has now given the hospital inflatable boats and rafts to make ferrying patients to and from the hospital a little easier.
Kannan is worried people are missing out on treatment. On a normal day, the OPD has between 150 and 200 patients. In the past week, it has seen only 40 people. "We need to reach out to every patient who has not been able to come. Cancer care cannot be interrupted. It bothers us no end," he says.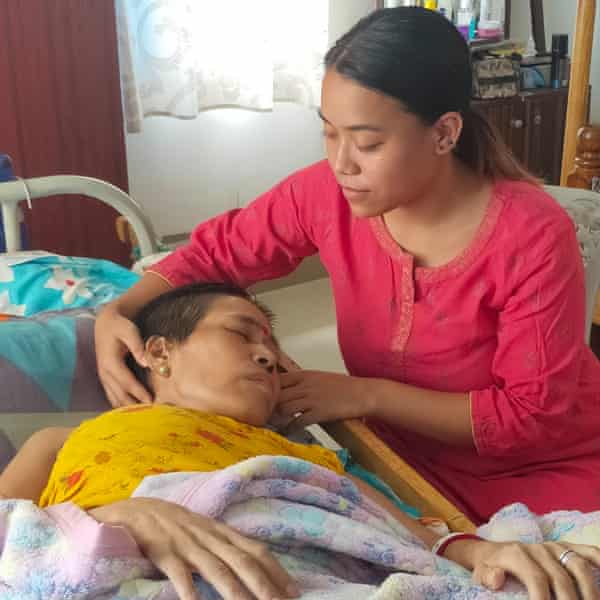 Ranjita Singha, 60, who has cervical cancer, ran out of morphine and was unable to reach the hospital. Her daughter, Babita Singha, is her main carer.
"When the doctor called, I told them that my mother had only one pill left. They arrived here by boat to give me more pills and also gave her a morphine injection for immediate relief," says Babita.
The woman with metastatic breast cancer who was rescued from the second floor of her home died the next day. Kannan says he wondered if bringing her to the hospital was the wrong decision. Until he received a note from her niece.
"For days they had sat by her, dreading her dying, surrounded by water, in the dark in the middle of the night. By bringing her to hospital, where she had light and medical care; the niece said we had spared the family the agony of living with such a painful memory," says Kannan.
* Name changed
Sign up for a different view with our Global Dispatch newsletter – a roundup of our top stories from around the world, recommended reads, and thoughts from our team on key development and human rights issues, delivered to your inbox every two weeks:
Eduardo Zapateiro: Colombian army chief resigns to avoid appearing beside president-elect Petro at inauguration | International
General Eduardo Zapateiro, the commander of the Colombian army, resigned on Tuesday to avoid appearing beside president-elect Gustavo Petro at his inauguration on August 7. "After 40 years in service, I bid farewell to the Colombian people, giving my heartfelt thanks to all my soldiers," he announced.
Zapateiro, who comes from the hardline wing of the armed forces, has been a vocal opponent of the leftist leader. During the presidential election campaign, the army commander controversially spoke out against Petro on Twitter – a move that was condemned as unconstitutional. Incumbent President Iván Duque, however, defended Zapateiro, arguing that the general was sharing his point of view – not taking a political stand.
Zapateiro announced his retirement just one day after Petro told EL PAÍS that he planned to change the leadership of the armed forces. "This leadership was deeply imbued by the political line of the executive [of Iván Duque] now reaching the end of its term. But this path is unsustainable and turns our security forces into a victim, as they have been led to perpetrate grotesque violations of human rights. What we are proposing will make our security forces democratically stronger," he said in the interview.
The Colombian general has often raised eyebrows with his behavior. Following the death of Jhon "Popeye" Jairo Velásquez, a henchman for drug lord Pablo Escobar who had killed dozens of people, Zapateiro sent his condolences to his family and said he was saddened by his loss. To this day, no one has explained why the general made these statements.
In Colombia, the government and the military have a complex relationship. The country has fought for decades against guerrilla groups such as the Revolutionary Armed Forces of Colombia (FARC) and the National Liberation Army (ELN). The ongoing armed struggle placed the military in a position of great power. Indeed until the 1990s, the armed forces controlled the Defense Ministry. As in many other countries, the Colombian armed forces are a conservative group that is highly suspicious of leftist ideas. The peace agreement, for example, that ended five decades of conflict with the FARC, divided Colombia's troops. Zapateiro initially supported the accords, but over time, became an outspoken critic.
What kind of relationship Petro will form with the military remains to be seen. As a politician, he has been very critical of the army's focus on targeting internal enemies. The Colombian armed forces have been fighting against guerrilla groups and drug gangs for decades. During this conflict, they have often overstepped their bounds and violated human rights.
In the early 2000s, a scandal broke in Colombia when it was revealed that military officers were carrying out summary executions of innocent civilians and listing them as guerrillas killed in combat. These so-called "false positives" took place in different regions of the country between 2002 and 2008 and were used as proof of performance by military units and to collect "kill fees" awarded by the government of former president Álvaro Uribe. A total of 6,402 innocent people are estimated to have been killed in these summary executions. Just a few months ago, several civilians also died in suspicious circumstances during an army operation in Putumayo.
With Petro elected as Colombia's first leftist president in modern history, it was no longer tenable to have Zapeteiro leading the armed forces. The Colombian newspaper El Espectador published an editorial to that effect, with the headline: "Isn't it time to retire, General Zapateiro?"
Petro aims to tackle corruption within the army, which he believes is home to extremist factions. "There are currents in the far right that must be eliminated. Some are talking openly about coups and things like that. But look, within the army there are no factions friendly to Petro, there are factions friendly to the Constitution," Petro told EL PAÍS.
Canada should focus on abortion access not legislation, advocates say | Global development
Abortion advocates are warning that the recent US supreme court ruling overturning Roe v Wade will empower anti-choice groups in Canada to push for restricted access, making a settled matter appear controversial in a country where nearly 80% of people are pro-choice.
A key anti-choice strategy in Canada revolves around enacting abortion legislation – an idea that has been gaining traction amid the fallout of the US court ruling. There is currently no abortion law in Canada, making it the only country in the world where the procedure is totally free of legal restrictions.
"There's a lot of talk right now about whether or not the Canadian government should pass a proactive law protecting our right to abortion – a pre-emptive strike, if you will. That would be a big mistake," said Daphne Gilbert, a law professor at the University of Ottawa.
Gilbert and other abortion advocates say that while enshrining abortion rights may sound progressive, the opposite is true: consolidating rules would make it easier for anti-choice legislators to retract abortion rights if ever they found themselves in a majority. Last year, 81 Conservative MPs (and one independent) voted for anti-choice legislation.
And while the prime minister, Justin Trudeau, promised Canadians after Roe that his government would "always stand up for your right to choose", advocates argue that may not always be true.
That's why the country should focus on entrenching people's rights by expanding abortion access, said Gilbert.
Since it became legal in a 1988 supreme court ruling, abortion in Canada has been designated as a medical service like any other, on par with procedures like X-rays and blood tests. But that doesn't make it easy to get – especially in remote, religious or conservative parts of the country.
In 2014, Sarah (who asked to remain anonymous) sought an abortion on Prince Edward Island (PEI) – a province of 30,000 that, at the time, did not have a single publicly operating abortion provider.
It took Sarah a month to finally secure a provider – five hours away, in another province. The trip incurred travel and lodging costs, but the procedure itself was covered by the healthcare authority.
"The idea that anybody has to travel to take care of something that you should be able to get done close to home – it's not fine," said Sarah. Abortion care only arrived on PEI in 2017, after activists sued the provincial government for acting unconstitutionally.
Although there is no federal law, each province's medical college sets its own guidelines on abortion, including gestational age limits for use of the abortion pill.
Those guidelines are shaped by the skills and training available in each province, said Martha Paynter, an abortion care provider in Nova Scotia and the author of the new book Abortion to Abolition: Reproductive Health and Justice in Canada.
But there is also a political dimension to providing abortion care that prevents some doctors and nurse practitioners from taking it up.
"More people could be doing it than are doing it," said Paynter. "We as educators – I'm a prof at a nursing school – have the responsibility to teach in every medical and nursing program how to do this care, and hardly [any school] does it."
Paynter is the creator of the country's first university abortion course, at Dalhousie University, which is open to students across medical, nursing and other health programs with the purpose of inspiring future health workers to integrate abortion access into primary care.
The Society of Obstetricians and Gynaecologists offers an online course to teach professionals how to prescribe and manage medical abortion.
But most students and healthcare professionals are not required to learn about how medication and surgical abortion work – and many choose to abstain because they are afraid to enter the political fray around abortion.
According to Gilbert, that means a lot of primary care providers stay wilfully uninformed.
"A lot of doctors just aren't political people. They're scientists, and they don't see the politics behind some of their care," she said.
Further complicating access is the fact that many Canadians are unaware that nurse practitioners in the country are permitted to prescribe the abortion pill and refer patients to surgical abortion providers – or that most patients can self-refer directly to an abortion provider.
Addressing these issues is critical to expanding existing access to medication and surgical abortion, said Paynter and Gilbert.
In 2017, Natalie (also a pseudonym) discovered she was pregnant while visiting her parents in a small town in northern Alberta. After one doctor at a local walk-in clinic told her abortion was murder, she demanded an appointment with a different doctor.
That doctor told her that there was no such thing as medical abortion. "He looked me in the face and said, 'That doesn't exist,'" she said.
Mifegymiso – otherwise known as the abortion pill – was approved by Health Canada in 2015, but had only recently hit the market when Natalie found herself at the doctor's office.
"I know it exists. It's literally the front page of the news," she told him.
Still, she went away empty-handed. She was only able to get an abortion after returning to her home province of New Brunswick, where only three hospitals and one clinic provide abortion. Natalie went to the clinic, where she paid $800 for a surgical abortion – a cost incurred because the province refuses to pay for abortions performed outside of hospitals.
New Brunswick is currently being sued for its restriction of abortion.
Stories like those of Sarah and Natalie show how abortion remains inaccessible in Canada, despite its federal legal standing.
"Our greatest problems really come in terms of provinces and what they may do to restrict access to abortion in light of what I think is now going to be a really emboldened anti-choice movement," said Gilbert.