Camels bearing healthcare deliver hope in Kenya – photo essay | Global development
Thirteen camels amble their way across the dusty, drought-stricken landscape, accompanied by seven men in bright yellow T-shirts and three nurses. The camels are loaded with trunks full of medicines, bandages and family planning products. It's a mobile health clinic on hooves. When the camels arrive at their destination, men, women and children form a line as they wait for the handlers to unload the boxes and set up tables and tents.
Among those waiting is Jacinta Peresia, who first encountered the health visitors six years ago after she nearly died giving birth to her 11th child, a daughter called Emali.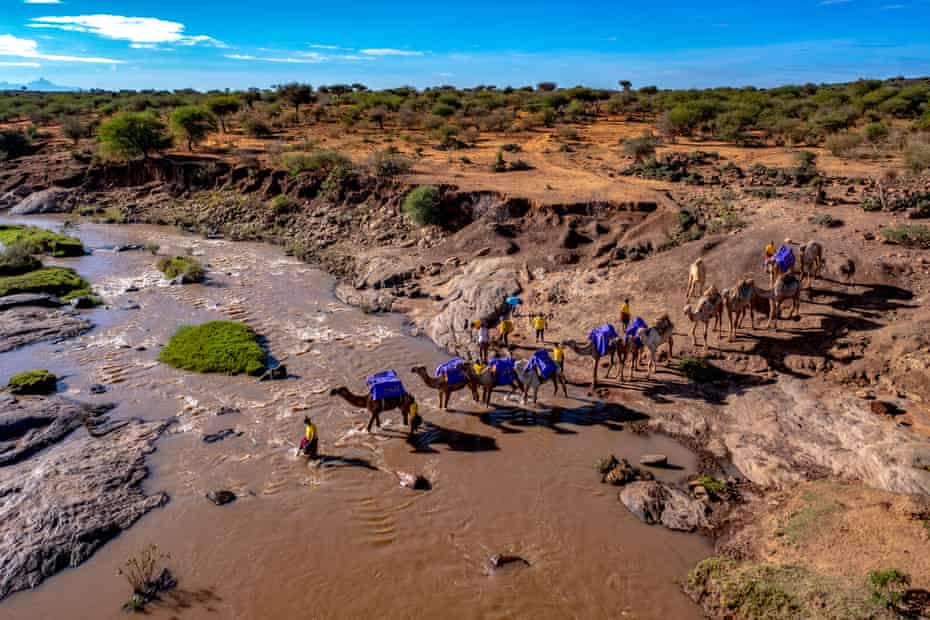 Peresia's husband had been hesitant to allow her any reproductive healthcare but the near-death experience prompted him to encourage her to speak to the nurses, and she was given contraception.
"Growing up, I didn't know it was an option to plan my family and have the number of children that I could comfortably look after. Poverty and my continued weak health have forced us to make this choice. Money went a long way in the past. Now we tell the girls not to get tricked into early marriage."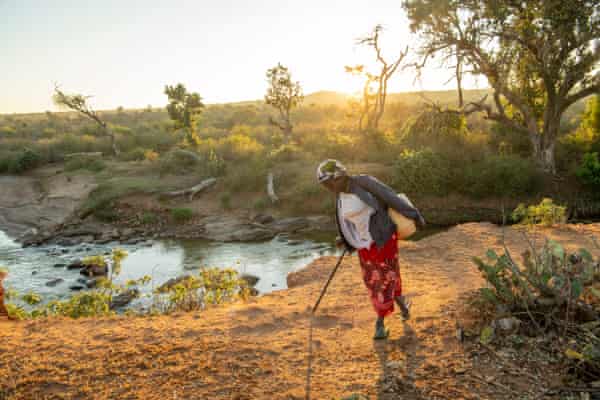 Peresia lives in Lekiji, a remote village set between the Ewaso and Nanyuki rivers in thorny scrubland in central Kenya, about 50 miles from the nearest town, Nanyuki. It is a place of natural beauty and a rich prehistoric heritage dating back millions of years, but the area's natural resources are diminishing. It is not uncommon for people to come into contact with elephants as they compete for water and pasture. More and more people are looking for dwindling resources such as firewood, water and grazing for their animals. Lack of economic opportunities is putting more pressure on people and the fragile ecosystem. There is no secondary school, which means that most children end their formal education at primary school level and teenage marriage is common, particularly for girls.
Access to healthcare is expensive and, in an emergency, villagers are forced to walk for hours to the nearest health facility. For women, the lack of facilities, combined with patriarchal attitudes, means they have had no control over their reproductive health. But Communities Health Africa Trust (Chat) organises mobile healthcare outreach to poorly served communities such as Lekiji. Chat identifies vulnerable communities with limited access to health facilities and significant family planning needs, and brings health provision and education to their door.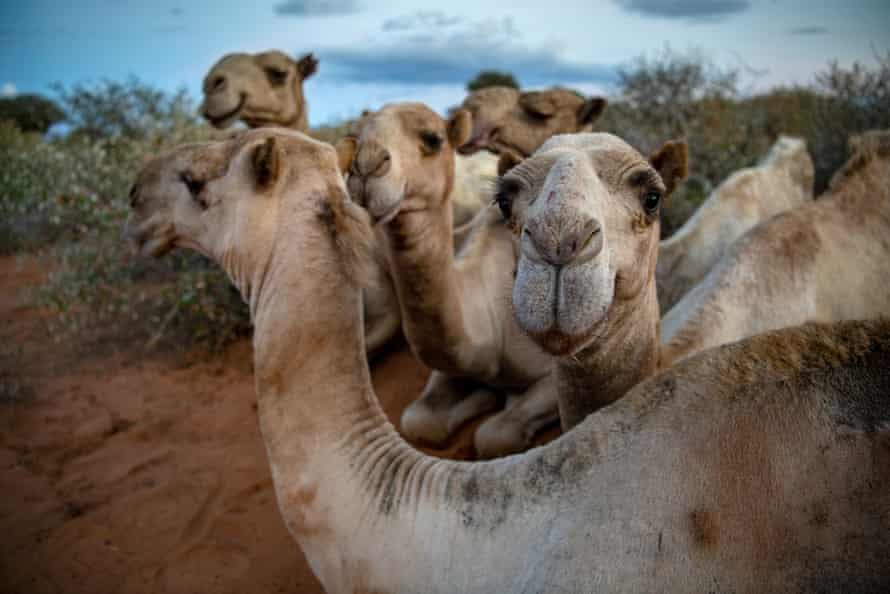 Lack of roads is no barrier to their work. If they cannot reach the communities by car, they switch to an older form of transport: camel. In the past three years Chat has reached more than 100,000 people with behaviour-changing messages that focus on family planning but include TB, HIV and Covid prevention services across 14 counties in Kenya. About 37,000 women have chosen longer-term family planning methods.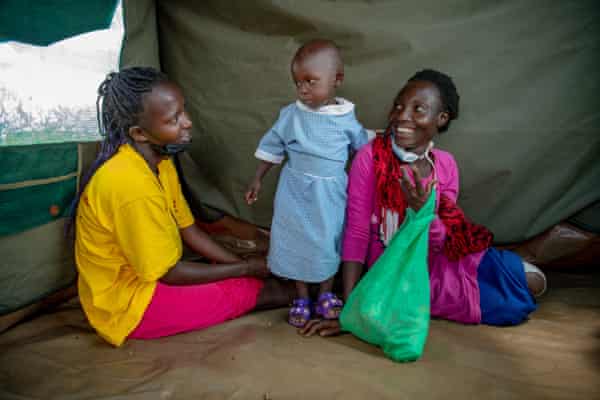 Susan Oyan, 23, is a mother of three children under six. Her best friend is 19-year-old Elizabeth Kibatis. Kibatis is trusted in the community, especially among her peers. She meets friends to teach them about the options they have to plan their family. "In the beginning, people did not want to have conversations about family planning. I started with three friends, including Susan, and it created this ripple effect. The realities of life – not enough food, firewood, water and people [forced] to take menial jobs to make money – are making people think differently about the choices they can make for their families."
The main reason women do not explore family planning is generally because of men, she says. "If a husband finds out, they do bad things to the women. That's why we try to get men involved, make them understand that reproductive health services benefit everyone, and improve their wives' wellbeing. Rampant misinformation has not made it easy. They say that birth control makes you sick."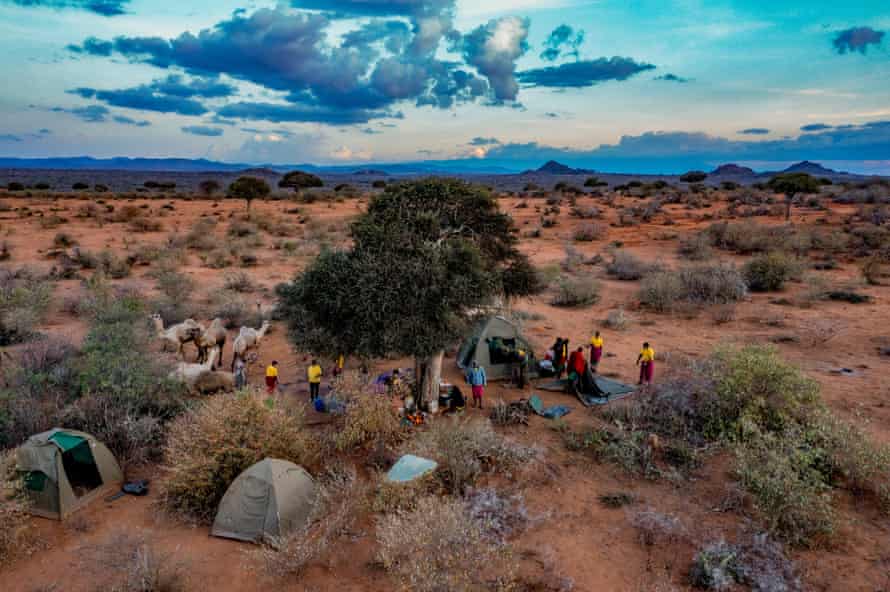 Despite the misleading claims, Kibatis has become a role model for the other young women in Lekiji. She works with Chat providing information, dispelling myths around family planning and then convincing other women and girls of the benefits of having control over their own bodies and being able to afford to take care of their children. Everyone is included in these conversations so that men and boys can't brush off family planning as "women's business". She has been taking birth control and is planning to have children in four years, after completing her catering studies in Nanyuki. She has clearly had an impact. When schools shut down due to Covid only one schoolgirl from Lekiji got pregnant, bucking a national trend: over a period of three months in lockdown, 150,000 teenage girls in Kenya became pregnant, a 40% increase in the country's monthly average.
Kibatis is among the women waiting patiently for a three-year birth control implant from the mobile clinic.
At the centre of Chat's approach is linking people's health needs to nature, raising awareness of how poor natural resources can worsen health, and how poverty can have a negative impact on the environment.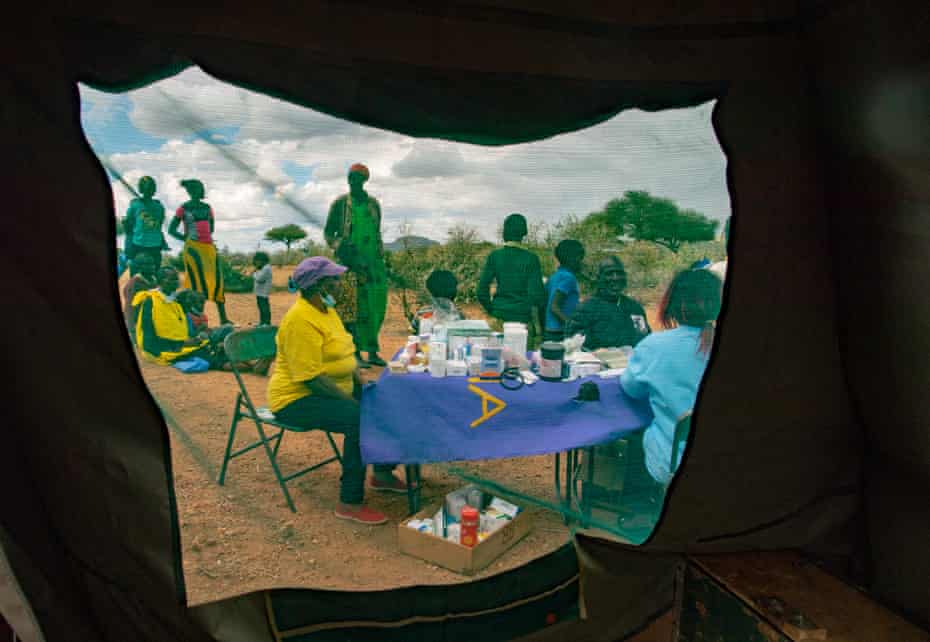 Peresia has noticed that people are sick more often than they used to be. Children are getting stomach problems, which she believes is from the muddy water they are forced to drink from hand-dug wells in dry riverbeds. Stress levels are high because there is no more pasture for the livestock.
"The environment has been destroyed. We have fewer trees [because of the need for cooking fuel], minimal grass, and sometimes the river dries up. We often have to try to dig for water in the dry riverbeds, but the water is dirty. I now know why it's getting worse. It's because of climate change. During the day, it feels like the sun has come lower in the sky and is closer to us. The trees are starting to die. If trees disappear, what else is left?"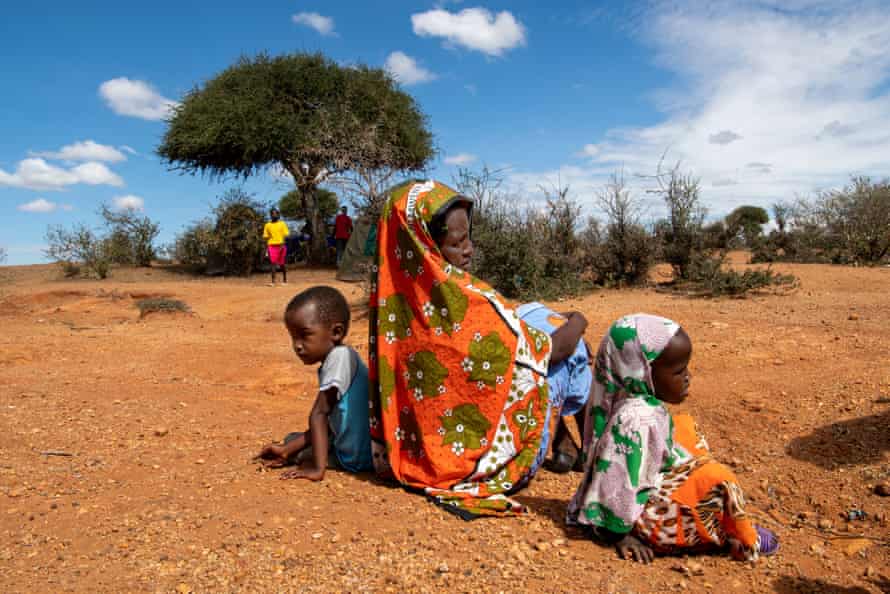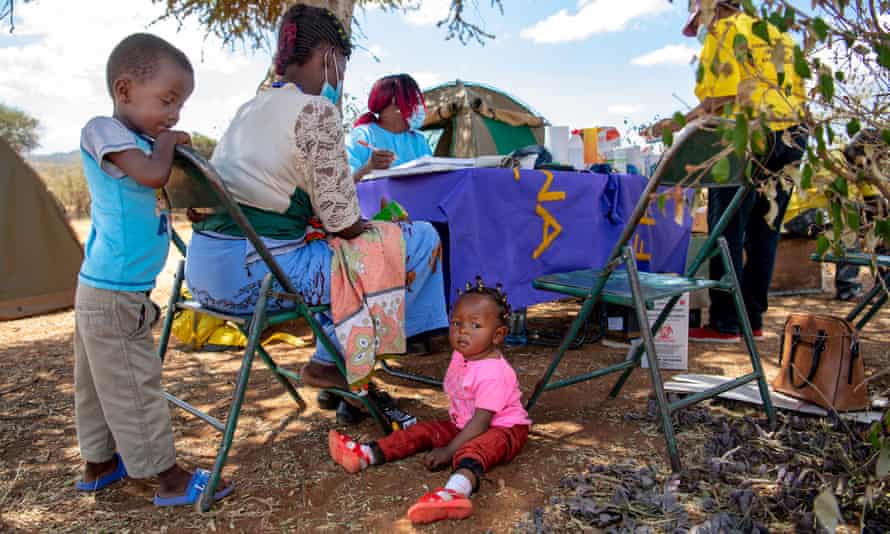 Today, Peresia encourages her children to only have the family they can support. Her eldest son recently got married and his wife is about to have their first child. She says: "I tell all of my children, particularly the boys, 'Two is enough!'" She thinks it's not environmentally sustainable for the planet to have more than two children. She has learned to recognise the interconnection between people, their health and the natural resources on which they depend.
"As the world changes, we need to change too," Peresia says, and proudly shows off 11 trees she has planted to help with reforestation efforts in her community.
Wanjiku Kinuthia is a conservationist with Maliasili.

Ami Vitale is a photographer and film-maker.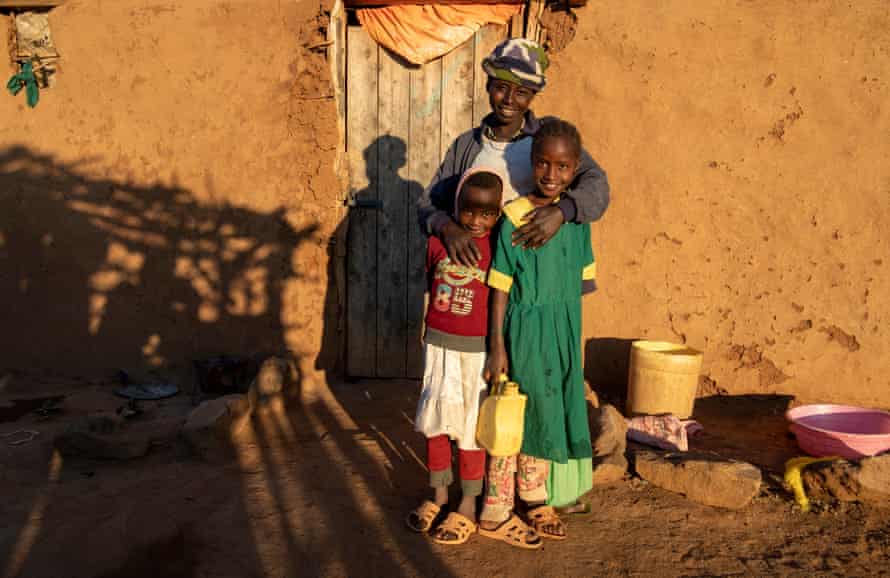 Sign up for a different view with our Global Dispatch newsletter – a roundup of our top stories from around the world, recommended reads, and thoughts from our team on key development and human rights issues, delivered to your inbox every two weeks:
Why the honeymoon is over for start-ups in Latin America | Economy and Business
For a young entrepreneur with an idea for a digital business, the last two years have been golden. The monetary authority in the US injected $7 trillion into the financial system to soften the blow of the pandemic and interest rates were at zero, which generated a sense of invincibility in the markets. In this climate, 12 Latin American companies became unicorns last year, a term reserved for firms that are valued at over $1 billion, setting a new record for this low to middle-income region. Moreover, there were hundreds of other businesses that raised large amounts of capital from Wall Street, just falling short of this benchmark.
But what goes up must come down and now the party is over. Such an injection of capital by the US Federal Reserve generated high inflation; the Fed is now reversing course to control the rise in prices and the market has reacted aggressively. On the morning of May 20, the financial media officially declared a bear market, which refers to the decline of major stock indexes by at least 20% from their highs. Inflationary concerns, rising interest rates, persistent supply chain disruptions from Covid-19 and the war in Ukraine are wreaking havoc on the global economy and consequently on its backbone, the global financial system.
Investors who once felt invincible are now seeing losses and red numbers. In the first three months of the year, funding for new businesses dropped 60% from its peak in 2021, when it reached $7.3 billion in the second quarter, according to Latin American data from analyst firm CBInsights. Meanwhile, in the first quarter of this year, the number of new unicorns reached its lowest level globally in five quarters. On top of this, not a single Latin American company had an initial public offering on the international market.
"The best way to read the market, I find, is to view it as a pendulum that swings between stories and fundamentals," says Scott Galloway, a professor at New York University's business school and one of the world's most influential technology and financial analysts. "Stories, as in, the narrative, vision, and sentiment that drives the company forward. Fundamentals, as in, how the business is making money. For the past few years we've been deep in the story phase, and this is especially true in Latin America".
The region had become an "assembly-line for unicorn production," in Galloway's opinion, boosting the global unicorn count to stratospheric levels. However, many of these companies will have no choice but to greatly reduce their operations as the pendulum swings back, and this already appears to be happening. Examples include digital companies like Netflix, which has just had massive layoffs, to smaller companies like Brazil's QuintoAndar and Loft Brasil Tecnologia, both of which made more than 100 people redundant last month.
"The pain you're seeing in the public markets — especially among the more narrative-driven stocks —eventually bleeds into the private markets," says Galloway. "Many of these young entrepreneurs have spent their careers in a bull market, and have never heard of a down round. But that's about to change. Valuations will fall, capital won't be so cheap, and investors in early-stage companies will not feel as smart as they did a year ago".
Criticisms and dangers
The timing for a bear market is coinciding with the difficulties that come with unbridled and sudden growth. Mexico's Kavak, a digital platform for buying and selling used cars operating not only in its home country but also in Argentina and Brazil, went from 300 employees in 2020 to 8,500 after becoming a unicorn. But the start-up, which operates through a mobile app, is facing an image crisis after complaints from a slew of users went viral on social networks about poor service.
"Torture from start to finish," reported one client on Twitter on April 1 in a thread cataloging her experience that subsequently went viral. Thousands added to the complaint. The noise was such that Kavak CEO, Alejandro Guerra, was forced to respond. "We are not perfect. We make mistakes; technology fails," Guerra said at a recent conference. "We are fully aware of what happens on social networks."
For many in countries in this region, digital startups that have grown into huge structures have failed to live up to expectations. Despite raising billions in capital, their business model continues to rely on the low wages and precarious job security which is standard for millions of Latin Americans. A report published in March by the non-governmental organizations Oxfam Mexico and the Institute for Inequality Studies (Indesig) found that the average income of a delivery driver for platforms such as Uber, DiDi and the Colombian unicorn Rappi is 2,085 pesos ($104) per week. In contrast, the companies are enjoying profits running into the millions.
These are "the shades of light and dark of an industry and a business model that is here to stay," says Alexandra Haas, director of Oxfam Mexico. "This is why it is extremely important to flag up the situation and improve the work model used by the platforms, as well as the labor system and access to rights in our country. Companies, authorities and society in general must promote a universal social protection agenda that, on the one hand, maintains the labor flexibility desired by the delivery workers and, on the other hand, means rights are guaranteed across the board."
This is where the big challenge lies for Latin America, according to Galloway. "Big Tech has generated enormous wealth in the U.S., which is something we should be grateful for," he says. "But over the past decade, we allowed Big Tech to overrun our nation and this is something Latin America should learn from as these tech companies expand. Our biggest mistake was chronically underinvesting in our regulatory bodies, leaving private capital to emerge as a shadow government. This stemmed from a major cultural problem — specifically, our idolatry of innovators. We equate wealth with virtue and do not hold the innovator class, or their firms, to the same standards as old economy firms (or the general population)".
According to Galloway, "the path forward in high-growth nations is to balance technological progress with respect for the rules and referees of business, i.e. regulation. Without regulation, monopolies emerge, stamping out competition and progress below. The state of American democracy in a digital era should be a warning sign for emerging nations around the globe."
Too many have suffered under Ghana's abortion laws. Ending Roe v Wade risks our hope for change | Bisi Adjapon
No one knew she'd had multiple abortions. Not even me, a lifelong friend. "I can't even count how many times I had to do it. He wouldn't let me use contraception and he wouldn't wear anything." Sitting opposite her at a restaurant, I felt deep anguish. This was a prominent Ghanaian official.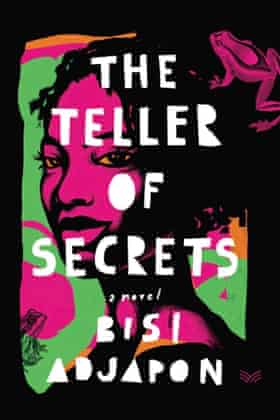 She told me how my novel, The Teller of Secrets, had stirred memories she had tried to suppress. It was not the only shame-filled confession triggered by the book. An award-winning Ghanaian film-maker messaged me to share harrowing accounts of a Muslim woman's abortions she couldn't make public. Literary friends of mine have confided similar pain. Almost every African woman I know, mid-30s and above, has had an abortion or two, or more.
A male relative confessed to me, with minimal repentance, how he subjected women to abortions rather than permit contraception, even threatening to leave them if they didn't comply. In a culture where marriage validates women, they are often powerless to refuse. But nothing compares to the horror a child must feel when she finds herself pregnant, like when my 13-year-old niece was raped. Her mother, a staunch Christian, forced my niece to drop out of school and give birth, setting off a cycle of poverty, more children and a disastrous marriage that finally culminated in her tragic death. If her mother had allowed an abortion, I would have wept but refused to judge. I was in no position to help financially or adopt the baby. My niece is merely one illustration of child mothers.
Poor people send their daughters into servitude in wealthy homes where they're often forced to sleep with the master or older offspring. When a child is forced to give birth it can lead to a torn womb, or the wretched condition of fistula where the bladder is eroded.
It doesn't have to happen like this. Abortion is illegal in Ghana, except in cases of incest, rape, foetal abnormalities or when a woman's life is at risk. But ignorance, poverty, religious belief and stigma prevent girls and women from seeking abortion even when it would be legal.
Where it is illegal, money makes it possible. Many doctors willingly perform abortions for those with cash. Those who can't afford to pay subject themselves to dubious procedures under unsanitary conditions. Women guzzle whole bottles of gin or ingest harmful chemicals. Coat hangers have breached cervixes to provoke contractions. Women have had their wombs scraped without anaesthesia, have bled to death or contracted infections that have scarred their innards and left them infertile. When such a woman is caught, she is shamed and punished. It is only when she dies that society's wrath turns to the impregnator. Someone has to pay, after all.
In a land where so-called churches sprout up seemingly daily, where pastors have flogged pregnant teens or stomped on stomachs, fear of God's wrath paralyses. Lately, there have been calls to legalise abortion, pointing to its lawfulness in western countries, especially in the US whose influence prompted Ghana to overhaul its educational system in 1988. So now there is unease at the potential overturning of Roe v Wade.
Anti-abortion zealots in the US consider some forms of contraception as equivalent to abortion. The draft supreme court opinion does not refer to it, but some legal experts fear it could mean reduced access to contraception. The Republican governor of Mississippi has refused to rule out banning some forms of contraception. Bill Gothard, whose curriculum is used by many home schoolers, exhorts women to abstain from destroying babies through contraception, but to rather procreate to raise an army for Christ. At a seminar I once attended in Virginia, he quoted from the Bible that women will be preserved through childbirth, concluding that having multiple births is a fountain of youth for women.
Anti-abortionists have called for defunding Planned Parenthood and so international family planning programmes, whose largest donor is USAid, are already under threat. These family planning clinics provide nutrition, prenatal care, counselling and baby-wellness to the poor. They reduce abortions, and maternal and infant mortality.
So here's the question: since women are the ones who get pregnant, shouldn't they have unfettered access to contraception? Shouldn't they exercise the right to pull out any unwanted seeds planted by those who value them as little more than soil to be cultivated at will? Shouldn't any female be the decider of what happens inside her body, of what affects her future? Overturning Roe v Wade will rip agency from all women and embolden extremists worldwide.
We must raise girls who feel valued, who don't view marriage as aspirational, who are financially independent. Health workers must be better educated to stop shaming girls for seeking contraception. Most of all, Ghana's national insurance scheme must cover reproductive health, so that women's fate is less reliant on foreign policies. A woman's right to choose is a right that must be defended.
Sign up for Her Stage to hear directly from incredible women in the developing world on the issues that matter to them, delivered to your inbox monthly:
White supremacist extremism takes up arms in the United States | International
May 14 wasn't just another day of violence in the United States. There was a mass shooting at a Buffalo supermarket that cost the lives of 10 people and injured three more, but it was more than just another shooting: according to data from independent watchdog Gun Violence Archive, it was the 198th in the country this year. That equates to 10 a week (in 2021, there were 693). After the suspect was arrested, a customary ritual in such cases began: collective shock and grief broadcast live on television, the president's consoling words and calls to reopen the debate on gun control in a country where there are more firearms (around 390 million) than inhabitants (332 million).
On this occasion, there was an unexpected added ingredient: the motive of the shooter, an 18-year-old named Payton Gendron, who chose to sow terror in a district with the highest percentage of Black residents in New York State. The tragedy has once again put a spotlight on two growing cancers in the US: white supremacy and domestic terrorism (there were 107 attacks of this kind in 2020, more than twice as much as the previous year, according to the Center for Strategic and International Studies). Gendron had been intoxicated with both poisons through social networks such as 4chan and 8chan, and left a written manifesto of 180 pages that can be read like breadcrumbs on his path to hatred, which began at the same time as the pandemic.
He drew inspiration from Brenton Tarrant, who killed 51 Muslim worshippers in Christchurch, New Zealand, in 2019. Tarrant also live-streamed his assault and left a justification for his actions online, which he titled The Great Replacement, based on the 2011 theory put forward by French far-right philosopher Renaud Camus, who claimed that leftist elites, with a little help from the Jewish community, are trying to destroy the white race in the West through interracial marriages, uncontrolled immigration and increased access to voting among minority groups.
Gendron aspired to follow in the footsteps of Dylann Roof, who killed nine Black parishioners in Charleston; Robert Bowers, who shot dead 11 Jews at the Tree of Life synagogue in Pittsburgh, and Patrick Crusius, who carried out a mass shooting at an El Paso Walmart that ended the lives of 23 Latinos and immigrants. Gendron wrote the names of these and other extremists on the Axis XP hunting rifle he used in the shooting, as well as the slogan White Lives Matter.
One in three Americans believe in replacement theory
A recent Associated Press survey suggested these crimes should not be considered rampages by a group of impoverished evil-doing loners cut off from the world, but with an internet connection and ready access to assault rifles. According to the survey, one in every three US adults believes in a more or less radical version of Camus' replacement theory, in part due to the cheerleading of some members of the most extreme wing of the Republican Party and television stars such as Tucker Carlson, who presents the most-watched cable show in the US on Fox News, regularly pulling in up to 4.5 million viewers. As is always the case with Carlson, a living embodiment of cynicism, it is difficult to gauge how much he believes of what he says (Fox did not reply to several requests from EL PAÍS for a comment from Carlson). What is clear is that he uses the term a lot: according to The New York Times he has cited replacement theory in over 400 shows. It is also clear that many of his viewers buy such theories.
Underlying replacement theory is the assumption that as soon as 2045, according to the US Census Bureau, whites will cease to be the majority, making up 49.7% of the population, with Hispanics (24.6%), blacks (13.1%), Asians (8.8%) and other ethnic groups (3.8%) accounting for 50.3%. How the idea of such a "minority majority" will affect the balance of power between Republicans and Democrats is the source of great debate in the US.
Political scientist Yascha Mounk, a keen analyst of global populism, tells EL PAÍS that he believes it dangerous to present this data "as a clash between two mutually hostile blocks; whites against the rest. Both parties use this rhetoric for their own benefit: Democratic strategists see it as a given that this will swing the electoral balance in their favor, while the Republicans stir up fear, when nothing is that clear. For example, look how many Latinos voted for Donald Trump or take into account that the most extremist candidate in the Pennsylvania primaries [Kathy Barnette] is an African-American woman," says Mounk, who discusses replacement theory in his book The Great Experiment, arguing that the fundamental challenge for modern democracies lies in dealing fairly with increasingly diverse societies. And he is optimistic that this can be achieved.
The challenge of diversity
This is not the first time that the US has faced the challenge of diversity. "It is a theme that runs throughout our history. The arrival of millions and millions of immigrants from Asia and the Mediterranean region at the end of the 19th century is a good example. Another is the height of racist violence after World War I, when not only were Black people lynched but entire communities were destroyed," says Donald Yacovone, an associate at the Hutchins Center for African and African-American Research at Harvard University, who points out that the notion of white supremacy emerged long before that era. "It has deeper roots than any other aspect of American culture; more than democracy or Republican values. As such, those who have been educated in these lies about their superiority are terrified when they realize that the guys who have come to fix their roof or clean their pool are different to them, and speak a different language."
To demonstrate the persistence of these ideas, Yacovone is writing a book titled Teaching White Supremacy: The Textbook Battle Over Race in American History, in which he examines how education in the US has been shaped "from the Founding Fathers to the present day." Yacovone studied more than 3,000 school textbooks, in which he says he found some "genuinely atrocious examples. Even now, when school programs are more sensitive, it doesn't matter, because many parents, above all since the pandemic, opt for home-schooling and teach their children from decades-old textbooks, because they feel they are more patriotic. They do not like how children are educated in contemporary America and are terrified of concepts like critical race theory."
This school of critical analysis, which interprets racism as an endemic evil that permeates US society and that must be taught in-depth to achieve its neutralization, is one of the biggest battlefields in the contemporary cultural war. "What is worse is that the Republican Party has been kidnapped by a demagogue [Trump] capable of doing anything to rise to power and to remain there: annulling elections, denying many people the right to vote and encouraging white supremacism. Whatever it takes," says Yacovone.
Upswing since Trump's election win
African-American historian Nell Irvin Painter points out the irony of Gendron targeting a predominantly Black neighborhood – "our presence in this country dates back to the 18th century; we're not replacing anyone" – and agrees that "supremacy has always been there, but there has been an upswing since Trump came to power." Painter, author of the influential book The History of White People, adds: ""What is terrifying in this case is the combination of these toxic ideas and an 18-year-old kid's access to assault weapons designed for war; machines that can kill 10 people in two minutes." The History of White People, which explores the idea of whiteness from the Ancient Greeks through to modern-day America, was a best-seller when published in 2010 during the Barack Obama era, the president whose arrival in the White House it was hoped would lead the US to finally embrace "the end of racial conflict."
"Everything changed with Trump, who was already a racist and surrounded himself with people like Steve Bannon and Stephen Miller, who we knew had ties to white terrorist groups. They helped to bring these ideas in from the margins," says Painter. Bannon, whose support was crucial in opening the doors of the White House to Trump, left the administration days after a white supremacist rally in Charlottesville in 2017, during which a young counter-protestor, Heather Heyer, was killed when white supremacist James Alex Fields Jr drove his car into a crowd, injuring a further 35 people. The march, called Unite the Right, was a coming out for a patchwork of far-right groups and militias with names such as The Proud Boys, the 3 Percenters, the First Amendment Praetorians and the Aryan Nations, who would later take part in the assault in the US Capitol in January, 2021. Some of the groups' leaders are awaiting trial for the Capitol attack and their organizations, according to the South Poverty Law Center, have opted to "soften their points of view in line with the prevailing discourse."
It seems obvious that Gendron adopted these ideas away from the far-right mainstream, in the darkest corners of the internet, where conspiracy theories and paranoia manifest themselves in fascist memes, adulterated statistics and fake news, which adolescents consume without the necessary means to discern what is real and what is not, according to the Program on Extremism at George Washington University. "It was on social networks that he found other reference points, which are not being talked about much: the novel The Turner Diaries, by William Luther Pierce," says the writer Ishmael Reed, one of the most respected voices in the Black community in the US. Described by the FBI as "the Bible of the racist right," The Turner Diaries tells the story of a violent revolution that overthrows the government, bringing about a nuclear war and an ethnic conflict that ends with the extermination of the entire "non-white" population.
Reed, who says that Carlson should not be singled out for blame alone – "he is a mere employee, it would be better to point the finger at the Murdochs" – notes that The Turner Diaries was also found among the bedside reading of another extremist and the most infamous domestic terrorist in US history, Timothy McVeigh. In 1995, McVeigh killed 168 people by placing a truck bomb outside the Alfred P. Murrah Federal Building in Oklahoma City. "The Buffalo killer was also seeking that kind of fame," says Reed, author of the 1972 anti-racist satire Mumbo Jumbo, which was added to the elite list of Penguin Classics in 2017.
When he visited Buffalo to meet with families of the victims, Joe Biden talked about "white supremacy" as "a poison running through our body politic" and described Gendron as a "domestic terrorist." The president also made a pledge to put some kind of legislation on gun control before the Senate, one that would at least restrict access to assault weapons, but for that he will require a qualified majority that the Democrats lack. His words resonated with both empathy and electoral calculation: in an election year that doesn't look encouraging for the Democrats, both parties have engaged in a gloves-off fight to make the other appear to be the greater threat to democracy.
In the meantime Kathy Hochul, the Democratic governor of New York State, a Buffalo native, on Wednesday announced a toughening of state laws on firearms possession and an investigation into the social networks that Gendron used. The Attorney General of the State of New York, Letitia James, has also opened an investigation into who is behind the 4chan and 8chan networks where Gendron was radicalized, and how he was able to live-stream the attack on Twitch and publish his manifesto on Discord.
Last Tuesday in Buffalo, Letitia James carried a wreath of flowers through the cordoned-off area around the supermarket where the attack took place. Speaking to EL PAÍS, she acknowledged: "A lot more has to be done to prevent something like this from happening again. But above all the gun lobbies must be stopped from holding Congress hostage." That will not be an easy task. In 2020, weapons manufacturers enjoyed their best year ever in terms of sales, with 22.8 million firearms bought in the US. Their second-best year was 2021.