Cali is the cockpit of chaos as Colombia protests threaten to spiral out of control | Colombia
On a recent evening, Andrés pulled on his gas mask and helmet and headed for the barricades at the entrance to his rundown neighbourhood in Cali, a city which has become the center of Colombia's anti-government protests.
But as he approached the roadblock of rocks, rubble and barbed wire, he saw a motorcycle speeding towards him. In an attempt to turn the vehicle back, another demonstrator shone a laser pen in the driver's eyes.
Others screamed "the way is closed", but still the bike wove past burning piles of rubbish towards the protesters.
Then, the masked pillion rider drew a handgun and opened fire.
"No one was hurt, thank God," said Andrés, in the neighbourhood known as Puerto Resistencia. "But others will come."
Cali is the focus of a nationwide wave of demonstrations against poverty and inequality exacerbated by the coronavirus pandemic.
But a string of incidents in which men in civilian clothing have brandished assault rifles and opened fire on protesters has prompted fears that the country – which is only just clawing its way out of war – is heading for broader conflict.
In the last 24 hours, indigenous protesters blocking roads have been shot at by assailants, fresh skirmishes have erupted between demonstrators and riot police, and residents have been trapped in their homes by clashes on the streets.
On Monday, Lucas Villa, a 37-year-old protestor in the city of Periera, was declared brain dead after being shot eight times by men in civilian clothing last week. Hours before the attack he had been filmed dancing at a march. On Monday, two police officers were arrested in connection with the death of Santiago Murillo, a 19-year-old protester who was killed on May 1 in Ibagué, a central city.
"Armed civilians fighting against each other is one of the most serious manifestations of the crisis so far," said Katherine Aguirre, a security expert at the Igarape Institute in Cali. "The state needs to find innovative ways to solve the crisis, both maintaining public order while pursuing dialogue at the local level."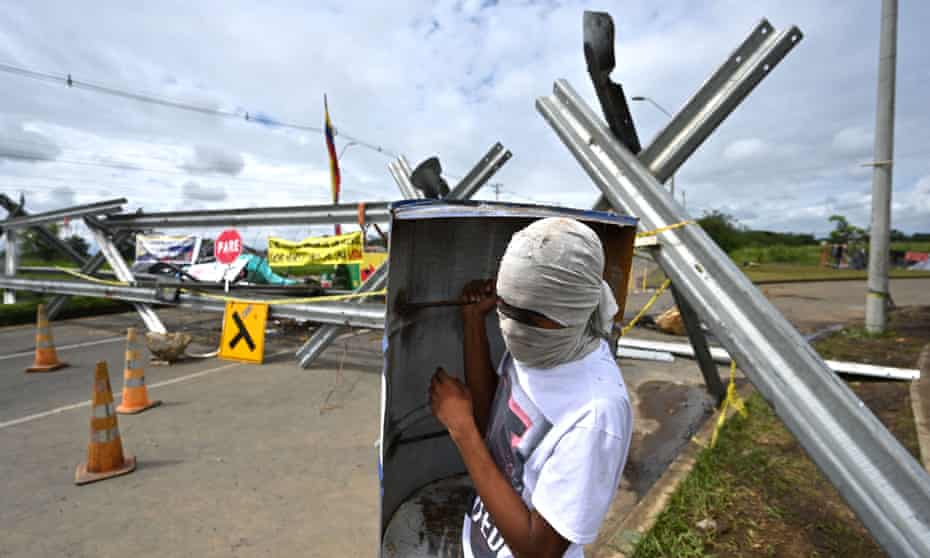 On Sunday night, Colombia's president, Iván Duque, announced that more soldiers and police officers would be dispatched to the city to lift blockades. Chillingly, he also instructed indigenous protesters to "return to their reservations" in order to "avoid violent confrontations with citizens".
The demonstrations, which began with a general strike on 28 April, quickly descended into violence after a heavy-handed response by riot squads from the militarized police force.
According to Temblores and Indepaz, two local watchdogs, 47 people have died during the unrest, with 35 deaths in Cali. But protesters in the city show no sign of backing down.
"We've been forgotten forever." said Carmen Rosa Bejarano, 38, who has lived in Puerto Resistencia for her most of her life. "If they want us to back down, they'll have to come here and ask – and if they come in shooting first, they won't stand a chance."
On Sunday night, tensions at the barricade were high. Lookouts a few blocks away reported that Esmad, Colombia's feared riot police, were on the way.
"We are children of war," said Carlos, another frontline protester, as he picked up a shield cut out of an oil drum. "We're ready to fight."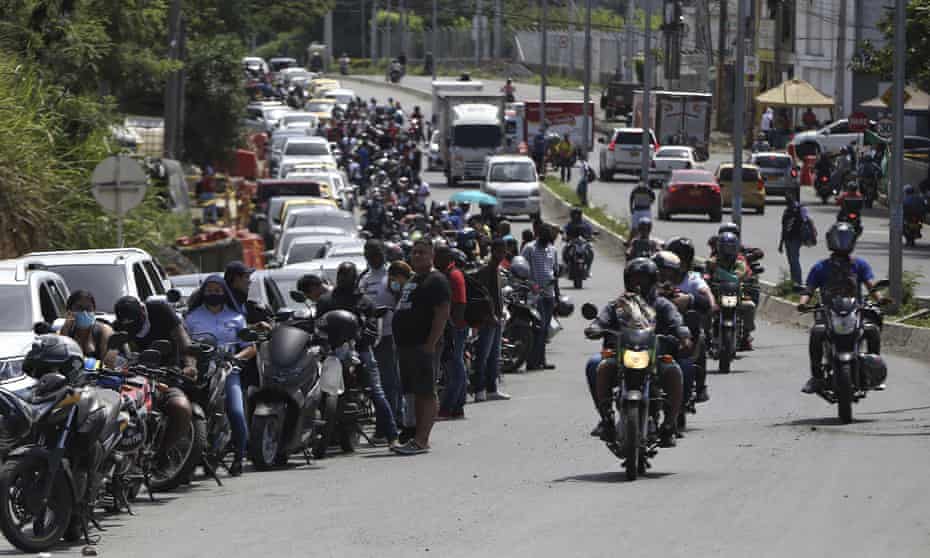 Elsewhere in the city, streets that would usually be bustling were empty; the dance halls of the world's salsa capital were boarded up.
Among the few signs of life were the endless queues for fuel, which has been desperately scarce since the protests began.
Álvaro Pérez, who runs a small logistics business, had been waiting for six hours in a queue that snaked around the neighbourhood, and was losing patience.
"We need to go back to work, to be able to move around freely" he said. "I supported the protests at the beginning – most of us did – but this is never-ending now."
Earlier on Sunday, a blockade set up by indigenous protesters outside the wealthy Ciudad Jardín neighbourhood was attacked by men in civilian clothes. Disturbing videos appear to show members of the police allowing the gunmen through. Other clips show vigilantes wielding handguns and assault rifles in broad daylight.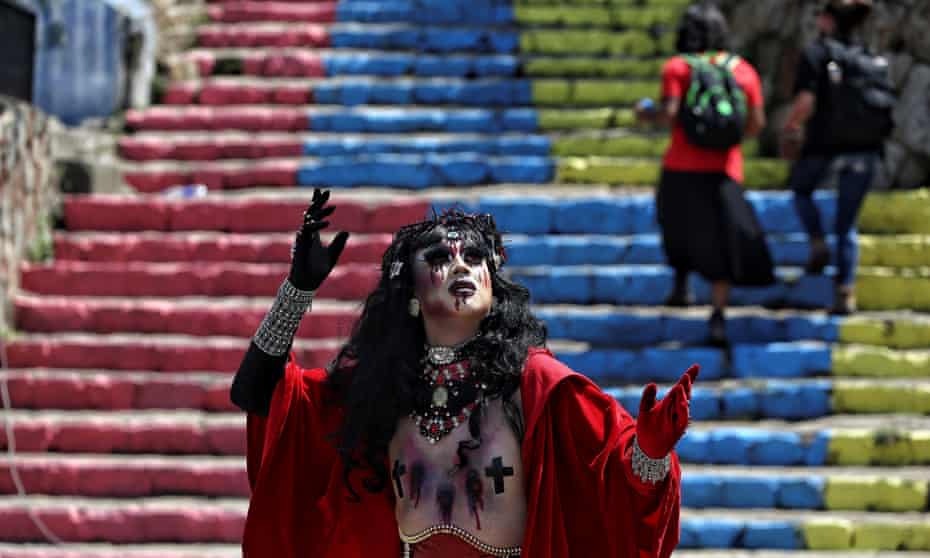 "It's unacceptable that the authorities have not immediately heeded the urgent calls on them to prevent armed violence," said Erika Guevara-Rosas, Americas director at Amnesty International.
The violence has been especially dispiriting for those who hoped for a peaceful future for Colombia when the country signed a historic deal with rebels of the Revolutionary Armed Forces of Colombia (Farc) in 2016.
That deal ended five decades of civil war and also raised hopes that new political spaces would finally open in a country where leftwing politicians and activists are routinely accused of collaborating with rebel groups.
Instead, the government has smeared protesters as "vandals" and "terrorists", and the claims have been echoed by rightwing US politicians such as Marco Rubio.
Out on the streets, such rhetoric has only raised tensions. "The police or their hitmen will attack and we'll push them back," said Andrés, between updates on his walkie-talkie from the lookouts. "We're ready."
World's poorest bear brunt of climate crisis: 10 underreported emergencies | Global development
From Afghanistan to Ethiopia, about 235 million people worldwide needed assistance in 2021. But while some crises received global attention, others are lesser known.
Humanitarian organisation Care International has published its annual report of the 10 countries that had the least attention in online articles in five languages around the world in 2021, despite each having at least 1 million people affected by conflict or climate disasters.
The findings, from a collaboration between the charity and international media monitoring service Meltwater, highlighted how the accelerating climate crisis is fuelling many of the world's emergencies, said Laurie Lee, CEO of Care International UK.
"There is deep injustice at the heart of it. The world's poorest are bearing the brunt of climate change – poverty, migration, hunger, gender inequality and ever more scarce resources – despite having done the least to cause it," he said. "Add Covid-19 into the mix and we see decades of progress towards tackling inequality, poverty, conflict and hunger disappearing before our eyes."
The number of people in need of humanitarian aid is expected to rise to 274 million this year, or one in 28 people, and more than 84 million people have been uprooted. Lee highlighted the impact of the UK's 2021 foreign aid budget cuts, saying that it "resulted in over £166m less in humanitarian aid reaching the 10 countries mentioned in this report compared to 2019."
Zambia
First on the list, Zambia has 1.2 million malnourished people and about 60% of the 18.4 million population living below the international poverty line of $1.90 (£1.40) a day. Women produce 60% of the country's food supply, but families headed by women faced higher poverty rates than those headed by men.
Food insecurity in Zambia has primarily been blamed on prolonged drought, but rising corn prices and flooding have contributed.
Ukraine
Currently in the news amid renewed tension between Russia and the west, in Ukraine, 3.4 million people were in need of assistance in 2021, after years of conflict.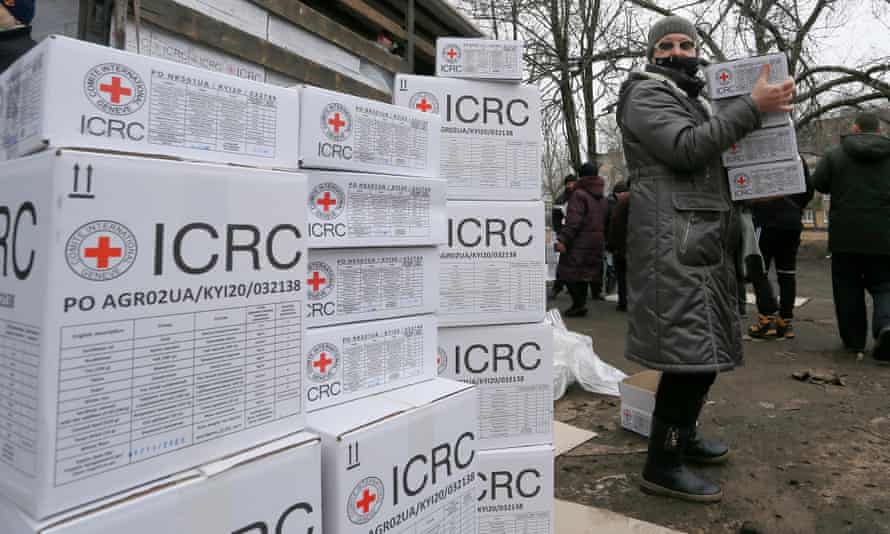 "While a comprehensive political solution for the conflict is still not in sight, people in eastern Ukraine are daily forced to put their lives on the line. Along the 420-km 'contact line' that separates Ukrainian government-controlled territory from that of the separatists, the situation is particularly dangerous," the report said.
Malawi
Malawi is facing a food insecurity crisis, with 17% of the population severely malnourished. Droughts, floods and landslides have been predicted to worsen over the coming years. Cyclone Idai in 2019 severely affected harvests and left tens of thousands displaced.
"The climate crisis is hitting people here earlier and much harder than the people of the global north," said Chikondi Chabvuta, advocacy lead for Care International in Malawi. "We are already seeing real-life consequences with delayed rainfall, heavy and destructive rainfall, unpredictable rainfall patterns, infertile soil, destroyed harvests."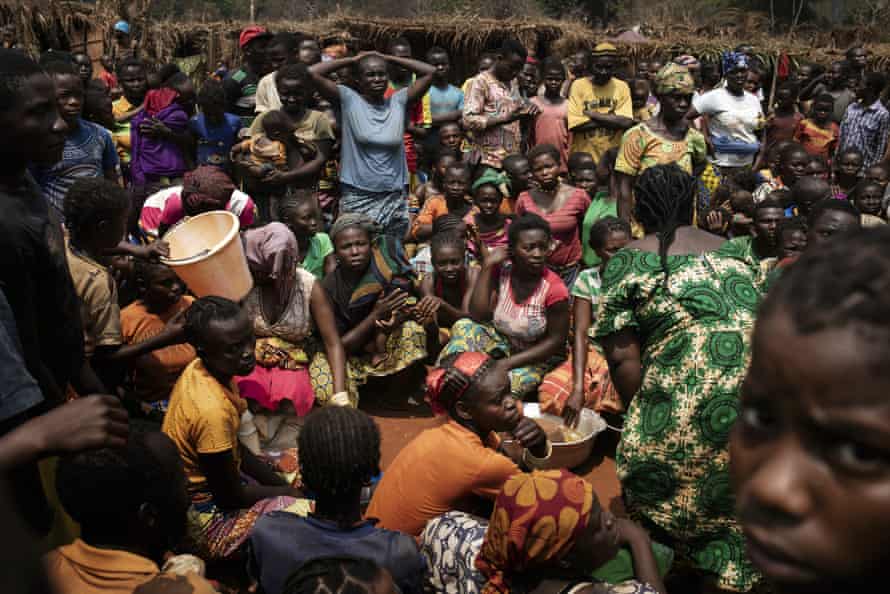 Central African Republic
In Central African Republic (CAR), where civil war has exacerbated the humanitarian crisis, half of the population face food insecurity. A ceasefire agreement struck in October 2021 is fragile and more than 700,000 people have been internally displaced – more than half children. CAR is ranked second to last globally on the Human Development Index. "On average, a child attends school for just under four years, and girls for only three," the report said. About 30% of children are in work.
Guatemala
Poverty, violence and the climate crisis are leading problems in Guatemala, which is on the migratory route to Mexico and the US. Two-thirds of the population live on less than $2 a day and 38% of the population face food insecurity.
Camps sheltering those sent back by Mexico are overcrowded, meaning many live on the streets, the report said. Guatemala is considered one of the world's most dangerous countries, with 3,500 murders in 2020 alone. "Although about 3.3 million people in the country rely on humanitarian aid, the frequent occurrence of violence is in many cases a barrier to accessing urgently needed assistance," said the report.
Colombia
Nearly 5 million people live under the control of armed groups, and 6.7 million people are dependent on humanitarian aid.
Food insecurity has been blamed on an economic recession caused by the pandemic. It has particularly affected indigenous communities, those uprooted internally and 1.8 million Venezuelan refugees, mainly in northern Colombia.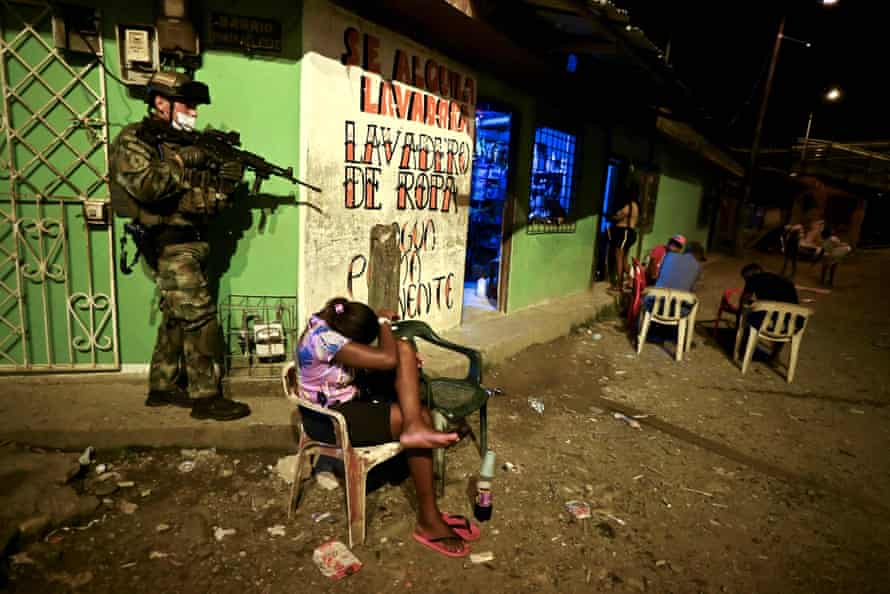 Burundi
Ranked as the country gaining the least attention in 2020, Burundi was seventh in 2021 when 2.3 million of the 12.6 million population were in need of humanitarian assistance.
The country secured only 27% of the $195m pledged in aid. Extreme weather, hunger and political unrest were among the challenges faced by Burundians. In a country where 90% of people rely on small-scale agriculture, only a third of land is suitable for cultivation, due to drought, floods and landslides. The report also highlighted structural discrimination against women – 20% of those in Burundi's decision-making bodies are female, while 60% of the agricultural workforce are women.
Niger
Niger is deeply vulnerable to climate disasters. Persistent droughts and recurring floods have had catastrophic consequences: nearly 3 million people rely on humanitarian aid. About 1.8 million children need food assistance and almost half of all children under five are malnourished.
Militias in eastern and northern Niger have caused 313,000 people to be displaced as of last September. "Providing emergency relief is often hindered by the fact that infrastructure is destroyed, operation areas are marked by violence and rural areas are difficult to access," the report said.
Zimbabwe
Zimbabwe has acute food insecurity with increasingly extreme climate conditions and economic mismanagement causing 6.6 million people to need humanitarian aid. More than a third of the population (5.7 million) lack sufficient food.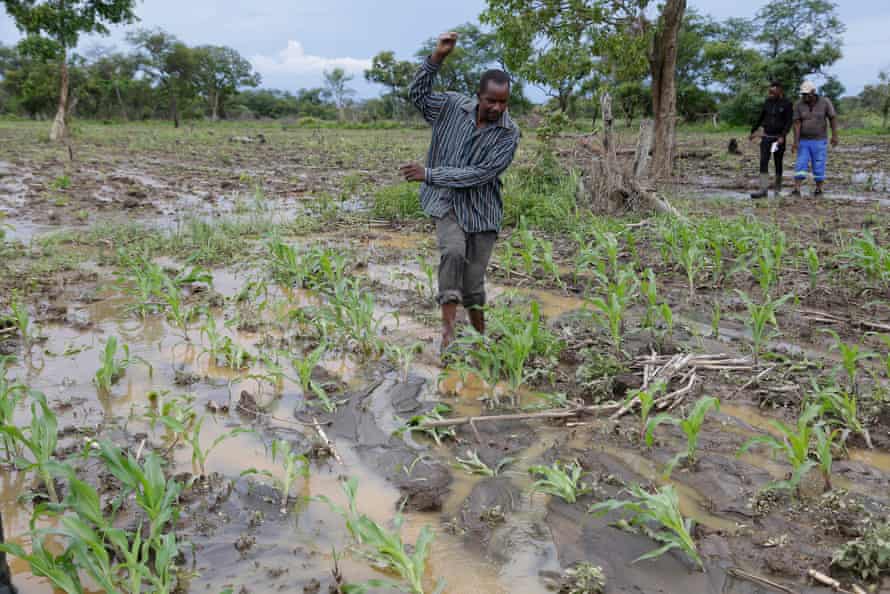 "The harvests in many rural areas are not sufficient to secure basic food supplies and other needs. In these regions, households must rely on local markets when supplies are depleted – but the prices there are unaffordable for many," the report said.
Honduras
Poverty and violence have exacerbated the humanitarian situation in Honduras, prompting many to leave for the US. About 70% of the population live in poverty, according to a 2020 study.
There have been problems with farming due to drought, hurricanes and floods. The country has 937,000 displaced people, the highest number in Latin America.
"In Honduras, people therefore often talk about poverty being female, as it is mostly women who stay behind with the children," the report said.
Polish minister warns of risk of war in Europe
"It seems that the risk of war in the OSCE area is now greater than ever before in the last 30 years," Poland's foreign minister, Zbigniew Rau, who currently chairs the Vienna-based intergovernmental body, said Thursday during the latest round of talks on Russia. Russia's deputy foreign minister, Sergei Ryabkov, said the same day Russia saw no reason for further talks with Nato, as its demands were being ignored.
Covid created 20 new 'pandemic billionaires' in Asia, says Oxfam | Global development
Twenty new "pandemic billionaires" have been created in Asia thanks to the international response to Covid-19, while 140 million people across the continent were plunged into poverty as jobs were lost during the pandemic, according to Oxfam.
A report by the aid organisation says that by March 2021, profits from the pharmaceuticals, medical equipment and services needed for the Covid response had made 20 people new billionaires as lockdowns and economic stagnation destroyed the livelihoods of hundreds of millions of others.
From China, Hong Kong, India and Japan, the new billionaires include Li Jianquan, whose firm, Winner Medical, makes personal protective equipment (PPE) for health workers, and Dai Lizhong, whose company, Sansure Biotech, makes Covid-19 tests and diagnostic kits.
The total number of billionaires in the Asia-Pacific region grew by almost a third from 803 in March 2020 to 1,087 by November last year, and their collective wealth increased by three-quarters (74%), the report said.
The report said the richest 1% owned more wealth than the poorest 90% in the region.
Mustafa Talpur, campaigns lead at Oxfam Asia, said: "It is outrageous and highly unacceptable that poor people in Asia [were left at] the mercy of the pandemic facing severe health risks, joblessness, hunger and pushed into poverty – erasing the gains made in decades in the fight against poverty.
"While rich and privileged men increase their fortunes and protect their health, Asia's poorest people, women, low-skilled workers, migrants and other marginalised groups are being hit hardest," he added.
In 2020, an estimated 81m jobs disappeared and loss of working hours pushed a further 22–25 million people into working poverty, according to the International Labour Organization. Meanwhile, the Asia-Pacific region's billionaires saw their wealth increase by $1.46tn (£1.06tn), enough to provide a salary of almost $10,000 (£7,300) to all those who lost a job.
Covid has claimed more than a million lives in just Asia, and countless more deaths will result from increased poverty and disruptions to health services. The report said women and girls were more likely to have lost jobs or income. Women are also more likely to work in frontline roles, putting them at further risk; in the Asia-Pacific region, women account for more than 70% of healthcare workers and 80% of nurses.
In south Asia, people from lower castes do the bulk of sanitation work, often without protective equipment, and face poverty and discrimination that prevent them from accessing health services. The pandemic has exacerbated this, said Oxfam.
The wealth gap is set to grow. Credit Suisse forecasts that, by 2025, there will be 42,000 more people worth more than $50m in Asia-Pacific and 99,000 billionaires. The number of millionaires by 2025 is projected to be 15.3 million, a 58% increase on 2020. Both the World Bank and IMF have said that coronavirus will cause a significant increase in global economic inequality.
Talpur said: "The political system is protecting the interests of the tiny rich elite. Governments have consistently failed to work for the majority during the pandemic. It was the juncture of global solidarity, but rich countries and big pharmaceutical companies turned away their faces."