Ayuso: Why Madrid's leftist strongholds voted for the conservative Popular Party: 'Freedom' and 'fear of Pablo Iglesias' | Spain
Incumbent Madrid premier Isabel Díaz Ayuso of the conservative Popular Party (PP) swept to a resounding victory in last week's regional election. Not only did she win in the PP's strongholds, but she also won in the so-called "red belt," which has historically always supported leftist groups, in particular the Socialist Party (PSOE).
"Freedom," or the fear of losing it, was key to how Ayuso turned the tables in the red belt, which is made up of the municipalities of Fuenlabrada, Leganés, Parla, Getafe and Alcorcón. Fear of Unidas Podemos founder Pablo Iglesias, who stepped down as a deputy prime minister to stand as a candidate, also played an important part. These factors combined created the perfect storm to lead Ayuso to a sweeping victory – albeit falling just shy of an absolute majority. Far-right Vox has already said it will lend her its votes to see her become premier once more.
Óscar Zafra from Fuenlabrada considers himself "on the left, but not the far left." However, when the 18-year-old voted for the first time last Tuesday, he cast his ballot for Ayuso. He tells EL PAÍS that his decision was based on the conservative politician's promise of "freedom" and a lax approach to coronavirus restrictions. "Being able to go out, go to bars, get together with friends… I don't know, I don't understand a lot because I'm still young, but Ayuso convinced me the most," he says, adding that he made up his mind after watching the televised debate on April 21. His friend, Daniel Cáceres, who is too young to vote, agrees with his decision.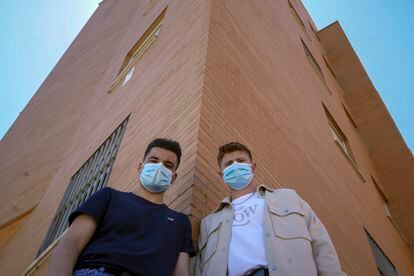 A total of 74.99% of residents in Fuenlabrada voted in the Madrid regional election and 35.95% made the same decision as Zafra. The PP's success turned the political landscape of the area upside down – the party went from winning 10,810 votes in the last regional election in 2019 to 37,691 last week. The PP has gone from being the fourth-most voted group in Fuenlabrada to the most-voted, a title the PSOE had only lost previously in 2011.
Political scientist Alejandro Solís, who lives in Fuenlabrada, says "pandemic fatigue" is the main reason for the shift. Ayuso has been a staunch opponent to coronavirus restrictions, even though Madrid has one of the highest transmission rates in Spain. "People need hope. And this has been an important factor in the PP's campaign," says Solís. "It has played with freedom, with the idea of going back to how it was before. It has not been a purely promotional campaign, but rather one aimed at the idea of recovering our lives. Competing against that is difficult."
Speaking to EL PAÍS at a café near his home, Solís explains that the idea of the red belt is a "myth" because left-wing and right-wing parties have been on even footing for some time now. According to him, one of the reasons for this is due to urban development in the area which "has grown very quickly in a short amount of time." This has divided the municipality into three parts: the center, the traditional PSOE stronghold; the surrounding neighborhoods, where the leftist party Más Madrid made gains; and the new residential developments, which boast gardens and swimming pools. In the latter, the Popular Party has always held more sway – now it dominates completely.
Jesús García, a 66-year-old retired builder, is a longtime resident of Fuenlabrada and has always voted for the PSOE. "I am a man of fixed ideas and it does me good," he explains. After making Social Security payments for 44 years, he now lives off a pension of €1,350 a month. It's enough to go down to the bar on Castilla la Vieja street and spend the morning chatting with other locals as well as the bar's owner, 82-year-old Marcelino Sánchez Mejías.
The bar is on the ground floor of a brick apartment building, where air-conditioning units have been added on and balconies sealed off. Just 10 meters away a new housing development is being built, complete with gardens and pools. "Who I am never going to vote for is [Santiago] Abascal or coletas," says García, in reference to the leader of the far-right Vox and Pablo Iglesias, who is often called coletas – meaning ponytail – in a derogatory reference to his long hair. Following the PP's devastating win at the election, Iglesias announced he was walking away from all of his roles in politics.
García is drinking beer with his brother-in-law Juan Flores, a 68-year-old retired soldier, who prefers red wine. Both complain of the politicians' broken promises, the fighting between parties and the fact that the needs of the people are going unheard. The two share a particular aversion to Iglesias, whom they blame for the Socialist Party's poor results. The central government is formed by a coalition of the PSOE and junior partner Unidas Podemos, a fact they believe hurt PSOE candidate Ángel Gabilondo at the Madrid polls. "Gabilondo is intelligent and cultured, but very slow to move," says Flores, who preferred not to say who he voted for. "The girl has given him a push and there you have it," he adds, referring to the fact that Más Madrid candidate Mónica García won more votes than Gabilondo at the regional election. Neither of them, however, anticipated that the PP would win by such a large margin. On the streets where they live, the conservative party won twice as many votes as the PSOE.
Useless vote
Meanwhile, further down the street, Roberto López, a 56-year-old who was given early retirement from communications giant Vodafone, is parking his car. He says he voted for Ayuso due to the "lies" and "broken promises" of the political class, as well as his "fear" of Iglesias. His first option was the center-right Ciudadanos (Citizens), which had been governing the Madrid region in a coalition with the PP until the early election. But, in the end, he thought that would be a "useless vote." As it turned out, Ciudadanos failed to secure 5% of the vote, meaning it has been left without representation in the Madrid Assembly. He also decided against voting for Gabilondo on the grounds that the PSOE candidate would make a governing deal with Iglesias. He is pleased with the results of the election.
In addition to these two fears – the fear of losing freedom and the fear of a Madrid government with Iglesias – the PP was also buoyed by the growing popularity of 28-year-old Noelia Núñez, the PP's leader in Fuenlabrada, says Solís. With more than 13,000 followers on Twitter, Núñez defines herself as a person who "defends liberalism at all costs, who defends that the state should not get involved at all in the life of the people." The fresh-faced politician used an image of former British prime minister Margaret Thatcher – who oversaw a wave of privatizations in the United Kingdom – to share her message on social media. "Social media allows you to reach many people," she says, while adding that working with people on the ground is also important.
"Ayuso's success has been seeing that the people want to work. The left did not understand that," says Núñez, who will enter Madrid Assembly thanks to the PP's strong results. "But I am not leaving Fuenlabrada, that's my priority. I want to be mayor in 2023," she says.
The sense of victory in the PP contrasts to the surprise of many of the locals in Fuenlabrada, who are still digesting what happened. Just 10 kilometers away in Parla, the same arguments in favor of Ayuso are repeated. "I don't understand anything," says David Jiménez, a 45-year-old employee of the supermarket chain Mercadona. "We have problems with schools that are not built which they have been promising us for years, we have problems with health centers, with everything," he says angrily.
The city of Parla has a population of 130,000 and has grown in recent years due to a property boom that has made it harder to distinguish the left and right blocs. "On the street, people continue to be very much on the left," says Vicente Guisado, a political scientist and Parla resident. But he adds that polarization is "mobilizing both blocs." According to Guisado, the PSOE lost ground in Parla because its strategy to attract votes from Ciudadanos and Más Madrid failed. He estimates that between 5% and 10% of PSOE voters cast their ballot for Ayuso last Tuesday.
That wasn't the case for Almudena Rodríguez, a 40-year-old physiotherapist and her husband, Daniel Guzmán, a 34-year-old Civil Guard officer, who say they have always voted for the PP. But they admit they know people who went from voting for Podemos to the PP or even Vox. "It's an issue of castes and the revolving doors," says Rodríguez. "They criticize and then they do the same. People are fed up." According to Rodríguez, thanks to Ayuso's lax approach to coronavirus restrictions she was able to keep her business open.
The physiotherapist is not the only one who supports Ayuso's decision not to introduce tougher coronavirus restrictions. "She has defended us," says 49-year-old Rafael Navarro, who is happy that he can still open his bar in Parla, Bar de Rafa. According to Navarro, just a few days ago members of the PSOE and Vox were having a meal together at the bar. The establishment is located in an area of Parla called La Laguna, where the PP went from being the fourth-strongest group to the first at last Tuesday's election. Navarro, who previously voted for Ciudadanos, supports the PP's management of the health crisis in Madrid. Not just for the sake of his business, but also "the fishmongers, fruit shops, butchers and Coca-Cola delivery person." He says he knows the leaders of all political parties in Palara and gets along well with all of them. His only criticism is for Iglesias "who is guaranteed a salary for life, which I, as a self-employed worker, will never have."
English version by Melissa Kitson.
Travel agents experiencing increase in bookings since Covid-19 restrictions eased
Travel agents are experiencing an increase in inquires and bookings since the government announced the relaxation of Covid-19 restrictions on Friday.
Pat Dawson, CEO of the Irish Travel Agents Association, says there has been a "phenomenal" turn around in bookings, and travel agents are busy getting back to inquiries.
"We are looking at a healthy summer season, it's the first time I've been positive in two years."
He advised people to book their holidays early to avoid disappointment. "The longer you leave it, the dearer it will get. Mid-term break in February and Easter are almost full."
Mr Dawson believes there is a pent-up demand. "There are some people who have money they haven't spent, a big chunk of that will be spent on foreign holidays."
John Spollen, director of Cassidy Travel in Dublin, says he has seen an increase in bookings over the weekend.
Popular destinations include Spain and Portugal, which have been Irish favourites for many years now, says Mr Spollen. There are also some bookings for the US, Jersey, Madeira and the Greek islands.
Peak travel
People should avoid peak travel times from mid June to the end of August and consider booking mid-week, early or late flights to get the best value, according to Mr Spollen.
"In May, September and October, the weather will be similar to summer weather."
Mr Spollen added people should take out travel insurance and ensure their passport and driver's licence are in date.
Michael Doorley of Shandon Travel in Cork said they have seen a huge increase in inquiries.
"We are not back to 2019 levels yet… the EU is a big destination. We have had a lot of inquires about mobile home holiday parks. Italy would be the most popular destination for this type of holiday, but Croatia is becoming almost as popular."
There are also bookings for America coming in, as well as some couples celebrating their honeymoons belatedly, according to Mr Doorley.
It is important that people understand the restrictions in the country they are travelling to, he added, and they should check the Department of Foreign Affairs website regularly.
Aoife O'Donoghue is just one of the many Irish people who have not been on a holiday abroad in two years, and she is excited to be going to Barcelona at the end of March.
"A friend is moving over there in February, so myself and two other girls are going to visit her. It's actually all our birthdays that weekend too," she says.
The friends used to live together in Galway, and Ms O'Donoghue says it's fantastic to have something to look forward to again.
The last time she went abroad was to Switzerland in January 2020. "Just as we were coming back there was news of the big Covid outbreak in Italy, so felt lucky to have gotten a holiday in before it all kicked off."
Property group clashes with council over Dundrum residential development
The owners of Dundrum Town Centre have clashed with Dún Laoghaire-Rathdown council over demands for more large apartments as they advance fast-track plans for a major residential development in the south Dublin village.
Property group Hammerson and insurer Allianz, which operate the new shopping complex in the area, have been in talks with An Bord Pleanála to build up to 889 apartments on the site of the old Dundrum shopping centre.
Their company, Dundrum Retail Ltd Partnership, has told the council it should scrap new requirements for "a minimum of three-plus bedroom units" in large apartment blocks that are included among proposed amendments to its draft county development plan.
In a submission last week to the council, the company said the new guidelines were in conflict with official rules that said there should be no minimum requirement for apartments with three or more bedrooms.
According to the company, the justification for the guidelines was based on fast-track strategic housing development permissions in the council area and "evidence" from certain boroughs in London.
"[Dundrum Retail Ltd Partnership] submit that the logic underpinning the policy is flawed and is not a basis for imposing prescriptive unit mix ratios on a countywide basis," it said.
"The draft development plan needs to be amended to remove the very prescriptive requirement for apartments with three or more bedrooms and to allow applicants to make the case for a particular unit mix based on the particular attributes of local areas where a different mix might be appropriate."
The company also told the council that proposed amendments to the development plan presented "contradictory or ambiguous objectives" in relation to proposals for a community, cultural and civic centre in the area.
Such objections were included among 106 submissions on the draft plan in a public consultation which closed last week. Numerous other developers and the Irish Home Builders Association lobby group also opposed the measures, some saying they would delay or prevent the delivery of new homes.
Asked about the submissions, the council said the response to any issues raised would be set out in a report by its chief executive to elected members which would be published. "It will be a decision of the elected members to adopt the plan and it is anticipated that this will take place in early March 2022. The plan will then come into effect six weeks later," the council said.
Cost increase
In its submission, the Irish Home Builders Association said its members were concerned that the introduction of "further onerous standards" would increase the cost of delivering new homes and their price.
"This at a time when construction costs are already under huge inflationary pressure and affordability is a major issues for most home buyers," said James Benson, director of the association.
"A key concern of the home-building sector in respect of the new plan is a lack of consistency with national planning guidelines/standards, which may be considered to be contrary to recent Government policy which sought to bring a greater extent of standardisation to national planning standards."
The submission added: "The key concerns relate to the locational restriction and unit mix requirements for [build-to-rent] schemes, other standards for apartment developments which are more onerous/restrictive than the Government's… guidelines, and the requirement for early delivery of childcare facilities in residential developments, all of which have the potential to impact adversely on the viability and affordability of housing in the county."
Another builder, Park Developments, said in a submission the draft sought "more onerous policies, objectives and standards" that would have a direct effect on housing supply. "We are already seeing the impact of the chronic shortage in the supply of housing on the affordability of rental accommodation and homeownership."
Castlethorn Construction said the blanket imposition of three-bedroom requirements "can only serve to militate against development of apartments" in the council area. It said the cost of delivering three-bed apartments was "very significant", adding that demand was "not evident by reference to market sentiment, estate agents' advice" and national policy imperatives.
Developer Hines, which has major interests in the Cherrywood strategic development zone, said in its submission that the logic underpinning requirements for more three-bedroom units was flawed.
"While making the case that recent development has been weighted towards one- and two-bed units, it fails to recognise that three-bed semi-detached and detached houses remain the predominant typology within [Dún Laoghaire-Rathdown] and that the [strategic housing development] permissions provide a much-needed mix of housing types within the county to redress this balance within the county."
Laicisation of Catholic priest in Tipperary causes disappointment and anger in parish
Standing in the family's hardware store on Main Street in Carrick-on-Suir, Fiona Hearn remembers how Fr Richard Geoghegan gave her son First Holy Communion 15 years ago.
Today, Geoghegan is no longer a priest, following the Vatican's decision to issue a laicisation order, with the history of the story up to that point a subject of disagreement.
The former parish priest at Ballyneale and past curate at St Nicholas Parish in Carrick-On-Suir announced on Twitter last week that he had been officially "dismissed by Rome" on January 7th.
"My Bishop was happy to dispense me. I'm a good man. And he talks about the shortage of vocations," said Geoghegan, who entered the seminary in 1987 aged just 19, and he was ordained six years later.
The Bishop of Waterford and Lismore, Phonsie Cullinan, whose diocese extends over both the borders of Tipperary and Cork, has rejected Geoghegan's charges.
Geoghegan had petitioned Pope Francis for laicisation last March and it was granted on December 15th, said the bishop: "I wish to acknowledge and thank Richard for his pastoral ministry over the years and wish him well for the future."
Geoghegan came under fire from conservative Catholics following an appearance on hotelier Francis Brennan's RTÉ show Grand Tour of Vietnam in 2017, wherein he performed in drag as singer Shirley Bassey, wearing a blonde wig and lipstick.
The TV appearance might not have done him any favours, Hearn accepts. "He is only human at the end of the day. He is well loved here in town. We'd love to have him back. I'd have nothing but deep respect for him," she says.
"He is a real people's person. Some older priests could be aloof. You couldn't meet a nicer, more down to earth man. I think he has been pretty hard done by the Pope and the bishop."
Hearn is not alone in her feelings, with many members of the tight-knit Catholic churchgoing community in Carrick-On-Suir and surrounding districts still shocked and disappointed by the turn of events.
Despite the bishop's declaration that Geoghegan had himself applied to be laicised, the Association of Catholic Priests' Tim Hazelwood describes his treatment as "inappropriate, unreasonable and unacceptable".
In 2020, Hazelwood accompanied Geoghegan to a meeting with Bishop Cullinan, and his secretary.
"It was obvious from the meeting that he wanted Richard to apply for laicisation," Hazelwood says. "That's when Richard said he would have liked to be a curate…Richard found it difficult being on his own in a parish. He needed support," Hazelwood adds.
"Obviously, the bishop had made up his mind," says Hazelwood, "I was shocked, really because the majority of bishops would be supportive, but what I was hearing was really a put down."
Geoghegan declined to comment when contacted.
Former parishioner, John Nolan said, "The Church is crying out for priests and is leaving a good man go. He was friends with everyone, an absolute gentleman. Anyone having a wedding here would look for him. I think it is all down to Bishop Phonsie. "
Describing him as "a fantastic priest", Carrick-on-Suir butcher Morris Whelan says was a great man. "He knew everyone by name. You'd meet him once and he knew your name forever. He was involved in the parish in every part of it."
Local Sinn Féin councillor David Dunne remembers Geoghegan's kindnesses during his mother's illness.
"Everyone recognised him for the programme he did with Francis Brennan…It was fairly flamboyant and wasn't in keeping with the Church, but it was typical of Fr Richard," said Cllr Dunne, "He was always friendly, outgoing and is well-regarded. It is a major loss."
Describing the former priest's ability to engage, Luke Foran says: "One of my favourite memories of him is my brother's Communion where he had all the kids gathered around and Richard's phone rang, and who was on the phone only 'Jesus'.
"You should have seen the kids' faces drop. It was brilliant and he enthralled and captivated the whole place. He was ahead of his time. Richard humanised the priesthood and was a breath of fresh air," he said.
Besides the memories, there is anger, too. Ashling Ní Fháthaigh said: "When he was saying mass the church was a lot fuller with a younger congregation. (He) was liked by so many and was punished for that."
Believing that the church's hierarchy has questions to answers, Margaret Croke says: "A church without compassion and understanding who can so readily dismiss a person who was so dedicated for so many years to its flock and to God really needs to change."