Austria ends ban on British flights: What does this mean for travellers?
Flights from the UK to Austria resumed on the 21st of June. Photo: Daniel ROLAND / AFP
Austria's ban on flights from the United Kingdom expired on Monday. What does this mean for travellers and tourists from the UK?


Please, enable JavaScript and reload page!
---
Halyna Hutchins: Alec Baldwin, an actor dogged by scandal | USA
Alec Baldwin once borrowed the words of one of the acting colleagues he admires the most – "the incredibly intelligent and wise Warren Beatty" – to explain his ongoing image problems. "Your problem is a very basic one, and it's very common to actors. And that's when we step in front of a camera, we feel the need to make it into a moment. This instinct, even unconsciously, is to make the exchange in front of the camera a dramatic one," Beatty said.
Last Thursday, on the set of the movie Rust, of which Baldwin is the star and a producer, that moment could not have been more dramatic. It was Baldwin who pulled the trigger on a prop firearm that killed the Ukrainian director of photography, 43-year-old Halyna Hutchins, and wounded the movie's director, 48-year-old Joel Souza. The tragic incident left Baldwin speechless for several hours until he expressed his "shock and sadness," offering his help and support to Hutchins' family and stating that he was "fully cooperating" with the police investigation into the accident. A social media post from a few days earlier in which he was kitted out in his cowboy gear and covered in blood in character for Rust was removed from his accounts.
Scandal seems to follow Alec Baldwin around, whether or not he is looking for that drama to which Beatty alluded. The eldest of six siblings of a middle-class Catholic family of Irish descent, the four Baldwin brothers are all involved in show business, although they couldn't be much different from one another. Daniel has had problems with drugs. Stephen is currently involved with an Evangelical church and his political views are inclined toward conservatism. The second-youngest, William described his brother as someone who always has something "to fucking whine about," according to The New Yorker. Alec is the eldest and the most disciplined, but also the one who protected the other brothers from bullies as he was the most combative. He went to school with the notion of becoming the president of the United States, but on recognizing he had little chance of achieving that goal he enrolled at the Lee Strasberg Theatre & Film Institute in New York, graduating many years later.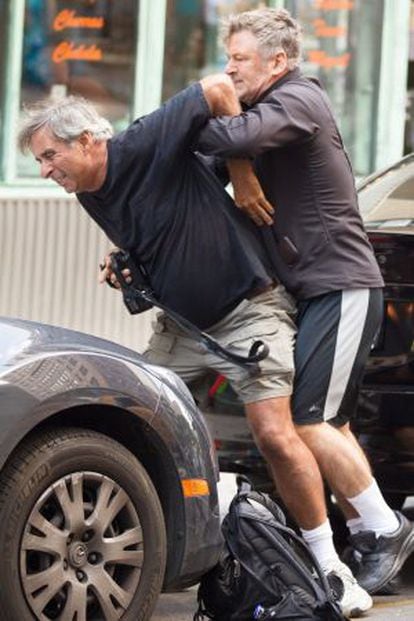 His career could have panned out like Al Pacino's or Jack Nicholson's, actors who he looked up to, but Baldwin's generation was not the same. Perhaps neither was his talent, and certainly, the world of movies had changed. In 1992, Baldwin ensured that he would be associated with his idols when he starred with Jessica Lange in a Broadway revival of A Streetcar Named Desire, which three years later would be turned into a television movie with Baldwin and Lange reprising their roles for the small screen. Not only did Baldwin receive a Tony nomination for his Broadway performance, he also drew favorable comparisons to legendary actor Marlon Brando, who starred in the stage production and the 1951 movie version. Around this time Baldwin was also landing meaty screen roles, including that of Jack Ryan opposite Sean Connery in The Hunt for Red October.
But as time progressed, Baldwin's name was more frequently heard in connection to his social life and scandals than for his stage or screen performances. His marriage to actor Kim Basinger, who he met in 1991 while filming The Marrying Man, ended acrimoniously, and Baldwin's relationship with the couple's daughter, Ireland, has often been fractious. In 2007, a voicemail message the actor left for Ireland, who was 11 at the time, caused a sensation due to Baldwin's use of not very fatherly language, during an ongoing spat with Basinger following their 2002 divorce.
Then there is the other Alec Baldwin, described by the actor himself as "bitter, defensive, and more misanthropic than I care to admit," in an open letter to Vulture magazine in 2014 titled Good-bye, Public Life. At that time Baldwin had forged a reputation as a violent, homophobic egocentric following several incidents aired in the media. And, of course, from his own mouth. Even so, he managed to resurrect his career in the most surprising way imaginable: by making fun of himself.
Baldwin's portrayal of the absurd and conceited television executive Jack Donaghy across seven seasons of 30 Rock (2006-13), a character inspired by Baldwin himself, earned back his public popularity and landed the actor back-to-back Primetime Emmy Awards in 2007 and 2008 and three Golden Globes. In 2011, he started a new chapter in his personal life with his current wife, Hilaria Baldwin, with whom he has six children. But as one of his closest friends, Lorne Michaels, producer of Saturday Night Live where Baldwin has received plaudits for his impersonations of former US president Donald Trump, once said: "Everything would be better if you were able to enjoy what you have."
Baldwin's altercations – mostly verbal, occasionally physical – with the paparazzi or anyone who in the actor's opinion has violated his privacy have been frequent, including on productions on which he has worked. In 2013, the actor Shia LaBeouf was fired from the Broadway theatre production of Orphans when Baldwin said: "Either he goes or I do." Years earlier an actress left another play Baldwin was working on by leaving a written note stating that she feared for her "physical, mental and artistic" safety.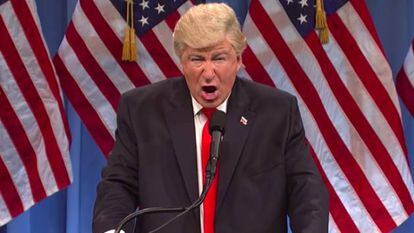 Every one of Baldwin's reinventions seems inexorably to be followed by another fall from grace. On the one hand, there is the Baldwin who has stated on several occasions that he intends to withdraw from public life, and on the other the Baldwin who is obsessed with social media, writing a tweet for every occasion. Many of these posts have cost the actor, such as in 2017 when he commented on a video of a suspect being fatally shot by police: "I wonder how it must feel to wrongfully kill someone…"
There are still unanswered questions surrounding the death of Halyna Hutchins. The investigation has not disclosed whether the firearm was discharged accidentally or if Baldwin was aiming it at the time, although the transcript of a call to the emergency services appears to indicate it happened during a rehearsal. As of yet, no charges have been filed against Baldwin but it is unknown if this may yet occur at a later date. A statement taken from the assistant director states that Baldwin was told by crew members that the gun was not loaded. Many observers are wondering if Rust will be completed, if the project will be abandoned. And many more are asking the same about Baldwin: will he be able to find a way back from this latest dramatic moment?
What If Everything We've Been Told About Recent History Is a Lie?
The author is a prominent American Christian conservative who was a presidential candidate for the paleoconservative Constitution Party in 2008, when he was endorsed by Ron Paul.  
He is the pastor of Liberty Fellowship, a non-denominational church in Montana, and he is a popular radio host and columnist. His weekly sermons are available on his YouTube channel.
He is a relentless foe of neoconservatism and frequently criticizes the neocon hostility towards Russia.  His views are representative of an influential and substantial part of Trump's popular support.
Here is an archive of his excellent articles which we have published on Russia Insider, when they were relevant to the debate over Russia.
---
What if everything we've been told about 9/11 is a lie? What if it wasn't 19 Muslim terrorist hijackers that flew those planes into the Twin Towers and Pentagon? What if the Muslims had nothing whatsoever to do with the attacks on 9/11? What if everything we've been told about the reasons we invaded two sovereign nations (Afghanistan and Iraq) is a lie?
What if the 17-year-old, never-ending "War on Terror" in the Middle East is a lie? What if our young soldiers, sailors, airmen and Marines who have given their lives in America's "War on Terror" died for a lie? What if G.W. Bush, Barack Obama and Donald Trump have been nothing but controlled toadies for an international global conspiracy that hatched the attacks of 9/11 as nothing more than a means to institute a perpetual "War on Terror" for purposes that have nothing to do with America's national security? Would the American people want to know? Would the truth even matter to them?
The sad reality is that the vast majority of Americans who would read the above paragraph would totally dismiss every question I raised as being unrealistic and impossible—or even nutty. Why is that? Have they studied and researched the questions? No. Have they given any serious thought to the questions? No. They have simply swallowed the government/mainstream media version of these events hook, line and sinker.
It is totally amazing to me that the same people who say they don't believe the mainstream media (MSM) and government (Deep State) versions of current events—which is why they voted for and love Donald Trump—have absolutely no reservations about accepting the official story that the 9/11 attacks were the work of jihadist Muslims and that America's "War on Terror" is completely legitimate.
These "always Trumpers" are dead set in their minds that America is at war with Islam; that Trump's bombings of Syria were because President Assad is an evil, maniacal monster who gassed his own people; and that Trump's expansion of the war in Afghanistan is totally in the interests of America's national security.
BUT WHAT IF ALL OF IT IS A BIG, FAT LIE?
What if the Muslims had NOTHING to do with 9/11?
What if Bashar al-Assad did NOT gas his own people?
What if America's "War on Terror" is a completely false, manufactured, made-up deception?
What if America's military forces are mostly fighting for foreign agendas and NOT for America's national security or even our national interests?
What if America's war in Afghanistan is a fraud?
What if the entire "War on Terror" is a fraud?
The Trump robots have bought into America's "War on Terror" as much as Obama's robots and Bush's robots did. Bush was elected twice, largely on the basis of America's "War on Terror." Obama campaigned against the "War on Terror" and then expanded it during his two terms in office. Trump campaigned against the "War on Terror" and then immediately expanded it beyond what Obama had done. In fact, Trump is on a pace to expand the "War on Terror" beyond the combined military aggressions of both Bush and Obama.
But who cares? Who even notices?
America is engaged in a global "War on Terror." Just ask G.W. Bush, Barack Obama, Donald Trump, ABC, CBS, NBC, CNN, FOX News, The Washington Post, the New York Times and the vast majority of America's pastors and preachers. They all tell us the same thing seven days a week, twenty-four hours a day. Liberals scream against Trump, and conservatives scream against Maxine Waters; but both sides come together to support America's never-ending "War on Terror."
But what if it's ALL a lie? What if Obama and Trump, the right and the left, the MSM and the conservative media are all reading from the same script? What if they are all (wittingly or unwittingly) in cahoots in perpetuating the biggest scam in world history? And why is almost everyone afraid to even broach the question?
Left or right, liberal or conservative, Democrat or Republican, secular or Christian, no one dares to question the official story about the 9/11 attacks or the "War on Terror."
And those who do question it are themselves attacked unmercifully by the right and the left, conservatives and liberals, Christians and secularists, Sean Hannity and Chris Matthews. Why is that? Why is it that FOX News and CNN, Donald Trump and Barack Obama, Chuck Schumer and Ted Cruz equally promote the same cockamamie story about 9/11 and the "War on Terror?"
Why? Why? Why?
Tell me again how Donald Trump is so different from Barack Obama. Tell me again how Ted Cruz is so different from Chuck Schumer. They all continue to perpetuate the lies about 9/11. They all continue to escalate America's never-ending "War on Terror." They are all puppets of a global conspiracy to advance the agenda of war profiteers and nation builders.
The left-right, conservative-liberal, Trump-Obama paradigm is one big giant SCAM. At the end of the day, the "War on Terror" goes on, bombs keep falling on people in the Middle East who had absolutely NOTHING to do with 9/11 and the money keeps flowing into the coffers of the international bankers and war merchants.
All of the above is why I am enthusiastically promoting Christopher Bollyn's new blockbuster book The War on Terror.
Of course, Bollyn is one of the world's foremost researchers and investigators into the attacks on 9/11. He has written extensively on the subject. But unlike most other 9/11 investigators, Bollyn continued to trace the tracks of the attacks on 9/11. And those tracks led him to discover that the 9/11 attacks were NOT "the event" but that they were merely the trigger for "the event." "What was the event?" you ask. America's perpetual "War on Terror."
As a result, Mr. Bollyn published his findings that the attacks on 9/11 were NOT perpetrated by Muslim extremists but by a very elaborate and well financed international conspiracy that had been in the planning for several decades. Bollyn's research names names, places and dates and exposes the truth behind not just 9/11 (many have done that) but behind America's "War on Terror" that resulted from the attacks on 9/11.
IT'S TIME FOR THE TRUTH TO COME OUT!
And Christopher Bollyn's investigative research brings out the truth like nothing I've read to date. His research connects the dots and destroys the myths.
Mr. Bollyn's research is published in a book entitled (full title): The War On Terror: The Plot To Rule The Middle East. I mean it when I say that if enough people read this book, it could change the course of history and save our republic.
This is written on the book's back cover:
The government and media have misled us about 9/11 in order to compel public opinion to support the War on Terror.

Why have we gone along with it? Do we accept endless war as normal? Are we numb to the suffering caused by our military interventions?

No. We have simply been propagandized into submission. We have been deceived into thinking that the War on Terror is a good thing, a valiant struggle against terrorists who intend to attack us as we were on 9/11.

Behind the War on Terror is a strategic plan crafted decades in advance to redraw the map of the Middle East. 9/11 was a false-flag operation blamed on Muslims in order to start the military operations for that strategic plan. Recognizing the origin of the plan is crucial to understanding the deception that has changed our world.
Folks, 9/11 was a deception. The "War on Terror" is a deception. The phony left-right paradigm is a deception. FOX News is as much a deception as CNN. The "always Trump" group is as much a deception as the "never Trump" group. America has been in the throes of a great deception since September 11, 2001. And this deception is being perpetrated by Republicans and Democrats and conservatives and liberals alike.
I do not know Christopher Bollyn. I've never met him. But I thank God he had the intellectual honesty and moral courage to write this book. I urge readers to get this explosive new book. If you don't read any other book this year, read Mr. Bollyn's investigative masterpiece: The War On Terror: The Plot To Rule The Middle East.
Again, I am enthusiastically recommending this book to my readers, and I make no apologies for doing so. The truth contained in this research MUST get out, and I am determined to do all I can to help make that possible.
Order Christopher Bollyn's blockbuster book The War On Terror: The Plot To Rule The Middle East here:
The War On Terror: The Plot To Rule The Middle East
I am confident that after you read this book, you will want to buy copies for your friends and relatives. The book is under 200 pages long and is not difficult reading. However, the facts and details Bollyn covers are profound and powerful. I have read the book three times so far and I'm not finished.
Frankly, Bollyn's book made so many things make sense for me. His book dovetails and tracks with much of my research on other topics. Truly, his book helped me get a much fuller understanding of the "big picture."
What if everything we've been told about 9/11 and the "War on Terror" is a lie? Well, Bollyn's book proves that indeed it is.
Again, here is where to find Christopher Bollyn's phenomenal new book The War On Terror: The Plot To Rule The Middle East:
Carbon budgets to require 'fundamental' changes to work and lifestyle
Forthcoming carbon budgets for every sector of the economy will "require fundamental changes" affecting how people live and work, Minister for Climate Eamon Ryan has said.
He was speaking after the publication of new proposed overall carbon budgets from the Climate Change Advisory Council as the country puts a statutory limit on greenhouse gas emissions for the first time.
The council's budgets outline a national ceiling for the total amount of emissions that can be released.
The first carbon budget, which will run from 2021 to 2025, will see emissions reduce by 4.8 per cent on average each year for five years.
The second budget, which will run from 2026 to 2030, will see emissions reduce by 8.3 per cent on average each year for five years.
"The proposed carbon budgets will require transformational changes for society and the economy which are necessary; failing to act on climate change would have grave consequences," the council said.
Its chair Marie Donnelly said "significant investment across the economy" would be required.
Individuals and communities "at risk of loss of employment or disproportionate costs need to be identified and assisted", the council stressed.
Mr Ryan said the Government would shortly outline the carbon limit for each sector individually, which he said would be "challenging".
Climate plan
Government sources have said that the most crucial phase lies ahead as it next week plans to unveil the landmark climate plan that will set out how each sector needs to respond including agriculture, transport, heating and power generation.
Rural TDs in both Fine Gael and Fianna Fáil have privately expressed fears about backlash on new carbon ceilings for the agricultural sector. It is understood the Green Party favours a reduction in the national herd but there is strong pushback from members of the other Coalition parties.
In its report, the council said there was a need "for a strong, rapid and sustained reduction in methane emissions".
Minister of State in the Department of Agriculture Martin Heydon said it was clear from the council's modelling what the consequences were for rural economies if climate action "is not handled responsibly".
"The potential job losses and damage to rural Ireland of crude measures like herd reduction are stark. That's why it's vitally important that we get the sectoral targets right for an area like agriculture. Policy decisions must be backed up by robust science – if farmers cannot see the sense in what they are being asked to do then it will be difficult to achieve anything," he said.
'Serious repercussions'
Irish Farmers' Association president Tim Cullinan said the emissions ceiling for agriculture in the budgets would have "serious repercussions for farming".
"Our most productive farmers simply cannot remain viable if agriculture has to reduce emissions by between 21 per cent and 30 per cent as has been reported," he said in a reference to estimates a Government source gave to The Irish Times last week.
"This will have profound implications for the rural economy," he said.
But Oisín Coghlan, director of Friends of the Earth, said: "The truth is, if we stick to budget this we will all be winners, with a cleaner, healthier, safer future."
Welcoming the budget targets, Mr Coghlan said the narrative around the plans had begun to pit sectors against each other. However, "if we fail we will all be losers, facing accelerating climate breakdown with all the costs and destruction that will bring".
It is expected that the Government's climate plan will be released on November 3rd and that Mr Ryan will bring the details of that to the COP26 conference in Glasgow.