Alec Baldwin shooting incident calls into question the legacy of the Western | USA
Moments before his life was changed forever, US actor Alec Baldwin was showing the cameras how to draw a revolver. After the actor's movement, a "whiplash" and a "loud bang" were heard on the set, according to a witness statement. Following the gunshot, Halyna Hutchins, the director of photography on the independent move Rust, clutched her stomach with her hands and took a couple of steps backwards. The set technicians helped her to sit on the floor, where she said that she couldn't feel her legs. She died a few hours later. The accident has shaken the movie industry and opened a debate not only over security in the entertainment business, but also over the deep-rooted gun culture of the United States.
Two days after the fatal accident, dozens of members of the International Alliance of Theatrical Stage Employees, a powerful 150,000-strong union that groups together behind-the-scenes movie employees such as set technicians, make-up artists, camera operators and prop handlers, gathered together in Albuquerque to pay their respects to Hutchins. It was a vigil filled with pain and anger, but the participants were divided over how the incident would change cinema in one of the most heavily armed countries in the world. The younger members stated that Hutchins' death would lead to the gradual banning of live-firing weapons on movie sets and their substitution by special effects. The more experienced hands pointed to protocol violations on the set of Rust, which has proven to be the exception to the rule in an industry where shootings are extremely rare despite the omnipresence of weapons in filming. On Monday, Dave Halls, the assistant director who handed Baldwin the loaded pistol, said via a communique that he hoped the tragedy would swiftly lead the industry to "re-evaluate its values and practices to ensure no one is harmed through the creative process again."
In the film, Baldwin, 63, was playing the role of an old outlaw being pursued by a US Marshal and a bounty hunter who goes to the aid of his 13-year-old grandson, who has been sentenced to death for an accidental killing. The veteran actor, who was also producing the movie, embodied the classic Western antihero: an old man who wants to right a wrong and who has nothing to lose. At the time of the shooting, he was holding a long-barreled Colt revolver in a scene similar to those played by hundreds of actors across cinema's long history, from John Wayne and Clint Eastwood to James Stewart and Gary Cooper.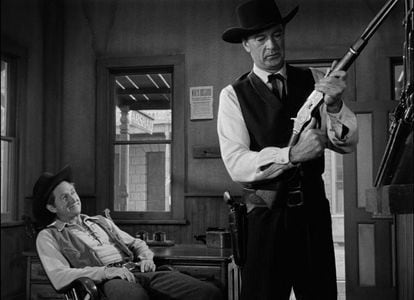 Nobody has explained the legacy of the Western in American culture better than the critic Robert Warshow. In a famous 1954 essay, The Westerner, he lays out why this genre has succeeded in capturing the hearts and minds of cinema-goers. "Values are compressed into the image of a lone man wearing a pistol on his belt. This tells us he lives in a violent world and he believes in it. Violence must come at the right time and with special rules, otherwise it holds no virtue," Warshow wrote. This hero of the Wild West, above all, is concerned about preserving "the purity of his image," and doesn't fight for what is right, but to express himself. "The Westerner is the last gentleman, and the movies which over and over again tell his story are probably the last art form in which the concept of honor retains its strength."
For a century, pistols have absorbed the values that the Western projects. A few weeks ago, Italian photographer Gabriele Galimberti published The Ameriguns, a project that took him to the homes of various gun fanatics in the US over the course of 18 months. During that time, he traveled across several regions of a nation that has more guns than it does inhabitants. Half of the world's total private armory is held in the United States: 393 million weapons for 330 million people. Galimberti's portraits are very effective in illustrating this statistic. "I met a family in Texas who had 216 guns. I recall the value of this arsenal was greater than the cost of the house that contained them. How is it possible that you spend more on guns than you do on the house in which you live?" he asks via telephone.
In Galimberti's interviews, the words "family" and "freedom" are frequently repeated, regardless of whether it was a couple from rural Kansas or a gay technology executive from San Francisco who were talking. "They tend to say that the guns are to defend their freedom and are almost always linked to the family," says the photographer. Many describe an initiation rite that starts when they are six or seven years old, when they fire a weapon for the first time under the guidance of their father or an uncle, in an outdoor pursuit that speaks to the mastery of nature. "That is usually exciting enough that it convinces them to go out and buy their first gun," explains Galimberti.
The golden age of the Western
Hollywood has reinforced this culture. The golden age of the Western, with its value system, witnessed its twilight in the 1970s when the antiheroes seduced the public under the hand of the New Hollywood. Cultural critic Peter Biskind wrote in his 2018 book The Sky is Falling that Clint Eastwood helped to erode the code of honor of the man of the Wild West. Eastwood, a supporter of the US Republican party, tells an anecdote in which the director Don Siegel asked actor John Wayne to shoot a man in the back in a 1976 movie. Wayne, who embodied the moral compass of the genre, refused. "I don't shoot people in the back," the star of Stagecoach responded. "Clint Eastwood would," Siegel replied. The big studios were becoming more and more conservative and the expansion of cable television, and much later streaming services, took advantage of the void to gamble on stories filled with violence, giving rise to characters such as Tony Soprano, Dexter and Walter White.
Siegel knew what he was talking about. He had directed Eastwood in Dirty Harry, which was a hit in 1971. The character, a tough detective who is hunting a serial killer in San Francisco, caused a furor with Eastwood's Smith & Wesson .44 Magnum. The man who created Inspector Harry Callahan is movie-maker John Milius, who worked on the scripts for the first two movies in the Dirty Harry series. Milius, who also co-wrote Apocalypse Now with Francis Ford Coppola, was a member of the board of directors of the National Rifle Association (NRA), the powerful pro-firearms lobbying group that is currently at its lowest ebb.
Milius is described as a "Zen anarchist with libertarian and Republican tendencies" by the journalist Frank Smyth, author of The NRA, The Unauthorized Story. One of Milius's movies, Red Dawn, was among the favorites of Timothy McVeigh, who was responsible for the 1995 Oklahoma City bombing that killed 168 people, including 19 children, and injured 680 more. Red Dawn is based on the recurring nightmare of the US right during the 1980s: a Communist invasion by the Soviet Union and its Cuban and Nicaraguan allies, who sweep through a small town in Colorado disarming its populace house to house. In 2012, a remake of Red Dawn starring Chris Hemsworth was released in which the invaders were North Korean. Milius proved decisive in an internal struggle for control at the head of the NRA, allying himself with Wayne LaPierre, the organization's president. When the NRA took note of Hollywood's power, it promoted the ascension of Charlton Heston, the star of classics such as The Ten Commandments and Ben-Hur, who was installed as president in 1998.
Will Hollywood witness any change after the tragedy on the set of Rust? Months before Hutchins' death, former Arizona House of Representatives member Gabby Giffords, who became an advocate for gun control after surviving an assassination attempt in 2011, asked movie-makers to give firearms regulation a voice in their stories. "Few industries play a larger role in shaping culture than the entertainment industry," she told Variety magazine in January.
Census 2022 – what difference does it make?
Next Sunday, April 3rd, is Census night. Millions of people in homes countrywide will fill in page after page of questions, some of which are deeply personal and many of which might be unfamiliar.
But what it is it all about?
At a basic level, Census 2022 will be used to inform planning of public policy and services in the years ahead, according to the Central Statistics Office.
The questions will cover a range of environmental, employment and lifestyle issues, including the use of renewable energy sources in homes.
The questions will help inform policy development in the areas of energy and climate action, and the prevalence of internet access, to understand the availability of and need for internet connections and range of devices used to access the internet.
Questions also focus on changes in work patterns and will include the trend of working from home and childcare issues, while questions are also asked about the times individuals usually leave work, education or childcare, to help identify and plan for transport pattern needs locally and nationally.
Other topics covered include volunteering and the type of organisations volunteers choose to support, tobacco usage and the prevalence of smoke alarms in the home.
And of course there is a time capsule – the chance to write something which will be sealed for the next 100 years.
In this episode of In The News, the head of census administration Eileen Murphy and statistician Kevin Cunningham about what it all means for us.
Oscars 2022: Will Smith makes Oscar history after slapping Chris Rock over joke about wife Jada Pinkett Smith | Culture
Will Smith took the Oscar for Best Actor at last night's 94th Academy Awards, but he also became the protagonist of the ceremony for other reasons. The night was following the script, until Smith slapped comedian Chris Rock on the stage after the latter made a joke about the shaved head of the former's wife, Jada Pinkett Smith. Rock had quipped that he was "looking forward to GI Jane 2," in reference to her look. Pinkett Smith has revealed publicly that she has alopecia. It looked as if the moment had been planned, until Smith went back to his seat and shouted: "Get my wife's name out of your fucking mouth."
The moment, which immediately became Oscar history but for all the wrong reasons, left the attendees with frozen smiles, and asking themselves whether it was possible that a veteran such as Smith could have lost his cool in front of tens of millions of people. After taking the prize for Best Actor, the superstar actor made a tearful apology, saying that he hoped the Academy "will invite me back." Later on, actor Anthony Hopkins called for "peace and love," but it was already too late. The incident overshadowed the success of CODA, which took the Oscar for Best Picture. Just like the time when Warren Beatty mistakenly named La La Land as the big winner of the night, no one will speak about anything else from last night's awards.
At first sight, Smith's actions looked as if they were scripted. When he first heard Rock's joke, he laughed. But his wife was seen on camera rolling her eyes, and it was then that the actor got up onto the stage and hit Rock. When he returned to his seat he raised his voice twice to shout "Get my wife's name out of your fucking mouth," sending a wave of unease and shock through the attending audience. The fact that he used the f-word, which is prohibited on US television, set alarm bells ringing that this was real and not a planned moment. In fact, the curse word was censored by the broadcaster, ABC, in the United States.
During a break, Smith's PR manager approached him to speak. In the press room, which the actor skipped after collecting his prize, instructions were given to the journalists not to ask questions about the incident, Luis Pablo Beauregard reports. The next presenter, Sean "Diddy" Combs, tried to calm the situation. "Will and Chris, we're going to solve this – but right now we're moving on with love," the rapper said.
When Smith took to the stage to collect his Best Actor award for his role as Richard Williams – the father of tennis stars Venus and Serena – in King Richard, he referred to the character as "a fierce defender of his family." He continued: "I'm being called on in my life to love people and to protect people and to be a river to my people. I know to do what we do you've got to be able to take abuse, and have people talk crazy about you and have people disrespecting you and you've got to smile and pretend it's OK."
He explained that fellow actor Denzel Washington, who also spoke to Smith during a break, had told him: "At your highest moment, be careful, that's when the devil comes for you."
"I want to be a vessel for love," Smith continued. "I want to be an ambassador of that kind of love and care and concern. I want to apologize to the Academy and all my fellow nominees. […] I look like the crazy father just like they said about Richard Williams, but love will make you do crazy things," he said. He then joked about his mother, who had not wanted to come to the ceremony because she had a date with her crochet group.
During the commercial break, Will Smith is pulled aside and comforted by Denzel Washington and Tyler Perry, who motion for him to brush it off. Will appears to wipe tears from his eyes as he sits back down with Jada, with Denzel comforting Jada and Will's rep by his side. pic.twitter.com/uDGVnWrSS2

— Scott Feinberg (@ScottFeinberg) March 28, 2022
The Los Angeles Police Department released a statement last night saying that Chris Rock would not be filing any charges for assault against Smith. "LAPD investigative entities are aware of an incident between two individuals during the Academy Awards program," the statement read. "The incident involved one individual slapping another. The individual involved has declined to file a police report. If the involved party desires a police report at a later date, LAPD will be available to complete an investigative report."
On December 28, Pinkett Smith spoke on social media about her problems with alopecia. She stated that she would be keeping her head shaved and would be dealing with the condition with humor. "Me and this alopecia are going to be friends… Period!" she wrote on Instagram.
House-price inflation set to stay double digit for much of 2022
House-price inflation is expected to remain at double-digit levels for much of 2022 as the mismatch between what is for sale and what buyers want continues.
Two new reports on the housing market paint a picture of a sector under strain due to a lack of supply and increased demand driven by Covid-related factors such as remote working.
The two quarterly reports, one each from rival property websites myhome.ie and daft.ie, suggest asking prices accelerated again in the first quarter of 2022 as the stock of homes available for sale slumped to a new record low.
Myhome, which is owned by The Irish Times, said annual asking-price inflation was now running at 12.3 per cent.
Price
This put the median or typical asking price for a home nationally at €295,000, and at €385,000 in Dublin.
MyHome said the number of available properties for sale on its website fell to a record low of 11,200 in March, down from a pre-pandemic level of 19,000. The squeeze on supply, it said, was most acute outside Dublin, with the number of properties listed for sale down almost 50 per cent compared with pre-pandemic levels.
It said impaired supply and robust demand meant double-digit inflation is likely until at least mid-2022.
"Housing market conditions have continued to tighten," said author of the myhome report, Davy chief economist Conall Mac Coille.
"The broad picture of the market in early 2022 remains similar to last year: impaired supply coupled with robust demand due to Ireland's strong labour market," he said.
"One chink of light is that new instructions to sell of 7,500 in the first 11 weeks of 2022 are well up from 4,800 in 2021, albeit still below the 9,250 in 2019. The flow of new properties therefore remains impaired," said Mr Mac Coille.
"Whatever new supply is emerging is being met by more than ample demand. Hence, transaction volumes in January and February were up 13 per cent on the year but pushed the market into ever tighter territory," he said.
He said Davy was now predicting property-price inflation to average 7 per cent this year, up from a previous forecast of 4.5 per cent, buoyed strong employment growth.
Homes
Daft, meanwhile, said house asking prices indicated the average listed price nationwide in the first quarter of 2022 was €299,093, up 8.4 per cent on the same period in 2021 and and just 19 per cent below the Celtic Tiger peak, while noting increases remain smaller in urban areas, compared to rural.
Just 10,000 homes were listed for sale on its website as of March 1st, an all-time low. In Dublin, Cork and Galway cities, prices in the first quarter of 2022 were roughly 4 per cent higher on average than a year previously, while in Limerick and Waterford cities the increases were 7.6 per cent and 9.3 per cent respectively.
The report's author, Trinity College Dublin economist Ronan Lyons, said: "Inflation in housing prices remains stubbornly high – with Covid-19 disturbing an equilibrium of sorts that had emerged, with prices largely stable in 2019 but increasing since.
"As has been the case consistently over the last decade, increasing prices – initially in Dublin and then elsewhere – reflect a combination of strong demand and very weak supply."