Alan Harte named as 'ringleader' sentenced for false imprisonment of Kevin Lunney
The High Court has lifted an order preserving the anonymity of one of the men convicted of kidnapping and inflicting serious injuries on businessman Kevin Lunney.
The man is Alan Harte, who last month was sentenced to 30 years in prison by the non-jury Special Criminal Court (SCC) for committing serious harm on and falsely imprisoning the Quinn Industrial Holdings (QIH) director in 2019.
The order was lifted by Mr Justice Charles Meenan on Tuesday afternoon,who dismissed an application by Mr Harte's lawyers to further extend Harte's anonymity.
The DPP had argued the Mr Harte be named.
Citing Article 34 of the Irish constitution, which states that justice must be administered in public the judge said he could see "no basis" for continuing the order.
The judge also said that legal safeguards remain available to Mr Harte regarding any prejudice he claims he will suffer due to any publicity arising from his trial and conviction by the SCC.
During his trial Harte was referred to as 'YZ'. When handing down the sentence Mr Justice Tony Hunt at the SCC described Harte as the "ringleader" and the person who had inflicted most of the injuries on Mr Lunney.
Two other men involved in the businessman's kidnapping and assault, Alan O'Brien and Darren Redmond were also given lengthy prison sentences by the SCC.
The anonymity order, which had initially been granted by the SCC had been extended by the High Court in December.
The order had been put in place when Harte, aged 40 with an address at Island Quay Apartments East Wall, Dublin 3, was first before the courts in connection with the offences.
It was granted because he had been due to go on trial before the Central Criminal Court in relation to an unrelated charge of murder.
That trial collapsed and the charge against Harte was dismissed, after the DPP entered a nolle prosequi in the case.
However, the order was continued, on a temporary basis after his conviction by SCC.
This was done to protect the man's rights to a fair trial as he has other unrelated criminal matters pending before the Criminal Courts.
Following his conviction Harte's lawyers claimed that his naming by the media in reports could prejudice his rights to a fair trial before a judge and jury.
Arising out of those concerns Harte launched High Court judicial review proceedings against the DPP and the Special Criminal seeking orders including a temporary order extending his anonymity.
The High Court made an order continuing the order till Tuesday's sitting of the High Court.
On Tuesday Harte's lawyers had asked the court to continue the order, arguing that there was a possibility that some of the criminal matters may be heard within the six month period.
He sought an extension until February when one of the cases against him was due to be mentioned before the courts.
Michael Hourigan Bl for Mr Harte said that there was a prospect that some of the criminal matters could be heard within the next six months.
It was argued that a fade factor of about six months, between the time a person is sentenced to when they go before a judge and jury in other courts, was required.
The application to further continue the order was opposed by the DPP, represented by Sean Guerin SC.
Counsel said that there was little or no chance of the pending matters being heard within the next six months.
There was therefore no reason why the man should not now be named counsel said.
What was a "spurious" "unfounded" and "artificial arrangement" should now be removed, counsel submitted.
Counsel said that the continuation of the order was being sought as part of an attempt by Mr Harte to continue to prevent his name from being published for quite some time.
In reply Mr Hourigan said his side "rejected out of hand" that contention.
In his ruling lifting the order Mr Justice Meenan said that it was part of the criminal process that those convicted of offences be named, bar in certain exceptional circumstances.
Mr Harte's case did not come under one of those exceptions, and the judge said that there was no reason to continue the order.
He said that Mr Harte could make what any application he needs to the courts to have safeguards put in place to prevent him suffering any prejudice in any forthcoming trial.
Following trials before the non-jury Special Criminal Court last year Harte was convicted along with two other men of false imprisonment and intentionally causing harm to Mr Lunney at a yard at Drumbrade, Ballinagh, Co Cavan on September 17th, 2019.
Harte's co-accused Alan O'Brien (40), of Shelmalier Road, East Wall, Dublin 3, and Darren Redmond (27), from Caledon Road, East Wall, were jailed for 25 and 18 years respectively with the last three years of Redmond's sentence suspended on conditions.
The trial heard that Mr Lunney, was abducted when driving to his home.
The court heard that Mr Lunney was dragged from his vehicle by two men before Harte approached, held a Stanley knife to Mr Lunney's face and told him to get into the boot of a car.
Harte drove with his two accomplices took Mr Lunney to the remote farmyard where they stripped him to his boxer shorts, doused him in bleach, shattered his shin bone with two blows of a wooden bat, punched and kicked him, sliced his face with a Stanley knife and carved the letters QIH into his chest.
The men told Mr Lunney to resign from his position with QIH and end legal proceedings he was involved with in Belfast and Dublin.
Delivering the SCC's verdict Mr Justice Hunt said that Harte was "heavily involved in these crimes before, during and after the commission thereof."
The SCC was satisfied that Harte was the driver of the car used to take Mr Lunney to the yard and that he was "responsible for inflicting most of Mr Lunney's serious injuries."
Revitalizing Fall Cinema As New York Film Festival Takes Center Stage
By Cindy Porter
The fall film season has been a muted affair, with major festivals in Venice, Telluride, and Toronto lacking their usual fervor.
Hollywood's luminaries have been notably absent from red carpets, leaving an air of dormancy since the heady days of Barbenheimer.
However, as the 61st New York Film Festival kicks off, there's a palpable sense of awakening.
Labor disputes are inching toward resolution, hinting at a resurgence in the industry. Considering this, the festival promises to deliver an exceptional array of films, showcasing some of the year's finest cinematic offerings.
The Festival Lineup
Dennis Lim, the festival's artistic director, expresses optimism despite industry uncertainties, affirming that cinema's vitality endures.
The opening night feature, Todd Haynes' "May December" introduces a playful yet poignant narrative led by Natalie Portman, Julianne Moore, and Charles Melton. It sets the stage for a festival packed with noteworthy films.
Highlights at the Festival
Yorgos Lanthimos' Venice sensation "Poor Things" starring Emma Stone, offers a compelling blend of wit and intrigue.
Sofia Coppola's "Priscilla" with Cailee Spaeny portraying Priscilla Presley, promises to be a captivating exploration of a legendary figure's life.
Bradley Cooper's "Maestro" brings Leonard Bernstein's story to life, adding another layer of significance to its North American premiere.
"Ferrari"
The festival's closing feature, Michael Mann's "Ferrari," emerges as a masterpiece.
Starring Adam Driver as Enzo Ferrari, the film delves into a pivotal period in the auto maker's life, culminating in the high-stakes Mille Miglia race.
Mann's signature intensity permeates every frame, depicting the relentless pursuit of victory against the backdrop of impending peril.
Exploring Depth in Documentaries
The festival also showcases immersive documentaries, including Wang Bing's "Youth (Spring)" Steve McQueen's "Occupied City," and Frederic Wiseman's "Menus-Plaisirs Les Troisgros".
These monumental works, clocking over 200 minutes each, delve into diverse realms, offering profound insights into the human experience.
"Youth (Spring)"
Wang Bing's "Youth (Spring)" unveils the lives of young migrant workers, toiling tirelessly in textile factories near Shanghai.
Their hands move with frenetic speed, a testament to the demands of their low-paying occupations.
Considering this, Wang delicately unravels their personal stories of love, heartbreak, and aspirations, painting a poignant portrait of resilience.
"All of Us Strangers"
Andrew Haigh's "All of Us Strangers" unfolds within the confines of a near-empty apartment building. Andrew Scott's portrayal of a screenwriter, Adam, embarks on a journey of self-discovery, triggered by an unexpected encounter with Harry (Paul Mescal). Through intimate dialogues, the film navigates the complexities of memory, companionship, and the power of storytelling.
The New York Film Festival shines a spotlight on films that transcend the boundaries of time and space.
Its dedication to authentic cinematic experiences, unburdened by distractions, reaffirms the enduring power of storytelling.
Films like "Janet Planet" by Pulitzer Prize-winning playwright Annie Baker transport audiences to specific moments in history, immersing them in a world where silence and nostalgia take center stage.
As the festival unfolds, it offers a resounding testament to the indomitable spirit of cinema.
---
We Can't Thank You Enough For Your Support!
— By Cindy Porter
— For more information & news submissions: info@VoiceOfEU.com
— Anonymous news submissions: press@VoiceOfEU.com
---
Copyright Dispute: DC Comics And 'Fables' Author Clash over Ownership, Author Aims for Public Domain
This is a story full of fairy tales. In some ways, it even resembles one. And yet it also proves that, in the real world, things rarely end happily ever after. A few days ago, Bill Willingham, the father of the celebrated Fables comic book series, announced that he was sending his most cherished work to the public domain, that is, to everyone. That's only fair, since that is also where he got the main characters of his stories, from Snow White to the Wolf, from Pinocchio to Prince Charming, who were then relocated to modern New York. In this tale, the hero has long-faced mistreatment at the hands of the villains, DC Comics, the owner of Vertigo, which publishes the work in the United States, and its executives.
"If I couldn't prevent Fables from falling into bad hands, at least this is a way I can arrange that it also falls into many good hands," Willingham wrote in an online post in which he decried the label's repeated attempts to take over his creations and opposed them with this final extreme remedy. But the company responded that it considers itself to be the true owner of the series.
In a statement published by the specialized media IGN, the company threatened to take "necessary action" to defend its rights. Thus, the end of the dispute is uncertain. But it is unlikely that everyone will end up happily ever after.
In the meantime, in a new post, Willingham celebrated the massive support he received. In fact, for the moment, he has declined all interview requests — he did not respond to this newspaper's request, nor did the publisher — arguing that he preferred to spend the next few days working on new artistic projects. Meanwhile, the dispute continues.
Fables is one of the most celebrated graphic novels of the last 20 years, and it has spawned spin-offs and a video game adaptation (The Wolf Among Us).
This situation also touches on a key issue, namely, the intellectual property rights of characters and works, especially in a sector where, for decades, dozens of cartoonists and screenwriters have accused comic book giants Marvel and DC of pressuring them to cede their ideas and accept commissioned contracts.
Willingham sums it up as a policy aimed to make creators sign "work for hire" agreements and crush them. All of this makes a gesture that was already intended to make a splash even more resonant.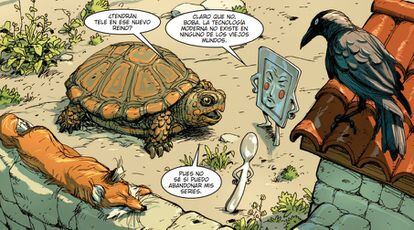 Indeed, the battle over intellectual property is as old as contemporary comics: the copyrights for Superman, Batman and The Fantastic Four all have unresolved disputes and complaints from Jerry Siegel, Bill Finger and Jack Kirby over the contemptuous treatment they suffered. And heavyweight Alan Moore has been lamenting for years that DC took away his ownership of famous works like Watchmen.
Along with prestige and principles, tens of millions of dollars are at stake, especially now that the film industry has become interested in comics.
"When you sign a contract with DC, your responsibilities to them are carved in stone, where their responsibilities to you are treated as "helpful suggestions that we'll try to accommodate when we can, but we're serious adults, doing serious business and we can't always take the time to indulge the needs of these children who work for us" the Fables author wrote on his blog. Following the impact of his original message, Willingham posted two other texts. He maintains that he had thought about sending his work into the public domain when he passed away, but that "certain events" have changed his plans: among them, he lists the changes in management and attitude at the top of the publishing company; the multiple breaches of obligations such as consultations about covers, artists for new plots and adaptations; DC's forgetfulness when it came to pay, which forced him to demand invoices of up to $30,000; the suspicious frequency with which the publisher attributed it to "slipping through the cracks" (to such an extent that the author insisted that they stop using that expression); and the time and chances he gave them to respect the pact, renegotiate it or even break it and consensually separate.
"Shortly after creating Fables, I entered into a publishing agreement with DC Comics. In that agreement, while I continued to own the property, DC would have exclusive rights to publish Fables comics, and then later that agreement was expanded to give DC exclusive rights to exploit the property in other ways, including movies and TV.
DC paid me a fair price for these rights (fair at the time), and as long as they behaved ethically and above-board, and conducted themselves as if this were a partnership, all was more or less well. But DC doesn't seem to be capable of acting fairly and above-board.
In fact, they treated this agreement (as I suppose I should have known they would) as if they were the boss and I, their servant. In time that got worse, as they later reinterpreted our contracts to assume they owned Fables outright," Willingham laments. Hence, he concluded that "you can't reason with the unreasonable."
Having ruled out a lawsuit as too expensive and time-consuming at 67 years of age, he found a more creative solution: if they prevented him from owning his works and benefiting from them as he was entitled to do, he would not let the publisher do so either. Or, at least, everyone could use the comics as they wished. But the label was quick to clarify in its statement to IGN: "The Fables comic books and graphic novels [are] published by DC, and are not in the public domain".
For his part, Willingham promises to continue fighting for all the conditions of his still-in-force contract that he considers DC to have violated, as well as for the last installments of the series, the final script of which he delivered two years ago.
There will be additional chapters in this dispute, as well as in many other ones like it: in 2024, the historic first image of Mickey Mouse, the one that starred in the 1928 short Steamboat Willie, enters the public domain in the U.S. and other countries. Copyright in the U.S. lasts for 95 years, and math is an exact science.
Therefore, in a few years, King Kong, Superman and Popeye will meet the same fate. But The New York Times has wondered how the "notoriously litigious" Disney will react and how far it will go to fight in court. And who would dare to freely use all these works for fear of a million-dollar lawsuit? The same question surrounds DC and similar companies. Because in the real world, fairy tales are rare. Or they end up in court.
---
U2 Concert Uses Stunning Visuals To Open Massive Sphere Venue In Las Vegas
It looked like a typical U2 outdoor concert: Two helicopters zoomed through the starlit sky before producing spotlights over a Las Vegas desert and frontman Bono, who kneeled to ground while singing the band's 2004 hit "Vertigo".
This scene may seem customary, but the visuals were created by floor-to-ceiling graphics inside the immersive Sphere. It was one of the several impressive moments during U2′s "UV Achtung Baby" residency launch show at the high-tech, globe-shaped venue, which opened for the first time Friday night.
The legendary rock band, which has won 22 Grammys, performed for two hours inside the massive, state-of-the-art spherical venue with crystal-clear audio. Throughout the night, there were a plethora of attractive visuals — including kaleidoscope images, a burning flag and Las Vegas' skyline, taking the more than 18,000 attendees on U2′s epic musical journey.
"What a fancy pad" said Bono, who was accompanied onstage with guitarists The Edge and Adam Clayton along with drummer Bram van den Berg. He then stared at the high-resolution LED screen that projected a larger version of himself along with a few praying hands and bells.
Bono then paid homage to the late Elvis Presley, who was a Las Vegas entertainment staple. The band has rocked in the city as far back as 1987 when they filmed the music video for "I Still Haven't Found What I'm Looking For" on the Strip during a tour in 1987.
"Look at all this stuff. … Elvis has definitely not left this building," he continued. "It's an Elvis chapel. It's an Elvis cathedral. Tonight, the entry into this cathedral is a password: flirtation."
U2 made their presence felt at the $2.3 billion Sphere, which stands 366-feet (111 meters) high and 516-feet (157 meters) wide. With the superb visual effects, the band's 25-show residency opened with a splash performing a slew of hits including "Mysterious Ways," "Zoo Station" "All I Want is You" "Desire" and new single "Atomic City".
On many occasions, the U2 band members were so large on screen that it felt like Bono intimately sang to audience on one side while The Edge strummed his guitar to others.
The crowd included many entertainers and athletes: Oprah, LeBron James, Matt Damon, Andre Agassi, Ava DuVernay, Josh Duhamel, Jason Bateman, Jon Hamm, Bryan Crankston, Aaron Paul, Oscar de la Hoya, Henrik Lundqvist, Flava Flav, Diplo, Dakota Fanning, Orlando Bloom and Mario Lopez.
After wrapping up The Beatles' jam "Love Me Do," Bono recognized Paul McCartney, who was in attendance, saying "Macca is in the house tonight." He acknowledged Sphere owner James Dolan's efforts for spearheading a venue that's pushing forward the live concert audio landscape with 160,000 thousands of high-quality speakers and 260 million video pixels.
The Sphere is the brainchild of Dolan, the executive chair of Madison Square Garden and owner of the New York Knicks and Rangers. He sketched the first drawing of venue on a notebook paper.
"I'm thinking the that the Sphere may have come into existence because of Jim Dolan trying to solve the problem that The Beatles started when they played Shea Stadium," he said. "Nobody could hear you. You couldn't hear yourselves. Well, the Sphere's here. … Can you hear us?"
Bono pointed into crowd and shouted out Dr. Dre, Snoop Dogg and Jimmy Iovine – who took in the band's spectacular show. At one point, Bono became emotional when he dedicated a song to the late Jimmy Buffett's family who attended the concert too.
Afterwards, Bono spoke about performing on stage for the first time without drummer Larry Mullen Jr., who is recovering from back surgery. He acknowledged Dutch drummer Bram van den Berg's birthday and and filling in for Mullen.
"I would like to introduce you to the only man who could stand, well, sit in his shoes," said Bono, who walked toward Berg as some in the crowd began to sing "Happy Birthday." He handed the microphone to Berg, who offered a few words. "Let there be no mistake, there is only one Larry Mullen Jr." Berg said.
As U2 wrapped up their show, a bright light shined from the ceiling and the massive screen began to fill with images of birds, insects and reptiles above a lake.
The band closed its first Sphere concert with "Beautiful Day," which one three Grammys in 2001.
---