Afghanistan: Afghan ex-interpreter in Spain: 'The worst is yet to come. Now the massacre is going to begin' | International
Chaos and concern reigned in Daryuosh Mohammadi's house last Thursday. This former interpreter, who is 29 years old, worked with the Spanish armed forces between 2009 and 2014. He arrived in Spain that same year, when the troops were pulled out of his country. His parents, sister and two brothers stayed in Afghanistan. The advance of the Taliban since United States forces left the country has filled Mohammadi with fear. "I don't want to eat and whenever I see videos [from Afghanistan] I go to the restroom and I cry alone," he explains, sat on the sofa in his apartment in the Madrid neighborhood of Entrevías. "The worst is yet to come. Now the massacre is going to begin – they're going to kill a lot of people."
The crisis involving Afghan interpreters who are still trapped in Kabul, and who are awaiting evacuation by Spanish authorities, is compounded by the plight of those who have been living in Spain for some time now but left their families behind in Afghanistan. Mohammadi's family is originally from Ghorband, a district in Parwan province. His relatives fled to the capital a week ago, escaping thanks to help provided by a childhood friend of Mohammadi who is a member of the Taliban.
His sister will not be able to return to school. When the insurgents took over her district, she purchased her first burka
"He said to me, 'If I catch you I have to kill you for being one of them.' But he helped me, even though his leaders do not know that he has had contact with me," Mohammadi explains.
His sister, who is aged 16, had nearly finished her high school studies. For now, she will not be able to return to school. When the insurgents took over her district, she purchased her first burka.
Together with other Afghan interpreters in Spain, Mohammadi has put together a list of the names of his relatives and those of his wife, and sent it a week ago to the country's National Defense Staff. After several days of silence and frustration while waiting to find out whether they can be evacuated, the direct family members of the translator managed to enter Kabul airport on Monday and are awaiting a plane that will take them to Spain. The Spanish authorities got in touch with his sister to let them know they could enter the airport. The family of his wife, however, has not yet received any such news.
His fear is that the insurgents could take revenge against them for having a relative who interpreted for the foreign armed forces. "It's my fault," he laments. "Those who have not worked for or had contact with foreigners may be safe, but those who have had contact are not."
The majority of these families have traveled from far-flung provinces to Kabul in a bid to escape Afghanistan. If they are not evacuated, Mohammadi insists, they will face "certain death" when they return home. "As soon as they left their houses will have been occupied or burned down," he says. "[The Taliban] already know that these people have left, and for them they are sinners, they are traitors."
So far, Mohammadi explains, nine former interpreters and their families have been evacuated to the Torrejón de Ardoz air base in Madrid, which is being used as a reception center for Afghans.
He considers the message of "moderation" being conveyed by the Taliban to be a big lie. A report from the United Nations has contradicted the guarantees of safety that have been offered by the insurgents to former collaborators with international troops or members of the now-collapsed government. There are witness statements that show that door-to-door searches are taking place to seek them out.
He is communicating with his family via a messaging service but they do not trust video calls. "Taliban intelligence is very advanced"
As a result, Mohammadi's family have changed their hiding place three times in just a week, staying close to the airport in Kabul in case they can be evacuated. They are communicating via a messaging service but do not trust video calls. "Taliban intelligence is very advanced," he adds.
From his orange sofa, he looks for photos on his cellphone of when he still lived in Afghanistan. He zooms in on an image of when he was 20 years old, and is in uniform. In another, he is pictured next to two Spanish soldiers, who were among his best friends during those years. His wife is resting in another room in the apartment. Despite having lived in Spain for a number of years, he cannot forget the horrors of the Taliban regime.
Mohammadi is unable to explain what has gone wrong. "If they ask me where I am from, I say Afghanistan, but then I think that it no longer exists," he explains. "All of that civilization, everything that has been done for women, has disappeared in a day. It's horrific to me."
He recalls a restaurant where he used to live when he studied at the University of Kabul. He would often order Kabuli palaw, a typical dish made of rice, raisins, carrots and lamb. On the outside walls there were "paintings of romantic women." Just a few days ago, he saw a photo of that restaurant, where the Taliban were covering over the faces of the women. "It was a complete shock," he says.
English version by Simon Hunter.
Bulgaria's president appoints interim government
Bulgarian president Rumen Radev re-appointed incumbent caretaker premier Stefan Yanev to lead an interim administration until a new government is formed, the official state gazette showed, Reuters reports. Radev has called for Bulgaria's third parliamentary election this year on 14 November, after inconclusive polls in April and July failed to produce a government in what is the EU's poorest country.
Afghanistan's top TV interviewer: 'I've assimilated the fact that the Taliban will kill me in the end' | USA
Saeed Shinwari, one of the stars of Afghanistan's ToloTV, has not left its headquarters in the center of Kabul for a month. Every day, he wakes up wondering whether the Taliban might take his life, recalling the day the fundamentalists entered the Afghan capital on August 15 and searched his house. A week earlier, the secret services of the now toppled former government had warned him he was on a hit list. "I've assimilated the fact that the Taliban will kill me in the end," he said flatly, further disheartened by the fact that he has no contacts to get him out of the country.
Shinwari hasn't seen his family at all in that time, he confided from the compound where he works, eats, sleeps and, above all, despairs. The 31-year-old journalist has a wife and four children, but is the main breadwinner for an extended family that includes his parents, sisters, brothers and nephews. "They came to my house and turned everything inside out. My mother asked them what they were looking for and they told her it was some card linking me to the government [Shinwari did work as a spokesperson for a government agency in 2019]. Since then, the stress means I can't eat, or smile, I feel depressed. What can I do?"
He is aware of the public relations campaign the Taliban have deployed, targeting international journalists. "One thing the [former government] and the Taliban have in common, or actually every government in this country since the mujahideen, is that they love the foreign press, but they hate the local media," he said. "If the Taliban stop you," he told this reporter, "they will treat you with respect; if they stop me, they will most likely beat me up because of my shows and my career."
The big question that I ask myself, that all Afghans ask themselves, is why the world has done this to us, why they have abandoned us
This is not the first time Shinwari has potentially faced violence. He suffered threats from the local branch of the Islamic State (ISIS-K) in his native Nangarhar, where he started working as a journalist nine years ago. But national recognition came when he signed up to work at ToloNews in 2017. His talk show, a format similar to the BBC's Hard Talk, achieved fame for the sharpness of his questions and how he made his guests uncomfortable.
That is, until the Taliban came along. "They just show up here for us to interview them without regard for whether it is newsworthy," he said indignantly. A few days ago, Abdul Hanan Haqqani, a leader of the movement's most hardline faction, stopped by to be interviewed by Shinwari. "When we finished, he said he was surprised that I had treated him in a balanced way. I replied that if I knew they were not going to kill me, I would have asked him a lot of questions that interest people," he said, though it is perhaps possible he just thought about saying that. What is certain is that many of those who follow his show have asked him what is wrong, and why he is no longer so inquisitive.
"We are going on the air with a lot of censorship," he confessed. "I hate them with all my might. They've taken our country away from us. If you lose money, it's okay, you can get it back; but if you lose your country, you've lost everything," he lamented. "The big question that I ask myself, that all Afghans ask themselves, is why the world has done this to us, why they have abandoned us," he concluded.
Tolo's owner, Saad Mohseni, confirmed that they have had "several workers beaten and threatened," without going into detail about Shinwari's case. ToloTV was Afghanistan's first private television network and something of a revolution in news and entertainment. It also operated with an inclusive policy for gender and ethnicity. Mohseni told EL PAÍS that most of its female employees had resigned after the arrival of the Taliban. Meanwhile, journalists from other Afghan media have also been brutally beaten for attempting to cover a demonstration.
'He saw the panic': the Afghan men who fell from the US jet | Global development
When Zaki Anwari scaled the fence of Kabul airport, he was determined to escape. The 17-year-old footballer with the Afghan national youth team had taken a break from studying maths for his exams to accompany his brother as he tried to catch a flight. Zaki had always told his family he was not interested in going abroad, unless he could return to Afghanistan.
But the Taliban takeover had changed things. Zaki did not have a passport but, as night fell on Kabul after the Taliban took control of the city, he told his brother Zakir that he wanted to leave. Zakir did his best to talk him out of it, but he would not let go of the idea.
Zaki was one of at least a dozen men who clambered onboard the outside of a US air force C-17 Globemaster transport plane as it taxied on the runway the following day. None of them made it to the plane's destination, the Al Udeid airbase in Qatar.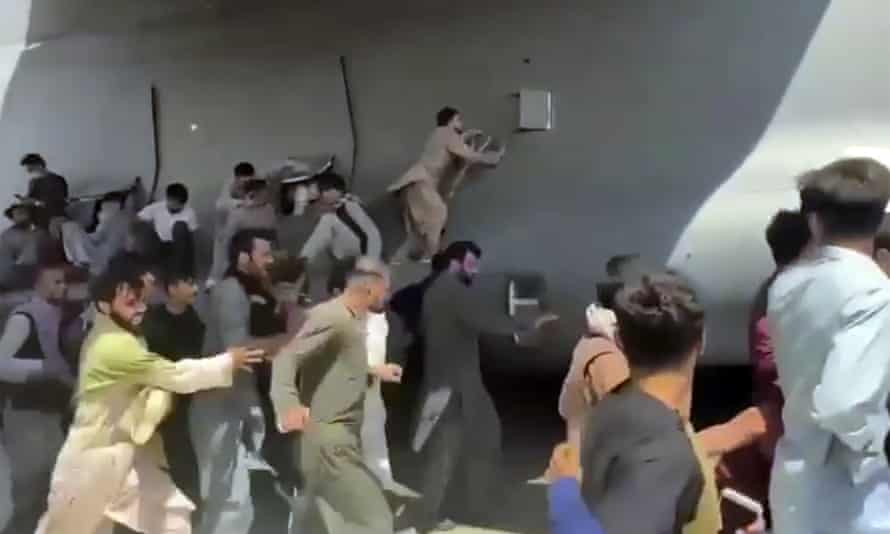 The plane had landed a short while earlier to deliver equipment to US forces. The night before, another aircraft had evacuated 823 people fleeing the Taliban takeover of Afghanistan, and Zaki joined the new arrivals on the airport runway, hoping for a similar escape.
Monday 16 August was clear and bright, and the young athlete was supposed to be guarding the family's car with Zakir while their older brother, Naser, jostled among people outside the airport clutching documents to leave.
Just before 11am, Zaki called Ahmad, the only brother still at home, to tell him he had jumped over the perimeter wall around the airport. "I'm close to the airplane now, they'll register our names after they put us in the plane, and then I'll lose [the] phone signal. I'm going to throw my phone away," he said.
Ahmad shouted at him to come home until Zaki hung up. Twenty minutes later, Zaki called his mother to speak to his sister, telling her that he felt he had a chance to board the plane, and asking her to pray for him. His mother put him on speaker to scream at him to come home, chiding him that he had no passport or travel documents.
Seeing the crowds rushing towards the plane, the crew decided that they had to take off. The hulking grey aircraft began taxiing as throngs of people ran alongside it. Amid the chaos, a small number climbed on to a wide fairing above the wheels and a smooth broad area above the wheel well.
Video shared by Asvaka, an Afghan news agency, shows the men smiling nervously and waving to others gathered next to the tarmac, with at least 12 onboard. Some waved excitedly, the wind whipping their hair as the plane picked up speed. Two jumped off and made a dash back into the crowd before the plane took off.
Shocked bystanders looked up at the sky, some filming on their phones, as at least two bodies fell from the plane as it flew south over Kabul. Afghans commenting online drew comparisons to the "Falling Man", photographed falling from the twin towers on 11 September 2001, a grim bookend to the US presence in Afghanistan. The men who fell were barely children, some not even born, when the US and its allies invaded Afghanistan 20 years earlier.
Fada Mohammad, 24 , was born into a world of civil war and Taliban rule four years before the US invasion in 2001. The young dentist had long dreamed of leaving, but lacked a plan or the financial means. His father, Payenda Mohammad, said Fada had been looking for ways to find money since getting married last year.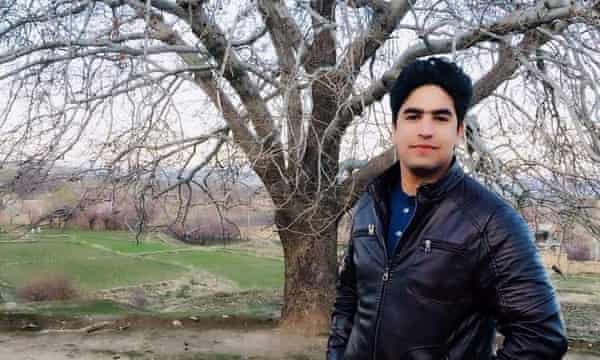 "Fada had talked about wanting to travel, but financially things were bad here. Anyone looking at the situation in this country would want to be elsewhere, and Fada was no different," Payenda said. Fada was the family's breadwinner, supporting 13 others.
Fada left as usual for work on the morning of 16 August. His wife and family had no idea he was heading to the airport. "He said goodbye to us just like any normal day, when he left for work at 8.30am," said Payenda. "He didn't say anything about the airport, or travel."
Even in his grief, Ahmad tried to understand why Zaki clung to the plane. "He saw the panic, he saw the Taliban – anyone would be scared," he said.
What happened next is the subject of an investigation by the US air force. Its spokeswoman, Ann Stefanek, said the plane was surrounded by civilians who had breached the airport walls before it could offload its cargo. "Faced with a rapidly deteriorating security situation around the aircraft, the C-17 crew decided to depart the airfield as quickly as possible," she said. American helicopters flew in front of the plane to clear space on the runway to take off.
The official account and videos indicate that the pilot was either unable to see the men clinging to the plane after takeoff, or was unwilling to stop the plane. The flap the men had used to climb on to the wheel well folds under the aircraft as the landing gear are retracted. Those who did not fall were probably crushed to death.
"In addition to videos seen online and in press reports, human remains were discovered in the wheel well of the C-17 after it landed at Al Udeid air base, Qatar. The aircraft is currently impounded to provide time to collect the remains and inspect the aircraft before it is returned to flying status," said Stefanek.
Authorities in Kabul maintain that the US crew could have acted differently. "Those men thought the pilot would stop and transfer them to the inside of the plane," said an Afghan health ministry official, who tried to identify some of the men after they fell to their deaths. The official has not been named for his own safety.
One of the men fell inside the airport perimeter, while two more hit rooftops in a neighbourhood close to the airport. A resident who heard a body land on a roof described it as sounding "like a bomb".
The Anwaris said that, not long after the plane had taken off, someone called Zaki's sister from his phone to tell her they had found his body. The family believe Zaki was crushed under the wheels of the plane as it departed, or possibly in the landing gear as it retracted into the wheel well.
Fada's wife grew concerned after her husband did not call as usual at 10am to say he'd arrived at work. "Then at 2pm, we got a call from a stranger asking if we know Fada Mohammad," said Payenda. The stranger said they had found Fada's body, and that he had been thrown from the aircraft. Payenda rushed to collect his son's body.
The brother of another victim, 15-year-old Mateen, told the Pajhwok news agency that the family had been unable to find him after spotting Mateen in a video showing the group sitting on a tyre on the plane. "There were 21 men sitting on the plane, two jumped before it flew, yet we only saw 12 bodies in the hospital," he said. "We didn't hear from [Mateen], we couldn't find his body – we went everywhere. The bodies fell in so many areas."
The official, whose time at the health ministry predates the Taliban, said knowing precisely how many men died falling from the aircraft, and identifying them, became almost impossible in the aftermath of the fall of the government.
"Their bodies were so badly damaged by the fall, it was hard to identify them. There was no government to investigate the incident," he said. "If you knew the Taliban, then you'd understand why the men did this."