Adopted by their parents' enemies: tracing the stolen children of Argentina's 'dirty war' | Human rights
One autumn afternoon in 1983, paediatrician Jorge Meijide was called to an apartment in the small town of Acassuso, on the outskirts of Buenos Aires. His six-year-old patient turned out to have nothing more than a mild flu, but Meijide sensed that something else was wrong in the household.
The woman who claimed to be the child's mother seemed to him too old to be his parent. On the walls hung photos of a man in military uniform: presumably the boy's father.
In 1980s Argentina both details were more than suspect. The country was slowly returning to democracy after the "dirty war" waged by the military dictatorship under Jorge Videla, known as the "Hitler of the Pampa". After the 1976 coup, Argentina's military set about crushing any potential opposition and eventually 30,000 people were killed or disappeared, almost all of them civilians. Pregnant prisoners were kept alive until they gave birth and then murdered. At least 500 newborns were taken from their parents while in captivity and given to military couples to raise as their own.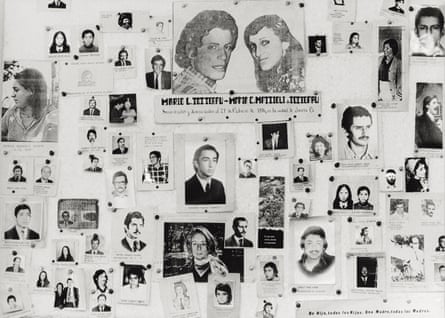 By 1983, hundreds of these "adoptions" were coming to light. But it was not until 2021 that large-scale efforts were made to trace the children.
Two years ago, the Argentinian government sent hundreds of DNA testing kits to its consulates around the world in an effort to put names to unidentified victims and to find the children of the disappeared, known as desaparecidos, many of whom are living today, unaware of their true identity.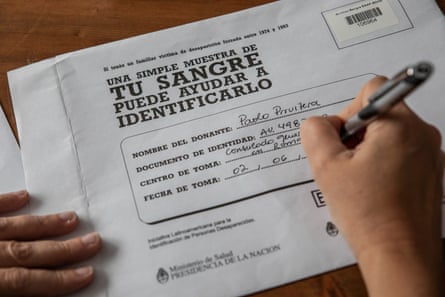 Meijide recounted what he had seen to the Abuelas de Playa de Mayo (Grandmothers of the Plaza de Mayo), a rights organisation with a mission to find the children who were illegally adopted in those years. The doctor had no photo of the child but, as a gifted amateur artist, he was able to draw a likeness.
This was shown to relatives of people who had disappeared. A woman from Mar del Plata whose son had been abducted in 1977 thought the child resembled her family. This was enough to trigger a complaint to the authorities, who asked the boy to submit to a DNA test. The military man whose picture hung on the wall, Jorge Vildoza, a high-ranking Argentinian navy officer, was asked to appear in court. In a panic, he fled the country, taking the child with him.
---
That little boy is now a 45-year-old banker living in London. His name is Javier Penino Viñas, and his biological parents, Cecilia Viñas and Hugo Penino, were abducted in 1977. Javier, illegally adopted by Vildoza and his wife, Ana María Grimaldos, was indeed the grandchild of the woman who thought she recognised his features. He is the only known stolen child of desaparecidos living in the UK.
"After the Videla regime, obviously there was a democratic transition, and in that period the trials against the military began," says Javier. "My adoptive father was quite high up in the navy, and the family knew that the transition to democracy was starting to cause problems for anyone in the military. That's when we moved to Paraguay and ended up changing our identities."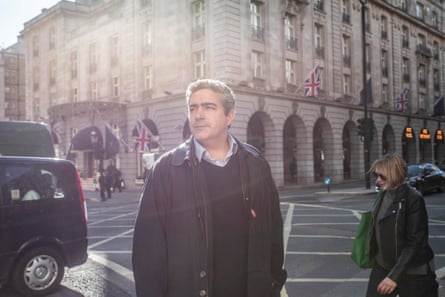 Back in 1983, at 5.30am on 21 December, the Viñas family received a phone call from their daughter Cecilia, Javier's biological mother. She was being held in an illegal detention camp but had no idea where. She managed to call her family five more times, always with the same fervent request: "Find my son, please!"
Cecilia was born on 7 June 1947 in Mar del Plata. She and her husband Hugo were active in trade union and leftwing groups that opposed Videla's far-right military regime. On 13 July 1977, the couple were kidnapped from their home in Buenos Aires. Cecilia was seven months pregnant. Women detained in the same facility as Cecilia would later testify that the baby was born into Vildoza's waiting arms.
Cecilia's last call to the family was in March 1984. According to some witnesses, she was eventually murdered in the camp. During the democratic transition many victims were discovered in mass unmarked graves, some in municipal cemeteries. Others washed up on Argentina's beaches, having been drugged and thrown from aircraft into the ocean by the military – known as "death flights".
Some experts say that behind the illegal military adoptions was a quasi-Catholic belief that, while the parents of the children were irredeemable sinners who deserved to die, killing their newborn children would be a sin. However, the Argentinian historian Fabricio Laino believes there was a more cynical logic at work. "The military were convinced they could 'save' and 'reform' these children. They wanted to redeem them from families who, according to them, would surely have raised them in a subversive environment."
Baltasar Garzón, a former Spanish judge and human rights activist, is convinced that something more atavistic was behind it.
"The appropriation of children, as well as rape, has always been aimed at humiliating and subduing the enemy. Taking away the enemy's child was a bargaining chip. They change a person's life by taking them out of their environment and biological family. And the method used in Argentina was especially perverse: waiting for the mother to give birth, then taking the baby from her, torturing her, killing her and making her disappear."
For decades, hundreds of children have been raised by the same people who were responsible for the torture and death of their biological parents. After the return to democracy, members of the military fled with their adoptive families – often to countries where extradition was prohibited.
In the mid-1980s, Vildoza moved with Javier and his wife from Paraguay to South Africa, making Cecilia's family's search for the boy increasingly difficult.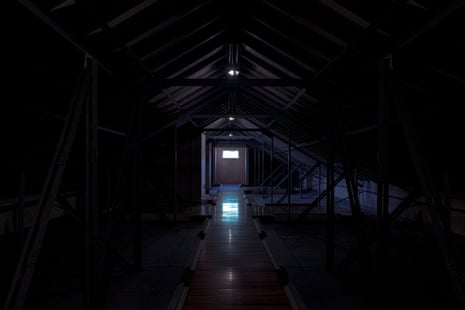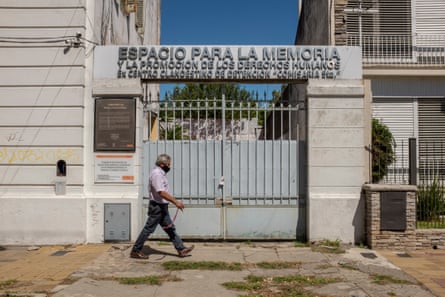 Vildoza was identified by survivors as the second-in-command at Escuela de Mecánica de la Armada (Esma), one of the most notorious torture and extermination camps of the dictatorship, where more than 5,000 prisoners were held – including Cecilia. Detainees were hooded and tortured daily. They were subjected to electric shocks, waterboarding, even amputations. More than 30% of prisoners during Videla's dictatorship were women. Female prisoners, including pregnant women, were sexually abused and gang-raped. Former prisoners testified that torturewas ordered by Rubén Chamorro, head of Esma, and his deputy Vildoza.
Around the time Javier turned 12, his adoptive mother revealed that she and Vildoza were not his birth parents.
"It was quite an emotional day," he says. "I remember her making very sure that I knew that my biological parents had wanted me, and that I had not been abandoned. She even made the point that if one day I wanted to find out who my biological parents were, she would have helped me. As for my adoptive father, he probably thought that I would start putting pieces together the minute I found out I was adopted. It was only later that I started to figure out I could be one of the kids who were illegally adopted."
Over time, Javier became aware of his true identity as the son of desaparecidos and the historical context in which he grew up.
"Between 12 and 18, [Vildoza] basically told me the entire story," he says. "He told me so much about my origins, and he opened himself to be judged by me. He even told me shocking things he had done, things I realised I was the only one in my adoptive family to know: about how he used to work, and things about the [death] flights."
When he turned 21, Javier took the next big step. At the beginning of 1998 he discovered there had been a complaint about his illegal adoption and that the Viñas family had been searching for him for almost 20 years. That spring, he returned to Argentina for a DNA test.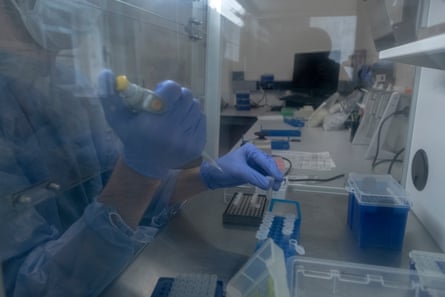 "When I presented myself for the DNA test, I pretty much knew the whole story. What I didn't know was that the Viñas family were my maternal family, because my adoptive father was convinced that they were not."
However, the test result left no room for doubt: Javier was the son of Cecilia Viñas and Hugo Penino.
"When I saw the pictures of my biological parents … it was very touching," says Javier. "I looked a lot like them. I was a mix of them. Right after they gave me the result, they put me in front of my maternal grandmother, my paternal grandfather, and then my uncle and my aunt. And I got to meet them all at once. It was very intense, especially because I wasn't expecting the DNA test to match. I thought the test was just the beginning of the search. So when it matched, I was like, 'wow.' The quest was over and all of a sudden I had a new family."
For Javier, there were also grimmer implications. The joy of finding his biological family turned to confusion when Javier was asked to collaborate with the authorities to bring his adoptive parents to justice.
"I said, 'I'm not going to do that,'" says Javier. "Look, I understand the quest for justice, I respect that, but don't expect me to be part of it or to deliver them to the authorities. I wouldn't be there if it wasn't for my adoptive parents. And they have brought me up with love since I was a baby. For me to flip around all suddenly and say 'these are evil people and I hate them' – it was an impossible request."
He explains: "My adoptive parents loved me very much. They left the country, went into hiding and lived on the run from Interpol for more than 20 years. You don't do that only for ideology or because you are scared of being caught, but because of love. I always felt love for them."
Javier's reaction is common in children of the desaparecidos. Many of them say their kidnappers acted out of love. They often maintain relationships with their adoptive parents, even after discovering the truth.
"They instilled certain values in their heads," says Alicia Lo Giudice, head of the Abuelas psychological support group. "There are cases of grandchildren raised by soldiers who took everything the military told or taught them as the supreme truth. In these cases it is very difficult to dismantle all this discourse and begin to make them understand that they grew up with people who were directly responsible for the death of their parents."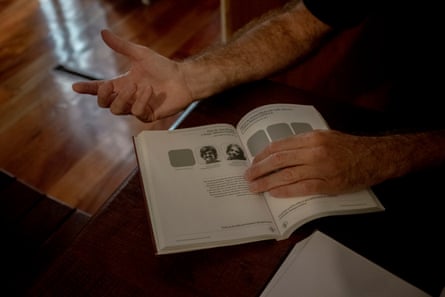 Marcela Solsona, 45, is the 129th grandchild found by the Abuelas. In 1997, she discovered that she was not the biological daughter of the couple who raised her. In 2013, while living in Valencia, Spain, she was contacted by the Abuelas, who had received information that indicated she might be a possible daughter of desaparecidos. However, Marcela refused to take the DNA test, even when the case reached court. She did not return to Argentina for five years.
"I was very frightened of the consequences of the DNA results," says Marcela. "I was afraid that whoever raised me would be incarcerated."
Marcela knew what the DNA result would be. She knows she is the daughter of a desaparecida, and who her real parents are. She found out one evening in 2016 on the Abuelas website. By entering a date of birth, the site lists possible matches. Marcela viewed the profiles of missing inmates who gave birth in June 1977. She scrolled through the images and froze when she saw a black and white photo of a girl who looked just like her: Norma Síntora. She was convinced the woman in the photo was her mother but, fearing that the truth could lead to the persecution of her adoptive parents, she chose not to have the test for another three years, when in 2019 she had to return to Argentina for family reasons. At that point she underwent a DNA test and discovered what she already knew: she was the daughter of Norma Síntora and Carlos Alberto Solsona, both militants.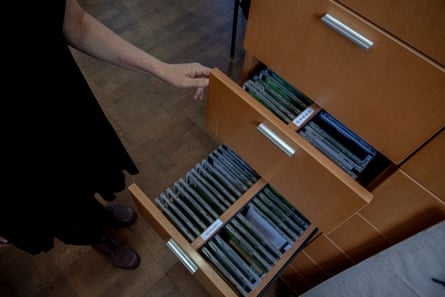 On 21 May 1977, Norma, who was 26 and eight months pregnant, was kidnapped. Nothing more is known about her. Carlos, on the other hand, managed to flee to Spain. Today, Marcela volunteers with the Abuelas, encouraging anyone with doubts about their identity to come forward.
"I put myself in the shoes of those who were looking for me," she says. "They are families who never chose to lose us. Taking the test was the best decision of my life."
Marcela talks to her biological father every day on the phone and sees him often. Yet, despite this, she continues to call the people that illegally adopted her "mum" and "dad". She will not say who they are and it is the only topic that she refuses to address during our interview.
After his DNA test, Javier Penino returned to South Africa and then moved to London, where he continues to have a relationship with his adoptive mother. Vildoza died of a heart attack in South Africa in 2005, still a fugitive with a $100,000 bounty on his head.
Grimaldos was arrested in 2012 in Argentina, where she had travelled for medical tests. Accused of "child abduction and detention, falsification of public documents and suppression of marital status"; prosecutor Horacio Azzolin and lawyers representing the Abuelas demanded a 12-year prison sentence. But Javier defended her in court, testifying that his adoptive mother was under the impression that he had been adopted legally.
Nevertheless, Grimaldos was given a six-year prison sentence.
---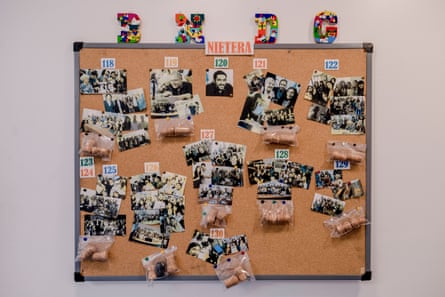 More than 1,000 of the Argentinian regime's torturers and killers have been tried, with 700 convictions. Some are still fugitives. Much of the investigation into the military's atrocities and the search to find illegally adopted children has been done by the Abuelas. Wearing white headscarves, the mothers of abducted militants first appeared during the dictatorship, when they silently marched in front of the national congress to demand information about their missing children. Today, they are a symbol of courage and the struggle for justice.
So far, about 130 of the 500 kidnapped children have been found. The Abuelas have created a network in various European countries and have launched a worldwide campaign called #ArgentinaTeBusca (Argentina is looking for you). Those with doubts about their identity can contact the Abuelas and take a test at the nearest Argentine consulate. The sample will then be sent to the National Genetic Data Bank in Buenos Aires.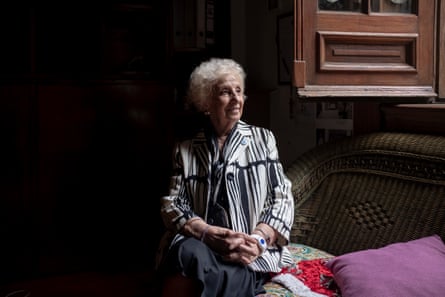 "Since the scientists could not compare the DNA of the children with that of the parents following their disappearance, they decided to compare them with those of the grandparents and of the entire alleged biological family," says Mariana Herrera, the data bank's director.
Late in December 2022, the Abuelas announced they had found two more grandchildren stolen from their parents during the dictatorship, but activists warn of the need to act fast, as witnesses grow old and grandmothers pass away.
The president of the Abuelas, Estela Carlotto, is 92 years old.
"Shortly after the murder of my daughter Laura, I swore to her, in front of her grave, that I would not let a day go by without fighting for justice for her and her partner, and that I would search for all the kidnapped children until we found them all," says Carlotto. "And that's what I'm doing, it's my life."
Her 22-year-old daughter Laura was killed by the military in 1978. While detained, she gave birth to her son, Guido. Carlotto found him in 2014.
Trauma runs deep in the families of the desaparecidos who have lived for decades in a limbo of unresolved grief, and it also afflicts the children.
"I understand that the need for justice is strong," says Javier. "And I'm glad I was able to participate in getting closer to truth and justice for both my biological and adoptive families. But trust me, it was tough.
"And forty-five years later, I still don't have any certainty about the fate of my biological parents, and that is simply not right""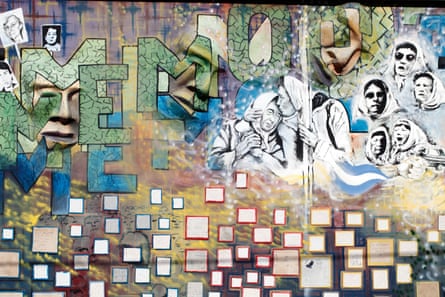 This investigation is a joint cross border project carried out by the the Guardian, La Repubblica and Le Monde, funded by the European Commission under the Stars4Media programme.
Uganda condemned for 'shameful' decision to close UN human rights office | Global development
Rights activists and campaigners have condemned the Ugandan government's decision to shut down the country's UN human rights office, describing it as "shameful".
In a letter to the Office of the UN high commissioner for human rights (OHCHR) in Uganda dated 3 February, the foreign affairs ministry said it will not renew the host country agreement it signed with the OHCHR, which established its initial mandate in the country in 2005. The current mandate, signed on 9 February 2020, expires in August.
"The government of Uganda will now continue its cooperation with the OHCHR Headquarters either directly or through its Permanent Mission in Geneva," reads the letter.
The development comes less than three months after the UN's committee against torture adopted the concluding observations on Uganda, which raised concerns that torture and ill-treatment continued to be frequently practised, and called for investigation and prosecution of security officials accused of excessive use of force, violence and arbitrary detention.
"The closure of the @UNHumanRightsUG office proves that [the] government has lost all sense of shame. It no longer wants any close international scrutiny of its human rights record," tweeted Adrian Jjuuko, executive director of the Human Rights Awareness and Promotion Forum.
"If the protectors are sent away, what then happens to those they were protecting? We are headed for tough times," he added.
Bobi Wine, the reggae singer turned Ugandan opposition leader, whose supporters remain in unauthorised places of detention or "safe houses", said it was no surprise that Uganda's president, Yoweri Museveni, who has been in power since 1986, has closed the OHCHR. He tweeted: "In the face of growing international condemnation and isolation, tyrant Museveni has responded by shutting down NGOs, Facebook, DGF [Democratic Governance Facility] & declaring several internationals Persona Non-Grata or deporting them! Now he shuts down @UNHumanRightsUG."
Wine added: "You'll recall in the aftermath of the 2021 election and the hundreds killed or abducted by the Museveni regime, we petitioned the UN Human Rights Office & the military brutalised journalists right there. This UN Office condemned these actions. Not surprising it's being closed."
Human right activists and advocacy groups have called the decision a "mockery" and accused the government of running from international scrutiny on abuse and protection of human rights.
"This is unbelievable, and the reasons given by the government are a mockery of the real state of human rights in the country," said Jjuuko. "To claim that Uganda no longer needs the office [OHCHR] because of its strong stand for human rights is ironic to say the least.
"A strong stand for human rights would imply opening up to the UN and other actors."
David Livingstone Sewanyana, founder of the Foundation for Human Rights Initiative in the capital, Kampala, told the Guardian, "The decision not to renew the mandate deprives Uganda of a critical player in the field of human rights promotion and protection."
At least 38 local and international staff at the head office in Kampala and two field offices in Gulu and Moroto stand to lose their jobs.
Jjuuko said: "Following closely on the closure of the DGF, this is a scary move which indicates that the government is no longer willing to have its human rights record scrutinised by international actors.
"This leaves local organisations at much more risk of being further silenced and their work curtailed without the government fearing close international security. It is a sad day indeed for the human rights movement in Uganda."
2023 State of the Union address, live | Biden will call for collaboration with Republicans | USA
On the List: Biden's guests at the State of the Union address
In the highly theatrical ritual of the State of the Union address, delivered each year by the President of the United States to a joint audience of congressmen and senators on Capitol Hill, the most eagerly awaited list in the hours leading up to the address is that of those invited by the President himself to attend his speech on the floor of the House of Representatives. They are carefully chosen to underscore with their presence the points the president wants to emphasize. This year they range from rock stars (Bono) to anonymous citizens unwittingly placed at the center of a whirlwind of tragedy and media attention, such as the parents of Memphis teen Tyre Nichols, the latest name to enter the history of police brutality infamy in the country.
 
What follows is a list of some of those illustrious guests at tonight's speech in Washington: 
Bono. Singer of the Irish band U2 and activist for the most varied causes, for whose fight he deploys his worldwide fame.
Oksana Markarova, the Ukrainian ambassador to the United States. She was already invited last year, when Biden's first speech came six days after the Russian invasion of Ukraine. Nearly a year later, the end of the war seems far off, but the U.S. commitment to Kiev's cause remains unwavering.
Row Vaughn and Rodney Wells, mother and stepfather of Tyre Nichols. Five police officers beat him to death last month in Memphis. His case, and the poise of his parents, have reopened the debate about police brutality in the United States, an issue that seemed on the mend after the chokehold death of African-American George Floyd at the hands of a white Minneapolis police officer on May 25, 2020. 
Brandon Tsay, another anonymous man at the center of American political power. Tsay disarmed the killer of 11 people in one of the latest mass shootings to horrify the country. It happened in Monterey Park, California, and the tragedy ripped the Asian American community in half. 
Deanna Branch. Lead was found in her son's blood because of water coming out of the home's plumbing. The Biden Administration has set a goal of replacing all lead pipes in the country within the next decade.
Mitzi Colin Lopez. Immigrant rights activist, specializing in advocacy for dreamers.  
Doug Griffin of Newton, New Hampshire. Lost a daughter to a fentanyl overdose. Biden plans to stress the importance of the fight against opioids. The drugs have taken the lives of 100,000 Americans by 2022.
Amanda Zurawski, Texas neighbor. She almost died because of restrictive anti-abortion laws that came out of the Supreme Court ruling that eliminated a woman's federal right to choose.
High-profile lawsuit against Meta can be heard in Kenya, Nairobi court rules | Global development
A Kenyan court has ruled that a case brought against Facebook by a former content moderator can go ahead.
Daniel Motaung, who was hired as a Facebook content moderator by the tech firm's subcontractor Sama in 2019, filed a suit against the two companies last year, alleging that he had been exposed to graphic and traumatic content at work, without adequate prior knowledge or proper psychosocial support – which he says left him with post-traumatic stress disorder.
He also claimed he was unfairly dismissed after trying to unionise his co-workers to fight for better conditions.
Facebook's parent company, Meta, contested its involvement in the case, saying that Sama was Motaung's employer, and Meta could not be subjected to a hearing in Kenyan courts because it was not registered, and did not operate, in the country.
However, on Monday the judge found that the tech giant was a "proper party" to the case.
The Kenya employment and labour relations court is yet to release its full ruling on Motaung's case, but the decision – the first of its kind in Africa – is already being hailed as a win for the accountability of big tech on the continent, and in the global south.
"If the attempt by [Meta] to avoid Kenyan justice had succeeded, it would have undermined the fundamental tenets of access to justice and equality under the law in favour of foreign privilege," said Irũngũ Houghton, executive director of Amnesty International Kenya.
"We finally have an avenue for accountability," said Odanga Madung, senior researcher for platform integrity at Mozilla. "It calls for tech giants to make serious changes within their companies that take into consideration their workers and users outside the US and Europe."
Cori Crider, director of Foxglove, a UK tech justice non-profit, which supported the Motaung case, said social media platforms should not outsource critical online safety functions like content moderation. "It is the core function of the business. Without the work of these moderators, social media is unusable. When they are not able to do their jobs safely or well, social media's safety brutally falters."
Meta is facing a second court case in Kenya, which was due to be heard this week but has been postponed. It was filed by two Ethiopian petitioners and a Kenyan rights advocacy group, Katiba Institute, who claim that the company failed to take online safety measures to manage hate speech on the platform during northern Ethiopia's civil war – which they say fanned the conflict, with serious offline consequences.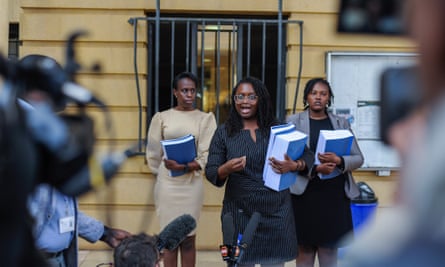 The father of one of the petitioners was killed after a violent Facebook post that was reported, but not acted on in time. The petitioners claim that Facebook also failed to recruit enough moderation staff to its regional hub in Nairobi.
"There are problems with Facebook's woeful failure to value or to staff content moderation outside of the English-speaking United States," said Crider, adding that Monday's ruling could have global and regional implications on how tech firms think about and manage content moderation.
Leah Kimathi, a convenor for the Council for Responsible Social Media, agrees. "Big tech should not just look at Kenyans as a market, but should be accountable and alive to the nuances, needs and peculiarities of Kenya, especially when it comes to content moderation."
Facebook has more than 13 million users in Kenya. It and Meta's WhatsApp are the most commonly used social media platforms in the country.
A nationwide poll conducted in 2022 by the Council for Responsible Social Media showed that 68% of Kenyans who have internet access get their news from social media, and that a majority of these feel that social media platforms could do more to remove harmful content.