'A violation': football star recounts having to strip during match to prove she was female | Global development
The international footballer Tabitha Chawinga is calling on Malawi's football authorities to introduce safeguards to protect women from abuse at all levels of the game.
Chawinga, who became the first woman from Malawi to sign for a European football team when she joined the Swedish club Krokom/Dvärsätts IF in 2014, said that she had been forced to strip in public during a match to prove she was female and was regularly trolled on social media about her looks.
"I don't want other people to face the same. It makes me think, if they are insulting someone they have just met at the football ground, what would they do if I was born in their family. Could they have killed me?" she said in a telephone interview from China, where she now plays for Wuhan Jianghan University FC in the Chinese Women's Super League and was voted Player of the Year two years in a row.
The 25-year-old, who has captained the Malawi national team and was ranked among the 100 best female footballers in the world by the Guardian last year, said that while playing for a girls' school team when she was 13 she was forced to undress in front of the opposition to prove she was a girl. Her opponents did not believe she was female because of her physical appearance and how well she played.
"I had never been so devastated and I cried at the embarrassment that I had been exposed to. I wanted to walk out right away but somehow my teammates consoled me and I decided to finish the game," she said. The incident made her quit the sport for a year.
The same thing happened a year later when she played for the Lilongwe women's football team DD Sunshine – a move, she said, that was her first step into a professional football career.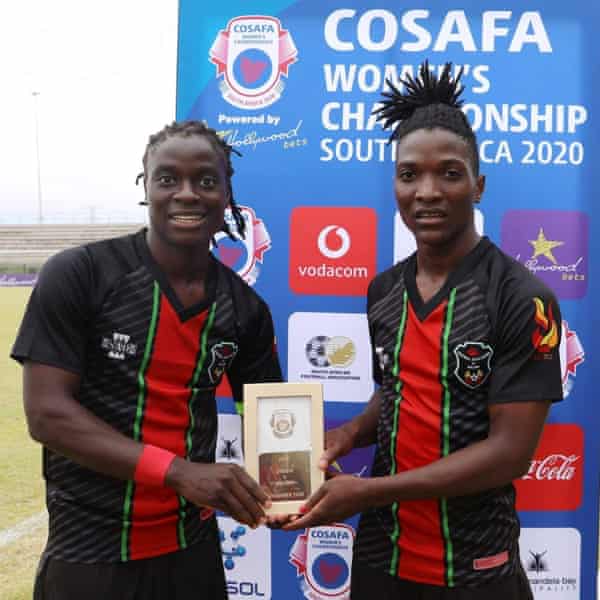 During a women's Presidential Cup match, she was told to undress on the pitch.
"We were participating in a Presidential Cup match and for our first game we travelled to Blantyre to play Blantyre Zero. It was a very difficult game and while it was being played, I was undressed right in the ground," said Chawinga, who began playing football with her male cousins at a young age. "I lost it right at that moment and we ended up losing the game as well."
DD Sunshine's owner, David Dube, said that the club lodged a complaint at the time with the Football Association of Malawi but did not get a response.
Chawinga, from Rumphi district in northern Malawi, said that because she had been so young, she had not taken up the issue with the authorities but she now wanted to speak out.
"When I was being stripped, I was young and I didn't know my rights. But if we talk about rights, they should be implemented. I am encouraging those women who have a passion for football that everything is possible. And being born different is not the end of the world," said Chawinga, whose sister Temwa also plays in China.
"I would like to ask the government and the sports officials to make sure that the rights of every player are protected. This is the way I was born and I know I am God's creation. I can't change how I look," she said.
"I am asking the women's football officials to promote the wellbeing of players by protecting their human rights."
Maggie Kathewera Banda, founder and executive director of the Women's Legal Resources Centre, said what Chawinga went through was an act of gender-based violence. "This is a violation of someone's dignity," she said.
Alfred Gunda, general secretary of the Football Association of Malawi who was not at the organisation when the complaint was made by Chawinga's club, said: "What happened is not right and we cannot condone it and that's why we encourage, in this day and age, that officials take responsibility and take care of the players as their own kids, and also make sure that any incidents that happen are reported and the right measures are taken so that we protect our girls."
He said the association ran youth development programmes and an under-15s schools programme to encourage more girls to take up the sport.
Brexit: British Embassy launches survey on key issues affecting UK nationals in Spain | Brexit | International
The British Embassy in Madrid has launched a survey aimed at finding out how UK nationals in Spain have been affected by key issues, in particular, the United Kingdom's exit from the European Union, a process commonly known as Brexit.
The poll is for Britons who are full-time residents in Spain (not those with second homes) and are covered by the Brexit Withdrawal Agreement, i.e. they were officially registered in the country before December 31, 2020, when the so-called Transition Period came to an end.
Questions in the survey address issues such as access to healthcare and the uptake of the TIE residency cards, which were introduced as a replacement for green residency cards (either the credit-card size or the A4 sheet version, officially known as the Certificado de Registro de Ciudadano de la Unión).
The aim of the poll is to gather vital information on the experience of UK nationals living in Spain that will help the British Embassy provide feedback to Spanish authorities. The survey takes around 10 minutes to complete, and all answers are confidential.
Have you heard our Spanish news podcast ¿Qué? Each week we try to explain the curious, the under-reported and sometimes simply bizarre news stories that are often in the headlines in Spain.
'The challenge for us now is drought, not war': livelihoods of millions of Afghans at risk | Global development
The war in Afghanistan might be over but farmers in Kandahar's Arghandab valley face a new enemy: drought.
It has hardly rained for two years, a drought so severe that some farmers are questioning how much longer they can live off the land.
Mohammed Rahim, 30, grew up working on a farm along with his father and grandfather in the Arghandab district of Afghanistan's southern province. Famous for its fruit and vegetables, the area is known as the bread basket of Kandahar.
Like most in the valley, Rahim's family relies solely on farming. "The fighting has just stopped. Peace has returned," Rahim says. "But now we face another war: drought.
"Now we have to dig deep to pump water out of the land. It has been two years, there has been little rain and we have a drought here. I don't know if our coming generations can rely on farming the way our ancestors used to do."
Pir Mohammed, 60, has been a farmer for more than four decades. "Not long ago, there were water channels flowing into the farm and we were providing the remaining water to other farmers," says Mohammed. "Before, the water was running after us, flowing everywhere – but now we are running after water."
The water used to come free from the river but now the daily diesel cost for the water pump is at least 2,500 Afghani (£21).
"We don't make any profit. We are in loss, rather. Instead, we are using our savings. But we don't have any other option as we do it for survival," says Mohammed. "However, the scarcity of water has affected the quality of crops as well."
About 70% of Afghans live in rural areas and are particularly vulnerable to the impacts of drought.
Last week, Rein Paulsen, director of the Food and Agriculture Organization's Office of Emergencies and Resilience, said severe drought was affecting 7.3 million people in 25 of the country's 34 provinces.
He warned: "If agriculture collapses further, it will drive up malnutrition, increase displacement and worsen the humanitarian situation."
Arghandab has been a favourite destination for farming because of the abundance of water and fertile lands. Neikh Mohammed, 40, left the Dand district of Kandahar to work in Arghandab in 2005. When he arrived he was amazed to see the greenery and pomegranate farms.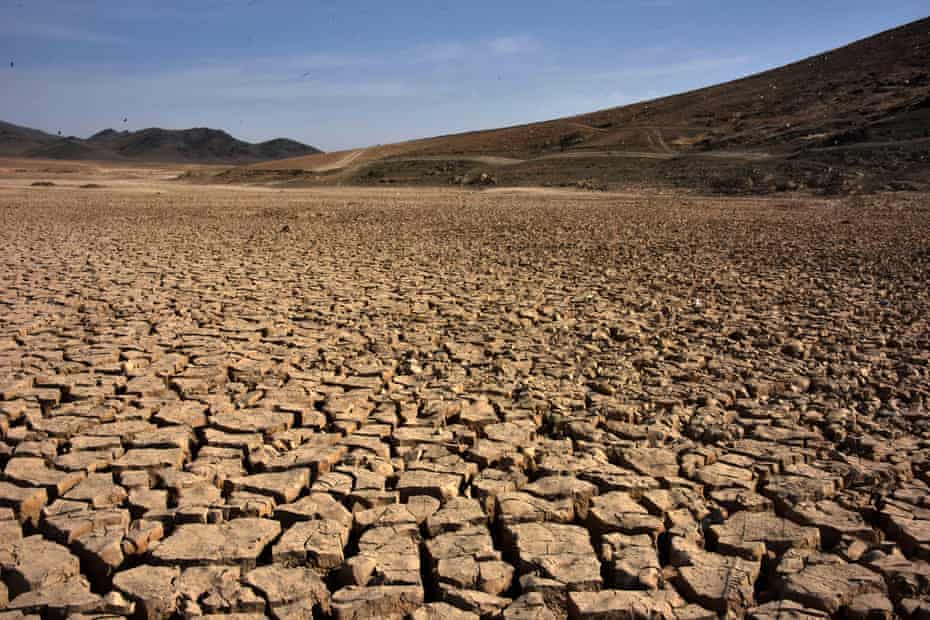 "It used to rain a lot here and we could not cross the river and come into our farms. We had a life with abundant water. But the past is another country now," he says.
According to a report by the UN mission in Afghanistan, many local farmers were caught in the crossfire between the Taliban and the Afghan security forces. The Taliban carried out attacks from thick foliage on the farms, which provided a hiding place, ideal for an ambush.
"For the past 20 years, we did not have peace and could not work after dark in our farms. But now we can stay as long as we want without any fear," says Neikh Mohammed. "Now the challenge is not just restoring peace but the drought and escalating cost of essential commodities."
Farmers say they want support from international aid agencies and assistance from the new government headed by the Taliban to help them survive.
Pir Mohammed says: "The real challenge for us now is drought, not war. We need food, water, dams and infrastructure in our country. The world should invest in us and save us."
[Ticker] US to lift Covid travel-ban on EU tourists
Fully vaccinated travellers from the EU and the UK will be let back into the US from "early November" onward, the White House said on Monday, ending an 18-month ban and prompting airline firms' shares to climb. "This new international travel system follows the science to keep Americans … safe," a US spokesman said. The EU recently recommended increased restrictions on US visitors, amid anger at lack of US reciprocity.

Source link