A Talk With a Favorite Russian Nationalist Thinker (Kholmogorov)
Kholmogorov is always fascinating. You can find his work on RI here.  (Highly recommended)
---
When in Moscow a few weeks ago, I met the Russian conservative thinker Egor Kholmogorov.
Unfortunately, my interview of him was cut short after only about 5 minutes, but I was able to record an impromptu talk he gave at the conference we were both attending. So, below are the transcripts of both the short interview and Egor's speech. In both of these, he explains his philosophy of 'offensive isolationism.'
---
Paul Robinson (PR): I am writing a book on Russian conservatism and want to ask you to comment on several things that you have previously said. For instance, you say that Russia is an island and you speak of the necessity of Russian isolationism, but at the same time you talk of the strategy of 'offensive isolationism.' Can you comment on this apparent contradiction?
Egor Kholmogorov (EK): The point is that strategically, in terms of culture, as a civilization, as a state, Russia is interested in isolation. That is, as much as possible it shouldn't intervene very much in world affairs. It shouldn't be continually supporting the global balance by means of interventions in far away lands, especially as these are taking more and more absurd forms.
An example is the geopolitically-founded intervention in Syria. Now Russian Muslims are demanding that Russia should punish the regime of Myanmar. But Myanmar is completely irrelevant to the majority of Russian citizens. But there's a problem connected with the fact that what we now call Russia came into being in 1991 in rather an absurd manner.
Russia as a subject of international law was decidedly smaller than Russia as a historical fact, as a historical territory, as a territory inhabited by Russians. Consequently, in our current objective circumstances, isolationism is impossible as we are under continual threat. American tanks are in Estonia, 100 kilometers from St Petersburg. NATO military bases might appear in Ukraine. Thus Russia is currently obliged to attack or counter-attack in some way, because it is objectively threatened.
PR: What do mean by the word 'attack'?
EK: Spread our influence.
PR: Using soft power?
EK: Not necessarily. In some matters, I'm known as a fierce interventionist. When Ukraine is being discussed, I've always supported the firmest resolution of this problem, for the use of the Russian armed forces against the regime which has taken power in Kiev. Because it's objectively criminal. It's a country, a state, which can't exist in its current form. Ukraine will either be an aggressor, which drags the West into war with Russia, or something will happen to it, like it will fall apart into two or more pieces.
Overall, this is indeed soft power, it's about building a system of diplomatic coalitions, it's about building a system of cultural influence, what's called 'the Russian world.'  For large parts of Asia and Europe, Russia culture is the means by which those areas are included in world culture. Take Moldova, for example. Moldova hasn't joined the highest level of world culture via Shakespeare or Goethe, but via Pushkin, who lived for a long time in Kishinev, and so on.
If we talk about raising the quality of culture, the quality of life of the whole area known as the post-Soviet countries, a phrase I don't like as I find the whole theme of the Soviet Union problematic, then their movement upwards, their development, are in one way or another connected with Russia, with Russian influence. Any attempt to orient them towards the West, or let's say towards Saudi Arabia, will end in degradation, in catastrophe.
PR: But you were against the intervention in Syria.
EK: I wouldn't say against. I was simply sceptical about it. So far nothing terrible has come of it. When I was asked if it would become a new Afganistan, I immediately replied that no, it wouldn't, it's a different geography, a different country. It's just that in circumstances where Russia has a large number of urgent problems, in circumstances where it has the burdensome and still unresolved Ukrainian crisis on its borders, flying off to far off lands is senseless.
PR: What do you think of the idea that Russia is a distinct civilization? Are you are Russian nationalist who thinks 'Russia for the Russians' or are you a Eurasianist?
EK: I am definitely not a Eurasianist. I am a nationalist.
Egor Kholmogorov speech:
Given that I've been a political journalist for quite a long time, it seems to me that I can say a couple of words which won't be at all trivial. Some time ago, about two years, I wrote an article in the journal Notebooks on Conservatism about Robert Kaplan's book The Revenge of Geography. Robert Kaplan formulated a quite aggressive thesis that the difference between liberal political idealists and conservative political realists in American foreign policy debates is the difference between cannibals.
One cannibal asserts that we should take only the most beautiful and tasty young girls. And the other says that, no, we all share the same principles, we should eat everybody always. The first position is that of the typical realist. The second is that of the typical liberal: let's eat everybody because we have principles, ideas.
We can see this in the difference between the two approaches towards, say, Yugoslavia or Iraq. One says that it all depends on how far our drones fly and how confident we are that we can carry out air strikes. The other says that, no, we should at all costs bring democracy to this or that region.
At the start of this year, after President Trump's inauguration, there was a period in which we hoped for dialogue with American realists. Henry Kissinger was usually named as a sort of guru of this approach. And at the peak of these raptures and hopes I decided to study his latest book World Order, in order to understand the principles we could observe among American realists. And these principles were indeed revealed.
The first is unconditional orientation towards interests and the correlation of these interests through a pluralistic, so-called Westphalian system, which allows a large number of small states to form coalitions among themselves against any hegemon. In reality, this isn't a very historical conception, because if we recall the countries who signed the Treaty of Westphalia, we notice that they all disappeared from the scene in the next 250 years and were replaced by large national states with imperial elements.
The second thing that I noticed in Kissinger was that he clearly doesn't understand how to integrate his imagining of Russia into this Westphalian system. Russia is too big, and it's like a big elephant suddenly entered the sandbox in which little kids are playing and tells them 'I'm going to play with you.' And when the elephant begins to play in the sandbox, according to the same rules, we observe that on that side of the box where he's playing, he immediately begins to win. And so the question arises of how to get the elephant out of the sandbox and in general how to cut him up into little pieces which can't play any games at all or at any rate would cause such a sense of anxiety.
And when Kissinger speaks about Russia, he suddenly slips into the language of the Cold War, with his key thesis being that Russia is always afraid and so is always aggressively expanding in all directions. This is an absolutely irrational process, which can't be stopped, and so it's quite impossible to play a high-grade game with Russia according to the rules.
Kaplan talks about the same thing, but more subtly, which surprised me. It surprised me that a man like Kaplan, who is aggressively inclined towards the world outside the borders of the USA, understands Russia with some subtlety. In particular, he understands that any collapse of Russia is only a temporary phenomenon and that after the cycle of collapse there will be a cycle of reconstitution.
We have to understand and recognize that things look very different when viewed from Russia. In the past 400 years Russia has endured four large-scale European interventions: from Poland in the 17th century; from Sweden in the 18th, which we have to admit we started; that of France and the entire European coalition in the 19th century, and that of the German Reich in the 20th. Given this, it's somewhat comic to say that Russia has an irrational fear of invasion. It would be much more sensible to tackle the reasons which keep inducing this or that intervention into the depths of Russia, and which generally don't turn out well for the intervenors. Nevertheless, history is coming round full circle again.
When people say that it's impossible to reach agreement with Russia on foreign policy, I think that they are completely wrong. What do we mean by Russia? A geopolitical subject? Political subjects have no reason, no intellect, only geographical borders. Correspondingly, they can't talk about anything. But if we're talking about governments, or the ideological units which make up the governments, then we can see that in the second half of the twentieth century Russian foreign policy ideology drifted towards a rejection of any form of interventionism, towards an acceptance of isolationism as Russian civilization's basic foreign policy principle.
Here, it's enough to mention names like Aleksandr Solzhenitsyn and Vadim Tsymbursky. In the first case, a national ideologue, who in his Harvard speech sought to produce a global understanding of the Russian perspective. In the second case, a great geopolitical thinker who is sadly not well known in the West.
Reading Kaplan, I unfortunately observed that he doesn't at all know the Russian geopolitical tradition and refers to completely unimportant figures when he interprets Russian views of geopolitics. If we look at the global interventionist conception of Eurasianism, as interpreted by Dugin, we see that it too is quite isolationist.
It's based on the inevitable contradiction of the ideas of sea and land, and crudely speaking claims no more than half the world. If you compare it to the global American concept which in principle doesn't recognize any borders, it's quite moderate in its pretensions. I still find it unacceptable and quite absurd, but all the same it's comparatively quite moderate.
It's worth remembering the story about Solzhenitsyn, when he was invited to breakfast with President Reagan and he refused in a really sharp form, because they wanted to seat him among dissidents with decidedly anti-Russian views. The Russophobic Richard Pipes was meant to be at this meeting. And Solzhenitsyn wrote a really interesting letter to Reagan, which it's worth reading, which is one page long.
In this, he says:
Mister president your closest advisors like Pipes are systematically discrediting me saying that I'm a Russian nationalist and am preaching aggression. But if my ideas triumph, the first thing Russia will do is reject this crazy imperialist policy in the far reaches of the world. What would I put in its place?

I came here thinking that America would help free Russia from communism, and what do I see? I see American generals discussing plans for a nuclear strike on the Russian parts of Russia, in this way hoping to weaken the Soviet Union.

I had thought that you wanted to free us from a regime which carries out genocide, but you're thinking about how best to carry out this genocide.
So, Solzhenitsyn always thought from a purely ethnic Russian point of view and this was the sense of his geopolitical thought and his disillusionment about the possibility of a dialogue with the West, which you can see in his texts, and which is very characteristic. If you're interested in a path which leads Russian thought away from love of the West and towards alienation from it, towards what might be called a defensive point of view, then simply read Solzhenitsyn.
Today, we have to recognize the simple fact that when people talk of the revival of Russian interventionism, and say that Russia wishes to interfere in the affairs of the whole world, that Russians are once again trying to seize something, this is in reality a reaction to the fact that when Russia in 1991 ridded itself of communism, Russia was if not destroyed in a geopolitical sense then at the very least converted in part into one of these victims of the cannibals.
Large parts of it were roasted on a slow fire in order then to be eaten. And now Russian thought, which is wholly isolationist in orientation, finds itself feeling that if it makes any compromise it will be immediately attacked, and then again, and then again. A year ago, Gingrich said that Estonia is a suburb of Petersburg. Today we see tanks there. Recently we said don't insult Russia, Ukraine is very close to it. Now we see an American naval base in Odessa.
It's not a question of global politics. It's that when the nation sees that it's not master in its own house, of its borders as it understands them, then its natural aspiration is some sort of counter-attack. And we have to recognize that this urge to counter-attack isn't a product of the reigning ideology in Russia. It's a reaction to the feeling that that's far enough, one step further and we'll be eaten, destroyed. I think that we need to look for some sort of ideological and geopolitical compromise.
We are facing the problem that the West chose a very arbitrary starting point from which to orient its policy – the year 1991 – and it wants to preserve that world order at any price. And anything Russia does is interpreted as an assault on this holy world order, as a manifestation of aggression, as a game contrary to the rules. And that's why they close their eyes when the discussion turns to Kosovo or Iraq. But in these circumstances it's impossible to carry out any sort of dialogue with Russia, and so a mood of irritation is growing in Russia and the present isolationist trend is being replaced by an external policy based on spite. Spite towards those forces which aren't letting us live. And it is being replaced by ideas that we must destroy the American empire with all our power and not allow the grass to ever grow again. So I'm sad that we have this situation in which Russia is being attacked.
Returning to Kissinger, in one of his previous books, Does American Need a Foreign Policy?, he says that the sole condition for dialogue with Russia is that it recognizes its current boundaries.
In other words, crudely speaking, the realistic condition is in fact an entirely unrealistic one, and the idealistic condition is the idea 'Let's eat you now in full.' It seems to me that if we don't dismantle this attitude towards Russia, then dialogue will be impossible.
---
Source: Irrussianality
Sonny Barger, founder of Hells Angels, dies at 83 | USA
Sonny Barger, the founding member of the Hells Angels Motorcycle Club, died on Thursday in California at the age of 83. Barger was the face of the biker gang that became one of the main counterculture movements in the United States in the 1960s. Barger's family confirmed his death in a message on Facebook. "Please know that I passed peacefully after a brief battle with cancer," the message stated.
Sonny Barger – whose real name was Ralph Hubert Barger – was born in northern California, and taught himself to ride a motorcycle when he was 11 years old. It was an American-made Cushman scooter. From that moment on, he tried to only assemble motorbikes with parts made in the US, a task that became increasingly difficult as the world became more open to international trade.
In 1957, he founded the Hells Angels chapter in Oakland, California. This chapter was founded nine years after the first one opened in Fontana, in the same state. Barger was the national president of the Hells Angels, a group that became notorious for its links to violent and organized crime. Barger was arrested more than 20 times and spent 13 years of his life in prison for different crimes. In November 1992, for example, he was released from federal prison after spending four years behind bars for organizing to kill members of the rival Outlaws Motorcycle Club. When his parole came to an end in 1994, 700 bikers came out to celebrate the news.
But the darkest chapter of the Hells Angels took place on December 6, 1969. That night, the biker members were hired as security guards at the Altamont Free Concert in California, where the Rolling Stones performed. Representatives of the band reportedly offered the Hells Angels $500 worth of beer in exchange for providing security. Members of the biker gang had worked without incident as security at concerts for bands such as The Grateful Dead and Jefferson Airplane. But at the Altamont Free Concert, which brought together 300,000 people, the situation became violent. During the Rolling Stones' performance, fights broke out in the audience. Meredith Hunter, an 18-year-old concertgoer, was stabbed to death by a member of the Hells Angels after approaching the stage. The incident was caught on camera and became a central scene in the Maysles Brothers documentary Gimme Shelter, in which Barger admitted the bikers did not have the training to do security work. A few days after the concert, in a call to a local radio station, he said: "I ain't no cop. I ain't never gonna police nothin.'"
The incident stained the image of the Hells Angels and Barger – who had the name Hell's Angels Oakland tattooed on his right shoulder – struggled for several years to change the gang's violent reputation. "Catholics probably commit more crimes than we ever thought of," he told the Los Angeles Times in 1994 after being released from prison on parole. "Probably politicians commit more crimes."
Writer Hunter S. Thompson compared the biker gang to the student protesters of the 1960s, who paved the way for civil rights in America. "The difference between the student radicals and the Hells Angels is that the students are rebelling against the past, while the Angels are fighting the future. Their only common ground is their disdain for the present, or the status quo," he wrote in his book Hell's Angels: The Strange and Terrible Saga of the Outlaw Motorcycle Gangs.
The Hells Angels were one of America's most striking subcultures, and their influence can be seen in many areas of society. In one of his books, Barger claims that Harley-Davidson – the motorcycle brand favored by the group – adopted the gang's ideas into its models. Barger played himself in the 1967 film Hells Angels on Wheels, where he appeared alongside Jack Nicholson. He also had a small role in the TV show Sons of Anarchy.
Barger was a difficult character to define. He got up at 4.30am to feed his dogs and horses, then worked out for three hours, doing weights and going jogging. By 8am, he was on his motorcycle and driving down an off-beaten track. Unlike the stereotypical biker, he wore a helmet that covered his entire face. This was due to the fact that he had his vocal cords removed in 1982 after suffering from throat cancer.
Art fakes: Disputed 'Basquiats' seized by FBI shake the US art world | Culture
While New York surrenders once again to the genius of Jean-Michel Basquiat with an exhibition of unpublished work curated by his family, in Orlando (Florida), there is considerably more controversy over the work of the artist who died at the age of 27. An exhibition at the Orlando Museum of Art dedicated to the former close friend of Andy Warhol, entitled Heroes & Monsters, has cost the head of that gallery his job, while the FBI investigates the authenticity of 25 of the works, not to mention the threats made by the director against an expert who had been commissioned to evaluate the authorship.
Although the scandal began to take shape in February, when the exhibition opened, the FBI raid took place last Friday with the seizure of the paintings with a contested attribution to Basquiat. Aaron De Groft, director and chief executive of the museum, has relentlessly defended that these are genuine works, while emphasizing that it is not a museum's role to certify the authenticity of the works it exhibits. "[The paintings] came to us authenticated by the best Basquiat specialists," he told the local NBC television station in February.
De Groft had for months championed the importance of the paintings, asserting that they are worth millions of dollars, until an expert showed up who'd been hired by the owners of the paintings and she began to question his version of events. The director was fired on Tuesday, just two business days after agents seized the 25 suspicious works. The museum's board of trustees met for hours that day, but not before warning employees that anyone who dared to discuss the matter with journalists would suffer the same fate as De Groft. Hence, it is impossible to know the version not only of the former director, but of any worker at the center. Nor can any information be gleaned at the New York exhibition, a mixture of unpublished work and memorabilia, where organizers are fearful of the devaluation caused by the Orlando scandal.
"It is important to note that there is still nothing that makes us think that the museum has been or is the subject of an investigation," Emilia Bourmas-Free told the local chain on behalf of the art gallery. Cynthia Brumback, chairwoman of the museum's board of trustees, expressed itself in similar terms in a statement, saying that the board of trustees is "extremely concerned about several issues related to the exhibition Heroes & Monsters," including "the recent revelation of an inappropriate e-mail correspondence sent to academia concerning the authentication of some of the artwork in the exhibition," as reported by The New York Times.
The statement refers to a disparaging message sent by De Groft to the specialist hired for the expert opinion, cited in the FBI investigation as "Expert 2″ but who the New York Times has confirmed is Jordana Moore Saggese, an associate professor of art at the University of Maryland. This expert, who received $60,000 for a written report, asked the museum not to have her name associated with the exhibition, according to the FBI affidavit. Angry, De Groft threatened to reveal the amount of the payment and share the details with her employer, the university.
"You want us to put out there you got $60,000 to write this?" wrote De Groft, according to the affidavit. "Ok then. Shut up. You took the money. Stop being holier than thou. Do your academic thing and stay in your limited lane." The board said it has launched an official process to address the matter. The scandal was precipitated a few hours after the closing of the exhibition, which had originally been meant to travel to Italy.
The mystery of the cardboard box
But how did the paintings get to the Orlando Museum? The museum and its owners maintain that the paintings were found in a Los Angeles storage unit in 2012. The New York Times reported that questions arose over one of the paintings, made on the back of a cardboard shipping box with FedEx lettering in a typeface that was not used until 1994, six years after Basquiat's death, according to a designer who worked for the company.
Both De Groft and the owners of the paintings maintain that they were made in 1982 and that Basquiat sold them for $5,000 to a famous television screenwriter, now deceased, who deposited them in a storage unit and forgot about them.
Ramón Estévez regrets his name change to Martin Sheen | Culture
At the beginning of the sixties, Ramón Estévez was desperate. His first steps as a television actor had gone well, but he felt stuck in that medium and wanted to get into theater and film. However, at the time, his name held him back: there were few successful Latinos in the United States. "Whenever I called for a position, whether for work or for an apartment, they answered me hesitantly when I gave my name, and when I arrived, I found the position already filled." He said in 2003. And so, Ramón decided to create an artistic name by merging the name of Robert Dale Martin, the CBS network's casting director, who had helped him in those essential appearances on the small screen, and that of Bishop Fulton J. Sheen, who, as Estévez's little sister Carmen recalls, "regularly appeared on TV."
This is how Martin Sheen came about, and owing to his great talent, he triumphed first in theater and, later as an actor in the movies, notably: Badlands, Apocalypse Now, The Departed, and Wall Street. However, the identity of Ramón Antonio Gerardo Estévez did not disappear: this name remains in all of Sheen's official documents (passport, driver's license and marriage license)… and in the actor's soul. Last week, in an interview with Closer magazine, he confessed that one of the great regrets of his life was his change of name. He speaks with pride of the obstinacy of his son Emilio, who kept it despite "his agent's advice to change it". In relation to his own decision, he reflects: "Sometimes they convince you, when you don't have enough insight or even enough courage to stand up for what you believe in, and you pay for it later."
Over time, Sheen recovered his Galician roots, the land where his father, Francisco Estévez Martínez, was born. His father was an immigrant who left Parderrubias, in Salceda de Caselas (Pontevedra), for Cuba at the age of 18 in 1916. He left with no Spanish, a language he learned on the Caribbean Island. In the early 1930s, he emigrated to the United States to a modest Irish neighborhood in Dayton (Ohio), where he married another immigrant, Mary-Ann Phelan.
Martin Sheen's life has been profoundly marked by his childhood. His father worked at NCR Corporation, an industrial conglomerate that began manufacturing cash registers. Shortly after his marriage, the company sent him to the Bermuda Islands where his first children were born. Sheen was the seventh of ten children (nine boys and one girl), and the first to be born in Dayton, in 1940, after the family moved to the US. His left arm was clasped by forceps during birth, leaving it three inches shorter than his right arm. As a result of this, the character that Sheen interprets in the series The West Wing of the White House, President Josiah Bartlet, puts on his jacket with a strange twist of the body. As a child, he suffered from polio which kept him bedridden for a year, and at the age of 11 his mother died. Thanks to the support of a catholic charity and his own father's efforts, the family remained united against the distribition of children to orphanages or foster homes, a common practice at the time.
He was the eccentric of the family: he decided to go into acting. Against his father's objections, Ramón, the most reserved son only enjoyed the theater and decided to study acting. "You don't know how to sing or dance!", his father told him, to which his son replied: "You love westerns and in those nobody sings or dances". "But you don't ride a horse either!" was his father's comeback. Despite this discouragement, he moved to New York, following in the footsteps of his idol, James Dean.
In the mythical episode Two Cathedrals of The West Wing, he explains how the character President Bartlet reflects the experiences of his own childhood and adolescence. Estévez/Sheen: a practicing Catholic and relentless campaigner against global warming, a man in favor of civil and immigrant rights, he was arrested several times during demonstrations outside the White House. His activism began when he was just 14 years old in a golf club where he worked. He led a strike of caddies, protesting against the club members' use of bad language in front of children.
And then there's the Spanish context. Francisco Estévez did not teach his children Spanish, but the Estévez family went back to their roots. Francisco was able to return to his hometown in Galicia in 1967 (just as Sheen landed his first big role in In the Custody of Strangers), where he began building a house, while making regular trips back to Dayton. He would never see this house finished. He died in Dayton in 1974, and was buried with his wife and son Manuel, who had died in 1968. His only daughter, Carmen, ended up working as an English teacher at a school in Madrid, where she married. For years people in Madrid have bumped into Sheen during his visits to his sister. Carmen finished building her father's house and inaugurated a river promenade dedicated to his memory. Indeed, she has kept the memory of the Estévez alive in Salceda de Caselas.
The Camino de Santiago, a dream come true
In the early years of the 2000s, Sheen, his son Emilio Estévez and his grandson, Taylor, walked the Camino de Santiago. In Burgos, the grandson met a girl, and at the end of the walk he decided not to return to Los Angeles, but to remain in the Castilian city, where he got married. Influenced by that experience, Sheen and Estévez made the film El camino (2010), in which both co-starred and the latter directed. A few months ago, Sheen spoke proudly of El camino, a great success, and a faithful portrayal of his spirituality. During filming, at a lunch under huge pergolas at the back of Burgos cathedral, Sheen explained: "I am a Catholic, and a lot of that spirituality is in this movie. I have had an extremely happy life, with the normal highs and lows of a career. I have survived disease and my family is wonderful [his four children, including Charlie Sheen, are actors]… I believe in a church that does incredible work in the Third World. Other things, like some of the pronouncements from the Pope [at that time, Benedict XVI], are more difficult for me. I live my faith, and it is between God and I." A few meters from Sheen and the journalist, at the long tables, was a strange group that didn't not look like actors: "That's my wife, that's my sister and her husband, that my best childhood friend… I've invited them to come and have a good time with Emilio, Taylor [who worked as an assistant] and me". Taylor Estévez currently works as a stunt coordinator in California.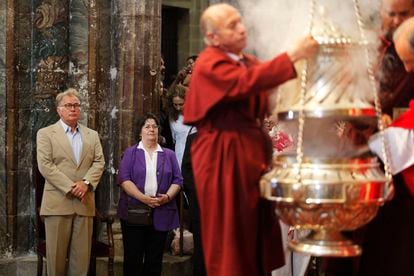 Carmen Estévez says that for decades the family did not understand their father's deeply Galician sense of humor, until they realized that for much of the time he was not being serious. This sarcasm was inherited by his son Ramón/Martin, and he made a display of this in Burgos. In response to a question about his career, he said: "With my resume full of bad movie titles, what can I say. I'm an actor and that's how I've supported my family. But I've been in about 10 films that I can be proud of…" at which point he dropped his cup of coffee and blurted out: "See? For gloating over my career. Divine punishment".