'A great blow to Uganda': surgeon John Baptist Mukasa dies of Covid | Global development
Kennedy Owuor first fell over in his hotel room in Addis Ababa, Ethiopia's capital, before headaches followed. He initially brushed the symptoms off as a minor problem, but soon he started having difficulties speaking and moving.
A trip in August 2020 to northern Uganda, as part of his duties working for the UN's food agency, had to be interrupted. He was instead driven for 12 hours to UMC Victoria hospital in Kampala.
There, John Baptist Mukasa, one of only 13 neurosurgeons working in Uganda, performed surgery that took three hours and saved his life. Owuor has since fully recovered, but in June, Mukasa died aged 54 of Covid-19, the loss of his expertise a huge blow to a country of 47 million people.
Patients and friends have paid tribute to a man who declined lucrative opportunities overseas to work in Uganda, training a new generation and always, as a colleague put it, going "an extra mile to understand the social factors affecting his patients".
Owuor, the Kenyan saved by Mukasa, says the news of his death hit him "like a thunderbolt".
"We had become friends. We exchanged WhatsApp messages regularly and also spoke on the phone. His passing is such a big loss for Uganda considering the country does not have very many neurosurgeons," he says.
Mukasa visited Owuor daily while he recuperated in hospital in the weeks after surgery. "He always had a professional, humane and reassuring way of dealing with my concerns," Owuor added.
Mukasa worked primarily at the Mulago National Referral hospital in Kampala, and was a senior lecturer at Makerere University. He specialised in neurotrauma, pediatric neurosurgery and epilepsy.
Neurosurgery was virtually nonexistent until the late 1960s in Uganda, according to a 2017 scientific report.
Until the early 2000s, there were only a couple of Ugandan neurosurgeons, while foreign doctors filled the gap. Mukasa was part of a second wave of neurosurgeons trained overseas, graduating in medicine from Lugansk State Medical University in Ukraine. He later went to China to do his postgraduate degree at Wuhan's Huazhong University of Science and Technology.
Juliet Sekabunga Nalwanga, Uganda's first female neurosurgeon, met Mukasa when she was an intern.
"He was one of my mentors and teachers. He was a generous, jolly and interactive person and we as a team are still recovering from his loss," she says.
"Things that I can't forget [about him is] driving in and out of hospital, at night and on holidays, sitting in the operating room while observing our work, humbled always to learn from us too. This we will remember."
Simon Mukuye, senior neurosurgery resident at the Mulago hospital, met Mukasa in 2017.
"He was very often the first one to help out a student in trouble," he says. "I remember he was the first person to lead a fundraising drive for one of the students that required a neurosurgical procedure that could only be done in India.
"Dr Mukasa was a very kind and down to earth person. He always went an extra mile to understand the social factors affecting his patients, besides their neurosurgical diseases. He was unassuming and he regularly consulted the other neurosurgeons on every case he managed. He always put his patients first before every thing else."
Mukuye says Mukasa rarely missed a day of work. "I remember him during Christmas holidays coming to the hospital every day to attend to the multitude of neurosurgical patients who flocked the hospital," he says.
His death, he says, "dealt a great blow" to neurosurgery and training in Uganda.
Hervé Lekuya Monka first met Mukasa while doing his master's in surgery. Mukasa was one of his teachers and a thesis examiner. He says he was still in denial about Mukasa's death.
"He would be ready to stop any of his activities for solving patients' issues," he says. "He got several opportunities to work overseas, but declined all of them because he thought it unfair to leave his country that is in serious need of neurosurgeons."
Owuor says that during a visit in 2020 the doctor had been upset about a poor family who had travelled many miles to bring their critically ill child to the Mulago hospital for help but could not afford the surgery.
Mukasa made the surgery happen.
"Dr Mukasa was selfless, and highly committed to his professional calling as a surgeon," Owuor says.
Mukasa is survived by his wife and two sons.
Brexit: British Embassy launches survey on key issues affecting UK nationals in Spain | Brexit | International
The British Embassy in Madrid has launched a survey aimed at finding out how UK nationals in Spain have been affected by key issues, in particular, the United Kingdom's exit from the European Union, a process commonly known as Brexit.
The poll is for Britons who are full-time residents in Spain (not those with second homes) and are covered by the Brexit Withdrawal Agreement, i.e. they were officially registered in the country before December 31, 2020, when the so-called Transition Period came to an end.
Questions in the survey address issues such as access to healthcare and the uptake of the TIE residency cards, which were introduced as a replacement for green residency cards (either the credit-card size or the A4 sheet version, officially known as the Certificado de Registro de Ciudadano de la Unión).
The aim of the poll is to gather vital information on the experience of UK nationals living in Spain that will help the British Embassy provide feedback to Spanish authorities. The survey takes around 10 minutes to complete, and all answers are confidential.
Have you heard our Spanish news podcast ¿Qué? Each week we try to explain the curious, the under-reported and sometimes simply bizarre news stories that are often in the headlines in Spain.
'The challenge for us now is drought, not war': livelihoods of millions of Afghans at risk | Global development
The war in Afghanistan might be over but farmers in Kandahar's Arghandab valley face a new enemy: drought.
It has hardly rained for two years, a drought so severe that some farmers are questioning how much longer they can live off the land.
Mohammed Rahim, 30, grew up working on a farm along with his father and grandfather in the Arghandab district of Afghanistan's southern province. Famous for its fruit and vegetables, the area is known as the bread basket of Kandahar.
Like most in the valley, Rahim's family relies solely on farming. "The fighting has just stopped. Peace has returned," Rahim says. "But now we face another war: drought.
"Now we have to dig deep to pump water out of the land. It has been two years, there has been little rain and we have a drought here. I don't know if our coming generations can rely on farming the way our ancestors used to do."
Pir Mohammed, 60, has been a farmer for more than four decades. "Not long ago, there were water channels flowing into the farm and we were providing the remaining water to other farmers," says Mohammed. "Before, the water was running after us, flowing everywhere – but now we are running after water."
The water used to come free from the river but now the daily diesel cost for the water pump is at least 2,500 Afghani (£21).
"We don't make any profit. We are in loss, rather. Instead, we are using our savings. But we don't have any other option as we do it for survival," says Mohammed. "However, the scarcity of water has affected the quality of crops as well."
About 70% of Afghans live in rural areas and are particularly vulnerable to the impacts of drought.
Last week, Rein Paulsen, director of the Food and Agriculture Organization's Office of Emergencies and Resilience, said severe drought was affecting 7.3 million people in 25 of the country's 34 provinces.
He warned: "If agriculture collapses further, it will drive up malnutrition, increase displacement and worsen the humanitarian situation."
Arghandab has been a favourite destination for farming because of the abundance of water and fertile lands. Neikh Mohammed, 40, left the Dand district of Kandahar to work in Arghandab in 2005. When he arrived he was amazed to see the greenery and pomegranate farms.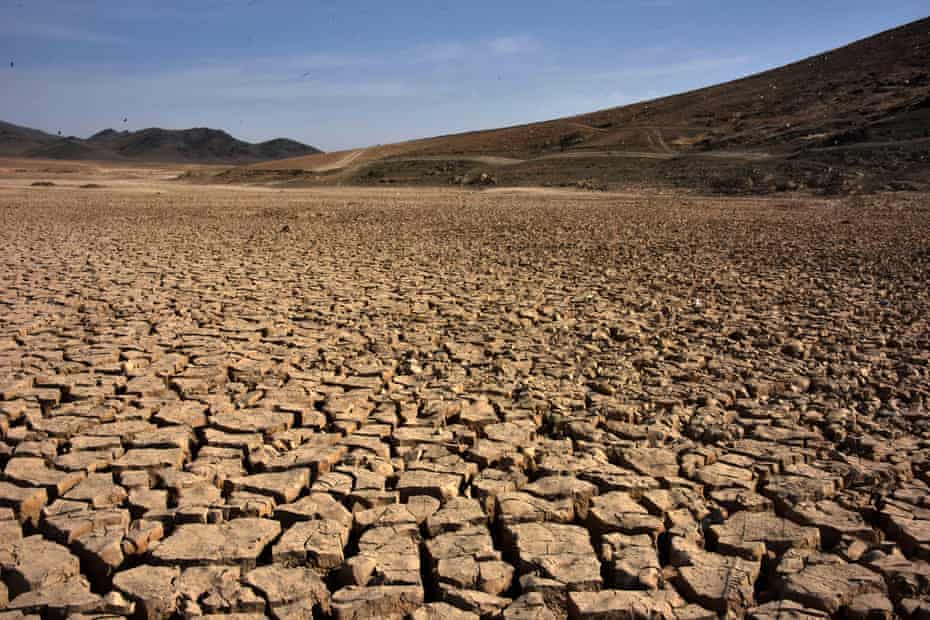 "It used to rain a lot here and we could not cross the river and come into our farms. We had a life with abundant water. But the past is another country now," he says.
According to a report by the UN mission in Afghanistan, many local farmers were caught in the crossfire between the Taliban and the Afghan security forces. The Taliban carried out attacks from thick foliage on the farms, which provided a hiding place, ideal for an ambush.
"For the past 20 years, we did not have peace and could not work after dark in our farms. But now we can stay as long as we want without any fear," says Neikh Mohammed. "Now the challenge is not just restoring peace but the drought and escalating cost of essential commodities."
Farmers say they want support from international aid agencies and assistance from the new government headed by the Taliban to help them survive.
Pir Mohammed says: "The real challenge for us now is drought, not war. We need food, water, dams and infrastructure in our country. The world should invest in us and save us."
[Ticker] US to lift Covid travel-ban on EU tourists
Fully vaccinated travellers from the EU and the UK will be let back into the US from "early November" onward, the White House said on Monday, ending an 18-month ban and prompting airline firms' shares to climb. "This new international travel system follows the science to keep Americans … safe," a US spokesman said. The EU recently recommended increased restrictions on US visitors, amid anger at lack of US reciprocity.

Source link