a Charming Town on the Russian Baltic Border (Estonia)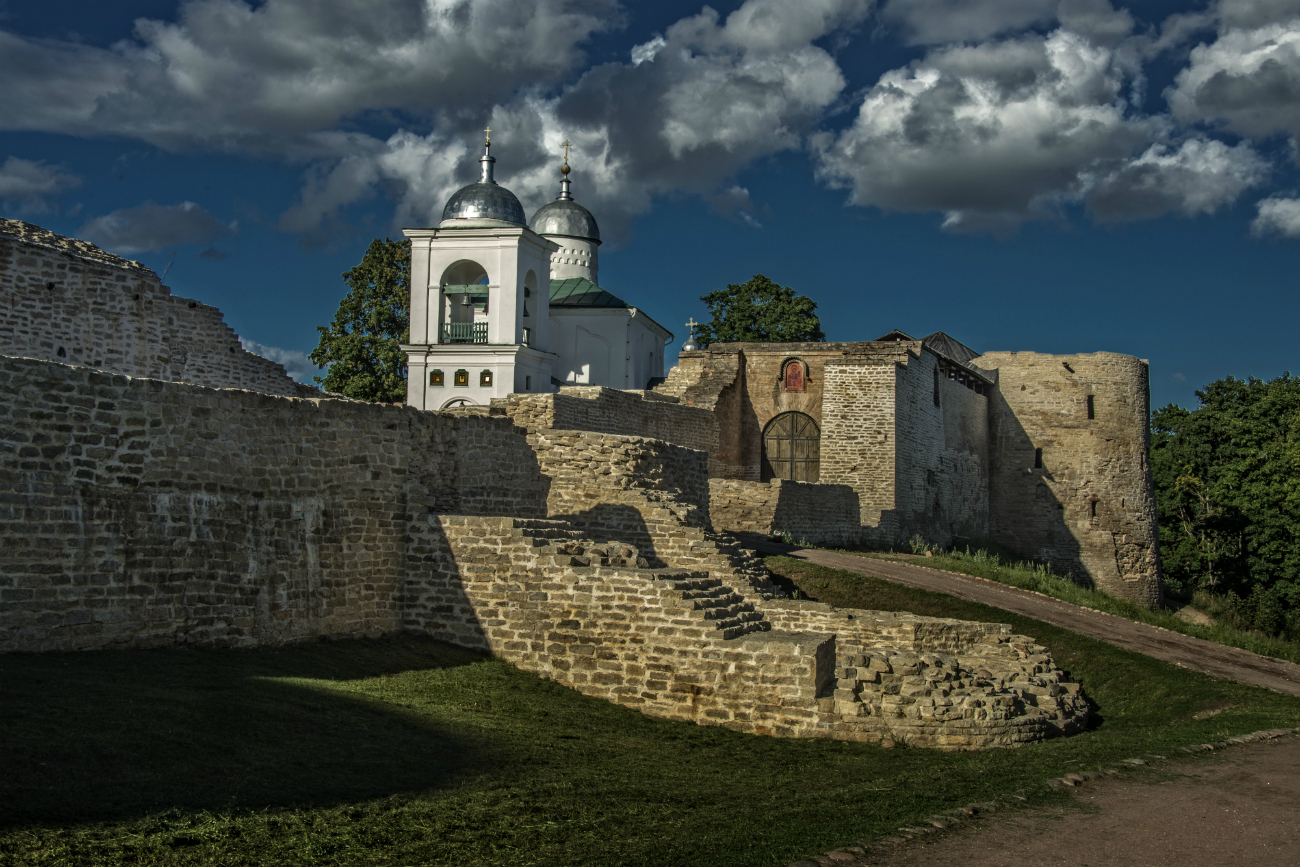 This scenic place was formerly a first-line frontier defense city.
---
This is the very first installment to embark on an Instagram journey through the vastness of Russia — why don't you join us? An ancient fortress with walls several meters thick, ostriches roaming the wooded flatlands and a pagan sacred site: see all this and more!
This time we are visiting Izborsk (or Old Izborsk, as the locals call it), 455 miles north-west of Moscow, just near the Russian-Estonian border: it was once a bustling city on the very first line of the North-West frontier defense repeatedly besieged by the Livonian Order and other daring invaders, never succeeding in direct combat.
Now it is a village, not a city, and you can hardly imagine a more peaceful or picturesque place.
Surroundings
Photo: @lottusik via Instagram
---
The heart of the ancient city was Izborsk Fortress, now the village's main tourist attraction. This strong fortification dates from the 14th century, built near the site of an earlier one. Even now, the six still-standing towers are evidence of the fortress's defensive power
.
Photo: @soldatova_anna via Instagram
---
This is how the village looked just a century ago. Now the carefully restored houses mark the beginning of the tourist area of Izborsk. Look at the pavement: it's the real ancient one, also restored.
Photo: @andre_zlatocvet via Instagram
---
This exquisite natural beauty is called Slovenskiye Springs, more than a thousand years old. Just think, the clear water sprays are more ancient than the time-worn stone walls! Since ancient times, the springs have had sacral significance, being first a pagan site and then bearing the second name of The Springs of the Twelve Apostles.
Photo: @fuls_photo via Instagram
---
The Slovenskiye Springs make their way to Lake Gorodishchenskoye, a habitat for ducks and graceful swans. An ancient legend has it that these swans have never left the lake, and as long as they remain there Izborsk will never fall. Since both the swans and the village (and even the fortress) are present, the legend is definitely true!
Photo: @poisson_d_avril via Instagram
---
This tiny chapel was founded not far from Izborsk in the name of the Derzhavnaya Icon of the Mother of God. Although it seems as ancient as any Izborsk church, it dates from 2012. The Poklonnyi (Worshipful Submission) Cross nearby commemorates all the victories of the Russian military and all the fallen Russian warriors; its basement (called The Holy Hill of the Unity and Glory of Russia) consists of earth from all the places of Russian military glory.
Photo: @kolpigina via Instagram
---
…And when military victories are won and the battles stop thundering, this is what the Izborsk vicinity looks like. Perfect beauty and tranquility. Time seems to stop flowing here, and calm pervades the soul.
Photo: @margo_ivanovaaaa via Instagram
---
But did you ever imagine that this land is home to… ostriches? That's right. Not only can you give them a stroke, but also try fried ostrich eggs! Well, probably one egg — because of its size.
People
Photo: @tiapkinandrei via Instagram
---
The cheapest way to spend your time in Izborsk: bring a tent! But mind the weather: the North-West region of Russia isn't renowned for its mild climate.
Photo: @nw_wind via Instagram
---
Although Izborsk and its surroundings are among the most peaceful places in the world, there's still room for the adrenalin rush! The scenic nature contributes to that even more.
Photo: @deinochka via Instagram
---
This is how a typical ancient Izborian domestic goddess used to spend her time in days gone by: at the stove. Of course, it happened only when all the house duties were done and dusted, so to speak, i.e. pretty much never.
Photo: @mr.lawey via Instagram
---
Don't be alarmed, these guys are our contemporaries. But what could be a better place to bring the past back to life than an ancient fortress? By the way, Izborsk hosts a few re-enactment festivals every year: a great chance to imagine ancient life, warts and all.
Photo: @ian.vasilev via Instagram
---
Need a lift? 🙂 Frankly speaking, you won't need one here in Izborsk: ancient cities, even the most powerful ones, are not really large by modern standards. Everything is easily reached on foot.
Closeups
Photo: @skalka_ via Instagram
---
This is definitely the cutest and probably the most surprising side of Izborsk: it's a cat-loving city! Cats can be seen everywhere (this one is nestled right in the fortress), plus they're nice-looking and well-fed. And they have no fear of human beings, so please don't exploit that.
Photo: @kelmberg via Instagram
---
An ancient custom for an ancient city: these lanterns were in use decades ago, but seem to fit these houses perfectly.
Photo: @molibobr via Instagram
---
…The forward march of progress. Like it or not the technological revolution is seemingly unstoppable.
Photo: @rusulsk via Instagram
---
One more part of the legacy of the past: this cross is named after Truvor, a legendary Varangian (Viking), brother to Rurik, who made Truvor prince of Izborsk. True or not, Truvor is a popular character of many legends and tales told to tourists here, although this particular cross might have nothing to do with Truvor: it dates from the 14th-15th century, while the legendary prince died in 864, according to the annals.
Photo: @irina.gvozdeva1 via Instagram
---
Nothing extraordinary, just clay pots decorating a palisade. Well, ok, it might be a good way to dry them, but they have ornamental value, too!
Photo: @kuzianl via Instagram
---
Look: the fortress walls are THAT thick! It's easy to imagine what life was like here in times of war and peace.
But why don't you reply to the invitation and see for yourself?
---
Source: Russia Beyond the Headlines
Census 2022 – what difference does it make?
Next Sunday, April 3rd, is Census night. Millions of people in homes countrywide will fill in page after page of questions, some of which are deeply personal and many of which might be unfamiliar.
But what it is it all about?
At a basic level, Census 2022 will be used to inform planning of public policy and services in the years ahead, according to the Central Statistics Office.
The questions will cover a range of environmental, employment and lifestyle issues, including the use of renewable energy sources in homes.
The questions will help inform policy development in the areas of energy and climate action, and the prevalence of internet access, to understand the availability of and need for internet connections and range of devices used to access the internet.
Questions also focus on changes in work patterns and will include the trend of working from home and childcare issues, while questions are also asked about the times individuals usually leave work, education or childcare, to help identify and plan for transport pattern needs locally and nationally.
Other topics covered include volunteering and the type of organisations volunteers choose to support, tobacco usage and the prevalence of smoke alarms in the home.
And of course there is a time capsule – the chance to write something which will be sealed for the next 100 years.
In this episode of In The News, the head of census administration Eileen Murphy and statistician Kevin Cunningham about what it all means for us.
Oscars 2022: Will Smith makes Oscar history after slapping Chris Rock over joke about wife Jada Pinkett Smith | Culture
Will Smith took the Oscar for Best Actor at last night's 94th Academy Awards, but he also became the protagonist of the ceremony for other reasons. The night was following the script, until Smith slapped comedian Chris Rock on the stage after the latter made a joke about the shaved head of the former's wife, Jada Pinkett Smith. Rock had quipped that he was "looking forward to GI Jane 2," in reference to her look. Pinkett Smith has revealed publicly that she has alopecia. It looked as if the moment had been planned, until Smith went back to his seat and shouted: "Get my wife's name out of your fucking mouth."
The moment, which immediately became Oscar history but for all the wrong reasons, left the attendees with frozen smiles, and asking themselves whether it was possible that a veteran such as Smith could have lost his cool in front of tens of millions of people. After taking the prize for Best Actor, the superstar actor made a tearful apology, saying that he hoped the Academy "will invite me back." Later on, actor Anthony Hopkins called for "peace and love," but it was already too late. The incident overshadowed the success of CODA, which took the Oscar for Best Picture. Just like the time when Warren Beatty mistakenly named La La Land as the big winner of the night, no one will speak about anything else from last night's awards.
At first sight, Smith's actions looked as if they were scripted. When he first heard Rock's joke, he laughed. But his wife was seen on camera rolling her eyes, and it was then that the actor got up onto the stage and hit Rock. When he returned to his seat he raised his voice twice to shout "Get my wife's name out of your fucking mouth," sending a wave of unease and shock through the attending audience. The fact that he used the f-word, which is prohibited on US television, set alarm bells ringing that this was real and not a planned moment. In fact, the curse word was censored by the broadcaster, ABC, in the United States.
During a break, Smith's PR manager approached him to speak. In the press room, which the actor skipped after collecting his prize, instructions were given to the journalists not to ask questions about the incident, Luis Pablo Beauregard reports. The next presenter, Sean "Diddy" Combs, tried to calm the situation. "Will and Chris, we're going to solve this – but right now we're moving on with love," the rapper said.
When Smith took to the stage to collect his Best Actor award for his role as Richard Williams – the father of tennis stars Venus and Serena – in King Richard, he referred to the character as "a fierce defender of his family." He continued: "I'm being called on in my life to love people and to protect people and to be a river to my people. I know to do what we do you've got to be able to take abuse, and have people talk crazy about you and have people disrespecting you and you've got to smile and pretend it's OK."
He explained that fellow actor Denzel Washington, who also spoke to Smith during a break, had told him: "At your highest moment, be careful, that's when the devil comes for you."
"I want to be a vessel for love," Smith continued. "I want to be an ambassador of that kind of love and care and concern. I want to apologize to the Academy and all my fellow nominees. […] I look like the crazy father just like they said about Richard Williams, but love will make you do crazy things," he said. He then joked about his mother, who had not wanted to come to the ceremony because she had a date with her crochet group.
During the commercial break, Will Smith is pulled aside and comforted by Denzel Washington and Tyler Perry, who motion for him to brush it off. Will appears to wipe tears from his eyes as he sits back down with Jada, with Denzel comforting Jada and Will's rep by his side. pic.twitter.com/uDGVnWrSS2

— Scott Feinberg (@ScottFeinberg) March 28, 2022
The Los Angeles Police Department released a statement last night saying that Chris Rock would not be filing any charges for assault against Smith. "LAPD investigative entities are aware of an incident between two individuals during the Academy Awards program," the statement read. "The incident involved one individual slapping another. The individual involved has declined to file a police report. If the involved party desires a police report at a later date, LAPD will be available to complete an investigative report."
On December 28, Pinkett Smith spoke on social media about her problems with alopecia. She stated that she would be keeping her head shaved and would be dealing with the condition with humor. "Me and this alopecia are going to be friends… Period!" she wrote on Instagram.
House-price inflation set to stay double digit for much of 2022
House-price inflation is expected to remain at double-digit levels for much of 2022 as the mismatch between what is for sale and what buyers want continues.
Two new reports on the housing market paint a picture of a sector under strain due to a lack of supply and increased demand driven by Covid-related factors such as remote working.
The two quarterly reports, one each from rival property websites myhome.ie and daft.ie, suggest asking prices accelerated again in the first quarter of 2022 as the stock of homes available for sale slumped to a new record low.
Myhome, which is owned by The Irish Times, said annual asking-price inflation was now running at 12.3 per cent.
Price
This put the median or typical asking price for a home nationally at €295,000, and at €385,000 in Dublin.
MyHome said the number of available properties for sale on its website fell to a record low of 11,200 in March, down from a pre-pandemic level of 19,000. The squeeze on supply, it said, was most acute outside Dublin, with the number of properties listed for sale down almost 50 per cent compared with pre-pandemic levels.
It said impaired supply and robust demand meant double-digit inflation is likely until at least mid-2022.
"Housing market conditions have continued to tighten," said author of the myhome report, Davy chief economist Conall Mac Coille.
"The broad picture of the market in early 2022 remains similar to last year: impaired supply coupled with robust demand due to Ireland's strong labour market," he said.
"One chink of light is that new instructions to sell of 7,500 in the first 11 weeks of 2022 are well up from 4,800 in 2021, albeit still below the 9,250 in 2019. The flow of new properties therefore remains impaired," said Mr Mac Coille.
"Whatever new supply is emerging is being met by more than ample demand. Hence, transaction volumes in January and February were up 13 per cent on the year but pushed the market into ever tighter territory," he said.
He said Davy was now predicting property-price inflation to average 7 per cent this year, up from a previous forecast of 4.5 per cent, buoyed strong employment growth.
Homes
Daft, meanwhile, said house asking prices indicated the average listed price nationwide in the first quarter of 2022 was €299,093, up 8.4 per cent on the same period in 2021 and and just 19 per cent below the Celtic Tiger peak, while noting increases remain smaller in urban areas, compared to rural.
Just 10,000 homes were listed for sale on its website as of March 1st, an all-time low. In Dublin, Cork and Galway cities, prices in the first quarter of 2022 were roughly 4 per cent higher on average than a year previously, while in Limerick and Waterford cities the increases were 7.6 per cent and 9.3 per cent respectively.
The report's author, Trinity College Dublin economist Ronan Lyons, said: "Inflation in housing prices remains stubbornly high – with Covid-19 disturbing an equilibrium of sorts that had emerged, with prices largely stable in 2019 but increasing since.
"As has been the case consistently over the last decade, increasing prices – initially in Dublin and then elsewhere – reflect a combination of strong demand and very weak supply."