'You're free from demons and homosexuality': Healing the wounds of Colombia's conversion therapies | International
Andrew is 20 years old today. At 12, he underwent conversion therapy to stop being homosexual at the Misión Paz a Las Naciones Church in Cali, an institution to which Colombian presidential candidate John Milton Rodríguez belongs. Despite all the time that has elapsed, he clearly remembers what they did to him: "It was an exorcism to get rid of the demon of homosexuality that I carried inside."
The liberation ritual, as they called it in the congregation, took place in a rural house on the outskirts of the city. There, half a dozen men grabbed Andrés by the limbs while they squeezed his stomach and repeated the same sentence over and over again: "We release you. You are free from all demons and homosexuality. Renounce the sin that does not let you live to praise God." "I was trying to move my arms and legs, but I couldn't. I felt very bad. I was very small, and all the men were older, they were very strong", recalls Andrés, who says that these rituals were reserved only for drug addicts, alcoholics and homosexuals.
One in five LGBTQ+ people has undergone some type of conversion therapy in Colombia, and among trans people the ratio is one in three, according to a report by the Thomson Reuters foundation. "One of the problems is that most of the people who have suffered this type of torture or abuse do not know that what they are experiencing is actually conversion therapy, because it is not openly promoted and these centers are not dedicated exclusively to these. practices, so these data could be much more alarming", explains Juan Felipe Rivas, from the NGO Colombia Diversa.
In Colombia, these erroneously named "therapies" — they lack all the certificates from official psychological institutions that would allow them to be considered as such — are legal. This means that, in the eyes of the law, it is not a crime to try to forcibly direct a person's sexual orientation through dark rituals of a mystical nature, using physical force, threats or ill treatment.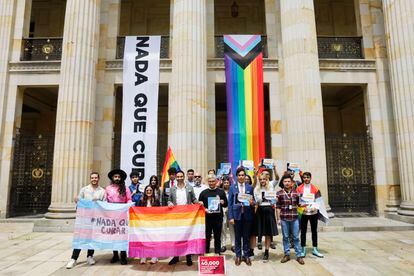 The international organization All Out has launched a campaign that has collected 48,000 signatures to ban these practices. This past Tuesday, the center party Green Alliance, in cooperation with the lawmaker Mauricio Toro, brought a bill to the Colombian Congress that seeks to protect LGBTQ+ people from becoming victims of conversion therapy: "We propose to ban them in Colombia, just as it has been done in France, Canada, Chile and Ecuador, among others. This is a mandate, not only for the 40,000 citizens who signed it, but for the hundreds of diverse people, who should not be afraid because there is nothing to cure.
The bill explicitly prohibits any person from offering, advertising and practicing any of these therapies, as well as seeking profit from them. In addition, it prohibits the allocation of public funds for the practice and promotion of the same. Alberto de Belaunde, spokesman for OutRight International, explains that they found inspiration for the draft in Ecuador and Argentina. The campaign manager for Latin America at All Out, Andrés Forero Ordóñez, said that conversion therapies are a form of torture. "The least that governments should do is prohibit them and punish those who exercise them. They are practices that are based on the completely mistaken idea that these people are sick."
The vice-president of the Colombian Association of Psychologists, Blanca Ballesteros, explained that suicidal thoughts, depression and anxiety are just some of the many consequences that victims of these procedures can develop.
For Danne Aro, director of the GAAT Foundation (Group of Action and Support for Trans People), one of the biggest barriers when talking about this type of therapy is that the issue is highly standardized. "We tell them as anecdotes between friends, but when you think about it, it is actually very serious because we're talking about trying to turn someone into something they are not. In my case, I was denied the possibility of having a spiritual bond," explains Aro, whose parents signed her up to a conversion therapy program when they found out that she was a trans woman.
Now, after a long healing process and hours and hours of informative talks with those closest to him, Aro is already able to talk about it with her family with a certain normality. "Today they recall how they took me there and performed an exorcism on me," she says.
The experience was particularly traumatic: "I underwent all kinds of tests to find out what was wrong with me. They checked my hormone levels and asked me if I had been raped when I was little. In some religious centers they performed exorcisms and healing processes to eliminate the influence that made me be different or a person with a non-heterosexual sexual orientation."
When Sergio was 14 years old, the same thing happened to him. His parents took him to a Christian psychologist who asked him if someone had raped him as a child. It was not his case, but it is a recurring question in this type of session. Sergio remembers that the psychologist told him that his parents were willing to commit him if he did not accept the therapy: "You are going to have electroshock therapy. They are going to show you photos of naked men and they are going to give you shocks until your body accepts that this is not normal, that you cannot like them". As in many other cases, terrified that his parents might have a hard time because of him, he agreed to conversion therapy.
Óscar was not only forced to convert but also became the leader of the Christian community where he was to convert other men like him. "My pastor told me one day that he had had a revelation from God and that he knew I was homosexual. Later I found out that it was other attendees at mass who had told him." The pastor offered him to go to a place where they did conversion therapy at the age of 15: "I accepted because I allowed myself to be convinced that there was something wrong with me and I was committing a sin."
He went to a course called Living Waters where in the end they certified him as an ex-gay person. "From there, I myself began to direct that course. I told dozens of men like me that they were sinners." He made them confess and accept that someone had abused them to justify their homosexuality, to find a justification. "I put myself through conversion therapy, and then I tried to do the same to others." Óscar became a relentless guide: "I forced them to give up sex and masturbation, and if they had homoerotic dreams, I punished them." With this, he hoped that they would follow his same path to achieve what they had achieved with him in their day: for guilt to overcome desire.
For his congregation, Oscar's transformation was never enough. His trust in the community began to crumble when they threatened to kick him out after attending a march in favor of LGBTQ+ rights as part of his work at the Medellin Mayor's Office. Afterwards, he had to make a list of the people with whom he had had sexual relations to ask for their forgiveness. According to his pastor, this was a restorative practice. But, little by little, Óscar began to distance himself from that man. After five years, he left his community, regretting the damage he had done to himself and to other men.
Eduardo Zapateiro: Colombian army chief resigns to avoid appearing beside president-elect Petro at inauguration | International
General Eduardo Zapateiro, the commander of the Colombian army, resigned on Tuesday to avoid appearing beside president-elect Gustavo Petro at his inauguration on August 7. "After 40 years in service, I bid farewell to the Colombian people, giving my heartfelt thanks to all my soldiers," he announced.
Zapateiro, who comes from the hardline wing of the armed forces, has been a vocal opponent of the leftist leader. During the presidential election campaign, the army commander controversially spoke out against Petro on Twitter – a move that was condemned as unconstitutional. Incumbent President Iván Duque, however, defended Zapateiro, arguing that the general was sharing his point of view – not taking a political stand.
Zapateiro announced his retirement just one day after Petro told EL PAÍS that he planned to change the leadership of the armed forces. "This leadership was deeply imbued by the political line of the executive [of Iván Duque] now reaching the end of its term. But this path is unsustainable and turns our security forces into a victim, as they have been led to perpetrate grotesque violations of human rights. What we are proposing will make our security forces democratically stronger," he said in the interview.
The Colombian general has often raised eyebrows with his behavior. Following the death of Jhon "Popeye" Jairo Velásquez, a henchman for drug lord Pablo Escobar who had killed dozens of people, Zapateiro sent his condolences to his family and said he was saddened by his loss. To this day, no one has explained why the general made these statements.
In Colombia, the government and the military have a complex relationship. The country has fought for decades against guerrilla groups such as the Revolutionary Armed Forces of Colombia (FARC) and the National Liberation Army (ELN). The ongoing armed struggle placed the military in a position of great power. Indeed until the 1990s, the armed forces controlled the Defense Ministry. As in many other countries, the Colombian armed forces are a conservative group that is highly suspicious of leftist ideas. The peace agreement, for example, that ended five decades of conflict with the FARC, divided Colombia's troops. Zapateiro initially supported the accords, but over time, became an outspoken critic.
What kind of relationship Petro will form with the military remains to be seen. As a politician, he has been very critical of the army's focus on targeting internal enemies. The Colombian armed forces have been fighting against guerrilla groups and drug gangs for decades. During this conflict, they have often overstepped their bounds and violated human rights.
In the early 2000s, a scandal broke in Colombia when it was revealed that military officers were carrying out summary executions of innocent civilians and listing them as guerrillas killed in combat. These so-called "false positives" took place in different regions of the country between 2002 and 2008 and were used as proof of performance by military units and to collect "kill fees" awarded by the government of former president Álvaro Uribe. A total of 6,402 innocent people are estimated to have been killed in these summary executions. Just a few months ago, several civilians also died in suspicious circumstances during an army operation in Putumayo.
With Petro elected as Colombia's first leftist president in modern history, it was no longer tenable to have Zapeteiro leading the armed forces. The Colombian newspaper El Espectador published an editorial to that effect, with the headline: "Isn't it time to retire, General Zapateiro?"
Petro aims to tackle corruption within the army, which he believes is home to extremist factions. "There are currents in the far right that must be eliminated. Some are talking openly about coups and things like that. But look, within the army there are no factions friendly to Petro, there are factions friendly to the Constitution," Petro told EL PAÍS.
Canada should focus on abortion access not legislation, advocates say | Global development
Abortion advocates are warning that the recent US supreme court ruling overturning Roe v Wade will empower anti-choice groups in Canada to push for restricted access, making a settled matter appear controversial in a country where nearly 80% of people are pro-choice.
A key anti-choice strategy in Canada revolves around enacting abortion legislation – an idea that has been gaining traction amid the fallout of the US court ruling. There is currently no abortion law in Canada, making it the only country in the world where the procedure is totally free of legal restrictions.
"There's a lot of talk right now about whether or not the Canadian government should pass a proactive law protecting our right to abortion – a pre-emptive strike, if you will. That would be a big mistake," said Daphne Gilbert, a law professor at the University of Ottawa.
Gilbert and other abortion advocates say that while enshrining abortion rights may sound progressive, the opposite is true: consolidating rules would make it easier for anti-choice legislators to retract abortion rights if ever they found themselves in a majority. Last year, 81 Conservative MPs (and one independent) voted for anti-choice legislation.
And while the prime minister, Justin Trudeau, promised Canadians after Roe that his government would "always stand up for your right to choose", advocates argue that may not always be true.
That's why the country should focus on entrenching people's rights by expanding abortion access, said Gilbert.
Since it became legal in a 1988 supreme court ruling, abortion in Canada has been designated as a medical service like any other, on par with procedures like X-rays and blood tests. But that doesn't make it easy to get – especially in remote, religious or conservative parts of the country.
In 2014, Sarah (who asked to remain anonymous) sought an abortion on Prince Edward Island (PEI) – a province of 30,000 that, at the time, did not have a single publicly operating abortion provider.
It took Sarah a month to finally secure a provider – five hours away, in another province. The trip incurred travel and lodging costs, but the procedure itself was covered by the healthcare authority.
"The idea that anybody has to travel to take care of something that you should be able to get done close to home – it's not fine," said Sarah. Abortion care only arrived on PEI in 2017, after activists sued the provincial government for acting unconstitutionally.
Although there is no federal law, each province's medical college sets its own guidelines on abortion, including gestational age limits for use of the abortion pill.
Those guidelines are shaped by the skills and training available in each province, said Martha Paynter, an abortion care provider in Nova Scotia and the author of the new book Abortion to Abolition: Reproductive Health and Justice in Canada.
But there is also a political dimension to providing abortion care that prevents some doctors and nurse practitioners from taking it up.
"More people could be doing it than are doing it," said Paynter. "We as educators – I'm a prof at a nursing school – have the responsibility to teach in every medical and nursing program how to do this care, and hardly [any school] does it."
Paynter is the creator of the country's first university abortion course, at Dalhousie University, which is open to students across medical, nursing and other health programs with the purpose of inspiring future health workers to integrate abortion access into primary care.
The Society of Obstetricians and Gynaecologists offers an online course to teach professionals how to prescribe and manage medical abortion.
But most students and healthcare professionals are not required to learn about how medication and surgical abortion work – and many choose to abstain because they are afraid to enter the political fray around abortion.
According to Gilbert, that means a lot of primary care providers stay wilfully uninformed.
"A lot of doctors just aren't political people. They're scientists, and they don't see the politics behind some of their care," she said.
Further complicating access is the fact that many Canadians are unaware that nurse practitioners in the country are permitted to prescribe the abortion pill and refer patients to surgical abortion providers – or that most patients can self-refer directly to an abortion provider.
Addressing these issues is critical to expanding existing access to medication and surgical abortion, said Paynter and Gilbert.
In 2017, Natalie (also a pseudonym) discovered she was pregnant while visiting her parents in a small town in northern Alberta. After one doctor at a local walk-in clinic told her abortion was murder, she demanded an appointment with a different doctor.
That doctor told her that there was no such thing as medical abortion. "He looked me in the face and said, 'That doesn't exist,'" she said.
Mifegymiso – otherwise known as the abortion pill – was approved by Health Canada in 2015, but had only recently hit the market when Natalie found herself at the doctor's office.
"I know it exists. It's literally the front page of the news," she told him.
Still, she went away empty-handed. She was only able to get an abortion after returning to her home province of New Brunswick, where only three hospitals and one clinic provide abortion. Natalie went to the clinic, where she paid $800 for a surgical abortion – a cost incurred because the province refuses to pay for abortions performed outside of hospitals.
New Brunswick is currently being sued for its restriction of abortion.
Stories like those of Sarah and Natalie show how abortion remains inaccessible in Canada, despite its federal legal standing.
"Our greatest problems really come in terms of provinces and what they may do to restrict access to abortion in light of what I think is now going to be a really emboldened anti-choice movement," said Gilbert.
Missing child in Germany: German boy found alive after surviving eight days in sewer | International
German police have found an eight-year-old boy who went missing from his home in Oldenburg, a city of 170,000 people in northwestern Germany. The child, named Joe, was discovered on Saturday in a sewer just 300 meters from his house. He had survived in the sewer for eight days while hundreds of officers and volunteers frantically searched the surface for clues to his whereabouts. "Eight-year-old Joe lives!" police in Oldenburg announced on Twitter.
The boy, who suffers from learning disabilities, disappeared on June 17 from the garden of his house. Police launched a large-scale search with drones, helicopters, sniffer dogs and dozens of officers, who were joined by hundreds of volunteers. As the days passed, a homicide team joined the investigation amid growing fears that Joe – who is only identified by his first name due to Germany's privacy laws – could have been the victim of a violent crime. A witness claimed to have seen him in the company of an unidentified man and it was feared he may have been kidnapped.
"It was absolute luck," said Stephan Klatte, the Oldenburg police spokesman, said of Joe's discovery. A neighbor who was walking in the area raised the alarm when he heard "a whining noise" coming from the ground, just under a drain. When officers lifted the manhole cover, they found the boy, completely naked. He had no serious external injuries, but was dehydrated and suffering from hypothermia, for which he was taken to hospital for treatment. According to German media, he is recovering well. "If he hadn't made a sound, or if no one had heard him, we might never have found him," Klatte said.
In a statement, the police reported that they believed that Joe likely entered the rainwater drainage system through a sewer on the same day of his disappearance and "lost his bearings after walking several meters." Police have ruled out any foul play in the incident.
On Sunday, the day after Joe was discovered, police commissioned a specialized company to inspect the sewage system with a robot equipped with a camera. The robot examined the sewer between the boy's home and the place where he was found. It recorded several items of clothing, including what he was wearing when he disappeared, in a pipe about 60 centimeters in diameter that runs under one of the streets of the neighborhood where he lives with his parents. The robot found, for example, the child's vest, 70 meters from the point of entry.
Officers found an entrance to a three-foot-wide drainage channel near the farm where he was last seen on the day of his disappearance. Authorities believe the boy entered the channel while playing. After 23 meters, the tunnel leads to another narrower plastic pipe and police think it is likely the eight-year-old continued down this path. Joe was eventually found about 290 meters from where he entered the sewer system.
Police believe that Joe became more and more disoriented until he could no longer find a way out. "A first statement from the child confirms this assumption," said the statement, which does not provide more details about what he told officers. Investigators say they have not been able to question the boy in detail, as he remains in hospital. Nothing has been found to suggest that the child came to the surface in the eight days in which he was missing. In the statement, police asked that no questions about his state of health be made out of respect for him and his family.