'Worse day by day': journalists speak out after Pakistani vlogger tortured | Pakistan
Gathered before a solemn crowd, Hamid Mir, one of Pakistan's best-known journalists, spoke defiantly. "Do not ever enter the homes of journalists again," he said. "We don't have tanks or guns like you, but we can tell the people of Pakistan about the stories that emerge from inside your homes."
Mir may have been addressing journalists in Islamabad on Friday, but his words were not directed at them; they were a clear message to Pakistan's all-powerful military establishment.
Days before, attackers had barged into the home of YouTube journalist Asad Toor, whose videos are critical of the ruling elite. They tied him up and tortured him, but not before allegedly introducing themselves as officers from the Inter-Services Intelligence (ISI), the shadowy security arm of the military.
"I was told that the army and ISI were not happy with my journalism," says Toor after the attack. "While torturing me, they asked me why I had named ISI and the army in my reporting."
The Pakistan authorities have denied all involvement and claimed Toor staged the attack in order to seek political asylum abroad. On Tuesday, the Federal Investigation Agency filed a case against Toor for "defamation" of a government institution.
"There is no space for freedom of speech and dissent," says Toor. "If one criticises the military and Imran Khan, they face physical and online attacks. The level of frustration has rocketed. They can't tolerate criticism by journalists."
In response to the attack, Mir was among a group of journalists who had gathered to voice their anger at the increasing violence, intimidation and censorship of journalists who have dared to criticise Khan's government.
Mir's speech, which was directed at the military without mentioning it by name, went viral. But on Monday, Mir was told that his popular chatshow, which has been running for two decades, was to be pulled from the news channel Geo TV. The last time this happened to Mir was in 2007, when military leader Pervez Musharraf, then president of Pakistan, declared a state of emergency and suspended the constitution.
Mir is no stranger to intimidation for his reporting: he still has two bullets in his body from an assassination attempt in 2014. But Mir says that press freedom has deteriorated to one of the lowest points he has experienced in his decades-long career.
"They have gone so low," says Mir, who would not directly name the military or ISI. "They have even shared the contact number of my daughter on WhatsApp and asked others to threaten her. She is just a student. She is now getting threatening and intimidating messages."
The decision to pull Mir's show was condemned by many, including Amnesty International, which said it further undermined any protection of free speech "in an already repressive environment".
"Censorship, harassment and physical violence must not be the price journalists pay to do their jobs," said Amnesty.
Since Khan came to power in 2018 with the backing of the military, journalists and civil rights groups have spoken out against a steady erosion of press freedom. Violent attacks on journalists are on the rise. In April, a senior Pakistani journalist was shot and wounded in Islamabad, believed to have been targeted because of his reporting.
The military now routinely issues threats to ensure news stories which are negative about the military or Khan's government are pulled, critical journalists are fired and no coverage is given to opposition politicians and rallies.
According to the International Federation of Journalists, Pakistan is the world's fifth most dangerous country for journalists. In its 2020 world press freedom index, Reporters Without Borders ranked Pakistan 145th out of 180 countries.
The assault on the media in Pakistan is now about to become law, as the president, Arif Alvi, introduces some of the most draconian censorship seen in years, including an almost blanket ban on negative coverage of the government or the military.
Under these rules, existing press freedom laws will be repealed and a new authority granted power to inspect and raid any news organisation, summon any journalist for investigation and cancel the licence of a media network. Even journalists broadcasting over YouTube would need a licence.
The ordinance also states that TV news anchors cannot broadcast views which are "prejudicial to the ideology of Pakistan or sovereignty, integrity or security of Pakistan" and that no coverage can be given to any story which "defames or brings into ridicule the head of state, or members of the armed forces, or legislative or judicial organs of the state".
Shahzada Zulfiqar, president of the Pakistan Federal Union of Journalists, describes the new regulation as "media martial law. We are entering into the worst and darkest era of media freedom. In this era there is a lack of safety for journalists both in their career and in their life.
"It is getting worse day by day. Journalists don't feel safe here."
EU to propose universal phone-charger law
The EU plans to propose laws harmonising mobile-phone, tablet, and headphone chargers and ports on Thursday in a bid to make life easier for consumers, Reuters reports. But Apple, whose iPhones use a special 'Lightning cable' has said the move will lead to piles of waste and deter innovation. Rival Android-based devices use so-called 'USB-C' connectors, but 'USB micro-B' and Lightning connectors account for about a third each of market-share.
Brexit: British Embassy launches survey on key issues affecting UK nationals in Spain | Brexit | International
The British Embassy in Madrid has launched a survey aimed at finding out how UK nationals in Spain have been affected by key issues, in particular, the United Kingdom's exit from the European Union, a process commonly known as Brexit.
The poll is for Britons who are full-time residents in Spain (not those with second homes) and are covered by the Brexit Withdrawal Agreement, i.e. they were officially registered in the country before December 31, 2020, when the so-called Transition Period came to an end.
Questions in the survey address issues such as access to healthcare and the uptake of the TIE residency cards, which were introduced as a replacement for green residency cards (either the credit-card size or the A4 sheet version, officially known as the Certificado de Registro de Ciudadano de la Unión).
The aim of the poll is to gather vital information on the experience of UK nationals living in Spain that will help the British Embassy provide feedback to Spanish authorities. The survey takes around 10 minutes to complete, and all answers are confidential.
Have you heard our Spanish news podcast ¿Qué? Each week we try to explain the curious, the under-reported and sometimes simply bizarre news stories that are often in the headlines in Spain.
'The challenge for us now is drought, not war': livelihoods of millions of Afghans at risk | Global development
The war in Afghanistan might be over but farmers in Kandahar's Arghandab valley face a new enemy: drought.
It has hardly rained for two years, a drought so severe that some farmers are questioning how much longer they can live off the land.
Mohammed Rahim, 30, grew up working on a farm along with his father and grandfather in the Arghandab district of Afghanistan's southern province. Famous for its fruit and vegetables, the area is known as the bread basket of Kandahar.
Like most in the valley, Rahim's family relies solely on farming. "The fighting has just stopped. Peace has returned," Rahim says. "But now we face another war: drought.
"Now we have to dig deep to pump water out of the land. It has been two years, there has been little rain and we have a drought here. I don't know if our coming generations can rely on farming the way our ancestors used to do."
Pir Mohammed, 60, has been a farmer for more than four decades. "Not long ago, there were water channels flowing into the farm and we were providing the remaining water to other farmers," says Mohammed. "Before, the water was running after us, flowing everywhere – but now we are running after water."
The water used to come free from the river but now the daily diesel cost for the water pump is at least 2,500 Afghani (£21).
"We don't make any profit. We are in loss, rather. Instead, we are using our savings. But we don't have any other option as we do it for survival," says Mohammed. "However, the scarcity of water has affected the quality of crops as well."
About 70% of Afghans live in rural areas and are particularly vulnerable to the impacts of drought.
Last week, Rein Paulsen, director of the Food and Agriculture Organization's Office of Emergencies and Resilience, said severe drought was affecting 7.3 million people in 25 of the country's 34 provinces.
He warned: "If agriculture collapses further, it will drive up malnutrition, increase displacement and worsen the humanitarian situation."
Arghandab has been a favourite destination for farming because of the abundance of water and fertile lands. Neikh Mohammed, 40, left the Dand district of Kandahar to work in Arghandab in 2005. When he arrived he was amazed to see the greenery and pomegranate farms.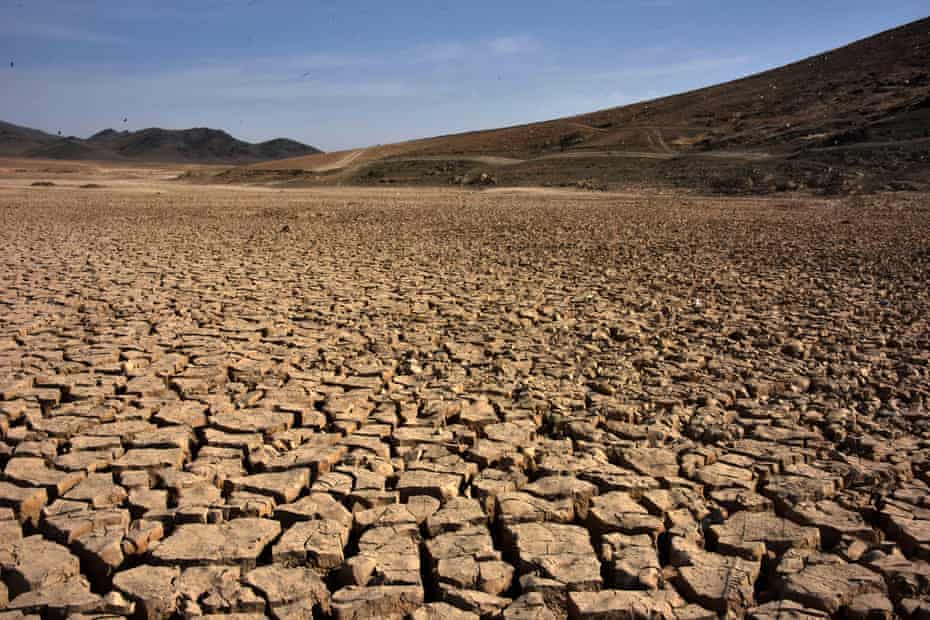 "It used to rain a lot here and we could not cross the river and come into our farms. We had a life with abundant water. But the past is another country now," he says.
According to a report by the UN mission in Afghanistan, many local farmers were caught in the crossfire between the Taliban and the Afghan security forces. The Taliban carried out attacks from thick foliage on the farms, which provided a hiding place, ideal for an ambush.
"For the past 20 years, we did not have peace and could not work after dark in our farms. But now we can stay as long as we want without any fear," says Neikh Mohammed. "Now the challenge is not just restoring peace but the drought and escalating cost of essential commodities."
Farmers say they want support from international aid agencies and assistance from the new government headed by the Taliban to help them survive.
Pir Mohammed says: "The real challenge for us now is drought, not war. We need food, water, dams and infrastructure in our country. The world should invest in us and save us."