Windows 11 responsible for broken search in Outlook • The Register
Microsoft has identified Windows Indexing as the culprit for broken Outlook Search results in Windows 11.
The problem for Outlook Desktop users on Windows 11 is that recent emails are not showing up in the search results and Windows Indexing appears to be the culprit.
The indexing service is infamously fragile and when results look a bit odd, chances are the Windows Indexing options in the Control Panel might show the service as either paused or running slowly.
Since the Windows Search service is used to index offline email, the problem mostly affects users with POP, IMAP, and offline Exchange accounts. Microsoft 365 and connected Exchange accounts use Service Search, which isn't affected by whatever is causing Windows Search such trouble.
As for a fix, well, there isn't a formal one yet. Microsoft is working on it, but hasn't yet emitted a release date.
A temporary workaround is to simply switch off Windows Desktop Search to force Outlook to use its built-in service. Users that choose this option will be warned that Search will be impacted because a group policy has turned off the Windows Search service, but let's face it, less-than-slick performance has long been a hallmark of the Windows Search services.
Microsoft has helpfully provided a set of steps required for making the necessary changes to the Windows Registry to disable Windows Search for Outlook (alongside the usual health warning that clumsy editing might result in "serious problems").
Windows Search has long blighted Microsoft's flagship operating system, and behind the scenes Windows Search continues to cause grief for some.
In 2019, for example, Microsoft emitted a fix for excessive CPU usage that ended up comprehensively breaking desktop search for a bunch of users.
The latest problem is, however, a reminder of the connection between Microsoft's services. Local Outlook search appears to have a preference for the indexes produced by Windows Search. Therefore, when Windows Search is having issues so too does Outlook. A shame then that a registry hack is required to work around the problem. ®
Benny, Björn and Frida drop in for first anniversary of London's Abba Voyage | Abba
On stage, digital technology gave the 3,000-strong audience at the Abba arena in east London perfectly recreated youthful versions of Agnetha, Benny, Björn and Anni-Frid.
At the rear of the purpose-built auditorium, three of the legendary group, now in their 70s, appeared in real life, waving like the pop royalty they are. The crowd was in ecstatic meltdown.
Benny Anderson, Björn Ulvaeus and Anni-Frid (Frida) Lyngstad were at the arena on Saturday evening to celebrate the first anniversary of the phenomenally successful show, Abba Voyage, featuring avatar versions of the band members.
More than 1.3m tickets have been sold to date, and the show has been extended to run at its London venue until May 2024. There are reports of a world tour, and Ulvaeus has suggested that replicas of the purpose-built arena could be constructed in Asia, Australia and North America.
For Kim Smith, who had travelled from Portsmouth to see the show with her daughter Lucy as a 62nd birthday treat, it was an emotional experience. "It took me back 40 years," she said. "I was so overwhelmed that I cried."
Abba Voyage opened a year ago to five-star reviews. "The effect is genuinely jaw-dropping … it's almost impossible to tell you're not watching human beings," the Guardian's Alexis Petridis wrote. Others described it as incredible, spectacular, dazzling and epic.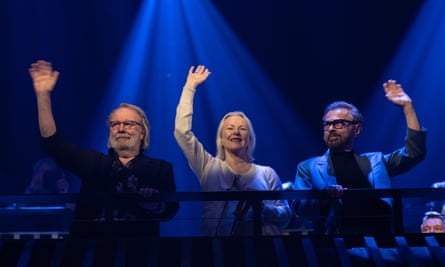 It took seven years and $175m to develop the technology and build the arena near the Queen Elizabeth Olympic Park in Stratford, east London. The four members of the band spent a month in motion-capture suits and helmets to help create the avatars – or Abbatars – that now "perform" seven times a week while their human counterparts can put their feet up.
"It was meticulously prepared, enormously expensive and incredibly difficult to create believable digital people," said Svana Gisla, a producer of Abba Voyage. "But the result is magical."
The avatars created by the visual effects masters Industrial Light & Magic had to "blend with the physical world", including a 10-piece live band, said Gisla. "The join needed to be invisible. It needed to become one unit.
"Technology is the vehicle, but the audience shouldn't feel the technology. We only got into the arena six weeks before the show opened, and at that point we couldn't be sure it was going to work."
The 90-minute show is the same for every performance, unlike a live gig where artists can mix up the numbers they perform or tailor their chats to the audience. But, said Gisla, the live band – which has its own spotlight mid-show – and the audience make each show unique.
The fans come in wigs, sequins and shiny catsuits, some as old or older than Abba, others born long after the band's last live performance in 1982. The 350 shows since the opening on 27 May last year have attracted people from more than 140 countries.
Brendan Wagner and Steven Aney had come from Brisbane and Melbourne respectively to meet up with old friends Sophie Doherty and Jen Woods for Saturday's matinee. They described it as "amazing, fantastic" with even the textures of the avatar's spectacular costumes "completely believable".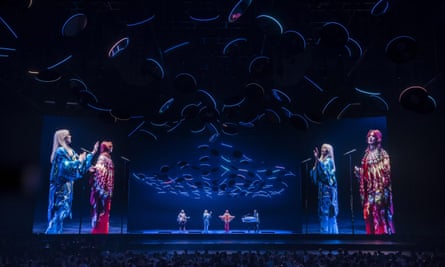 Up to 200 staff – 75% recruited in the local area – work on each performance, including those whose role includes enforcing the ban on photographs and video.
"It's lovely when people put their phones in their pockets and are there in the moment. It's very rare to be at a concert where people are just dancing and singing, and not spending 80% of their time filming other people," said Gisla.
Last week, Abba ruled out a reunion for next year's Eurovision in Stockholm, which will be 50 years after the band's performance of Waterloo won the competition. They have previously reportedly turned down the offer of $1bn to reunite. "We can celebrate 50 years of Abba without us being on stage," Ulvaeus told the BBC.
Neither can their avatars perform outside the bespoke arena. "We joke that they don't do special appearances, award ceremonies or barmitzvahs, because they can't," said Gisla.
Other performers and promoters have watched the pioneering show's extraordinary success, with some inevitably pondering their own futures on stage.
"Good luck to them," said Gisla. "It's very expensive at the moment, and technology moves very quickly, especially AI driven technology, which is probably further along than we even imagine. But the technology isn't enough. There is also an emotional experience in the arena."
Ludvig Anderssen, another producer on the show, attributed that to the blurring of "the borderline between real and fantasy worlds. It triggers feelings about youth, ageing, mortality and immortality".
Avatars would not replace live performance, Gisla said. "Musicians need to perform and audiences want to see performances, that's never going to die. That's an art form that has been alive for thousands of years. That's the human connection that we need in life, and this is just another form of entertainment."
Amidst the Technological Conflict with the US, China Intensifies Efforts in AI and Microchip Development
China is actively pursuing the
development of artificial intelligence (AI)
and semiconductors to secure its position in the global race for technological superiority, which has become a significant source of geopolitical tension with the United States.
Recognizing the critical importance of these two fields for China's economic and military future, Beijing is intensifying its efforts to find domestic solutions. This comes at a time when the U.S. is aiming to restrict Chinese access to cutting-edge technology necessary for high-tech microchip production. Through substantial investments and President Xi Jinping's call for "self-sufficiency" in science and technology, China's strategy focuses on fostering a collaborative environment that accelerates development and narrows the gap between China and the West.
During a speech at the ZGC Forum, Mei Jianping of China's Ministry of Science and Technology acknowledged the existing gap in various areas crucial to AI progress compared to developed countries. The technology fair, held in Beijing's Zhongguancun district, a prominent tech hub, prominently features AI as one of its hot topics. Mei emphasized the need for an exchange of ideas and collective contributions to position China's next generation of AI and its scientific and technological industry on par with the rest of the world.
The ZGC Forum encompasses various events related to sustainable development, financial technology, smart cities, identifying transformative young entrepreneurs, and the significance of innovation in state-run companies.
Dr. Yu Yue, from the Strategic Alliance for Technological Innovation in the Chinese Artificial Intelligence Industry, outlined China's plan to boost technological growth through the establishment of a nationwide network of AI developers. The objective is to ensure high-quality development at every computing center and promote extensive collaboration, constructing a comprehensive network that facilitates the new model of AI technology development.
To inaugurate the ZGC Forum, President Xi sent a letter emphasizing the need for greater global collaboration without explicitly mentioning U.S. restrictions. Xi highlighted the importance of international cooperation, openness, and knowledge sharing to address common development challenges amid the ongoing scientific and technological revolution and industrial transformation.
Renowned figures such as Microsoft co-founder Bill Gates also participated in the forum, expressing their belief that China has the potential to contribute uniquely by sharing its technologies and experiences.
The forum takes place against the backdrop of strained U.S.-China relations due to repeated disputes over Taiwan and the U.S. shooting down an alleged Chinese spy balloon that violated American airspace without permission. However, recent weeks have shown some signs of thawing, as mentioned by U.S. President Joe Biden during the G7 summit in Hiroshima.
Another positive development occurred with a meeting between China's commerce minister, Wang Wentao, and his U.S. counterpart, Gina Raimondo. Described as "candid" by the American government, the talks addressed the impacts each country's actions have had on the microchip sector. Wang expressed concerns regarding the U.S.'s China policies related to the economy, trade, semiconductors, export control, and outbound investments review. Raimondo, in turn, voiced her concerns about China's increasing restrictions on U.S. interests, such as the recent ban on the use of Micron's semiconductors in critical infrastructure projects.
China's actions can be partially seen as a response to Washington's decision in October to limit exports of microchip-manufacturing technologies to China, aiming to prevent China from developing cutting-edge weapons. These microprocessors are essential for AI and the advancement of other state-of-the-art technologies like smart electric vehicles. Taiwan plays a significant role in this standoff as it produces 60% of global microchips and 90% of the most advanced variants. The country's capability to produce three-nanometer chips surpasses China's, making it a crucial factor in this landscape. In March, Xi directly accused the U.S. of leading a Western strategy of "containment, encirclement, and suppression" against China to hinder its development.
Despite the geopolitical tensions, the atmosphere at the ZGC Forum was marked by confidence in the future. Huo Jiaqi, a 23-year-old postgraduate student from the Beijing University of Posts and Telecommunications, expressed optimism, stating that China has overcome similar challenges in its history. The forum showcased a wide range of technological advancements, including smart humanoid robots, police robots, drones, and metaverse avatars parading on LED screens.
In summary, China is determined not to be left behind in the global race for technological superiority in AI and semiconductors. The country recognizes the significance of these fields for its economic and military progress. With substantial investments and a focus on fostering collaboration and development, China aims to bridge the gap with developed countries. The ZGC Forum serves as a platform for discussing and showcasing advancements in various technological areas. Despite the ongoing tensions with the U.S., there are indications of a potential thaw in relations, as recent meetings between Chinese and U.S. officials demonstrate. The forum reflects China's commitment to achieving self-sufficiency and becoming a key player in the global technology landscape.
---
We Can't Thank You Enough For Your Support!
Compiled by Team VoiceOfEU.com
For More Info. & News Submissions Contact Us: info@VoiceOfEU.com
For Anonymous News Submissions: press@VoiceOfEU.com
---
Mars Helicopter went silent for six Sols, risked rover too • The Register
NASA has detailed a six-day stretch during which it could not contact its Ingenuity Mars helicopter.
In a lengthy post chief engineer Travis Brown explained that after the copter's 49th flight, radio contact was lost for six sols – just short of six hours and six days of terrestrial time.
Initially, NASA's Mars boffins weren't unduly concerned because the Perseverance Rover had moved behind a rocky outcrop that created a "communication shadow". Brown wrote that since Sol 685 the helicopter "had unfortunately been drifting in and out of night-time survival mode" which made daily contact with the craft difficult." So a day or two without contact wasn't worrying.
But once Perseverance moved to another location and Ingenuity still could not be found, Brown wrote "the situation began to generate some unease."
"Poor telecom performance was seen as a plausible explanation, but there were reasons to doubt it," he wrote. "In more than 700 sols operating the helicopter on Mars, not once had we ever experienced a total radio blackout. Even in the worst communications environments, we had always seen some indication of activity."
But the signal received on that day, sol 761, was just a simple ACK. The next day, the copter again acknowledged a command, but did little else.
Mission staff determined that the ridge separating Ingenuity and Perseverance was a challenge for the 'copter's radio. It didn't help that Perseverance's helicopter base station (HBS) antenna is mounted low on the vehicle's right and is subject to occlusion effects.
While NASA folk figured that out, Perseverance moved towards its next goal – but that created new problems.
"It is extremely important for Ingenuity to stay ahead of Perseverance while moving through the narrow channels of the Jezero delta," Brown wrote, as the rotorcraft's job is to scout ahead for the wheeled rover. And NASA operates a meter no-fly zone around Perseverance.
With the rover on the move, and the helicopter stopped, it became imperative to get Ingenuity moving.
"Relying on the helicopter's onboard pre-flight checks to ensure vehicle safety and banking on solid communications from the rover's imminent proximity, the team uplinked the flight plan," Brown wrote.
Ingenuity did more than just ACK that upload. It ingested and executed it, resulting in its 50th and set an altitude record of 18 meters.
"It would be an understatement to say that the helicopter team was relieved to see the successful flight telemetry in the Sol 763 downlink the following morning," Brown wrote.
But he added that anxious days lie ahead.
"It now appears that the dust covering our solar panel will ensure that Ingenuity will likely remain in this transitional power state for some time," he wrote. "This means that, much to the chagrin of her team, we are not yet done playing this high-stakes game of hide and seek with the playful little helicopter."
Ingenuity last flew on April 22nd, when it made a 188-meter hop at an altitude of 12 meters. The craft was designed to fly just five times, so has vastly exceeded expectations. ®