Why rampant capitalism is taking hold in Venezuela | Economy and Business
Adriana drives through the streets of downtown Caracas while the city sleeps. She picks up customers through the Yummy app, the Venezuelan Uber. For a few months, this was the best-kept secret among the local micro-economy: demand was through the roof and a good night an alert worker could make around $60. But soon word spread and many people put their cars to work. Adriana's customer pulls out a $20 bill to pay for the trip, which costs $17. She pretends to search the glove compartment for change, but they both know how this ends. "Sorry, I don't seem to have any change. Thanks, see you!" And she drives off $3 better off. Low denomination bills are scarce in the headlong capitalism that is gripping Venezuela. Everybody is thinking about money. Daily life is governed by greenbacks. The country, through Chavism, has moved on from the unsuccessful application of the Socialist Bolivarian revolution to a process of opening up branded in the forges of liberalism. The phenomenon has caused a mirage of economic recovery to appear.
Gone are the days of rigid controls. Up until very recently, Venezuelans hid their dollars because it was a crime to possess them beyond the watchful eye of the state. People had to queue for hours to buy rationed food at regulated prices and bolívars, the local currency, were few and far between. The panorama now is completely different. The use of the dollar as everyday currency, the lifting of price controls and tariff-free imports have changed the reality under which Venezuelans previously attempted to subsist.
The economy, says Luis Vicente León, an economist and president of the polling company Datanálisis, rebels against the established order faster than societies themselves. "What is happening in Venezuela, as it did before in China or Russia, is that people are looking for imaginative solutions to the control and interventionism of the state. When the government experienced problems due to sanctions and international isolation, they started to realize that riding this surfboard that society had created was more of a solution than a problem. And the government jumped on." And exactly the same thing happened with the dollar, which went almost overnight from being demonized to providing some guarantee of a certain stability.
The dollar is now used in almost 70% of commercial transactions, according to some economic observers, and in a distorted economy it has also been infected by inflation: more and more dollars are required to buy the same thing. Ecoanalítica noted that the dollar lost 50% of its purchasing power in Venezuela in 2021 and it forecasts another chunk being taken out of it this year. Life in dollars, in which those who can afford to seek refuge, is also becoming more expensive and retailers have taken to camouflaging prices in non-denominated amounts with the abbreviation Ref, for reference. The price of a pair of imitation shoes brought in via containers on which tax has not been paid in a shop in a commercial center is marked as Ref 30, which is to say, $30.
Nobody knows how many hours Venezuelans waste every time they open their wallet. Even the smallest transactions require a mental calculation of a few minutes to work out if the exchange rate applied by the shop is beneficial, which varies depending on the currency being used and convenience: if the extra tax has to be paid because a buyer only has dollars and their use has spiraled in recent months; if the price has to be rounded up because there are not enough low domination bills or coins for change; or if there is no other choice but to pay more for a product because they are only carrying devalued bolívars. In Venezuela's convoluted economy, everything ends up being more expensive.
Paying for anything in Caracas creates scenes worthy of a Marx Brothers movie. One morning, for example, a woman turns to a stranger in the queue to pay for a parking lot with a dollar in her hand: the parking place costs five bolívars, a few cents more than the dollar at the official exchange rate. The stranger with bolívars on his card pays for her and keeps the dollar, which means she avoids paying 3% more because of the Large Transaction Tax (the difference between large and minimal is obviously irrelevant). Just paying for parking can be an odyssey.
The sui generis capitalism being practiced in Venezuela has created a bubble of expenditure and redistribution in which four million people are living, particularly in Caracas. It is an island of consumerism in the middle of a precarious economy. Traffic in the capital has been restored to the diabolical levels of any major Latin American city whereas previously, due to a lack of gas, the roads were practically empty. Entrepreneurs are opening nightclubs, restaurants, supermarkets, stores and pharmacies. Internationally famous singers are returning to perform. One of the trendiest spots, Bar Caracas, has a price list identical to clubs in New York. That doesn't stop it from being jam-packed from Wednesday to Sunday. Bar Caracas is a terrace in a five-star hotel, the Tamanaco, where businesspeople from around the world stay, with local news on Google alert to try and understand what is happening in Venezuela. They have the feeling that if they get in quickly, before house and business prices start to recover, there is money to be made.
A large part of the population, however, has been excluded from this parallel economy. A recent study by consultant Think Anova has looked at the distribution of income in this new Venezuela bubble. "The income of 30% of the poorest section of the population fell or stagnated between 2020 and 2021, despite the fact that average income increased by 65% over the same period. In relative terms, only the richest 10% of the population improved their position in distribution. This ratifies that the results obtained unequivocally worsen income distribution in Venezuela."
In between the two extremes, the middle class has tightened its belt, sometimes to the point of disappearing or being reduced to poverty. Ida Febres is a 31-year-old social communicator who says she is better off today than she was a few years ago because she no longer wonders where the next meal is coming from, but what she earns leaves noting for savings. "I earn more now because I work too much," she says. She works in audiovisuals for an international company and is recording everything she can in Caracas to earn a contract: events, podcasts, plays. She works 16-hour days. She recently started taking a neighbor's daughter to school. The dark rings under her eyes are evidence of how early she gets up to earn a little extra.
For Febres, peace of mind consists of securing private medical insurance for herself and her parents: the crisis in the public health system is something that hasn't changed in Venezuela and it shows no sign of improving. That is why she works so hard, takes on debt and cuts back on her food expenditure and puts subsidized gas in her car even though that means long waits in line or getting up at dawn to fill the tank. "When my parents were young, they worked for goals, like buying a house, a car, and having a family. I can't have those goals today, mine are smaller," she says.
Sustainable growth
The industrial sector is working at 28% of its capacity after the economic mini-rebound and in the first quarter of the year is has registered growth in production and sales, according to the Conindustria union, which two decades ago brought 12,700 businesses together but now has only 2,200 members. "We want growth to be sustainable and to do that we have to restore the purchasing power of Venezuelans, and employment. That is synonymous with recovery," says Luigi Pisella, president of Conindustria and a shoemaker, one of the most-affected sectors by an influx of low-quality, imitation footwear that has poured into the country after the government granted tariff benefits to imports. "To put that 28% into context, we can compare ourselves to Colombia, which is at 80%, Brazil, which is at 82%, or Argentina, which even with huge inflation and a financial crisis, is operating at 75% of its capacity," adds Pisella. Also putting it into context are the factories that are only operational for a few months a year, then close and lay off all their staff. Only 53.8% of working-age people in Venezuela are employed, the lowest activity rate in the entire region.
Even with this production capacity, the industrial sector can supply half of the market due the drastic contraction of the economy. And it manages to do so with self-supply of energy in over half of the operating industries, given that public utility failures are also a hindrance to production. "It will be necessary to achieve an economic miracle of 10% annual growth over the course of 20 years for the economy to get back to the same size it was in 2012," says Pisella. The shoemaker highlights a recent change in economic policy that "is a step in the right direction." A total of 1,260 products from an initial list of 4,465 were finally removed from tariff exemptions that make it more expensive to buy Venezuela-made products, something that has been repeatedly requested by the country's diminished business community. This subsidy has flooded the market with imported goods of every kind, making it impossible for Venezuelan industry, which is subject to various taxes, to be competitive. Working against Venezuelan producers is the voracity of the taxman and a lack of access to bank loans, which the government has almost completely cut off to artificially contain inflation and anchor the price of the dollar.
Economic opening up, political closure
This economic transformation toward greater openness has happened, paradoxically, at the same time as Nicolás Maduro has been encircled by sanctions of varying degrees applied by the US, the EU, Panama, Switzerland and Canada, in response to the authoritarian drift of the country, which has also resulted in economic ruin with Venezuela shedding 80% of its GDP in eight years, resulting in 6.1 million people seeking their fortunes overseas.
As has been the case in other sanctioned countries, Chavism has adapted. Ties with the United States, the country's main oil buyer and previously a natural ally in the region, were severed. Venezuela made new friends: Iran, Turkey, Russia and China. With them, an attempt was made to circumvent the most well-aimed blow Washington had struck in 2019: the impossibility of selling oil freely on the global market, which forced geopolitical triangulations and huge discounts on crude. US President Joe Biden, to counter the energy crisis brought about by Russia's invasion of Ukraine, has once again opened dialog with Caracas and made various concessions that have helped to ease tensions between the two countries. There is a strong possibility that all sanctions may be lifted, although US diplomacy is hamstrung by its support for the government of interim President Juan Guaidó. If sanctions were lifted, the Venezuelan administration would have more income, which would allow it to raise salaries, in turn sparking a rise in consumption that would set in motion the chain of economic growth, which is forecast at 5% to 10%, not inconsiderable numbers in any economy but insufficient in Venezuela. At that rate, the country would need decades to reach pre-Chavist economic levels.
Maduro has opened up his economy as best he can. He has net with business representatives, announced the sale of shares in bankrupt, state-owned companies for investment, but he has also tailored an opposition to his own requirements and maintains control over civic life. In Caracas, one can do business, become a millionaire, but politics remains off-limits. Persecution of dissidence continues and a law to limit international cooperation with NGOs protecting the victims of human rights violations is being discussed in the Chavist-controlled National Assembly.
After years of political friction, the opposition has ended up cornered by its own errors and the repressive machinery of Chavism. But there is still pressure, being applied at the negotiating table with Mexico and through sanctions, which have led to a leap in expectation in recent days. Febres, who is out all day trying to make ends meet, says the government has won just by surviving these years of turmoil. "Nobody is bothered about politics, all those that did are dead. People have got used to the fact we will always have the same government, and some people will call it a dictatorship. But we can't waste our lives on that, we all have a lot of things we want to do."
Ukraine war: The luck of the Ukrainian oligarchs is beginning to change | Economy and Business
In the room of former Ukrainian president Viktor Yanukovych, in his residence on the outskirts of Kyiv, there is no trace of the Picassos or the Aivazovskys that used to hang on its walls. What does remain are the gigantic empty dressing rooms where the president's girlfriend once had a space with capacity for a thousand rings. There were also many, many television sets. In the ample residence where the couple lived more than comfortably, there were up to 18 Samsung sets, sometimes several in the same room. Books, on the other hand, were practically non-existent.
However, the most valuable objects – works of art, furniture, jewelry – are no longer here. The former president took them in his hasty flight to Russia during the 2014 Maidan uprising that would change the country's history. Anyone who is curious can see on YouTube how Yanukovych's assistants loaded trucks for three days in order to get the spoils from so many years of looting out of the country. After his departure, shocked citizens entered the mansion to discover the shameless ostentation in which their leader had lived.
The mansion where Yanukovych spent his days of relaxation is much more than a house. Not only because the 150 hectares of the Mezhyhirya estate housed a zoo (with the friendly ostriches that are still there today, undaunted by the distress that Ukraine is experiencing), a museum with the luxury cars that the former president collected, a heliport, a tennis court, two huge golf courses, a spa with several saunas and 40 pieces of sports equipment, a shooting range, endless fountains and lakes, and even an artificial mountain complete with a waterfall. All this, just for the man who ruled Ukraine and his girlfriend. If his children visited, they slept in another house. Russian President Vladimir Putin also had another residence in the complex, in case he ever went to Kyiv. And at banquets with many diners, a dining boat received the guests. "During construction, it was estimated that each day of work cost $2 million. It would be impossible to calculate the value of all this," certifies the guide Genadii Nikolaenko.
Since his flight to Russia, Yanukovych has been an outcast in Ukraine. But Rinat Akhmetov, the oligarch who sponsored his political career, catapulting him to the top, is still the first fortune of his country, with a wealth that Forbes estimated last year at about $7.6 billion. Akhmetov is the most prominent name in the list of Ukrainian oligarchs who control the country through a network of companies and connections. However, luck seems to be changing for this select group.
A dangerous mix
Several factors threaten the position of the men who, until now, have defined the map of power, and who also managed to create political parties that obeyed their personal interests. On the one hand, the war launched by Russia is striking some vital nerves in their finances. On the other, the simultaneous political pressure from Kyiv and Brussels threatens to hurt them even more; a dangerous mix for those who filled their pockets with the privatizations of the 1990s after the collapse of the Soviet Union.
"To understand the role of the oligarchs, it is enough to think of medieval Europe, with kings who competed for power with feudal lords," explains Volodimir Yermolenko, director of the Ukraine World website, from a placid terrace in Kyiv. This journalist admits that the excessive power of this small number of people is a burden for the country, but he also believes that, to a certain extent, the competition between the powerful entails a kind of balance game that prevents the authoritarian drift of the country that a single leader would imply, as is the case in Russia, where all the oligarchs are subject to the will of the Kremlin.
Akhmetov is the owner, among many other things, of Azovstal, the steel mill that gained worldwide notoriety for becoming the last point of resistance against the Russians in Mariupol, in southern Ukraine. This gigantic complex, one of the sources of Akhmetov's fortune, generated tens of thousands of jobs, produced 40% of the country's steel and had its own port at the Sea of Azov.
In May, the tycoon who used to boast privileged ties to Moscow – and who sponsored Yanukovych – announced a $17-20 billion dollar lawsuit against Russia for the destruction of the plant and other assets in the Donbas area. Some analysts estimate that Akhmetov has lost two-thirds of his fortune since the beginning of the war. But for many businessmen the problems are not new; they began in 2014, with the seizure of Crimea and the beginning of the war in Donbas. "The key to seeing if they will recover their former power will be in how the reconstruction tasks are executed and who is entrusted with them," says a European source. Another oligarch who's fallen from grace is Viktor Medvedchuk, the Ukrainian billionaire closest to Putin; he was arrested in April accused of "high treason" by the Kyiv authorities.
Zelenskiy's crusade
The oligarchs are not only haunted by financial problems. Perhaps more dangerous for their interests is the political crusade against them. In November 2021, before the Russian troops entered with force and fire, President Volodimir Zelenskiy had already promoted a law to reduce the weight of the tycoons, a group that included some 40 people with an industry monopoly, media outlets, a fortune of more than $90 million, and who take part in political activities. Some critical voices pointed out that, with this initiative, Zelenskiy was not seeking to balance the map of power, but rather to undermine the influence of former President Petro Poroshenko. Zelenskiy himself also has a group of oligarchs around him.
In addition to leading the opposition, Poroshenko is one of the richest men in the country thanks to an empire of candy, cars, media outlets and much more. The tycoon faces up to 15 years in prison for high treason, for the purchase of coal from the pro-Russian separatists of Donetsk, as well as other charges of corruption, trials that he sees as politically motivated.
In an interview with EL PAÍS, last week Poroshenko made the case for demanding responsibility from those "who ruin the country by stealing billions of euros." Reminded that he too is an oligarch, he angrily protested. "Please don't use that word!" he exclaimed. "We are in a war right now. And who has stayed here to defend their country, and who has fled? Who is spending their money to support the army and who is stealing? Who pays their taxes and who doesn't?" His spokesmen assure that he has invested more than €10 million out of his own pocket to help defend Ukraine.
The pressure also comes from Brussels, who wants to get its hands on the Ukrainian super-millionaires. When approving the country's candidacy to join the EU, the European Commission demanded seven chapters of reforms, one of them to advance the anti-oligarch law. But this must be done, according to Brussels, avoiding arbitrariness. The document also recalled the "disproportionate" influence of these businessmen on the media, especially on television.
Before the war, the gardens that witnessed Yanukovych's excesses were full of families having picnics. This place, which the guide considers "the heart of Ukraine" due to a story that goes back to the 12th century when a monastery was founded there, is now a public museum and it also served as a refuge when Russian troops approached Kyiv. But it also symbolizes the rise and fall of the man who wanted to control the entire country. Yanukovych, in the words of the journalist Yermolenko, tried to be king and feudal lord at the same time. The question is whether the oligarchs who accompanied him in his career will know how to adapt to a new era of an increasingly European Ukraine, or if they will fall by the wayside.
Bolivia's corrupt system failed to stem femicide. Now, feminists are fighting back | Women's rights and gender equality
In parts of La Paz, every surface is papered with layers of bleached and peeling posters: adverts for events, jobs, apartments – and missing women.
In 2021, there were at least 108 femicides in Bolivia, among the highest rates in South America. Many of the perpetrators are either never caught, not punished or go free soon after.
In January, fresh outrage was prompted by the case of Richard Choque, a serial rapist and murderer who was given house arrest and then continued to commit crimes. The wave of fury prompted by the scandal has since driven Bolivia's feminist collectives to spectacular measures in an effort to force government action against femicides – and the corrupt justice system that allows them.
It started with perhaps the biggest feminist protest seen in El Alto, the one-time satellite city that now flows into La Paz. The march began outside Choque's house in El Alto and culminated at the courts of justice, where activists covered the walls with graffiti, red paint and the names of unpunished rapists and murderers.
"We wanted to redirect the discourse," said María Galindo, founder of Mujeres Creando, a feminist collective in La Paz. "For it not to be a discourse of victimhood, nor a tabloid nor a police discourse. Because what Richard Choque shows is that the central problem is state corruption. This man was a prisoner, and yet he went free."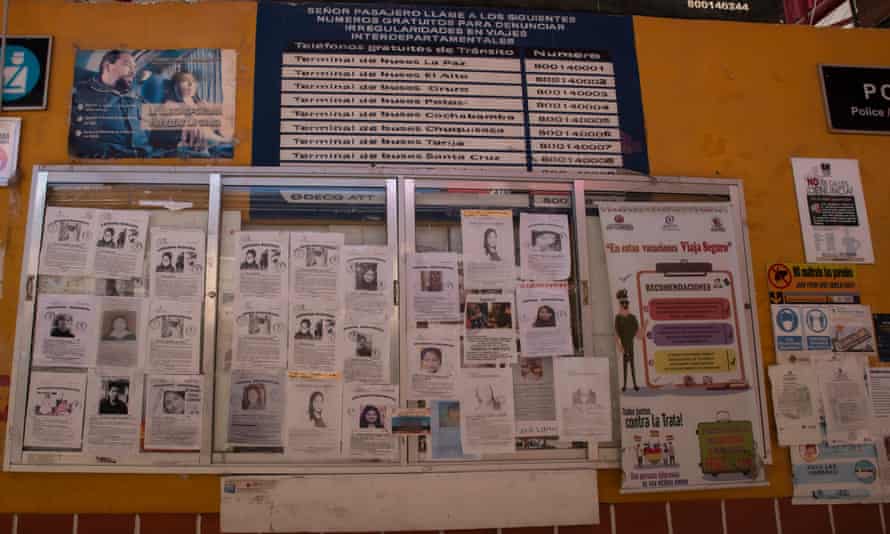 Galindo has since proved the sharp point of the pressure campaign on the government.
She took to barging into state institutions and putting civil servants on the spot, livestreamed on social media. The one-liners she whipped them with went viral on TikTok. Then she teased a run to be Bolivia's ombudsman – before tearing her application up in front of the cameras, in a typically flamboyant outfit of fishnet leggings, black eyeshadow and irreverent takes on patriotic symbols, not least a giant crown capped with an Andean condor.
Meanwhile, Mujeres Creando catalogued ignored reports of gender violence and investigated San Pedro prison, where Choque ought to have been held. They found a system of corruption, where inmates bought privileges including house arrest.
In response, the government set up a commission to re-evaluate cases like Choque's, which, though extreme, was not unique. Twenty-one others released to house arrest inappropriately have since been reincarcerated, while another 50 arrest warrants have been issued. Eighteen judges are facing criminal proceedings and more than 300 of their cases are being re-evaluated.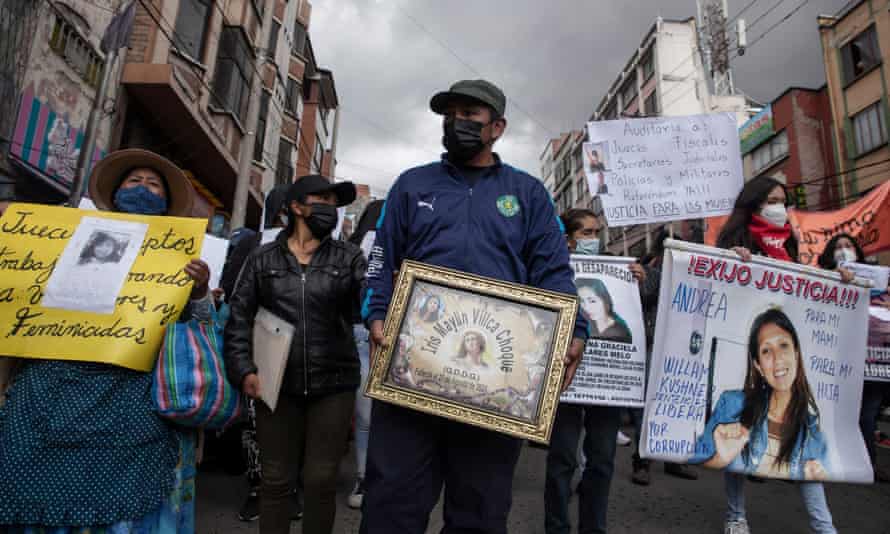 Such numbers come as no surprise to activists in La Paz and El Alto where gender violence has been accentuated by two factors, said writer Quya Reyn. First, the absence of the state, which creates insecurity. And second, the fact that the city draws migrants – many of them young women – from across Bolivia's western highlands.
These women are vulnerable to abuse. "If you go to [the centre], you'll find posters looking for nannies, looking for women to work in restaurants," said Reyna. "And they are always looking for women – only women."
"You see this with Richard Choque," Reyna added. "He would go on Facebook and say that he could offer work. These young women were murdered looking for work."
In 2013, the government introduced Law 348, which, among other things, made femicide a crime punishable by 30 years in prison – Bolivia's maximum sentence.
The law was welcomed as progressive legislation at the time, and Adriana Guzmán, a feminist activist based in El Alto, believes the text remains generally sound – the problem is implementation.
First, there is a lack of resources. "Right now, there aren't enough judges, there aren't enough prosecutors, there aren't enough investigators."
Then there's corruption, as demonstrated by the case of Choque. "The entire justice system is corrupt – not just with regard to crimes against women." Guzmán notes that this discriminates most against the poor.
There is some scepticism that the government's commission will address these root problems.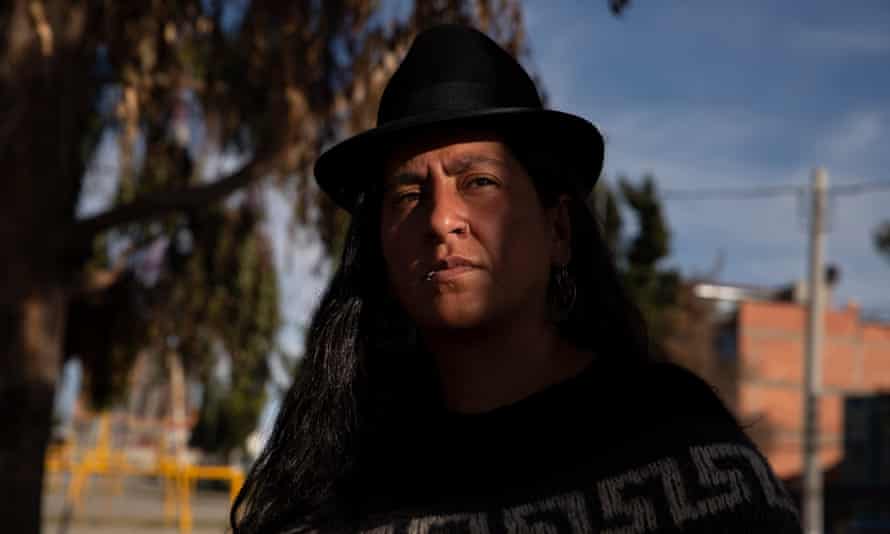 Galindo, for one, views the commission as an attempt to deflate their pressure campaign. "It's for the media. It's a commission that serves to make declarations, not effective policies."
Meanwhile Guzmán says that it was limited from the start, since it is only reviewing a fraction of gender violence cases. "For it to really be a historic commission, and not a ridiculous one – because it is ridiculous that the state has created a commission to return those to prison who should already be there – the commission needs to finish with a proposal to reform justice and the state."
Among Bolivia's feminists there are varying views on how that sort of reform will be achieved.
"The system has to be changed with huge social pressure," said Galindo. "And we're building a movement to achieve that." She believes the campaign Mujeres Creando has led over the last months has strengthened their social legitimacy: "No one can buy us. We are incorruptible."
But Guzmán is sceptical that this movement reaches much beyond the urban middle classes. And the true forces in Bolivia, says Guzmán, are the campesino and Indigenous organisations. "Within them, feminism isn't a thing. There are lots of prejudices against feminism."
In El Alto, meanwhile, Reyna pointed to the lack of feminists in politics pushing for reform. She believes change will come when a new, diverse generation of women enter government and shape it from within.
"I don't want to fight the state," said Reyna. "I want to be the state."
Forty-six migrants found dead inside abandoned trailer in San Antonio, Texas | USA
The bodies of at least 46 migrants were found on Monday inside an abandoned tractor-trailer in San Antonio, Texas, around 155 miles (250 km) from the border with Mexico. The finding has been confirmed by local authorities.
The vehicle was found next to the railroad tracks in the southwestern part of the city, according to local media reports. Emergency services rescued at least 16 other people who were still alive inside the trailer, including four children, and sent them to hospital for treatment.
This is not the first time that San Antonio experiences such a tragedy, although it is the deadliest in memory. Ten migrants died in 2017 after being trapped inside a truck that was parked at a local Walmart, and in 2003, 19 migrants were found in a sweltering truck southeast of the city.
Mexico's Foreign Minister Marcelo Ebrard said that a Mexican official was on his way to the site. "We still don't know their nationalities," specified a spokesperson for Mexican Foreign Affairs. President Andrés Manuel López Obrador is scheduled to meet with Joe Biden at the White House in July, and migration will feature prominently on the agenda. The recently concluded Americas Summit also sought to address growing migration flows to the US, largely from Mexico and Central America.
Monday's was the latest human tragedy involving busy irregular immigration routes. May broke records for illegal crossings into the US with more than 239,000. The largest access point is through the border shared by Mexico and the State of Texas. This intense migratory flow has created a problem for Joe Biden and the Democrats, who will go to the polls in November in midterm elections with immigration policy as one of the issues of most concern for voters.