Why have Cuba's simmering tensions boiled over on to the streets? | Global development
Liuba Álvarez leaves her house three times a week at 3.45am to queue outside her local supermarket for basic goods like meat, oil and detergent. Her last queue was "relatively short": after eight hours she came home with some minced meat in time for lunch. Other days she doesn't get back until 5pm.
"It's exhausting," says Álvarez, 47. "Getting up early gives me migraines, but it's the only way I can get these products to feed my children."
Cubans are used to queues. But since the pandemic, endless lines,squeezed salaries and power cuts have become a grinding reality for millions. And on Sunday tensions boiled over in the largest anti-government protests for decades. Social media, the pandemic, and beefed-up US sanctions combined with a younger generation hungry for higher living standards have made for a dangerous cocktail the ruling Communist party is struggling to contend with.
"Cubans need cigarettes, coffee and food to be happy," said Rey Alonso, 41, in central Havana on Tuesday. "Four years ago we had all that – you could go out and buy a can of cola. Now everything's gone. Of course people took to the street!"
Covid surge
Cuba has one of the lowest Covid mortality rates in the region, with fewer than 2,000 dying from the disease since the pandemic began. But the island, which hospitalises everybody who tests positive for the virus, has been hit hard by new variants: on Saturday Cuba registered a record 6,923 new infections. #SOSCuba was trending on Facebook after hospitals in the western city of Matanzas were so overwhelmed they put beds with patients in corridors. Rising case numbers have increased anxiety in the population.
Developing its own Covid vaccines has been the state's number one priority, and 17% of Cubans have so far been vaccinated. But ploughing money into vaccine production has left the cash-strapped state with scant funds to import other essential medicines, and pharmacy shelves are barren.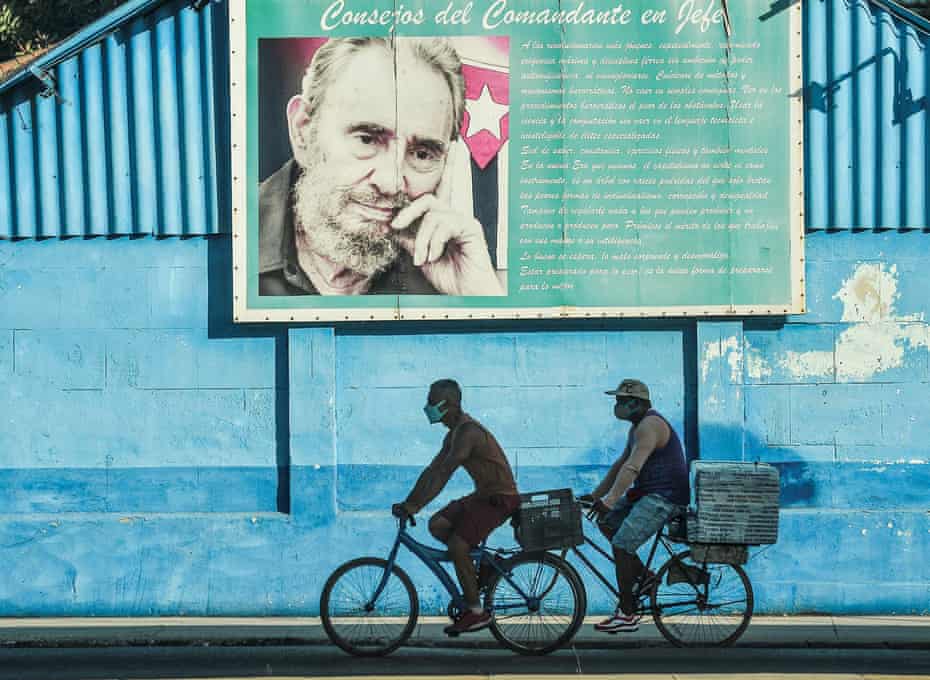 Trump sanctions still in place
The US secretary of state, Anthony Blinken, on Monday criticized the Cuban regime for "failing to meet people's most basic needs, including food and medicine". Yet for decades, US policies have explicitly been designed to create such shortfalls. (When first contemplating sanctions, President Dwight Eisenhower surmised that "If they [the Cuban people] are hungry, they will throw Castro out.")
Donald Trump's "maximum pressure" campaign against the island curtailed foreign exchange inflows: flights to the island were cut back, cruise ships were banned, remittances were cancelled and US firms were allowed to sue multinationals investing in Cuba. The objective, the then secretary of state, Mike Pompeo, reportedly told diplomats, was to "starve" the country.
Then the pandemic hit, which gutted tourism – one of Cuba's last sources of foreign revenue.
The state's response to shrinking revenue was to grudgingly open dollar stores – a move which proved deeply unpopular as it vividly embodied the divide between the haves with access to foreign currency and the have-nots. On Sunday, dollar stores across the country were ransacked.
Although he was vice-president during Barack Obama's rapprochement with Havana, Joe Biden has not rescinded any of the Trump sanctions. After losing Florida in 2020 – in part because more than 60% of Cuban Americans in south Florida voted Trump – the Biden administration is cautious about doing anything that will alienate this voting bloc.
Online activism
Cuba launched mobile internet late, in 2018, but more than 4 million people now access the web via their phones.
The internet – and particularly social media – has altered the power balance between citizens and state. After hundreds of people came out in the western town of San Antonio de los Baños on Sunday morning, videos were viewed by people in Havana within minutes.
The approximately $20m a year of US federal funds spent on "democracy promotion" factors into the way Cubans experience the internet.
Anti-Castro news websites funded by US tax dollars advertise heavily on Facebook and YouTube . VPNs are needed to make purchases with credit cards in Cuba, and to download many apps. When using the popular VPN Psiphon, for example, adverts for Cubanet, ADN Cuba and Diario de Cuba – all financed by the state department – pop up as paid content.
Articles from these outlets are overwhelmingly negative, adding to the sense of doom, gloom and hopelessness which formed the backdrop to Sunday's protests.
In recent years internet access to dissident blogs and US government-funded news websites was blocked in Cuba, but major international news websites were available. Since Sunday evening the internet has been cut across the island.
Hunger for change
Politically, Cuba is marked by a stark generational divide: older generations – who lived through an era in which healthcare, literacy and access to culture improved greatly – tend to support the government; but those born after the fall of the Soviet Union have grown up amid scarcity and privation – and are more likely to oppose it.
This younger, less pliant generation is often uninterested in the external causes of the island's plight (many are riled by mention of the "US blockade" which they see as an excuse and, sometimes, a sham). Blame for a system failing to provide for their needs is put squarely on the government.
This generational cleavage was clear on Sunday: anti-regime protesters were overwhelmingly young; pro-government protesters tended to be older.
Claudia Genlui Hidalgo, a 30-year-old member of the Movimiento San Isidro, a collective of artists opposed to curbs on artistic freedoms, said that the fact that the protests were spontaneous rather than organised indicated the level of discontent in Cuban society.
"Cubans need a change for the better," she said "I'd like to live in a democratic society where power is not so centralised."
Under the volcano: a year after Mount Nyiragongo's eruption, people of Goma start to rebuild their lives | Global development
'I came here the day after the eruption,' says Chance Barambesha, 42. At first, the UN and aid organisations helped with food, water, tarpaulins and other essentials. But he says the support has dried up, the government is doing little and families are struggling for food. 'Four people were buried here, they died of hunger – two kids and two elderly people,' he says
Migration crisis: The Nicaraguans who are learning to swim to avoid drowning in US river crossing | International
Seeing his son with the water below his waist, standing firm on the stones of the riverbed, Pablo Cuevas ruled out using the 60-meter rope he had bought to cross the Rio Grande with his family, because it would prove more of a hindrance than a useful tool in their desperate attempt to reach American soil.
"Dad! The river is calm!" shouted the 22-year-old from about 30 meters away from the bank. Faced with the imminent arrival of Mexican or American border agents, the man let go of the rope, hugged his five-year-old grandson very tightly and entered the waters. It was mid-morning on April 17, less than a month ago. The Rio Grande, a "treacherous" river according to the migrants who have lived to tell the tale, was calm that day. It was a lucky break for this family that fled Nicaragua because of their father's job: Pablo Cuevas is a renowned human rights defender in his country.
Accustomed to tense situations back home due to his clashes with gangs and police officers under the dictatorship of Daniel Ortega and Rosario Murillo, Cuevas concealed his fear of jumping into the river so that his wife, daughter-in-law and his other grandson would not lose the courage they had rehearsed during the 40-day journey to Ciudad Acuña, in Mexico's Coahuila state. The trip had taken them across Central America and Mexico, along a road rife with robberies, kidnappings, extortion, fatigue, hunger and death that 49,738 Nicaraguans followed in the first quarter of 2022 alone, according to the United States Customs and Border Protection. That is the largest number of migrants from this country to try to cross the US border in recent history.
It was on the first week of March, as he sat inside his home in Managua, that Cuevas made the decision to join this unprecedented exodus to escape the political violence and precarious economic situation that Nicaragua has been experiencing since 2018, following social protests that were brutally repressed. by the police and paramilitary groups. The country's sociopolitical crisis has deepened since June 2021, when the Ortega-Murillo presidential couple intensified the hunt for opponents that facilitated Ortega's re-election and perpetuation in power.
"Before the government closed the CPDH (Permanent Human Rights Commission)," says Cuevas, alluding to the last such organization left in Nicaragua, I received threats and intimidating messages. Someone from the government told me that I had better leave… I have never been a fan of desk jobs, I always liked to be out doing field work, but there came a point when I could no longer practice freely, and my wife was having nervous breakdowns thinking that they could arrest me at any moment. So we decided to leave, and the route through the Rio Grande seemed the best, after analyzing it with many users I had who had already crossed into the United States," he tells EL PAÍS.
The Cuevas family's greatest fear was drowning in the river. Between March and April 2022, news of Nicaraguans killed in those waters shocked the country: 10 people registered by the Association of Nicaraguans in Mexico, although there are other agencies that put the number at 14, such as the non-profit Comunidad Nicaragüense en Texas. There were cases like that of a four-year-old girl swept away by the current, or the most recent drowning, on May 1, of Calixto Nelson Rojas, a radio host for Radio Darío, a station that was burned and attacked by the Sandinista regime. The death of the radio journalist was recorded by a Fox News reporter: it happened before the eyes of US and Mexican border agents who did not help him because they were prohibited from doing so, even as Rojas cried out for help. The reason for not saving him was that a Border Patrol officer allegedly drowned weeks ago while trying to rescue two migrants.
Cuevas, a man who was well informed thanks to his work as a human rights defender, knew about the dangers of crossing the river. "We began to do introspection exercises with the family, to remember one of our camping trips to the sea in Nicaragua, specifically once an undercurrent dragged us out to sea, but we were able to swim and save ourselves," says the lawyer, who is now living in Florida, where he has started an organization to help other Nicaraguan migrants. "So I told my family to remember to bury their feet firmly in the bottom so we could cross the river."
The Cuevas were able to cross without a rope and without a life jacket. However, some 3,000 kilometers south of the Rio Grande, in Nicaragua, dozens who have decided to leave the country and do not know how to swim are taking precautions before heading north: they are signing up for Mario Orozco's swimming lessons.
'I know it is a dangerous river'
With no major signs of a solution to the sociopolitical crisis, Nicaragua has become a country on the run. In 2021 alone, the United States Border Patrol tallied 87,530 Nicaraguans who tried to enter the southern border without documents. An exponential increase occurred in June, when the Ortega-Murillos imprisoned all their adversaries and ended the possibility of a resolution to the conflict through transparent elections. If one asks people in Nicaragua about the best decision in this scenario, the majority, especially young people, will answer the same thing: to leave. Migrant groups leave at dawn from some gas stations in Managua, while others who feel politically persecuted, such as Pablo Cuevas, do so clandestinely across the Honduran border.
Border Patrol figures from January to March of this year provide a measure of this booming exodus: 70,066 Nicaraguans have surrendered to patrol officers. "But there is an underreporting," says the Association of Nicaraguans in Mexico. There has been a change in the migratory dynamics from this country, driven by political violence that has aggravated endemic ills (a precarious economy and lack of jobs). In 2018, at least 120,000 Nicaraguans applied for asylum in Costa Rica. But the pandemic plunged this latter country into an unemployment crisis and Nicaraguans reconfigured their flight path. First, because Costa Rica has collapsed and second, because Joe Biden's immigration promises were interpreted as greater flexibility by the US government.
Suddenly, the migrant caravans in which Hondurans and Salvadorans used to predominate began to be led by Nicaraguans, who are now also prey to the mafias along the route. Among those preparing to flee the country, crossing the Rio Grande became the best option despite the dangers of its waters. That is why the post on Facebook by professional swimmer Mario Orozco offering free lessons went viral in Nicaragua.
Orozco assures that some of his friends drowned in the Rio Grande and that moved him into action. "I am a professional swimmer, I know the techniques to swim in open waters. So I took one of my days off to teach and avoid these tragedies," he says, emphasizing that his work is humanitarian and not political. The swimmer is concise and prefers not to delve into details. He does not say why but, for those who live in Nicaragua, it is understood: anything that the Sandinista government views as criticism can cost jail time.
The pool where Orozco teaches is usually packed, as a reflection of the urgency to leave Nicaragua. "I know it is a dangerous river," says Roberto García, a Nicaraguan who left the country a few weeks ago and is now in Tapachula, Mexico, where he is "preparing myself mentally" to ford the Rio Grande. "There are those who take swimming lessons; I, for example, am watching YouTube videos, asking other friends who have already crossed where it is less deep; the current less strong… I am afraid, but the situation is more critical when I am going to cross with my son," confesses García, an auto refrigeration technician who used to provide services to the Supreme Court of Justice.
García was imprisoned for seven months for participating in the 2018 protests in Nicaragua. Upon release from prison, his workshop was never able to recover due to police harassment and lack of customers. Weary, he decided to migrate. "I don't even want to think about the day I'm going to cross the river with my wife and son. It unsettles me. My son is 10 years old and I only think of him, especially when I see so many brothers drowning in the news… like that announcer from León. It was a horrible video. One feels powerless. I don't want a similar video of us," he says. He also doesn't want to leave one last message like that of the radio host Calixto Rojas before jumping into the waters of the Rio Grande: "Today I'm leaving for Piedras Negras at one in the afternoon. Tomorrow at eight I will be trying to cross the river."
'Cramped and unsafe' Glasgow housing unit forced to suspend mother and baby services | Immigration and asylum
A housing unit has been forced to close its services to mothers and babies after a damning report found that the "cramped and unsafe" accommodation breached their human rights.
In its report, the Children and Young People's Commissioner Scotland said the unit, which housed asylum-seeking mothers and their children, had radiators and gas cookers dangerously close to babies' cots, a lack of natural light and little ventilation, and no space for babies to crawl, play or walk.
Each of the 38 rooms measures approximately 5 metres by 3 metres (16ft x 10ft) and contains a single bed, cot, kitchenette and shower.
The unit, run by a Home Office subcontractor, Mears Group, was opened in January 2021 to house mothers and babies while Covid-19 restrictions were in place. Women were moved out of flats in the city centre and accommodated in the unit on the periphery of Glasgow's Southside.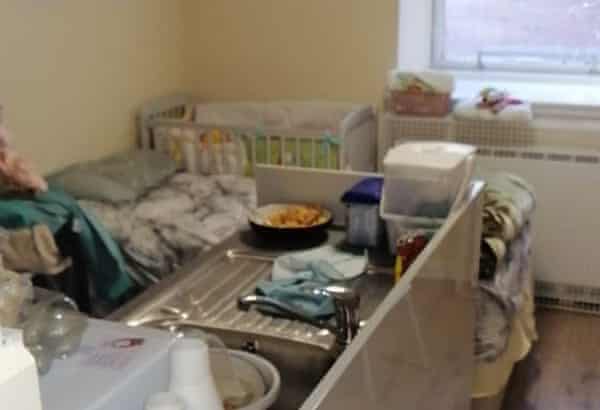 The accommodation was described as "prison-like" by the charity Amma Birth Companions, which repeatedly called for its closure. Mears said the last mother and baby had now left the unit and the Scottish Children's Commissioner confirmed that the women had been relocated to more appropriate accommodation.
The removal of mothers and babies from the site comes after criticism of accommodation provided for asylum seekers in Glasgow when a knife attack at a hotel in the centre of the city in 2020 left six people wounded and the attacker shot dead by police. Campaigners from a Glasgow group, Refugees For Justice, said the attack was a "direct result of the dysfunctional UK asylum support and accommodation system" and that there was an accommodation crisis in the city.
Ai* arrived at the unit in the autumn of 2021, when she was three months pregnant. She lived there for seven months, and, following the birth of her daughter in March this year, she was moved out.
"When I first arrived, I thought I was only going to stay for a few hours, but then they gave me a key for the room," she said through an interpreter. "When I opened the door, I was really scared. The room was so small, with no privacy and you [could] hear all the babies crying all around.
"Then there were mice in the room. I told my midwife, who complained to the staff at the unit, but they did nothing. They just told me to cover up the food."
Ai, who was in a safe house for trafficked women until she arrived at the unit, says that she was asked to sign a tenancy contract, which stipulated that nobody could stay over to support her with her baby, and imposed a 10pm curfew.
"Every mum has to manage by themselves," she said. "There were so many loud noises, and fire alarms going off in the day and at night, which scared my baby. Sometimes we had to take our babies outside at night, when the alarm went off."
The unit housed 38 women, and Ai says there were only six washing machines, all far away from the rooms.
"I had to wash my clothes and my baby's clothes in the sink sometimes, pouring dirty water in where I washed plates and prepared food," she said.
She added that the window in her room would get stuck, with a barrier in front of it, leaving the room poorly ventilated and cold.
Mears said it was aware of a pest-control issue and had put measures in place at the unit, adding that furniture had been arranged so that cots were not set up close to kitchen equipment.
In a statement, Mears added: "The mother and baby unit was purpose-designed with the advice of the local authority and NHS at a time when we had a significant number of mothers and babies to support and did not have suitable accommodation.
"Our aim was to provide a good standard of accommodation and enhanced wraparound support for mothers and their children. As accommodation needs have changed, we now operate the unit as initial accommodation for single females who are newly arrived into Glasgow."
Maree Aldam, of Amma Birth Companions, welcomed the news that the last family had now left the unit. She said: "Although we welcome the progress made to relocate mothers with babies into more suitable accommodation, we remain concerned about the long-term effects of this experience on the affected mothers and their babies.
"We continue to call on the Scottish government to put in place minimum housing standards that will protect every child in the asylum process from ever enduring such living conditions again."
* Name has been changed to protect her identity
The headline and text of this article were amended on 19 May 2022. The housing unit is not closing down, as an earlier version said; it remains open for mothers and children, but no longer offers services to mothers and babies.