Who was René Robert, the flamenco photographer found dead on the streets of Paris? | USA
Swiss photographer René Robert made headlines last week after it emerged that he had died on the streets of Paris from hypothermia on January 19, at the age of 84. He had been left unconscious after a fall, and no one came to his aid for hours, until it was too late. The circumstances of his passing have eclipsed his work, which was dedicated to capturing the essence of flamenco. Friends, colleagues and experts in such photography describe a personality and craft of someone whose death has become a terrible symbol of the dehumanization of people in big cities.
Robert, who was born in Fribourg and is due to be laid to rest today, Monday, in Paris, had a partner, Sabine, for many decades. He discovered the magic of photography at the age of 14, thanks to the father of a friend who developed his images. That's according to Robert himself, who gave an interview in 2007 to the website Música Alhambra. He sought his fortune in France as a photographer, and in the 1960s he began to frequent Le Catalan, a flamenco venue in Paris. In the aforementioned interview, he explained that he was first attracted by the dancing, while the musical part of the show was "more confusing" to him.
His friend, the journalist Michel Mompontet, who announced his death, describes Le Catalan as the place where the Spanish diaspora would go: the artist Picasso, whose workshop was nearby, as well as the painter Juan Gris. "The old flamenco artists say that you could see and hear both the best and the worst," Mompontet explains. "Those who were hungry would arrive and they would be given food, drink and a place to sleep." Mompontet met Robert when he was 20, at the end of the 1980s. At those shows, "there was almost always a very smart-looking gentleman with a spotted handkerchief, hat and a cigarette in his mouth – discreet, but a friend of the artists," he explains. That man was Robert.
While Robert intimidated him at the start, Mompontet discovered the "simple personality" of a man who worked as a publicity photographer to put food on the table, until his images of flamenco began to be worth something. As the years passed, several generations of artists passed before his lens: Paco de Lucía, Camarón, Chano Lobato, Fernanda de Utrera, Aurora Vargas, Tomatito, Antonio Gades, Cristina Hoyos, Sara Baras, Carmen Linares, Vicente Amigo… "Robert didn't talk much," Mompontet recalls. "He was a humanist, with a great sense of irony and he was very kind."
French photographer Jean-Louis Duzert agrees with this description. "He was humble, he liked to work in the shadows," he explains. Duzert, a former photojournalist, also discovered flamenco and Robert more or less at the same time. Since then, their friendship and complicity was constant. "We would speak at least once a month to get up to date with shows, concerts…," he explains. "He would send me his photos and I would send him mine," he explains, still emotional over the death of someone he saw as a "guide, a master," and even "a father," even though there were only 13 years between them. As he wrote in the dedication of one of his books, Robert considered him "a brother of photography."
Robert published Flamenco (1993), La Rage et la Grâce (or, The rage and the grace, 2001), and Flamenco attitudes (2003). He donated his photographic archives to the National Library of France, and Duzert insists that he was still preparing projects. "We were planning to do a book together about 50 years of flamenco in France," he explains. "Regrettably, that will no longer happen."
"Robert didn't just photograph cantaores and bailaoras [flamenco singers and dancers] but also he tried to portray that kind of catharsis found in flamenco, that tragic spirit, always in black and white," explains Eduardo Navarro Carrión, cultural manager at the Cervantes Institute in Paris and the organizer of an exhibition that, in 2019, displayed Robert's photos in Nantes, at the Spanish cinema festival in the same city. Robert explained that when color was used to depict flamenco, it appeared "very touristy" to him. His style was a "very scenic" kind of photography, "in search of the creative moment," Navarro adds.
"He didn't want to move to digital," adds Mompontet. "He liked to develop his photos. It's curious, because at the same time he was very open to other arts. He loved Caravaggio, his dark scenes, and [flamenco] for him was a tragic representation of life's extreme feelings. For someone as reserved as he was, that fascinated him." And despite all of this work, Mompontet explains between giggles, Robert barely spoke any Spanish. "Flamenco is a way of feeling and he had that," he explains. "That's why the flamenco artists who were close friends, Camarón, Paco de Lucía, they got along well with him, although I don't know in which language it was."
Chema Blanco, an artistic advisor at the Nîmes Flamenco Festival and the director of the Flamenco Biennale in Seville, would share a glass of wine and a lunch with Robert and other figures during the French event. "He was much loved, there were a lot of people who admired him," he says about this "shortish man." At those meetings they would discuss "the shows that we had seen. He was very pleasant and had that typically French Bohemian air." Blanco was impressed how "he looked at and listened to you with close attention."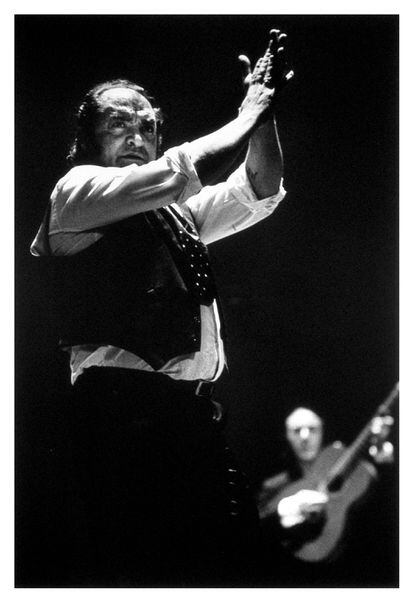 Flamenco photographer Paco Sánchez, who has been taking portraits of figures from the flamenco scene for 40 years, points out that Robert's style is very similar to his. "I discovered him years ago and I was surprised, because I saw myself reflected when I was starting out, in the 1970s, with high-contrast photos in black and white, with the veins on the necks of the singers about to burst and the details of the dancers' hands." For Sánchez, he was a photographer who was characterized by "simplicity, very direct." As for his personality, while he didn't know him personally, he adds that "he was not much seen in the media, and was sparing in interviews."
The artistic director of the Picasso Museum in Málaga, southern Spain, José Lebrero, was in charge of the Andalusian Center for Contemporary Art in Seville when it organized a 2009 exhibition, which showed the role of flamenco in photography. Among the 50 or so featured photographers, with 200 or so images on display, was Robert. Lebrero includes him in "the tradition that there was in France with flamenco related to an interest in the exotic." His work "formed part of a saga in which the dark side of Spain attracted him; it was more about the tavern and the ritual than esthetic excellence."
With his death, Duzert laments, "a chapter has been closed in the world of flamenco."
Here's when your favorite show may return as writers strike is on the verge of ending | Culture
A tentative agreement between striking screenwriters and Hollywood studios offers some hope that the industry's dual walkouts may soon be over. But when will your favorite shows return?
Well, it's complicated. First, the agreement needs to pass two key votes, and certain paused productions such as Deadpool 3 and Yellowjackets will still have to wait on actors to reach a deal with studios.
When is 'Jimmy Kimmel Live' coming back?
Once the contract is approved, work will resume more quickly for some writers than others. Late-night talk shows were the first to be affected when the strike began, and they may be among the first to return to air now. NBC's The Tonight Show Starring Jimmy Fallon, ABC's Jimmy Kimmel Live and The Late Show With Stephen Colbert on CBS could come back within days.
Saturday Night Live might be able to return for its 49th season, though some actors may not be able to appear. The actors strike limits promotional appearances that are the lifeblood of the late-night shows.
Shows that return while actors are still picketing could prove controversial, as happened with the planned resumptions of daytime shows including The Drew Barrymore Show and The Talk. Those plans were later abandoned.
One show that's likely to make a speedy return? Real Time with Bill Maher. The host plotted a return without writers but ended up postponing once last week's negotiations were set.
What about 'Stranger Things' and 'Superman'?
Writers rooms for scripted shows that shut down at the strike's onset, including Netflix's Stranger Things, Severance on Apple TV+ and Abbott Elementary on ABC are also likely to reactivate quickly. But with no performers to act out the scripts, long delays between page and screen will be inevitable.
Film writers will also get back to work on their slower timeline, though those working on scripts or late revisions for already scheduled movies — including "Deadpool 3″ and "Superman: Legacy" — will certainly be hustling to avoid further release-date delays.
When are Drew Barrymore and other daytime shows coming back?
Barrymore's planned return to her daytime television show became a rallying point for picketers earlier this month, prompting her to cancel her plans. The Talk and The Jennifer Hudson Show, which also employ some screenwriters, also called off plans to return.
Barrymore and the other shows have not announced their plans for returning. However, the Writers Guild of America has made it clear: Guild members cannot start working again on projects until the tentative contract is ratified.
That vote has not yet been scheduled.
Sign up for our weekly newsletter to get more English-language news coverage from EL PAÍS USA Edition
Milan fashion celebrated diversity and inclusion with refrain: Make more space for color and curves | Culture
More curvy models than ever showed up on Milan runways this season, due mostly to a single show by Brazilian designer Karoline Vitto, while designers of color showcased their work at collateral events meant to promote their visibility — along with diversity — in the backrooms of Italian fashion.
Wherever diversity and inclusion were being celebrated during Milan Fashion Week, which ended Sunday, there was one underlying refrain: Make more space.
Curvy models get outing at Karoline Vitto
"We made history! It was incredible,'' world-renown curvy model Ashley Graham gushed as she embraced London-based Vitto after Sunday's show. Graham is often the only curvy model on major fashion runways, but for this show she led a cast of models ranging in size from UK 10 to UK 24 (US 6 to US 20).
By comparison, some Milan brands typically size up to 48 Italian (US size 12), while some, notably Dolce & Gabbana which sponsored Vitto, has extended some looks up to an Italian size 52 (US 16).
Graham wore an edgy black ripped corset and long sheer skirt, while other models wore form-hugging jersey dresses fitted with S-shaped metallic fixtures that sculpted their curves. She used the same technique for bathing suits.
"It feels normal,'' Graham said, calling on more designers to get more curves on the runway. "If I feel normal on the runway with this many girls, that means that there is something that doesn't feel normal when I am on the runway with everybody else."
Diversifying small brand profiles
After working in fashion for decades, Deborah Latouche launched her own brand after converting to Islam and realizing how hard it was to find clothes that were "luxury, high-end and modest."
Latouche brand, Sabirah, was highlighted along with US brand BruceGlen at the Milan Fashion Hub for new and emerging designers, sponsored by Blanc Magazine's Teneshia Carr and the Italian National Fashion Chamber. The Hub offered space to meet buyers and other people interested in new brands.
"Something like this is really important because small brands such as myself can get really overlooked,'' said Latouche, who has shown her brand in London, where she is based. "We put a lot of work in but we don't necessarily get a lot of recognition.
Being invited to Milan "is an amazing platform that gives us the potential to elevate and that is really important,'' she said.
Twins Bruce and Glen Proctor have been working on their brand for 17 years, and relished the time in Milan showing their creations to a new audience while they also connect with their true creative intentions.
"For a longtime we did black and white, based on what we thought the industry wanted," Bruce Glen said. Now they are doing what comes naturally, "Colors, prints and fur.''
Carr said presentations where people can touch the wares are a great way to connect people with a new product, without the huge expense of a runway show.
"The fashion system isn't working for anyone but the 1 percent. I am all for trying to make new systems where everyone gets paid and people get clothes that make them feel better,'' she said.
Sign up for our weekly newsletter to get more English-language news coverage from EL PAÍS USA Edition
Hollywood Studios Reach Tentative Agreement With Screenwriters To End The Strike
After four days of negotiations, Hollywood studios and the Writers Guild of America (WGA) managed to set down the bases of a new collective agreement. The deal announced Sunday unblocks one of the longest labor conflicts in the industry, with the strike now at 146 days.
"We can say, with great pride, that this deal is exceptional, with meaningful gains and protections for writers in every sector of the membership" the WGA stated in a press release. The leadership of the screenwriters' organization must ratify the pact on Tuesday by a vote. The studios must now focus on resolving the conflict with the actors' union, which is still on strike, so that productions can resume operations.
The studios and the WGA resumed negotiations on Wednesday after months of tension and a failed attempt to reach an agreement in mid-August. This time, there was a greater sense of urgency from both sides, who were concerned that further disagreement could have stretched the strike to 2024.
The main executives of the four studios attended the meetings with this in mind to show their willingness to negotiate. The parties set the goal of drafting the new contract before the Yom Kippur holidays, which began Sunday afternoon.
The negotiations were attended by Bob Iger, from Disney; David Zaslav from Warner Bros. Discovery; Netflix's Ted Sarandos and NBCUniversal's Donna Langley. The studio heads were present for three days at the meetings, which were held at the offices of the Alliance of Motion Picture and Television Producers (AMPTP).
Over the weekend, the studios were able to finalize the remaining details of the deal with the WGA. California Governor Gavin Newsom was also involved to ensure that both sides remained at the negotiating table. The strike has cost the state about $3 billion, according to a conservative estimate by California State University Northridge.
In the press release to announce the tentative agreement, the WGA made it clear that the strike is not over yet: "No one is to return to work until specifically authorized to by the Guild. We are still on strike until then." The WGA's 11,500 members must vote on the agreement.
This will happen after Tuesday, when the Negotiating Committee ratifies the deal once the final version of the text is ready. The deal is likely to be overwhelmingly approved by screenwriters, who have expressed their satisfaction for the resolution. Union members have also recognized the work of the Negotiating Committee, headed by Ellen Stutzaman.
While the strike continues until the deal is voted on, the WGA has brought an end to the picket lines at the gates of major studios in Los Angeles and New York, which have been in place since May 2.
If the strike had reached September 30, it would have become the longest in the history of the WGA, surpassing the 153 days of the 1988 strike. Actors, in the meantime, remain on strike, until they reach a deal with the studios.
According to the writers, the agreement was made possible after the studios agreed to reformulate the scope that artificial intelligence will have in the writing of content, and to set minimum rules for writers' rooms.
During the strike, screenwriters complained that studios were abusing so-called mini rooms, a more compact version of a writers' room. These mini rooms were used to develop more content for streaming platforms in less time and with fewer hands, which made the work more precarious. The new agreement establishes a minimum number of people who must write a television series.
One of the most insistent demands by the WGA was a review of the residual payment model. Residuals are compensation paid for the reuse of a credited writer's work. The union argued that the previous scheme worked in the times of broadcast TV, but that adjustments needed to be made for the era of streaming. In the digital age, writers, producers and actors receive see hardly any compensation for shows that become hits on platforms.
The studios agreed to change the model to increase compensation depending on a show's audience figures. This issue is also key to resolving the conflict with the actors' union SAG-AFTRA, which has 160,000 members, and has been on strike for 72 days.
After the failed negotiations in August, the pickets at the doors of the studios became larger in September. The writers flexed their muscles when Drew Barrymore announced she would return to filming her CBS talk show. This provoked the anger of the scriptwriters, who argued that the popular actress was violating the strike. Barrymore defended herself by stating that many members of the production were suffering financial hardship after months without work. But she came under a lot of pressure.
After a week, Barrymore tearfully apologized in a video posted on social media and announced that she would not resume filming. Other television productions followed, reporting that they would not return until the strike was resolved.
---