White supremacist extremism takes up arms in the United States | International
May 14 wasn't just another day of violence in the United States. There was a mass shooting at a Buffalo supermarket that cost the lives of 10 people and injured three more, but it was more than just another shooting: according to data from independent watchdog Gun Violence Archive, it was the 198th in the country this year. That equates to 10 a week (in 2021, there were 693). After the suspect was arrested, a customary ritual in such cases began: collective shock and grief broadcast live on television, the president's consoling words and calls to reopen the debate on gun control in a country where there are more firearms (around 390 million) than inhabitants (332 million).
On this occasion, there was an unexpected added ingredient: the motive of the shooter, an 18-year-old named Payton Gendron, who chose to sow terror in a district with the highest percentage of Black residents in New York State. The tragedy has once again put a spotlight on two growing cancers in the US: white supremacy and domestic terrorism (there were 107 attacks of this kind in 2020, more than twice as much as the previous year, according to the Center for Strategic and International Studies). Gendron had been intoxicated with both poisons through social networks such as 4chan and 8chan, and left a written manifesto of 180 pages that can be read like breadcrumbs on his path to hatred, which began at the same time as the pandemic.
He drew inspiration from Brenton Tarrant, who killed 51 Muslim worshippers in Christchurch, New Zealand, in 2019. Tarrant also live-streamed his assault and left a justification for his actions online, which he titled The Great Replacement, based on the 2011 theory put forward by French far-right philosopher Renaud Camus, who claimed that leftist elites, with a little help from the Jewish community, are trying to destroy the white race in the West through interracial marriages, uncontrolled immigration and increased access to voting among minority groups.
Gendron aspired to follow in the footsteps of Dylann Roof, who killed nine Black parishioners in Charleston; Robert Bowers, who shot dead 11 Jews at the Tree of Life synagogue in Pittsburgh, and Patrick Crusius, who carried out a mass shooting at an El Paso Walmart that ended the lives of 23 Latinos and immigrants. Gendron wrote the names of these and other extremists on the Axis XP hunting rifle he used in the shooting, as well as the slogan White Lives Matter.
One in three Americans believe in replacement theory
A recent Associated Press survey suggested these crimes should not be considered rampages by a group of impoverished evil-doing loners cut off from the world, but with an internet connection and ready access to assault rifles. According to the survey, one in every three US adults believes in a more or less radical version of Camus' replacement theory, in part due to the cheerleading of some members of the most extreme wing of the Republican Party and television stars such as Tucker Carlson, who presents the most-watched cable show in the US on Fox News, regularly pulling in up to 4.5 million viewers. As is always the case with Carlson, a living embodiment of cynicism, it is difficult to gauge how much he believes of what he says (Fox did not reply to several requests from EL PAÍS for a comment from Carlson). What is clear is that he uses the term a lot: according to The New York Times he has cited replacement theory in over 400 shows. It is also clear that many of his viewers buy such theories.
Underlying replacement theory is the assumption that as soon as 2045, according to the US Census Bureau, whites will cease to be the majority, making up 49.7% of the population, with Hispanics (24.6%), blacks (13.1%), Asians (8.8%) and other ethnic groups (3.8%) accounting for 50.3%. How the idea of such a "minority majority" will affect the balance of power between Republicans and Democrats is the source of great debate in the US.
Political scientist Yascha Mounk, a keen analyst of global populism, tells EL PAÍS that he believes it dangerous to present this data "as a clash between two mutually hostile blocks; whites against the rest. Both parties use this rhetoric for their own benefit: Democratic strategists see it as a given that this will swing the electoral balance in their favor, while the Republicans stir up fear, when nothing is that clear. For example, look how many Latinos voted for Donald Trump or take into account that the most extremist candidate in the Pennsylvania primaries [Kathy Barnette] is an African-American woman," says Mounk, who discusses replacement theory in his book The Great Experiment, arguing that the fundamental challenge for modern democracies lies in dealing fairly with increasingly diverse societies. And he is optimistic that this can be achieved.
The challenge of diversity
This is not the first time that the US has faced the challenge of diversity. "It is a theme that runs throughout our history. The arrival of millions and millions of immigrants from Asia and the Mediterranean region at the end of the 19th century is a good example. Another is the height of racist violence after World War I, when not only were Black people lynched but entire communities were destroyed," says Donald Yacovone, an associate at the Hutchins Center for African and African-American Research at Harvard University, who points out that the notion of white supremacy emerged long before that era. "It has deeper roots than any other aspect of American culture; more than democracy or Republican values. As such, those who have been educated in these lies about their superiority are terrified when they realize that the guys who have come to fix their roof or clean their pool are different to them, and speak a different language."
To demonstrate the persistence of these ideas, Yacovone is writing a book titled Teaching White Supremacy: The Textbook Battle Over Race in American History, in which he examines how education in the US has been shaped "from the Founding Fathers to the present day." Yacovone studied more than 3,000 school textbooks, in which he says he found some "genuinely atrocious examples. Even now, when school programs are more sensitive, it doesn't matter, because many parents, above all since the pandemic, opt for home-schooling and teach their children from decades-old textbooks, because they feel they are more patriotic. They do not like how children are educated in contemporary America and are terrified of concepts like critical race theory."
This school of critical analysis, which interprets racism as an endemic evil that permeates US society and that must be taught in-depth to achieve its neutralization, is one of the biggest battlefields in the contemporary cultural war. "What is worse is that the Republican Party has been kidnapped by a demagogue [Trump] capable of doing anything to rise to power and to remain there: annulling elections, denying many people the right to vote and encouraging white supremacism. Whatever it takes," says Yacovone.
Upswing since Trump's election win
African-American historian Nell Irvin Painter points out the irony of Gendron targeting a predominantly Black neighborhood – "our presence in this country dates back to the 18th century; we're not replacing anyone" – and agrees that "supremacy has always been there, but there has been an upswing since Trump came to power." Painter, author of the influential book The History of White People, adds: ""What is terrifying in this case is the combination of these toxic ideas and an 18-year-old kid's access to assault weapons designed for war; machines that can kill 10 people in two minutes." The History of White People, which explores the idea of whiteness from the Ancient Greeks through to modern-day America, was a best-seller when published in 2010 during the Barack Obama era, the president whose arrival in the White House it was hoped would lead the US to finally embrace "the end of racial conflict."
"Everything changed with Trump, who was already a racist and surrounded himself with people like Steve Bannon and Stephen Miller, who we knew had ties to white terrorist groups. They helped to bring these ideas in from the margins," says Painter. Bannon, whose support was crucial in opening the doors of the White House to Trump, left the administration days after a white supremacist rally in Charlottesville in 2017, during which a young counter-protestor, Heather Heyer, was killed when white supremacist James Alex Fields Jr drove his car into a crowd, injuring a further 35 people. The march, called Unite the Right, was a coming out for a patchwork of far-right groups and militias with names such as The Proud Boys, the 3 Percenters, the First Amendment Praetorians and the Aryan Nations, who would later take part in the assault in the US Capitol in January, 2021. Some of the groups' leaders are awaiting trial for the Capitol attack and their organizations, according to the South Poverty Law Center, have opted to "soften their points of view in line with the prevailing discourse."
It seems obvious that Gendron adopted these ideas away from the far-right mainstream, in the darkest corners of the internet, where conspiracy theories and paranoia manifest themselves in fascist memes, adulterated statistics and fake news, which adolescents consume without the necessary means to discern what is real and what is not, according to the Program on Extremism at George Washington University. "It was on social networks that he found other reference points, which are not being talked about much: the novel The Turner Diaries, by William Luther Pierce," says the writer Ishmael Reed, one of the most respected voices in the Black community in the US. Described by the FBI as "the Bible of the racist right," The Turner Diaries tells the story of a violent revolution that overthrows the government, bringing about a nuclear war and an ethnic conflict that ends with the extermination of the entire "non-white" population.
Reed, who says that Carlson should not be singled out for blame alone – "he is a mere employee, it would be better to point the finger at the Murdochs" – notes that The Turner Diaries was also found among the bedside reading of another extremist and the most infamous domestic terrorist in US history, Timothy McVeigh. In 1995, McVeigh killed 168 people by placing a truck bomb outside the Alfred P. Murrah Federal Building in Oklahoma City. "The Buffalo killer was also seeking that kind of fame," says Reed, author of the 1972 anti-racist satire Mumbo Jumbo, which was added to the elite list of Penguin Classics in 2017.
When he visited Buffalo to meet with families of the victims, Joe Biden talked about "white supremacy" as "a poison running through our body politic" and described Gendron as a "domestic terrorist." The president also made a pledge to put some kind of legislation on gun control before the Senate, one that would at least restrict access to assault weapons, but for that he will require a qualified majority that the Democrats lack. His words resonated with both empathy and electoral calculation: in an election year that doesn't look encouraging for the Democrats, both parties have engaged in a gloves-off fight to make the other appear to be the greater threat to democracy.
In the meantime Kathy Hochul, the Democratic governor of New York State, a Buffalo native, on Wednesday announced a toughening of state laws on firearms possession and an investigation into the social networks that Gendron used. The Attorney General of the State of New York, Letitia James, has also opened an investigation into who is behind the 4chan and 8chan networks where Gendron was radicalized, and how he was able to live-stream the attack on Twitch and publish his manifesto on Discord.
Last Tuesday in Buffalo, Letitia James carried a wreath of flowers through the cordoned-off area around the supermarket where the attack took place. Speaking to EL PAÍS, she acknowledged: "A lot more has to be done to prevent something like this from happening again. But above all the gun lobbies must be stopped from holding Congress hostage." That will not be an easy task. In 2020, weapons manufacturers enjoyed their best year ever in terms of sales, with 22.8 million firearms bought in the US. Their second-best year was 2021.
Ukraine war: The luck of the Ukrainian oligarchs is beginning to change | Economy and Business
In the room of former Ukrainian president Viktor Yanukovych, in his residence on the outskirts of Kyiv, there is no trace of the Picassos or the Aivazovskys that used to hang on its walls. What does remain are the gigantic empty dressing rooms where the president's girlfriend once had a space with capacity for a thousand rings. There were also many, many television sets. In the ample residence where the couple lived more than comfortably, there were up to 18 Samsung sets, sometimes several in the same room. Books, on the other hand, were practically non-existent.
However, the most valuable objects – works of art, furniture, jewelry – are no longer here. The former president took them in his hasty flight to Russia during the 2014 Maidan uprising that would change the country's history. Anyone who is curious can see on YouTube how Yanukovych's assistants loaded trucks for three days in order to get the spoils from so many years of looting out of the country. After his departure, shocked citizens entered the mansion to discover the shameless ostentation in which their leader had lived.
The mansion where Yanukovych spent his days of relaxation is much more than a house. Not only because the 150 hectares of the Mezhyhirya estate housed a zoo (with the friendly ostriches that are still there today, undaunted by the distress that Ukraine is experiencing), a museum with the luxury cars that the former president collected, a heliport, a tennis court, two huge golf courses, a spa with several saunas and 40 pieces of sports equipment, a shooting range, endless fountains and lakes, and even an artificial mountain complete with a waterfall. All this, just for the man who ruled Ukraine and his girlfriend. If his children visited, they slept in another house. Russian President Vladimir Putin also had another residence in the complex, in case he ever went to Kyiv. And at banquets with many diners, a dining boat received the guests. "During construction, it was estimated that each day of work cost $2 million. It would be impossible to calculate the value of all this," certifies the guide Genadii Nikolaenko.
Since his flight to Russia, Yanukovych has been an outcast in Ukraine. But Rinat Akhmetov, the oligarch who sponsored his political career, catapulting him to the top, is still the first fortune of his country, with a wealth that Forbes estimated last year at about $7.6 billion. Akhmetov is the most prominent name in the list of Ukrainian oligarchs who control the country through a network of companies and connections. However, luck seems to be changing for this select group.
A dangerous mix
Several factors threaten the position of the men who, until now, have defined the map of power, and who also managed to create political parties that obeyed their personal interests. On the one hand, the war launched by Russia is striking some vital nerves in their finances. On the other, the simultaneous political pressure from Kyiv and Brussels threatens to hurt them even more; a dangerous mix for those who filled their pockets with the privatizations of the 1990s after the collapse of the Soviet Union.
"To understand the role of the oligarchs, it is enough to think of medieval Europe, with kings who competed for power with feudal lords," explains Volodimir Yermolenko, director of the Ukraine World website, from a placid terrace in Kyiv. This journalist admits that the excessive power of this small number of people is a burden for the country, but he also believes that, to a certain extent, the competition between the powerful entails a kind of balance game that prevents the authoritarian drift of the country that a single leader would imply, as is the case in Russia, where all the oligarchs are subject to the will of the Kremlin.
Akhmetov is the owner, among many other things, of Azovstal, the steel mill that gained worldwide notoriety for becoming the last point of resistance against the Russians in Mariupol, in southern Ukraine. This gigantic complex, one of the sources of Akhmetov's fortune, generated tens of thousands of jobs, produced 40% of the country's steel and had its own port at the Sea of Azov.
In May, the tycoon who used to boast privileged ties to Moscow – and who sponsored Yanukovych – announced a $17-20 billion dollar lawsuit against Russia for the destruction of the plant and other assets in the Donbas area. Some analysts estimate that Akhmetov has lost two-thirds of his fortune since the beginning of the war. But for many businessmen the problems are not new; they began in 2014, with the seizure of Crimea and the beginning of the war in Donbas. "The key to seeing if they will recover their former power will be in how the reconstruction tasks are executed and who is entrusted with them," says a European source. Another oligarch who's fallen from grace is Viktor Medvedchuk, the Ukrainian billionaire closest to Putin; he was arrested in April accused of "high treason" by the Kyiv authorities.
Zelenskiy's crusade
The oligarchs are not only haunted by financial problems. Perhaps more dangerous for their interests is the political crusade against them. In November 2021, before the Russian troops entered with force and fire, President Volodimir Zelenskiy had already promoted a law to reduce the weight of the tycoons, a group that included some 40 people with an industry monopoly, media outlets, a fortune of more than $90 million, and who take part in political activities. Some critical voices pointed out that, with this initiative, Zelenskiy was not seeking to balance the map of power, but rather to undermine the influence of former President Petro Poroshenko. Zelenskiy himself also has a group of oligarchs around him.
In addition to leading the opposition, Poroshenko is one of the richest men in the country thanks to an empire of candy, cars, media outlets and much more. The tycoon faces up to 15 years in prison for high treason, for the purchase of coal from the pro-Russian separatists of Donetsk, as well as other charges of corruption, trials that he sees as politically motivated.
In an interview with EL PAÍS, last week Poroshenko made the case for demanding responsibility from those "who ruin the country by stealing billions of euros." Reminded that he too is an oligarch, he angrily protested. "Please don't use that word!" he exclaimed. "We are in a war right now. And who has stayed here to defend their country, and who has fled? Who is spending their money to support the army and who is stealing? Who pays their taxes and who doesn't?" His spokesmen assure that he has invested more than €10 million out of his own pocket to help defend Ukraine.
The pressure also comes from Brussels, who wants to get its hands on the Ukrainian super-millionaires. When approving the country's candidacy to join the EU, the European Commission demanded seven chapters of reforms, one of them to advance the anti-oligarch law. But this must be done, according to Brussels, avoiding arbitrariness. The document also recalled the "disproportionate" influence of these businessmen on the media, especially on television.
Before the war, the gardens that witnessed Yanukovych's excesses were full of families having picnics. This place, which the guide considers "the heart of Ukraine" due to a story that goes back to the 12th century when a monastery was founded there, is now a public museum and it also served as a refuge when Russian troops approached Kyiv. But it also symbolizes the rise and fall of the man who wanted to control the entire country. Yanukovych, in the words of the journalist Yermolenko, tried to be king and feudal lord at the same time. The question is whether the oligarchs who accompanied him in his career will know how to adapt to a new era of an increasingly European Ukraine, or if they will fall by the wayside.
Bolivia's corrupt system failed to stem femicide. Now, feminists are fighting back | Women's rights and gender equality
In parts of La Paz, every surface is papered with layers of bleached and peeling posters: adverts for events, jobs, apartments – and missing women.
In 2021, there were at least 108 femicides in Bolivia, among the highest rates in South America. Many of the perpetrators are either never caught, not punished or go free soon after.
In January, fresh outrage was prompted by the case of Richard Choque, a serial rapist and murderer who was given house arrest and then continued to commit crimes. The wave of fury prompted by the scandal has since driven Bolivia's feminist collectives to spectacular measures in an effort to force government action against femicides – and the corrupt justice system that allows them.
It started with perhaps the biggest feminist protest seen in El Alto, the one-time satellite city that now flows into La Paz. The march began outside Choque's house in El Alto and culminated at the courts of justice, where activists covered the walls with graffiti, red paint and the names of unpunished rapists and murderers.
"We wanted to redirect the discourse," said María Galindo, founder of Mujeres Creando, a feminist collective in La Paz. "For it not to be a discourse of victimhood, nor a tabloid nor a police discourse. Because what Richard Choque shows is that the central problem is state corruption. This man was a prisoner, and yet he went free."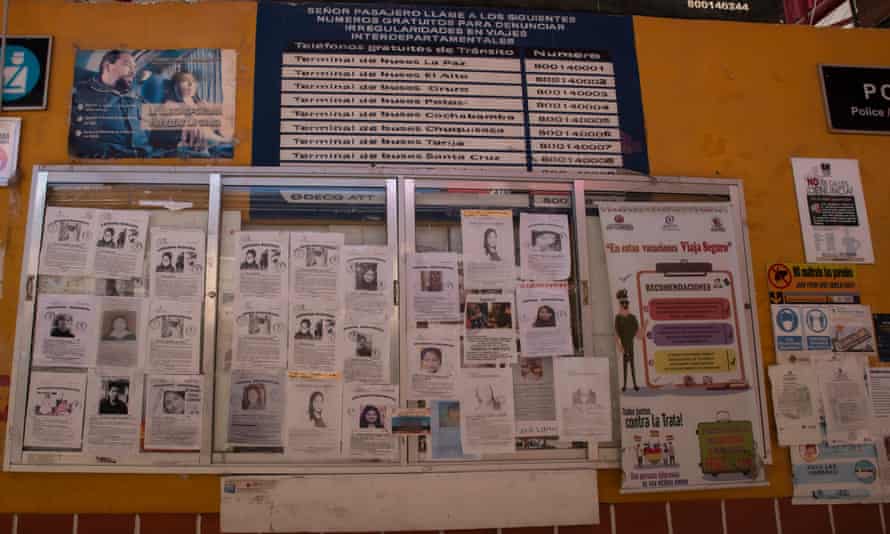 Galindo has since proved the sharp point of the pressure campaign on the government.
She took to barging into state institutions and putting civil servants on the spot, livestreamed on social media. The one-liners she whipped them with went viral on TikTok. Then she teased a run to be Bolivia's ombudsman – before tearing her application up in front of the cameras, in a typically flamboyant outfit of fishnet leggings, black eyeshadow and irreverent takes on patriotic symbols, not least a giant crown capped with an Andean condor.
Meanwhile, Mujeres Creando catalogued ignored reports of gender violence and investigated San Pedro prison, where Choque ought to have been held. They found a system of corruption, where inmates bought privileges including house arrest.
In response, the government set up a commission to re-evaluate cases like Choque's, which, though extreme, was not unique. Twenty-one others released to house arrest inappropriately have since been reincarcerated, while another 50 arrest warrants have been issued. Eighteen judges are facing criminal proceedings and more than 300 of their cases are being re-evaluated.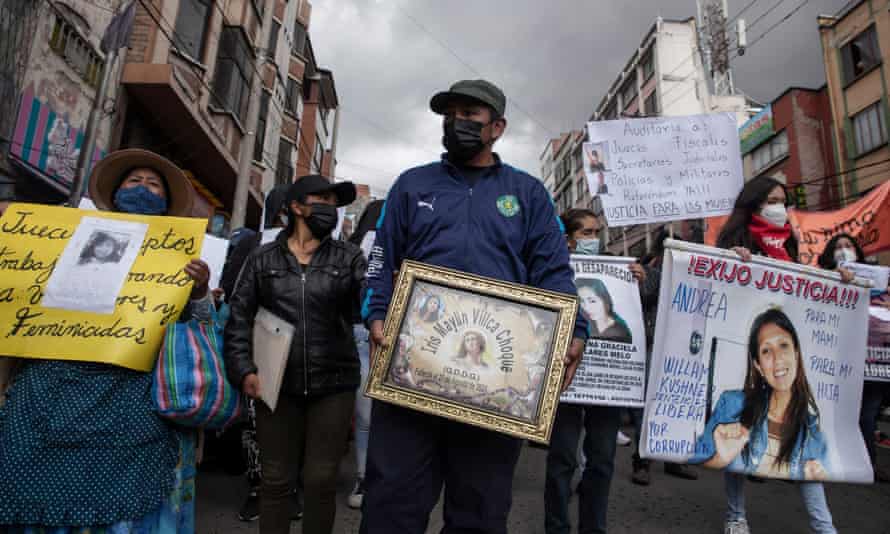 Such numbers come as no surprise to activists in La Paz and El Alto where gender violence has been accentuated by two factors, said writer Quya Reyn. First, the absence of the state, which creates insecurity. And second, the fact that the city draws migrants – many of them young women – from across Bolivia's western highlands.
These women are vulnerable to abuse. "If you go to [the centre], you'll find posters looking for nannies, looking for women to work in restaurants," said Reyna. "And they are always looking for women – only women."
"You see this with Richard Choque," Reyna added. "He would go on Facebook and say that he could offer work. These young women were murdered looking for work."
In 2013, the government introduced Law 348, which, among other things, made femicide a crime punishable by 30 years in prison – Bolivia's maximum sentence.
The law was welcomed as progressive legislation at the time, and Adriana Guzmán, a feminist activist based in El Alto, believes the text remains generally sound – the problem is implementation.
First, there is a lack of resources. "Right now, there aren't enough judges, there aren't enough prosecutors, there aren't enough investigators."
Then there's corruption, as demonstrated by the case of Choque. "The entire justice system is corrupt – not just with regard to crimes against women." Guzmán notes that this discriminates most against the poor.
There is some scepticism that the government's commission will address these root problems.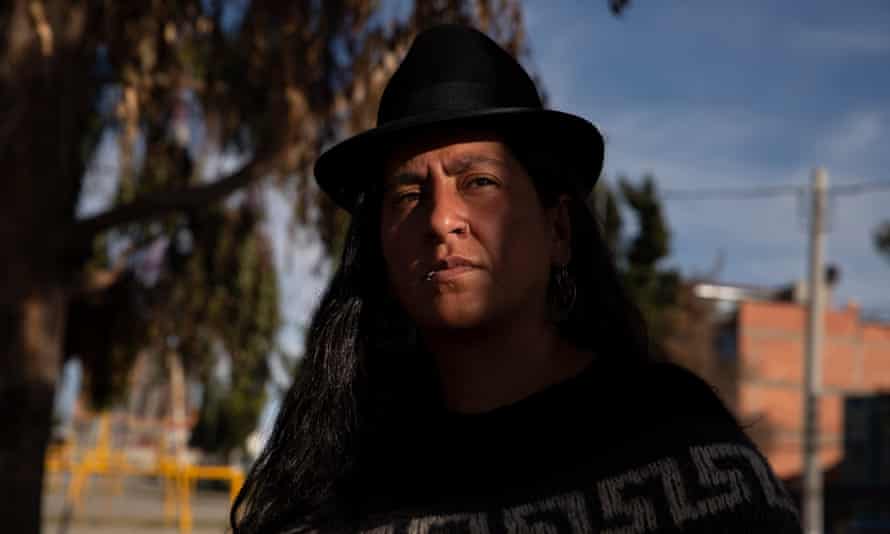 Galindo, for one, views the commission as an attempt to deflate their pressure campaign. "It's for the media. It's a commission that serves to make declarations, not effective policies."
Meanwhile Guzmán says that it was limited from the start, since it is only reviewing a fraction of gender violence cases. "For it to really be a historic commission, and not a ridiculous one – because it is ridiculous that the state has created a commission to return those to prison who should already be there – the commission needs to finish with a proposal to reform justice and the state."
Among Bolivia's feminists there are varying views on how that sort of reform will be achieved.
"The system has to be changed with huge social pressure," said Galindo. "And we're building a movement to achieve that." She believes the campaign Mujeres Creando has led over the last months has strengthened their social legitimacy: "No one can buy us. We are incorruptible."
But Guzmán is sceptical that this movement reaches much beyond the urban middle classes. And the true forces in Bolivia, says Guzmán, are the campesino and Indigenous organisations. "Within them, feminism isn't a thing. There are lots of prejudices against feminism."
In El Alto, meanwhile, Reyna pointed to the lack of feminists in politics pushing for reform. She believes change will come when a new, diverse generation of women enter government and shape it from within.
"I don't want to fight the state," said Reyna. "I want to be the state."
Forty-six migrants found dead inside abandoned trailer in San Antonio, Texas | USA
The bodies of at least 46 migrants were found on Monday inside an abandoned tractor-trailer in San Antonio, Texas, around 155 miles (250 km) from the border with Mexico. The finding has been confirmed by local authorities.
The vehicle was found next to the railroad tracks in the southwestern part of the city, according to local media reports. Emergency services rescued at least 16 other people who were still alive inside the trailer, including four children, and sent them to hospital for treatment.
This is not the first time that San Antonio experiences such a tragedy, although it is the deadliest in memory. Ten migrants died in 2017 after being trapped inside a truck that was parked at a local Walmart, and in 2003, 19 migrants were found in a sweltering truck southeast of the city.
Mexico's Foreign Minister Marcelo Ebrard said that a Mexican official was on his way to the site. "We still don't know their nationalities," specified a spokesperson for Mexican Foreign Affairs. President Andrés Manuel López Obrador is scheduled to meet with Joe Biden at the White House in July, and migration will feature prominently on the agenda. The recently concluded Americas Summit also sought to address growing migration flows to the US, largely from Mexico and Central America.
Monday's was the latest human tragedy involving busy irregular immigration routes. May broke records for illegal crossings into the US with more than 239,000. The largest access point is through the border shared by Mexico and the State of Texas. This intense migratory flow has created a problem for Joe Biden and the Democrats, who will go to the polls in November in midterm elections with immigration policy as one of the issues of most concern for voters.