'We're next': Prisoner's secret filming appears to show torture in Cairo police station | Global development
A video obtained by the Guardian appearing to show Egyptian police torturing detainees in a Cairo police station confirms the extent to which officers appear able to inflict violence on civilians with near total impunity, according to human rights groups.
The video, covertly recorded by a detainee through a cell door, appears to show two inmates hung in stress positions. The detainees are naked from the waist up and suspended from a metal grate by their arms, which are fastened behind their backs.
"Watch how they are torturing us and our colleagues. They came and told us we're next," one detainee says. Addressing the Egyptian president, Abdel Fatah al-Sisi he says: "Mister president, we want to ask why the police in el-Salam First police station are doing this to us."
The video is one of two believed to have been recorded in November last year inside a police station in the working-class el-Salam neighbourhood of northern Cairo.
In the second, which the Guardian is not showing to protect detainees' identities, inmates in an overcrowded cell line up to display injuries they say were inflicted by police officials and investigators, including open wounds on their heads and bruises across their chests and backs. "They are hitting us with sticks," they say.
Humans rights groups said the videos are visual evidence of widespread abuses that they have been documenting in police stations and detention centres across Egypt for the past decade.
The Guardian has taken steps to verify the videos where possible, including requesting an assessment of the videos by a trusted expert. Detainees shown in the video also name multiple police officers who are listed in news reports as serving at el-Salam First police station.
The videos surfaced nearly 12 years after the death of Khaled Said, a 28-year-old civilian, in police custody in Alexandria in June 2010. Said's death proved to be a watershed, inciting public anger at the impunity of security forces and their treatment of Egyptian citizens, and sparking the protests that began on 25 January 2011, a national day traditionally honouring the police force. The 18 days of nationwide protests that followed ended the decades-long reign of autocrat Hosni Mubarak, where abuses by security bodies were widespread.
Yet 11 years after the uprising, testimonies and evidence collected by rights groups allege that abuses by Egypt's security services are once again out of control. Since coming to power after a military coup in 2013, Sisi has presided over a renewed era of impunity for security forces, down to the lowest ranks of the police.
Despite a clear prohibition on all forms of torture in Egypt's 2014 constitution, trials and convictions of security officials for torture or deaths in custody remain extremely rare, while abuses are regularly documented. Domestic organisations monitoring torture and abuse in detention now struggle to continue their work, amid a prolonged crackdown on civil society activity.
"Police stations are even worse than prisons," said Aly Hussin Mahdy, a former detainee and now exiled activist, describing his experience in detention. "The revolution happened because of this, and 11 years later we see it happening again."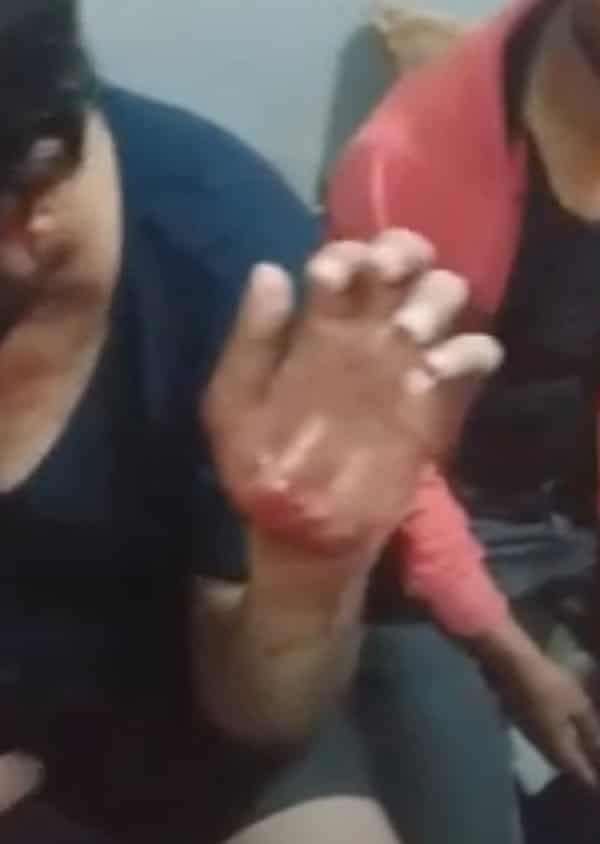 Amr Magdi, an expert on Egypt at Human Rights Watch who reviewed the videos for the Guardian, said that the detainees' injuries and the use of stress positions are consistent with documented examples of torture in detention centres. "They all show signs of severe beatings, and they mention batons and wooden sticks which are routine torture tools," he said. "These videos show the sad and horrifying reality of Egypt's detention system as the police enjoy near-absolute impunity."
Magdi said that abuse was common in police stations, where mistreatment can occur away from public view. "We know that most physical torture happens in police stations and secret NSA [National Security Agency] detention centres during the initial days or weeks after arrest, and before detainees are taken to larger prisons," he said.
Human Rights Watch detailed the use of stress positions and the systemic use of torture in police stations in a report in 2017, describing the issue as a potential crime against humanity. The report cites 19 individual cases where detainees "were tortured in police stations and national security offices across the country, including Alexandria, Aswan, and cities in the Nile delta". For some, torture occurred in multiple places of detention.
"The basic tools of torture were electrocution and stress positions, accompanied by beatings with fists, wooden sticks or metal bars," they said.
Police and NSA officers "handcuffed suspects' arms behind their back, pulled up their arms, placed their handcuffs over the top edge of a door, and hung them above the floor, an unnatural position that caused excruciating pain in the back and shoulders, sometimes dislocating them. Some officers pulled suspects' legs downward to increase the pain," they said. They added that detainees were often left in stress positions for long periods.
Rights groups have also documented frequent deaths among those detained. In 2015, Amnesty International provided evidence of at least nine deaths in custody in the Mattareya police station in Cairo. Three years later, it demanded an investigation after the suspicious death of 43-year-old Gamal Aweida in custody in the Mansheyet Nasir district of the city.
In rare cases of accountability, a small number of police officers have been sentenced for shooting civilians in public over the past decade. In 2016, Sisi publicly instructed the interior ministry to prevent abuses by police following an outcry after an officer shot dead a taxi driver. Last year, a police officer from the el-Salam Second police station was sentenced to three years in prison with hard labour for shooting a civilian in the chest and wounding another.
Yet convictions for deaths in custody are rare, even for low-ranking police officers. Four noncommissioned officers were imprisoned by prosecutors in 2020 for torturing a man to death at a police station in Giza. In December 2020, nine police officers were sentenced to three years in prison for beating a street vendor to death in custody in Cairo in 2016.
The Egypt State Information Service, interior ministry, and current and former officials at the interior ministry either declined to comment or did not respond to requests for comment when contacted by the Guardian to discuss video evidence of abuses and the issue of torture in police custody.
John Cheng: California shooting: Good and evil meet face to face in Laguna Woods | International
The crime scene revealed the terror and chaos experienced on Sunday afternoon in Laguna Woods. Inside the multipurpose room of the Geneva Presbyterian Church, 80 kilometers south of Los Angeles, there were a dozen tables decorated with long tablecloths. On these were red plastic cups. On the floor, plates and leftover popcorn. The large space, decorated with a huge black curtain and biblical phrases, was this past weekend the scene of a clash between good and evil. A group of parishioners who immigrated to the US from Taiwan were targeted by David Chou, a 68-year-old naturalized American of Chinese origin. One man was there to stop it, John Cheng, a 52-year-old doctor who took on the attacker and prevented further tragedy. That heroic act was his last: Dr. Cheng has so far been the only victim of the latest case of gun violence in the country. "He is a hero in this incident… he saved dozens of people's lives," Orange County Sheriff Don Barnes said on Monday.
The congregation was gathered Sunday afternoon to welcome back Billy Chang, a beloved pastor who had been in charge of the church before leaving for a mission in Taiwan. About 50 people, mostly older parishioners, were attending the banquet in his honor. Among these was a stranger who did not look familiar to any of the worshipers. He hadn't been there for the 10.30am Mass, but now he was trying to mix and mingle with the churchgoers. He was a wolf among the sheep. David Chou, 68, pulled out two semiautomatic weapons and began shooting.
"Dr. Cheng, knowing that the room was full of elderly people, crossed the room to try to disarm the shooter," explained Todd Spitzer, the district attorney for Orange County, where Laguna Woods is located, on Monday. After the first shot was fired, Cheng, a sports medicine doctor who was not a regular member of the congregation but had taken his mother to the special event, tackled the gunman and was shot. The shooter's pistol jammed as he tried to finish him off. Cheng, one of the youngest people in the room, died shortly from his injury, but his gesture was enough to buy time for other members of the congregation to subdue the attacker. The pastor hit him on the head with a chair and a group of people hogtied him with extension cords. Police officers arrived on the scene minutes later.
"[Cheng] sacrificed himself so that others might live. That irony, in a church, is not lost on me," added Spitzer, who toured the crime scene on Sunday night to prepare the indictment against Chou, who faces one count of murder and five more counts of attempted murder, in addition to unlawful possession of explosives. The room, as Spitzer described it, was decorated with phrases from the New Testament about how we should treat others. Walkers and canes had been left behind, abandoned by the congregants in their panicked flight. The five injured individuals, who are being treated at local hospitals, range in age from 66 to 92, according to authorities. Among these is a married couple in their 80s.
It was hate that allegedly motivated Chou to carry out the crime. The man, a security guard based in Las Vegas, drove four and a half hours from the Nevada city to this peaceful community full of retirement homes in California. His goal was to do as much damage as possible. Police recovered two bags from the church. One was loaded with ammunition for the semiautomatic weapons, and the other had four Molotov-type bombs. Chou chained the doors from the inside and glued the locks to render them useless and thus prevent the elderly from leaving the premises. Only one revolving door was working when the police arrived.
"This was a politically motivated hate incident, a grievance that this individual had between himself and the Taiwanese community," said Orange County Sheriff Don Barnes at a news conference. "It is believed the suspect was upset about political tensions between China and Taiwan." Among the evidence that has been recovered is Chou's cellphone, which the FBI is analyzing, and notes found in the assailant's vehicle. These reveal the political positions of the attacker, who was born in China but emigrated "several years ago" to the United States, where he acquired citizenship.
The sheriff said it is believed that Chou, who lived in Taiwan at one point, was not "well received" there and that this may have developed his hatred of the community. Federal agents from the Bureau of Alcohol, Tobacco, Firearms and Explosives stated on Monday that the security guard had legally bought the two semiautomatic weapons used in the shooting, one in 2015 and the second in 2017. Due to the nature of his work, it is believed that Chou had a permit to carry guns, valid exclusively in the state of Nevada.
Hate crimes against Asians in the United States have risen sharply in recent years in the wake of the coronavirus pandemic. A report published at the beginning of 2022 by California State University in San Bernardino indicates that these types of attacks grew by 339% between 2020 and 2021. Racist incidents have grown by 11% nationally, with Asians the second most affected behind African-Americans.
UK's new aid strategy condemned as 'double whammy to world's poor' | Global development
A new government white paper on UK aid has been condemned as a "double whammy to the world's poor".
The Foreign, Commonwealth and Development Office's (FCDO) first strategy paper on overseas assistance since the merged department was formed and large-scale cuts were implemented in 2020, is dominated by a near halving of UK aid to multilateral bodies, including the UN the World Bank, and a renewed focus on aid as an adjunct to trade.
The foreign secretary, Liz Truss, claimed that reliable private sector investments will challenge "malign actors" and bring countries into the orbit of free market economies, a clear reference to the challenge posed by China's large aid programme.
"In an increasingly geopolitical world, we must use development as a key part of our foreign policy. Malign actors treat economics and development as a means of control, using patronage, investment and debt as a form of economic coercion and political power. We won't mirror their malign tactics, but we will match them in our resolve to provide an alternative," said Truss.
The 20-page development paper, which is devoid of many specific budget allocations, sets out the high-level goal of cutting the proportion of UK aid going to multilateral bodies from 40% of the budget to 25% by 2025. The UK aid budget has been cut by £4bn since 2020.
Critics will claim the move reduces the UK's influence within these bodies at a critical time, and that Britain can never, on its own, hope to match Chinese bilateral aid. More than 100 countries have signed up to China's "belt and road" infrastructure programmes. At the G7 in Cornwall last year, the UK pledged to work with the US administration on a western alternative to Chinese aid, but little reference is made to this plan in the paper.
Sarah Champion, chair of the Commons international development committee, said: "The foreign secretary's strategy has two main thrusts. It advocates aid for trade – linking the provision of aid to access for UK goods and services. And it says more of our money should go on direct government-to-government spending rather than spending through international bodies such as the United Nations.
"I fear that adds up to a double whammy against the global poor."
She added: "Supporting the poorest in the world should not be conditional on a trade deal or agreeing to investment partnerships. The UK has rightly been hugely critical of China for such an approach, so I fail to see why we are following down the same road. It is depressing and disappointing that the UK would devise a strategy like this," she said.
The paper places a new emphasis on women and girls, but says the budget to cover education, empowerment, sexual and reproductive health and rights and ending violence will only be restored to levels reached at the end of 2021. Aid groups had hoped funding would be restored to 2020 levels, before the government aid cuts started to bite.
The UK has already cut £1.5bn from a World Bank programme to help poor countries recover from Covid. It remains the largest European donor to the bank, but has now fallen behind the US and Japan.
Other priorities set out in the white paper are climate finance and humanitarian aid, which is set at £3bn over the next three years. The paper says Africa remains a priority for the UK since "geostrategic competition in Africa will intensify over the next decade, and the impacts of Covid-19, climate change and biodiversity loss are increasing the vulnerability of many countries and their citizens".
A similar importance is attached to the Indo-Pacific, but the paper gives no country-specific funding allocations.
The paper did not give a date for when the UK will return its overall aid budget to 0.7% of GNI. The chancellor, Rishi Sunak, has said he expects it won't be before 2024-5.
But the paper noted: "A return to 0.7% will allow us to scale up critical elements of our new strategy, including on climate and nature, as well as our ability to invest in countries."
In one of the few specific pledges in the white paper, the FCDO has promised to reduce the time it takes the department to approve a business case for programmes under £40m in value, to less than six weeks – currently it can take months.
Coronavirus BA.4 and BA.5: New virus, new Covid-19 wave | Opinion
Anyone wishing to know what the future of the Covid-19 pandemic looks like would do well to watch South Africa. It's not because several forms of SARS-CoV-2 first emerged there and later spread across the planet – that, too – but because of the quality of its epidemiological research, conducted by scientists who put raw reality ahead of diplomatic discretion. Thanks to them, we've just learned that Covid waves are tied to the emergence of new variants with a greater ability to infect and to escape our immune systems. This strongly indicates that the evolution of the virus is much like an arms race between SARS-CoV-2 and our own antibodies, in what amounts to a classic mechanism of evolution. The crab's shell becomes thicker to avoid being eaten by a lobster, and the lobster's claws get bigger so it will keep catching as much food as before. Inside the body of a patient who has survived Covid, antibodies become increasingly efficient while the virus becomes ever more slippery. It's the laws of nature.
The initial waves of 2020 were caused by the original Wuhan strain and a few others derived from it. The wave of winter 2020-2021 is linked to the beta strain, which was later replaced with the delta variant in the 2021 waves. In late 2021, when things seemed to be quieting down, we had the omicron strain, which came in two flavors or subvariants: BA.1 and BA.2. And now we have BA.4 and BA.5. Each new iteration spreads more than its predecessor and does a better job at eluding human antibodies. As expected, BA.4 and BA.5, the latest designs of viral evolution, are exceptionally good at bypassing our immune system. And they are starting to gain traction in South Africa and parts of Europe. Everything seems to indicate that we will see a new wave, this time caused by SARS-CoV-2 omicron BA.4 and BA.5.
But let's remain calm: there is no indication that these two subvariants are going to cause a rise in serious Covid cases and hospital admissions. The population's immunity, either through vaccination or previous infection, can accomplish very little to prevent contagion, but it does protect the infected individuals from developing serious Covid. Some scientists say, half-jokingly, that a single omicron wave could be viewed as a natural vaccination campaign. Of course, people with low defenses – those who are immunocompromised – would do well to protect themselves from infection. It is hard to predict what the virus could do to them, and not even vaccines can guarantee them the same degree of protection as the general population.
Virologists have made a family tree of SARS-CoV-2 and its variants. It shows that neither alfa nor beta nor gamma nor omicron are children of delta, but come from other strains that emerged at the same time as delta. This eliminates the mystical aura around omicron: it did not fall out of the sky six months ago, but simply revealed itself later than other variants. All this knowledge is helping identify which specific mutations are behind the high infection rate and ability to escape immunity. The data has not yet been peer-reviewed.