'We will start again': Afghan female MPs fight on from parliament in exile | Afghanistan
It is a Saturday morning in November, and Afghan MP Nazifa Yousufi Bek gathers up her notes and prepares to head for the office. But instead of jumping in an armoured car bound for the mahogany-lined parliament in Kabul, her journey is by bus from a Greek hotel to a migrants' organisation in the centre of Athens. There, taking her place on a folding chair, she inaugurates the Afghan women's parliament in – exile.
"Our people have nothing. Mothers are selling their children," she tells a room packed with her peers. "We must raise our voices, we must put a stop to this," says Yousufi Bek, 35, who fled Afghanistan with her husband and three young children after the Taliban swept to power in August. Some around her nod in agreement; others quietly weep.
Yousufi Bek, from the northern Takhar province, is one of 28 female MPs who have found refuge in Greece, a country most had never visited before. Until recently, these women made up more than 40% of Afghanistan's female MPs. Now they are confronted with an unrecognisable alphabet and an uncertain future.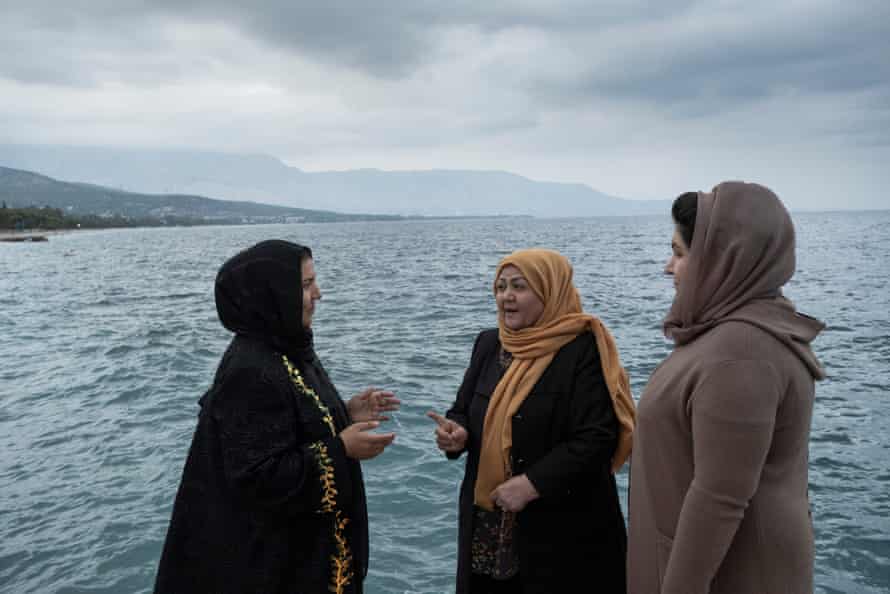 They want to combat an illegitimate regime that has stripped women of basic rights and plunged their country deeper into poverty and hunger amid an economic meltdown caused by the American withdrawal and sanctions.
November sunshine pours through the windows as the room buzzes with energy. The women take turns speaking, standing up to address their peers. They express opposition – to the Taliban, to what they described as Pakistan's outsized influence on recent events – as they would in parliamentary sessions in Kabul, by rhythmically drumming their fingers on the table.
During meetings with Greece's prime minister, Kyriakos Mitsotakis, and president, Katerina Sakellaropoulou, the MPs have pushed the country's authorities to advocate for Afghan women with other EU member states. They have also petitioned several ambassadors, including the US envoy, to pressure their governments to consider human rights when working with the Taliban.
Shagufa Noorzai came up with the idea for a parallel parliament in exile with Yousufi Bek. A teacher before becoming a legislator, while in office Noorzai focused on improving the financial status of women and set up a foundation aimed at supporting homeless children and widows in her native Helmand province. "I want women in Afghanistan to think, 'Shagufa didn't forget us. Shagufa wants to do something for us'," says Noorzai, who at 24 became the youngest member of parliament when she was elected in 2018. Many of the MPs have seen fierce opposition when seeking election; Yousafi Bek's campaign was the target of a deadly suicide bomber.
In the coming weeks, the MPs will hold virtual sessions with Joe Biden's administration, US Congress members and UN security council officials, which will be facilitated by Mina's List, a non-profit that supports women's political leadership and is working with the Afghan female lawmakers.
On the agenda: the women's rights crisis under Taliban rule, ensuring aid reaches the millions of starving Afghans facing a cruel winter and keeping pressure on western nations to provide safe passage for Afghan women who worked as judges, prosecutors and activists, as well as those who served in the security forces.
"Our intention is to really leverage all of those networks, to amplify the women's agenda, to amplify their platforms, to help them have opportunities," says Tanya Henderson, Mina List's founder and executive director.
Emotions were high when the women gathered for the first time at a community centre run by Melissa Network, a grassroots network for female migrants and refugees that played a role in their evacuation.
"You realise how much power lies with women," says Nadina Christopoulou, an anthropologist and director at Melissa Network. Thousands of women have come through her doors in recent years, but this is the most high-profile group.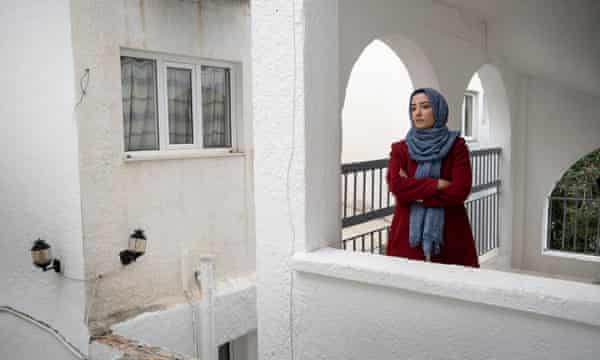 "Women are half of society, so we are very important. You can't hide us," says Noorzai, in the small hotel room she shares with her mother, brother and sister just outside of Athens. Flowering pink bougainvillaea trees climb the whitewashed walls of a holiday resort that has seen better days. The MPs and their families are its only guests, filtering in and out of a food hall serving chicken gyros and chips before strolling along the beach at dusk.
It has not been an easy adjustment: the basic lodgings are a far cry from the opulent houses of many Afghan politicians in Kabul and their home towns.
Wiping away tears with her headscarf, long-serving MP Homa Ahmadi shows a recent photo on her phone of Taliban MPs in Kabul. Where she once sat surrounded by female peers and men in suits, there are now only men wearing turbans and sporting long beards.
Ahmadi, 46, represented eastern Logar province for 15 years, winning a seat in all three of the country's elections.
No country has recognised the Taliban government, though senior officials from some, including the UK, have met the group's leadership in recent weeks, where they advocated for women's rights. But those delegations contained no women, sparking outcry from prominent Afghan women and causing German MEP Hannah Neumann last week to criticise such meetings as "counteracting the whole argument".
The parliament in exile wants to bring to safety the nine female MPs who remain behind in Afghanistan. They are in hiding, a traumatic predicament the women know all too well.
"[Since August], the Taliban have killed schoolgirls, policewomen and women in government. The family members are too afraid to speak up," says Fawzia Hamidi, 48, a lawmaker from northern Balkh province. Formerly a prosecutor for cases of violence against women, Hamidi describes recent murders in the region as the tip of the iceberg.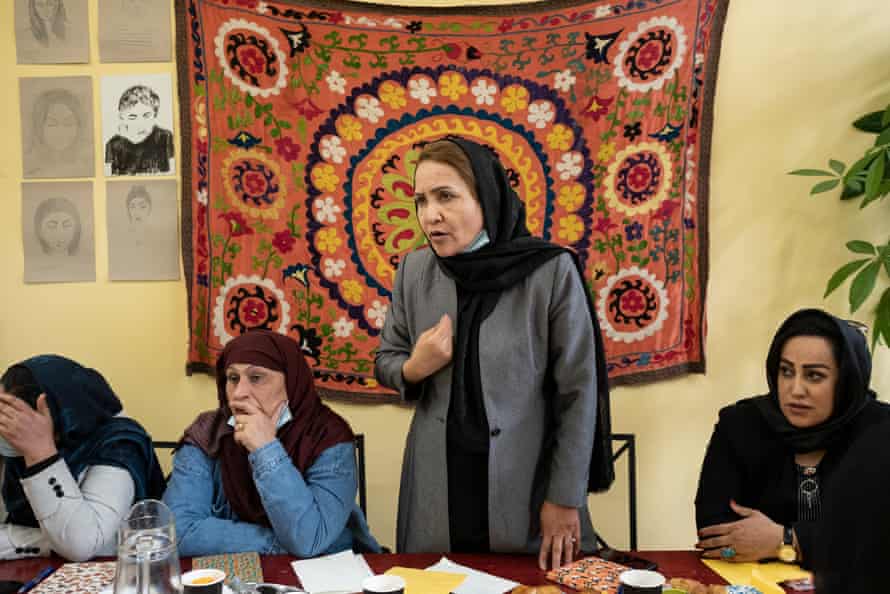 Fearful of reprisal killings or torture by the Taliban, the MPs who fled first went into hiding before escaping to Greece, often in disguise or behind the anonymity of a face mask. Some flew through Iran and Georgia before arriving in Athens, in a complicated rescue effort that involved New York-based philanthropist Amed Khan.
Others, such as Halima Askari from central Wardak province, crossed overland to Uzbekistan. In her second trimester of pregnancy, a doctor in Tashkent told her the baby's oxygen levels were severely depleted due to stress. Now in her third trimester, she will give birth in Greece.
Hamidi describes how she was separated from her five-year-old daughter, Hadia, as she entered Uzbekistan under the cover of darkness. "Hadia didn't have a passport. So I was on one side of the border, and she on the other," she says through muffled sobs. She is still waiting to be reunited with her daughter.
Most of the MPs in Greece are applying for asylum in other countries, such as Canada, the US and Britain.
The MPs have found unlikely protection in Greece, a country that recently extended a border wall with Turkey with radars and drones designed to deter Afghans from reaching Europe. They want to advocate on behalf of the thousands of Afghans in limbo in Greece, where they are the largest population of asylum seekers, with few job prospects and little opportunity for reintegration with society.
"Greece is only the beginning. We will start small, we will start again," Noorzai says.
Sign up for a different view with our Global Dispatch newsletter – a roundup of our top stories from around the world, recommended reads, and thoughts from our team on key development and human rights issues, delivered to your inbox every two weeks:
'We just sleep and hope we don't perish': 2m in Tigray in urgent need of food – UN | Hunger
At least 2 million people in the northern Ethiopian region of Tigray are suffering from an extreme lack of food, with the 15-month conflict between rebel and government forces pushing families to the brink, the UN's emergency food agency has found.
In the first comprehensive assessment the World Food Programme (WFP) has carried out in Tigray since the start of the war, 37% of the population were found to be severely food insecure, meaning they had at times run out of food and gone a day or more without eating.
Families were found to be "exhausting all means to feed themselves", with 13% of Tigrayan children under five and almost two-thirds of pregnant and breastfeeding women suffering from malnutrition.
"Before the conflict we were eating three times a day but now even once a day is difficult. I was borrowing food from my family but now they have run out. We just sleep and hope we do not perish," Kiros, a single mother of six children living on the outskirts of the region's capital, Mekelle, told researchers.
The assessment, which was based on face-to-face interviews with 980 households in accessible parts of Tigray, was carried out from mid-November until mid-December.
However, researchers were unable to travel to areas where fighting is impeding humanitarian access. Moreover, since the assessment was carried out, the needs of the region are thought to have become even more acute as no aid convoy has reached Tigray for about six weeks.
"This bleak assessment reconfirms that what the people of northern Ethiopia need is scaled up humanitarian assistance, and they need it now," said Michael Dunford, WFP's regional director for eastern Africa.
"WFP is doing all it can to ensure our convoys with food and medicines make it through the frontlines. But if hostilities persist, we need all the parties to the conflict to agree to a humanitarian pause and formally agreed transport corridors, so that supplies can reach the millions besieged by hunger."
Across northern Ethiopia, where fighting has raged in the regions of Afar and Amhara as well as Tigray, WFP estimates that 9 million people are in need of humanitarian food assistance, the highest number yet.
In Amhara, hunger has more than doubled in five months, it says. In Afar, where fighting has intensified in recent days between the Tigray People's Liberation Front and forces loyal to the prime minister, Abiy Ahmed, recent health screening data showed malnutrition rates for children under five were at 28%, far above the standard emergency threshold of 15%.
Since the conflict erupted in November 2020, it has been difficult for the UN and other humanitarian organisations to gauge the level of need in Tigray due to a lack of on-the-ground access and telecommunications. The UN has accused the federal government of preventing food and essential medical supplies from coming into the region in a de-facto blockade. The government denies this.
On Wednesday, the International Committee of the Red Cross (ICRC) said it had made its first delivery of medical supplies to Mekelle since last September. The drugs are understood to have included enough insulin supplies to last about a month, after medics at the Ayder referral hospital raised the alarm over severe shortages.
Dr Tedros Adhanom Ghebreyesus, director of the World Health Organization, recently accused Abiy's government of imposing a "hell" on Tigray by denying entry to medical supplies.
"It is a huge relief that this first shipment is reaching hospitals," said Apollo Barasa, health coordinator at the ICRC delegation in Ethiopia. "This assistance is a lifeline for thousands of people, and I can't emphasise enough how crucial it is that these deliveries continue."
Asylum applications on rise in EU
The EU Agency for Asylum on Friday said the number of asylum applications in November 2021 was the second-highest in five years, narrowly below the level in September. About 71,400 applications for international protection were lodged in the "EU+" (EU, plus Norway and Switzerland) in November 2021, up by nine percent from October. "This was the second-highest level since 2016," it said.
Protests flare across Poland after death of young mother denied an abortion | Abortion
Protests are under way across Poland after the death of a 37-year-old woman this week who was refused an abortion, a year since the country introduced one of the most restrictive abortion laws in Europe.
On the streets of Warsaw on Tuesday night, protesters laid wreaths and lanterns in memory of Agnieszka T, who died earlier that day. She was pregnant with twins when one of the foetus' heartbeat stopped and doctors refused to carry out an abortion. In a statement, her family accused the government of having "blood on its hands". Further protests are planned in Częstochowa, the city in southern Poland where the mother-of-three was from.
"We continue to protest so that no one else will die," Marta Lempart, organiser of the protests, told Polish media. "The Polish abortion ban kills. Another person has died because the necessary medical procedure was not carried out on time." All-Poland Women's Strike has called on people across the country to picket the offices of the ruling Law and Justice party (PiS) and organise road blockades in the coming days.
Agnieszka was first admitted to the Blessed Virgin Mary hospital in Częstochowa with abdominal pain on 21 December. She is said to have been in the first trimester of a twin pregnancy when she arrived and was in "a good physical and mental shape", according to her family, who said her condition then deteriorated.
On 21 December the heartbeat of one of the twins stopped and, according to Agnieszka's family, the doctors refused to remove it, quoting the current abortion legislation. They waited several days until the second foetus also died. A further two days passed before the pregnancy was terminated on 31 December, according to the family.
A priest was then summoned by hospital staff to perform a funeral for the twins, the family said.
The family say that the doctors refused to terminate the pregnancy earlier, citing Poland's abortion legislation. "Her husband begged the doctors to save his wife, even at the cost of the pregnancy," Agnieszka's twin sister, Wioletta Paciepnik, said on Tuesday.
After the termination, Agnieszka was moved from the gynaecological ward and her health continued to deteriorate. Her family suspect that she died of sepsis but the cause of death was not identified in a statement released by the hospital.
Shortly after her death, a statement by her family accusing the hospital of neglect was published on Facebook, alongside a distressing video of Agnieszka's last days.
Agnieszka's death marks the first anniversary of the 2021 ruling that declared abortion due to foetal abnormalities illegal. Abortion can now only be carried out in cases of rape, incest or if the mother's life and health are in danger.
Her death comes after that of a woman known as Izabela last September, who died after being denied medical intervention when her waters broke in the 22nd week of her pregnancy. Her family claim the 30-year-old was refused an abortion or caesarean section and that the hospital cited the country's abortion laws. An investigation found that "medical malpractice" led to Izabela's death and the hospital was fined. Soon after, an anonymous man from Świdnica in south-west Poland came forward to share that his wife, Ania, died in similar circumstances in June last year.
While "selective abortion" is possible in the case of a twin pregnancy, it is unclear whether aborting an unviable foetus to save its healthy twin is permitted by the new abortion legislation. The Polish court has not referenced the questions raised by this situation, presented by opposition senators last year, in the new legislation.
"We want to honour the memory of my beloved sister and save other women in Poland from a similar fate," Paciepnik said in a video appeal. The case is now being investigated by the regional prosecutors in Katowice, who also investigated the case of Izabela.
The family are represented by Kamila Ferenc, from the Federation for Women and Family Planning, who confirmed that an autopsy of Agnieszka's body has been ordered by the court.
According to a statement from the hospital, Agnieszka tested positive for Covid before her death, although she tested negative twice when first admitted. "We stress that the hospital staff did all the necessary actions to save the patient," the statement read. The hospital did not respond to the Guardian for a request for comment.