'We were left in the sea': asylum seekers forced off Lesbos | Refugees
"We were all forced on to the boat. If we looked up they shouted at us and hit us in the head. Then they stopped at a place in the sea where there were no other boats, they left us."
Mustafa, his wife and two young children had only been on the Greek island of Lesbos a few hours when, they say, they were driven in a van to the coast, beaten by masked men and then taken out to sea on a raft and abandoned there.
Their story is one of many and lies at the heart of what rights groups, the UN and the EU are warning is a crisis for the right to asylum at Europe's borders – with "pushbacks" so persistent and severe they are leading to a huge drop in arrivals across the sea into Greece.
The UN high commissioner for refugees (UNHCR) recently warned that many EU borders – from Greece to the Balkans to France – are increasingly impossible to pass for vulnerable asylum-seeking families such as Mustafa's. There was a 85% drop in arrivals by sea to Greece in 2020 compared with 2019 and Notis Mitarachi, the country's migration minister, has repeatedly pointed to the reduction in "flows" of asylum seekers to the Aegean islands.
Mustafa's own journey began in northern Afghanistan. The family travelled through Turkey and crossed on a small boat with 12 others. They had paid €1,200 (£1,030) each for the journey, selling almost all their possessions to fund it after a militant group had threatened Mustafa's life.
After stumbling on to the beach, a local NGO, Aegean Boat Report, helped them find the camp where they hoped to claim asylum. Instead, they say when they got there, they were met by police.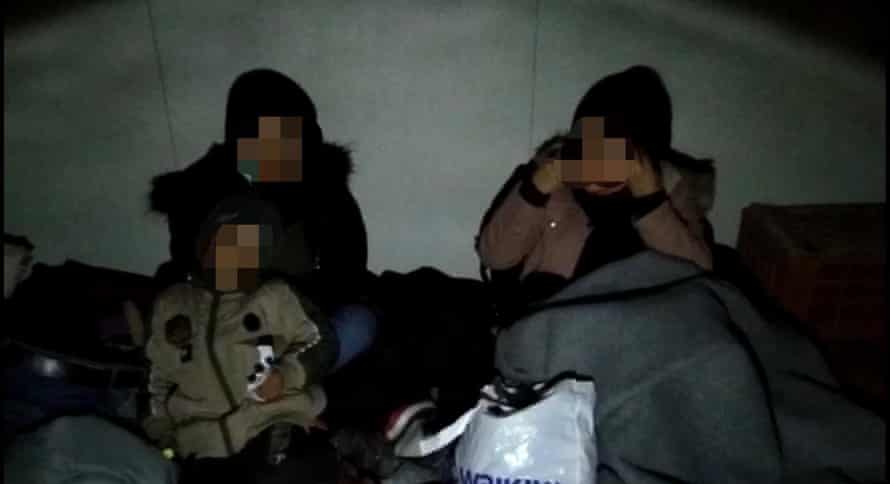 "There were two police officers and they said, 'wait there whilst we call [someone] in a higher position'," Mustafa said. Still wet from the sea, other asylum seekers in the camp gave them clothes and food.
When the police said the family and the other migrants who had arrived with them would be taken to get a Covid test, Mustafa became worried, he said. "I started to have a feeling of fear that maybe they are going to push us and send us back to Turkey."
Instead of being taken for a test, the group were taken to a container. "The police then came and gave us directions to a container nearby. They then shouted at us to get in the container," Mustafa recalled.
At the container, terrifyingly for the family, four masked men arrived and searched the group for phones and personal items while people faced the wall.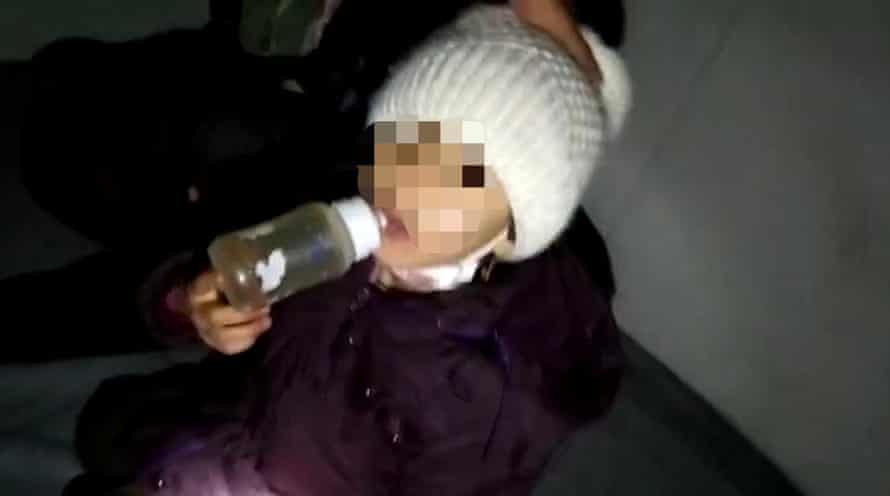 "Four guys came, their whole face was covered. They woke us up and took all the phones from the rest of the group. They couldn't find my phone because it was wrapped in a blanket under where my son was sleeping. They searched everywhere, even in the nappies of the children. It's not nice for me to talk about," Mustafa said.
At various points in the ordeal, he added, the children started crying. They were then forced to get into the back of a van. "There were no seats inside, it looked like a van for animals."
After around an hour they stopped and the men forced them to board a small boat. Mustafa said he was afraid to board, but the men hit and kicked him until he did.
"I thought that these men were going to drown us," he said. "Everyone was afraid and shouting that they didn't want to get inside the boat. But they kicked me so that I got on."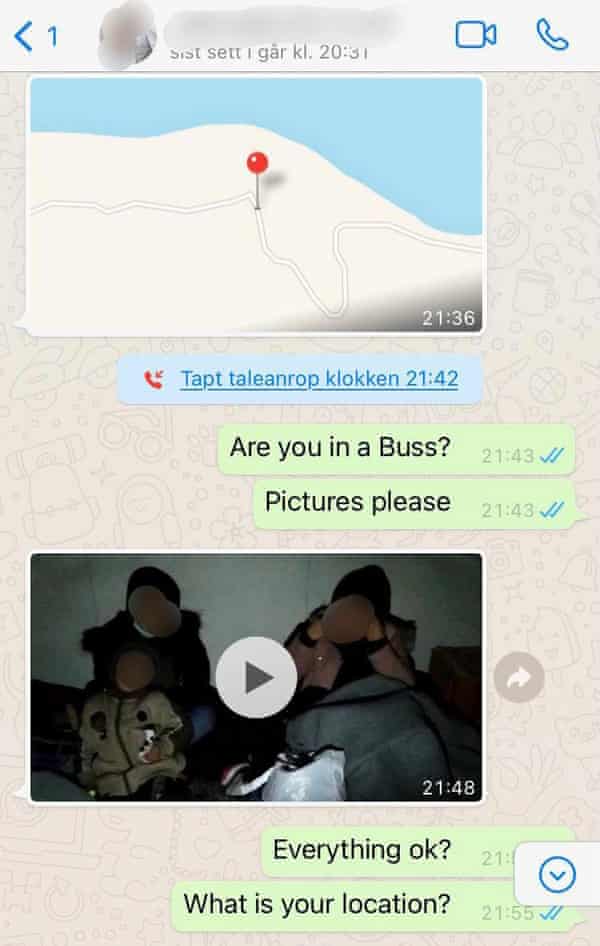 The group were then pushed into an orange life raft and "left in the sea, where the waters are Turkish". They sent a video pleading for help to Aegean Boat Report at 1.30am, nearly six hours after they had first asked the group for help when they arrived on Lesbos.
They were eventually picked up by the Turkish coast guard and are now back in Turkey, staying at a friend's flat. With all their money having been spent on the journey, they are nearly destitute.
"We tried to get to Europe for the future of our children," Mustafa said, "because there is no war there."
The Greek coast guard said it has no record of the incident Mustafa described. In a statement it said it acted according to Greece's international obligations and all relevant international treaties and with respect for human rights. "The Hellenic coast guard takes all necessary measures to effectively monitor and protect both Greece's and the EU's sea borders," it said.
"In our effort to protect our country's rights as well as the lives of refugees which are put to danger, some media and NGOs target the Hellenic coast guard with publicity based on untrue, unverified claims."
Mireille Girard, acting representative for the UNHCR in Greece, told the Guardian they were aware of the incident and had eyewitnesses who had seen the people arrive in the Megala Therma quarantine camp.
"We are following this case very closely," she said. "We were alerted by local residents and the residents in the Megala Therma [camp]. There were 29 asylum seekers inside the facility that night so they saw the group arriving."
Girard said asylum procedures should be followed. "Clearly there was a group that had landed inside Greece and, more than that, they had gone inside the facility of the government," she said. "So it's very important for the authorities to look into this and see what happened."
Mustafa's name has been changed to protect his identity.
EU to propose universal phone-charger law
The EU plans to propose laws harmonising mobile-phone, tablet, and headphone chargers and ports on Thursday in a bid to make life easier for consumers, Reuters reports. But Apple, whose iPhones use a special 'Lightning cable' has said the move will lead to piles of waste and deter innovation. Rival Android-based devices use so-called 'USB-C' connectors, but 'USB micro-B' and Lightning connectors account for about a third each of market-share.
Brexit: British Embassy launches survey on key issues affecting UK nationals in Spain | Brexit | International
The British Embassy in Madrid has launched a survey aimed at finding out how UK nationals in Spain have been affected by key issues, in particular, the United Kingdom's exit from the European Union, a process commonly known as Brexit.
The poll is for Britons who are full-time residents in Spain (not those with second homes) and are covered by the Brexit Withdrawal Agreement, i.e. they were officially registered in the country before December 31, 2020, when the so-called Transition Period came to an end.
Questions in the survey address issues such as access to healthcare and the uptake of the TIE residency cards, which were introduced as a replacement for green residency cards (either the credit-card size or the A4 sheet version, officially known as the Certificado de Registro de Ciudadano de la Unión).
The aim of the poll is to gather vital information on the experience of UK nationals living in Spain that will help the British Embassy provide feedback to Spanish authorities. The survey takes around 10 minutes to complete, and all answers are confidential.
Have you heard our Spanish news podcast ¿Qué? Each week we try to explain the curious, the under-reported and sometimes simply bizarre news stories that are often in the headlines in Spain.
'The challenge for us now is drought, not war': livelihoods of millions of Afghans at risk | Global development
The war in Afghanistan might be over but farmers in Kandahar's Arghandab valley face a new enemy: drought.
It has hardly rained for two years, a drought so severe that some farmers are questioning how much longer they can live off the land.
Mohammed Rahim, 30, grew up working on a farm along with his father and grandfather in the Arghandab district of Afghanistan's southern province. Famous for its fruit and vegetables, the area is known as the bread basket of Kandahar.
Like most in the valley, Rahim's family relies solely on farming. "The fighting has just stopped. Peace has returned," Rahim says. "But now we face another war: drought.
"Now we have to dig deep to pump water out of the land. It has been two years, there has been little rain and we have a drought here. I don't know if our coming generations can rely on farming the way our ancestors used to do."
Pir Mohammed, 60, has been a farmer for more than four decades. "Not long ago, there were water channels flowing into the farm and we were providing the remaining water to other farmers," says Mohammed. "Before, the water was running after us, flowing everywhere – but now we are running after water."
The water used to come free from the river but now the daily diesel cost for the water pump is at least 2,500 Afghani (£21).
"We don't make any profit. We are in loss, rather. Instead, we are using our savings. But we don't have any other option as we do it for survival," says Mohammed. "However, the scarcity of water has affected the quality of crops as well."
About 70% of Afghans live in rural areas and are particularly vulnerable to the impacts of drought.
Last week, Rein Paulsen, director of the Food and Agriculture Organization's Office of Emergencies and Resilience, said severe drought was affecting 7.3 million people in 25 of the country's 34 provinces.
He warned: "If agriculture collapses further, it will drive up malnutrition, increase displacement and worsen the humanitarian situation."
Arghandab has been a favourite destination for farming because of the abundance of water and fertile lands. Neikh Mohammed, 40, left the Dand district of Kandahar to work in Arghandab in 2005. When he arrived he was amazed to see the greenery and pomegranate farms.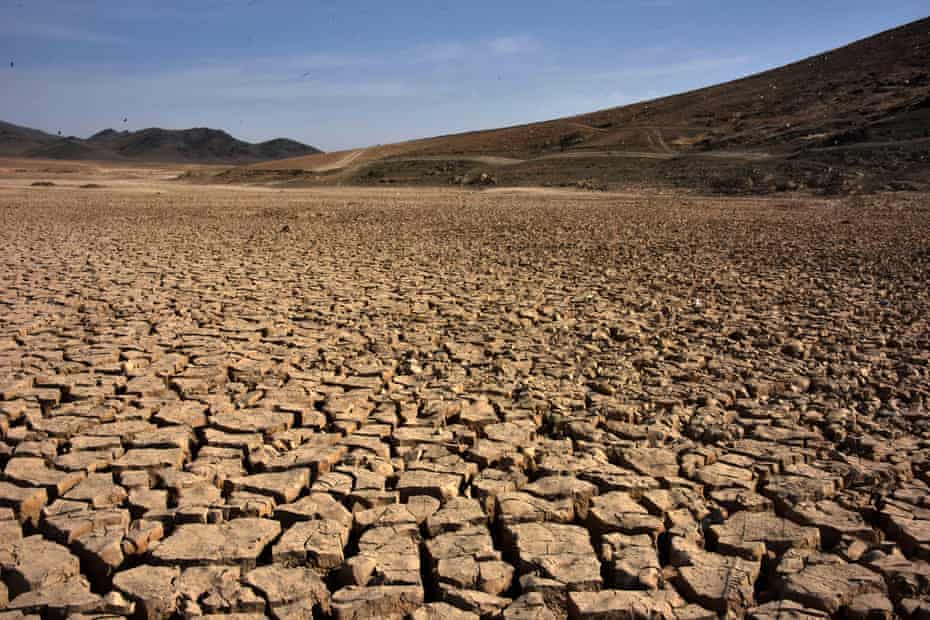 "It used to rain a lot here and we could not cross the river and come into our farms. We had a life with abundant water. But the past is another country now," he says.
According to a report by the UN mission in Afghanistan, many local farmers were caught in the crossfire between the Taliban and the Afghan security forces. The Taliban carried out attacks from thick foliage on the farms, which provided a hiding place, ideal for an ambush.
"For the past 20 years, we did not have peace and could not work after dark in our farms. But now we can stay as long as we want without any fear," says Neikh Mohammed. "Now the challenge is not just restoring peace but the drought and escalating cost of essential commodities."
Farmers say they want support from international aid agencies and assistance from the new government headed by the Taliban to help them survive.
Pir Mohammed says: "The real challenge for us now is drought, not war. We need food, water, dams and infrastructure in our country. The world should invest in us and save us."