'We didn't stop': the Los Angeles abolitionist coalition that's racking up victories | Los Angeles
There was a moment in late 2016 when Los Angeles county was set to invest $2.2bn in rebuilding and revamping parts of its jail system, the largest in the world. The old Men's Central jail downtown would be replaced with a new "mental health jail" run by the sheriff's department, and the women's jail in south-east LA would be relocated to a former Immigration and Customs Enforcement (Ice) detention center in the high desert, more than 80 miles outside the city.
Taxpayers would fund the project, which activist groups claimed would ultimately cost at least $3.5bn. The contract had been awarded and money promised. Justice reform organizers' years-long efforts to halt construction and reallocate funds toward housing, education, and community-based services had failed.
But the battle wasn't over.
That year, grassroots activists regrouped and rebranded, forming a broad coalition based on six organizations they called JusticeLA. They devoted themselves to shutting down the jail construction plan. Then they held their first direct action, an art installation in front of an administrative building where the Los Angeles county board of supervisors had greenlit the jail project. Activists set up 100 homemade jail bed replicas, creating a simulated jail dormitory for the public. More than 200 supporters showed up wearing orange shirts that read "I am not the property of L.A. County jail." The action diverted traffic for more than six hours.
"Even when we lost, we still won," Ivette Alé said. "We didn't stop organizing, didn't stop putting pressure on the county." Alé, 35, is JusticeLA's coordinator, which continues to work for decarceration and to increase resources for communities most affected by incarceration.
At the coalition's core is a group of young abolitionists who grew up in Los Angeles in the "tough-on-crime" 90s, all of whom are the children of incarcerated people or were themselves incarcerated.
For two years following the jail bed action, JusticeLA employed protest, public education and policy recommendations to stop construction, and finally prevailed.
First, the county scrapped the new women's jail project. Then in August 2019, they dropped the mental health jail plan, deciding instead to invest in community services. Former state senator Holly Mitchell (as of January, she is a member of the Los Angeles county board of supervisors), described JusticeLA's success in shutting down the jail expansion plan as "miraculous".
"I give them full credit with bringing pressure to bear on a board [the county board of supervisors] that I'm not sure would have done it on their own," she said. The fact that the county was convinced to back out of a multimillion-dollar contract astonished her, Mitchell said.
Since then, they have been racking up victories by ignoring the conventional political wisdom of making compromises and "playing to the middle". Instead, they pursue their abolitionist goals and so far every campaign they have waged has succeeded.
---
Ivette Alé has been one of JusticeLA's key engineers since its inception, and an organizer since they were a student at UC Berkeley. As a young child, they and their family moved to southern California from Mexico City. Several years later, a close family member was incarcerated after battling substance use.
"If my [loved one] had received substance abuse treatment and mental health treatment instead of incarceration, my family would have been better off," Alé said. "So often the rhetoric around justifying incarceration uses the stories of survivors and victims to justify punitive systems … A lot of us [at JusticeLA] have been survivors of interpersonal violence and state violence and understand that the punitive responses didn't help us as survivors."
Alé and their colleagues are working to build alternatives to those responses, and have built their coalition on the foundation of a few central principles. The first, Alé said, is that when they advocate for a policy, they leave no one behind. Traditional justice reform efforts tend to advocate for one community – cis and trans women, for example – but will stipulate that their efforts don't apply to those who have committed violent crimes. JusticeLA does not make those distinctions.
"It's making sure we don't feed into a binary of who's deserving and who's undeserving," Alé said.
Second, Alé said, they try never to help build something they will have to dismantle in the future. Proposition 25, a measure on the state ballot in the November 2020 election, would have eliminated cash bail but replaced it with risk assessment software that some activists and scholars say perpetuates racism and the criminalization of poverty, and which would have expanded judicial power. JusticeLA supports ending cash bail, but didn't see the tradeoff as a real step toward reforming pretrial detention. (The state has since moved toward eliminating cash bail.)
JusticeLA's large base of individuals and organizations is due in part to an expansive approach. In early 2017, when it looked as though the jail construction plan was unstoppable, Black Lives Matter co-founder Patrisse Cullors and then leader of Californians United for a Responsible Budget Diana Zuñiga realized they needed a broader coalition than those who were explicitly abolitionist. Together they recruited some of their activist colleagues and created JusticeLA.
"We've got to … expand so that even organizations who don't articulate themselves as abolitionist are down and feel compelled to fight for an abolitionist demand," said Mark-Anthony Clayton-Johnson, a founding executive team member of JusticeLA, recalling the groups' decision to rework their approach.
Clayton-Johnson, Alé and their colleagues convinced reformist – though not explicitly abolitionist – groups like the Service Employees International Union and ACLU of Southern California to join the coalition in the common pursuit of justice reform.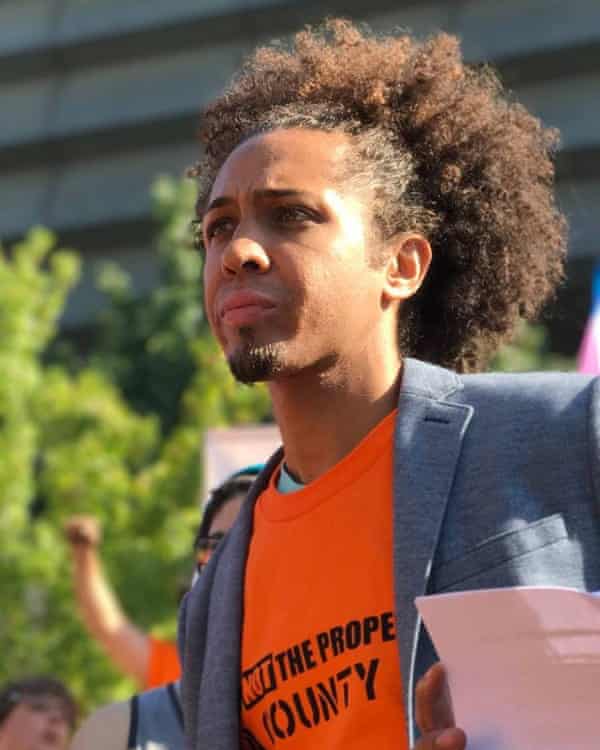 Decision-making power within the coalition, however, remains with the core group, which consists of members of established grassroots groups such as Dignity and Power Now and the Youth Justice Coalition, and rests only with formerly incarcerated and Black people and people of color.
"They've done a remarkable job of balancing the different elements of what social movement work requires to be successful," said Toussaint Losier, professor of Afro-American Studies at the University of Massachusetts Amherst. "And they've done it in a way that has distinguished them from what we find in other parts of the country, where you have organizations or even local coalitions that are good at doing one aspect of this … to the exclusion of others."
Indeed, JusticeLA has focused on a broad range of criminal justice policy issues. They fought successfully to get Measure J, which would allocate between $360m-$900m of county money to social services, on the ballot in the November 2020 election. Then they fought successfully to get the measure passed. They scored the surprise victory in November with the campaign to replace cash bail, which required voters to consider nuanced arguments against racist algorithms.
That was a case where JusticeLA wasn't aligned with some of their usual political supporters, including then state senator Holly Mitchell, who co-authored the original bill eliminating cash bail that Prop 25 would have upheld.
"In the process of policymaking, there is sometimes impatience with the notion of incrementalism," Mitchell said. "I think there's sometimes fear that if you start down a particular road around a policy shift, and if it is not ideal, then it's better to have not gone down that road at all."
It was a point of contention that didn't get resolved. "But we were able to have a conversation. I heard their perspective. They heard mine," Mitchell said.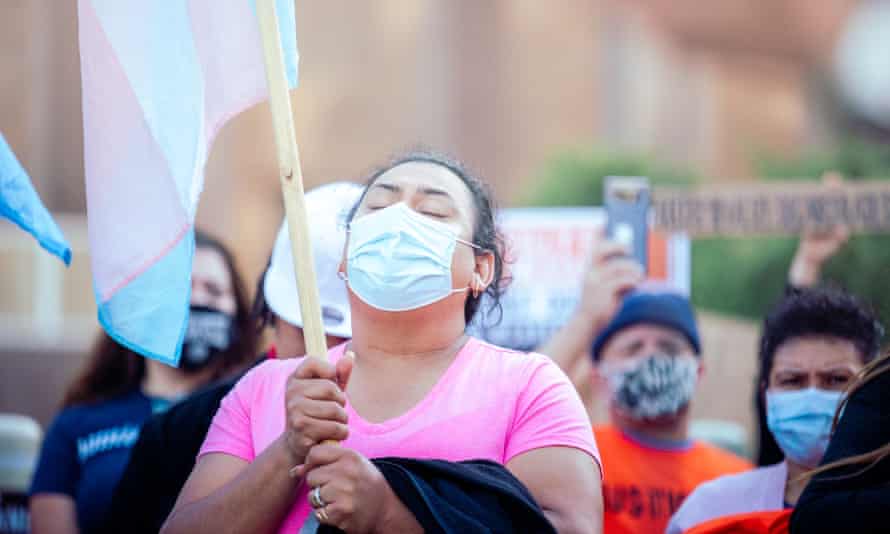 Still, JusticeLA is facing steep obstacles. The Gallup Center on Black Voices, created in response to last summer's uprisings, found that although the overwhelming majority of Black Americans and Hispanic Americans say law enforcement needs "major changes", only 22% of Black Americans and 20% of Hispanic Americans are in favor of abolition. In fact, a majority of Black and Hispanic Americans want to maintain current levels of law enforcement presence in their neighborhoods.
Burnout is also a constant peril in other organizing spaces he's worked in, said Clayton-Johnson. To prevent that, JusticeLA's leaders try to devote resources to mental health and creativity. Clayton-Johnson is an acupuncturist, Cullors is a multimedia artist, and Alé is a former fashion designer who moonlights as DJ IZLA.
Alé pointed out that engaging creatively with colleagues and allies relieves tension and strengthens relationships. It requires having your finger on the pulse of the community. "That's what being an artist is," they said. "Being able to reflect back your personal experiences and that of your community in ways that folks can identify with."
Their artistic events tend to be the most intimate type of activism. In June 2020, JusticeLA held an event inspired by Tupac Shakur's book of poetry The Rose That Grew from Concrete.
The group laid thousands of roses in front of the Hall of Justice as a tribute to those who have been killed at the hands of law enforcement in Los Angeles county. One of JusticeLA's founding groups, Dignity and Power Now, holds card-making events in front of county jails on Mothers' and Fathers' Day so that visiting family members can present artworks to those they're visiting.
"There's a long tradition of joy as a radical force in our work, particularly in the Black organizing tradition," Clayton-Johnson said. "Even in moments of conflict, or really tense political struggle, we still have a right to that.
"I mean, that's the world we're trying to build, right?"
Alone under siege: how older women are being left behind in Ukraine | Global development
Halyna Vasylivna lives alone in a tiny "Khrushchevka" flat. At 94, she has outlived her sons and her husband, and her grandchildren live outside the city.
Her apartment, named after the Soviet leader under whom the five-storey buildings in Kyiv's Podil district were built, is too far from the bunker so she hides in her pantry during airstrikes.
Vasylivna is grateful for her social worker Olya's visits a few times a week. She wishes she did not live alone. "It's important to have someone who can listen to you," she says.
Vasylivna is one of 2 million older women in Ukraine who have remained largely invisible to authorities. Most of Ukraine's elderly people are women – they make up two-thirds of those aged over 65 and 71% of those aged above 75 – partly because Ukraine has the sixth highest proportion of women in the world.
These women are reliant on tiny state pensions (Vasylivna's is about £130 a month), and require support from social services, charities and international institutions. They have become the group most likely to be alone, whether through mobility issues, bereavement or a reluctance to leave familiar surroundings. The lucky few get help; many do not. Ukraine's health and social care system was already under pressure before Russia invaded in February.
Despite progress through reforms, including decentralisation that allowed regional institutions to allocate budgets locally, an overstretched and underfunded health system is again in crisis. Ukraine's expenditure on healthcare has declined from 7.8% of GDP in 2015 to 7.1% in 2019 (the last available data). The world average was 9.8% in 2019. Now the country is experiencing a humanitarian crisis, with dozens of accounts of rape and murder of Ukrainian elderly women – the biggest group left behind, of those allowed to leave, and least able to escape.
In Kyiv's Holosiyevo district, there are 786 elderly people – 80% of them women like Vasylivna – alone, unable to leave their homes, and without relatives to care for them. Since Russia attacked, the number of social workers in the local centre has collapsed by more than 75%. Those women who remain are mostly elderly themselves, and now have four times as many clients to look after. They work five days a week, earning about £170 a month to supplement their small state pensions. "We need to support both our elderly clients and ourselves," says 65-year-old social worker Nataliya Bodnar.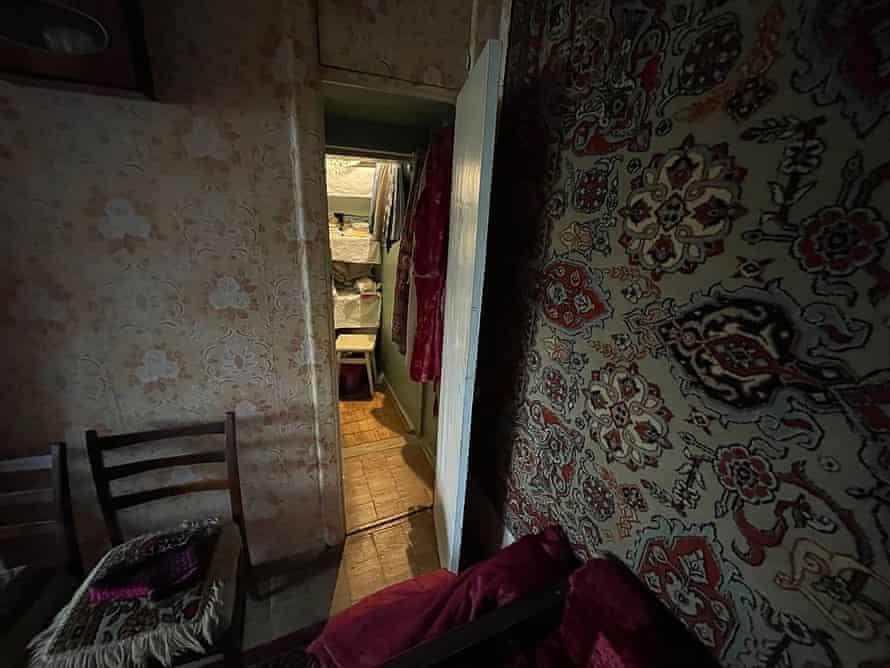 Social centre manager, Oksana Ruban, says they have faced multiple challenges. "Public transport was closed, the curfew lasted sometimes up to several days, shops closed, too. We had to make sure all of our clients were taken care of by someone – if not relatives or us, at least by neighbours or volunteers. We all worked relentlessly."
The situation for older people is particularly acute in the Donetsk and Luhansk regions where a survey of more than 1,500 over-60s conducted in March revealed the scale of the problem: 99% do not want to leave their homes; 91% need help to get food; 91% are also experiencing extreme cold, with no heating due to electricity cuts; 75% need basic hygiene items; and 34% need urgent medication for chronic illness. These needs are exacerbated by a shortage of vital medicines and Russia destroying healthcare facilities.
"I wonder why some young people evacuate their cats and hamsters, but leave their parents behind," says Roman Vodyanyk, head doctor at Severodonetsk hospital in Luhansk, the only functioning hospital left in the city. With no water, gas or electricity in Severodonetsk, Vodyanyk has turned the hospital, which has more than 50 patients, into a humanitarian hub, providing hot food, wifi and medical support. About 220 patients have left in the past month, but many elderly people have no desire to evacuate, with nowhere to go and no one to care for them.
"How do you evacuate a hospital in this situation? How do you leave them all behind?" asks Vodyanyk. So despite the shelling and along with local authorities, NGOs and volunteers, he is not leaving either.
Elderly people are often the forgotten category in any humanitarian crisis – an analysis of Google news search keywords between 24 February and 22 April found that 97% of all Ukraine-headlined articles that mentioned either children or the elderly were focused on children. Only 3% mentioned elderly people, of which only three touched on elderly women. Despite there being more than 50% more retirees in Ukraine than children under 15, the 390 UK NGOs operating in Ukraine are nearly twice as likely to be helping children than elderly people,
According to Justin Derbyshire, CEO of HelpAge International, the problem is global: elderly patients' specific needs are neglected by governments and international bodies during and after wars. "This is systemic ageism and an example of how bad the global system is at responding to older people's needs."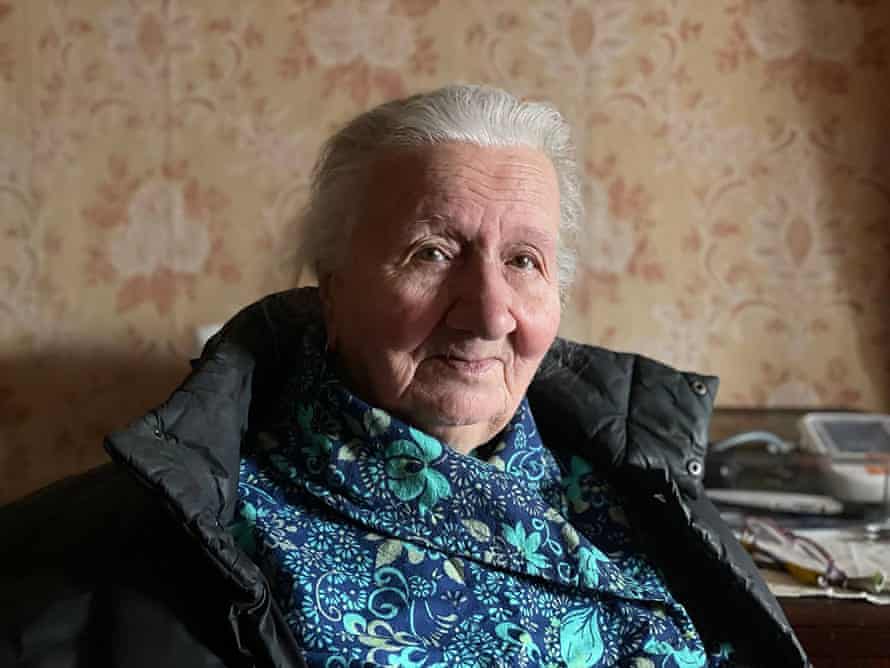 Elderly people, such as Vasylivna and Bodnar, are at the centre of the crisis in Ukraine, as victims and rescuers. After a lifetime of looking after others, they are now vulnerable, not only to loneliness and hunger, but also to rape and murder.
"I've seen everything – the Holodomor [great famine of 1932-33], the second world war, so many horrors. What else could scare me?" says Vasylivna. She never imagined Russia would invade. It is her inability to take care of herself that scares her now. She feels trapped. "I would evacuate if I could take care of myself. I was working my whole life. It's such a shame I can't do anything any more."
Sign up for a different view with our Global Dispatch newsletter – a roundup of our top stories from around the world, recommended reads, and thoughts from our team on key development and human rights issues, delivered to your inbox every two weeks:
The Ukraine war in maps: Ukrainian forces battle to recover Snake Island | International
May 13 | The battle for Snake Island
The all-out attack that Russian troops deployed at the beginning of the offensive in Ukraine did not leave out maritime control of the Black Sea: the Kremlin's naval force soon took up positions the island of Zmiinyi, also known as Snake Island and located around 140 kilometers (87 miles) south of Odessa and 40km (25 miles) from the Romanian coast. The first map of the conflict published by the Institute for the Study of War (ISW) on February 25 showed it under Russian control even then. In a statement in February, the Ukrainian Navy said that the invaders had destroyed infrastructure on this island of one square kilometer. A comparison of satellite images captured before the invasion and in recent days shows that the destruction of the main building occurred between May 6 and 7.
August 23, 2016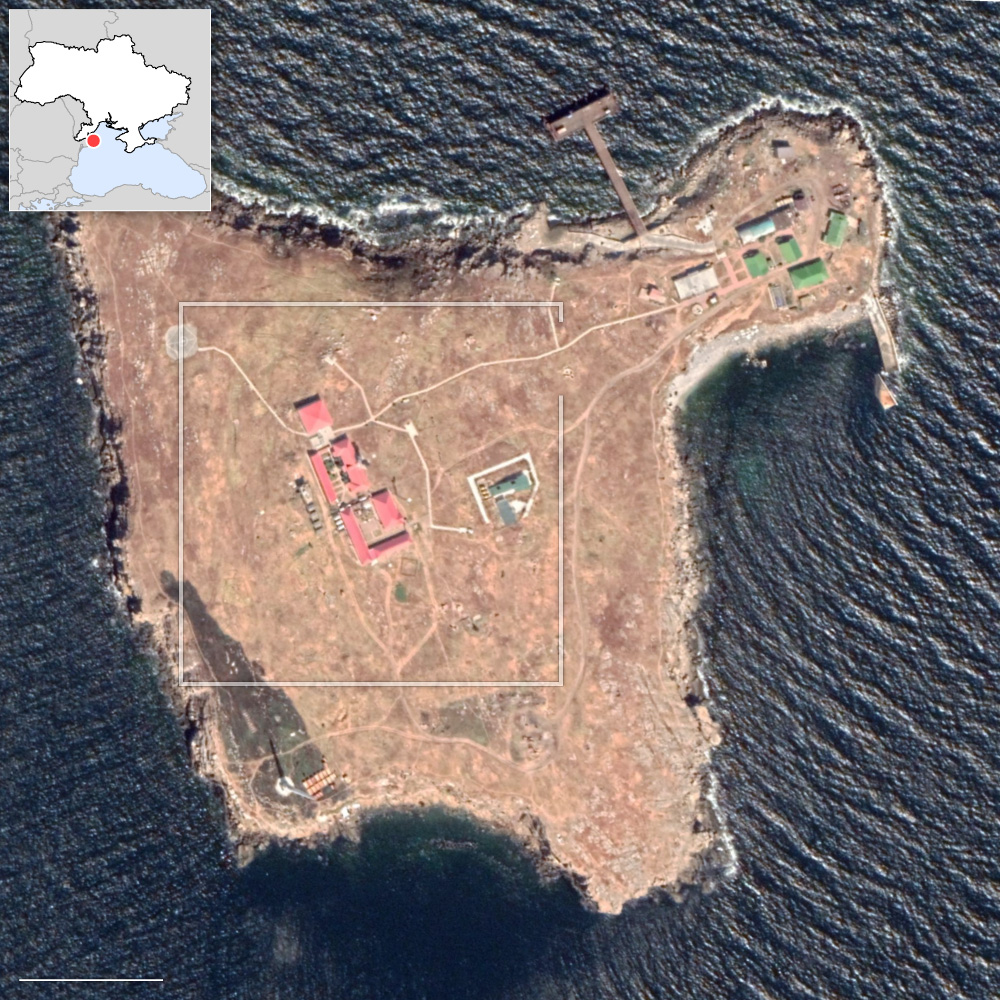 May 6, 2022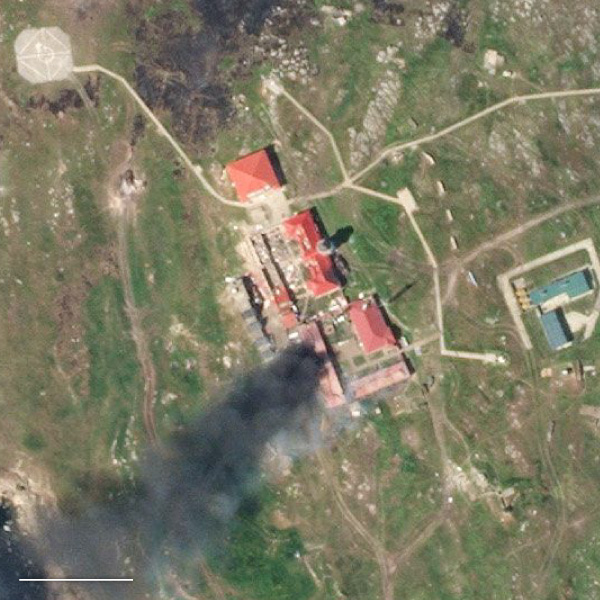 Areas burnt by earlier attacks
Visible structural
damage
May 7, 2022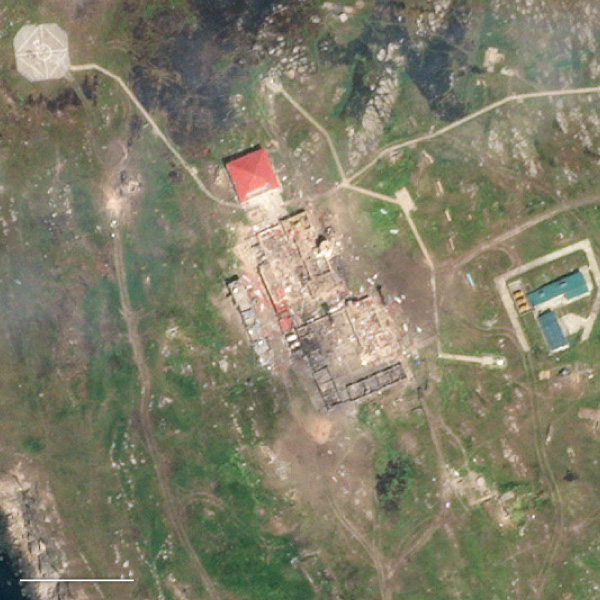 May 8, 2022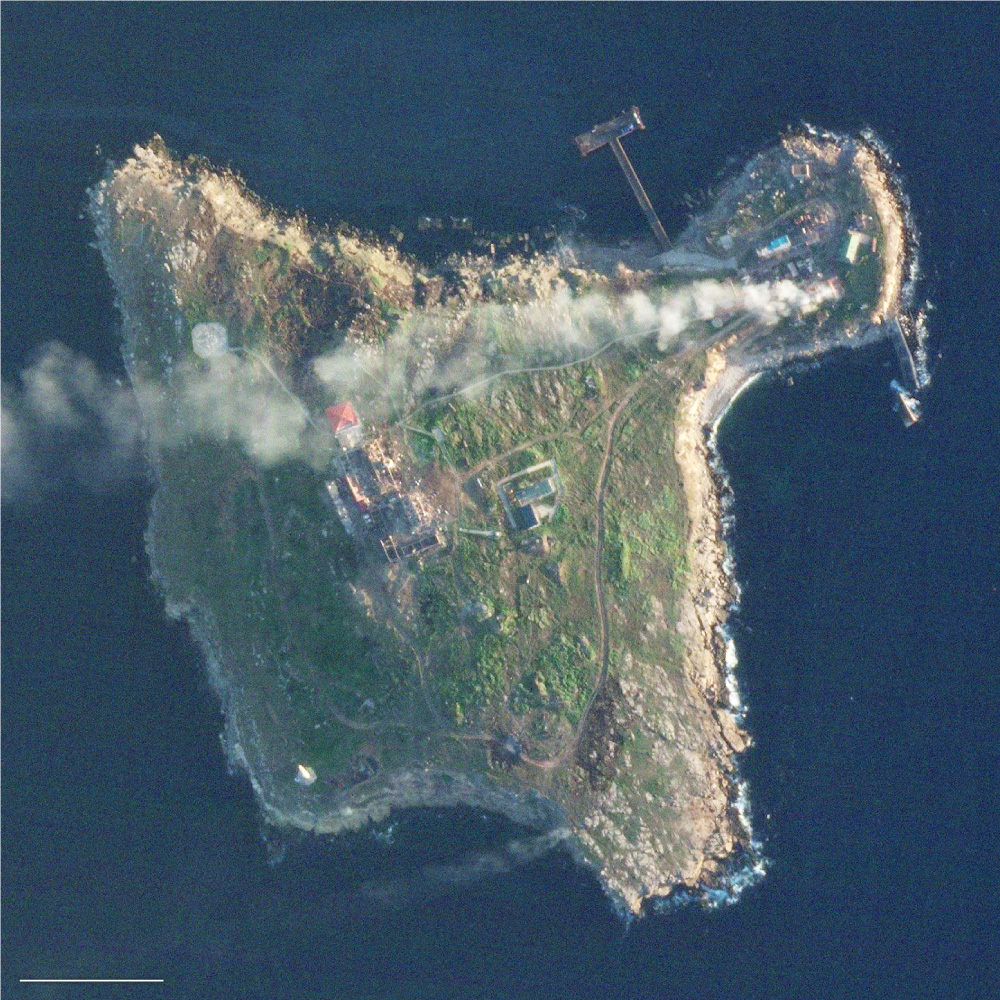 Area of attack
on helicopter
(shown in video)
British intelligence warned last Tuesday that if Russian troops consolidate their position on the island, deploying air defense cruise missiles, they could control the northwest portion of the Black Sea. The permanent Russian settlement on Snake Islands entails sea, land and air control of that entire area, military strategy expert Oleh Zhdanov told the BBC.
The strategic importance of the islet, which grants control over maritime traffic in the port of Odes, is enough to justify the ongoing struggle for it. The Russian Defense Ministry has claimed that it destroyed several planes, helicopters, drones and a landing craft in the early hours of Sunday morning during a Ukrainian attempt to recapture the island. Ukraine claimed that it only attacked Russian troops deployed there. British intelligence stated that Ukraine has used drones to destroy Russian anti-aircraft defenses and supply ships, stranded after the invaders retreated to the Crimean coast following the sinking of the Moskva, the flagship of Russia's Black Sea fleet.
Helicopter destroyed on Snake Island, in a video shared by the Ukrainian army on Sunday.
Reuters
The sensors of the European Space Agency's Sentinel-2 satellites have made it possible to observe hot spots on the island which, in the context of war, can be associated with attacks. These indications of attacks have been recurrent since last February, and particularly intense during the last weekend, coinciding with a video of an attack on the island.
The proximity of Zmiinyi to NATO coasts has not prevented it from becoming a battlefield in the conflict. Armand Gosu, a professor of Russian Political History at the University of Bucharest, explained to Efe news agency that Moscow categorically dominates the Black Sea: "There is a huge military imbalance. Its ships patrol international waters without restriction, which has allowed the Russians to block a maritime outlet from Odessa," he said. This blockade stifles Ukrainian sea exports that are essential to defend the coastal town from a hypothetical Russian siege like the one suffered by Mariupol.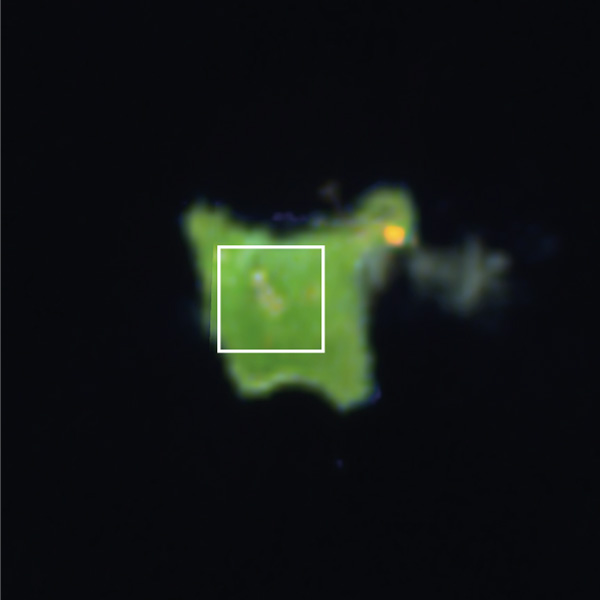 March 8 A heat source can be seen in the northeast of the island, probably as a result of an attack, as well as a plume of smoke. The area inside the box contains most of the facilities.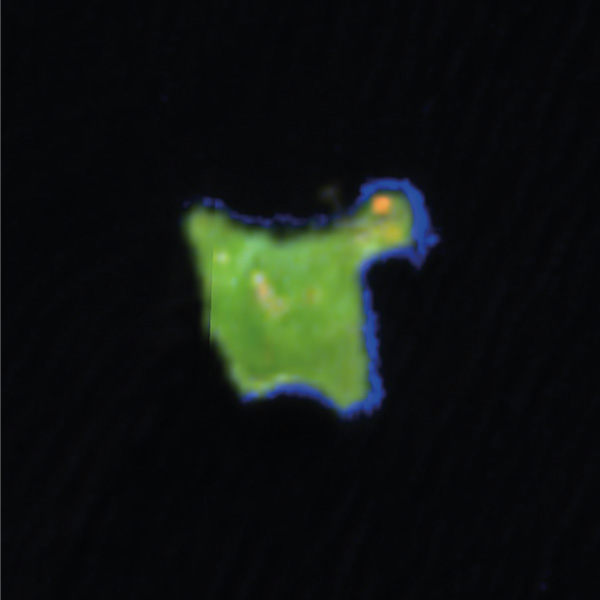 March 23 Two weeks later, the Sentinel 2 satellite captured a new hot spot in a nearby area.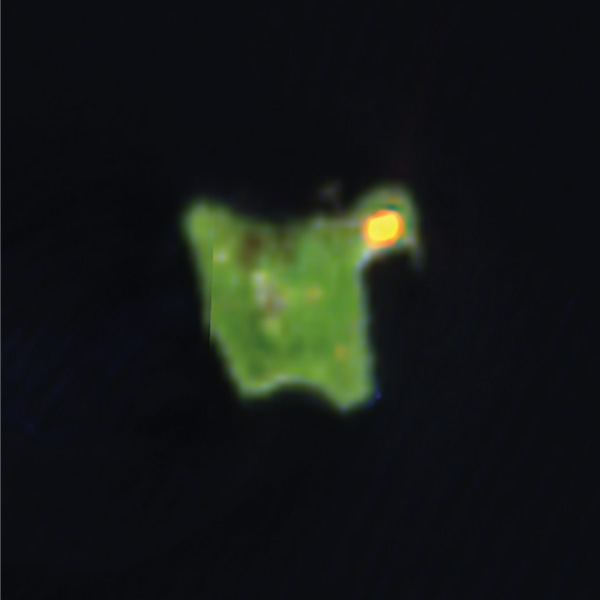 May 7 Once again a heat source can be seen, coinciding with a great column of smoke detected by satellites and shown earlier.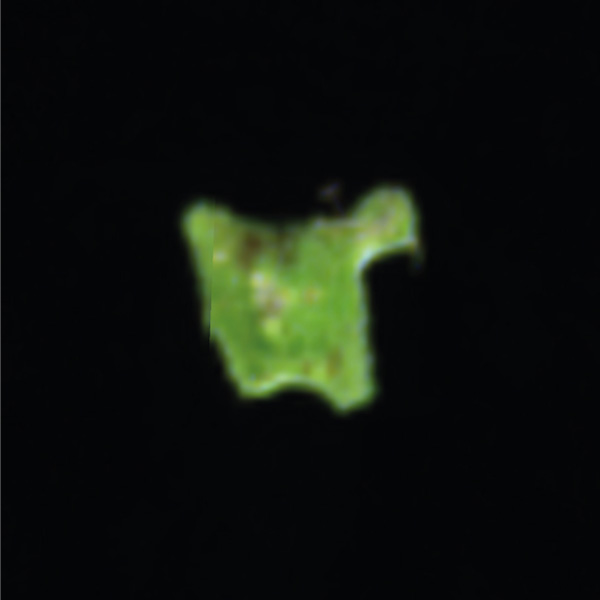 May 9 The last available image shows no hot spots, but the island's vegetation has been largely burnt down as a result of the confrontation.
May 10 | Russian progress
In the two and a half months since the start of the Ukraine invasion, the Russian offensive has changed strategies: at first it sought to take control of the major cities, then focused its efforts on the separatist region of Donbas and on securing the borders. Since then, the frontline has moved in line with modest but systematic Russian advances that have only met with resistance at a spot that's been highly militarized since 2014, when Russia annexed the Crimea peninsula. The change in the frontline can be seen in the following maps, which show the situation on the ground every two weeks since Russia changed its strategy on March 25. The red color shows areas under Russian control, which have been expanding for the last month and a half.
Donbas is an area covering around 52,000 square kilometers, roughly the size of Costa Rica. It is divided into two oblast (administrative units) – Donetsk and Luhansk. Along the northwest, it borders the Kharkiv region, home to the city of Izyum, which is the starting point for Russia's attempt to encircle Ukrainian defenders holding the frontline. From there, Russian troops have been trying to advance towards Sloviansk and Kramatorsk, the military headquarters and de facto capital of Donetsk, although they have had limited success.
March 24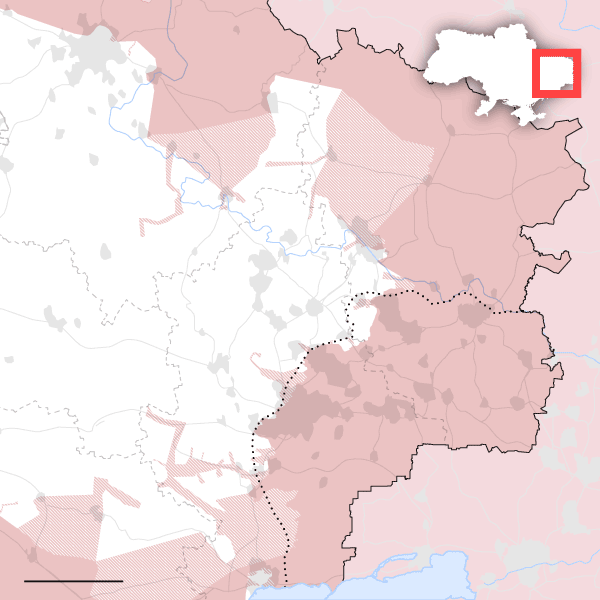 When the Kremlin's troops announced that their target was eastern Ukraine, they were already controlling much of Donetsk, Luhansk and the area extending to Kharkiv.
April 8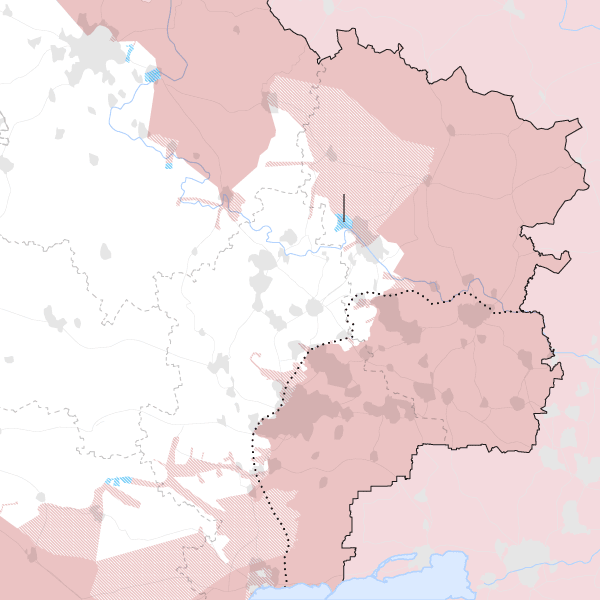 Two weeks later, the situation on the front had barely changed after a reorganization of the invading troops except in the area of Izyum, the new Russian center of operations.
April 22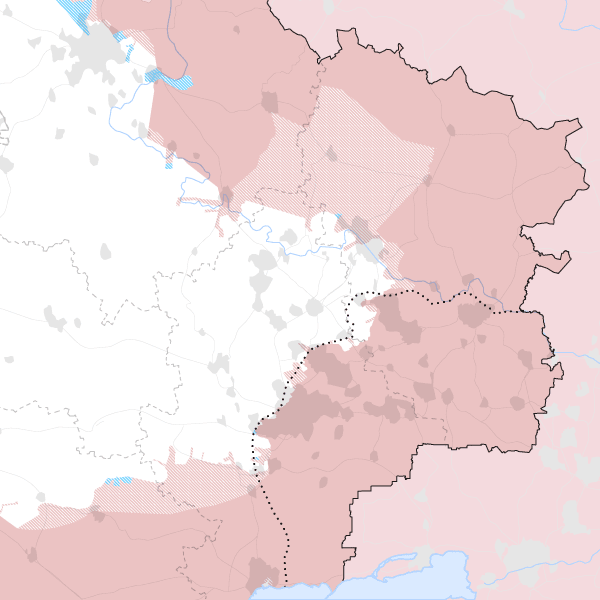 The siege of Mariupol, which made Ukrainian defenders retreat to an industrial site, allowed Russia to free up troops to cement control over the northern end of the city.
May 8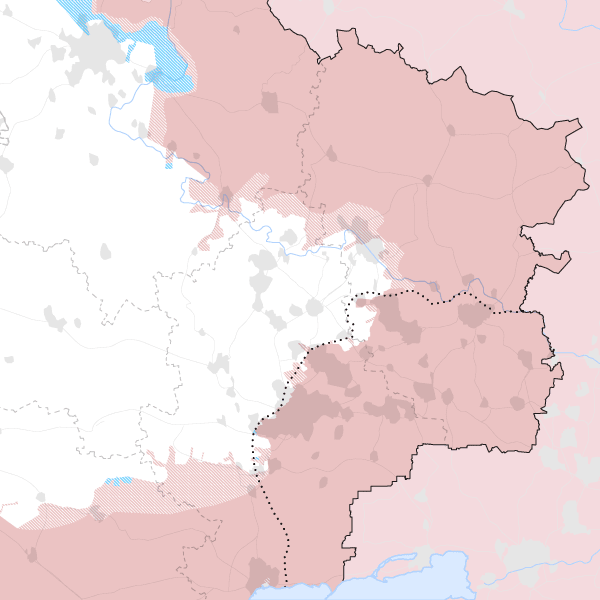 Despite Ukrainian counterattacks that are gaining back territory near Kharkiv, the areas under Russian control increasingly encircle the Donbas border
The Institute for the Study of War (ISW) believes that the Kremlin's forces near Izyum are regrouping and resupplying before resuming offensive operations in the southeast and southwest.
In the south of the country, near Crimea and the Black Sea, there is a similar situation: slow but constant Russian advances and reinforced positions in places like Kherson, which was swiftly captured in the early days of the invasion. Ukrainian counterattacks have barely made a dent on Russian forces, who have increased the territory under their control week after week. Moscow has been concentrating anti-aircraft and missile systems in the northern area of Crimea, said the ISW. This could be a prelude to resume offensive operations towards Zaporizhzhia and Kryvyi Rih, in central Ukraine.
March 24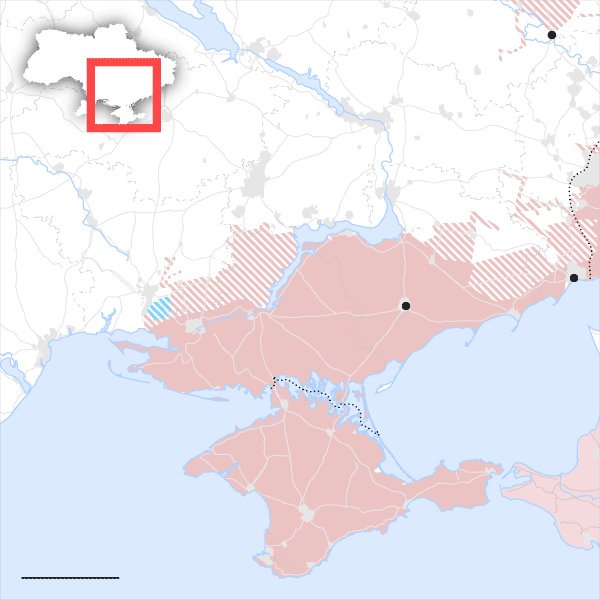 April 8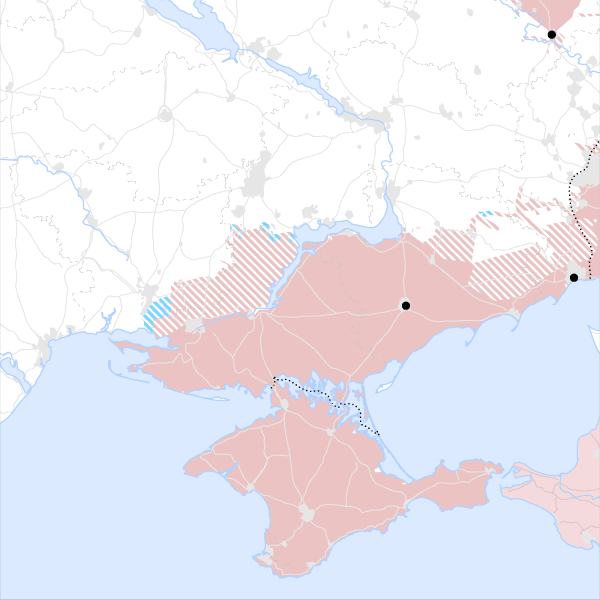 April 22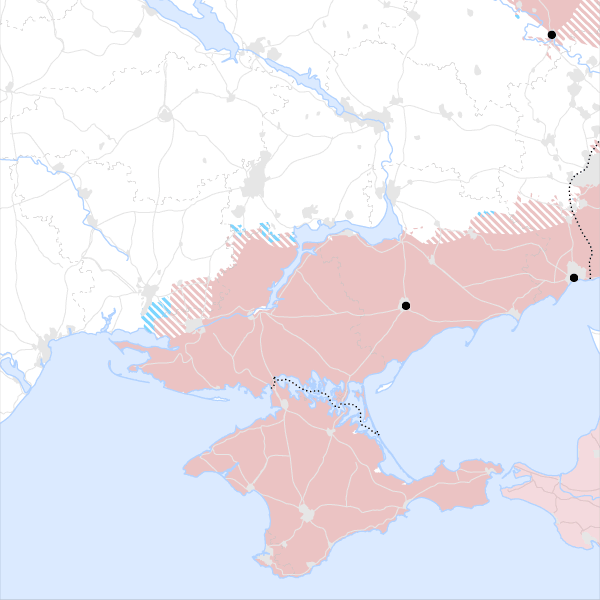 May 8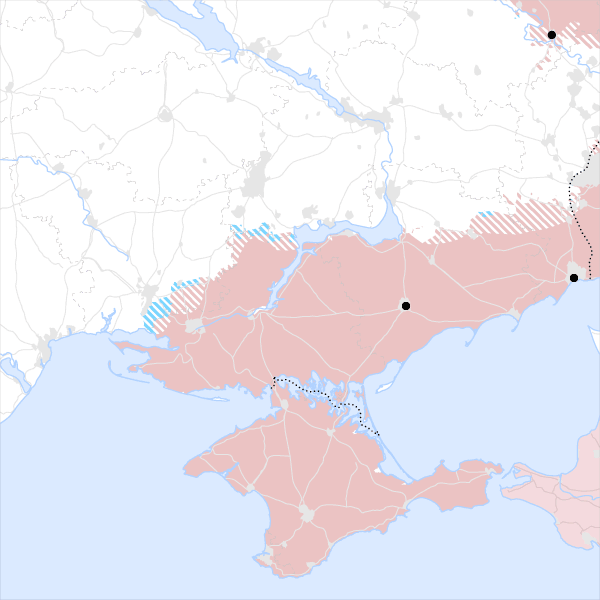 Every drop is precious: the Mexican women saving water for their villages | Global development
Patricia Eduviges Silva López (right, on the ladder), a teacher and leading member of Mudem (Mujeres en Desarrollo para el Progreso de San Luis Morelia), a local NGO, works with other women in Santa Catarina Estancia to waterproof the harvesting tank, ready for the rainy season. The women paint the tank – which can hold 20,000 litres of water – with a mixture of water, nopal, salt and lime.