'We choose good guys and bad guys': beneath the myth of 'model' Rwanda | Human rights
A devastating new book will accuse Rwanda's president Paul Kagame – long feted by his prominent international supporters as the model of visionary new African leadership – of being a serial human rights abuser, including for his role in a sustained campaign of assassinating his rivals in exile.
Written by Michela Wrong, the author who covered the Rwandan genocide in 1994, when more than 800,000 people – largely ethnic Tutsis as well as moderate Hutus – were killed by Hutu militias over 100 days, Do Not Disturb represents one of the most far-reaching historical revisions of Kagame and his regime.
Meticulously researched, with substantial new material and interviews, Wrong is careful to set competing claims next to each other where there are unresolved questions, including the suspicions – thus far uncorroborated – of Rwandan involvement in the 2001 assassination of Congolese president Laurent Kabila.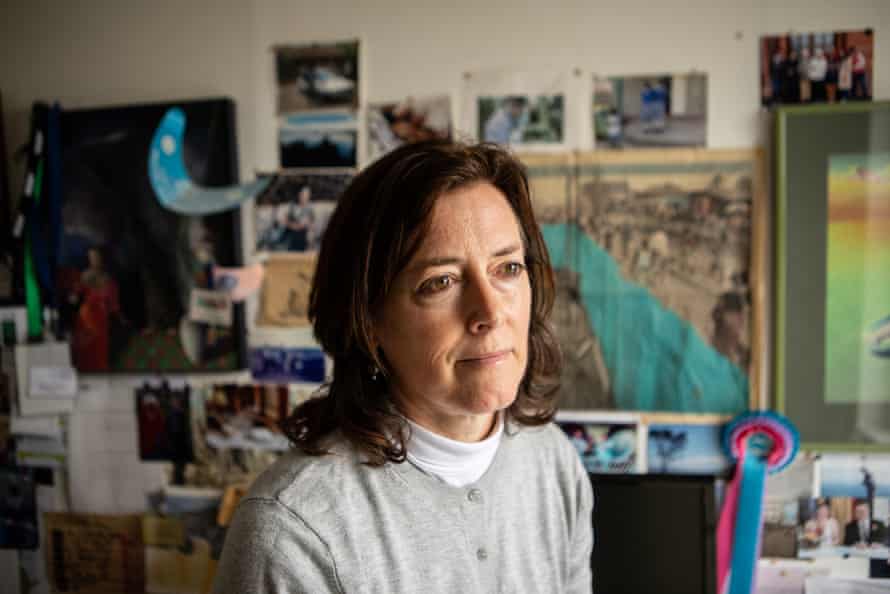 While Kagame has come under increasing scrutiny in recent years, not least over the high-profile murder of his former intelligence chief Patrick Karegeya in South Africa in 2014 by Rwandan agents, Do Not Disturb alleges Kagame's involvement in multiple rights abuses from his earliest days in the Rwandan Patriotic Front (RPF).
Beginning with his role as a dour rebel intelligence officer behind the grisly executions of suspected infiltrators, Do Not Disturb chronicles Kagame's rise as well as his part in the overthrow of two Congolese presidents and the looting of that country's mineral resources, relying on numerous interviews with former members of his inner circle.
With Rwanda heavily reliant on international aid for almost two-thirds of its budget, Wrong's examination of Kagame and Rwanda's role in destabilising its neighbours in the Great Lakes raises embarrassing questions for his prominent supporters – who have included Bill Clinton, Tony Blair, Bill Gates and Clare Short – and for international aid donors including the UK accused of long turning a blind eye.
The book is being published just months before the Commonwealth Heads of Government meeting is due to be held in the Rwandan capital, Kigali, this summer, an event that will once again put Kagame at the centre of an international stage.
Far from the charismatic, driven and progressive leader he is perceived as by his international supporters, Kagame emerges from Wrong's account as a murderously authoritarian figure; a cold, petty and vindictive individual. She compares him to Stalin's notorious secret police chief Lavrentiy Beria, always able "to find the crime to fit the man".
In an interview with the Guardian, Wrong described how her view of Kagame had changed radically over the years since she first encountered his RPF forces as a young reporter covering the genocide, when – like so many others – she embraced the RPF's narrative.
Wrong has already been accused on social media of becoming a "genocide denier", the standard accusation levelled at critics of Kagame. She has no doubt that genocide occurred, only that it hid a far more complex picture, including the subsequent murders of Hutus by Tutsi forces after the RPF took power.
"Going from village to village with the French troops you were confronted by mass graves where people had been hurriedly buried, seeing women scrubbing the floors of the church naves trying to get the blood stains out.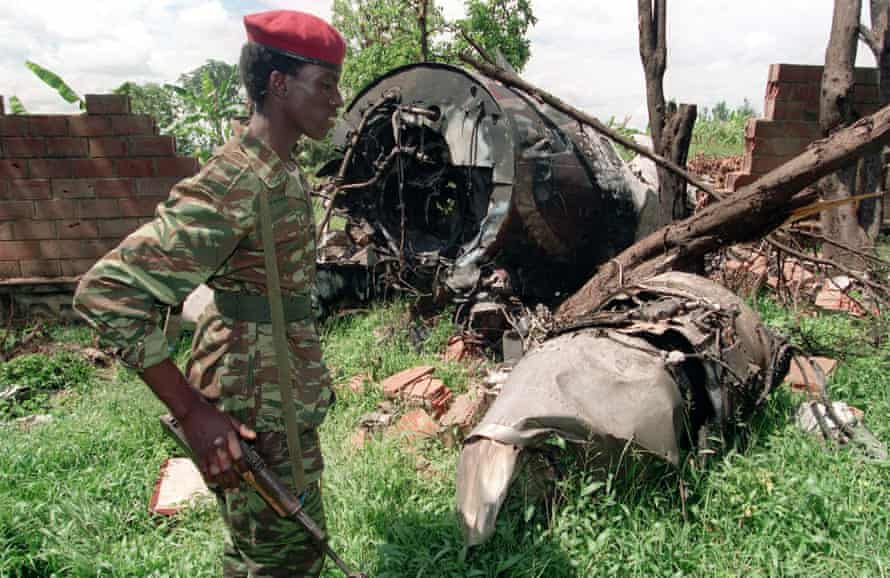 "Then you'd meet members of the RPF who were reserved and disciplined and spoke excellent English, who didn't seem to speak in forked tongues like the departing government of Juvénal Habyarimana [the Hutu president who was killed when his plane was shot down, sparking the genocide].
"I was completely won over by them and completely willing to accept that their takeover was a very good thing because it spelled the end of the horror. That's how I viewed the RPF for many years and that's how the world saw it."
Wrong talks of an encounter with a French diplomat who described the later pursuit and murder of Hutus fleeing into the Democratic Republic of the Congo (DRC) by RPF's forces and remembers thinking: "This is nonsense! It was so at odds with what I believed the RPF stood for. Now I look back, that was a briefing we should have paid more attention to."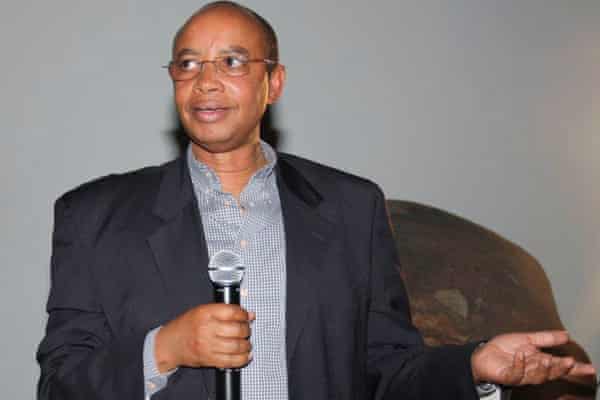 At the centre of Wrong's revisiting is her detailed depiction of the circumstances of the gruesome strangling of Patrick Karegeya in a South African hotel room in 2014. Kagame's charming if deeply implicated former intelligence chief was murdered in Johannesburg by, she says, Rwandan agents after he, having fallen out of favour, had fled Rwanda, setting up an opposition organisation in exile. A "do not disturb" sign was hung outside the room by his killer as they left.
It was a murder that Kagame's ministers publicly celebrated. Defence minister James Kabarebe told journalists at the time: "When you choose to be a dog, you die like a dog, and the cleaners will wipe away the trash so that it does not stink for them."
Kagame denied involvement. "Rwanda did not kill this person – and it's a big 'no'," he answered when asked by a western reporter. Yet he could not resist: "But I add that, I actually wish Rwanda did it. I really wish it."
Kagame's message to Rwanda's domestic audience was different. He delivered it at a prayer breakfast in Kigali: "Whoever betrays the country will pay the price, I assure you," he told a small crowd of dignitaries.
"Any person still alive who may be plotting against Rwanda, whoever they are, will pay the price," Kagame said. "Whoever it is, it is a matter of time."
Wrong claims it has not been an isolated incident, with opposition figures and critics – including in the UK – receiving warnings that their lives may be in danger, raising a question over why the UK is so supportive of a regime that Scotland Yard has had to provide protection against.
But even long before Karegeya's murder, Wrong admits she was harbouring doubts about Kagame.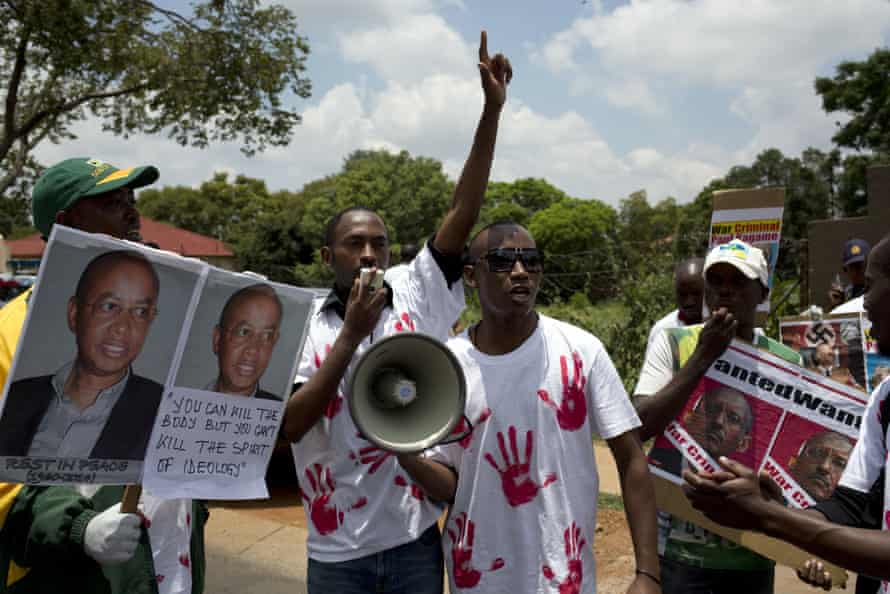 It was the assassination in Kenya of Seth Sendashonga, a Hutu former interior minister in the government of national unity in Rwanda who had fallen out with the regime in Kigali, that was the first crack in her perception.
She recalls it as the day "when with a near-audible mental ping, I realised I no longer believed most of the key 'truths' upon which [Kagame's RPF] built its account."
"That was 1998. Early on. There were two attempts on his life and that made it impossible to pretend it was just random crime.
"It's not what I expected the RPF to be doing. I remember the behind the scenes RPF counter-narrative to journalists and diplomats with friends in the movement was: 'No! You have to understand, he'd gone abroad and he was mustering these former genocidaires. They were going to attack Rwanda. He'd gone over to the dark side.'"
But as Wrong points out, many, such as Karegeya and Gen Kayumba Nyamwasa, the exiled former Rwandan chief of staff (who also survived an attempt on his life in South Africa), were far from former genocidaires camped out in the forests of the neighbouring DRC, but among those once in Kagame's most trusted inner circle.
"The people that Kagame really fears, the people he is reaching out across the globe to silence, intimidate, harass and kill are more often than not members of his own Tutsi elite."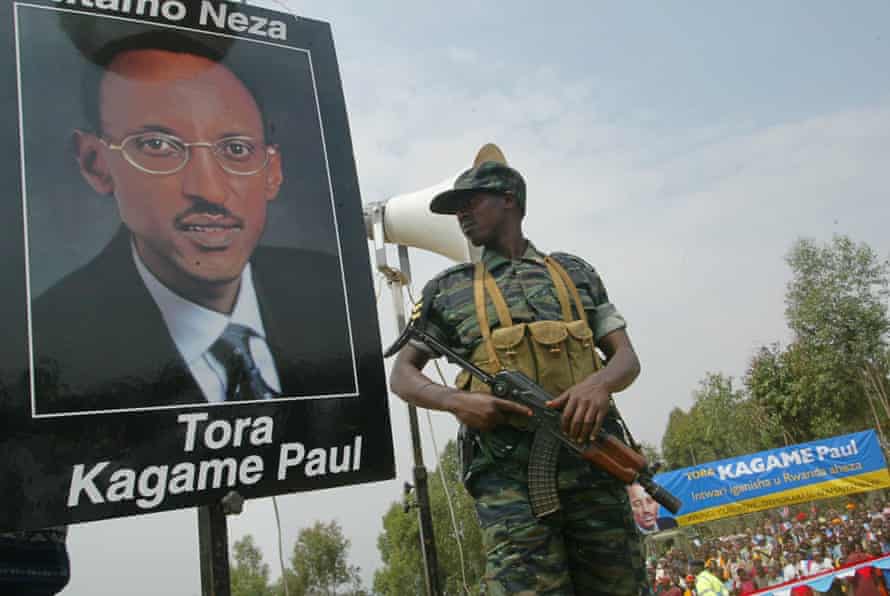 After four years researching and writing Do Not Disturb, what shocks Wrong is how, in the light of the public outcry over the attempted and successful assassinations carried out abroad by Russia and Saudi Arabia, criticism of Kagame has been at best tepid.
"It feels like it has been consequence-free. There's been a very tactful diplomatic cover-up by Rwanda's allies abroad.
"At the most there have been a very few court cases, with Patrick Karegeya's inquest being the most prominent, with testimony showing the South Africans wanted to bury the story completely because it was the Rwandan government behind it.
"There have been massive consequences for the Russian targeting of [Sergei] Skripal and [Alexander] Litvenenko abroad yet Rwanda is just given a little scolding. There's a double standard because Rwanda is seen as the good guys. Our friends. And they're people we give an awful lot of aid to."
All of which raises the question: why?
Wrong sees a mixture of vanity and lazy thinking, compounded by the west's post-colonial habit of seeking to anoint favoured African leaders.
"It's an old story. We always pick sides. Leaders are embraced and a blind eye turned to the atrocities. There's a temptation to personalise and simplify, to choose good guys and bad guys.
"The other argument of Rwanda's international supporters is that it's a stabilising force, but the destabilising force in the Great Lakes for decades has been Rwanda, including the systematic pillaging of Congo's minerals."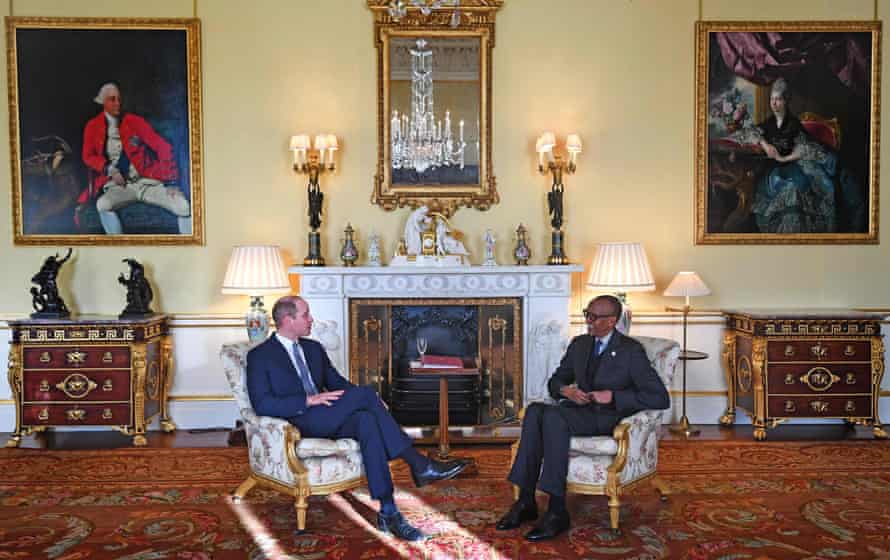 Wrong is highly critical of the role played by the aid and development sector, including that of the UK.
"There's a development paradigm playing out in Rwanda which goes quite deep and it's sinister. It's this idea that the west can deliver development irrespective of what the local government is like and that you can strip the politics out of the development agenda by focusing on education, health, mosquito nets, vaccination rates.
"But the local politics are the only thing that matters. There's something profoundly uncomfortable about insisting that a government which has a deteriorating human rights record and has committed egregious war crimes is a worthy recipient of aid because it performs well on aid metrics yet is busy killing journalists and rounding up and disappearing critics."
WHO concerned about first cases of monkeypox in children | Science & Tech
Reports of young children infected by monkeypox in Europe – there were at least four in recent days, with a fifth one recorded a few weeks ago – have raised concern about the progress of an outbreak now affecting more than 5,500 people in 51 countries.
The health organization's Europe chief, Hans Kluge, also warned on Friday that overall cases in the region have tripled in the last two weeks. "Urgent and coordinated action is imperative if we are to turn a corner in the race to reverse the ongoing spread of this disease," said Kluge.
The WHO has not yet declared the outbreak a global health emergency, however. At a meeting last Saturday, the agency ruled it out but said it could change its views if certain scenarios come to pass, such as a spike in cases among vulnerable groups like children, pregnant women and immunocompromised people. Available data shows that children, especially younger ones, are at higher risk of serious illness if they become infected.
The last known case of a child contracting monkeypox was reported on Tuesday in Spain, where a three-year-old was confirmed to have the disease. Cases in Spain are now in excess of 1,500 according to health reports filed by regional governments.
Also on Tuesday, Dutch authorities reported that a primary school student had become infected and that contact tracing had been initiated to rule out more cases within the child's close circle of contacts. On Saturday, France reported one confirmed case and one suspected case among elementary school students.
The UK has so far recorded at least two infections in minors. The first case, reported in May, involved a baby who had to be taken to intensive care for treatment with the antiviral Tecovirimat, of which few doses are available but which has already begun to be distributed in several countries. British authorities this week reported a second case of a child with monkeypox. The UK currently has the biggest monkeypox outbreak beyond Africa.
The main vaccine being used against monkeypox was originally developed for smallpox. The European Medicines Agency said earlier this week it was beginning to evaluate whether the shot should be authorized for monkeypox. The WHO has said supplies of the vaccine, made by Bavarian Nordic, are extremely limited.
Until May, monkeypox had never been known to cause large outbreaks beyond Africa, where the disease is endemic in several countries and mostly causes limited outbreaks when it jumps to people from infected wild animals.
Jury calls for sweeping reforms to Canada's approach to femicide | Canada
A community in rural Canada has made a series of transformative recommendations at a coroner's inquest that – if adopted – could position the country's most populous province as a leader in preventing femicides, particularly those carried out by an intimate partner.
The jury in Renfrew County, Ontario, just west of Canada's capital, delivered 86 recommendations this week in a unanimous verdict on the deaths of three local women, who were killed by the same man on a single morning nearly seven years ago.
The boldest was to have the Ontario government "formally declare intimate partner violence as an epidemic" that requires "significant financial investment" and deep systemic change to remedy.
Since the triple homicide on 22 September 2015, 111 women in Ontario have been murdered by their current or former partner, the inquest heard. Every six days in Canada, a woman is killed by her intimate partner, according to Statistics Canada.
The jury also recommended official prominence be given to the word "femicide" – to have it be listed as a manner of death by coroners in the province and added to the criminal code of Canada to underscore the misogyny beneath the killings of women and girls because of their gender.
"A lot of the recommendations are groundbreaking," said Pamela Cross, a lawyer and expert on intimate partner violence in Ontario who testified at the inquest.
The inquest, which heard from nearly 30 witnesses over three weeks, was meant to examine the systems that broke down in the weeks, months and years leading up to the day Basil Borutski got in a borrowed car, drove to Carol Culleton's cottage and strangled her with a coaxial cable, then moved on to Anastasia Kuzyk's house where he shot her to death and then to Nathalie Warmerdam's farm where he shot her too.
All three women had previously been in an intimate relationship with Borutski. He had been in and out of jail for assaulting Kuzyk and Warmerdam and was on probation at the time of the murders and subject to a weapons ban.
Borutski had been flagged as "high risk" two years before the triple homicide, the inquest heard, and exhibited 30 out of 41 risk factors identified by Ontario's domestic violence death review committee – including a deep sense of victimhood and the ability to convince new partners he was innocent and unfairly targeted by police in his prior convictions.
Police witnesses told the jury Borutski was very good at "manipulation" and constantly flouted court orders, including never showing up to a mandated partner assault response program.
The jury heard from family members, including Valerie Warmerdam, Nathalie's daughter, who painted a nuanced and empathetic picture of Borutski as a troubled stepfather. It heard from a frontline worker who described Warmerdam and Kuzyk's constant terror that Borutski would kill them or harm their family.
The inquest jury demanded decision-makers make "significant financial investments" in ending violence, have police all use the same records management system and create clear guidelines for flagging high-risk abusers. It urged the study of disclosure protocols like Clare's Law, which is used in the United Kingdom and in parts of Canada to allow a concerned person to check if their partner has a police record of intimate partner violence.
Valerie Warmerdam welcomed the verdict, but underscored the need for action on the part of governments who will receive these recommendations in the wake of the inquest. "I want change," she said. "These recommendations are a good start, if they are actioned. That's a big if."
Kirsten Mercer, counsel to End Violence Against Women Renfrew County (EVA), noted that it was the jury themselves who added the epidemic recommendation among 13 others, including creating a registry of high-risk offenders akin to the sex offenders registry, and exploring electronic monitoring of those charged or found guilty of an IPV-related offence.
"The jury has asked that we tell the truth about intimate partner violence," Mercer told the media after the verdict. "The jury has asked that we put our money where our mouth is."
The idea to add femicide to the coroner's list of manners of death and to the Criminal Code of Canada came from the joint submission. Countries in Latin America have already added this as a criminal offence, she said, and should be looked to as a model for how to do it here.
Accountability was a priority for this jury, Mercer said. The verdict called for the creation of an accountability body akin to the United Kingdom's domestic abuse commissioner and a specific committee to make sure this verdict does not just languish in decision-makers' inboxes.
"We are not going to wait forever any more."
Apollo Go: The Beijing neighborhood with robotaxis and driverless delivery service | International
Book a robotaxi on a mobile app and it will pick you up in less than 10 minutes. It's 2:00pm on a Thursday in Beijing and our ride is going smoothly with no human intervention so far. "Sometimes we have to speed up manually to avoid causing traffic jams. Bicycles and motorcycles often cause traffic congestion because they ignore traffic signals," says the driver supervising our trip, as the steering wheel magically moves by itself.
The 37-square-mile (60 square kilometers) Beijing High-level Automated Driving Demonstration Area (BJHAD) is where the country's first pilot project to use autonomous vehicles on public roads is happening. Located in a secluded district in the southeastern part of the city, BJHAD is the test site for a futuristic plan that envisions turning Beijing into the standard-bearer for artificial intelligence (AI). The Apollo robotaxis manufactured by Baidu and the autonomous delivery vehicles manufactured by JD.com (aka Jingdong) zip around a tranquil utopia that stands in stark contrast to the hectic jungle of downtown traffic.
"[A robotaxi] can handle an average of 15 daily bookings, most of which are trips between a subway stop and an office," said the cab driver. In November 2021, Baidu and Pony.ai became the first companies authorized to operate a fleet of 100 robotaxis in BJHAD. As of April 2022, humans are no longer required to sit in the driver's seat of the robotaxi, which is allowed to travel at a maximum speed of 37 miles per hour (60 kph). The service is free for now, although the two companies are commercially licensed.
Baidu, China's leading search engine, is diversifying its business by commercializing its AI and intelligent transportation technology. Its Apollo Go program is currently operating in seven cities, and the company plans to expand to 65 cities by 2025, and 100 cities by 2030. Unlike the Waymo robotaxis that Google began operating in 2020 in the US, Baidu's vehicles circulate during the day, enabling them to collect more data.
Although Baidu has topped the list of Chinese companies with the most patents for AI applications over the last four years, e-commerce giant JD.com is the leader in the autonomous delivery vehicle space. In 2016, Jingdong established its headquarters in BJHAD, and its delivery robots now dominate the streets. These vehicles mainly transport orders from the 7FRESH smart supermarket chain operated by JD that combines e-commerce and traditional commerce. "Instead of people going out to buy products, we deliver them," said Yang Han. Who works in Jingdong's communications department.
JD's applies big data analytical methods to the information collected from more than 400 million annual users, and utilizes it to tailor inventories to the specific needs of each 7FRESH physical stores location. The entire 7FRESH inventory is available in the app. The delivery robots, which travel at nine miles per hour (15 kph) and can carry 220-440 pounds (100-200 kilos), deliver orders in less than an hour within a three-mile (five kilometer) range.
JD employees rely on smaller robots to send documents and other items between offices in 10 minutes or less. "They speed up the work and saves us from having to run around from one place to another," said Yang Han. The robots are able to operate elevators and open doors by themselves as they follow their delivery routes.
The robots can recognize their surroundings and avoid obstacles with a 98% accuracy rate for small objects. Information streams in through cameras and other sensors, while the navigation algorithm pinpoints their location and plans routes. JD's cloud-based simulation platform accumulates data from every trip to continuously improve the robots' capabilities.
The Covid pandemic spurred JD to accelerate its autonomous delivery program, enabling it to deploy small and large delivery vehicles to the Chinese cities most affected by the pandemic over the last two and a half years. In early 2020, during the peak of the pandemic in Wuhan, these delivery vehicles traveled a total of 4,225 miles (6,800 kilometers) and delivered more than 13,000 packages.
In a country where low unemployment is one of the main pillars of its social stability goals, the move to autonomous vehicles may prove to be risky in the long run. However, Yang Han insists that the objective is to "achieve a synergy between humans and machines… The goal is to take the pressure off delivery drivers and allow them to focus on customer service and vehicle maintenance. The couriers don't need to transport the goods. Instead, they wait by the curb for the robots to arrive, and then walk the goods to the customer's door. "
BJHAD is part of the Beijing Economic and Technological Development Area, the first place in China specifically geared to AI research. The country aspires to become the world leader in AI by 2030 and to leave the "factory for the world" image behind for good.