'We cannot drink oil': campaigners condemn east African pipeline project | Global development
Activists have accused French and Chinese oil firms of ignoring huge environmental risks after the signing of accords on the controversial construction of a £2.5bn oil pipeline.
Uganda, Tanzania and the oil companies Total and CNOOC signed three key agreements on Sunday that pave the way for construction to start on the planned east African crude oil pipeline (EACOP). But on Tuesday a letter signed by 38 civil society organisations across both east African countries said the parties had failed to address environmental concerns over the pipeline and had steamrollered over court and parliamentary processes.
Work is expected to begin this year on what would be the world's longest electrically heated pipeline, which will move crude oil from fields near Lake Albert in western Uganda 900 miles to Tanzania's Indian Ocean seaport of Tanga. Uganda's crude oil is highly viscous, so it must be heated to be kept liquid enough to flow.
Uganda's president, Yoweri Museveni, and his Tanzanian counterpart, Samia Suluhu Hassan, witnessed the signing of agreements between shareholders, host governments, and on tariff and transport between EACOP and the Lake Albert oil shippers.
Uganda discovered reserves of crude near Lake Albert on its border with the Democratic Republic of the Congo (DRC) in 2006, and the landlocked country wants a pipeline to transport oil to international markets.
"These agreements open the way for the commencement of the Lake Albert development project," Total said in a statement on Monday. "The main engineering, procurement and construction contracts will be awarded shortly, and construction will start. First oil export is planned in early 2025."
The oil will come from two projects – the Tilenga project, operated by Total, and the Kingfisher project, operated by CNOOC, which together are expected to produce up to 230,000 barrels a day. Government geologists estimate total reserves at 6bn barrels.
However, Diana Nabiruma, of the Africa Institute for Energy Governance (AFIEGO), told the Guardian: "It is concerning that major agreements are being signed and the companies are being given the go-ahead to award contracts and start developing the Lake Albert oil project.
"The oil projects pose major environmental risks. Resources, some shared with countries such as the DRC, Tanzania and Kenya, including Lake Albert as well as Lake Victoria and rivers, are at risk of oil pollution," she said.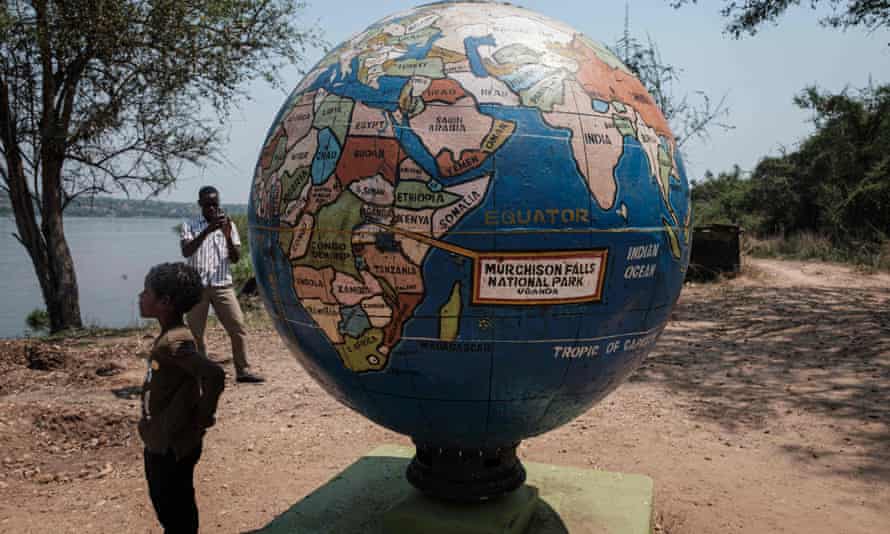 "The resources support the fisheries, tourism and other economic activities. They are also important for food and water security. They therefore must be conserved."
The #StopEACOP alliance campaign condemned the decision to build the pipeline, which it says will displace 12,000 families and would be a huge environmental risk at a time of climate emergency, when the world needs to move away from fossil fuels.
Vanessa Nakate, founder of the Rise Up climate movement in Uganda, said: "There is no reason for Total to engage in oil exploration and the construction of the east Africa crude oil pipeline because this means fuelling the destruction of the planet and worsening the already existing climate disasters in the most affected areas.
"There is no future in the fossil fuel industry and we cannot drink oil. We demand Total to rise up for the people and the planet," she said.
Lucie Pinson, of Reclaim Finance, which works to decarbonise the financial system, added: "We call on banks to publicly commit to stay clear of the project and investors to vote against Total's climate strategy and the renewal of the mandate of its CEO Patrick Pouyanné at the group's AGM in May."
Last week, more than 260 African and international organisations sent an open letter to 25 commercial banks urging them not to finance the construction of the EACOP.
David Pred, of Inclusive Development International, which supports communities to defend their rights against harmful corporate projects, said: "The oil companies are trying to dress up the investment decision signing ceremony, but fortunately this climate-destroying project is far from a done deal.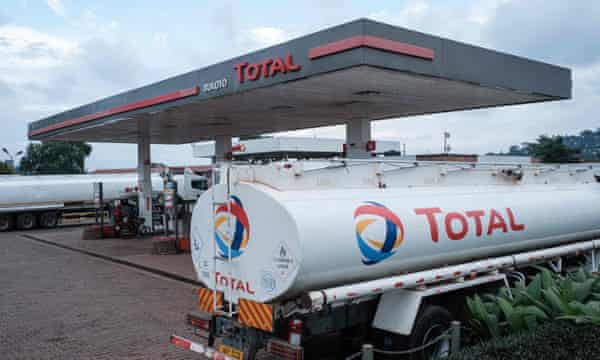 "Total and CNOOC still need to secure insurance and raise $2.5bn in debt financing for the EACOP to move forward and they are going to struggle mightily to find enough banks and insurance providers willing to associate themselves with such a project," he claimed.
Total said it had undertaken "rigorous" environmental and social risk assessment and mitigation strategies in relation to the projects.
In its statement on Monday, it said: "All the partners are committed to implement these projects in an exemplary manner and taking into highest consideration the biodiversity and environmental stakes as well as the local communities' rights and within the stringent environmental and social performance standards of the International Finance Corporation."
Pouyanné said: "The Tilenga development and EACOP pipeline project are major projects for Total and are consistent with our strategy to focus on low break-even oil projects while lowering the average carbon intensity of the group's upstream portfolio. These projects will create significant in-country value for both Uganda and Tanzania.
"Total is also taking into the highest consideration the sensitive environmental context and social stakes of these onshore projects. Our commitment is to implement these projects in an exemplary and fully transparent manner."
CNOOC has been approached for comment.
But Nabiruma accused the two east African governments of racing to sign deals before their citizens had been told how any risks would be "avoided, minimised or mitigated".
Robert Kasande, permanent secretary at Uganda's ministry of energy and mineral development, said: "We are very mindful of the environment that we work in. It's a very sensitive ecosystem. So we have put everything that we need to do in place."
He said the project was being conducted in accordance with the Equator principles – a risk-management framework adopted by financial institutions for assessing and managing environmental and social risk in projects.
"This is a big project for us as a country," Kasande said. "These resources that are going to be coming into the country are going to be a huge boost to this economy."
Covid-19: Italian and Spanish PMs meet in Madrid ahead of EU recovery fund summit | International
Italy's prime minister, Giuseppe Conte, was in Madrid on Wednesday for a meeting with his Spanish counterpart, Pedro Sánchez of the Socialist Party (PSOE), to discuss their countries' joint strategy for an upcoming summit on the European Union's coronavirus recovery fund.
Spain and Italy, the two European countries to be hardest hit by the Covid-19 pandemic, are joining forces against the so-called "frugal" countries – Austria, the Netherlands, Sweden and Denmark – which oppose the idea of a €750 billion fund, of which €500 billion would be non-recoverable grants and the rest made up of loans.
Sánchez and Conte have shared interests, as their countries stand to benefit the most from the fund, according to Italian and Spanish sources who added that Germany and France back this position as well.
"This time Italy, Spain, France and Germany are clearly in sync. We all support the European Commission's proposal," said Spanish sources.
"With the meeting held today with @GiuseppeConteIT we are relaunching relations between Spain and Italy. We agree that the good understanding between our countries must be taken to the political arena. We hope to hold a new Italian-Spanish summit in 2020," tweeted Spain's Sánchez on Wednesday.
Conte and Sánchez will be traveling separately in the coming days to the Netherlands and Germany, and the Spanish leader is also planning a stop in Sweden, whose government wants to replace some of the EU fund grants with loans, according to Spanish sources. The Spanish and Italian PMs are hoping to arrive at the July 17-18 summit in Brussels with a strong negotiated position that will leave little room for resistance from the "Frugal Four."
Wednesday's meeting also served to reinforce bilateral ties that had been weak for years. The last time that the leaders of both countries had come together was in 2014, when then-prime ministers Enrico Letta and Mariano Rajoy met in Rome.
English version by Susana Urra.
'Where should we go?': thousands left homeless as Karachi clears waterways | Global development
Maqsooda Bibi, 62, did not know the house she had lived in all her life would be demolished, forcing her whole family to become homeless. But on Monday, Pakistan's supreme court backed the Sindh government in bulldozing her home and hundreds of others, legalising the eviction of thousands who live along narrow waterways – nullahs – that crisscross Karachi.
The verdict came as Bibi and hundreds of others held a protest outside the court. "We hoped that the court would ask the government not to make us homeless, but it did the opposite. Our children also protested on Sunday and urged the supreme court to stop demolition. It seems no one here cares for the future of the poor."
At least 8,000 houses are being knocked down along the nullahs. The work, which began in February, is in response to the 2020 Karachi floods that saw choked up nullahs overflow and swamp the city. Improvements to Karachi's water and sewage systems are being financed by the World Bank.
As people watched their homes being turned into rubble, civil society organisations approached the court to try to stop the evictions. They said the houses were not to blame for blocking the waterways.
But on Monday the supreme court rejected the petition.
While dozens of people told the Guardian they were renting their homes, the court said any leasing of land along the nullahs was illegal. Activists and writers have termed the decision "unjust". Writer Fatima Bhutto, of the Bhutto political dynasty, tweeted: "The supreme court's decision is a tragedy."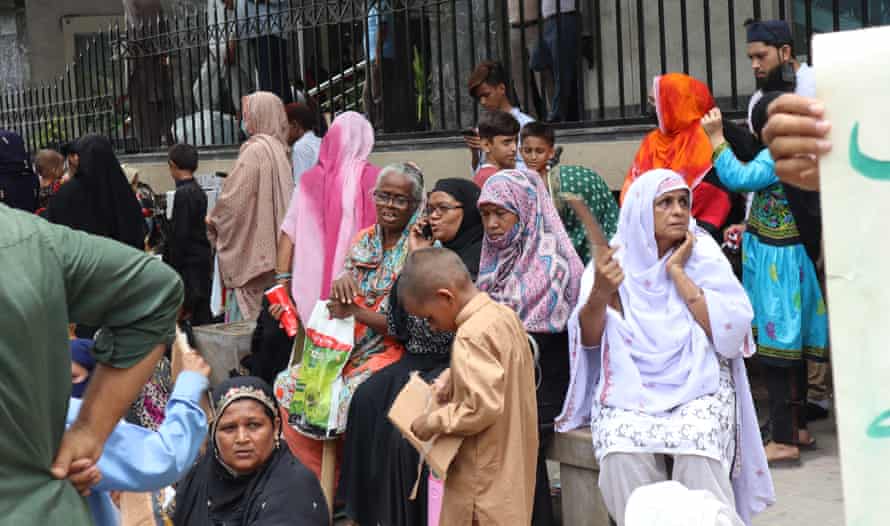 In an editorial, Pakistan's largest English-language daily, Dawn, said: "The demolition of houses situated within nine metres on either side of the Gujjar and Orangi nullahs will continue. When this exercise is completed (before this year's monsoon, according to the plan), at least 100,000 people would perhaps have been rendered homeless. As many as 21,000 children would be out of school and living under the open sky."
Bibi's house was her family's home for five decades. She shared it with four daughters and three sons-in-law. "We all started living on the lawn after they demolished our house but they will snatch the lawn now. At first, they took our shelter, now they will take our land," she says.
Muhammad Shahid is a heart patient whose house was bulldozed a month ago. He expected justice from the court. He was at home when his house was bulldozed at around 11am one morning.
"We are helpless. Where should we go? We can't die or live. I had my angiography done and now I can't work. My children aren't educated enough. My wife had a paralysis attack," says Shahid. He says that even he has not got the 90,000 Pakistani rupees (£410) promised by the government.
Muhammad Aslam did receive some compensation for the loss of his house. But he says it is not enough. He says: "I want to return the amount because it is of no use for four families." He lives with 28 others in one room and a tent after his two-storey house was bulldozed. "We are troubled in all ways, there is no gas or electricity or even sanitation. This isn't living," says Aslam.
Architect and urban planner Arif Hasan says the government had no "proper plan". "They are not doing it merely to stop the flood but to make long roads along the nullahs connecting the Lyari expressway with the northern bypass, displace poor and benefit the rich." He says the World Bank should denounce the Sindh government, as forced evictions are against the bank's policies.
Muhammad Abid Asghar was one of the first to lose his home, on 2 February. With others, he established Gujjar Nala victims committee and, with activists of Karachi Bachao Tehreek (Save Karachi Movement), went to the Sindh high court.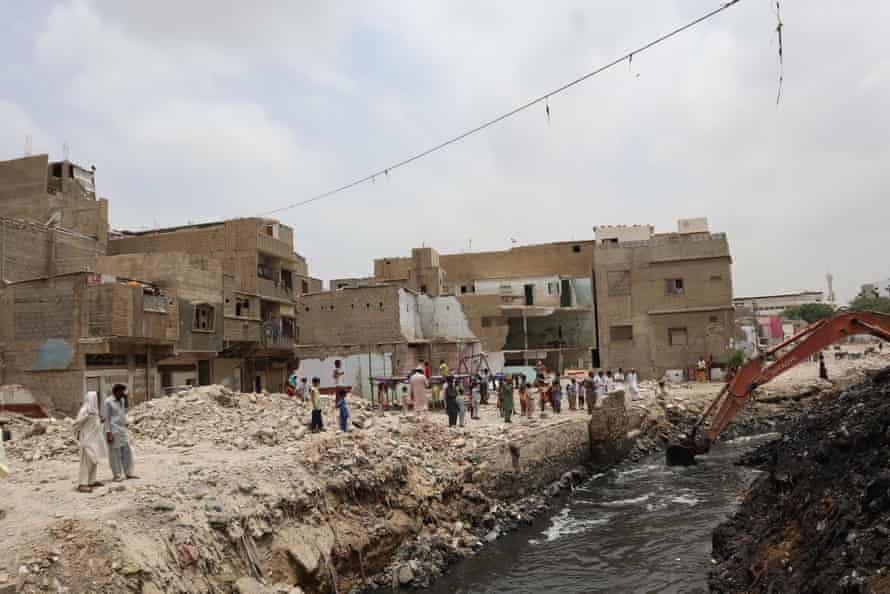 After chalking slogans against the demolitions on walls around the city, the activists say they were called by the World Bank team for a meeting in April.
"We had believed the bank was funding the evictions, but the World Bank denied it. They assured us that no leased houses would be bulldozed."
Sindh minister for information, Nasir Hussain Shah, also says the World Bank is not linked to the evictions. "The government will help residents in rehabilitation," he says, adding that "not more than 5%" of residents were against the demolition works.
The World Bank did not respond to a request for comment.
China calls Nato statement 'slander'
The Chinese mission to the EU denounced a Nato statement that declared Beijing a "security challenge," saying China is actually a force for peace but will defend itself if threatened, AP reports. The Chinese news release said the Nato statement was a "slander on China's peaceful development, a misjudgment of the international situation and (Nato's) own role, and a continuation of the Cold War mentality and organisational political psychology."