We can vaccinate 70% of the world against Covid by mid-2022. Here's how | Bipasha van der Zijde
While western countries scramble with their booster rollout to deal with the Omicron wave, only 8.4% of people in low-income countries have had at least one Covid vaccination dose.
The gap in the vaccination rates between high- and low-income countries is wider than ever. We cannot keep turning a blind eye to it.
The vaccines being distributed to African countries under the Covax scheme are often close to expiry and their delivery is ad-hoc at best. In Nigeria, where only 2% of the population is fully vaccinated, they just had to destroy more than a million vaccines that were close to expiring.
Nigeria is not the only country struggling. In Ghana, where 7.4% of the population is vaccinated, Fred Osei-Sarpong, representative of the World Health Organization said: "The receipt of vaccines with a short shelf life puts excessive pressure on the staff and makes it difficult to adequately plan for effective vaccine delivery."
These short shelf lives seriously impede the delivery of vaccines to rural areas. We have worked with Benjamin Ongeri, health supply chain specialist with Crown Agents in Kenya – where 7.2% of the population is fully vaccinated – on the delivery of medicine for neglected tropical diseases (NTDs). He says: "There are enormous challenges in getting medicines to the last mile. We know this from years of working with NTDs. It is very hard to reach people who are most affected since they are vulnerable, often marginalised, and live in remote locations with poor roads and infrastructure."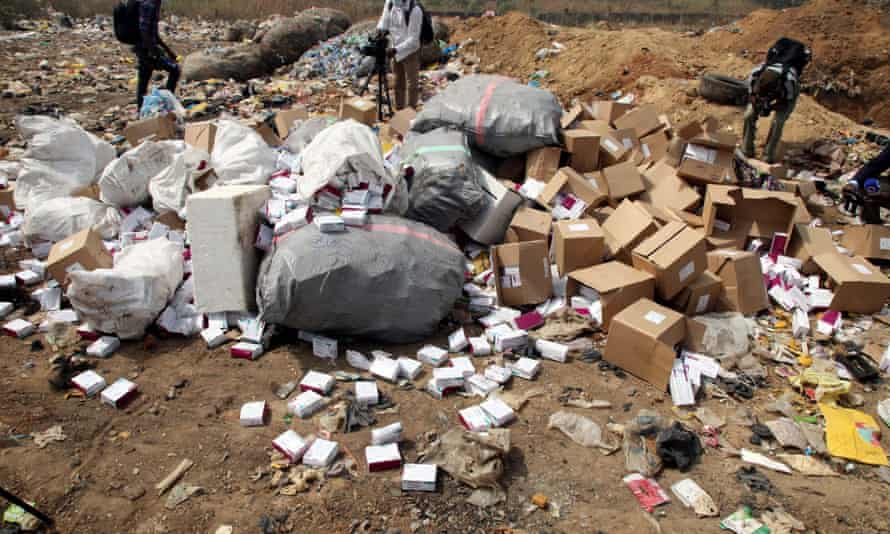 The same challenges have slowed the uptake of Covid vaccines. And this is exacerbated by the fact that these vaccines require cold (or ultra-cold) chain logistics infrastructure that is often nonexistent in these areas.
It also doesn't help that the vaccines mainly being administered in Africa are those the west has decided not to accept.
"In Ghana, at the initial stage of the vaccine rollout, a high demand was generated," said Osei-Sarpong. Then there were no vaccines. The break in the rollout affected communication efforts and this gap created the space for misinformation and rumours to thrive.
According to the WHO vaccine strategy, published in October, the goal is to have 70% coverage across the world by June 2022. How can this target be achieved?
Will freeing up intellectual property rights, often cited as a possible solution, bridge the widening gap? Neither Osei-Sarpong nor Ongeri believes it is the answer. For a country to start producing vaccines from scratch would be a massive challenge. According to Ongeri: "Countries like Kenya have begun this journey by targeting the final filling of vaccine vials locally which is still quite challenging given the need for state-of-the-art pharmaceutical manufacturing plants that will guarantee safe production with no chance of contamination."
A lot more will be required in terms of technology transfer and building the expertise needed to fully produce vaccines locally, these cannot be achieved in the short to medium term.
The answer lies in global funding mechanisms such as Covax – provided they can guarantee a pre-planned availability of vaccines. More equitable distribution of the jabs on a structural basis with longer shelf lives will allow for realistic and efficient planning.
"With the provision of funds for operations and the availability of vaccines, Ghana will be able to strategise and meet the coverage set by WHO," says Osei-Sarpong.
Added to common elements such as the lack of sufficient vaccines with adequate shelf life, each country has its own unique set of circumstances that lead to a low vaccination rate. So, with funding made available, each country can tailor their efforts to combat those circumstances and make sure the vaccines can reach the last mile.
In Kenya, Ongeri says they need the resources to undertake door-to-door vaccination campaigns as they do for childhood immunisation.
Where there exists a well-functioning delivery system, nations have high vaccine delivery rates. Kenya, for example, has an estimated 80% coverage for childhood vaccines. In Ghana, it's above 90%. The goal set out by the WHO may not be as unreachable as it appears.
It is not just in the interest of the countries with a shortage of vaccines that urgent action needs to be taken. As the UN secretary-general, António Guterres, said: "None of us is safe until we all are."
Kill the Bill and period protests: human rights this fortnight – in pictures | Global development
Microphones in front of a banner outside a court in Koblenz, Germany. Anwar Raslan, a former colonel with the Syrian intelligence service, was
convicted by the court of crimes against humanity
, including 27 counts of murder. He was found guilty of overseeing abuse, sexual assault and the torture of more than 4,000 people at Branch 251. The site became synonymous with brutal abuse by security officials after the government of Bashar al-Assad stopped protests with force.
'No embargo' on meetings with Putin, EU says
EU leaders are free to meet Russian president Vladimir Putin despite his threats to start a new war with Ukraine, the EU foreign service has said. "There is no embargo on contacts and visits between member states and Russia. Each member state decides … on their own judgment," the EU foreign service told EUobserver. The comment follows reports Croatia invited Putin to visit and that Hungary's leader will meet him.
Vulnerable Malians could 'pay the price' of heavy sanctions, warn aid groups | Global development
More than a dozen aid organisations have called for humanitarian exemptions to heavy sanctions imposed on Mali after the military leadership postponed planned February elections.
The EU has announced support for the sanctions imposed earlier this month by the Economic Community of West African States (Ecowas), which include closing borders and a trade embargo.
But this week, 13 international groups working in Mali warned of devastating consequences for the population, a third of whom rely on aid.
Humanitarian access is hindered by the Malian interim authorities' decision to reciprocate border closures with Ecowas member states, except Guinea.
Thousands of people demonstrated against the sanctions last week in the capital Bamako, carrying placards saying "down with Ecowas" and "down with France".
The country is in the grip of the worst food insecurity in 10 years.
A joint letter signed by the NGOs, including the International Rescue Committee (IRC), Care and the Norwegian Refugee Council, said: "To continue their work effectively, humanitarian actors must have unfettered access for the transportation of life-saving goods including food and medicine, as well as guarantees that they can transfer funds into the country without violating the sanctions."
Mali's current insecurity dates back to early 2012 when northern separatists rebelled against the government. Islamist militants that initially allied with the separatists, including Ansar Dine, al-Qaeda in the Islamic Maghreb (AQIM), and the Movement for Unity and Jihad in West Africa, ultimately hijacked the rebellion.
France, the former colonial ruler, made a military intervention in 2013 on the government's side against the militants. The UN has also deployed an estimated 18,000 peacekeeping staff, in what was called its most dangerous mission.
The Malian military, led by Col Assimi Goïta, has conducted two coups in two years and reneged on promises to hold new elections. The junta's most recent power grab, in May 2021, was the fifth coup since Mali's independence in 1960 and it has been unwilling to commit to transition to civilian rule, despite international pressures.
Postponement of elections has been blamed on Islamist insecurity, an impasse that has deepened with the arrival of private military contractors belonging to the Russian mercenary firm Wagner Group. European states have condemned Wagner's presence, concerned it will enable the military to hold on to power.
EU foreign policy chief Josep Borrell said this month that EU sanctions on Mali were in part in response to the involvement of Russian contractors. France is withdrawing troops, but 14 other EU members, led by Sweden, had established a taskforce to replace them in a three-year mandate. As tensions intensified over the Wagner Group, Sweden said last week that it had decided to withdraw its troops.
France, which holds the rotating EU presidency, has been vociferous in its support of sanctions but Russia and China have blocked the UN security council's move to follow suit.
Ecowas has frozen financial aid and Malian assets at the Central Bank of West African States.
Elena Vicario, director for the Norwegian Refugee Council in Mali, said: "Malians are already bearing the brunt of the humanitarian catastrophe, punctuated by horrifying attacks against civilians. Sanctions must not hold us back from delivering essential assistance in a country where drought, rising insecurity, and the economic impacts of Covid-19 are already pushing millions of Malians over the edge."
Franck Vannetelle, the IRC's country director in Mali, echoed Vicario, saying: "Despite more than a third of the country's population being dependent on humanitarian aid, organisations working in Mali already face severe access constraints. It's imperative that the international community keeps responding to people's urgent needs, and that any new sanctions have concrete humanitarian exemptions. These must be monitored and implemented, or the most vulnerable people in Mali will pay the price."