'We are fearful': Indigenous Mexicans dread new military buildup on ancestral land | Global development
Micaela* always stops to kiss a cross at the base of three hills, a lush swath of land in the indigenous ejido of San Sebastián Bachajón, Chiapas. Her ejido, meaning communal land, is shared among more than 5,000 Tzeltal inhabitants. But soon, they will also have to share it with Mexico's national guard.
The national guard has built 165 barracks in Mexico since it was created only two years ago by President Andrés Manuel López Obrador to replace the federal police, which he said was corrupt. Micaela's community is leading the first lawsuit against one of 500 or so barracks planned across the country.
"In August 2020 we heard rumours that a plot of land was sold, and that the municipal president donated the land to the national guard," Micaela says. "They worked night and day to finish the barracks. It went up very quickly."
According to the land's shareholders, neither the local government nor the national guard consulted the community.
Mexico is legally bound to the International Labour Organization's convention 169, which recognises the right of indigenous peoples to prior consultation regarding any activity affecting their lives or lands.
With no federal mechanism to regulate this process, indigenous consultations are designed by state authorities, an ambiguous exercise that often undervalues indigenous land rights. In San Sebastián Bachajón, community leaders say a consultation was held only for a select group of shareholders.
"The community never agreed to the barracks," says Micaela. "We don't want the national guard here because this is our territory."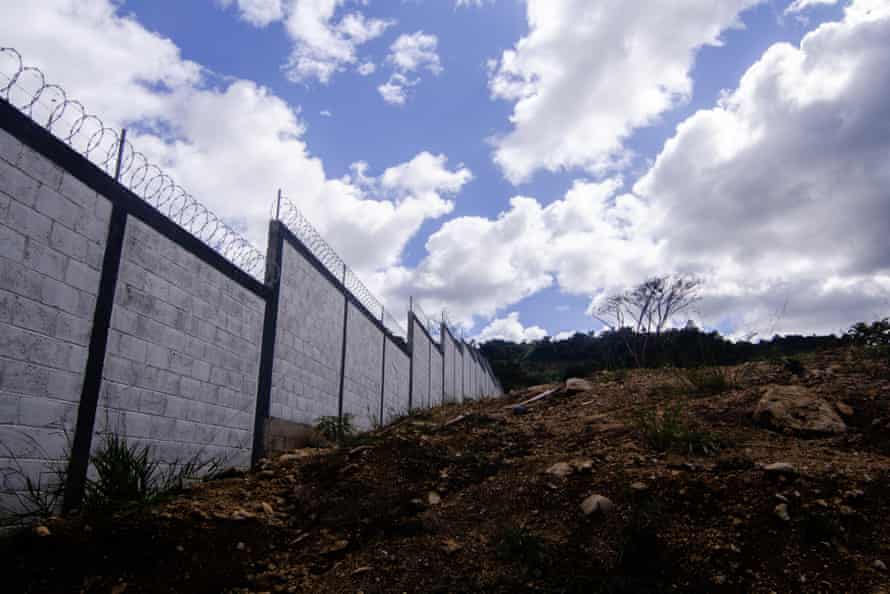 Constitutionally recognised as a civilian force under civilian leadership when it was created in 2019, the guard has been criticised since then for its similarity to the country's armed forces. A recent proposal by López Obrador to make the guard a permanent part of the army has only fuelled these concerns. The widespread construction of barracks is part of an important debate about whether the deployment of the national guard confirms what critics see as the de facto militarisation of Mexico.
Ivette Galván, a lawyer with the Miguel Agustín Pro Juárez Human Rights Center (Centro Prodh), says: "This is the first [injunction] presented by an indigenous community against these barracks on the infringement of their collective rights." The injunction to suspend construction of the barracks, represented by Centro Prodh, was presented last December in the capital of Chiapas state, Tuxtla Gutiérrez.
According to lawyers acting for the community, the judiciary rejected the move to halt construction, arguing that the barracks were ordered by the defence ministry (Sedena). "The legal basis for its denial effectively argues that the barracks respond to the needs of national security," says Galván, "affirming the scale of the guard's coordination with the military."
In 2021, the national guard deployed about 100,000 troops, of whom 60,000 were previously under the defence ministry. Responsible for public security, the guard also oversees immigration and combating organised crime but also reforesting the country, a far-reaching deployment seen by some as confusing.
Cata Hernández, representative in Chiapas for the National Coordinating Committee of Indigenous Women (Conami), says they are still unsure about what the implications will be of the national guard's presence in their community, but adds: "What we know is that in the past, the deployment of the military has had a negative impact, particularly for women and girls."
After resisting the presence of military forces for decades, Chiapas is littered with the remains of former police and military bases. After the Zapatista uprising in 1994, the San Andrés Accords demanded self-determination, access to justice and autonomy for Chiapas's indigenous groups, requests that remain unfulfilled. The rape of three Tzeltal women at a military checkpoint in 1994 has gone unpunished.
"When they [soldiers] were here years ago, they impregnated women, abandoned children, entered our meeting space without permission, and cut down our trees. We are fearful," Micaela says.
San Sebastián Bachajón was moved to take legal action against the barracks in October 2020 when, during a peaceful protest, three civilians were arbitrarily detained and at least 13 were wounded by state and municipal police.
Victórico Galvéz, of the Fray Bartolomé de las Casas Human Rights Center, said the national guard's failure to intervene was negligent. Galvéz said the police charging two indigenous protesters with rioting was "a way of telling the communities not to act, threatening that the same will happen to them".
Juan Jiménez García, a community spokesman, says there is no need for the national guard to be in his community. "The landowners go to their cornfields, their coffee fields, why do they want to keep watch on us?" he asks.
For the Tzeltal inhabitants of Chiapas, the barracks also raise concerns about their sovereignty in the face of development. At stake in the region are at least 40 infrastructure projects, including the Mayan Train, a controversial plan for a 1,000-mile (1,600km) railway connecting Palenque in Chiapas with other tourist sites in the Yucatán peninsula, and a 400-mile highway connecting Pijijiapan with Palenque. The community in San Sebastián Bachajón is opposed to the highway project.
"One of the greatest threats of militarisation is the repression of social movements and protest, especially for a region with a long history of organisation," says Gustavo Castro, founder of the local organisation Otros Mundos Chiapas. The human rights defender also pointed to the experiences of activists in Nicaragua and Honduras, where the security forces, as well as criminal gangs and paramilitaries, have violently silenced environmentalists to protect foreign investment.
"We already know, with any small problem the government sends thousands of guards, and we can't do anything because there are more soldiers than shareholders," says Micaela. "Whatever happens, we won't be able to defend our land."
Mexico's lower chamber of congress recently approved a new federal bill on consulting indigenous and African-Mexican peoples. The bill, however, withholds the right to consultation on matters of national security. "Bringing these concepts closer to the Tzeltal worldview is a pending obligation," says Galván.
* Her name has been changed to protect her identity
Belgium goes into three-week 'lockdown light'
Belgium is to go into a three-week 'lockdown light', following a meeting of federal and regional governments on Friday (26 November).
"We have to admit that we have been ambushed by the virus and that the situation is much more serious than we saw a few weeks ago", Belgian prime minister Alexander De Croo told a lunchtime press conference.
De Croo added that "the pressure on our hospitals is seriously increasing and that the situation is not tenable. We have to action now."
The Belgian concertation committee of federal and regional governments decided that social life will be restricted in a variety of ways for the next three weeks.
Nightclubs will be closed, and indoor concerts where people are not seated will be cancelled. This measure will go into effect on Monday (29 November).
Bars, restaurants and night-shops will need to close their doors at 11PM. The number of people on one table in restaurants will be restricted to six, except for families larger than six. These measures will go into effect on Saturday (27 November).
Private parties will be forbidden, with an exception for weddings and funerals. However, it is still allowed to have guests at home.
At work and school, on the other hand, there are no upgraded restrictions. The last committee decided that teleworking is mandatory four days a week, and that people can only go to the office one day a week.
Schools will remain open, as will universities.
De Croo reiterated that these "measures will only makes sense if everyone follows them."
The committee decided to accelerate the vaccination campaign. Regional governments will organise test centres where people can get tested for free.
The committee decided to meet urgently after hospitals and doctors said they could no longer handle the situation. From 16 to 22 November, on average 16,100 people tested positive for Covid daily. On 22 November that number was already 25,365 .
Currently, 669 intensive-care beds are filled with Covid patients, well over the emergency threshold of 500, and in the worst-case scenario, 1,250 intensive-care beds, a maximum capacity, would be filled by Christmas.
Belgium has not been able to organise roll-out of the booster jab in time to prevent the fourth wave. De Croo announced that on Saturday (27 November) a plan will be made to accelerate the booster jab for every adult.
Before the Belgian governments met, European Commission president Ursula von der Leyen announced the bloc will take the initiative to block all air travels from Southern Africa, where a new variant of Covid-19 has been found.
Interpol's president: alleged torturer rises as symbol of UAE soft power | Global development
Maj Gen Ahmed Nasser al-Raisi's ascent through the ranks of the interior ministry in Abu Dhabi is associated with the United Arab Emirates' transformation into a hi-tech surveillance state.
His personal achievements include a diploma in police management from the University of Cambridge, a doctorate in policing, security and community safety from London Metropolitan University and a medal of honour from Italy.
Now, in a big soft-power win for the UAE and its attempt to legitimise its policing methods internationally, he has been elected the president of the global policing organisation Interpol – to the dismay of human rights defenders.
Often photographed smiling, Raisi is the longstanding inspector general for the interior ministry, responsible for the supervision of detention centres and policing. Multiple former detainees accuse him of using this position to green-light abuses, including torture.
"Raisi's rise to the Interpol presidency legitimises the role and conduct of security forces in the UAE," said Matthew Hedges, a British academic and expert on the Emirates who was detained there for seven months on espionage charges. Hedges, who was eventually pardoned, says Raisi was responsible for his arrest and also oversaw the torture he says he suffered in detention.
"This translates to a green light for states to continue acting in a way that abuses accountability and human rights, legitimises the dilution of rule of law and emboldens authoritative and abusive systems of detention," Hedges said. "This is really a warning to the international community that cross-border abuses can and will occur."
The Gulf state has previously said Hedges was not subjected to any physical or psychological mistreatment during his detention. On Thursday its interior ministry heralded Raisi's win as "recognition of the vital role of the UAE all over the world".
"The UAE," it said, "is now at the helm of this international organisation working in the fields of security and policing and will do its best to make the world a safer place."
In an unusually public campaign for the role, Raisi boasted of technological transformations that overhauled policing and surveillance in the UAE. These included the introduction of iris and facial scanning technology, and the creation of the interior ministry's first "general directorate of happiness".
His domestic policing changes underpin Abu Dhabi and Dubai's status as two of the world's most surveilled cities. One system, called Falcon Eye, deploys thousands of cameras to monitor not just traffic violations but also "behavioural issues like public hygiene and incidents like people gathering in areas where they are not allowed to", according to a report by the state news agency WAM.
The rise in surveillance has been accompanied by a crackdown on domestic criticism and dissent. Human Rights Watch has said: "The government's pervasive domestic surveillance has led to extensive self-censorship by UAE residents and UAE-based institutions; and stonewalling, censorship, and possible surveillance of the news media by the government."
Abdullah Alaoudh, from the Washington DC organisation Democracy for the Arab World Now, said the UAE had been applying a two-pronged approach epitomised by Raisi's Interpol win: "Cracking down hard on every voice of dissent, while investing in public relations like lobbying, soft power, sports and entertainment."
Christopher M Davidson, the author of a book on statecraft in the Middle East, described Raisi as an example of "high-performing technocratic members of UAE political society" who had found success under Crown Prince Mohammed bin Zayed Al Nahyan.
"The key to the regime of Mohammed bin Zayed has been to get things done, to stamp out corruption. Despite all criticisms levelled at the UAE and Abu Dhabi today, it is a far less corrupt place than it was 15 years ago. These were the people entrusted to clean up ministries," said Davidson.
Stamping out corruption has, at times, included arresting the wealthy and critics. Khadem al-Qubaisi, a former adviser to the royal family and a businessman who said he was "scapegoated" by the Abu Dhabi authorities for embezzling millions, is detained in Al Wathba prison. The prison, overseen by Raisi, also holds the human rights defender Ahmed Mansoor.
Riyaadh Ebrahim, who spent more than a year in the prison, said he witnessed torture there. "There is wrongful imprisonment, no application of the rule of law. People are being persecuted for crimes they did not commit," Ebrahim said. He said he was "totally appalled" by Raisi's victory in the Interpol election race.
Davidson said the UAE was using its wealth and resources to buy reputational shortcuts on the international stage.
"Policing in the UAE still has its problems, but this is a way of saying to the world that [they] are credible and respectable," he said. "Obtaining the presidency of Interpol symbolises moving in the right direction."
Jalel Harchaoui from the Geneva-based organisation the Global Initiative Against Transnational Organized Crime said Raisi's election highlighted the struggle between liberal and illiberal nations within international institutions such as Interpol, and was a victory for anti-democratic countries.
"On the surface, Abu Dhabi – thanks to excellent soft-power outreach – markets itself as a modern state, which happens to be a dependable friend to all the major western democracies," he said. "In reality however, the Emiratis, whose governance style has been partly inspired by China's strict form of authoritarianism, always campaign against liberalism and its key principles."
A spokesperson for the UAE embassy in London did not respond to a request for comment.
France reminds Poland on law in Paris meeting
French president Emmanuel Macron urged Polish president Mateusz Morawiecki to solve a rule-of-law dispute with the EU, while voicing solidarity on the Belarus migration crisis, in a meeting in Paris on Wednesday. Poland should "find a solution that safeguards the core values of the European Union", Macron's office said. Russian president Vladimir Putin told EU Council president Charles Michel by phone extra EU sanctions on Belarus would be "counterproductive".