Was Hitler's Invasion of Russia Defensive, to Foil an Attack by Stalin?
The author is the founder and editor of the Unz Review, a conservative American political website, and a one-time candidate for the governor of California.
---
For many years I maintained far too many magazine subscriptions, more periodicals than I could possibly read or even skim, so most weeks they went straight into storage, with scarcely more than a glance at the cover. But every now and then, I might casually browse one of them, curious about what I had usually been missing.
Thus, in the summer of 2010, I happened to leaf through an issue of Chronicles, the small-circulation flagship organ of the marginalized paleoconservative movement, and soon began reading a blandly-titled book review. But the piece so astonished me that it immediately justified all the many years of subscription payments I had sent to that magazine.
The reviewer was Andrei Navrozov, a Soviet emigre long resident in Britain, and he opened by quoting a passage from a previous 1990 book review, published almost exactly twenty years before:
[Suvorov] is arguing with every book, every article, every film, every NATO directive, every Downing Street assumption, every Pentagon clerk, every academic, every Communist and anti-Communist, every neoconservative intellectual, every Soviet song, poem, novel and piece of music ever heard, written, made, sung, issued, produced, or born during the last 50 years. For this reason, Icebreaker is the most original work of history it has been my privilege to read.
He himself had written that earlier book review, which ran in the prestigious Times Literary Supplement following the original English publication of Icebreaker, and his description was not overblown. The work sought to overturn the settled history of World War II.
Icebreaker's author, writing under the pen-name Viktor Suvorov, was a veteran Soviet military intelligence officer who had defected to the West in 1978 and subsequently published a number of well-regarded books on the Soviet military and intelligence services. But here he advanced a far more radical thesis.
The "Suvorov Hypothesis" claimed that during the summer of 1941 Stalin was on the very verge of mounting a massive invasion and conquest of Europe, while Hitler's sudden attack on June 22nd of that year was intended to forestall that looming blow. Moreover, the author also argued that Stalin's planned attack constituted merely the final act in a much longer geopolitical strategy that he had been developing since at least the early 1930s.
Following the Bolshevik Revolution, the new Soviet regime had been viewed with extreme suspicion and hostility by other European countries, most of which also regarded their own domestic Communist Parties as likely fifth columns. So to fulfill Lenin's dream and carry the revolution to Germany and the rest of Europe, Stalin somehow needed to split the Europeans, and break their common line of resistance. He allegedly viewed Hitler's rise as exactly such a potential "icebreaker," an opportunity to unleash another bloody European war and exhaust all sides, while the Soviet Union remained aloof and bided its strength, waiting for the right moment to sweep in and conquer the entire continent.
To this end, Stalin had directed his powerful German Communist Party to take political actions ensuring that Hitler came to power and then later lured the German dictator into signing the Molotov-Ribbentrop Pact to divide Poland. This led Britain and France to declare war on Germany, while also eliminating the Polish buffer state, thereby placing Soviet armies directly on the German border. And from the very moment he signed that long-term peace agreement with Hitler, he abandoned all his defensive preparations, and instead embarked upon an enormous military build-up of the purely offensive forces he intended to use for European conquest. Thus according to Suvorov, Stalin ranks as "the chief culprit" behind the outbreak of World War II in Europe, and the updated English edition of his book bears that exact title.
To my great surprise I discovered that Suvorov's remarkable theories had gained enormous worldwide prominence since 1990, and had been widely discussed almost everywhere except in America and the other English-speaking countries. As Navrozov explained:
[The English edition of the] book sold 800 copies.

Some months later, a German edition of the book, under the title Der Eisbrecher: Hitler in Stalins Kaulkul, was published in Germany by a smallish house, Klett-Cotta, to timid and gingerly reviews. It sold 8,000 copies. In 1992, Suvorov's manuscript was delivered to a maverick publisher in Moscow, and at last the book saw the light of day in the original Russian, quickly selling out its first print run of 100,000 copies. In the years that followed, over five million copies have been sold, making Suvorov the most-read military historian in history.

And yet, in the nearly 20 years that have elapsed between Icebreaker's launch in England and the present publication of The Chief Culprit, no British, American, Canadian, or Australian publisher saw fit to exploit potentially global interest in the drifting Icebreaker—or to so much as touch Suvorov with a barge pole—despite the fact that the almost unobtainable $20 copies of the long-out-of print Hamish Hamilton edition have been changing hands on the internet for upward of $500.
Since 1990, Suvorov's works have been translated into at least 18 languages and an international storm of scholarly controversy has swirled around the Suvorov Hypothesis in Russia, Germany, Israel, and elsewhere. Numerous other authors have published books in support or more often strong opposition, and even international academic conferences have been held to debate the theory. But our own English-language media has almost entirely blacklisted and ignored this ongoing international debate, to such an extent that the name of the most widely-read military historian who ever lived had remained totally unknown to me.
Finally in 2008, the prestigious Naval Academy Press of Annapolis decided to break this 18 year intellectual embargo and published an updated English edition of Suvorov's work. But once again, our media outlets almost entirely averted their eyes, and only a single review appeared in an obscure ideological publication, where I chanced to encounter it. This conclusively demonstrates that throughout most of the twentieth century a united front of English-language publishers and media organs could easily maintain a boycott of any important topic, ensuring that almost no one in America or the rest of the Anglosphere would ever hear of it. Only with the recent rise of the Internet has this disheartening situation begun to change.
Determining Stalin's true motives and the basis of his foreign policy during the 1930s is hardly easy, and his statements and actions are subject to multiple interpretations. Therefore, the theory that the dictator spent all those years deftly preparing the outbreak of World War II appears quite speculative to me. But the other central claim of the Suvorov Hypothesis—that the Soviets were themselves on the verge of attacking when the Germans struck—is an extremely factual question, which can be evaluated based on hard evidence. I find the case quite compelling, at least if the facts and details that Suvorov cites in support are not totally spurious, which seems unlikely with the Naval Academy Press as his publisher.
The Eastern Front was the decisive theater of World War II, involving military forces vastly larger than those deployed in the West or the Pacific, and the standard narrative always emphasizes the ineptitude and weakness of the Soviets. On June 22, 1941, Hitler launched Operation Barbarossa, a sudden, massive surprise attack on the USSR, which caught the Red Army completely unaware. Stalin has been regularly ridiculed for his total lack of preparedness, with Hitler often described as the only man the paranoid dictator had ever fully trusted. Although the defending Soviet forces were enormous in size, they were poorly led, with their officer corps still not recovered from the crippling purges of the late 1930s, and their obsolete equipment and poor tactics were absolutely no match for the modern panzer divisions of Germany's hitherto undefeated Wehrmacht. The Russians initially suffered gigantic losses, and only the onset of winter and the vast spaces of their territory saved them from a quick defeat. After this, the war seesawed back-and-forth for four more years, until superior numbers and improved tactics finally carried the Soviets to the streets of a destroyed Berlin in 1945.
Such is the traditional understanding of the titanic Russo-German struggle that we see endlessly echoed in every newspaper, book, television documentary, and film around us. But even a cursory examination of the initial situation has always revealed strange anomalies.
Many years ago, while in Junior High, I became an avid war-gamer with a strong interest in military history, and the Eastern Front of World War II was certainly a very popular topic. But every reconstruction of Operation Barbarossa always noted that the Germans owed much of their great initial success to the very odd deployment of the huge Soviet forces, which were all massed along the border in vulnerable formations almost as if preparing for an attack, and some writers casually suggested that this might have indeed been the case. But the sheer volume of supporting evidence amassed by Suvorov goes far beyond this sort of idle speculation, and he produces a historical picture radically different than what our standard accounts have always implied.
First, although there was been a widespread belief in the superiority of Germany's military technology, its tanks and its planes, this is almost entirely mythological. In actual fact, Soviet tanks were far superior in main armament, armor, and maneuverability to their German counterparts, so much so that the overwhelming majority of panzers were almost obsolescent by comparison. And the Soviet superiority in numbers was even more extreme, with Stalin deploying several times more tanks than the combined total of those held by Germany and every other nation in the world: 27,000 against just 4,000 in Hitler's forces. Even during peacetime, a single Soviet factory in Kharkov produced more tanks in every six month period than the entire Third Reich had built prior to 1940. The Soviets held a similar superiority, though somewhat less extreme, in their ground-attack bombers. The totally closed nature of the USSR meant that vast military forces remained entirely hidden from outside observers.
There is also little evidence that the quality of Soviet officers or military doctrine fell short. Indeed, we often forget that history's first successful example of a "blitzkrieg" in modern warfare was the crushing August 1939 defeat that Stalin inflicted upon the Japanese 6th Army in Outer Mongolia, relying upon a massive surprise attack of tanks, bombers, and mobile infantry. And Stalin apparently thought so highly of many of his top military strategists in 1941, that despite his huge initial losses, many of them remained in command and were eventually promoted to the highest ranks of the Soviet military establishment by the end of the war.
Certainly, many aspects of the Soviet military machine were primitive, but exactly the same was true of their Nazi opponents. Perhaps the most surprising detail about the technology of the invading Wehrmacht in 1941 was that its transportation system was still almost entirely pre-modern, relying upon wagons and carts drawn by 750,000 horses to maintain the vital flow of ammunition and replacements to its advancing armies.
Meanwhile, major categories of Soviet weapons systems seem almost impossible to explain except as important elements of Stalin's offensive plans. Although the bulk of the Soviet armored forces were medium tanks like the T-28 and T-34, generally far superior to their German counterparts, the USSR had also pioneered the development of several lines of highly specialized tanks, most of which had no counterpart elsewhere in the world.
(*) The Soviets had produced a remarkable line of light BT tanks, easily able to shed their tracks and continue on wheels, achieving a top speed of 60 miles per hour, two or three times faster than any other comparable armored vehicle, and ideally suited to exploitation drives deep into enemy territory. However, such wheeled operation was only effective on paved highways, of which Soviet territory had none, hence were ideally suited for travel on Germany's large network of autobahns. In 1941 Stalin deployed almost 6,500 of these autobahn-oriented tanks, more than the rest of the world's tanks combined.
(*) For centuries, Continental conquerors from Napoleon to Hitler had been stymied by the barrier of the English Channel, but Stalin was far better prepared. Although Stalin's vast USSR was entirely a land-power, he pioneered the world's only series of fully amphibious light tanks, able to successfully cross large rivers, lakes, and even that notoriously wide moat last successfully traversed by William the Conqueror in 1066. By 1941, the Soviets deployed 4,000 of these amphibious tanks, far more than 3,350 German tanks of all types used in the attack. But being useless in defense, they were all ordered abandoned or destroyed.
(*) The Soviets also fielded many thousands of heavy tanks, intended to engage and defeat enemy armor, while the Germans had none at all. In direct combat, a Soviet KV-1 or KV-2 could easily destroy four or five of the best German tanks, while remaining almost invulnerable to enemy shells. Suvorov recounts the example of a KV which took 43 direct hits before finally becoming incapacitated, surrounded by the hulks of the ten German tanks it had first managed to destroy.
Other evidence of the scale and intent of Stalin's armies in the summer of 1941 are equally telling:
(*) During the early years of World War II, the Germans effectively utilized paratroops and air-mobile forces to seize key enemy targets far behind the front lines during a major offensive, and this was an important component of their victories against France in 1940 and Greece in 1941. Such units are necessarily lightly armed and no match for regular infantry in a defensive battle; hence their only role is an offensive one. Germany entered the war with 4,000 paratroops, a far larger force than anything found in Britain, France, America, Italy, or Japan. However, the Soviets had at least 1,000,000 trained paratroopers, and Suvorov believes that the true total was actually closer to 2,000,000.
(*) Sometimes the production decisions of major weapon systems provide strong hints of the broader strategy behind their development. The most widely produced military aircraft in history was the heavily armored IL-2, a powerful Soviet ground-attack bomber that was originally designed as a two-man system, with the rear gunner able to effectively defend the plane against enemy fighters during its missions. However, Stalin personally ordered the design changed to eliminate the second man and defensive armament, which left the bomber extremely vulnerable to enemy aircraft once the war broke out. Stalin and his war-planners had seemingly banked on possessing near-total air supremacy during the entire course of any conflict, an assumption plausible only if the German luftwaffe were destroyed on the ground by a surprise attack on the very first day.
(*) There is considerable evidence that in the weeks prior to the German surprise attack, Stalin had ordered the release of many hundreds of thousands of Gulag prisoners, who were issued basic weapons and organized into NKVD-led divisions and corps, constituting a substantial part of the Second Strategic Echelon located hundreds of miles from the German border. These units may have been intended to serve as occupation troops, allowing the much more powerful front-line forces to press onward and complete the conquests of France, Italy, the Balkans, and Spain. Otherwise, I can find no other plausible explanation for Stalin's action.
(*) The planned invasion and occupation of a large country whose population speaks a different language requires considerable logistical preparation. As an example, prior to their attack the notoriously methodical Germans printed and distributed to their troops large numbers of German-Russian basic phrasebooks, allowing effective communication with the local Slavic villagers and townsmen. Ironically enough, at around the same time, the USSR seems to have produced very similar Russian-German phrasebooks, allowing conquering Soviet troops to easily make themselves understood to German civilians. Many millions of these phrasebooks had been distributed to Soviet forces on the German border during the early months of 1941.
Suvorov's reconstruction of the weeks directly preceding the outbreak of combat is a fascinating one, emphasizing the mirror-image actions taken by both the Soviet and German armies. Each side moved its best striking units, airfields, and ammunition dumps close to the border, ideal for an attack but very vulnerable in defense. Each side carefully deactivated any residual minefields and ripped out any barbed wire obstacles, lest these hinder the forthcoming attack. Each side did its best to camouflage their preparations, talking loudly about peace while preparing for imminent war. The Soviet deployment had begun much earlier, but since their forces were so much larger and had far greater distances to cross, they were not yet quite ready for their attack when the Germans struck, and thereby shattered Stalin's planned conquest of Europe.
All of the above examples of Soviet weapons systems or strategic decisions seem very difficult to explain under the conventional defensive narrative, but make perfect sense if Stalin's orientation from 1939 onward had always been an offensive one, and he had decided that summer 1941 was the time to strike and enlarge his Soviet Union to include all the European states, just as Lenin had originally intended. And Suvorov provides many dozens of additional examples, building brick by brick a very compelling case for this theory.
The book is not overly long, running perhaps 150,000 words, and $20 plus a few mouse clicks on Amazon will provide you a copy to read and judge for yourself. But for those who desire a simple summary, Suvorov's 2009 lecture at the Eurasia Forum of the Annapolis Naval Academy is conveniently available on YouTube, though slightly hindered by his weak English:
https://www.youtube.com/watch?v=SbBnRZoTHFs
And also his C-SPAN Book TV lectures at the Woodrow Wilson Center:
Controversial theories, even if backed by seemingly strong evidence, can hardly be properly evaluated until they have been weighed against the counter-arguments of their strongest critics, and this should certainly be the case with the Suvorov Hypothesis. But although the last three decades have seen the development of a large secondary literature, much of it sharply critical, nearly all this international debate has taken place in Russian, German, or Hebrew, languages that I do not read.
There are some exceptions. Several years ago, I came across a website debate on the topic, and one strong critic claimed that Suvorov's theories had been totally debunked by American military historian David M. Glantz in Stumbling Colossus, published in 1998. But when I ordered and read the book I was sorely disappointed. Although purporting to refute Suvorov, the author seemed to ignore almost all of his central arguments, and merely provided a rather dull and pedantic recapitulation of the standard narrative I had previously seen hundreds of times, laced with a few rhetorical excesses denouncing the unique vileness of the Nazi regime. Most ironically, Glantz emphasizes that although Suvorov's analysis of the titanic Russo-German military struggle had gained great attention and considerable support among both Russian and German scholars, it had been generally ignored in the Anglo-American world, and he almost seems to imply that it can probably be disregarded for that reason. Perhaps this attitude reflected the cultural arrogance of many American intellectual elites during Russia's disastrous Yeltsin Era of the late 1990s.
A far superior book, generally supportive of Suvorov's framework, was Stalin's War of Annihilation, by prize-winning German military historian Joachim Hoffmann, originally commissioned by the German Armed Forces and published in 1995 with an English revised edition appearing in 2001. The cover carries a notice that the text was cleared by German government censors, and the author's introduction recounts the repeated threats of prosecution he endured from elected officials and the other legal obstacles he faced, while elsewhere he directly addresses himself to the unseen government authorities who he knows are reading over his shoulder. When stepping too far outside the bounds of accepted history carries the serious risk that a book's entire print-run will be burned and the author imprisoned, a reader must necessarily be cautious at evaluating the text since important sections have been skewed or preemptively excised in the interests of self-preservation. Evaluating scholarly debates on historical issues becomes difficult when one sides faces incarceration if their arguments are too bold.
Can we say whether Suvorov is right? Since our information gatekeepers of the English-language world have spent the last three decades closing their eyes and pretending that the Suvorov Hypothesis does not exist, the near-complete absence of any substantial reviews or critiques makes it very difficult for me to come to any definite conclusion. But based on the available evidence, I believe it is far more likely than not that Suvorov's theories are at least substantially correct. And if so, our current understanding of World War II—the central formative event of our modern world—is entirely transformed.
Suvorov notes that treaties or pacts are traditionally named for the city in which they are signed—the Warsaw Pact, the Baghdad Pact, the Munich Agreement—and thus the so-called "Molotov-Ribbentrop Pact" signed in August 23, 1939 by which Hitler and Stalin agreed to the division of Poland should more properly be called "the Moscow Pact." As a direct result of that agreement, Stalin gained half of Poland, the Baltic States, and various other advantages, including a direct border with Germany. Meanwhile, Hitler was punished by declarations of war from France and Britain, amid worldwide condemnation as a military aggressor. Although Germany and Russia both invaded Poland, the latter managed to avoid being dragged into any war with Poland's erstwhile allies. Thus, the primary beneficiary of the Moscow Pact was clearly Moscow.
Given the long years of trench warfare on the Western front during the First World War, almost all outside observers expected the new round of the conflict to follow a very similar static pattern, gradually exhausting all sides, and the world has shocked when Germany's innovative tactics allowed it to achieve a lightening defeat the allied armies in France during 1940. But at that point, Hitler regarded the war as essentially over, and was confident that the extremely generous peace terms he immediately offered the British would soon lead to a final settlement. As a consequence, he returned Germany to a regular peacetime economy, choosing butter over guns in order to maintain his high domestic popularity
Stalin, however, was under no such political constraints, and from the moment he had signed his long-term peace agreement with Hitler in 1939 and divided Poland, he ramped up his total-war economy to an even higher notch. Embarking upon an unprecedented military buildup, he focused his production almost entirely upon purely offensive weapons systems, while even discontinuing those armaments better suited for defense and dismantling his defensive lines of fortifications. By 1941, his production cycle was complete, and he made his plans accordingly.
And so, just as in our traditional narrative, we see that in the weeks and months leading up to Barbarossa, the most powerful offensive military force in the history of the world was quietly assembled in secret along the German-Russian border, preparing for the order that would unleash their surprise attack. The enemy's unprepared air force was to be destroyed on the ground in the first days of the battle, and enormous tank columns would begin deep penetration thrusts, surrounding and trapping the opposing forces, achieving a classic blitzkrieg victory, and ensuring the rapid occupation of vast territories. But the forces preparing this unprecedented war of conquest were Stalin's, and his military juggernaut would surely have seized all of Europe, probably soon followed by the remainder of the Eurasian landmass.
Then at almost the last moment, Hitler suddenly realized the strategic trap into which he had fallen, and ordered his heavily outnumbered and outgunned troops into a desperate surprise attack of their own on the assembling Soviets, fortuitously catching them at the very point at which their own final preparations for sudden attack had left them most vulnerable, and thereby snatching a major initial victory from the jaws of certain defeat. Huge stockpiles of Soviet ammunition and weaponry had been positioned close to the border to supply the army of invasion into Germany, and these quickly fell into German hands, providing an important addition to their own woefully inadequate resources.
The enormous and fully-militarized resources of the Soviet state, supplemented by the contributions of Britain and America, did eventually turn the tide of battle and lead to a Soviet victory, but Stalin ended up with only half of Europe rather than its entirety.
Suvorov argues that the fatal weakness of the Soviet system was its total inability to compete with non-Sovietized states in the peacetime production of civilian goods, and because such states had still survived after the war, the Soviet Union was doomed to eventual collapse.
Navrozov, the Chronicles reviewer, is a Russian Slav and therefore hardly favorable to the German dictator. But he closes his review with a remarkable statement:
Therefore, if any of us is free to write, publish, and read this today, it follows that in some not inconsequential part our gratitude for this must go to Hitler. And if someone wants to arrest me for saying what I have just said, I make no secret of where I live.
Time is running out for Holocaust survivors | Society
Shimon Redlich, an 87-year-old Holocaust survivor and author of the book Together and Apart in Brzezany, said: "As long as the survivors are alive and can remember, their testimonies must be recorded. Every story is unique."
Edith Bruck is a 90-year-old Auschwitz survivor. Hungarian-born, she writes in Italian, and is the author of classics such as Who Loves You Like This? In a recent interview, she said: "Our lives do not belong to us. They belong to history."
The survivors of the Shoah have allowed us to look into the abyss of the incomprehensible. They have brought generations of readers closer to an experience that can be transmitted, but not shared. However, as the years go by, the era of the witnesses is coming to an end. With their passing, something irreplaceable will disappear.
Boris Pahor passed away last May at the age of 108. A Slovenian born in Trieste, Italy, Pahor was deported as an anti-fascist resistance fighter during World War II. He is the author of one of the most prominent books on the Nazi camps, Necropolis. "My every word [was] driven by the fear of slipping into banality," he writes.
The fear of banality and the impossibility of transmitting what was suffered has been a constant in Holocaust literature since the publication of the first great literary testimony of the camps, If This Is a Man by Primo Levi.
Another fear that many witnesses have conveyed is the empty space they will leave behind when the last of them disappears… the incommunicable experience they will take with them.
In an interview with EL PAÍS in 2000, the now-deceased Buchenwald survivor, Spanish writer and politician Jorge Semprún, reflected on the disappearance of those who witnessed the Holocaust: "Do you know what is the most important thing that happened in a concentration camp? Do you know the most terrible thing, the only thing that cannot be explained? The smell of burning meat. What do you do with the memory of the smell of burning meat? For those circumstances, there is, precisely, literature. But how do you talk about it? Do you compare? And what about the obscenity of the comparison? Do you say, for example, that it smells like burnt chicken? Or do you try to reconstruct the general circumstances of the memory, going around the smell, round and round, without facing it? I have inside my head, alive, the most important smell of a concentration camp. And I can't explain it. And that smell is going to go away with me, as it has already gone with others."
"We have been talking about the end of the survivors for almost three decades," says Alejandro Baer, professor of sociology and director of the Center for Holocaust and Genocide Studies at the University of Minnesota. "That concern has spurred memory in the form of the creation of archives of oral and audiovisual history of survivors, documentaries, even virtual reality projects. But whoever has had the opportunity to meet the witnesses knows that nothing will make up for their absence. Because it is not just about the information they provide, but about the nature of the encounter and the transformation it produces: becoming a witness of the witness. If we look for something that approaches that experience, we will not find it in technology, but in testimonial literature."
If This Is a Man was published in 1947. Levi himself explained that the publisher went bankrupt and that the book remained forgotten for more than a decade: the first printing of 2,500 copies went unnoticed. Society was not yet ready to read about those horrors, not only because the stories about the extermination confront us with the idea that anyone can be a victim, but because they force us to consider that we too could have been executioners. That same year, 75 years ago, The Diary of Anne Frank was published in the Netherlands under the title The secret annex. Its translation was rejected by various American publishers until Judith Jones of Knopf insisted on publishing it. The diary became an international success in the 1950s.
In the Federal Republic of Germany, Auschwitz did not become a household name for most of the population until the late-1970s, when the series Holocaust was released. That five-episode telefilm sparked a heated debate between those who saw it as a product of popular culture that trivialized the Holocaust by turning it into a family melodrama, and those who thought it did more than any eyewitness account to make Germans stand up to their dark past.
"It is an insult to those who survived. What appears on the screen has nothing to do with what happened," wrote Nobel Peace Prize winner and Auschwitz survivor Elie Wiesel, the author of Night. However, a survey published after its broadcast revealed that 70% of German young people between the ages of 14 and 19 said that they had learned more about Nazism from the series than at school.
This debate revealed another dimension to the horror of the camps: Is it legitimate to put yourself in the shoes of someone who has suffered something that cannot be explained? Is it possible to use the Holocaust to write fiction?
John Hersey wrote the first American Holocaust novel, The wall, between the 1940s and 1950s. It took place in the Warsaw ghetto; Hersey had met with survivors and visited the ruins of the Polish capital. However, his biographer, Jeremy Treglown, wrote that Hersey was faced with similar questions about authenticity: "Who owns the narrative? Can a young privileged white Anglo-Saxon from New England put himself in the shoes of the suffering of European Jewry under Nazism?"
Since the success of The boy in the striped pajamas, this debate has only grown. Novels with "Auschwitz" in the title have multiplied. The latest one is titled The dressmakers of Auschwitz. Some, such as The librarian of Auschwitz, by Antonio Iturbe, have sold hundreds of thousands of copies and received critical praise. Others, like The tattooist of Auschwitz, have been scrutinized by experts. The Auschwitz Memorial made a resounding statement about this best-seller by Heather Morris: "Because of the number of factual errors, it cannot be recommended as a valuable work for those who wish to understand the history of the camps."
"This popular literature, which is so successful, simplifies the history and reality that is so difficult for us to understand," says Yessica San Román, director of the Education and Holocaust department at Madrid's Centro Sefarad-Israel. "The result is a trivialization of the facts. What should concern us when we read books like these about the Holocaust is that they resort too much to stereotypes, both for the Jews and for the perpetrators. The perpetrators were not all monsters or psychopaths. They were much more normal than we like to admit. The Holocaust was committed by men and women."
"I haven't read The Tattooist of Auschwitz," explains Shimon Redlich. "I don't like kitsch books about the Holocaust. However, I believe that films like Claude Lanzmann's Shoah or Steven Spielberg's Schindler's List have had a significant effect on the dissemination and understanding of the Holocaust." Asked by email about the books he considers essential, the survivor and author cites four: the works of historian and survivor Saul Friedländer, The years of persecution (1933 -1939) and The years of the extermination (1939-1945); An interrupted life, the diaries of Etty Hillesum, who was murdered at Auschwitz; and Anatomy of a genocide: the life and death of a town called Buczacz, by Israeli historian Omer Bartov.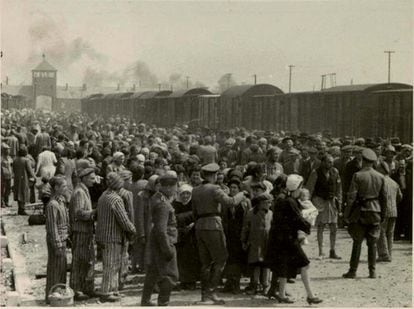 Bartov's book is part of a series of recent essays that are helping to deepen knowledge of the genocide. They mix detective-like investigations with the handling of thousands of documents. In the face of all-encompassing books like Raul Hilberg's The destruction of the European Jews, a new generation of authors is focusing on smaller-scale stories.
"Most of the witnesses have disappeared and the investigators must become indirect witnesses, with the material they handle," Dr. Wendy Lower, Director of the Mgrublian Center for Human Rights in Claremont, California, explains by phone. "We work with the material we have access to… [over] the last decades, we have been compiling documents, testimonies…. such massive archives have been amassed and so many testimonies have been recorded that no historian would be able to listen to them all. When there are no more witnesses, there will be a lot of material to work on: archaeology, forensics, documents, recordings…"
Eyewitness testimonies were not always considered such important material. "In the beginning, when researchers strove to establish the history of the Nazi genocide, they did not always welcome the voices of the survivors," says Dr. Sara R. Horowitz, a professor of literature at York University in Toronto and the author and editor of numerous books on the memory of the Holocaust, including Voicing the void: muteness and memory in Holocaust fiction and Shadows in the city of light. "Historians preferred to rely on documentary evidence and were reluctant to base historical accounts on memory: they saw it as unreliable, fallible, and limited in scope. But relying on documents also has its limitations. In the decades immediately following the war, many survivors expressed frustration that they had not been heard. And the historical record was impoverished by this exclusion."
"More than ever, it will be the power of literature– novels, poems, memoirs– that will preserve and continue to shape the memory of the Holocaust, in the different languages and the memory of each country. Writers like Aharon Appelfeld, Ida Fink, Elie Wiesel, Charlotte Delbo, Jorge Semprún, Sarah Kofman, Imre Kertesz and others," Horowitz notes.
"Literature is essential," advocates Marina Sanfilippo, a professor at Spain's National University of Distance Education. She specializes in female testimonies of the Shoah. "It has never been possible to understand the reason for the Holocaust, as Primo Levi narrated in that famous phrase in which a German guard at Auschwitz blurts out: here there is no why. It is something that only literature can answer."
Sanfilippo maintains that she has studied the literature written by surviving women "because the canon of the Shoah is above all masculine"– Primo Levi, Paul Celan, Kertesz, Elie Wiesel, Victor Klemperer, Viktor Frankl, and so on. She cites authors and works such as Liana Millu's Smoke over Birkenau, Ruth Klüger's Still alive, Charlotte Delbo's None of us will return, or Daniela Padoan's Like a frog in winter.
Padoan's book is a journalistic investigation that collects the testimony of three women – Liliana Segre, Goti Bauer and Giuliana Tedeschi – who survived Auschwitz-Birkenau. "The experience was very different for men and women, because in the camps, people suffered from the body and bodies are different. What did it mean to have your period in the camp? Or to stop having it, or to think that you would never be able to have children? What did it mean to be the subject of medical experiments? The survival strategies were also different," says Sanfilippo.
The survivors' voices are also kept alive through the stories of their relatives. The most famous of these cases remains the comic book Maus, now a classic, in which Art Spiegelman tells the story of his father, an Auschwitz survivor, and at the same time describes the relationship – not always an easy one – between the two. The librarian and author Javier Fernández Aparicio maintained a Holocaust literature reading club in Madrid for eight years with fellow librarian Javier Quevedo Arcos, from which the book The culture of the abyss arose. They assure their readers that no book was as interesting as Maus, perhaps because of its dialogue between the past and the present.
In the house where Primo Levi died in 1987 on a wide avenue in Turin – it will never be known whether he committed suicide or fell down the stairs – no plaque remembers the writer. However, his last name still appears on the intercom, as if he could be called and his voice could emerge from the past to remind us of some of the many lessons contained in his books.
Levi deeply mistrusted charismatic leaders– those who ask us to renounce reason: "Since it is difficult to distinguish true prophets from false, it is as well to regard all prophets with suspicion. It is better to renounce revealed truths, even if they exalt us by their splendor."
The voices of those survivors that are slowly dying out remain essential to understanding what happened… but also to warn us about what may happen.
The Rise and Fall of Victoria's Secret: A dictatorship of perfection and misogyny: a look into Victoria's Secret's angels and demons | Society
For the lingerie brand Victoria's Secret, once the head of an empire, the past decade has been turbulent. Gone are the golden days when the world stood still to watch the brand's annual show. Its carefully chosen models, the so-called angels, represented a beauty standard unattainable to most women, and they paraded the runway in glittering wings and minuscule diamond-cut lingerie.
The shows, which lasted for 23 years, were considered the Super Bowl of fashion. They featured performances by pop singers including Lady Gaga, Bruno Mars, The Weeknd, Taylor Swift and Beyoncé. Until its last edition, held in Paris in 2018, the event represented the fantasy that Victoria's Secret marketed. It launched the careers of models Gisele Bündchen, Adriana Lima, Heidi Klum and Alessandra Ambrossio, among others.
The women showed off almost superhuman physiques, sculpted through rigorous training and starved in the days leading up to the parade. But the brand's image no longer has a place in a #MeToo-era society, now more willing to champion body positive, diversity and inclusivity and to denounce sexual harassment and the hypersexualization of women's bodies.
The new three-part documentary series The Rise and Fall of Victoria's Secret explores the brand's shadows. The production, which premiered on June 18 at the Tribeca Film Festival, combines first-hand accounts with deep investigation to reveal the brand's inner workings. "Truth is not what it seems, as the underworld of fashion, the billionaire class, and Jeffrey Epstein are revealed to all be inextricably intertwined with the fall of this legendary brand," reads the summary of the miniseries, directed by Peter Berg and Matt Tyrnauer. It will be available to stream on Hulu starting July 14.
A culture of misogyny and the descent to hell
The film promises to uncover the lingerie empire's links with sexual predator Jeffrey Epstein. A 2019 New York Times investigation revealed that in the 1990s, a financial adviser close to Leslie H. Wexner, executive director of the company L Brands—Victoria's Secret parent company—worked as a model recruiter for the brand in exchange for sexual favors. This adviser would later be found to be Epstein, a millionaire accused of sex trafficking who later commited suicide in jail while awaiting trial. Subsequently, Wexner has repeatedly claimed to feel "ashamed" by his friendly relationship with the pedophile.
But Victoria's Secret's fall in popularity came before this scandal. In 2018, the company lost almost 50% of its value. That same year, which marked the last parade, the show reached the lowest audience in its history since its start in 1995: 3.3 million viewers compared to the usual 10 million.
That year, the company's marketing director, Ed Razek, made clear his opposition to gender diversity in an interview with Vogue. "Shouldn't you have transsexuals in the show? No, I don't think we should. Well, why not? Because the show is a fantasy. It's a 42-minute entertainment special. That's what it is. It is the only one of its kind in the world," said the 71-year-old manager, who resigned from his position in 2019.
The rampant misogyny and harassment from company higher-ups was the final straw for the brand. In 2021, the New York Times published an extensive investigation entitled "'Angels' in Hell: The Culture of Misogyny Inside Victoria's Secret," in which more than 30 executives, employees, contractors and models denounced the company's practices.
Rebel Angels and a change of direction
The Victoria's Secret bubble ended up bursting with the resignation of several of its most iconic figures: Adriana Lima hung up her wings in 2018, claiming to be fed up with the dictatorship of perfection and the pressures on her physique. "I will not take of [sic] my clothes again for an empty cause," she wrote in an Instagram post.
Gisele Bündchen, who signed her contract with the brand at the age of 19, confessed in her autobiography that after years parading in her underwear, she began to feel uncomfortable. She wrote that she felt "less and less relaxed" when photographed on the catwalk in just a bikini or a thong. In the same book, she wrote of suffering from panic attacks and suicidal thoughts during one of the most successful periods of her career.
Victoria's Secret changed directions in 2020, when L Brands sold the company to the Sycamore Partners fund for just over $1 billion (€953 million), in a last-ditch effort to save the brand.
After Raezk resigned, in a last attempt to save its reputation, the company hired the transgender model Valentina Sampaio. It also included Winnie Harlow, a Canadian model with vitiligo, as an angel, and Lorena Durán became the brand's first plus-size model.
Seeking to adapt to changing social norms, in 2021, the company announced partnerships with influential figures in culture and sports: American soccer player Megan Rapinoe, Indian actress Priyanka Chopra, Chinese skier Eileen Gu and plus-size model Paloma Elsesser. It also announced that it would no longer refer to its models as "angels." With that once-unthinkable gesture, Victoria's Secret finally returned to earth.
Sex education: The creator of CLIMAX: 'Good sex is like cooking, but there aren't recipes for female pleasure on the internet' | Society
Our ways of watching television have changed. No longer do we sit down to see what's on TV, instead subscribing to platforms where we can watch our favorite content. But can that formula translate to content beside series, documentaries and movies? Can it be used to change the way we experience sex education? CLIMAX, a platform of sex education videos, is trying it out.
The platform started as an explicit educational series dedicated to female pleasure. Far from pornography, it was particularly directed towards women and sought to give advice and ideas for greater self-knowledge and sexual enjoyment. But that was just the beginning. As Camille Mariau, CLIMAX's director of projects, explains, they are currently working on "a monthly membership platform dedicated to sexual wellbeing. The users will ahve access to periodic new content, ordered by topic (pleasrue for people with vulvas, for those with penises, tantric sex, oral sex, post-partum sex, etc.). We really want to create the perfect guide to help our users deconstruct their ideas about sexuality." Currently, the platform has partnerships with educational and healthcare institutions, in order to bring education about female sexuality to all parts of society.
Laurène Dorléac is an expert in the technology market and co-creator of CLIMAX. "Not only is female pleasure little understood, but I also realized that taboos around the subject are still very present." That's why, despite her lack of experience in the area, she decided to venture into the topic. "Good sex is like cooking: it's a creative process that requires practice, experimentation and care to have a good flavor. There are plenty of recipes and cooking classes, but we can't find anything satisfactory about female pleasure on the Internet! That's what led me to create the platform, so that we can all have access to better sexual education."
The project brought together international studies, advice from psychologists and sexologists and over 100,000 testimonies. "Pleasure is a very serious thing, and it deserves a very rigorous approach," she says.
CLIMAX comes to Spain
While the project was founded in France, currently, 40 percent of its subscribers are outside of the country, largely in the United States and United Kingdom. The team is optimistic about the Spanish market. "The market seems to be ready for a project like this. More than talking about pleasure, we really want people to have easy access to safe information about sexual education," says Camille Mariau. Since the project launched in Spain just a few months ago, most of its users are between 28 and 45 years old, and, surprisingly, they are divided 50/50 between men and women.
To spread the news about the project, they have the help of Teresa Riott, known for her role as Nerea in the Netflix series Valeria, who narrates the videos. "It seems to me like a new idea in education, and it's very necessary in order to better understand all the possibilities of our pleasure. CLIMAX has also had success in other countries. I've learned a lot about female sexuality in the process," the actress explains.
She emphasizes that "they are videos that you can watch alone, in private, and you can experiment," which "gives people confidence to explore their bodies without concerns."
The platform's content is explicit, but tasteful; obvious, but well-presented. It repeats explanations we have read in plenty of books, but which acquire a new dimension when we can see them on a screen: without drawings, diagrams or taboos, simply showing how to stimulate a vulva. The videos are meant to educate, not to excite, and they have no resemblance to porn. The images are accompanied by Riott's voice, which explains each step in a clear and simple way, adding touches of scientific information. It explains not only how to stimulate the vulva, but also how and why the stimulation works.
We've learned that it's much easier to exercise at home, or even to do home improvement projects, with the help of a Youtube tutorial video that shows us each step. So it makes all the sense in the world that we can use tutorials to learn how to excite our bodies, moving step-by-step over each part of our anatomy.
The platform is also notable for its diversity, not only in the appearances of the vulvas on screen, but also in the techniques proposed. It includes videos of 19 different masturbation techniques. In Spain, female masturbation has experienced a revolution in recent years. The brand Lelo, specialized in clitoral suction toys, increased its sales by 440% in 2019. The Satisfyer toy was even more popular: it registered an increase in sales of 1,300% in 2020, to the point that it had to resort to European countries to restock the toys during one of the busiest months of the year. Those toys finally normalized female masturbation. Vibrators themselves have also experienced their own revolution. Their technology and shapes have become more sophisticated, and they have become more effective and discreet. And Gwyneth Paltrow's website Goop now features Viva la Vulva, an "extra-silent" vibrator model that can be used at any time without making any noise. Such devices are proof that manufacturers have taken pains to innovate their products for female pleasure, until recently a forgotten sector. Gone are the old dildos and penis replicas.
Beyond masturbation, with or without the help of toys, the content of CLIMAX "is like an encyclopedia of ideas that you can choose and use to enrich your sexual life. It can help you be more creative, learn moves that women with vulvas might like, etc. It can also be used as a basis to start a conversation with your partner about what you like, what you want to try or not. We want to give people the opportunity to get to know their own body or the body of their partner better," explains Mariau.
To that end, the first two seasons are entirely scientifically based. To develop the content, 74 international scientific studies, widely referenced and accepted by the scientific community, were consulted. "There is one study that I find special: Shere Hite's 'The New Hite Report,' a bestseller that has sold tens of millions of copies, which describes how women feel during different sexual activities and when they orgasm with greater frequency," Mariau says.
In addition to a surge in vibrator sales, women have been consuming more porn than ever in recent years. According to a study by Pornhub on porn consumption in the pandemic, women increased the amount of porn they consumed by 17.5%. Audio porn, one of the latest developments in the industry, is particularly popular among women. And websites for pornographic content aimed at women, taking into account the tastes and aesthetics that female arousal requires, have proliferated in recent years.
Mission: equality in pleasure
The work of Shere Hite is one of the great sources of inspiration for CLIMAX. The late writer and sexologist was especially interested in the female orgasm. She interviewed some 3,500 American women, from prostitutes to former nuns, to create 'The Hite Report: A Nationwide Study of Female Sexuality' in 1976. Among her conclusions stood out two ideas: first, that few women reached orgasm through intercourse (only 30%), although they did through masturbation. Secondly, the clitoris was the key to climax.
CLIMAX is organized into several themes, which are available in different subscription packs: external pleasure (10 episodes), internal pleasure (11 episodes) and tantra exercises (7 episodes).
"Our mission is to equalize pleasure in a world where women report being less satisfied than men in their sexual activities, feeling less pleasure and having fewer orgasms. Education will make it possible," the expert concludes.