Travel in the EU: From Ryanair boarding passes to TIE residency cards: the latest Brexit updates for Brits in Spain | Trans Iberian | Spain
The coronavirus pandemic has led to widespread travel restrictions between Spain and the United Kingdom, with foreign trips all but banned by the British government until recently and Spanish authorities setting strict limits for entry. The disruption has had a side effect, meanwhile, which is to mask the changes that have also been brought into force thanks to Brexit, the UK's withdrawal from the European Union. In recent weeks, rumors have abounded on social media as to requirements for entry into Spain when traveling from the UK, as well as other aspects of the post-Brexit world. Below you will find a summary of recent advice from Spain, the British government, the UK embassy in Madrid and support groups assisting citizens post-Brexit.
Entering Spain from the UK
Since May 24, Spain has been allowing travelers from the United Kingdom to enter the country without the need to supply a negative test for coronavirus. Also gone are the restrictions that had been in place since Christmas time – when a more-contagious coronavirus variant was detected in England – that limited entry to Spanish nationals, those with residency, and a handful of other exceptions. Despite claims on social media to the contrary, there is currently no need to provide proof of vaccination against Covid-19 when traveling to Spain from the United Kingdom. According to the gov.uk official advice, "travelers from the UK should be prepared to present evidence of a negative test if they have traveled to a country on Spain's list of 'risk countries' in the 14 days prior to travel." The site adds that "in some parts of Spain, a negative test is required when checking into tourist accommodation or when traveling to the islands from mainland Spain." You can find the full information from the gov.uk website about travel from the UK to the EU, Switzerland, Norway, Iceland or Liechtenstein here.
Form filling for travelers
One thing that visitors will still have to do before reaching Spain is complete a health form, which can be found at this address. Spain remains on the UK's "amber list" of countries for now, meaning that people making the opposite journey, from Spain to the UK, will have to take a number of pre-travel steps. These include filling out a passenger locator form, taking a coronavirus test to present at the UK border, as well as booking two home PCR tests, which must be taken during an obligatory 10-day quarantine period once back in the UK. Only when these 10 days have passed and both tests come back negative can quarantine end, although there is an option to shorten the period slightly by paying extra to use the government's "test to release" scheme.
'Carta de invitación'
There has been a lot of speculation recently both on social media and in the press about whether UK visitors to Spain who are coming to stay with friends and family, and do not have tourist accommodation booked, have to complete and pay for a carta de invitación, an official form that specifies who you will be staying with while in Spain. The form includes a range of information, including the personal details of the invitee and the invited, the relationship between both parties, and the planned length of stay. According to the Citizens Advice Bureau Spain, "many visitors from third countries such as the USA or Australia to name a few, have not been asked for an invitation letter on arrival in Spain." And it would appear for now that it is not being requested of UK nationals arriving in the country either.
A British Embassy spokesperson told EL PAÍS: "British nationals visiting Spain should be prepared to show proof of return or onward journey, sufficient funds for their visit and proof of accommodation, such as a hotel booking confirmation, proof of address if visiting a second home or an invitation from a host, at the border. The Spanish government has clarified that the carta de invitation is one of the options available to demonstrate proof of accommodation if staying with a host in a private home.
"British nationals should check FCDO [Foreign, Commonwealth and Development Office] travel advice for details of entry requirements and travel restrictions that may be in place because of Covid-19."
The full advice on entry at the gov.uk website is very similar:
"At Spanish border control, you may need to use separate lanes from EU, European Economic Area and Swiss citizens when queueing. Your passport may be stamped on entry and exit. You may also need to:
show a return or onward ticket

show you have enough money for your stay

show proof of accommodation for your stay, for example, a hotel booking confirmation, proof of address if visiting your own property (e.g. second home), or an invitation from your host or proof of their address if staying with a third party, friends or family. The Spanish Government has clarified that the carta de invitation is one of the options available to prove that you have accommodation if staying with friends or family. More information is available from the Spanish Ministry of Interior."
Conclusions? The carta de invitación does not appear to be a requirement for UK nationals for now, but that could still change in the future. In the meantime, be prepared to supply the other aforementioned documents on arrival at the Spanish border.
TIE residency cards
One of the most persistent rumors that the Brexpats in Spain campaigning group has sought to address is that of a reported "deadline" for UK nationals resident in Spain to swap their green residency cards (either the credit-card size or the A4 sheet version, officially known as the Certificado de Registro de Ciudadano de la Unión) for the new TIE plastic identity card. While there is still no official deadline to do this, the British Embassy has just changed its advice on the issue, and now recommends that the TIE be obtained "for ease of identity and sturdiness," Anne Hernández from Brexpats in Spain reports in a Facebook post after meeting with the British Embassy in Madrid. Despite this advice, however, the green certificates will still remain valid.
As Sue Wilson points out in a Facebook post on the Bremain in Spain website, another benefit of the TIE card is that it carries a photo, and "your [Withdrawal Agreement] rights are visible, so hence easier for other EU countries to recognize/easier to travel in general." Wilson also addresses the high volume of requests for the application process for TIE cards, explaining that "resources have been put in place in some areas – notably in the Alicante province – to deal with the backlog." She continues: "It is not necessary, where you have the choice, to go to the nearest police station in your province, so if you are able to travel a bit further, you may find it easier to get an appointment. Your nearest office may have a backlog, but your second nearest may have nobody waiting at all."
The British ambassador in Spain, Hugh Elliot, has published the following video with his advice on the issue.
Passport stamping
Since Brexit came into force on January 1, 2021, and freedom of movement ended for UK nationals, British visitors to EU countries can expect to have their passports stamped when arriving and leaving. However, under the terms of the Brexit Withdrawal Agreement, this should not be happening for UK nationals with valid residency in Spain. A spokesperson for the British embassy recently told EL PAÍS: "UK nationals who hold a valid residence document (TIE or green EU residence certificate) will not need a visa, should not have their passport stamped or be subject to routine intentions questioning, nor be required to prove sufficient means of subsistence at the Schengen border. If you have had a stamp placed in your passport, this will be null and void once you are in Spain/the EU as your residence permit negates its effect. If you are a resident of Spain, you should always travel with your valid passport and residence document. Showing your residence document should negate any stamp in your passport when entering or exiting the external Schengen Border in the future."
When I traveled at Easter, however, my passport was stamped on my outgoing journey from Spain before I could ask the police officer not to do so. My personal recommendation, based on this experience, is that you present your residency card with your passport and request that your document not be stamped at the Spanish border. Whether the officer in question will comply is another story…
Driving licenses
Another issue being faced by UK nationals resident in Spain post-Brexit is the issue of exchanging driving licenses. Here is the latest information on this issue direct from the British Embassy.
Ryanair boarding passes
A recent rumor that appeared both on social media and in some online newspapers claimed that UK nationals would no longer be permitted to use online boarding passes when flying into the European Union, as per screenshots that were widely circulated of the budget airline's terms and conditions. I recently contacted Ryanair, however, who confirmed that this is not true and that mobile boarding passes are still available to British nationals. "Additional questions may need to be answered in the online check-in process but mobile passes will still be administered once this is complete," the Ryanair press office stated.
Voting rights for UK nationals resident in the EU
One piece of good news for UK nationals living abroad arrived this week: British citizens will be given "votes for life" as the government of Prime Minister Boris Johnson is scrapping the current 15-year limit on voting rights. The restriction has meant that until now anyone who has lived outside of the UK for more than that time period cannot vote in general elections or referendums – including the 2016 vote on Brexit. According to a statement from the British embassy in Spain, "decisions made in the UK Parliament on foreign policy, defense, immigration, pensions and trade deals affect British citizens who live overseas. It is therefore right that they have a say in UK Parliamentary General Elections.
"The changes, which will form part of the Elections Bill, will also include measures to enable overseas electors to stay registered to vote for longer, with an absent voting arrangement in place."
In a statement, UK ambassador to Spain Hugh Elliott said: "In an increasingly connected world, most British citizens living in Spain retain deep ties to the United Kingdom. Many still have family there, worked there for many years, and some have even fought for our country. They deserve to have their voices heard in Parliament, no matter where they live, and I am delighted that UK nationals living in Spain will now be able to participate in our democracy."
Weeding out the disinformation
If you are affected by the issues that have been discussed above and want to avoid rumors and disinformation, my advice is to sign up for updates from the UK government about living in Spain here, and start to follow the following groups and accounts on Facebook: Citizens Advice Bureau Spain, British Embassy in Madrid, Brexpats in Spain, and Bremain in Spain. The official travel advice from the UK government is here. You can find all of the English Edition stories about Brexit here, and can follow us on Facebook and Twitter for all the latest stories as we publish them.
For any updates or corrections to this story, please contact the author Simon Hunter via his Twitter account.
Covid-19: Italian and Spanish PMs meet in Madrid ahead of EU recovery fund summit | International
Italy's prime minister, Giuseppe Conte, was in Madrid on Wednesday for a meeting with his Spanish counterpart, Pedro Sánchez of the Socialist Party (PSOE), to discuss their countries' joint strategy for an upcoming summit on the European Union's coronavirus recovery fund.
Spain and Italy, the two European countries to be hardest hit by the Covid-19 pandemic, are joining forces against the so-called "frugal" countries – Austria, the Netherlands, Sweden and Denmark – which oppose the idea of a €750 billion fund, of which €500 billion would be non-recoverable grants and the rest made up of loans.
Sánchez and Conte have shared interests, as their countries stand to benefit the most from the fund, according to Italian and Spanish sources who added that Germany and France back this position as well.
"This time Italy, Spain, France and Germany are clearly in sync. We all support the European Commission's proposal," said Spanish sources.
"With the meeting held today with @GiuseppeConteIT we are relaunching relations between Spain and Italy. We agree that the good understanding between our countries must be taken to the political arena. We hope to hold a new Italian-Spanish summit in 2020," tweeted Spain's Sánchez on Wednesday.
Conte and Sánchez will be traveling separately in the coming days to the Netherlands and Germany, and the Spanish leader is also planning a stop in Sweden, whose government wants to replace some of the EU fund grants with loans, according to Spanish sources. The Spanish and Italian PMs are hoping to arrive at the July 17-18 summit in Brussels with a strong negotiated position that will leave little room for resistance from the "Frugal Four."
Wednesday's meeting also served to reinforce bilateral ties that had been weak for years. The last time that the leaders of both countries had come together was in 2014, when then-prime ministers Enrico Letta and Mariano Rajoy met in Rome.
English version by Susana Urra.
'Where should we go?': thousands left homeless as Karachi clears waterways | Global development
Maqsooda Bibi, 62, did not know the house she had lived in all her life would be demolished, forcing her whole family to become homeless. But on Monday, Pakistan's supreme court backed the Sindh government in bulldozing her home and hundreds of others, legalising the eviction of thousands who live along narrow waterways – nullahs – that crisscross Karachi.
The verdict came as Bibi and hundreds of others held a protest outside the court. "We hoped that the court would ask the government not to make us homeless, but it did the opposite. Our children also protested on Sunday and urged the supreme court to stop demolition. It seems no one here cares for the future of the poor."
At least 8,000 houses are being knocked down along the nullahs. The work, which began in February, is in response to the 2020 Karachi floods that saw choked up nullahs overflow and swamp the city. Improvements to Karachi's water and sewage systems are being financed by the World Bank.
As people watched their homes being turned into rubble, civil society organisations approached the court to try to stop the evictions. They said the houses were not to blame for blocking the waterways.
But on Monday the supreme court rejected the petition.
While dozens of people told the Guardian they were renting their homes, the court said any leasing of land along the nullahs was illegal. Activists and writers have termed the decision "unjust". Writer Fatima Bhutto, of the Bhutto political dynasty, tweeted: "The supreme court's decision is a tragedy."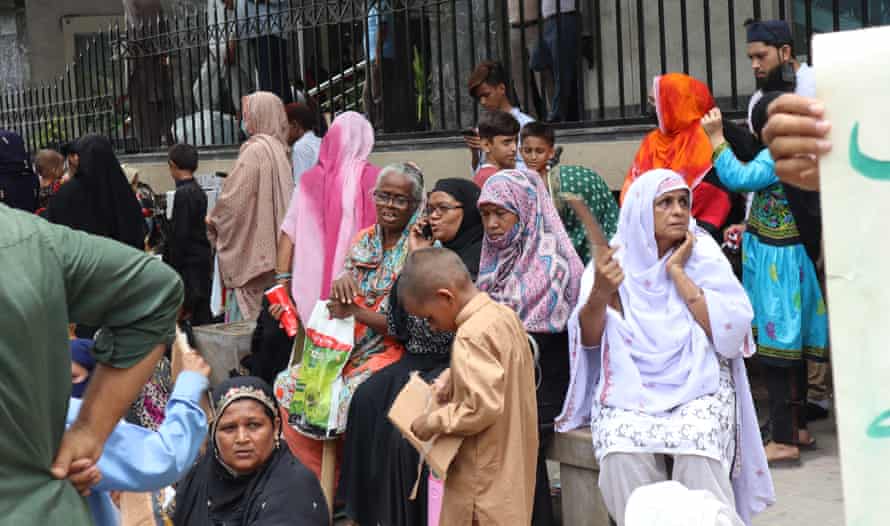 In an editorial, Pakistan's largest English-language daily, Dawn, said: "The demolition of houses situated within nine metres on either side of the Gujjar and Orangi nullahs will continue. When this exercise is completed (before this year's monsoon, according to the plan), at least 100,000 people would perhaps have been rendered homeless. As many as 21,000 children would be out of school and living under the open sky."
Bibi's house was her family's home for five decades. She shared it with four daughters and three sons-in-law. "We all started living on the lawn after they demolished our house but they will snatch the lawn now. At first, they took our shelter, now they will take our land," she says.
Muhammad Shahid is a heart patient whose house was bulldozed a month ago. He expected justice from the court. He was at home when his house was bulldozed at around 11am one morning.
"We are helpless. Where should we go? We can't die or live. I had my angiography done and now I can't work. My children aren't educated enough. My wife had a paralysis attack," says Shahid. He says that even he has not got the 90,000 Pakistani rupees (£410) promised by the government.
Muhammad Aslam did receive some compensation for the loss of his house. But he says it is not enough. He says: "I want to return the amount because it is of no use for four families." He lives with 28 others in one room and a tent after his two-storey house was bulldozed. "We are troubled in all ways, there is no gas or electricity or even sanitation. This isn't living," says Aslam.
Architect and urban planner Arif Hasan says the government had no "proper plan". "They are not doing it merely to stop the flood but to make long roads along the nullahs connecting the Lyari expressway with the northern bypass, displace poor and benefit the rich." He says the World Bank should denounce the Sindh government, as forced evictions are against the bank's policies.
Muhammad Abid Asghar was one of the first to lose his home, on 2 February. With others, he established Gujjar Nala victims committee and, with activists of Karachi Bachao Tehreek (Save Karachi Movement), went to the Sindh high court.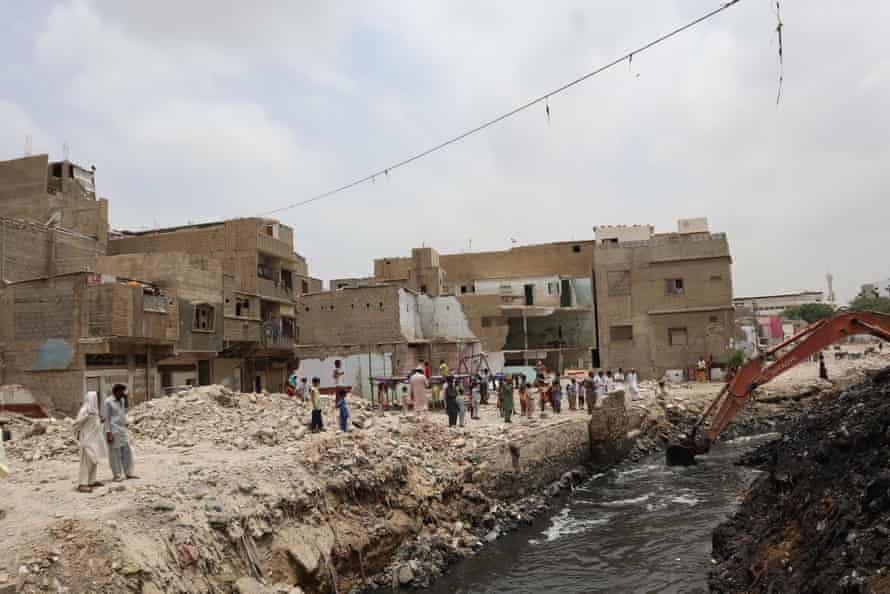 After chalking slogans against the demolitions on walls around the city, the activists say they were called by the World Bank team for a meeting in April.
"We had believed the bank was funding the evictions, but the World Bank denied it. They assured us that no leased houses would be bulldozed."
Sindh minister for information, Nasir Hussain Shah, also says the World Bank is not linked to the evictions. "The government will help residents in rehabilitation," he says, adding that "not more than 5%" of residents were against the demolition works.
The World Bank did not respond to a request for comment.
China calls Nato statement 'slander'
The Chinese mission to the EU denounced a Nato statement that declared Beijing a "security challenge," saying China is actually a force for peace but will defend itself if threatened, AP reports. The Chinese news release said the Nato statement was a "slander on China's peaceful development, a misjudgment of the international situation and (Nato's) own role, and a continuation of the Cold War mentality and organisational political psychology."