Top fashion brands face legal challenge over garment workers' rights in Asia | Human rights
Legal complaints are being filed against some of the world's largest fashion brands in major garment-producing countries across Asia in a groundbreaking attempt to hold the global fashion industry legally accountable for human rights violations in the countries where their clothing is made.
The Asia Floor Wage Alliance (AFWA), a pan-Asian labour rights group, says it is using legal challenges to argue that global clothing brands should be considered joint employers, along with their suppliers, under national laws and be held accountable for alleged wage violations during the Covid-19 pandemic.
Two of these complaints have already been filed with the authorities in India and Sri Lanka, with further complaints pending in Indonesia and Pakistan.
In India, AFWA and local labour unions have filed a legal complaint against H&M to the labour department in Bengaluru. The complaint asks that H&M be held jointly liable for alleged labour abuses that took place in 2020 at a supplier factory, where it claims the brand "has total economic control over the workers' subsistence, skill, and continued employment".
A similar legal complaint has been submitted to the labour commissioner in Sri Lanka against Levi Strauss, Columbia Sporting Company, Asics, DKNY and Tommy Hilfiger claiming they are acting as "shadow employers" at a supplier factory in Katunayake where workers lost their jobs and did not receive full pay.
The central claims and arguments of the legal complaints were based on extensive interviews and analysis that AFWA conducted for a new report it launched this week.
The report looked at the impact of "wage theft" in six garment-producing countries – in which it claimed that many of the world's largest fashion brands were jointly responsible for a fall or "gap" in wages, and the resulting poverty and destitution of millions of garment workers across Asia.
It argues that the actions of fashion brands during the pandemic in cancelling billions of dollars of clothing orders directly resulted in severe humanitarian consequences for workers in their supply chains.
Many workers lost their jobs, had their hours cut or were sent home without pay for months at a time. The pre-existing poverty-level wages of garment workers across Asia did not provide any form of safety blanket that would have allowed them to tide over loss of employment and wages during the pandemic.
The report also claims that even though workers' rights were protected under national laws, most garment workers did not have the access or power to seek redress for lost wages during the pandemic due to the need to find other work, the threat of destitution and low enforcement of labour laws by the authorities.
One worker from Sri Lanka, who wished to remain anonymous, said that she was unable to feed her children after her hours were cut in the summer of 2020.
"Our employer told us that the brands had cancelled orders so we were forced to take holidays and our hours were reduced," she said. "Already, I was struggling to survive on my wages and relied on overtime to cover costs, and so I found that I couldn't afford to buy enough food for the family. Every day I was afraid, wondering how we would survive."
Ashim Roy, an Indian trade unionist and AFWA member, said that legal action was the only way to ensure that brands were forced to put workers' rights over profit.
"After the carnage that was unleashed on workers last year we wanted to examine the possibility of holding brands legally accountable instead of only having the leverage or threat of reputational damage," he said.
"We are confident that in some countries there is very strong case law for joint liability, but it has never been tested for a brand and a supplier. Our core argument is that the reality of fashion supply chains is that brands do not just buy garments. They determine and control every step in the production process of that garment being made and so they should not be able to continue to argue that the workers who make their clothes do not work for them."
In a statement on the legal complaint, H&M said: "Although it is our suppliers who employ the garment workers, we as a large company have a responsibility to do our utmost to contribute to a good dialogue between trade unions and suppliers to help them come to an agreement if conflicts arise."
It also said that in the specific case referred to in the legal complaint, the workers were paid "in line with legal regulations".
Columbia Sportswear Company said that it had received no evidence of a complaint to the labour commissioner. It said it did not cancel orders or re-negotiate product costs for open orders, adding: "We believe that the strategies we enacted were able to reduce the impacts of the global pandemic on our supply chain partners and their employees."
Asics also said it had not received notice of the legal complaint, and said that it did not agree with the argument that it had a joint business relationship with its suppliers.
It said all workers at the supplier factory named in the lawsuit were fully compensated in line with local labour laws and it did not cancel any orders during the pandemic.
Levi Strauss declined to comment on the lawsuit, but said it had taken full responsibility for orders placed before the onset of the pandemic and had provided more than £1m in grants to organisations supporting garment workers.
DKNY and PVH, the owner of Tommy Hilfiger, did not respond to requests for comment.
Learn lessons of Rwandan genocide and act now to stop Ethiopian war, UN urged | Global development
African civil society groups have accused the United Nations of inaction over atrocities in Ethiopia, warning in a letter that it had not learned the lessons of the 1994 Rwanda genocide and that the "situation risks repeating itself in Ethiopia today".
Tens of thousands of people are thought to have been killed and millions more displaced since war broke out between Ethiopia's federal government and the Tigray People's Liberation Front (TPLF), the ruling party of the country's northern region, in November 2020.
All of the parties in the war have been accused of crimes including arbitrary killings, mass rape and torture, while ethnic Tigrayans across the country have been subject to mass arrests amid a spike in hate speech, which has seen the prime minister, Abiy Ahmed, refer to the Tigrayan rebels as "weeds" and "cancer".
In the letter to the UN secretary general, António Guterres, 12 African civil society groups including the Kampala-based Atrocities Watch Africa, the Institute for Human Rights and Development in Africa and Nigeria's Centre for Democracy and Development called on him to "provide leadership in ending the ongoing war in Ethiopia".
"Twenty-eight years ago, the security council similarly failed to recognise the warning signs of genocide in Rwanda or act to stop it," the signatories said, adding: "We are concerned that the situation is repeating itself in Ethiopia today. We call on you to learn the lessons from Rwanda and act now."
In November 2021, the UN security council issued a statement expressing concern over the fighting, but it has yet to take any concrete steps towards resolving the conflict.
Last month, a report by Amnesty International and Human Rights Watch accused forces from the Amhara region of waging a campaign of ethnic cleansing against Tigrayans "with the acquiescence and possible participation of Ethiopian federal forces".
Dismas Nkunda, head of Atrocities Watch Africa, said: "With reports of ethnic cleansing coming out of western Tigray, there is real reason for concern that some of these crimes reach the level of genocide, and it's essential that the United Nations grasp the seriousness of the current situation and respond accordingly."
The UN human rights council has appointed a team to investigate abuses committed during the conflict, although the government has vowed not to cooperate.
Tigray has been largely cut off from the rest of Ethiopia since the fighting began, with transport and communications links cut. About 90% of the region's 5.75 million population are in need of aid, and the region's health bureau estimates that at least 1,900 children under the age of five died of starvation in the past year.
In March, the government unilaterally declared a "humanitarian truce" to allow supplies to reach the region, but only a handful of aid trucks have arrived since then.
The letter urges the UN security council to press for "immediate and unimpeded humanitarian access [to Tigray]" and "impose an arms embargo on all parties to the conflict".
The signatories also call for deployment of an international peacekeeping force led by the African Union, which has its headquarters in the Ethiopian capital, Addis Ababa.
"Such action will be vital to assisting the Ethiopian men, women and children who have been suffering both direct hostilities, associated human rights violations and obstructed humanitarian aid," they said.
'Narco-tunnels' become a factor in US-Mexico relations | International
More than 300 meters long, 10 meters deep and fully illuminated: so is the latest narco-tunnel that authorities have found in Tijuana, on the border between Mexico and the United States. The underground corridor was used to traffic drugs to San Diego, California, and has since been closed. The discovery was not an accident: US Ambassador Ken Salazar had warned last week of the presence of over 200 tunnels during a visit to the border city.
The tunnel was discovered last weekend after a joint operation by the Mexican Army, the Tijuana Police and the Attorney General's Office. The entrance is located under a house in the Nueva Tijuana neighborhood, a few meters from the Otay border crossing where Salazar made those statements. The passageway, reinforced with metal beams, remains under police protection. Authorities have not identified which criminal group used it, nor have any arrests been made.
Mexican authorities emphasized that communication with their US counterparts had been "close" and that bilateral collaboration had been key to finding the tunnel. Less than 48 hours earlier, Salazar had made the same points. "Working with the Mexican government, we have a very good collaboration in trying to eradicate these tunnels, which should not be here, because this is where a lot of crime happens, a lot of suffering," said the ambassador in statements collected by the weekly newspaper Zeta. "This must stop," he added.
Salazar's visit to Tijuana included a tour of a narco-tunnel discovered in 2009. The passageway, which also crosses the border wall, is known as Gálvez and is 270 meters long and 30 meters deep. The structure's construction was attributed to the Arellano Félix cartel, a criminal organization created in the 1980s, which dominated the movement of drugs to the United States in that area for decades.
After the tour, Salazar, senior US anti-narcotics officials and Mexican Foreign Minister Marcelo Ebrard held a press conference announcing a $4.2 billion investment to reinforce the border. Ebrard exhorteed the authorities of both countries to "be more effective at the border against fentanyl, drugs and weapons that come and go on both sides."
"[We intend] to ensure that this border is a place where people can walk from one place to another safely and where trade continues in a better way than now," Salazar said. Last month, Texas governor Greg Abbott imposed tough security checks that virtually paralyzed cross-border trade. (More than 2,000 of the 3,000 kilometers between the two countries pass through Abbott's state.)
After the White House's urging to stop drug trafficking from Mexico, the government of Andrés Manuel López Obrador has urged the United States to do the same with the smuggling of firearms. More than 500,000 US weapons arrive in the Latin American country each year, according to Mexican authorities, who began working to prosecute the US arms industry last year.
Less than a week ago, another tunnel made headlines in Culiacán, the stronghold of the Sinaloa Cartel, the organization historically led by Joaquín "El Chapo" Guzmán. A young man who was sleeping on the sofa in his house fell after a hole opened in the ground. The hole in the floor was attributed to the existence of the underground passageway, found in 2011.
El Chapo had escaped in July 2015 from the Altiplano prison, a high-security prison in central Mexico, through a tunnel that took members of his criminal organization more than a year to build. In the videos broadcast from his cell, the criminal leader is seen disappearing from one moment to another after climbing into a hole in the floor. Guzmán traveled more than a kilometer underground on a motorcycle. The capo was captured in early 2016 and extradited to the United States a year later. Guzmán had previously managed to evade several capture operations through underground networks of passages. The first tunnel attributed to him dates from 1989.
The longest known narco-tunnel measured more than two kilometers, and its discovery was announced in January 2020. It had tracks, air conditioning, an elevator and electricity. The entrance was in Tijuana and the exit in San Diego. "The sophistication of this tunnel demonstrates the determination and monetary resources of the cartels," the US border patrol said at the time. Despite the spectacular announcement, the news came with no information about arrests, as with the last tunnel discovered last weekend.
Migrant workers 'exploited and beaten' on UK fishing boats | Workers' rights
A third of migrant workers on UK fishing vessels who responded to a research survey work 20-hour shifts, and 35% reported regular physical violence, according to a new study that concludes there is rampant exploitation and abuse on British ships.
"Leaving is not possible because I'm not allowed off the vessel to ask for help," one migrant worker told researchers at the University of Nottingham Rights Lab, which focuses on modern slavery. They found fishers reported working excessive hours, with few breaks, on an average salary of £3.51 an hour.
Interviews with migrant workers on fishing boats across the UK revealed experiences of racism and many accounts of "extreme violence", including two reported incidents of graphic and sexually violent acts, it said.
Workers from the Philippines, Indonesia, Ghana, Sri Lanka and India are recruited into the UK fishing industry on "transit visas", a loophole that "legalises their exploitation", according to the report, Letting Exploitation Off the Hook. Seafarers' transit visas are intended to allow crew to join ships leaving UK ports for international waters, such as a container ship to China, for example.
These visas tie workers to a single employer. This leaves them dependent on the ship's captains for their working and living conditions, such as access to food and other essentials, and prevents them changing jobs. Workers can then potentially be abused and controlled by rogue shipowners.
The research could not be generalised across the industry, the report said, due to the self-selection of fishermen involved in the survey, the data for which was collected via an anonymous questionnaire distributed online by NGOs, charities and other communities trusted by migrant workers.
In a separate briefing published this week, the International Transport Workers' Federation (ITF) outlined its own findings on the use of transit visas, suggesting it was leading to "systematic" labour exploitation of migrants on UK vessels. It called for the closure of the loophole that allows the visas to be used on fishing vessels.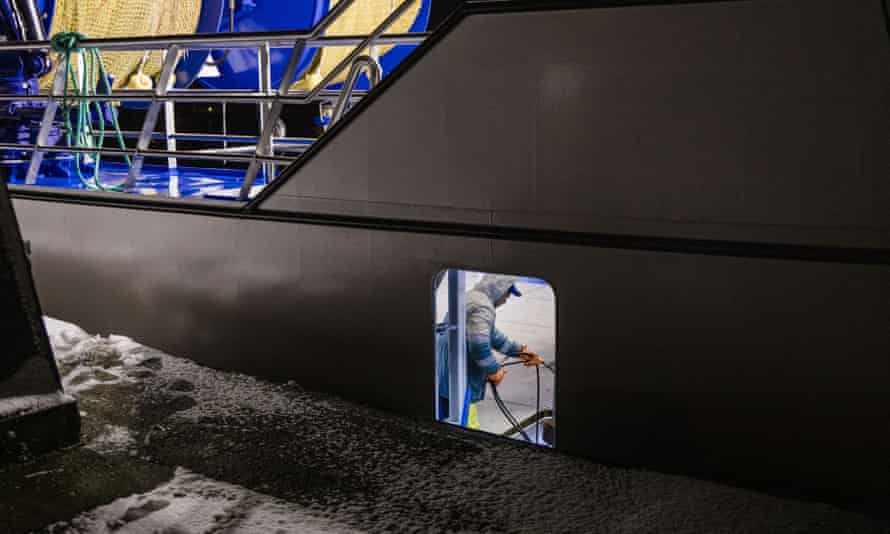 Dr Jessica Sparks, associate director of the Rights Lab and author of the report, said: "Exploitative practices are widespread and endemic on vessels. Long hours for poor wages are endemic. It is well known that you can pay migrants less."
Interviews with the migrant workers revealed "traumatic" experiences of physical violence and racism, she said. "There were very traumatic reports of being physically beaten by captains. Most of the migrants reported being discriminated against, especially Ghanaians, [and] racial slurs while being beaten by captains. The amount of physical violence was surprising to me."
The report also found evidence of forced or compulsory labour among migrant workers in the UK fishing industry.
One worker told researchers that "leaving is not possible because I'm not allowed off the vessel to ask for help", adding: "There is no way to contact anyone. The captain keeps my phone, and when he gives it to me he supervises my calls."
Sparks interviewed 16 migrant workers, and conducted surveys with 108 crew members of vessels registered in England, Northern Ireland, Scotland and Wales.
More than 60% of migrant fishers interviewed reported hearing about or seeing their fellow workers being threatened or actually abused, whether physically, sexually or psychologically. About 75% said they felt discriminated against by their captain. One in three said they would be unlikely to leave their job because of debts.
The report found that the migrant workers did not know who to trust, with more than 60% saying they would never report a grievance out of fear of reprisals – either against themselves or their families being blacklisted. Many owed debts to recruitment agencies.
The report also contrasted the situation of migrant workers, who were poorly paid on a fixed wage, to local crews, who were paid a "crew share" – a percentage of the value of the fish landed or of the profit.
The UK relies on fishers from non-EU countries including the Philippines, Ghana and Indonesia but people from these countries have no automatic legal entitlement to work in the UK. Fishing boat owners apply for transit visas on the basis that their vessel operates "wholly or mainly" outside UK territorial waters, defined as more than 12 nautical miles from shore.
Migrant fishers using those visas are required to work a "majority" of their time beyond territorial waters, and have no legal authority to "enter" the UK when returning to port. As a result, they are forced to live onboard the vessels for up to a year, despite accommodation on fishing boats usually being unsuitable for long-term stays.
The ITF said the current transit visa scheme created a "two-tier" labour system onboard UK boats and that the misuse of the visa scheme had become a tool to traffic Ghanaians and Filipinos from the UK to the Republic of Ireland.
In response to the findings, the Fishermen's Welfare Alliance, made up of national fishing federations in the UK, welcomed the ITF's conclusions that the transit worker visa was unfit for purpose and said it did not meet the requirements of a modern fishing industry. The parts of the industry that employed non-UK fishermen through the transit visa system had long lobbied the government for improvements, including having fishermen recognised as skilled workers, it said.
The FWA said it was still studying the University of Nottingham report but added: "At first reading, it contains much that fishing industry representatives don't recognise and is not representative of the situation across the UK, as the report itself states.
"As industry representatives, we deplore and condemn bad practice and crew members being badly or unfairly treated, regardless of their nationality or immigration status."
Aoife Martin, director of operations at Seafish, a non-departmental government body supporting the seafood industry, said the findings were "concerning" and showed there was still "work to do", though she disagreed with the suggestion that the UK industry had made use of the transit visa system to exploit non-UK workers.
Martin said: "We are aware of previous issues with poor treatment of crew amongst certain vessel operators, but we also know that the industry as a collective has made inroads in identifying and addressing the factors that lead to this type of behaviour."