Today's leading Tik Tok influencer creates fashion parodies from one of the world's poorest islands | Culture
Shaheel Shermont Flair is 24 years old, and he wants to be a comedic actor. On his social media, where he showcases his talent for comedy through videos/reels, he describes himself as a "public figure" and "artist." On June 20, he shared his latest witty idea online: a fashion show parody. "Fashion shows be like this," he declared (alongside the emoji of a face crying with laughter). Then, barefoot and dressed in a T-shirt and sport shorts, he started walking like Linda, Naomi, or Christy through what looks like the backyard of his house. Each trip displayed a style created with all sorts of knickknacks, junk, utensils and household furnishings. In an unintentionally Rickowensian moment (or not), he even used his little sister, Riharika, who was accessorized and off to the side, as a complement. On TikTok, where he has been appearing as @shermont22 for a little more than a year, the short video has racked up over five million views and counting. He continues to gain followers as well; he has nearly 350,000 right now and 13 million or so "likes." Viewers keep asking him for more. At popular request, he uploaded his most recent video a few hours ago. It is the ninth installment of a viral saga that, in reality, is not so ironic and hilarious.
By today's standards, Shermont is already a star in terms of fame and glory. In a recent story on his Instagram profile (@shermont_22, which has considerably fewer followers, although one assumes that his viewership there will eventually grow), he confessed to having googled his name and was in disbelief about how far-reaching his performance was. "I'm in the news!" He was amazed and posted screenshots from different digital media, especially from Southeast Asian outlets. On Twitter, he is being hailed as the week's hero for making fun of, mocking, and deriding that silly and increasingly absurd thing: fashion (of course).
The same thing happened just two months ago, when a video on Douyin (a social network) went viral on its Western counterpart, TikTok, giving rise to the turn-your-grandmother-into-an-international-supermodel challenge. In the video, a venerable elderly Chinese woman was dressed as the personification of Balenciaga, Gucci and Prada by a little boy (presumably her grandson) with what he had on hand in his yurt, including chicken. The results of the challenge—images done in the style of luxury advertising campaigns with brand logos superimposed on them—tell us that we are all Demna Gvasalia, Alessandro Michele, or the tandem Miuccia-Raf Simons, or at least we can be.
For a long time, people have complained repeatedly about how bad fashion is, now more than ever. Not only does fashion pollute the planet and exploit its workers, but it also mocks consumers. Are these designers crazy? No, they are just pulling our leg with so much aesthetic arbitrariness/ugliness/stupidity. It's only fair, then, to return the favor in jaw-droppingly funny ways. In fact, trolling the fashion industry—like Shermont and the Chinese grandmothers (there are quite a few of them)—may be evidence of a certain social disgust with its three-ring circus and its trainers, illusionists, and clowns, whose extravagances are understood as nonsense and, even worse, insults or near-insults. Vetements's DHL uniform. Virgil Abloh's Ikea bag. JW Anderson's broken-skateboard-encrusted sweater. Balenciaga's shredded sneakers. All of Balenciaga, the brand inevitably referred to in comments on the young comedian's reels. There are more than a few comments that also praise Shermont's attitude and stylish model's trot; they ask to see his fashion show in Paris and Milan already. And then there are those who attempt to be funnier and more sarcastic and ironic than the video itself, which is typical on Twitter. But none of the commenters have taken issue—or even tried to take issue—with the video's deeper premise.
Shaheel Shermont Flair is a Fijian of Indian descent; his ancestors were Indian girmtyas who went to British-colonized Fiji in the mid-nineteenth century as slave labor. He is also gay. "Welcome the queen to Instagram," he urged in April 2021, when he debuted on the social media site. In November, he posted that "[m]y sexuality isn't the problem, your bigotry is." In April of this year, he returned to the fray: "There are those who hate me for being different and not living by society's standards, but deep down they wish they had my courage." Before his phenomenal fashion show, he was already doing "low cosplay" of Indian women by using waste—toilet paper for the sari, a bottle cap for a nath on the nose, and a tea bag for the maang tikka on the forehead, for example—to create an Indian bride's trousseau in the playful post, "Getting ready for my lover." In another, he straps on two water-filled balloons as swaying breasts under his T-shirt. "The things I do for TikTok," he wrote. Indeed, Shermont has made comedy his path to escape bullying and discrimination (prejudice is double in his case) and turned his social media accounts into a highway to heaven. Just like Apichet Madaew Atirattana did back in his day.
Except for its glamorous intent, everything about Shermont's catwalk recalls that of the so-called Thai Dovima. In 2016, before Tik Tok's one-track mind took over, a teenager from the rice-growing region of Isaan—one of Thailand's poorest areas—astonished the world by turning everyday objects, twigs, and trash into fabulous outfits. He filmed himself modeling those clothes at different locations in his village; his grandmother acted as a styling assistant. Facebook and Instagram went wild over what was termed the "break down of barriers between gender identity, fashion and recycling." At the time, Madaew (a nom de guerre) explained it this way: "I want people to see that ugly things that don't fit in can be transformed into something beautiful. And that dressing well is not about money." Just a few months later, Asia's Next Top Model, the South Asian edition of the U.S. talent show, called him to be a guest designer during the program's fourth season. The following year, Time magazine put him on its list of new generational leaders. His example spread. Soon, new stars made their appearance: Suchanatda Kaewsanga, a fellow Thai who is openly trans, and the Chinese Lu Kaigang, whose offerings for fashion shows in his village—located in Guangxi province—unironically included dresses made of garbage can lids and old air-conditioner bags.
Here, we have a response from the poor and marginalized to fashion's global impact as a mass phenomenon ascribed to the culture of leisure/entertainment. It is a practice that resonates with the button-down politics of Patrick Kelly, the first African American designer to join the ranks of the Parisian ready-to-wear trade association in the mid-1980s; the clothing activities of the swenkas (workers of Zulu origin) and skhothanes (post-apartheid image-obsessed youth) in Johannesburg; and the young Ghanaians who exploit the city-sized textile dumps surrounding the capital, Accra, as sources for their creativity. The narratives of the designers who establish the industry's current direction, amplified as never before by digital media, also show that it is indeed possible to dress as stylishly as Balenciaga, Gucci or Prada without breaking the bank. That's why TikTok's Chinese supermodel grandmothers reflect aspiration and not scorn; they are proof that fashion has something for everyone, even the most socially disadvantaged (one can't miss the proud hashtag that usually accompanies them, #chinastreetstyle). That's why Apichet Madaew Atirattana, Suchanatda Kaewsanga and Li Kaigang have made careers as creators, bloggers or influencers with hundreds of thousands of followers. They've come so far, propelled by the dreamy fuel that the magazines in village hair salons and satellite TV offer. "It's very easy to blame fashion for all the problems it creates, but I'd like to think it's also capable of helping people in many ways, in positive ways," says Minh-Ha T. Pham, a professor of media studies at Pratt Institute in New York and the author of Asians Wear Clothes on the Internet (2016), an essay about the dynamics of race, gender and class among the young Asians who have found a way to express their identity through fashion, and in the process pushed the system to finally recognize them as a socioeconomic and cultural force. Shaheel Shermont Flair laughs, but he does fashion shows because he also knows what fashion can do for his ambition to become an actor.
Hollywood: They have it all, and take it on the road, too: These are the luxury RVs of the stars | Culture
RVs have long been considered a fairly modest means of travel, an option that combines transportation and accommodation and that allows you to enjoy a more affordable vacation – bearing in mind that the comforts that they offer have little or nothing to do with those of a five-star hotel. However, this image has evolved in recent years, and the alternative of touring the world with your house in tow is gaining more and more followers, including some movie and music stars. Some use them for tourism and others to move between cities while they promote something or as a dressing room during shootings or tours, but they all have a few things in common: their enormous dimensions, their luxurious amenities and their million-dollar price tags.
At the beginning of July, all the details of Dolly Parton's mansion on wheels were released. More than an RV, this one is a bus. Dubbed Suite 1986, it is 45 feet long and Dolly has traveled more than 300,000 miles and visited more than 60 American cities in it. It houses all kinds of luxuries and personal belongings of the country music star — a display case for her wigs, a wide bed with pink velvet sheets, or a Parisian-inspired dressing table, among other things — and it is available to rent from $10,000, with a two night minimum stay. The Dollybus is part of the hotel complexes offered under the Dollywood label, the universe created in her image and likeness, which also includes a theme park inspired by Disney's Hollywood Studios in Florida, numerous hotels and spas and a water park.
Another celebrity who likes to have a traveling home is Jennifer Lopez. The Bronx Diva owns a 1,200-square-feet trailer that is valued at $2 million and, like Parton's, is also available to rent, for between $400 and $850 a night, when the singer is not using it. Its name is Baby Girl and, judging by the pictures, it has it all: in two spacious floors you can find amenities like a huge leather sofa, furniture made from materials like granite or marble, and all kinds of image and audio technologies, including everything from large TVs to state-of-the-art audio setups. An exclusive design by Anderson Mobile Estates, an American company specializing in this type of high-end vehicle, completely customizable to the customer's taste.
The same company built Will Smith's RV, known as The Heat, which the actor purchased in 2000 to use while filming. It is 55 feet long, has two floors and it is valued at 2.5 million dollars. It includes a projection room with a 100-inch screen and
capacity for thirty people, an ample lounge, a bathroom with sauna, first-rate materials like granite and leather, and technological devices everywhere.
Leonardo DiCaprio's RV does not fall far behind: it is 52 feet long, with four modules that can be extended to further expand the space. Of course, it includes all the necessary amenities, with eccentric details like two fireplaces and a large recycled glass shower valued at more than $40,000.
Justin Bieber's RV also has its fair share of eccentricities. In 2020, the Canadian singer purchased for $2.5 million a bus turned luxurious mansion that he takes on his tours and that he himself showed off in the American edition of GQ Magazine. Equipped to the last detail, it offers wonders such as underfloor heating, ceilings with LED lights, a steam shower, and an infrared sauna.
Other celebrities, after years of traveling with their house in tow, have decided to part with theirs. That is the case of Tom Hanks. The legendary actor auctioned off his RV last year: the trailer that was his home during the shooting of movies like Forrest Gump or Apollo 13 was sold for $235,200, an almost trivial figure when compared to those of his colleagues.
Among so much luxury on wheels, Chris Hemsworth's RV is also surprising for its modest dimensions. It was made by the Australian company Lotus Trooper, and it is equipped for all kinds of terrain. Despite its limited size, it includes things like Italian leather sofas and a designer kitchen; with this vehicle, the actor who brings Thor to life in the Marvel Cinematic Universe likes to enjoy family getaways, as he himself has shown on his social media.
Whether it is to go on road trips or as a place to rest between concerts or shootings, it is clear that the biggest music and movie stars cannot resist the opportunity to take all the comforts of home anywhere they go, preferably in rolling eccentricities that reinvent a concept popularized in the 1960s by the hippie movement – and look more fit for a Transformers movie than for an actual highway.
Writer Salman Rushdie attacked while giving a speech in New York | USA
Indian-born writer Salman Rushdie was attacked on Friday while giving a lecture in Chautauqua County, a town of about 140,000 inhabitants in western New York state. The first images of the event that have been shared on social networks show Rushdie on the floor, being attended by attendees and emergency services.
New York state police announced in a press release that the writer suffered an apparent stab wound to the neck, and was transported by helicopter to an area hospital. His condition is not yet known. An Associated Press reporter witnessed a man storm the stage at the Chautauqua Institution and begin punching or stabbing Rushdie as he was being introduced. The 75-year-old author was pushed or fell to the floor, and the man was restrained. The assailant has been arrested.
Rushdie's book The Satanic Verses has been banned in Iran since 1988, as many Muslims consider it blasphemous. A year later, on February 14, 1989, Iran's late leader, Ayatollah Ruhollah Khomeini, issued a fatwa calling for Rushdie's death. The theocratic Iranian regime also offered a reward of more than $3 million for anyone who killed the writer, who holds dual British and US citizenship.
Iran's government had long since distanced itself from Khomeini's decree, but anti-Rushdie sentiment has persisted. In 2012, a semi-official Iranian religious foundation raised the reward for Rushdie's death from $2.8 million to $3.3 million.
Rushdie, an English-language writer and perennial contender for the Nobel Prize in Literature, downplayed that threat then and said there was "no evidence" that people were interested in the reward. That year, Rushdie published a memoir, Joseph Anton, about the fatwa.
The 75-year-old author achieved international fame with the novel Midnight's Children, which was published in 1980 and won him the Booker Prize, the UK's most prestigious literary prize, the following year. The book sparked controversy in India for allegedly derogatory remarks towards the then prime minister of the country, Indira Gandhi.
With an overflowing imagination, his style has been compared to the magical realism of Gabriel García Márquez and Carlos Fuentes, among others. He himself has recognized on numerous occasions his important links with Latin American literature. His latest book Quixote (2020) adapts Cervantes' classic to the situation that the United States under the Donald Trump administration.
How Issey Miyake's clothing became the uniform of the creative class | Culture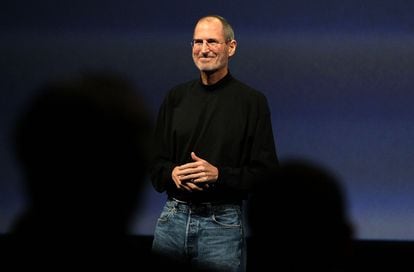 There are designers who have clients, and designers who have devotees. Japanese designer Issey Miyake, who died on August 9 at the age of 84, was the latter. Moreover, his clientele is easy to locate. "Why are his clothes preferred by so many prominent figures in the arts?" art critic Herbert Muschamp wondered in his 1998 review of Miyake's exhibition at the Fondation Cartier in Paris. He had every reason to ask.
For over two decades now, the soundtrack of openings, vernissages, roundtables and other events in the art world has consisted as much of clinking champagne glasses as the airy and technical rustling of Miyake's pleated garments for women (since 1993, when he launched his Pleats Please line) and men (from 2013, when he created his Homme Plissé brand, adapting his bestselling clothes for men to wear). Gallerists, curators, architects, photographers, writers, journalists: few can resist the charms of pieces by the designer who best understood that the future of fashion went through the future of its fabrics. It's fashion without logos, but instantly recognizable, just like Martin Margiela's, another art circuit classic.
One doesn't have to go to the red carpet to find Miyake's garments, just observe everyday cosmopolitan cultural life. Over the decades, architect Zaha Hadid; designers Jonathan Anderson and Samuel Ross; fashion critics Tim Blanks, Suzy Menkes and Angelo Flaccavento; gallery owner Barry Friedman; artists Joana Vasconcelos and Graciela Iturbide, politician Carmen Alborch; and music icons Grace Jones and Joni Mitchell have all been seen wearing Miyake. Steve Jobs was also loyal to Miyake since he commissioned a turtleneck sweater and the
Japanese designer responded with a hundred similar sweaters. In the years that followed, the Apple founder wore nothing else, according to his biographer, Walter Isaacson.
The idea of a uniform is a tantalizing hypothesis for explaining how quickly Miyake's brand—which remains an independent company to this day—spread among certain groups. But there is an explanation—perfectly compatible with the previous one—that appeals to an earthlier reason: practicality. That was American architect and interior designer Rafael de Cárdenas's assertion to Town & Country last April, after telling the magazine that he had discovered Miyake during his years as a designer at Calvin Klein. He said that the first time he wore Miyake, "my partner asked me if I was wearing my mom's clothes. She's big into the elegant sack thing. But it's a good way to look smart when you're actually wearing sweatpants."
Comfort may well be one of the reasons for Miyake's success. In the late 1980s, he began experimenting with a new way of pleating fabrics. That impulse to innovate wasn't new. Since the beginning of his career, Miyake had been exploring the dialogue between technology and the old artisanal techniques of knitting and weaving. But he was more ambitious: instead of pleating the fabric prior to making the garment, he rolled and twisted the finished clothes, putting them into a machine that left the pleats indelibly marked by applying heat to the polyester. The pleating was irregular—it differed from garment to garment—as well as indestructible. As users say, the clothing can be put in the washing machine or haphazardly in a suitcase without fear of ruining the pleating. The result is pants, shirts, sweaters, jackets and dresses that weigh very little and use the shoulders as a hanger—the same logic that Cristóbal Balenciaga developed for
separating clothes from the body by following the example of Japanese clothing—to project their volume outward.
At the same time, the silhouette the clothing generates is wide and light like the paper lamps of Isamu Noguchi, one of Miyake's favorite designers. In an era dominated by sleek, elongated silhouettes, that horizontality could be unflattering, as art curator Antwaun Sargent emphasized in the same Town & Country article. He recalled that he'd associated Miyake with female collectors of a certain age. Then, he decided to buy a pair of pants after seeing Solange Knowles wear them; he has been loyal to the brand ever since. So has historian Roger Cook, who was interviewed for a feature on Miyake customers in The Financial Times when he was in his eighties. "The publicity for Plissé is primarily aimed at the youth or sport end of the market, but I feel it can be successfully and stylishly worn by seniors like myself," he explained of his favorite baggy pants. "The enormous amount of bodily gratification I obtain from my Miyake wonderfully compensates for the depredations of old age."
Miyake's connection with the creative class has even found its way into marketing textbooks. In an article about "expertise marketing," French professor—and Republican member of France's National Assembly—Patrick Hetzel imagined Miyake's prototypical client: her name is Josyane. She is a communications executive who works in the Parisian golden triangle and lives in the Marais; she views luxury fashion designers with skepticism and favors brands with sophisticated tastes, such as Miyake. "Josyane is proud of her ten years of loyalty to the firm, which makes her part of a small tribe of people whose originality has served to create new styles," Hetzel writes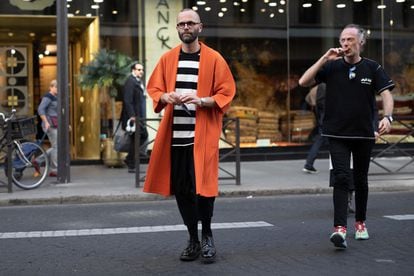 Although the example may be a cliché—after all, that's what sociological textbook categorizations do—the Frenchman's observation underscores another argument in Miyake's favor: the artistic and conceptual pedigree he gained from decades of collaborating with the world of culture. Miyake is the designer of pleated clothing and the name behind two of the world's most famous fragrances (L'Eau d'Issey and L'Eau d'Issey Pour Homme, which set the trend of aquatic fragrances in the 1990s). But he's also a creator who has worked with William Forsythe, Yayoi Kusama and Cai Guo-Qiang; his collections have been featured in memorable photographs by Lord Snowdon, Irving Penn and Nick Knight; and since 1997, when he decided to step back from commercial designs to focus on experimental projects, his work has been featured in exhibits at the world's most prestigious art centers. In some cases, both worlds have coexisted, as in the A-POC (A Piece of Clothing) project. The last commercial brand with which he was actively involved, the collection consisted of tubular fabrics that, thanks to computer technology, allowed each user to cut out their desired garment without worrying about fraying it.
Ultimately, Miyake's work can be as intellectual or direct as one wants. Some of his biggest fans would say the latter. As fashion critic Tim Blanks told The Financial Times, "Don't think about it [Miyake's Homme Plissé]. Just put it on. Then we'll talk.