This US city was working to cut its police budget in half – then violent crime started to rise | US policing
Since the visceral video of George Floyd pinned beneath a police officer's knee sparked massive uprisings in US cities last summer, movements to defund police departments have grown from siloed local campaigns into a national movement. But in multiple cities, this work is being done amid a disturbing rise in gun violence that is affecting the same Black and Latino communities most affected by police misconduct.
While some crime survivors support shifting resources from police and into prevention and healing services, others who have lost loved ones to shootings and live in high-crime areas worry that depleting police budgets without proven alternatives to fill any gaps will make Black and brown communities less safe.
And the further localities dive into the logistics of transforming public safety and lessening reliance on police, the more questions abound. Who are people to call after a shooting? How do we get the most-affected communities to trust new alternatives? How can we go beyond typical reforms into real, radical transformation?
"It's a scary moment. The anxiety is in not knowing what the outcome of all of this is gonna be," said Keisha Henderson, a resident of East Oakland, California.
Henderson, 28, said she has had to deal with bullets flying past her windows and the frustration of slow and sometimes nonexistent police responses to gunfire and other problems. Oakland is experiencing a 314% increase in homicides compared with the same time last year, and a 113% increase in firearms assaults.
Henderson protested alongside thousands of others last summer but said she didn't want to see total abolition of police – at least until there are "stress-tested" alternatives in place. She is one of 17 members on Oakland's Reimagining Public Safety Taskforce, an official board established last year which is currently parsing through dozens of recommendations to decide which ones they will present to the city council for adoption in the upcoming budget. Oakland's goal is to cut police spending by 50%, or $150m a year.
"We can do all these pilot programs but there has to be a balance between holding police accountable to Black residents, while also making sure we are protected some way," Henderson said. "We need to reallocate and rebuild our communities but we do not need to completely abolish the police so that everything goes haywire."
At its purest, defunding police is a goal made up of many steps that organizers hope will lead to the complete abolition of police departments, prisons and other carceral systems. But while the proposals put forth in cities like Oakland to reduce police spending – like shifting drug and mental health calls to non-police responders – align with the core principles of police abolitionists, the word "defund" is rarely used by city officials. Most cities have opted for terms like "reimagine" and "reinvest" to describe the work.
"The contradictions and dilemmas are the starting point: you have to meet folks where they are and there has to be space for conversation, critique and pushback that is rooted in a love of one's community," said Nikki Jones, a professor of African American studies at UC Berkeley.
Cities including Austin, Texas, and Los Angeles, have also launched campaigns similar to Oakland's to "reimagine public safety". But like Oakland, they are also struggling with increases in gun violence.
Officials in Austin recently cut $20m from its police budget by cancelling cadet programs and certain contracts after homicides hit a 20-year high last year. The money shaved from Austin's police is going toward violence prevention, victims' services and substance abuse programs. In Los Angeles, where homicides topped 300 for the first time in a decade, the Los Angeles unified school district divested $25m from the school police program and shifted it toward Black student achievement.
Supporters of defunding the police don't see a contradiction in these new investments and hope non-police prevention programs will better address the root causes of violence.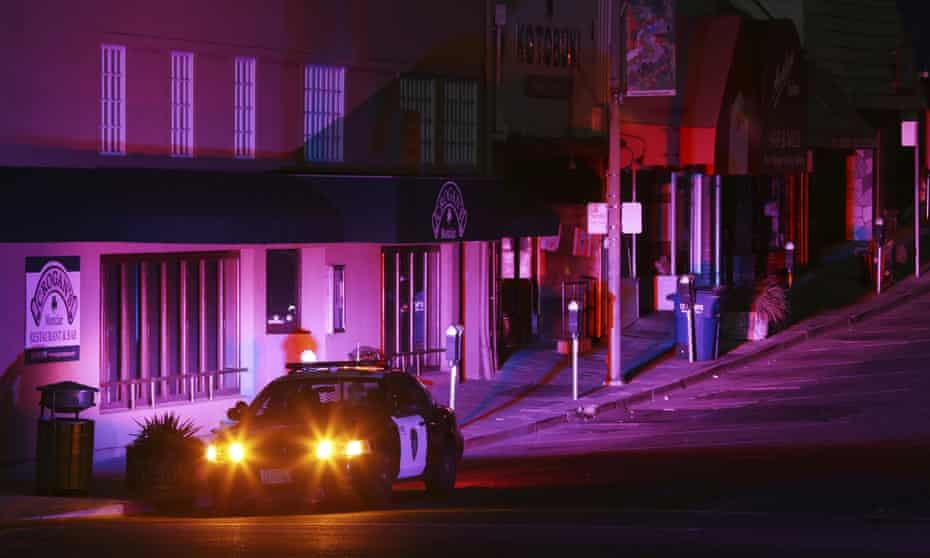 "When we talk about defunding police we have to be very sensitive to victims of crime and we need to hold space for healing," said Saabir Lockett, director of the Faith Alliance for a Moral Economy and member of the Defund OPD coalition in Oakland, California. "I think it's both and, not either or: how do we defund the police and reinvest in our communities?"
"Gun violence is often used to shut down the conversations it takes to reimagine public safety. It's exploitative and treats folks' experiences in a superficial way," said Jones. "There's a suggestion that even talking about defunding police makes gun violence more likely to happen even when there's little evidence to show that that's true."
In Oakland, Defund OPD, a five-year-old campaign housed within the Anti-Police Terror Project (APTP), is a leading voice in the city's efforts to reduce police spending and invest in areas such as housing, unarmed mental health responses and violence prevention programs.
The campaign began in 2015, a year that the APTP co-founder Cat Brooks refers to as a "bloody" one. The city's police department killed 11 people and the following year was embroiled in scandal after officers sexually exploited and trafficked a teenager. Since their defunding effort launched, APTP has kept sustained pressure on city officials to cut the department's budget by at least half.
"The goal is to interrupt and respond to state violence," said Brooks, a longtime Bay Area social justice organizer and outspoken advocate for families who have lost loved ones to police violence. "We're good at responding but the only way you get to interruption is to reduce the number of interactions with police."
Last summer, as protest filled Oakland's streets and calls to defund OPD reached city hall, the number of murder victims continued to rise, with homicides reaching 107 by the end of the year compared with 75 the year before.
At the end of July, the Oakland city council established its reimagining taskforce and filled its ranks with residents with varying and sometimes opposing views on the best ways to serve local communities.
On Wednesday the city's Reimagine Public Safety taskforce finished approving dozens of recommendations to take to city council. Upping investments in proven community violence prevention strategies and creating a program to respond to mental health crises without police present are included in the panoply of alternatives.
Even with these lofty goals and efforts to acknowledge the heavy toll of gun violence, several members of Oakland's taskforce remain uneasy about measures that would significantly cut police presence, especially as the city loses ground in its years-long struggle to reduce gun violence.
"We're supposed to address it all: the nonsense in policing and the nonsense in the community that is hurting us all. But it feels like the community issue is something that no one wants to touch," echoed Antoine Towers, chair of the Oakland Violence Prevention Coalition, a non-law enforcement collective striving to interrupt cycles of violence.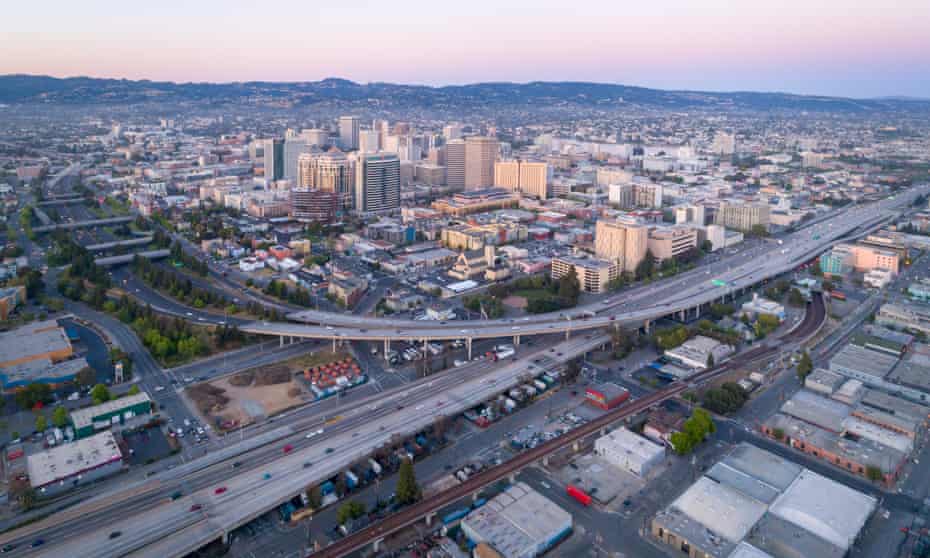 Once California's shelter-in-place order began, gun violence in the San Francisco Bay Area began to creep upward, and by the end of 2020 homicides – mostly by firearm –were up 35% compared with the year before. The increase was exceptionally painful in Oakland where gun deaths had been on a steady decline since 2012 and were on track to reach record lows in 2020.
So far this year, 29 people have been murdered in the city, 22 more deaths than last year in the same time period, according to the police department.
This period of gun violence led five Black members of Oakland's Reimagining Public Safety Taskforce to write a letter to the group's 12 other members expressing their concern that "even more lives will be lost if police are removed without an alternative response being put in place that is guaranteed to work as good as or better than the current system".
"I support the goal of defunding. It's necessary and we can't keep spending half of our general fund on police. But the reality is that people are dying," said John Jones III, taskforce member and one of the letter's signatories. Jones represents East Oakland, a neighborhood that has long struggled with gun violence and safety issues. He worries that divestment from police is outpacing the creation of surefire alternatives that have the capacity to deal with the city's gun violence, homelessness and other quality of life issues.
"I'm not building a case for policing, I just want people to understand the gravity," Jones continued. "We have to demonstrate why police aren't the best option but we have to approach it like methadone: by weaning people off of police."
Back in 2019, APTP had launched Mental Health First (MH First), an independent mental health response program. The first branch launched in Sacramento in early 2020 and another in Oakland was born later in the year. Through the program, a paramedic, mental health professional and security personnel are dispatched to the scenes of crises ranging from domestic violence to psychiatric emergencies in lieu of police.
Brooks hopes that this program and similar models will be scaled up and implemented at the scenes of shootings and available in the aftermath.
"Marginalized folks are dealing with heavy amounts of trauma from living in communities where violence happens but when a shooting happens we send 8,000 cops but no trauma counselors," Brooks said.
Now elements of this abolitionist ideal are being codified in city government. Earlier this week, Oakland's city council voted to create the Mobile Assistance Community Responders of Oakland program, known as Macro, a civilian first responder team housed within the city's fire department. Trained in medicine and mental health, the team will respond to 911 calls where there isn't a threat of violence, many of which could involve helping people experiencing mental health crises. The Macro program is being funded with $1.8m that could have otherwise gone to policing.
***
Conservative news media, officials and police unions have seized on the losses of life and injuries in cities like Oakland to place blame on the shoulders of those calling for and taking steps to defund police. Clinicians and gun violence interrupters, however, point to the disruption of in-person violence intervention work and closures of safe havens like schools and community centers as more likely culprits for a portion of the deadly incidents.
But dissent around defunding police based on gun violence is not limited to those who use it as a means to undermine efforts to reallocate money from police departments.
Sylvia Bennett-Stone's daughter was shot and killed in Alabama in 2004 and since then she has worked to connect other crime victims with healing services. She is also the executive director of Voices of Black Mothers United (VBMU), a group that advocates for women who have lost children to gun violence.
"It's been disheartening to see the numbers increase, especially among innocent children and it would be devastating to any community to defund or weaken the police force," she said.
The group, which began in January this year, has also been outspoken with their opposition to any moves to take money out of police departments. Instead they want more funding for police training and to improve response times.
"We don't support reallocating policing funds even to our organization," Bennett-Stone continued. "We're hoping that some of the police funds that are already available can and should go toward programs within the department for better training and learning how to respond to the community."
Organizers in cities like Oakland insist that these difficult conversations do not represent an impasse that leaves the most vulnerable with abysmal options: either keep police in neighborhoods at the current or higher levels or defund and be subject to shootings and violent crime.
"Defunding was a national campaign but it's a local process," Jones, the Berkeley professor, added. "Even with the outright dismissal of Defund the work is continuing, and we're beginning to see the kind of policy changes that we wouldn't have seen had the summer of 2020 not been what it was."
WHO concerned about first cases of monkeypox in children | Science & Tech
Reports of young children infected by monkeypox in Europe – there were at least four in recent days, with a fifth one recorded a few weeks ago – have raised concern about the progress of an outbreak now affecting more than 5,500 people in 51 countries.
The health organization's Europe chief, Hans Kluge, also warned on Friday that overall cases in the region have tripled in the last two weeks. "Urgent and coordinated action is imperative if we are to turn a corner in the race to reverse the ongoing spread of this disease," said Kluge.
The WHO has not yet declared the outbreak a global health emergency, however. At a meeting last Saturday, the agency ruled it out but said it could change its views if certain scenarios come to pass, such as a spike in cases among vulnerable groups like children, pregnant women and immunocompromised people. Available data shows that children, especially younger ones, are at higher risk of serious illness if they become infected.
The last known case of a child contracting monkeypox was reported on Tuesday in Spain, where a three-year-old was confirmed to have the disease. Cases in Spain are now in excess of 1,500 according to health reports filed by regional governments.
Also on Tuesday, Dutch authorities reported that a primary school student had become infected and that contact tracing had been initiated to rule out more cases within the child's close circle of contacts. On Saturday, France reported one confirmed case and one suspected case among elementary school students.
The UK has so far recorded at least two infections in minors. The first case, reported in May, involved a baby who had to be taken to intensive care for treatment with the antiviral Tecovirimat, of which few doses are available but which has already begun to be distributed in several countries. British authorities this week reported a second case of a child with monkeypox. The UK currently has the biggest monkeypox outbreak beyond Africa.
The main vaccine being used against monkeypox was originally developed for smallpox. The European Medicines Agency said earlier this week it was beginning to evaluate whether the shot should be authorized for monkeypox. The WHO has said supplies of the vaccine, made by Bavarian Nordic, are extremely limited.
Until May, monkeypox had never been known to cause large outbreaks beyond Africa, where the disease is endemic in several countries and mostly causes limited outbreaks when it jumps to people from infected wild animals.
Jury calls for sweeping reforms to Canada's approach to femicide | Canada
A community in rural Canada has made a series of transformative recommendations at a coroner's inquest that – if adopted – could position the country's most populous province as a leader in preventing femicides, particularly those carried out by an intimate partner.
The jury in Renfrew County, Ontario, just west of Canada's capital, delivered 86 recommendations this week in a unanimous verdict on the deaths of three local women, who were killed by the same man on a single morning nearly seven years ago.
The boldest was to have the Ontario government "formally declare intimate partner violence as an epidemic" that requires "significant financial investment" and deep systemic change to remedy.
Since the triple homicide on 22 September 2015, 111 women in Ontario have been murdered by their current or former partner, the inquest heard. Every six days in Canada, a woman is killed by her intimate partner, according to Statistics Canada.
The jury also recommended official prominence be given to the word "femicide" – to have it be listed as a manner of death by coroners in the province and added to the criminal code of Canada to underscore the misogyny beneath the killings of women and girls because of their gender.
"A lot of the recommendations are groundbreaking," said Pamela Cross, a lawyer and expert on intimate partner violence in Ontario who testified at the inquest.
The inquest, which heard from nearly 30 witnesses over three weeks, was meant to examine the systems that broke down in the weeks, months and years leading up to the day Basil Borutski got in a borrowed car, drove to Carol Culleton's cottage and strangled her with a coaxial cable, then moved on to Anastasia Kuzyk's house where he shot her to death and then to Nathalie Warmerdam's farm where he shot her too.
All three women had previously been in an intimate relationship with Borutski. He had been in and out of jail for assaulting Kuzyk and Warmerdam and was on probation at the time of the murders and subject to a weapons ban.
Borutski had been flagged as "high risk" two years before the triple homicide, the inquest heard, and exhibited 30 out of 41 risk factors identified by Ontario's domestic violence death review committee – including a deep sense of victimhood and the ability to convince new partners he was innocent and unfairly targeted by police in his prior convictions.
Police witnesses told the jury Borutski was very good at "manipulation" and constantly flouted court orders, including never showing up to a mandated partner assault response program.
The jury heard from family members, including Valerie Warmerdam, Nathalie's daughter, who painted a nuanced and empathetic picture of Borutski as a troubled stepfather. It heard from a frontline worker who described Warmerdam and Kuzyk's constant terror that Borutski would kill them or harm their family.
The inquest jury demanded decision-makers make "significant financial investments" in ending violence, have police all use the same records management system and create clear guidelines for flagging high-risk abusers. It urged the study of disclosure protocols like Clare's Law, which is used in the United Kingdom and in parts of Canada to allow a concerned person to check if their partner has a police record of intimate partner violence.
Valerie Warmerdam welcomed the verdict, but underscored the need for action on the part of governments who will receive these recommendations in the wake of the inquest. "I want change," she said. "These recommendations are a good start, if they are actioned. That's a big if."
Kirsten Mercer, counsel to End Violence Against Women Renfrew County (EVA), noted that it was the jury themselves who added the epidemic recommendation among 13 others, including creating a registry of high-risk offenders akin to the sex offenders registry, and exploring electronic monitoring of those charged or found guilty of an IPV-related offence.
"The jury has asked that we tell the truth about intimate partner violence," Mercer told the media after the verdict. "The jury has asked that we put our money where our mouth is."
The idea to add femicide to the coroner's list of manners of death and to the Criminal Code of Canada came from the joint submission. Countries in Latin America have already added this as a criminal offence, she said, and should be looked to as a model for how to do it here.
Accountability was a priority for this jury, Mercer said. The verdict called for the creation of an accountability body akin to the United Kingdom's domestic abuse commissioner and a specific committee to make sure this verdict does not just languish in decision-makers' inboxes.
"We are not going to wait forever any more."
Apollo Go: The Beijing neighborhood with robotaxis and driverless delivery service | International
Book a robotaxi on a mobile app and it will pick you up in less than 10 minutes. It's 2:00pm on a Thursday in Beijing and our ride is going smoothly with no human intervention so far. "Sometimes we have to speed up manually to avoid causing traffic jams. Bicycles and motorcycles often cause traffic congestion because they ignore traffic signals," says the driver supervising our trip, as the steering wheel magically moves by itself.
The 37-square-mile (60 square kilometers) Beijing High-level Automated Driving Demonstration Area (BJHAD) is where the country's first pilot project to use autonomous vehicles on public roads is happening. Located in a secluded district in the southeastern part of the city, BJHAD is the test site for a futuristic plan that envisions turning Beijing into the standard-bearer for artificial intelligence (AI). The Apollo robotaxis manufactured by Baidu and the autonomous delivery vehicles manufactured by JD.com (aka Jingdong) zip around a tranquil utopia that stands in stark contrast to the hectic jungle of downtown traffic.
"[A robotaxi] can handle an average of 15 daily bookings, most of which are trips between a subway stop and an office," said the cab driver. In November 2021, Baidu and Pony.ai became the first companies authorized to operate a fleet of 100 robotaxis in BJHAD. As of April 2022, humans are no longer required to sit in the driver's seat of the robotaxi, which is allowed to travel at a maximum speed of 37 miles per hour (60 kph). The service is free for now, although the two companies are commercially licensed.
Baidu, China's leading search engine, is diversifying its business by commercializing its AI and intelligent transportation technology. Its Apollo Go program is currently operating in seven cities, and the company plans to expand to 65 cities by 2025, and 100 cities by 2030. Unlike the Waymo robotaxis that Google began operating in 2020 in the US, Baidu's vehicles circulate during the day, enabling them to collect more data.
Although Baidu has topped the list of Chinese companies with the most patents for AI applications over the last four years, e-commerce giant JD.com is the leader in the autonomous delivery vehicle space. In 2016, Jingdong established its headquarters in BJHAD, and its delivery robots now dominate the streets. These vehicles mainly transport orders from the 7FRESH smart supermarket chain operated by JD that combines e-commerce and traditional commerce. "Instead of people going out to buy products, we deliver them," said Yang Han. Who works in Jingdong's communications department.
JD's applies big data analytical methods to the information collected from more than 400 million annual users, and utilizes it to tailor inventories to the specific needs of each 7FRESH physical stores location. The entire 7FRESH inventory is available in the app. The delivery robots, which travel at nine miles per hour (15 kph) and can carry 220-440 pounds (100-200 kilos), deliver orders in less than an hour within a three-mile (five kilometer) range.
JD employees rely on smaller robots to send documents and other items between offices in 10 minutes or less. "They speed up the work and saves us from having to run around from one place to another," said Yang Han. The robots are able to operate elevators and open doors by themselves as they follow their delivery routes.
The robots can recognize their surroundings and avoid obstacles with a 98% accuracy rate for small objects. Information streams in through cameras and other sensors, while the navigation algorithm pinpoints their location and plans routes. JD's cloud-based simulation platform accumulates data from every trip to continuously improve the robots' capabilities.
The Covid pandemic spurred JD to accelerate its autonomous delivery program, enabling it to deploy small and large delivery vehicles to the Chinese cities most affected by the pandemic over the last two and a half years. In early 2020, during the peak of the pandemic in Wuhan, these delivery vehicles traveled a total of 4,225 miles (6,800 kilometers) and delivered more than 13,000 packages.
In a country where low unemployment is one of the main pillars of its social stability goals, the move to autonomous vehicles may prove to be risky in the long run. However, Yang Han insists that the objective is to "achieve a synergy between humans and machines… The goal is to take the pressure off delivery drivers and allow them to focus on customer service and vehicle maintenance. The couriers don't need to transport the goods. Instead, they wait by the curb for the robots to arrive, and then walk the goods to the customer's door. "
BJHAD is part of the Beijing Economic and Technological Development Area, the first place in China specifically geared to AI research. The country aspires to become the world leader in AI by 2030 and to leave the "factory for the world" image behind for good.