'They call us bewitched': the DRC performers turning trash into art – photo essay | Global development
As a child, Shaka Fumu Kabaka witnessed the atrocities that took place during the six-day war between Ugandan and Rwandan forces in his home town of Kisangani in June 2000.
"It was not even our war, but a war between two foreign armies," he said.
The fighting led to more than 1,000 deaths and left many more wounded in the northern city of the Democratic Republic of the Congo. "I lost relatives," says Kabaka.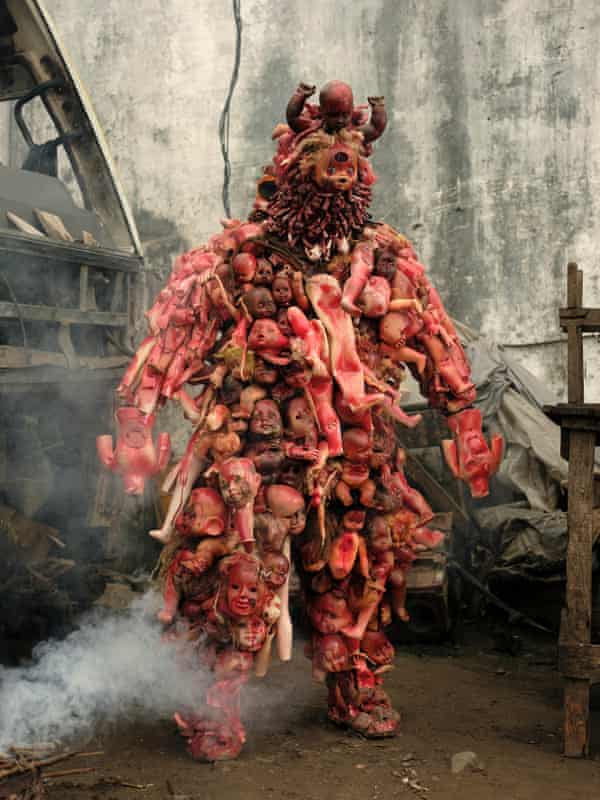 Kabaka, 33, is one of a small but growing band of multidisciplinary artists in the country's capital Kinshasa who create elaborate costumes from household rubbish found at dumps or on the streets. Matshozi 6 Jours (Six Days of Tears) is a surreal outfit he made from scavenged dolls to honour the victims of the six-day war.
"Every time I see a broken doll lying around somewhere in the street, it reminds me of what happened in Kisangani. They symbolise the victims I saw with my own eyes," says Kabaka.
It took a year to collect all the dolls. "The first time I wore the costume, it was a heavy burden. Not because of the weight, but because of the number of casualties it represents."
Kabaka can often be found at the collective Ndaku Ya La Vie Est Belle, a group of Kinshasa street performers who turn their bodies into living sculptures. The collective has found a home in the Matonge district, where the singer Papa Wemba formed his band Viva La Musica. About 20 artists turn rubbish into bizarre wearable artworks. Using their costumes as political commentary, Kabaka says his work also highlights the desperate need to recycle in a city overflowing with rubbish and plastic.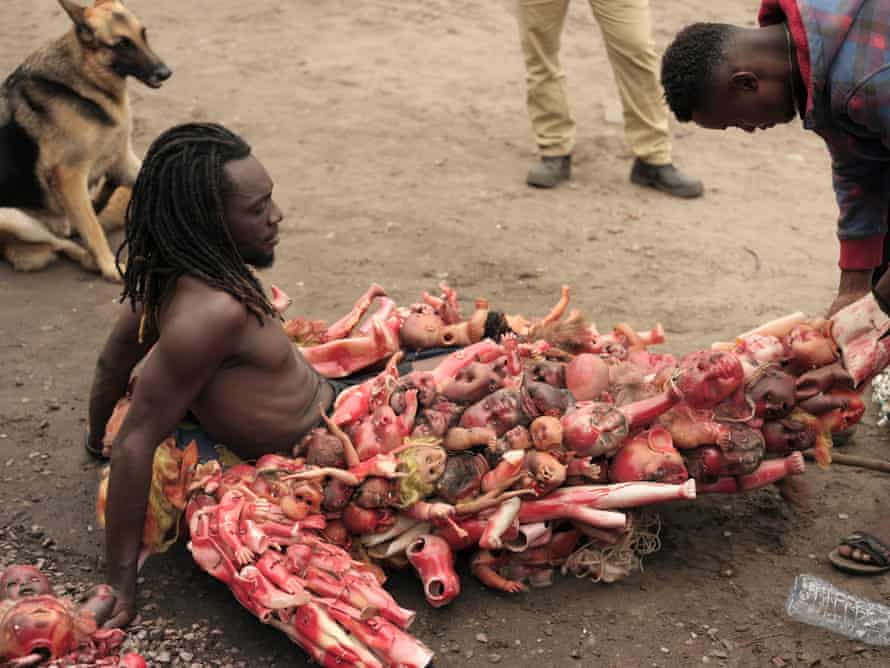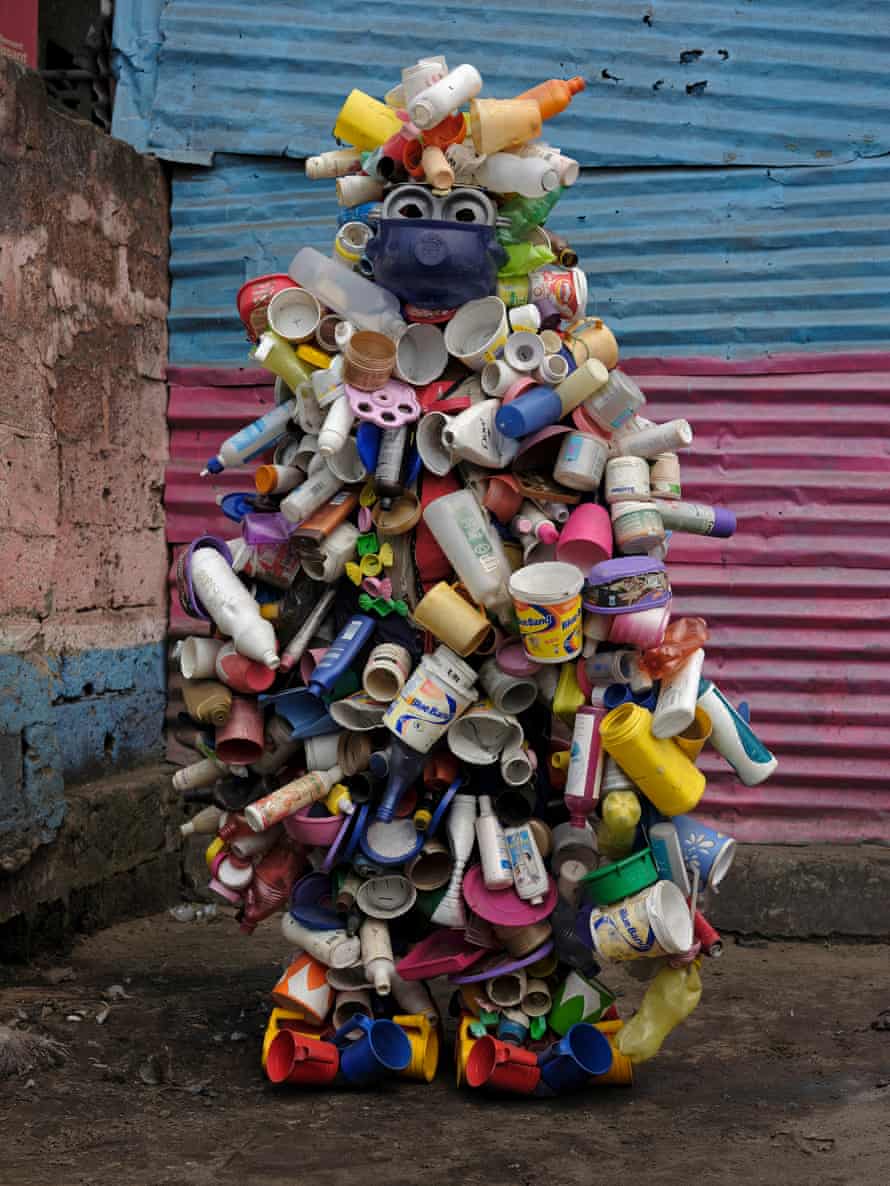 Despite their striking appearances, the artists say they are often ignored by the city's residents (known as Kinois) or dismissed as eccentrics. "They look at us strangely," says Kabaka.
"[I'm a] man with Rasta haircut who collects material at the rubbish dump – the inhabitants of Kinshasa call us crazy or bewitched."
This August, Kabaka and his fellow artists will take to Kinshasa's streets for KinAct, a week-long arts festival. Founded in 2015 by Eddy Ekete, who was born in Kinshasa, and Aude Bertrand from France, KinAct takes place in several of the capital's neighbourhoods. As well as street performances, the festival runs workshops to introduce children to different art forms, including theatre, sculpture, painting and poetry.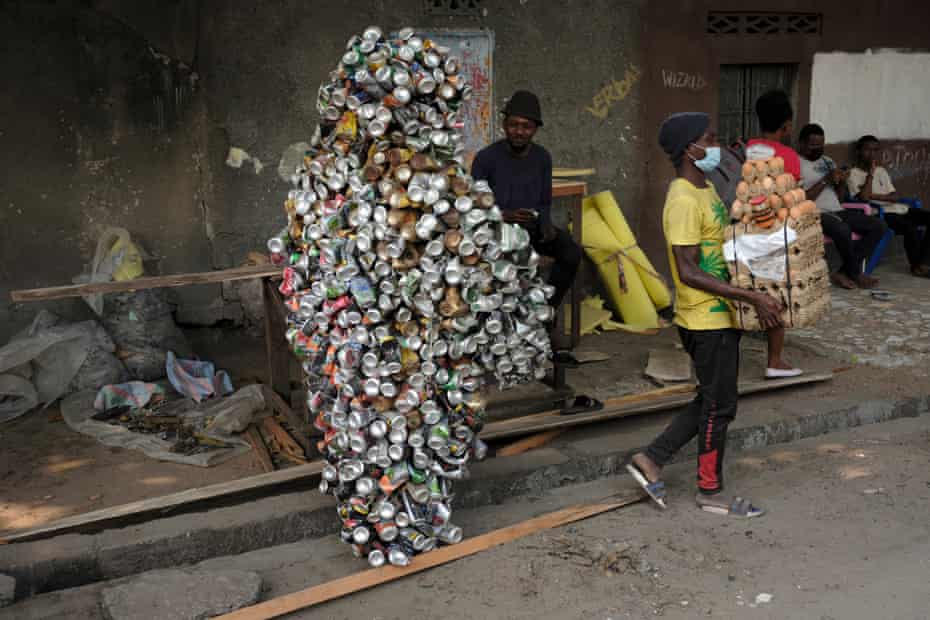 Dressed in a piece made from drinks cans, Ekete was one of the first artists to roam Kinshasa's streets in costume. The work, Homme Canette, was inspired by artists he had met in Brazil and west Africa.
Among the artists taking part in the festival is Kalenga Kabangu Jared, a student at Kinshasa art academy. Jared regularly takes to the streets dressed as Robot Annonce. The costume, made from broken radio parts, is designed to raise awareness of fake news. "People receive so much incorrect information and many inaccuracies are spread. I want to fight this," says Jared.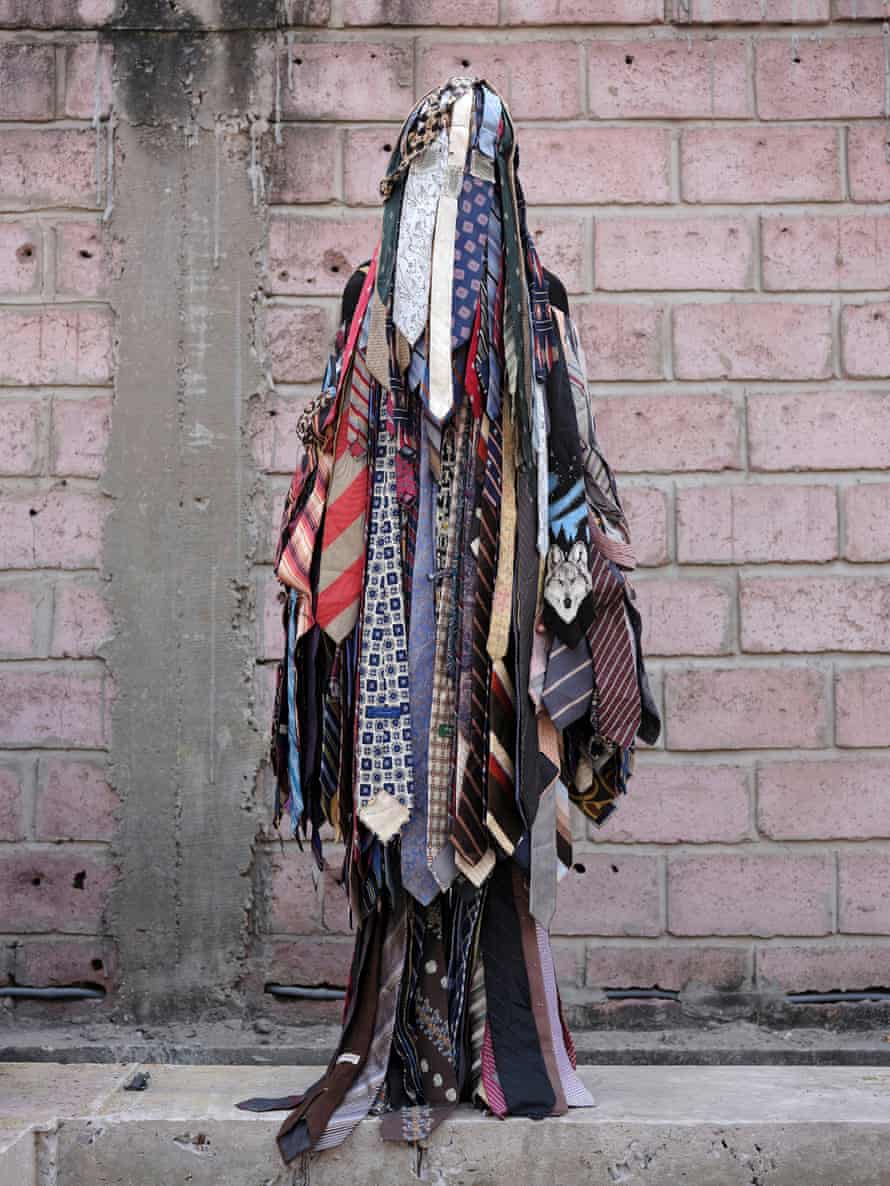 Another performer, Falonne Mambu, drew inspiration from her past when she created Femme Électrique (Electric Woman) out of electric wire. "I lived on the streets. I was homeless. But I discovered art and it has given me a voice," says the 30-year-old.
"In the dark, the residents dare not come out of their houses. If there were light, social control would be greater, more people would be on the street. What I experienced on the streets of Kinshasa as a homeless young woman and what many girls still experience today I address through my paintings and performances. I can talk about sexual violence through my work," says Mambu, who has worn her costume at protests against sexual violence and kidnappings.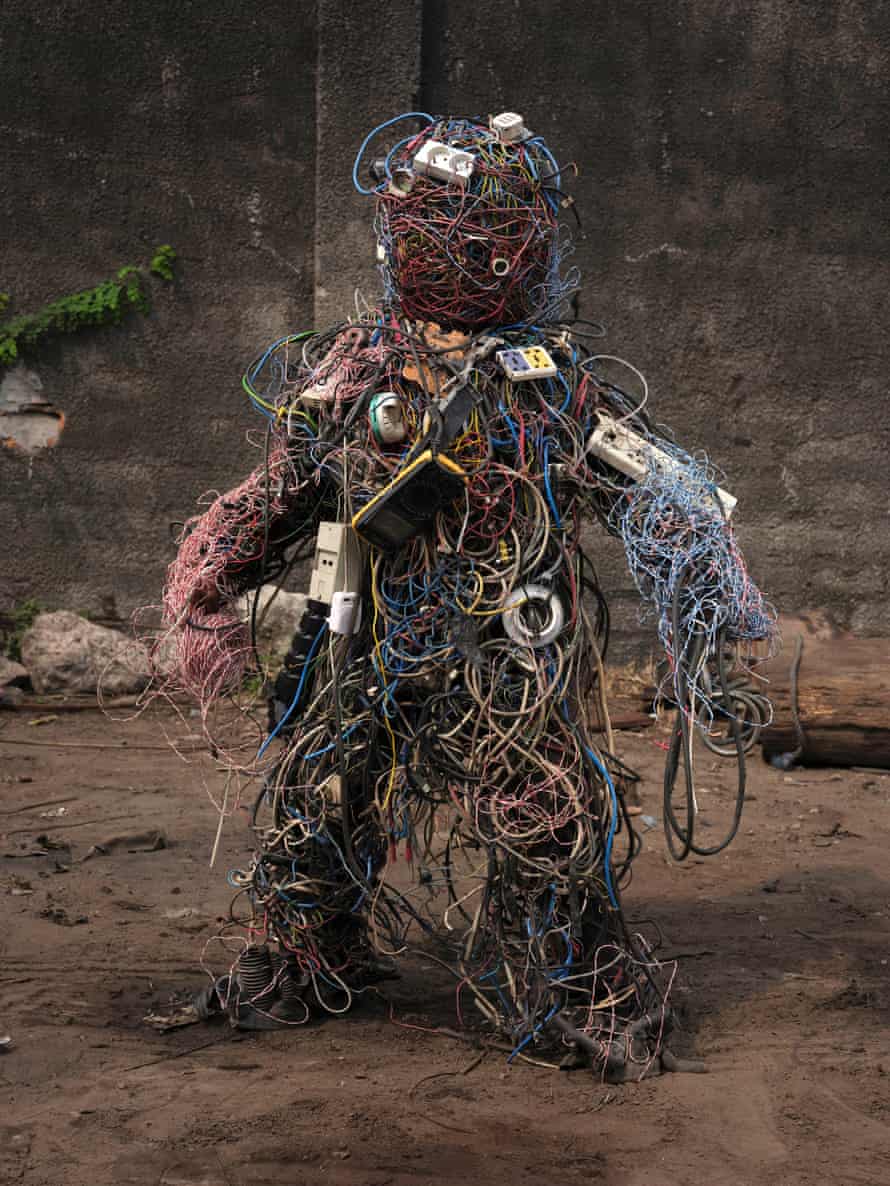 Flory Sinanduku, a member of art collective Farata, has made a name for himself in his neighbourhood – his courtyard is full of works of art. His costumes made of medicine packages and syringes are a statement about poor healthcare in the DRC, he says.
His friend Junior Nobiko opens a bag of plastic cable coatings. "You are the first to see it," says Nobiko proudly. "But I don't know yet if I'll wear it at the KinAct."
In the street, he asks some passersby to help him wriggle in and out of his costume.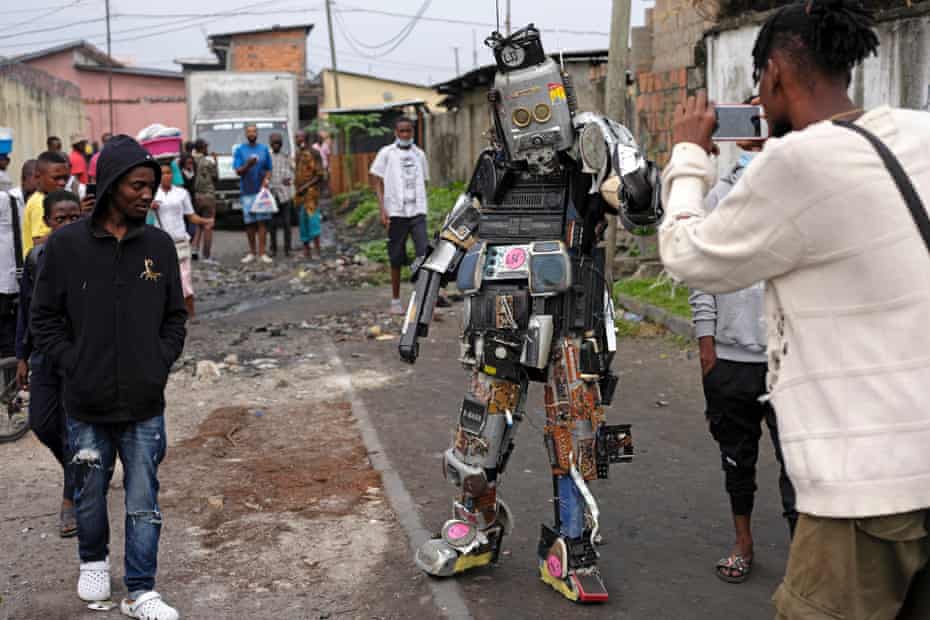 Belgium goes into three-week 'lockdown light'
Belgium is to go into a three-week 'lockdown light', following a meeting of federal and regional governments on Friday (26 November).
"We have to admit that we have been ambushed by the virus and that the situation is much more serious than we saw a few weeks ago", Belgian prime minister Alexander De Croo told a lunchtime press conference.
De Croo added that "the pressure on our hospitals is seriously increasing and that the situation is not tenable. We have to action now."
The Belgian concertation committee of federal and regional governments decided that social life will be restricted in a variety of ways for the next three weeks.
Nightclubs will be closed, and indoor concerts where people are not seated will be cancelled. This measure will go into effect on Monday (29 November).
Bars, restaurants and night-shops will need to close their doors at 11PM. The number of people on one table in restaurants will be restricted to six, except for families larger than six. These measures will go into effect on Saturday (27 November).
Private parties will be forbidden, with an exception for weddings and funerals. However, it is still allowed to have guests at home.
At work and school, on the other hand, there are no upgraded restrictions. The last committee decided that teleworking is mandatory four days a week, and that people can only go to the office one day a week.
Schools will remain open, as will universities.
De Croo reiterated that these "measures will only makes sense if everyone follows them."
The committee decided to accelerate the vaccination campaign. Regional governments will organise test centres where people can get tested for free.
The committee decided to meet urgently after hospitals and doctors said they could no longer handle the situation. From 16 to 22 November, on average 16,100 people tested positive for Covid daily. On 22 November that number was already 25,365 .
Currently, 669 intensive-care beds are filled with Covid patients, well over the emergency threshold of 500, and in the worst-case scenario, 1,250 intensive-care beds, a maximum capacity, would be filled by Christmas.
Belgium has not been able to organise roll-out of the booster jab in time to prevent the fourth wave. De Croo announced that on Saturday (27 November) a plan will be made to accelerate the booster jab for every adult.
Before the Belgian governments met, European Commission president Ursula von der Leyen announced the bloc will take the initiative to block all air travels from Southern Africa, where a new variant of Covid-19 has been found.
Interpol's president: alleged torturer rises as symbol of UAE soft power | Global development
Maj Gen Ahmed Nasser al-Raisi's ascent through the ranks of the interior ministry in Abu Dhabi is associated with the United Arab Emirates' transformation into a hi-tech surveillance state.
His personal achievements include a diploma in police management from the University of Cambridge, a doctorate in policing, security and community safety from London Metropolitan University and a medal of honour from Italy.
Now, in a big soft-power win for the UAE and its attempt to legitimise its policing methods internationally, he has been elected the president of the global policing organisation Interpol – to the dismay of human rights defenders.
Often photographed smiling, Raisi is the longstanding inspector general for the interior ministry, responsible for the supervision of detention centres and policing. Multiple former detainees accuse him of using this position to green-light abuses, including torture.
"Raisi's rise to the Interpol presidency legitimises the role and conduct of security forces in the UAE," said Matthew Hedges, a British academic and expert on the Emirates who was detained there for seven months on espionage charges. Hedges, who was eventually pardoned, says Raisi was responsible for his arrest and also oversaw the torture he says he suffered in detention.
"This translates to a green light for states to continue acting in a way that abuses accountability and human rights, legitimises the dilution of rule of law and emboldens authoritative and abusive systems of detention," Hedges said. "This is really a warning to the international community that cross-border abuses can and will occur."
The Gulf state has previously said Hedges was not subjected to any physical or psychological mistreatment during his detention. On Thursday its interior ministry heralded Raisi's win as "recognition of the vital role of the UAE all over the world".
"The UAE," it said, "is now at the helm of this international organisation working in the fields of security and policing and will do its best to make the world a safer place."
In an unusually public campaign for the role, Raisi boasted of technological transformations that overhauled policing and surveillance in the UAE. These included the introduction of iris and facial scanning technology, and the creation of the interior ministry's first "general directorate of happiness".
His domestic policing changes underpin Abu Dhabi and Dubai's status as two of the world's most surveilled cities. One system, called Falcon Eye, deploys thousands of cameras to monitor not just traffic violations but also "behavioural issues like public hygiene and incidents like people gathering in areas where they are not allowed to", according to a report by the state news agency WAM.
The rise in surveillance has been accompanied by a crackdown on domestic criticism and dissent. Human Rights Watch has said: "The government's pervasive domestic surveillance has led to extensive self-censorship by UAE residents and UAE-based institutions; and stonewalling, censorship, and possible surveillance of the news media by the government."
Abdullah Alaoudh, from the Washington DC organisation Democracy for the Arab World Now, said the UAE had been applying a two-pronged approach epitomised by Raisi's Interpol win: "Cracking down hard on every voice of dissent, while investing in public relations like lobbying, soft power, sports and entertainment."
Christopher M Davidson, the author of a book on statecraft in the Middle East, described Raisi as an example of "high-performing technocratic members of UAE political society" who had found success under Crown Prince Mohammed bin Zayed Al Nahyan.
"The key to the regime of Mohammed bin Zayed has been to get things done, to stamp out corruption. Despite all criticisms levelled at the UAE and Abu Dhabi today, it is a far less corrupt place than it was 15 years ago. These were the people entrusted to clean up ministries," said Davidson.
Stamping out corruption has, at times, included arresting the wealthy and critics. Khadem al-Qubaisi, a former adviser to the royal family and a businessman who said he was "scapegoated" by the Abu Dhabi authorities for embezzling millions, is detained in Al Wathba prison. The prison, overseen by Raisi, also holds the human rights defender Ahmed Mansoor.
Riyaadh Ebrahim, who spent more than a year in the prison, said he witnessed torture there. "There is wrongful imprisonment, no application of the rule of law. People are being persecuted for crimes they did not commit," Ebrahim said. He said he was "totally appalled" by Raisi's victory in the Interpol election race.
Davidson said the UAE was using its wealth and resources to buy reputational shortcuts on the international stage.
"Policing in the UAE still has its problems, but this is a way of saying to the world that [they] are credible and respectable," he said. "Obtaining the presidency of Interpol symbolises moving in the right direction."
Jalel Harchaoui from the Geneva-based organisation the Global Initiative Against Transnational Organized Crime said Raisi's election highlighted the struggle between liberal and illiberal nations within international institutions such as Interpol, and was a victory for anti-democratic countries.
"On the surface, Abu Dhabi – thanks to excellent soft-power outreach – markets itself as a modern state, which happens to be a dependable friend to all the major western democracies," he said. "In reality however, the Emiratis, whose governance style has been partly inspired by China's strict form of authoritarianism, always campaign against liberalism and its key principles."
A spokesperson for the UAE embassy in London did not respond to a request for comment.
France reminds Poland on law in Paris meeting
French president Emmanuel Macron urged Polish president Mateusz Morawiecki to solve a rule-of-law dispute with the EU, while voicing solidarity on the Belarus migration crisis, in a meeting in Paris on Wednesday. Poland should "find a solution that safeguards the core values of the European Union", Macron's office said. Russian president Vladimir Putin told EU Council president Charles Michel by phone extra EU sanctions on Belarus would be "counterproductive".