The US Outspends Russia 10X On Military, But They Are Equals. Why?
Orlov is one of our favorite essayists on Russia and all sorts of other things. He moved to the US as a child, and lives in the Boston area.
He is one of the better-known thinkers The New Yorker has dubbed 'The Dystopians' in an excellent 2009 profile, along with James Howard Kunstler, another regular contributor to RI (archive). These theorists believe that modern society is headed for a jarring and painful crack-up.
He is best known for his 2011 book comparing Soviet and American collapse (he thinks America's will be worse). He is a prolific author on a wide array of subjects, and you can see his work by searching him on Amazon.
He has a large following on the web, and on Patreon, and we urge you to support him there, as Russia Insider does.
His current project is organizing the production of affordable house boats for living on. He lives on a boat himself.
If you haven't discovered his work yet, please take a look at his archive of articles on RI. They are a real treasure, full of invaluable insight into both the US and Russia and how they are related.
---
"Russia is ready to respond to any provocation, but the last thing the Russians want is another war. And that, if you like good news, is the best news you are going to hear."
A whiff of World War III hangs in the air. In the US, Cold War 2.0 is on, and the anti-Russian rhetoric emanating from the Clinton campaign, echoed by the mass media, hearkens back to McCarthyism and the red scare. In response, many people are starting to think that Armageddon might be nigh—an all-out nuclear exchange, followed by nuclear winter and human extinction. It seems that many people in the US like to think that way. Goodness gracious!
We also know how painful it is to realize that the US is damaged beyond repair, or to acquiesce to the fact that most of the damage is self-inflicted: the endless, useless wars, the limitless corruption of money politics, the toxic culture and gender wars, and the imperial hubris and willful ignorance that underlies it all… This level of disconnect between the expected and the observed certainly hurts, but the pain can be avoided, for a time, through mass delusion.
This sort of downward spiral does not automatically spell "Apocalypse," but the specifics of the state cult of the US—an old-time religiosity overlaid with the secular religion of progress—are such that there can be no other options: either we are on our way up to build colonies on Mars, or we perish in a ball of flame. Since the humiliation of having to ask the Russians for permission to fly the Soyuz to the International Space Station makes the prospect of American space colonies seem dubious, it's Plan B: balls of flame here we come!
And so, most of the recent American warmongering toward Russia can be explained by the desire to find anyone but oneself to blame for one's unfolding demise. This is a well-understood psychological move—projecting the shadow—where one takes everything one hates but can't admit to about oneself and projects it onto another. On a subconscious level (and, in the case of some very stupid people, even a conscious one) the Americans would like to nuke Russia until it glows, but can't do so because Russia would nuke them right back. But the Americans can project that same desire onto Russia, and since they have to believe that they are good while Russia is evil, this makes the Armageddon scenario appear much more likely.
But this way of thinking involves a break with reality. There is exactly one nation in the world that nukes other countries, and that would be the United States. It gratuitously nuked Japan, which was ready to surrender anyway, just because it could. It prepared to nuke Russia at the start of the Cold War, but was prevented from doing so by a lack of a sufficiently large number of nuclear bombs at the time. And it attempted to render Russia defenseless against nuclear attack, abandoning the Anti-Ballistic Missile Treaty in 2002, but has been prevented from doing so by Russia's new weapons. These include, among others, long-range supersonic cruise missiles (Kalibr), and suborbital intercontinental missiles carrying multiple nuclear payloads capable of evasive maneuvers as they approach their targets (Sarmat). All of these new weapons are impossible to intercept using any conceivable defensive technology. At the same time, Russia has also developed its own defensive capabilities, and its latest S-500 system will effectively seal off Russia's airspace, being able to intercept targets both close to the ground and in low Earth orbit.
In the meantime, the US has squandered a fantastic sum of money fattening up its notoriously corrupt defense establishment with various versions of "Star Wars," but none of that money has been particularly well spent. The two installations in Europe of Aegis Ashore (completed in Romania, planned in Poland) won't help against Kalibr missiles launched from submarines or small ships in the Pacific or the Atlantic, close to US shores, or against intercontinental missiles that can fly around them. The THAAD installation currently going into South Korea (which the locals are currently protesting by shaving their heads) won't change the picture either.
There is exactly one nuclear aggressor nation on the planet, and it isn't Russia. But this shouldn't matter. In spite of American efforts to undermine it, the logic of Mutual Assured Destruction (MAD) remains in effect. The probability of a nuclear exchange is determined not by anyone's policy but by the likelihood of it happening by accident. Since there is no winning strategy in a nuclear war, nobody has any reason to try to start one. Under no circumstances is the US ever going to be able to dictate its terms to Russia by threatening it with nuclear annihilation.
If a nuclear war is not in the cards, how about a conventional one? The US has been sabre-rattling by stationing troops and holding drills in the Baltics, right on Russia's western border, installing ABM systems in Romania, Poland and South Korea, supporting anti-Russian Ukrainian Nazis, etc. All of this seems quite provocative; can it result in a war? And what would that war look like?
Here, we have to look at how Russia has responded to previous provocations. These are all the facts that we know, and can use to predict what will happen, as opposed to purely fictional, conjectural statements unrelated to known facts.
When the US or its proxies attack an enclave of Russian citizens outside of Russia's borders, here are the types of responses that we have been able to observe so far:
1. The example of Georgia. During the Summer Olympics in Beijing (a traditional time of peace), the Georgian military, armed and trained by the US and Israel, invaded South Ossetia. This region was part of Georgia in name only, being mostly inhabited by Russian speakers and passport-holders. Georgian troops started shelling its capital, Tskhinval, killing some Russian peacekeeping troops stationed in the region and causing civilian casualties. In response, Russian troops rolled into Georgia, within hours completely eliminating Georgia's war-making capability. They announced that South Ossetia was de facto no longer part of Georgia, throwing in Abkhazia (another disputed Russian enclave) for good measure, and withdrew. Georgia's warmongering president Saakashvili was pronounced a "political corpse" and left to molder in place. Eventually he was forced to flee Georgia, where he has been declared a fugitive from justice. The US State Department recently gave him a new job, as Governor of Odessa in the Ukraine. Recently, Russian-Georgian relations have been on the mend.
2. The example of Crimea. During the Winter Olympics in Sochi, in Russia (a traditional time of peace) there occurred an illegal, violent overthrow of the elected, constitutional government of the Ukraine, followed by the installation of a US-picked puppet administration. In response, the overwhelmingly Russian population of the autonomous region of Crimea held a referendum. Some 95% of them voted to secede from the Ukraine and to once again become part of Russia, which they had been for centuries and until very recently. The Russians then used their troops already stationed in the region under an international agreement to make sure that the results of the referendum were duly enacted. Not a single shot was fired during this perfectly peaceful exercise in direct democracy.
3. The example of Crimea again. During the Summer Olympics in Rio (a traditional time of peace) a number of Ukrainian operatives stormed the Crimean border and were swiftly apprehended by Russia's Federal Security Service, together with a cache of weapons and explosives. A number of them were killed in the process, along with two Russians. The survivors immediately confessed to planning to organize terrorist attacks at the ferry terminal that links Crimea with the Russian mainland and a railway station. The ringleader of the group confessed to being promised the princely sum of $140 for carrying out these attacks. All of them are very much looking forward to a warm, dry bunk and three square meals of day, care of the Russian government, which must seem like a slice of heaven compared to the violence, chaos, destitution and desolation that characterizes life in present-day Ukraine. In response, the government in Kiev protested against "Russian provocation," and put its troops on alert to prepare against "Russian invasion." Perhaps the next shipment of US aid to the Ukraine should include a supply of chlorpromazine or some other high-potency antipsychotic medication.
Note the constant refrain of "during the Olympics." This is not a coincidence but is indicative of a certain American modus operandi. Yes, waging war during a traditional time of peace is both cynical and stupid. But the American motto seems to be "If we try something repeatedly and it still doesn't work, then we just aren't trying hard enough." In the minds of those who plan these events, the reason they never work right can't possibly have anything to do with it being stupid. This is known as "Level III Stupid": stupidity so profound that it is unable to comprehend its own stupidity.
4. The example of Donbass. After the events described in point 2 above, this populous, industrialized region, which was part of Russia until well into the 20th century and is linguistically and culturally Russian, went into political turmoil, because most of the locals wanted nothing to do with the government that had been installed in Kiev, which they saw as illegitimate. The Kiev government proceeded to make things worse, first by enacting laws infringing on the rights of Russian-speakers, then by actually attacking the region with the army, which they continue to do to this day, with three unsuccessful invasions and continuous shelling of both residential and industrial areas, in the course of which over ten thousand civilians have been murdered and many more wounded. In response, Russia assisted with establishing a local resistance movement supported by a capable military contingent formed of local volunteers. This was done by Russian volunteers, acting in an unofficial capacity, and by Russian private citizens donating money to the cause. In spite of Western hysteria over "Russian invasion" and "Russian aggression," no evidence of it exists. Instead, the Russian government has done just three things: it refused to interfere with the work of its citizens coming to the aid of Donbass; it pursued a diplomatic strategy for resolving the conflict; and it has provided numerous convoys of humanitarian aid to the residents of Donbass. Russia's diplomatic initiative resulted in two international agreements—Minsk I and Minsk II—which compelled both Kiev and Donbass to pursue a strategy of political resolution of the conflict through cessation of hostilities and the granting to Donbass of full autonomy. Kiev has steadfastly refused to fulfill its obligations under these agreements. The conflict is now frozen, but continuing to bleed because of Ukrainian shelling, waiting for the Ukrainian puppet government to collapse.
To complete the picture, let us include Russia's recent military action in Syria, where it came to the defense of the embattled Syrian government and quickly demolished a large part of ISIS/ISIL/Daesh/Islamic Caliphate, along with various other terrorist organizations active in the region. The rationale for this action is that Russia saw a foreign-funded terrorist nest in Syria as a direct threat to Russia's security. Two other notable facts here are that Russia acted in accordance with international law, having been invited by Syria's legitimate, internationally recognized government and that the military action was scaled back as soon as it seemed possible for all of the legitimate (non-terrorist) parties to the conflict to return to the negotiating table. These three elements—using military force as a reactive security measure, scrupulous adherence to international law, and seeing military action as being in the service of diplomacy—are very important to understanding Russia's methods and ambitions.
Turning now to US military/diplomatic adventures, we see a situation that is quite different. US military spending is responsible for over half of all federal discretionary spending, dwarfing most other vitally important sectors, such as infrastructure, public medicine and public education. It serves several objectives. Most importantly, it is a public jobs program: a way of employing people who are not employable in any actually productive capacity due to lack of intelligence, education and training. Second, it is a way for politicians and defense contractors to synergistically enrich themselves and each other at the public's expense. Third, it is an advertising program for weapons sales, the US being the top purveyor of lethal technology in the world. Last of all, it is a way of projecting force around the world, bombing into submission any country that dares oppose Washington's global hegemonic ambitions, often in total disregard of international law. Nowhere on this list is the actual goal of defending the US.
None of these justifications works vis-à-vis Russia. In dollar terms, the US outspends Russia on defense hands down. However, viewed in terms of purchasing parity, Russia manages to buy as much as ten times more defensive capability per unit national wealth than the US, largely negating this advantage. Also, what the US gets for its money is inferior: the Russian military gets the weapons it wants; the US military gets what the corrupt political establishment and their accomplices in the military-industrial complex want in order to enrich themselves. In terms of being an advertising campaign for weapons sales, watching Russian weaponry in action in Syria, effectively wiping out terrorists in short order through a relentless bombing campaign using scant resources, then seeing US weaponry used by the Saudis in Yemen, with much support and advice from the US, being continuously defeated by lightly armed insurgents, is unlikely to generate too many additional sales leads. Lastly, the project of maintaining US global hegemony seems to be on the rocks as well. Russia and China are now in a de facto military union. Russia's superior weaponry, coupled with China's almost infinitely huge infantry, make it an undefeatable combination. Russia now has a permanent air base in Syria, has made a deal with Iran to use Iranian military bases, and is in the process of prying Turkey away from NATO. As the US military, with its numerous useless bases around the world and piles of useless gadgets, turns into an international embarrassment, it remains, for the time being, a public jobs program for employing incompetents, and a rich source of graft.
In all, it is important to understand how actually circumscribed American military capabilities are. The US is very good at attacking vastly inferior adversaries. The action against Nazi Germany only succeeded because it was by then effectively defeated by the Red Army—all except for the final mop-up, which is when the US came out of its timid isolation and joined the fray. Even North Korea and Vietnam proved too tough for it, and even there its poor performance would have been much poorer were it not for the draft, which had the effect of adding non-incompetents to the ranks, but produced the unpleasant side-effect of enlisted men shooting their incompetent officers—a much underreported chapter of American military history. And now, with the addition of LGBTQ people to the ranks, the US military is on its way to becoming an international laughing stock. Previously, terms like "faggot" and "pussy" were in widespread use in the US military's basic training. Drill sergeants used such terminology to exhort the "numb-nuts" placed in their charge to start acting like men. I wonder what words drill sergeants use now that they've been tasked with training those they previously referred to as "faggots" and "pussies"? The comedic potential of this nuance isn't lost on Russia's military men.
This comedy can continue as long as the US military continues to shy away from attacking any serious adversary, because if it did, comedy would turn to tragedy rather quickly. 
If, for instance, US forces tried to attack Russian territory by lobbing missiles across the border, they would be neutralized in instantaneous retaliation by Russia's vastly superior artillery.

If Americans or their proxies provoked Russians living outside of Russia (and there are millions of them) to the point of open rebellion, Russian volunteers, acting in an unofficial capacity and using private funds, would quickly train, outfit and arm them, creating a popular insurgency that would continue for years, if necessary, until Americans and their proxies capitulate.

If the Americans do the ultimately foolish thing and invade Russian territory, they would be kettled and annihilated, as repeatedly happened to the Ukrainian forces in Donbass.

Any attempt to attack Russia using the US aircraft carrier fleet would result in its instantaneous sinking using any of several weapons: ballistic anti-ship missiles, supercavitating torpedos or supersonic cruise missiles.

Strategic bombers, cruise missiles and ballistic missiles would be eliminated by Russia's advanced new air defense systems.
So much for attack; but what about defense? Well it turns out that there is an entire separate dimension to engaging Russia militarily. You see, Russia lost a huge number of civilian lives while fighting off Nazi Germany. Many people, including old people, women and children, died of starvation and disease, or from German shelling, or from the abuse they suffered at the hands of German soldiers. On the other hand, Soviet military casualties were on par with those of the Germans. This incredible calamity befell Russia because it had been invaded, and it has conditioned Russian military thinking ever since. The next large-scale war, if there ever is one, will be fought on enemy territory. Thus, if the US attacks Russia, Russia will counterattack the US mainland. Keeping in mind that the US hasn't fought a war on its own territory in over 150 years, this would come as quite a shock.
Of course, this would be done in ways that are consistent with Russian military thinking. Most importantly, the attack must be such that the possibility of triggering a nuclear exchange remains minimized. Second, the use of force would be kept to the minimum required to secure a cessation of hostilities and a return to the negotiating table on terms favorable to Russia. Third, every effort would be made to make good use of internal popular revolts to create long-lasting insurgencies, letting volunteers provide the necessary arms and training. Lastly, winning the peace is just as important as winning the war, and every effort would be made to inform the American public that what they are experiencing is just retribution for certain illegal acts. From a diplomatic perspective, it would be much more tidy to treat the problem of war criminals running the US as an internal, American political problem, to be solved by Americans themselves, with an absolute minimum of outside help. This would best be accomplished through a bit of friendly, neighborly intelligence-sharing, letting all interested parties within the US know who exactly should be held responsible for these war crimes, what they and their family members look like, and where they live. 
The question then is, What is the absolute minimum of military action—what I am calling "a thousand balls of fire," named after George Bush Senior's "a thousand points of light"—to restore peace on terms favorable to Russia? It seems to me that 1000 "balls of fire" is just about the right number. These would be smallish explosions—enough to demolish a building or an industrial installation, with almost no casualties. This last point is extremely important, because the goal is to destroy the system without actually directly hurting any of the people. It wouldn't be anyone else's fault if people in the US suffer because they refuse to do as their own FEMA asks them to do: stockpile a month's worth of food and water and put together an emergency evacuation plan. In addition, given the direction in which the US is heading, getting a second passport, expatriating your savings, and getting some firearms training just in case you end up sticking around are all good ideas.
The reason it is very important for this military action to not kill anyone is this: there are some three million Russians currently residing in the US, and killing any of them is definitely not on strategy. There is an even larger number of people from populous countries friendly to Russia, such as China and India, who should also remain unharmed. Thus, a strategy that would result in massive loss of life would simply not be acceptable. A much better scenario would involve producing a crisis that would quickly convince the Russians living in the US (along with all the other foreign nationals and first-generation immigrants, and quite a few of the second-generation immigrants too) that the US is no longer a good place to live. Then all of these people could be repatriated—a process that would no doubt take a few years. Currently, Russia is the number three destination worldwide for people looking for a better place to live, after the US and Germany. Germany is now on the verge of open revolt against Angela Merkel's insane pro-immigration policies. The US is not far behind, and won't remain an attractive destination for much longer. And that leaves Russia as the number one go-to place on the whole planet. That's a lot of pressure, even for a country that is 11 time zones wide and has plenty of everything except tropical fruit and people.
We must also keep in mind that Israel—which is, let's face it, a US protectorate temporarily parked on Palestinian land—wouldn't last long without massive US support. Fully a third of Israeli population happens to be Russian. The moment Project Israel starts looking defunct, most of these Russian Jews, clever people that they are, will no doubt decide to stage an exodus and go right back to Russia, as is their right. This will create quite a headache for Russia's Federal Migration Service, because it will have to sift through them all, letting in all the normal Russian Jews while keeping out the Zionist zealots, the war criminals and the ultra-religious nutcases. This will also take considerable time.
But actions that risk major loss of life also turn out to be entirely unnecessary, because an effective alternative strategy is available: destroy key pieces of government and corporate infrastructure, then fold your arms and wait for the other side to crawl back to the negotiating table waving a white rag. You see, there are just a few magic ingredients that allow the US to continue to exist as a stable, developed country capable of projecting military force overseas. They are: the electric grid; the financial system; the interstate highway system; rail and ocean freight; the airlines; and oil and gas pipelines. Disable all of the above, and it's pretty much game over. How many "balls of flame" would that take? Probably well under a thousand.
Disabling the electric grid is almost ridiculously easy, because the system is very highly integrated and interdependent, consisting of just three sub-grids, called "interconnects": western, eastern and Texas. The most vulnerable parts of the system are the Large Power Transformers (LPTs) which step up voltages to millions of volts for transmission, and step them down again for distribution. These units are big as houses, custom-built, cost millions of dollars and a few years to replace, and are mostly manufactured outside the US. Also, along with the rest of the infrastructure in the US, most of them are quite old and prone to failure. There are several thousand of these key pieces of equipment, but because the electric grid in the US is working at close to capacity, with several critical choke points, it would be completely disabled if even a handful of the particularly strategic LPTs were destroyed. In the US, any extended power outage in any of the larger urban centers automatically triggers large-scale looting and mayhem. Some estimate that just a two week long outage would push the situation to a point of no return, where the damage would become too extensive to ever be repaired.
Disabling the financial system is likewise relatively trivial. There are just a few choke points, including the Federal Reserve, a few major banks, debit and credit card company data centers, etc. They can be disabled using a variety of methods, such as a cruise missile strike, a cyberattack, electric supply disruption or even civil unrest. It bears noting that the financial system in the US is rigged to blow even without foreign intervention. The combination of runaway debt, a gigantic bond bubble, the Federal Reserve trapped into ever-lower interest rates, underfunded pensions and other obligations, hugely overpriced real estate and a ridiculously frothy stock market will eventually detonate it from the inside. 
A few more surgical strikes can take out the oil and gas pipelines, import terminals, highway bridges and tunnels, railroads and airlines. A few months without access to money and financial services, electricity, gasoline, diesel, natural gas, air transport or imported spare parts needed to repair the damage should be enough to force the US to capitulate. If it makes any efforts to restore any of these services, an additional strike or two would quickly negate them.
The number of "balls of flame" can be optimized by taking advantage of destructive synergies: a GPS jammer deployed near the site of an attack can prevent responders from navigating to it; taking out a supply depot together with the facility it serves, coupled with transportation system disruptions, can delay repairs by many months; a simple bomb threat can immobilize a transportation hub, making it a sitting duck instead of a large number of moving targets; etc.
You may think that executing such a fine-tuned attack would require a great deal of intelligence, which would be difficult to gather, but this is not the case. First, a great deal of tactically useful information is constantly being leaked by insiders, who often consider themselves "patriots." Second, what hasn't been leaked can be hacked, because of the pitiable state of cybersecurity in the US. Remember, Russia is where anti-virus software is made—and a few of the viruses too. The National Security Agency was recently hacked, and its crown jewels stolen; if it can be hacked, what about all those whose security it supposedly protects?
You might also think that the US, if attacked in this manner, could effectively retaliate in kind, but this scenario is rather difficult to imagine. Many Russians don't find English too difficult, are generally familiar with the US through exposure to US media, and the specialists among them, especially those who have studied or taught at universities in the US, can navigate their field of expertise in the US almost as easily as in Russia. Most Americans, on the other hand, can barely find Russia on a map, can't get past the Cyrillic alphabet and find Russian utterly incomprehensible.
Also consider that Russia's defense establishment is mainly focused on… defense. Offending people in foreign lands is not generally seen as strategically important. "A hundred friends is better than a hundred rubles" is a popular saying. And so Russia manages to be friends with India and Pakistan at the same time, and with China and Vietnam. In the Middle East, it maintains cordial relations with Turkey, Syria, Israel, Saudi Arabia, Yemen, Egypt and Iran, also all at the same time. Russian diplomats are required to keep channels of communication open with friends and adversaries alike, at all times. Yes, being inexplicably adversarial toward Russia can be excruciatingly painful, but you can make it stop any time! All it takes is a phone call.
Add to this the fact that the vicissitudes of Russian history have conditioned Russia's population to expect the worst, and simply deal with it. "They can't kill us all!" is another favorite saying. If Americans manage to make them suffer, the Russian people would no doubt find great solace in the fact they are making the Americans suffer even worse, and many among them would think that this achievement, in itself, is already a victory. Nor will they remain without help; it is no accident that Russia's Minister of Defense, Sergei Shoigu, previously ran the Emergencies Ministry, and his performance at his job there won him much adulation and praise. In short, if attacked, the Russians will simply take their lumps—as they always have—and then go on to conquer and win, as they always have.
It doesn't help matters that most of what little Americans have been told about Russia by their political leaders and mass media is almost entirely wrong. They keep hearing about Putin and the "Russian bear," and so they are probably imagining Russia to be a vast wasteland where Vladimir Putin keeps company with a chess-playing, internet server-hacking, nuclear physicist, rocket scientist, Ebola vaccine-inventing, polyglot, polymath bear. Bears are wonderful, Russians love bears, but let's not overstate things. Yes, Russian bears can ride bicycles and are sometimes even good with children, but they are still just wild animals and/or pets (many Russians can't draw that distinction). And so when the Americans growl about the "Russian bear," the Russians wonder, Which one?
In short, Russia is to most Americans a mystery wrapped in an enigma, and there simply isn't a large enough pool of intelligent Americans with good knowledge of Russia to draw upon, whereas to many Russians the US is an open book. As far as the actual American "intelligence" and "security" services, they are all bloated bureaucratic boondoggles mired in political opportunism and groupthink that excel at just two things: unquestioningly following idiotic procedures, and creatively fitting the facts to the politics du jour. "Proving" that Iraq has "weapons of mass destruction"—no problem! Telling Islamist terrorists apart from elderly midwestern grandmothers at an airport security checkpoint—no can do!
Russia will not resort to military measures against the US unless sorely provoked. Time and patience are on Russia's side. With each passing year, the US grows weaker and loses friends and allies, while Russia grows stronger and gains friends and allies. The US, with its political dysfunction, runaway debt, decaying infrastructure and spreading civil unrest, is a dead nation walking. It will take time for each of the United States to neatly demolish themselves into their own footprints, like those three New York skyscrapers did on 9/11 (WTC #1, #2 and #7) but Russia is very patient. Russia is ready to respond to any provocation, but the last thing the Russians want is another war. And that, if you like good news, is the best news you are going to hear. But if you still think that there is going to be a war with Russia, don't think "Armageddon"; think "a thousand balls of flame," and then—crickets!
---
1121484
Time is running out for Holocaust survivors | Society
Shimon Redlich, an 87-year-old Holocaust survivor and author of the book Together and Apart in Brzezany, said: "As long as the survivors are alive and can remember, their testimonies must be recorded. Every story is unique."
Edith Bruck is a 90-year-old Auschwitz survivor. Hungarian-born, she writes in Italian, and is the author of classics such as Who Loves You Like This? In a recent interview, she said: "Our lives do not belong to us. They belong to history."
The survivors of the Shoah have allowed us to look into the abyss of the incomprehensible. They have brought generations of readers closer to an experience that can be transmitted, but not shared. However, as the years go by, the era of the witnesses is coming to an end. With their passing, something irreplaceable will disappear.
Boris Pahor passed away last May at the age of 108. A Slovenian born in Trieste, Italy, Pahor was deported as an anti-fascist resistance fighter during World War II. He is the author of one of the most prominent books on the Nazi camps, Necropolis. "My every word [was] driven by the fear of slipping into banality," he writes.
The fear of banality and the impossibility of transmitting what was suffered has been a constant in Holocaust literature since the publication of the first great literary testimony of the camps, If This Is a Man by Primo Levi.
Another fear that many witnesses have conveyed is the empty space they will leave behind when the last of them disappears… the incommunicable experience they will take with them.
In an interview with EL PAÍS in 2000, the now-deceased Buchenwald survivor, Spanish writer and politician Jorge Semprún, reflected on the disappearance of those who witnessed the Holocaust: "Do you know what is the most important thing that happened in a concentration camp? Do you know the most terrible thing, the only thing that cannot be explained? The smell of burning meat. What do you do with the memory of the smell of burning meat? For those circumstances, there is, precisely, literature. But how do you talk about it? Do you compare? And what about the obscenity of the comparison? Do you say, for example, that it smells like burnt chicken? Or do you try to reconstruct the general circumstances of the memory, going around the smell, round and round, without facing it? I have inside my head, alive, the most important smell of a concentration camp. And I can't explain it. And that smell is going to go away with me, as it has already gone with others."
"We have been talking about the end of the survivors for almost three decades," says Alejandro Baer, professor of sociology and director of the Center for Holocaust and Genocide Studies at the University of Minnesota. "That concern has spurred memory in the form of the creation of archives of oral and audiovisual history of survivors, documentaries, even virtual reality projects. But whoever has had the opportunity to meet the witnesses knows that nothing will make up for their absence. Because it is not just about the information they provide, but about the nature of the encounter and the transformation it produces: becoming a witness of the witness. If we look for something that approaches that experience, we will not find it in technology, but in testimonial literature."
If This Is a Man was published in 1947. Levi himself explained that the publisher went bankrupt and that the book remained forgotten for more than a decade: the first printing of 2,500 copies went unnoticed. Society was not yet ready to read about those horrors, not only because the stories about the extermination confront us with the idea that anyone can be a victim, but because they force us to consider that we too could have been executioners. That same year, 75 years ago, The Diary of Anne Frank was published in the Netherlands under the title The secret annex. Its translation was rejected by various American publishers until Judith Jones of Knopf insisted on publishing it. The diary became an international success in the 1950s.
In the Federal Republic of Germany, Auschwitz did not become a household name for most of the population until the late-1970s, when the series Holocaust was released. That five-episode telefilm sparked a heated debate between those who saw it as a product of popular culture that trivialized the Holocaust by turning it into a family melodrama, and those who thought it did more than any eyewitness account to make Germans stand up to their dark past.
"It is an insult to those who survived. What appears on the screen has nothing to do with what happened," wrote Nobel Peace Prize winner and Auschwitz survivor Elie Wiesel, the author of Night. However, a survey published after its broadcast revealed that 70% of German young people between the ages of 14 and 19 said that they had learned more about Nazism from the series than at school.
This debate revealed another dimension to the horror of the camps: Is it legitimate to put yourself in the shoes of someone who has suffered something that cannot be explained? Is it possible to use the Holocaust to write fiction?
John Hersey wrote the first American Holocaust novel, The wall, between the 1940s and 1950s. It took place in the Warsaw ghetto; Hersey had met with survivors and visited the ruins of the Polish capital. However, his biographer, Jeremy Treglown, wrote that Hersey was faced with similar questions about authenticity: "Who owns the narrative? Can a young privileged white Anglo-Saxon from New England put himself in the shoes of the suffering of European Jewry under Nazism?"
Since the success of The boy in the striped pajamas, this debate has only grown. Novels with "Auschwitz" in the title have multiplied. The latest one is titled The dressmakers of Auschwitz. Some, such as The librarian of Auschwitz, by Antonio Iturbe, have sold hundreds of thousands of copies and received critical praise. Others, like The tattooist of Auschwitz, have been scrutinized by experts. The Auschwitz Memorial made a resounding statement about this best-seller by Heather Morris: "Because of the number of factual errors, it cannot be recommended as a valuable work for those who wish to understand the history of the camps."
"This popular literature, which is so successful, simplifies the history and reality that is so difficult for us to understand," says Yessica San Román, director of the Education and Holocaust department at Madrid's Centro Sefarad-Israel. "The result is a trivialization of the facts. What should concern us when we read books like these about the Holocaust is that they resort too much to stereotypes, both for the Jews and for the perpetrators. The perpetrators were not all monsters or psychopaths. They were much more normal than we like to admit. The Holocaust was committed by men and women."
"I haven't read The Tattooist of Auschwitz," explains Shimon Redlich. "I don't like kitsch books about the Holocaust. However, I believe that films like Claude Lanzmann's Shoah or Steven Spielberg's Schindler's List have had a significant effect on the dissemination and understanding of the Holocaust." Asked by email about the books he considers essential, the survivor and author cites four: the works of historian and survivor Saul Friedländer, The years of persecution (1933 -1939) and The years of the extermination (1939-1945); An interrupted life, the diaries of Etty Hillesum, who was murdered at Auschwitz; and Anatomy of a genocide: the life and death of a town called Buczacz, by Israeli historian Omer Bartov.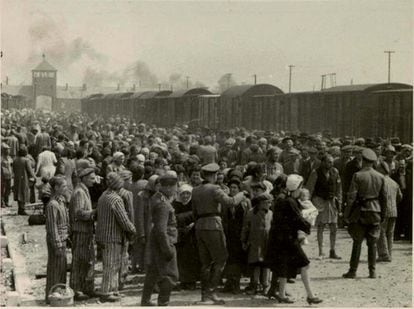 Bartov's book is part of a series of recent essays that are helping to deepen knowledge of the genocide. They mix detective-like investigations with the handling of thousands of documents. In the face of all-encompassing books like Raul Hilberg's The destruction of the European Jews, a new generation of authors is focusing on smaller-scale stories.
"Most of the witnesses have disappeared and the investigators must become indirect witnesses, with the material they handle," Dr. Wendy Lower, Director of the Mgrublian Center for Human Rights in Claremont, California, explains by phone. "We work with the material we have access to… [over] the last decades, we have been compiling documents, testimonies…. such massive archives have been amassed and so many testimonies have been recorded that no historian would be able to listen to them all. When there are no more witnesses, there will be a lot of material to work on: archaeology, forensics, documents, recordings…"
Eyewitness testimonies were not always considered such important material. "In the beginning, when researchers strove to establish the history of the Nazi genocide, they did not always welcome the voices of the survivors," says Dr. Sara R. Horowitz, a professor of literature at York University in Toronto and the author and editor of numerous books on the memory of the Holocaust, including Voicing the void: muteness and memory in Holocaust fiction and Shadows in the city of light. "Historians preferred to rely on documentary evidence and were reluctant to base historical accounts on memory: they saw it as unreliable, fallible, and limited in scope. But relying on documents also has its limitations. In the decades immediately following the war, many survivors expressed frustration that they had not been heard. And the historical record was impoverished by this exclusion."
"More than ever, it will be the power of literature– novels, poems, memoirs– that will preserve and continue to shape the memory of the Holocaust, in the different languages and the memory of each country. Writers like Aharon Appelfeld, Ida Fink, Elie Wiesel, Charlotte Delbo, Jorge Semprún, Sarah Kofman, Imre Kertesz and others," Horowitz notes.
"Literature is essential," advocates Marina Sanfilippo, a professor at Spain's National University of Distance Education. She specializes in female testimonies of the Shoah. "It has never been possible to understand the reason for the Holocaust, as Primo Levi narrated in that famous phrase in which a German guard at Auschwitz blurts out: here there is no why. It is something that only literature can answer."
Sanfilippo maintains that she has studied the literature written by surviving women "because the canon of the Shoah is above all masculine"– Primo Levi, Paul Celan, Kertesz, Elie Wiesel, Victor Klemperer, Viktor Frankl, and so on. She cites authors and works such as Liana Millu's Smoke over Birkenau, Ruth Klüger's Still alive, Charlotte Delbo's None of us will return, or Daniela Padoan's Like a frog in winter.
Padoan's book is a journalistic investigation that collects the testimony of three women – Liliana Segre, Goti Bauer and Giuliana Tedeschi – who survived Auschwitz-Birkenau. "The experience was very different for men and women, because in the camps, people suffered from the body and bodies are different. What did it mean to have your period in the camp? Or to stop having it, or to think that you would never be able to have children? What did it mean to be the subject of medical experiments? The survival strategies were also different," says Sanfilippo.
The survivors' voices are also kept alive through the stories of their relatives. The most famous of these cases remains the comic book Maus, now a classic, in which Art Spiegelman tells the story of his father, an Auschwitz survivor, and at the same time describes the relationship – not always an easy one – between the two. The librarian and author Javier Fernández Aparicio maintained a Holocaust literature reading club in Madrid for eight years with fellow librarian Javier Quevedo Arcos, from which the book The culture of the abyss arose. They assure their readers that no book was as interesting as Maus, perhaps because of its dialogue between the past and the present.
In the house where Primo Levi died in 1987 on a wide avenue in Turin – it will never be known whether he committed suicide or fell down the stairs – no plaque remembers the writer. However, his last name still appears on the intercom, as if he could be called and his voice could emerge from the past to remind us of some of the many lessons contained in his books.
Levi deeply mistrusted charismatic leaders– those who ask us to renounce reason: "Since it is difficult to distinguish true prophets from false, it is as well to regard all prophets with suspicion. It is better to renounce revealed truths, even if they exalt us by their splendor."
The voices of those survivors that are slowly dying out remain essential to understanding what happened… but also to warn us about what may happen.
The Rise and Fall of Victoria's Secret: A dictatorship of perfection and misogyny: a look into Victoria's Secret's angels and demons | Society
For the lingerie brand Victoria's Secret, once the head of an empire, the past decade has been turbulent. Gone are the golden days when the world stood still to watch the brand's annual show. Its carefully chosen models, the so-called angels, represented a beauty standard unattainable to most women, and they paraded the runway in glittering wings and minuscule diamond-cut lingerie.
The shows, which lasted for 23 years, were considered the Super Bowl of fashion. They featured performances by pop singers including Lady Gaga, Bruno Mars, The Weeknd, Taylor Swift and Beyoncé. Until its last edition, held in Paris in 2018, the event represented the fantasy that Victoria's Secret marketed. It launched the careers of models Gisele Bündchen, Adriana Lima, Heidi Klum and Alessandra Ambrossio, among others.
The women showed off almost superhuman physiques, sculpted through rigorous training and starved in the days leading up to the parade. But the brand's image no longer has a place in a #MeToo-era society, now more willing to champion body positive, diversity and inclusivity and to denounce sexual harassment and the hypersexualization of women's bodies.
The new three-part documentary series The Rise and Fall of Victoria's Secret explores the brand's shadows. The production, which premiered on June 18 at the Tribeca Film Festival, combines first-hand accounts with deep investigation to reveal the brand's inner workings. "Truth is not what it seems, as the underworld of fashion, the billionaire class, and Jeffrey Epstein are revealed to all be inextricably intertwined with the fall of this legendary brand," reads the summary of the miniseries, directed by Peter Berg and Matt Tyrnauer. It will be available to stream on Hulu starting July 14.
A culture of misogyny and the descent to hell
The film promises to uncover the lingerie empire's links with sexual predator Jeffrey Epstein. A 2019 New York Times investigation revealed that in the 1990s, a financial adviser close to Leslie H. Wexner, executive director of the company L Brands—Victoria's Secret parent company—worked as a model recruiter for the brand in exchange for sexual favors. This adviser would later be found to be Epstein, a millionaire accused of sex trafficking who later commited suicide in jail while awaiting trial. Subsequently, Wexner has repeatedly claimed to feel "ashamed" by his friendly relationship with the pedophile.
But Victoria's Secret's fall in popularity came before this scandal. In 2018, the company lost almost 50% of its value. That same year, which marked the last parade, the show reached the lowest audience in its history since its start in 1995: 3.3 million viewers compared to the usual 10 million.
That year, the company's marketing director, Ed Razek, made clear his opposition to gender diversity in an interview with Vogue. "Shouldn't you have transsexuals in the show? No, I don't think we should. Well, why not? Because the show is a fantasy. It's a 42-minute entertainment special. That's what it is. It is the only one of its kind in the world," said the 71-year-old manager, who resigned from his position in 2019.
The rampant misogyny and harassment from company higher-ups was the final straw for the brand. In 2021, the New York Times published an extensive investigation entitled "'Angels' in Hell: The Culture of Misogyny Inside Victoria's Secret," in which more than 30 executives, employees, contractors and models denounced the company's practices.
Rebel Angels and a change of direction
The Victoria's Secret bubble ended up bursting with the resignation of several of its most iconic figures: Adriana Lima hung up her wings in 2018, claiming to be fed up with the dictatorship of perfection and the pressures on her physique. "I will not take of [sic] my clothes again for an empty cause," she wrote in an Instagram post.
Gisele Bündchen, who signed her contract with the brand at the age of 19, confessed in her autobiography that after years parading in her underwear, she began to feel uncomfortable. She wrote that she felt "less and less relaxed" when photographed on the catwalk in just a bikini or a thong. In the same book, she wrote of suffering from panic attacks and suicidal thoughts during one of the most successful periods of her career.
Victoria's Secret changed directions in 2020, when L Brands sold the company to the Sycamore Partners fund for just over $1 billion (€953 million), in a last-ditch effort to save the brand.
After Raezk resigned, in a last attempt to save its reputation, the company hired the transgender model Valentina Sampaio. It also included Winnie Harlow, a Canadian model with vitiligo, as an angel, and Lorena Durán became the brand's first plus-size model.
Seeking to adapt to changing social norms, in 2021, the company announced partnerships with influential figures in culture and sports: American soccer player Megan Rapinoe, Indian actress Priyanka Chopra, Chinese skier Eileen Gu and plus-size model Paloma Elsesser. It also announced that it would no longer refer to its models as "angels." With that once-unthinkable gesture, Victoria's Secret finally returned to earth.
Sex education: The creator of CLIMAX: 'Good sex is like cooking, but there aren't recipes for female pleasure on the internet' | Society
Our ways of watching television have changed. No longer do we sit down to see what's on TV, instead subscribing to platforms where we can watch our favorite content. But can that formula translate to content beside series, documentaries and movies? Can it be used to change the way we experience sex education? CLIMAX, a platform of sex education videos, is trying it out.
The platform started as an explicit educational series dedicated to female pleasure. Far from pornography, it was particularly directed towards women and sought to give advice and ideas for greater self-knowledge and sexual enjoyment. But that was just the beginning. As Camille Mariau, CLIMAX's director of projects, explains, they are currently working on "a monthly membership platform dedicated to sexual wellbeing. The users will ahve access to periodic new content, ordered by topic (pleasrue for people with vulvas, for those with penises, tantric sex, oral sex, post-partum sex, etc.). We really want to create the perfect guide to help our users deconstruct their ideas about sexuality." Currently, the platform has partnerships with educational and healthcare institutions, in order to bring education about female sexuality to all parts of society.
Laurène Dorléac is an expert in the technology market and co-creator of CLIMAX. "Not only is female pleasure little understood, but I also realized that taboos around the subject are still very present." That's why, despite her lack of experience in the area, she decided to venture into the topic. "Good sex is like cooking: it's a creative process that requires practice, experimentation and care to have a good flavor. There are plenty of recipes and cooking classes, but we can't find anything satisfactory about female pleasure on the Internet! That's what led me to create the platform, so that we can all have access to better sexual education."
The project brought together international studies, advice from psychologists and sexologists and over 100,000 testimonies. "Pleasure is a very serious thing, and it deserves a very rigorous approach," she says.
CLIMAX comes to Spain
While the project was founded in France, currently, 40 percent of its subscribers are outside of the country, largely in the United States and United Kingdom. The team is optimistic about the Spanish market. "The market seems to be ready for a project like this. More than talking about pleasure, we really want people to have easy access to safe information about sexual education," says Camille Mariau. Since the project launched in Spain just a few months ago, most of its users are between 28 and 45 years old, and, surprisingly, they are divided 50/50 between men and women.
To spread the news about the project, they have the help of Teresa Riott, known for her role as Nerea in the Netflix series Valeria, who narrates the videos. "It seems to me like a new idea in education, and it's very necessary in order to better understand all the possibilities of our pleasure. CLIMAX has also had success in other countries. I've learned a lot about female sexuality in the process," the actress explains.
She emphasizes that "they are videos that you can watch alone, in private, and you can experiment," which "gives people confidence to explore their bodies without concerns."
The platform's content is explicit, but tasteful; obvious, but well-presented. It repeats explanations we have read in plenty of books, but which acquire a new dimension when we can see them on a screen: without drawings, diagrams or taboos, simply showing how to stimulate a vulva. The videos are meant to educate, not to excite, and they have no resemblance to porn. The images are accompanied by Riott's voice, which explains each step in a clear and simple way, adding touches of scientific information. It explains not only how to stimulate the vulva, but also how and why the stimulation works.
We've learned that it's much easier to exercise at home, or even to do home improvement projects, with the help of a Youtube tutorial video that shows us each step. So it makes all the sense in the world that we can use tutorials to learn how to excite our bodies, moving step-by-step over each part of our anatomy.
The platform is also notable for its diversity, not only in the appearances of the vulvas on screen, but also in the techniques proposed. It includes videos of 19 different masturbation techniques. In Spain, female masturbation has experienced a revolution in recent years. The brand Lelo, specialized in clitoral suction toys, increased its sales by 440% in 2019. The Satisfyer toy was even more popular: it registered an increase in sales of 1,300% in 2020, to the point that it had to resort to European countries to restock the toys during one of the busiest months of the year. Those toys finally normalized female masturbation. Vibrators themselves have also experienced their own revolution. Their technology and shapes have become more sophisticated, and they have become more effective and discreet. And Gwyneth Paltrow's website Goop now features Viva la Vulva, an "extra-silent" vibrator model that can be used at any time without making any noise. Such devices are proof that manufacturers have taken pains to innovate their products for female pleasure, until recently a forgotten sector. Gone are the old dildos and penis replicas.
Beyond masturbation, with or without the help of toys, the content of CLIMAX "is like an encyclopedia of ideas that you can choose and use to enrich your sexual life. It can help you be more creative, learn moves that women with vulvas might like, etc. It can also be used as a basis to start a conversation with your partner about what you like, what you want to try or not. We want to give people the opportunity to get to know their own body or the body of their partner better," explains Mariau.
To that end, the first two seasons are entirely scientifically based. To develop the content, 74 international scientific studies, widely referenced and accepted by the scientific community, were consulted. "There is one study that I find special: Shere Hite's 'The New Hite Report,' a bestseller that has sold tens of millions of copies, which describes how women feel during different sexual activities and when they orgasm with greater frequency," Mariau says.
In addition to a surge in vibrator sales, women have been consuming more porn than ever in recent years. According to a study by Pornhub on porn consumption in the pandemic, women increased the amount of porn they consumed by 17.5%. Audio porn, one of the latest developments in the industry, is particularly popular among women. And websites for pornographic content aimed at women, taking into account the tastes and aesthetics that female arousal requires, have proliferated in recent years.
Mission: equality in pleasure
The work of Shere Hite is one of the great sources of inspiration for CLIMAX. The late writer and sexologist was especially interested in the female orgasm. She interviewed some 3,500 American women, from prostitutes to former nuns, to create 'The Hite Report: A Nationwide Study of Female Sexuality' in 1976. Among her conclusions stood out two ideas: first, that few women reached orgasm through intercourse (only 30%), although they did through masturbation. Secondly, the clitoris was the key to climax.
CLIMAX is organized into several themes, which are available in different subscription packs: external pleasure (10 episodes), internal pleasure (11 episodes) and tantra exercises (7 episodes).
"Our mission is to equalize pleasure in a world where women report being less satisfied than men in their sexual activities, feeling less pleasure and having fewer orgasms. Education will make it possible," the expert concludes.