The rising cost of the climate crisis in flooded South Sudan – in pictures | Global development
Desperate families in flood-ravaged villages in South Sudan are spending hours searching for water lilies to eat after another summer of intense rainfall worsened an already dire situation.
People have no food and no land to cultivate after three years of floods. Fields are submerged in last year's flood water and higher ground is overcrowded with hungry people, in what is quickly becoming a humanitarian crisis.
Fangak, one of the worst affected of the 31 counties devastated by the floods, continues to lose ground to the rising water. But the communities displaced along the banks of the White Nile River have nowhere to go to escape the high waters.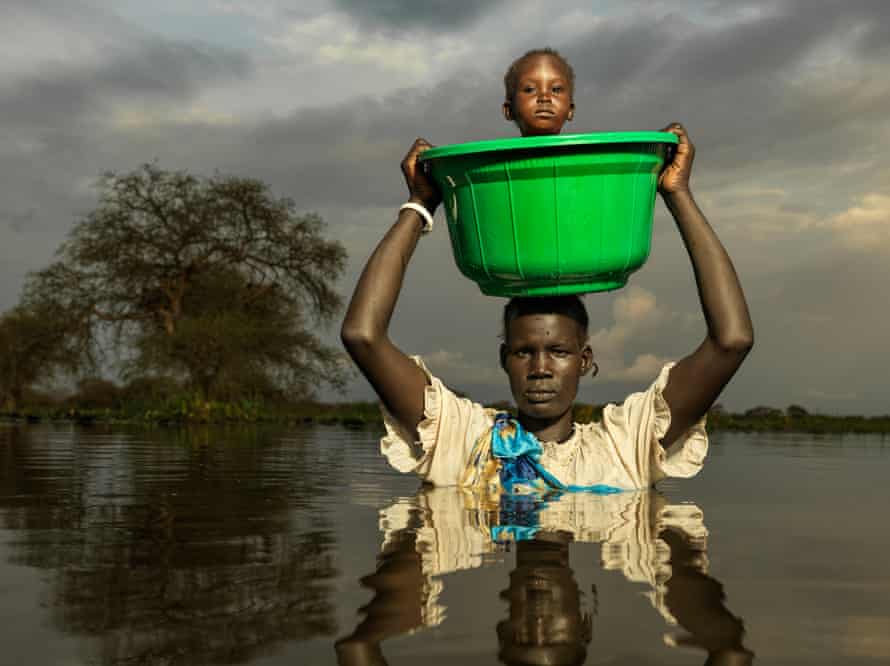 "We have been chased out of our home by the flood water and now we're heading to Old Fangak to look for a place to sleep tonight … [but] I don't know any other place where we can go after tonight. If so, we will make a small grass island and sleep above the water," says Nyadut Gatkuoth, a woman migrating with her relatives to the central market area in Old Fangak, one of the few areas on higher ground.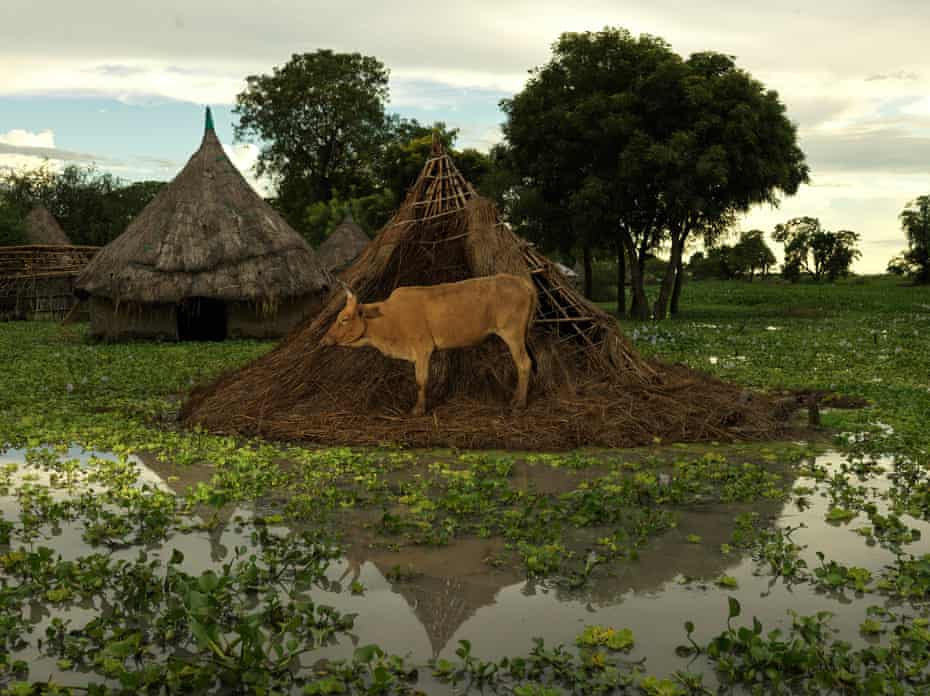 Last year people left behind their collapsed mud homes and slept in the open under trees and in abandoned school buildings, but this year many of these areas have also been flooded. An estimated 1.7 million people are displaced within South Sudan, and migration has increased this year, with people reporting being forced to seek higher ground at least twice in the past few months. Others have given up and crossed the border into Sudan.
The UN says that more than 780,000 people have been affected by flooding so far, and this number is expected to rise in the coming months. In counties like Fangak the number of people affected by the floods was expected to jump from 75% to nearly 100% by the end of October, according to Action Against Hunger. Meanwhile the country as a whole has 8 million people in need, says the UN.
People have not been able to cultivate the land in many areas since 2020. Many of those who lost this year's harvest also lost their livestock to diseases caused by the animals grazing on flooded fields. Without the milk and meat traditionally provided by cattle to fill the gaps in times of need people are scrambling to find wild food. In the absence of fishing nets or canoes, entire families are dependant on collecting water lilies by the dozen to grind into a small day's meal.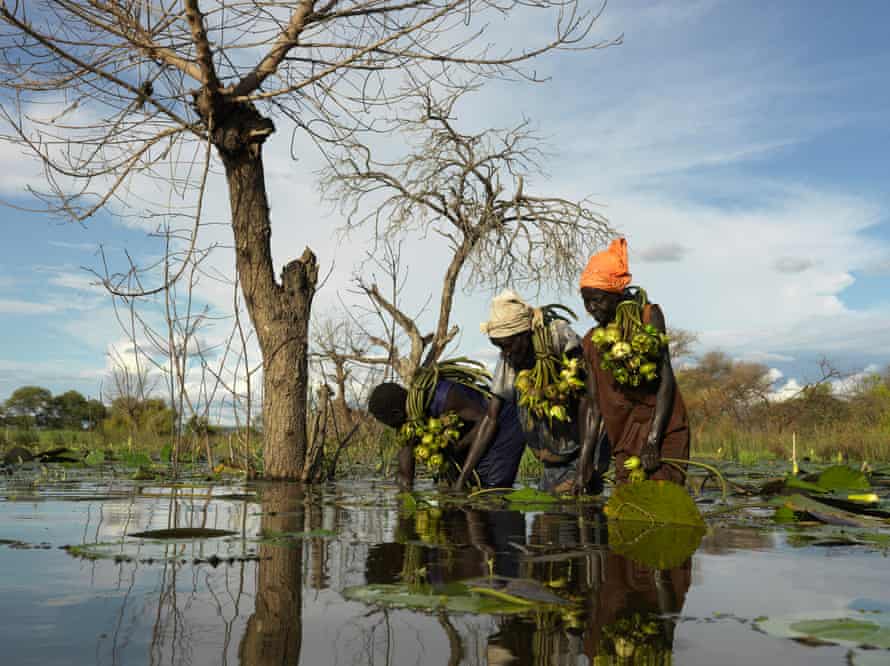 "We are not used to collecting water lilies but the flood water forces us to. We can spend close to five hours looking for them in the water," says Bol Kek, a mother of seven children living on the higher ground of Paguir, "[but] when you eat water lilies it feels like you didn't eat at all."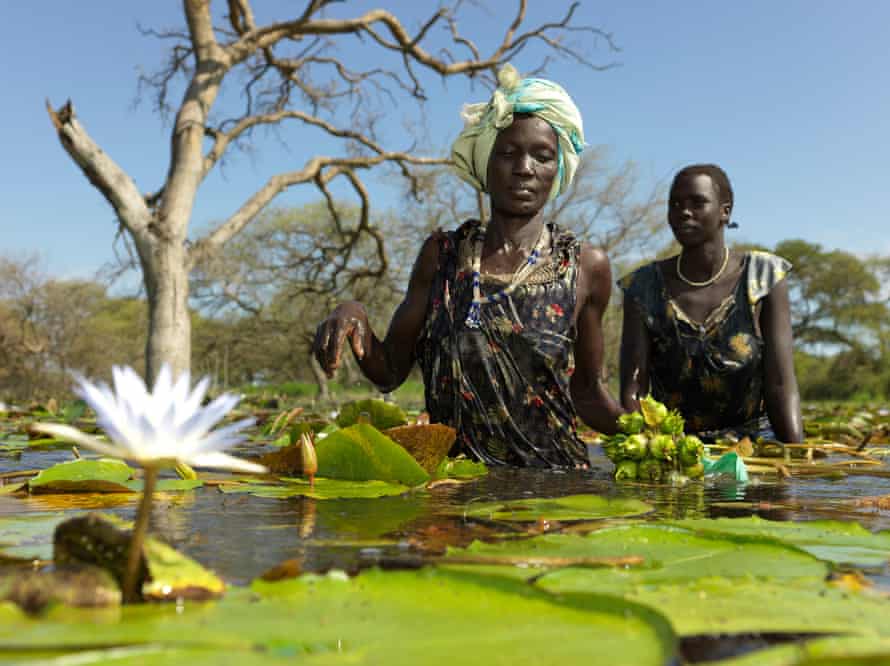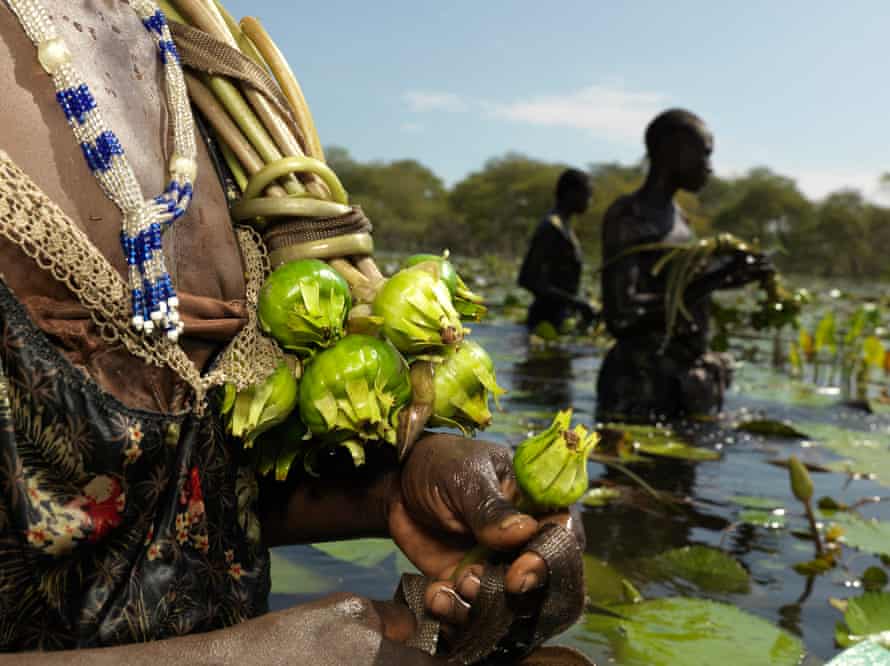 The cumulative impact of the loss of harvests, cattle deaths and floods have led to the collapse of traditional livelihoods, according to scientists in the region. Water lilies and fish are not sustainable food sources in the long term because access to wild foods will be reduced in the rainy season, especially for poor households without canoes, once again triggering acute food insecurity.
Though efforts have been made in preparation for this year's floods, humanitarian food distribution has been hampered by insufficient funding. Distributions have been delayed and food rations cut to prioritise those who need it the most, at the cost of other communities. An estimated 2.5 million people are facing severe food insecurity and more than 100,000 are considered close to famine.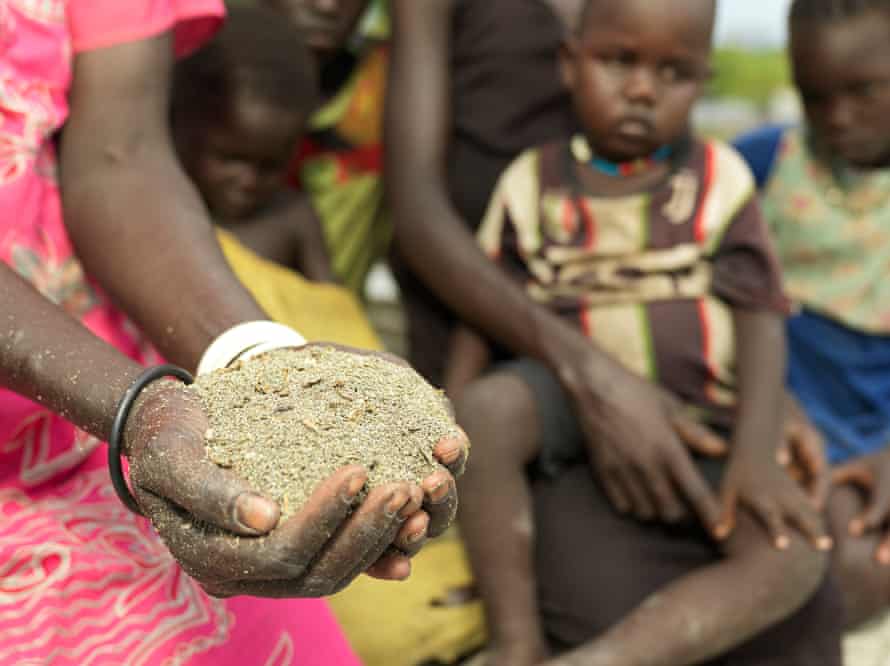 Nyadiang Gak, a mother who migrated to higher ground in the hopes of cultivating this year, says: "We used to plant maize and sorghum at the same time, so when the maize was finished we could harvest the sorghum. Now it is time to harvest sorghum but we couldn't even plant it … I planted maize next to my home but when the second flood came it destroyed it and I didn't even get to harvest it … Now we are hungry."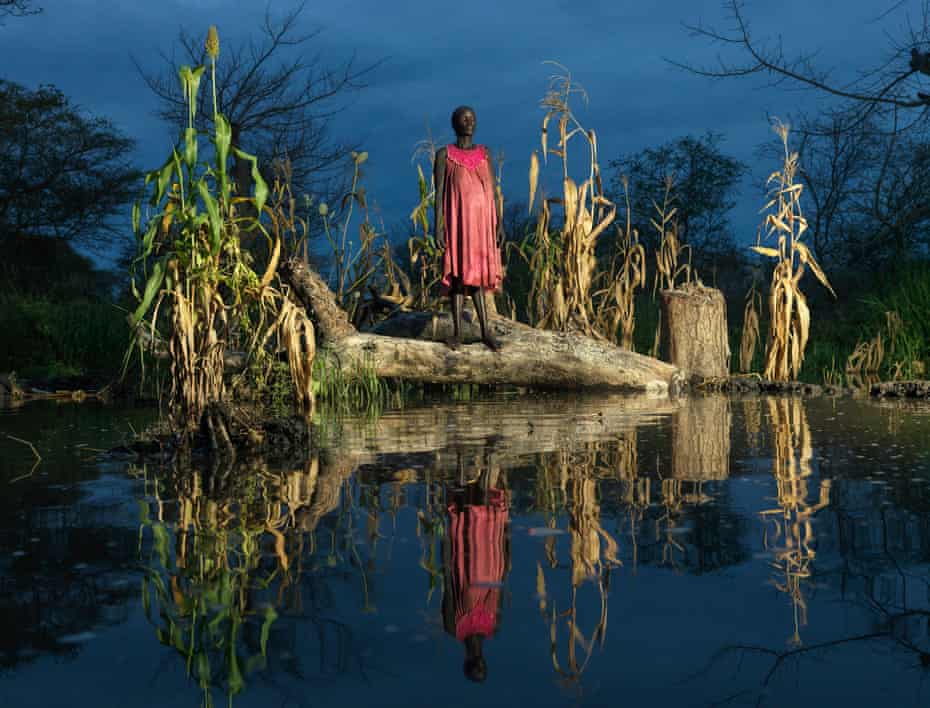 More communities are now cut off by the floods, while travelling to other areas comes at the risk of attacks or food supplies being looted. The increase in violence against humanitarian workers that led to four deaths this year coincides with food prices soaring. In September 2020, the price for 3.5kg of sorghum powder, a staple food of the country, was approximately 800 South Sudanese pounds (about £4.50) but this year it has increased 60% to 1,300 SSP. The trend is likely to continue, with South Sudan's economy expected to contract by 4% in 2021, according to the World Bank.
South Sudan is one of the most vulnerable countries in the world to climate breakdown, according to the Global Climate Index. Food insecurity, conflict, diminished human rights and financial problems aggravated by Covid-19 have eroded its capacity to cope with recurring extreme weather events such as flooding. The heavy rainfall that caused three consecutive floods will only get worse in South Sudan and the wider region if global temperatures continue to rise, a recent report by the Intergovernmental Panel on Climate Change (IPCC) predicted.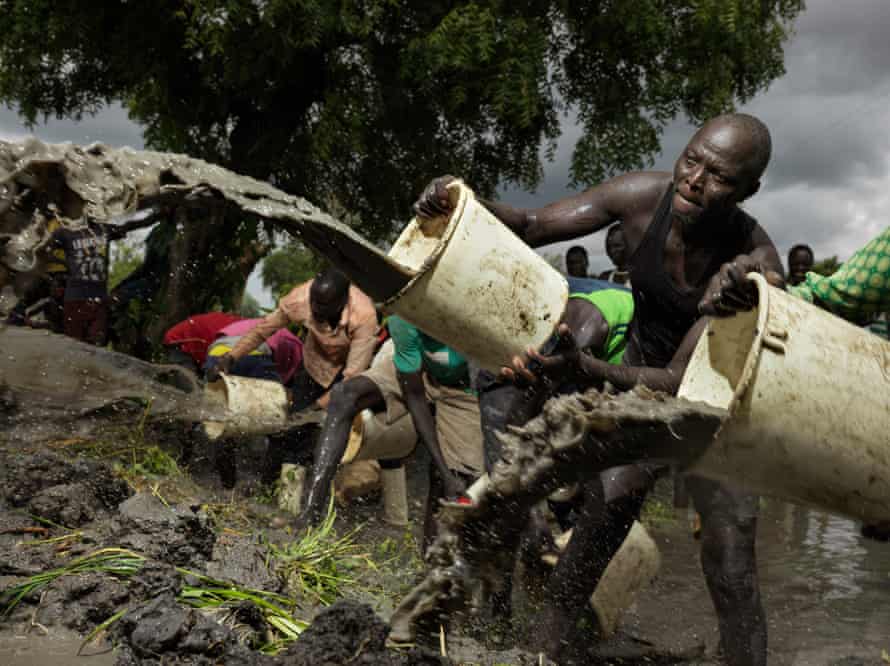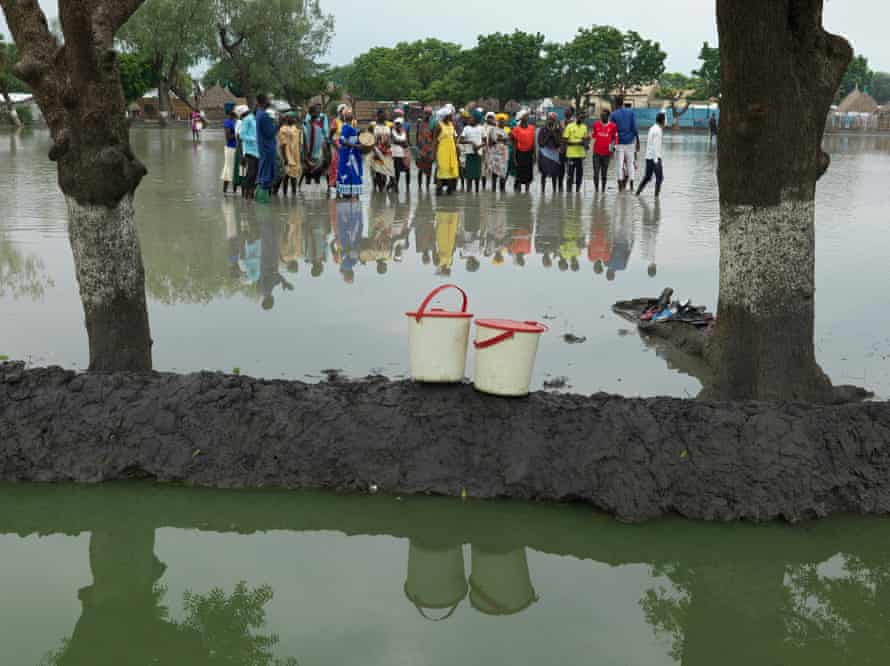 Though floods occur each year during the rainy season from May to October, scientists say that the recent flooding in Fangak county has been exceptional in terms of intensity, geographic extent and duration. The leading theory on the cause of the flooding, with the caveat of an absence of data before 1980 and the lack of a larger-scale assessment involving neighbouring countries, is that upstream water saturated local swamps, which have likely absorbed water in previous years.
In the remote towns and villages of the most affected states, life is dire. Old Fangak has no electricity or potable water. Dirty water has contaminated the boreholes and sits in paths with sewage. People cook with the same flood water in which children play and animals graze.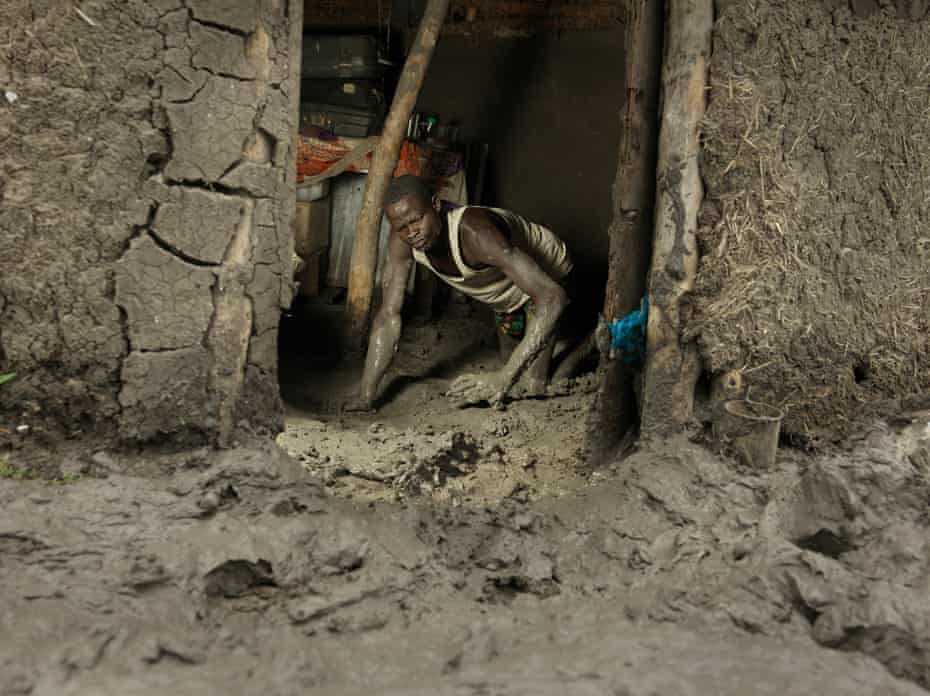 "It is a real struggle being here with this water. There is a lot of disease around. This child and I both have a cough, and all of this because of the water," says David Deng, who is blind and being led through the flood water by his granddaughter, Angelina, in Old Fangak.
Since last year entire villages have disappeared underwater. In their place float small islands made of dry grass, where dozens of people sleep in the open. Cases of snake bites have risen dramatically.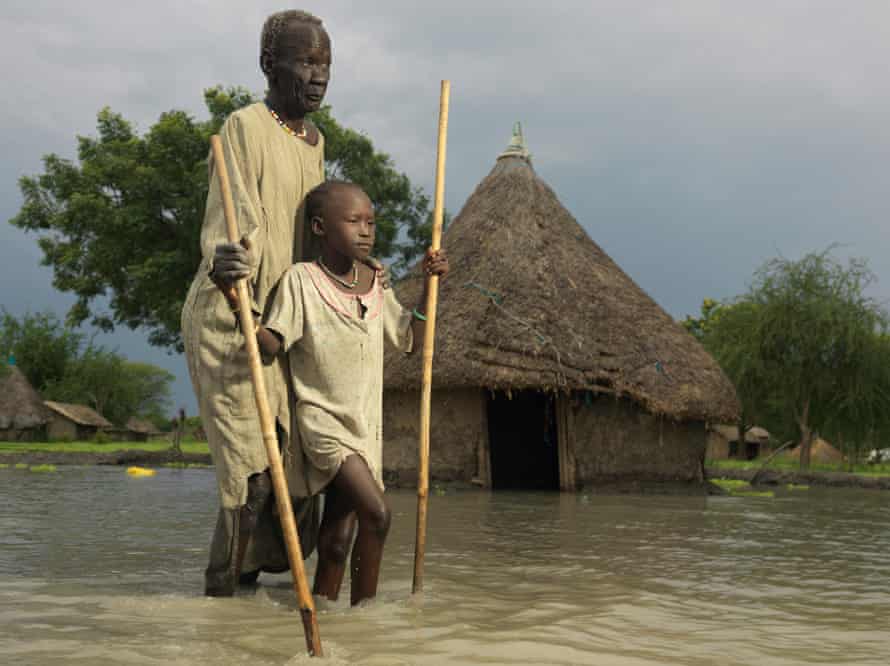 Children are constantly being pushed farther away from schools because of the encroaching water. In many remote areas of the country children have been without education for two years due to the pandemic and the floods. Where homes still stand, communities flush water out every hour and repair mud dykes that break almost daily.
Nyapini Yiel, a mother of two children who lost her home two weeks ago, voices the plight of the communities living on the frontline of the climate crisis. "I'm tired of building dykes all the time and flushing water out all the time … so when it broke that night I couldn't do anything because it was dark and my children and I were alone at home, so we just went back to sleep. We slept on top of the bed even while the water was coming inside the house."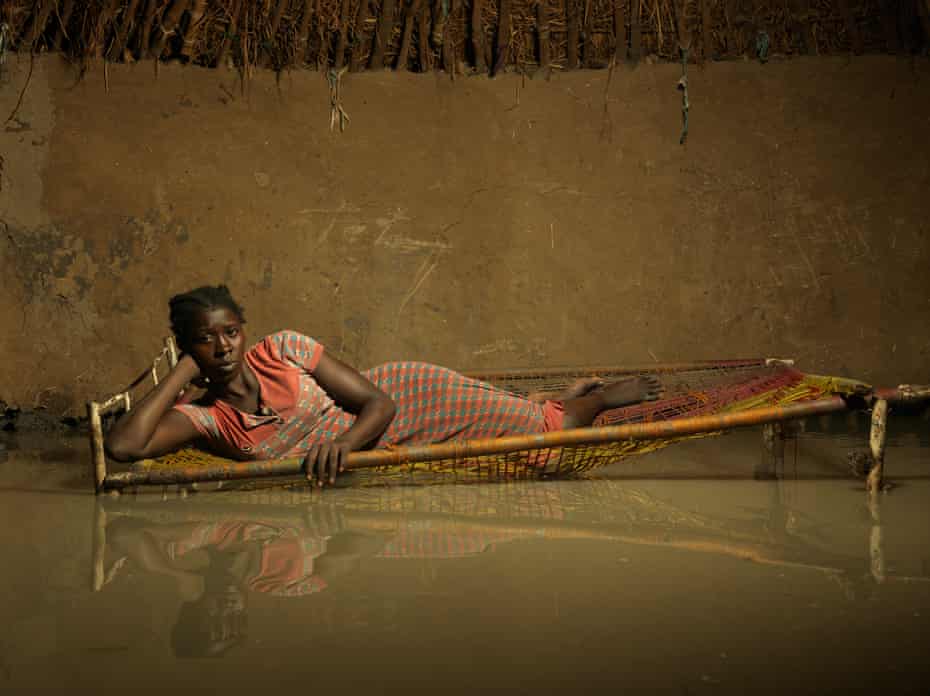 Sign up for a different view with our Global Dispatch newsletter – a roundup of our top stories from around the world, recommended reads, and thoughts from our team on key development and human rights issues, delivered to your inbox every two weeks:
'No embargo' on meetings with Putin, EU says
EU leaders are free to meet Russian president Vladimir Putin despite his threats to start a new war with Ukraine, the EU foreign service has said. "There is no embargo on contacts and visits between member states and Russia. Each member state decides … on their own judgment," the EU foreign service told EUobserver. The comment follows reports Croatia invited Putin to visit and that Hungary's leader will meet him.
Vulnerable Malians could 'pay the price' of heavy sanctions, warn aid groups | Global development
More than a dozen aid organisations have called for humanitarian exemptions to heavy sanctions imposed on Mali after the military leadership postponed planned February elections.
The EU has announced support for the sanctions imposed earlier this month by the Economic Community of West African States (Ecowas), which include closing borders and a trade embargo.
But this week, 13 international groups working in Mali warned of devastating consequences for the population, a third of whom rely on aid.
Humanitarian access is hindered by the Malian interim authorities' decision to reciprocate border closures with Ecowas member states, except Guinea.
Thousands of people demonstrated against the sanctions last week in the capital Bamako, carrying placards saying "down with Ecowas" and "down with France".
The country is in the grip of the worst food insecurity in 10 years.
A joint letter signed by the NGOs, including the International Rescue Committee (IRC), Care and the Norwegian Refugee Council, said: "To continue their work effectively, humanitarian actors must have unfettered access for the transportation of life-saving goods including food and medicine, as well as guarantees that they can transfer funds into the country without violating the sanctions."
Mali's current insecurity dates back to early 2012 when northern separatists rebelled against the government. Islamist militants that initially allied with the separatists, including Ansar Dine, al-Qaeda in the Islamic Maghreb (AQIM), and the Movement for Unity and Jihad in West Africa, ultimately hijacked the rebellion.
France, the former colonial ruler, made a military intervention in 2013 on the government's side against the militants. The UN has also deployed an estimated 18,000 peacekeeping staff, in what was called its most dangerous mission.
The Malian military, led by Col Assimi Goïta, has conducted two coups in two years and reneged on promises to hold new elections. The junta's most recent power grab, in May 2021, was the fifth coup since Mali's independence in 1960 and it has been unwilling to commit to transition to civilian rule, despite international pressures.
Postponement of elections has been blamed on Islamist insecurity, an impasse that has deepened with the arrival of private military contractors belonging to the Russian mercenary firm Wagner Group. European states have condemned Wagner's presence, concerned it will enable the military to hold on to power.
EU foreign policy chief Josep Borrell said this month that EU sanctions on Mali were in part in response to the involvement of Russian contractors. France is withdrawing troops, but 14 other EU members, led by Sweden, had established a taskforce to replace them in a three-year mandate. As tensions intensified over the Wagner Group, Sweden said last week that it had decided to withdraw its troops.
France, which holds the rotating EU presidency, has been vociferous in its support of sanctions but Russia and China have blocked the UN security council's move to follow suit.
Ecowas has frozen financial aid and Malian assets at the Central Bank of West African States.
Elena Vicario, director for the Norwegian Refugee Council in Mali, said: "Malians are already bearing the brunt of the humanitarian catastrophe, punctuated by horrifying attacks against civilians. Sanctions must not hold us back from delivering essential assistance in a country where drought, rising insecurity, and the economic impacts of Covid-19 are already pushing millions of Malians over the edge."
Franck Vannetelle, the IRC's country director in Mali, echoed Vicario, saying: "Despite more than a third of the country's population being dependent on humanitarian aid, organisations working in Mali already face severe access constraints. It's imperative that the international community keeps responding to people's urgent needs, and that any new sanctions have concrete humanitarian exemptions. These must be monitored and implemented, or the most vulnerable people in Mali will pay the price."
Lawyers threaten action over new EU gas and nuclear rules
Environmental lawyers are threatening to take legal action against the European Commission if gas is included in the new EU guidelines for sustainable energy investment.
The draft proposal, controversially released late on 31 December, would see certain investments in gas and nuclear included in the so-called EU taxonomy, under the category of "transitional economic activities".
But a legal analysis carried out by ClientEarth found that such a move would clash with several EU laws — the Treaty on the Functioning of the European Union, the EU Climate Law and the Taxonomy Regulation itself — and international commitments under the 2015 Paris Agreement.
"Failing to take these legal obligations into account puts the commission at serious risk of legal challenge," environmental lawyer Marta Toporek from ClientEarth warned on Friday (21 January).
The London-based NGO said that they are exploring all legal avenues, including an internal review request.
Under the Aarhus regulation, NGOs have the right to ask EU institutions to assess their own decisions — with a right to appeal before the Court of Justice of the European Union.
The commission must respond to such requests within 22 weeks.
"While it is a lengthy process, it is an important right for environmental NGOs, and in very limited cases individuals, to ensure that EU institutions and bodies comply with EU laws that are meant to protect the environment and human health," ClientEarth told EUobserver.
The draft taxonomy has triggered discontent not only among environmentalists but also among some EU member states, MEPs and some financial institutions.
Spain, Austria, Denmark and Luxembourg united to reject the draft proposal, ahead of an informal meeting with EU environment ministers taking place on Friday (21 January) and Saturday — where EU countries can tell the commission what they think about including gas and nuclear into the EU taxonomy.
"This draft sends the wrong message to financial markets and seriously risks being rejected by investors. It jeopardises the purpose of the taxonomy to create a common language," the group of four countries said in a statement earlier this week.
They argue that natural gas and nuclear power do not meet the legal and scientific requirements to be qualified as sustainable activities.
Vienna previously said it would sue the EU executive if it goes with its plans to include gas and nuclear in the EU taxonomy.
And the Dutch parliament said this week that it will not accept the inclusion of gas, because "'green' should really be green", as Dutch Green MP Suzanne Kröger put it.
No impact assessment, no public consultation
Similarly, centre-right MEP Sirpa Pietikäinen and Green MEP Bas Eickhout, who lead the European Parliament's work on this file, have said that the draft proposal fails to live up to the co-legislators expectations.
They see the selection criteria used for gas power plants, co-generation and district hearing as being in breach of the "principle of technological neutrality".
Scientists from the EU Commission expert group concluded that for gas power plants a threshold of 100g CO2e/kWh of electricity should be applied to be compatible with a 1.5°C pathway under the Paris Agreement.
But under the draft proposal, instead, gas power plants would be taxonomy-compliant if their emissions are lower than 270g CO2e/kWh of electricity.
"We see no legal ground for the commission to create an exemption to this principle of technological neutrality," the two MEPs said in a letter, regretting the lack of an impact assessment.
Earlier this week, MEPs Irene Tinagli and Pascal Canfin, chairs of the parliament committees for economy and environment, also deplored the lack of public consultation "in the light of the controversial nature of the subject".
Meanwhile, civil society organisations and academia have warned the commission that the EU taxonomy, as it stands, would damage Europe's reputation and ambitions to climate leadership.
Last year was marked by "a string of intense political rows, backroom deals and manoeuvring over how to bypass scientific evidence and classify fossil gas and nuclear energy as sustainable," said Tsvetelina Kuzmanova from NGO E3G.
Experts had until Friday to provide feedback on the EU taxonomy. The EU executive will now analyse their contributions and it is expected to formally adopt the proposal before the end of the month.
A majority of EU countries, or the European Parliament, could still object and revoke the decision, after four months of scrutiny.