The paradox of Diane Warren: The perennial Oscar nominee for romantic songs has never fallen in love | Culture
"Mom, I've finally found a man!" On November 19, songwriter Diane Warren, 66, stood on the stage of the Fairmont Century Plaza Hotel, looked up at the sky and, clutching the statuette that her friend Cher had just handed her, began her acceptance speech for the honorary Oscar awarded to her by the Academy of Motion Picture Arts and Sciences. "I know you wanted him to be a nice Jewish boy," she joked.
Because she has boasted about it on numerous occasions, it is well known that Warren has never been interested in finding a partner. The composer of some of the greatest love songs of all time has never fallen in love. "I don't want to stay awake just to hear someone breathe, like in the first line of 'I Don't Want to Miss a Thing' [Aerosmith, 1998], like get the fuck out of here. I like to listen to my cat purr," she told journalist Scott Feinberg in an interview on his popular Oscars podcast Awards Chatter in 2019. But she did want the award. She has aspired to win it 13 times since 1987, now 14 thanks to her most recent nomination for "Applause," the song performed by Sofia Carson that she composed for the film Tell It Like a Woman. But she has never won an Oscar, making her the fifth most-nominated person to never win one. That injustice was remedied when she received the honorary Oscar for her work. But even without Academy Awards, Warren has been hugely successful. Let's start from the beginning.
Diane Warren was born to a middle-class family (her father was an insurance salesman; her mother, a homemaker) in Van Nuys, the largest district in Los Angeles' San Fernando Valley. She's the youngest of three sisters. Warren discovered her musical vocation at the age of seven, when she learned that songs did not compose themselves. Browsing through her sisters' records, she learned what the credits of a song were. The first credits she remembers seeing were for the Drifters' song "Up on the Roof," composed by Carole King and Gerry Goffin. As a teenager, she persuaded her father—who was the only one who encouraged her interests—to give her a guitar and sign her up for lessons. She only went to one. After the first lesson, the teacher met with Mr. Warren and told him: "Your daughter has no future in music."
But young Diane was not dissuaded. She continued to play and taught herself to compose during a rebellious adolescence: she ran away from home and was arrested for smoking marijuana several times; she was 14 years old the first time it happened. Higher education did not deter her, either. While she was not encouraged in her vocation at college, the facilities helped her. At California State University, Northridge, the piano rooms became her home on campus, and she took advantage of the opportunity to play the instrument that would become the tool of her trade.
After college, with a handful of songs under her belt, she landed her first job in the industry on a songwriting team for German music producer Jack White. Her first assignment was to write the lyrics for the English version of Solitaire (1983), a French song that became the first single from Laura Branigan's second album (by then Branigan had already found success with Umberto Tozzi's Gloria). That solidified Warren's position on the team until her first big hit, Rhythm of the Night (1985), a song she composed for DeBarge that reached number 3 on Billboard's Hot 100 chart.
With the foundations of her career in place, Diane rebelled against the onerous conditions to which White subjected his team. "He paid me the minimum [about $250 a week], he kept my publishing rights, it was a terrible deal, but I had nothing at the time (…) Now we're friends, I'm grateful to him, but he wasn't so nice then." After the success of Rhythm of the Night, she asked him for a percentage of her rights, and he refused. She decided to leave, and he sued her. But the legal strategy did not work out the way White thought it would: "I left the contract, and every big company was offering me amazing amounts of money," she said. Publishers offered her a 50/50 deal, which is common in the American music industry. The complainant and respondent only went to the trial's first hearing before they "worked it out."
Since then, Diane Warren has been self-employed. In 1985, she rented a studio known as The Cave; it's still her current office, and she works there six or seven days a week for an average of 12 hours a day.
Alone. Although there are other people in her studio, she likes to lock herself in the room with her piano and not be bothered by anyone. "I already bother myself." When she is told that there are pop songs written by 12 people, she is shocked: "I don't know, when there's 12 writers on a song, what exactly they're doing," she says. "Are they getting the coffee? Coming up with a hi-hat pattern in the bridge? I don't need a writing camp. I am a writing camp," she told The Guardian. She composes an average of one song a week and never takes a vacation for longer than six days.
When she writes music, she usually has a title in mind. And where does she find the inspiration for her songs? Not from her own experiences. "I'm not somebody who sits and writes about my life because how fucking boring would that be? My songs are super open. They could go in a million different directions." She often draws inspiration from friends' stories. For example, Warren recalls the day a friend was telling her about her impending divorce and how she couldn't bring herself to break up with her husband. Her friend burst into tears, and Warren blurted out, "Oh, great!" Her friend reproached her disdainfully: "You really think that's great?" Well, yes: she had just given Warren the inspiration for Look Away (1988), a song that the band Chicago eventually performed.
A year earlier, Warren had already achieved her first major cinematic milestone. She received her first Oscar nomination for "Nothing's Gonna Stop Us Now," a song she co-wrote with Albert Hammond for the Mannequin soundtrack. That was also her first loss at the Academy Awards: Dirty Dancing's (I've Had) the Time of My Life won the Oscar. In 1987, nothing and nobody could compete with Patrick Swayze and Jennifer Grey. But Nothing's Gonna Stop Us Now, performed by Starship, was also Warren's first number one song. Warren has had nine of them in total, and 32 of her songs have been in the top ten on the influential Billboard charts. Her achievements also include being the first songwriter to have songs at number one and number two at the same time (When I See You Smile and Blame It on the Rain), as well as the first to have seven bestselling titles, by seven different artists, at the same time.
Her next big hit was sung by the woman who handed Warren her honorary Oscar. Or more accurately she was nominated in spite of Cher. In 1989, Cher was recording a Diane Warren song for her album Heart of Stone when the songwriter asked her to listen to another song she'd written, If I Could Turn Back Time. At first, Cher turned Warren down, but she didn't count on her songwriter-friend's stubbornness; Warren even offered to pay Cher to record it. "A song is like a dress," said Warren, who boasts of her ability to persuade unreceptive artists to record songs. "You don't know how it fits until you try it on". The rest is history.
The 1990s were Diane Warren's best decade. During that period, she became the queen of the power ballad, a musical genre reviled by critics (Carl Wilson's book about Celine Dion, Let's Talk About Love: Why Other People Have Such Bad Taste, explained it well) but beloved by the public. She earned her second Oscar nomination for Because You Loved Me (1996), which was on the soundtrack of Up Close and Personal and performed by Celine Dion, who also included it on her album Falling into You. Her second Oscar-nominated song is a perfect example of how open to interpretation many of Warren's songs are. Although it was used in the film as the epitome of romance, the song was inspired by her father's support for her. But the Oscar that year went to Tim Rice and Andrew Lloyd Weber for Evita's You Must Love Me instead. That night, "I ate two really big orders of French fries to drown my sorrows," Warren revealed. Her third nomination came for another hit on the charts, How Do I Live (1997), sung by LeAnn Rimes, on the Con Air soundtrack (Titanic's My Heart Will Go On won).
Her fourth nomination came for what is probably her biggest hit, which also happens to have the most unusual history. Like good prurient stars, Barbra Streisand (for whom Warren had co-written We're Not Making Love Anymore) and James Brolin gave an interview with the late Barbara Walters after their engagement. In the interview, they told her about the beginnings of their relationship and recounted the following scene: One night, as the couple was spooning in bed, Brolin leaned close to her ear and whispered, "I don't want to fall asleep." Streisand asked him why. "Because I'll miss you." That provided the inspiration for Warren to compose I Don't Wanna Miss a Thing (1998), which Aerosmith performed for the Armageddon soundtrack. But When You Believe, sung by Whitney Houston and Mariah Carey for The Prince of Egypt soundtrack, won the Oscar (in case you're wondering, yes, Warren has also written songs for Houston and Carey).
Warren was also nominated for Music of My Heart (for Music of the Heart, 1999) and There You'll Be (for Pearl Harbor, 2001). Then, Warren's string of nominations ended until 2015, when she received an Oscar nomination for Grateful from Beyond the Lights. Since then, she has been nominated for an Oscar almost every year for songs performed by artists such as Lady Gaga, Common and Laura Pausini. On March 13, Diane Warren will likely go home without an Oscar once again, but it won't matter too much: her lack of awards does not detract from her prolific and successful career. Besides, she's not done yet. As Warren recently stated (hopefully or menacingly, depending on one's perspective): "Some of my best songs haven't been heard yet."
Madelaine Böhme, the paleontologist who challenged long-held tenets about the cradle of humanity | Culture
If Charles Darwin were alive, he'd be pulling his hair out over German paleontologist Madelaine Böhme's controversial theories. Böhme is challenging two centuries of scientific orthodoxy that identifies Africa as the cradle of humanity. Instead, she points to Europe, a continent that resembled the African savannah millions of years ago. Her story is populated with hitherto unknown apes that could walk on two legs and a fascinating Indiana Jones-style tale complete with Nazis and a hidden treasure.
The prevailing scientific theory is that the great apes and humans diverged seven million years ago in Africa. Our closest relative is the chimpanzee, with which we share 99% of our genes. No one knows exactly how this transition happened or how bipedalism evolved, whether from orangutans hanging from trees or gorillas resting on their knuckles. Böhme believes she has found one of the missing pieces of the human evolution puzzle — a missing link.
The crucial clue to solving the mystery came from a Nazi: geologist Bruno von Freyberg. While building bunkers around Athens during World War II, he found a jawbone that looked like it belonged to an ape. Years later, a study conducted in the 1970s determined that the jawbone belonged to a new hominid — Graecopithecus.
In 2009, Böhme was busy studying the evolution of the environment and fauna, unaware that life had a big surprise in store when she found a molar of a great ape in Azmaka, Bulgaria. She had heard the story of Von Freyberg as a young girl and suddenly found herself thrust into the puzzle she had always dreamed of solving.
Böhme's interest in paleontology began as a child when someone gave her a sea stone. She was six when she participated in her first excavation and 12 when she organized her own exploration. At 19, she found a fossil of a prehistoric elephant. Böhme was born to a Bulgarian mother and German father in Plovdiv, Bulgaria's second-largest city and the oldest uninterrupted human settlement in Europe, more than six millennia old. Wandering around Plovdiv is like standing on a giant Napoleon pastry with thousands of enigmatic layers.
"Madelaine is one of those rare researchers with the determination and courage to pursue the unpopular theory that human lineage originates in Europe. Some people have unusual ideas but are never able to substantiate them. But Madelaine found her evidence in primate fossils and the sediment that covered them," said Swedish paleontologist Per Ahlberg. A professor at Uppsala University (Sweden), Alhberg is collaborating with Böhme in a study of the origin of a fossilized footprint on a beach in Crete (Greece). The human-like footprint is six million years old, predating almost all African fossils.
Böhme, a professor at the University of Tübingen (Germany), has just completed a paper for Nature describing a new species of great ape in Europe. She does not believe that our ancestor resembled a chimpanzee but rather an extinct species of great ape called Danuvius guggenmosi found in a Bavarian forest that could walk on two legs and swing between trees. Lucy is the African hominid from 3.2 million years ago that many scientists point to as one of mankind's earliest mothers. But Udo, as the Danuvius guggenmosi ape has been baptized, dates from 11.6 million years ago. Its existence was first identified in 2019 in a study that upended Darwin's Origin of Species theory that bipedalism began in the African savannah.
Questions about Africa were always on Böhme's mind. Why did it all happen on the same continent? An expert in paleoclimatology, she explained that seven million years ago, Europe was different. It was more like the savannah described by Darwin, with elephants and giraffes. "Camels evolved in North America, but no one associates them with that continent. Genetics tells us that the chimpanzee-human divergence happened 7-13 million years ago. We have to look further back, even if it means rethinking paradigms and scenarios," said Böhme.
Her critics point to the scarcity of evidence but not to the authenticity and rigor of Böhme's research. When Böhme discovered the long-forgotten Nazi jawbone in a picnic basket, she promptly conducted a dating procedure: 7.2 million years old. Like the molar, it belonged to hominids. Then a great-great-grandfather named Udo turned up.
"Madelaine is not just a research machine — she has another side. She loves beauty and is something of a bohemian who smiles a lot and finds joy in conversations with friends or a trip to some mysterious place. Without a love of nature and life, scientific puzzles cannot be solved," said Nikolai Spassov, a paleontologist at the Natural History Museum of Bulgaria.
Böhme's findings also suggest bipedalism could have developed in other parts of the world, which again begs the question — what makes us human? "The soul," smiled the scientist. "That's what makes us unique.
Sign up for our weekly newsletter to get more English-language news coverage from EL PAÍS USA Edition
Families demand justice as 50,000 march against Italian mafia
It took a loaded pistol pointed at Lazzaro D'Auria's head for the Italian landowner to finally say yes to the demands of the country's newest and most violent mafia.
The Puglia farmer had resisted their extortion attempts in the past; threats, fires, and damage to his crops and property.
But an early morning visit from a dozen men, including a boss with a gun, forced him to agree to their demand for 150,000 euros a year.
Instead of paying up the next day, D'Auria went to the police, making him one of the few people to ever denounce Foggia's little-known and long-ignored mafia known for its extreme violence.
 "If more citizens pressed charges, the local mafia could be weakened," D'Auria, who has lived under police protection since 2017, told AFP.
READ ALSO: 'We don't talk much here': Silence grips Sicilian mafia boss hometown
"Citizens, speak out!" implored the 57-year-old, who sees recent crackdowns by authorities as a sign the mafia can be weakened if locals overcome their fears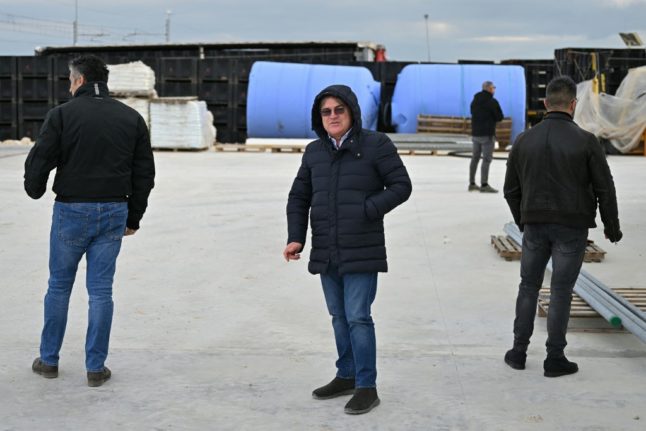 Farmer Lazzaro D'Auria being escorted by police in the province of Foggia. (Photo by Alberto PIZZOLI / AFP)
Its bloody clan wars were once dismissed as farmers' feuds, but the local mafia operating in the northern part of the Puglia region is finally setting off alarm bells inside the Italian state.
It is sometimes referred to as the 'Fourth Mafia' – after Sicily's Cosa Nostra, Calabria's 'Ndrangheta and Naples' Camorra.
But interest in its activities has come late, as Italy's youngest mafia already has a stranglehold over the province.
"It's a rudimentary, primitive mafia. Very violent, very aggressive," said Ludovico Vaccaro, Foggia's public prosecutor.
While the other main mafias have graduated to less visible, more profitable activities, including infiltrating the legitimate economy, the Foggia mafia is still in a nascent phase.
READ ALSO: Messina Denaro: Captured boss's cousin speaks out against 'mafia culture'
"Today the mafias have evolved, so they shoot less, seeking a strategy of silence to stay unnoticed," Vaccaro said.
"Whereas this is still a mafia that, to show its power over the territory, shoots and kills."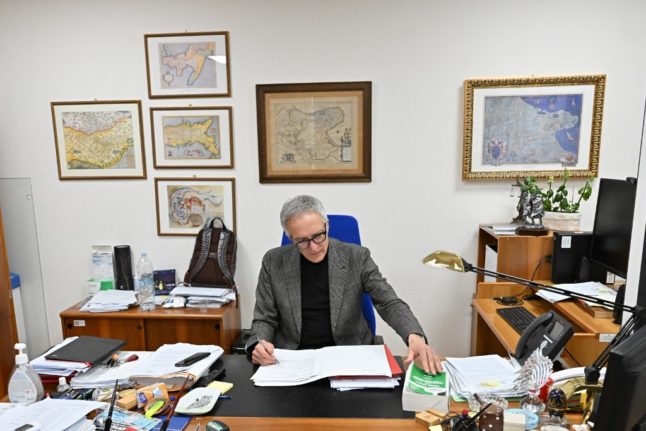 Foggia Public Prosecutor, Ludovico Vaccaro pictured at his office in Foggia. (Photo by Alberto PIZZOLI / AFP)
The 'Foggia mafia' is a catch-all label for a syndicate comprising different groups.
The province of Foggia has Italy's third-highest homicide rate, and five of the 16 murders last year were mafia-related.
Family-based 'battalions' from different areas often cooperate, dividing extortion money that pays associates and prisoners.
When conflicts sometimes arise over the division of the illicit proceeds, there are quarrels and the battalions clash and start killing each other," said deputy police chief Mario Grassia.
Each group has its speciality, from military-style armed robberies of freight trucks in Cerignola to the old-school tactics used in the city of Foggia, where nighttime bombings of storefronts and cars persuade hesitating shopkeepers to pay up.
Farmers in San Severo like D'Auria often find their olive trees felled, their harvests torched or tractors or livestock stolen.
In Gargano, whose spectacular coast welcomes tourists as well as Albanian drug shipments, the mafia is particularly violent.
The Gargano mafia's grisly calling card, authorities say, is shooting victims in the face, or dumping them in caves.
READ ALSO: PROFILE: Ruthless Sicilian mafia boss Messina Denaro's reign of terror
"It's easy to hide things. Every once in a while we find something serious, stolen cars, bodies of missing people," prosecutor Vaccaro said.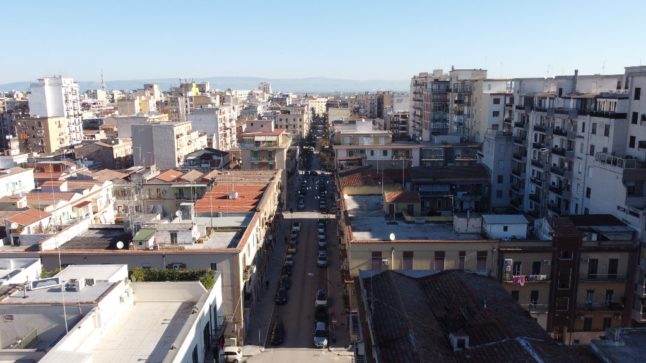 An aerial photo of the city of Foggia, southern Italy. (Photo by Giovanni GREZZI / AFP)
During a recent drive with police through the city of Foggia, AFP saw countless reminders of the bloodshed that has terrorised the population for decades.
"Right now there's no mafia war, but there's a settling of accounts," said a detective who requested anonymity.
Deputy chief Grassia said he was particularly concerned by three of last year's murders being committed by minors.
"Those participating in these gangs have kinship ties with subjects linked to organised crime," he said.
The newest danger posed by the mafia is infiltrating public institutions. Foggia's city council was dissolved in 2021 due to mafia infiltration and its mayor arrested on corruption charges, one of five local governments in the province dissolved since 2015.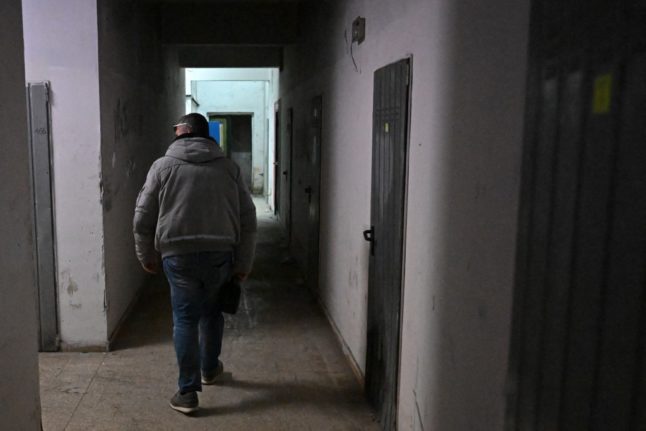 A police detective checks inside a building in Foggia. (Photo by Alberto PIZZOLI / AFP)
In recent years a number of top bosses, including Rocco Moretti and Roberto Sinesi, have been jailed as authorities try to wrest control of the territory from the mafia.
But the upcoming release of one of their rivals, Raffaele Tolonese, and last month's prison escape of Gargano boss Marco Raduano, underscore the challenges.
Interior Minister Matteo Piantedosi visited Foggia in February to seek to reassure locals, pledging to reinforce security, including adding what local authorities say are badly-needed surveillance cameras and street lamps.
Beyond those basics, argued Vaccaro, more police, prosecutors and courts are desperately needed to counter the "climate of fear and intimidation, the cultural and social poverty" in the deprived area.
Only one courthouse serves the entire province, which has a backlog of over 12,000 criminal cases waiting to be tried.
"In this vast territory, either the state has control, or the criminals will take it," said Vaccaro.
By AFP's Alexandria Sage
Karol G: 'A heartbreak can destroy you' | Culture
It must be pleasant to have an omelette for breakfast with orange juice while your album – your art, your multimillion-dollar business – runs wild on the internet, the numbers skyrocketing.
The global star of the reggaeton movement receives us in her hotel room as she eats eggs and potatoes, washing it down with freshly-squeezed juice.
"The tortilla was delicious," says Carolina Giraldo Navarro (Medellín, 32 years old) – otherwise known as "Karol G" or "La Bichota."
She hosted EL PAÍS on Tuesday, February 28. The 32-year-old Medellin-born singer has just released her fourth album: Mañana será bonito ("Tomorrow Will Be Beautiful"). A week after her interview with this newspaper, the songs from the collection would go to the top of the Billboard charts in the United States. She is the first woman singing in Spanish to go to number one.
With the support of her intuitive producer Ovy On The Drums (Daniel Oviedo), she has ensured that Latin urban music – or reggaeton – rules the pop world.
The album is made up of 17 songs where she shines solo or with feats. Among them with her idolized Shakira (post-Piqué), with whom she joined heartbreaks -Shakira post-Piqué; Karol G after her relationship with Puerto Rican rapper Anuel AA- to produce the liquid gold that is the song TQG (te quedó grande) -"I was too much for you"-, another record breaker.
Tomorrow will be beautiful got its title because, as the Colombia artist says, yesterday was really ugly. It's hard to imagine that, as we observe the jovial and intelligent winner, who wears Dolce & Gabbana boots, a hip denim outfit and her flamboyant hair dyed the color of "resurrection red."
The album draws on her healing process, hopping from the rabid melancholy of a breakup to her vitalistic self-improvement. It is rampant and feverish, as befits the voluptuous boss of the perreo world. However, it also has the low tones and bitter verses of the hard-working and conscientious young woman, who supports vulnerable sisters through her charitable foundation.
Karol G is the neighborhood girl, tattooed with female power, with a heart surrounded by barbed wire. Her image contains both pleasure and anxiety: she is both a strong and vulnerable person. Her pleasure-seeking overlaps with discipline and a cerebral nature.
Just 24 hours before her interview, she arrived in Madrid from Miami via private jet. Upon arriving, she had a snack of chocolate with churros in a cafe, while her fans waited outside the door.
"Due to the nerves [caused by] the interview," she was biting her nails. She shows them to us, with the enamel chipped. "See, and I always have a super cute manicure…"
Q. How are you?
A. Tired, I didn't sleep at all.
Q. Do you mean that you actually didn't sleep, or that you slept badly?
A. No, when I say I didn't sleep, I mean that I really didn't sleep. I don't sleep much – my brain is like a motor that I can't turn off. I'd love to know how, but I can't.
Even when I manage to fall asleep, ideas wake me up. This has started happening to me in recent years. With all the things I've seen – all the things I've been able to learn and achieve – my mind seems to fly more. I feel like my head is always flying and thinking about the craziest things.
Q. Your album comes out of a period of darkness, at the end of a relationship.
A. The breakup made me realize that, inside, I was completely unstable – my level of dependency [was high]. When the relationship ended, I felt that I couldn't do anything anymore and I spent a lot of time devaluing myself. I suddenly believed that I didn't deserve all the things that were happening in my career.
Q. Girl power fell apart.
A. Totally. It was horrible. My previous album – KG0516 – was incredibly successful at the time, but I didn't feel like celebrating. I no longer liked what I did – I didn't like what I saw.
I was vulnerable and people's cyber-bullying got tougher. It all affected me too much. I got to a point where I didn't want anything. Love can make you the happiest person in the world… but heartbreak can seriously destroy your life. If you don't have enough internal strength, falling out of love can confuse you to such an extent that your career, personality, and self-esteem crumble. That happened to me. That's why it means everything to me that other people can heal with my songs.
Q. And now you're ok.
A. I'm happy.
Q. In love?
A. I'm having a special moment.
Q. Let's talk about the lyrics in this album. In the song While I heal my heart (Mientras me curo del cora), you sing: "I don't even miss Ovy in the instrumentals." How important is the music created by your producer, Ovy On The Drums?
A. Essential. He knows me very well – he even knows my family. For four years, he lived in my house in Medellin. We built the first recording studio together, laying the bricks by hand.
Q. In the song In case we get back together (X si volvemos – featuring Romeo Santos) you sing that "no one trustworthy should be denied a farewell f**k." Anything to add to that?
A. Sometimes you don't get along with a person and you're no longer with them, but you think: "Just this once…"
Q. "You bring the bed and I'll bring the krippy."
A. Krippy! It's a kind of marijuana.
Q. In But you (Pero tú – featuring Quevedo) we hear the lyrics, "you have me wrapped in the booty." What do you mean by that?
A. The bum. You have a big bum and you have me hooked to it.
Q. In the song Besties, you sing that you go to the club with your friends "with diamonds in the gistro."
A. (Laughing) Gistro is slang for "thong." What it means is that we think so much about the details [when we go out] that we even have "diamonds in the registry."
Q. What does bellaquear mean in your songs?
A. To flirt.
Q. In Gucci the handkerchiefs (Gucci los paños), you said that it was expensive to cry when the "handkerchiefs are Gucci." Does a Gucci-branded handkerchief get spoiled with tears?
A. You'd be surprised at how a lot of expensive branded clothing is of really bad quality!
Q. So, for heartbreak, you don't need to buy Gucci handkerchiefs.
A. No, for a heartbreak, toilet paper will suffice.
Q. When you started your career, did you think that, to be a star, you'd have to sing in English?
A. Yes, I thought about that at some point, of course. The biggest reference we had was Shakira… she always did her songs with Spanish and English versions. I took a little while learning English, but when I learned it, I realized that I no longer needed to sing in English for my music to work.
Q. That's good, no?
A. Yes, truly.
Q. In Ferrari Eyes (Ojos Ferrari – featuring Justin Quiles and Angel Dior) you sing, "and drink and drink and drink… and screw and screw and screw… and light-up, light-up, light-up… and f**k and f**k and f**k… and drink and drink and drink." Anything to add?
A. Yes, I get asked a lot about that song. You know, in the process of breaking up, you think that, by freeing yourself, you'll feel better. "I want to drink, I want to drink, let anybody come cause I'm ready". But later on, you realize that this wasn't the way either. But at least you had a good time at the party.
Q. What is the Karol G movement?
A. How do I explain that… it's about an empowered woman who works, who fends for herself, who is strong in difficult situations. I swear that this is somehow reflected in my concerts, in the messages that people write to me…
Q. Do you get bored when you're asked about feminism?
A. No. What bores me is being asked what it's like to be a woman in an environment so dominated by men… because it's not so dominated by men anymore. But I do want to continue talking about feminism in general, because it's something important and still in development.
Q. Shakira has only done songs in collaboration with three women: Beyoncé in 2006, Rihanna in 2014… and Karol G in 2023. How do you feel about that?
A. What a fright! I still don't believe it. I wondered for a long time if I would be as talented as this person or that person… I know that there are people who sing better than me, who dance better than me, who are better performers than me… but I have a lot of discipline, I've disciplined my talent. I've worked very hard to achieve the things that I've achieved. It's hard for me to know that this is reality, but I enjoy it, because I know how much it has cost me.
Q. I've read that you love NASA and space stuff. If you weren't a music star, would you have wanted to be an astronaut?
Q. No. I'm obsessed with it, but I wouldn't have wanted to be an astronaut, I would have wanted to be a professional motocross racer. I've loved [racing] ever since I was a kid.
Q. To go back to Shakira… did you know that, in 1999, she told Gabriel García Márquez that she was more scared of marriage than death?
A. How incredible that she was interviewed by García Márquez! I mean… she's legendary. And I think that I'm also more afraid of marriage than of death.
Q. What was your childhood like in Medellín?
A. It was a dream childhood, a childhood that no longer exists. I'm from the time when we still played at making swamp fritters.
Q. Swamp fritters?
A. (Laughs). We made arepas out of mud. We used to play in the street… I literally didn't know what a cellphone was until I was 16-years-old. My family was huge. It was a special childhood.
Q. Despite the socio-political context.
A. Two of my father's brothers were killed because of the [cartels'] curfews in place in Medellin. After six in the evening, no one could go out, because they [the drug traffickers] were trying to put pressure on the government to negotiate. The way to put pressure was by threatening the entire society – whoever was on the street after a certain hour was killed. Just like that. They had no mercy because they were at war with the government.
Q. You've often thought about ending your singing career.
A. I've been making music since 2006. In 2012 was the first time I said I didn't want to sing anymore, because I was tired of being told that, as a woman, I couldn't, or encountering any of the indecent proposals from producers and engineers…
Q. Did that happen many times?
A. Yes, it happened a lot. I felt that [those men] were making me lose love for what I liked – which was making music and songs – and if I had to stop respecting myself to get to something, I wouldn't do it.
But then my dad became my manager. He was very committed. And then, whenever somebody came around with an indecent proposition, I felt super protected with him by my side. It was very important to me.
Q. I recently saw that the news that, in Medellin, a woman – Daniela Rivera – committed suicide by jumping in front of one of the Metro trains with her daughter, who survived. Supposedly, she was escaping an abusive relationship.
A. Machismo is something universal… it seems to have no end. It's something that we [have to] work on at the foundation. You can't imagine the stories of girls who no longer want to live.
Q. Your most recent album is titled Tomorrow will be beautiful. What would you say to a fan who listens to your music and knows that tomorrow won't be beautiful for her?
A. In our culture, we grow up with the idea that we're not capable or strong enough to achieve things. We distance ourselves from painful situations, when they're the most evolutionary in the growth process of a person. I can tell you that the last two years of my life – after the pain I have felt – have been the clearest, the happiest.
Q. Maybe she'll say, "Fine, but I'm not Karol G. She was screwed up and came out of it… but I'm not Karol G."
A. No, actually, the one who was screwed up was Carolina. Karol G was very good, because her career has gone well. But Carolina learned the greatest things from darkness. Do you know what I mean? When we get to that point, either we learn and leave, or we stay stuck.
Sign up for our weekly newsletter to get more English-language news coverage from EL PAÍS USA Edition