The making of a megacity: how Dhaka transformed in 50 years of Bangladesh | Global development
On the banks of the Buriganga, Old Dhaka's boatmen only ever rest a moment before making their return journey, endlessly ferrying passengers back and forth across the river.
They pick them up at the Sadarghat docks, the historical trading hub that helped build the city, and row them towards the sprawling suburbs that have crept across what used to be open farmland two decades ago.
Old Dhaka is no longer the economic and political heart of the city, but Sadarghat is still the defining image of its perpetual movement and growth, of commuters living and working across the Buriganga, and new migrants forever stepping off crowded ferries, arriving from the countryside.
Dhaka reflects the trajectory of Bangladesh in the 50 years since independence, on 26 March 1971. At that time it was a small city of a million souls in a poor and underdeveloped nation, after decades of Pakistani neglect.
Now Dhaka is a megacity, an economic hub that has grown chaotically – outwards and upwards – to absorb the 20 million people who live there, with 400,000 arriving each year. Many have migrated with dreams of economic opportunities they cannot find elsewhere.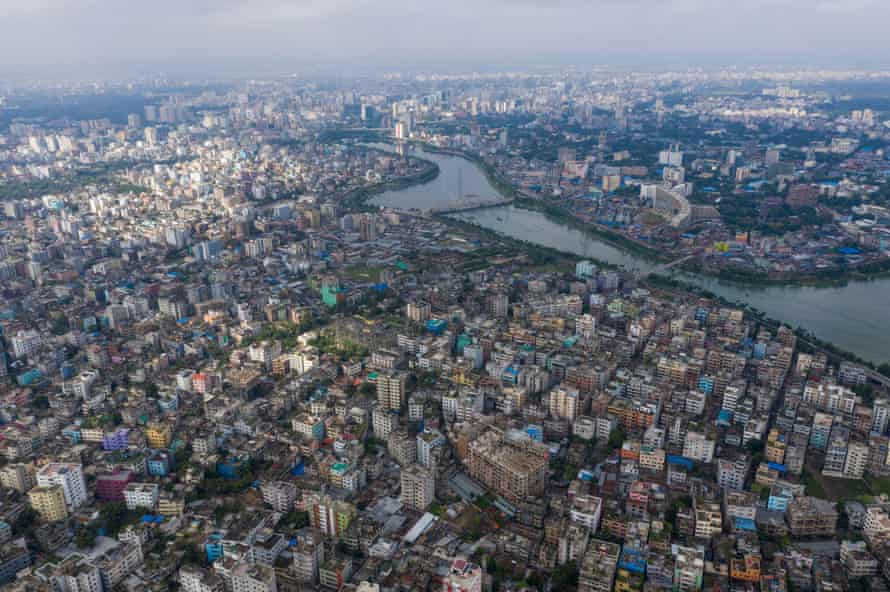 Asaduzzaman Asad preceded most in his migration to the capital, arriving from the western district of Jhenaidah in 1966, when Dhaka was still the capital of East Pakistan, with the idea of starting a business.
"This town was very small. The number of three-storey buildings were few and you mostly just saw tin-roofed homes. There were ponds and canals and very few people. It was peaceful," says Asad.
After independence in March 1971, Asad settled in Mohammadpur, an area still taking shape in the newly-settled north of the city. Dhaka was expanding quickly. In some areas the government allocated land for new arrivals to settle on, encouraging more migrants to head to the city. In other places, swathes of wetland and farmland were swallowed up by new neighbourhoods.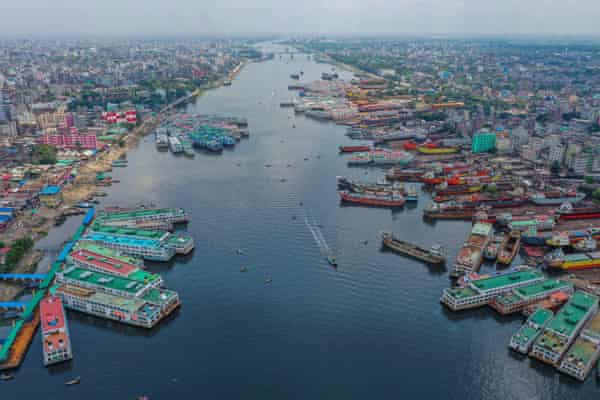 New roads made travel and trade easier and Asad reaped personal rewards, with more customers for his grocery shop.
Bangladesh was infamously described as a "basket case" economy in 1971 by Henry Kissinger, who had opposed its creation. Half a century later, the country's leaders often take pride in pointing out that they have proved him wrong.
The International Monetary Fund (IMF) predicted in October the country's economic growth would still hit 4.4% in 2021 despite the coronavirus pandemic halving the previous year's growth.
Most of that has been driven by Dhaka-based industries that have spawned a rapidly-growing class of super-rich, who live in leafy neighbourhoods, dine out on international cuisine and shop in gleaming malls or abroad. These industries feed on a constant flow of migrants fleeing deprivation or climate disasters, who move to places like the Kallyanpur and Korail slums, or the suburbs between Dhaka and satellite towns built for garment factories.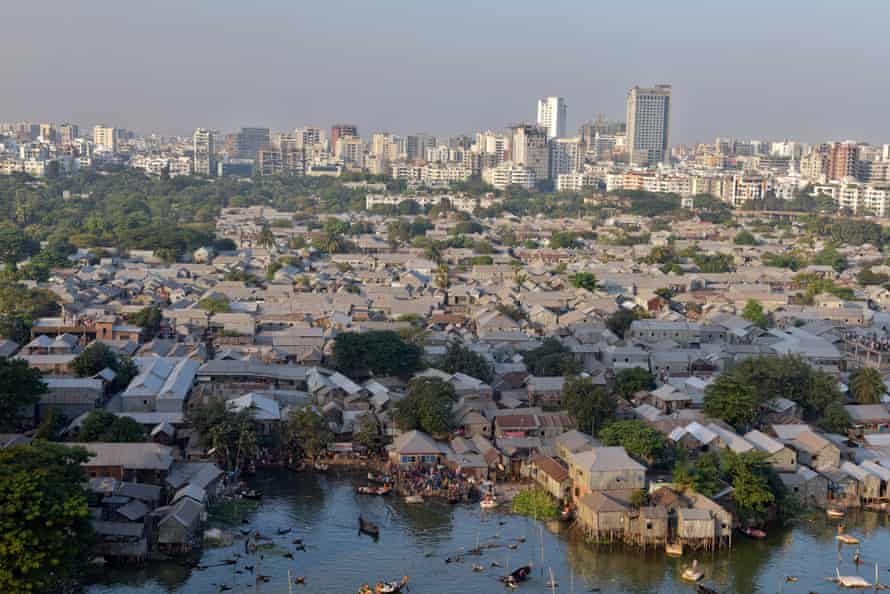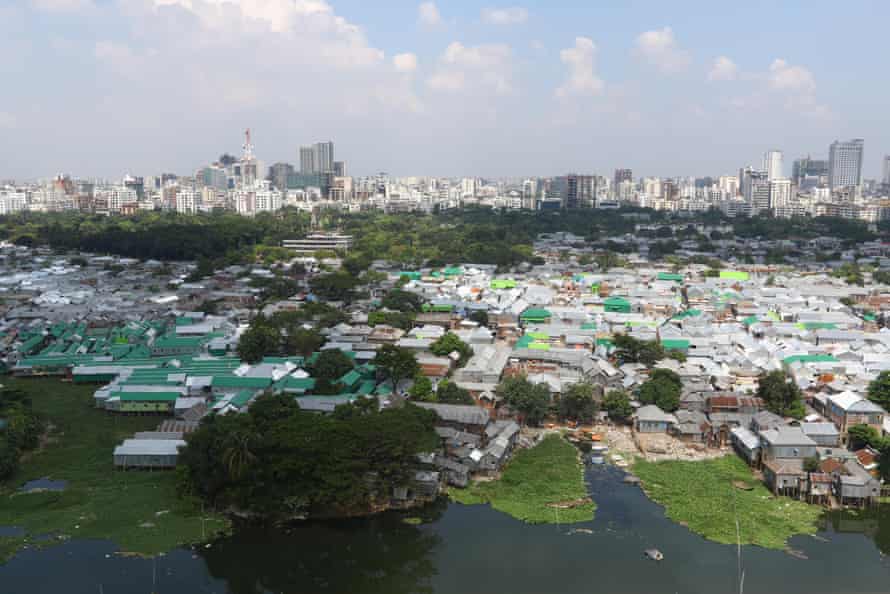 "There are problems here. There is also work here. As the crisis in our village increased, I came to Dhaka to find a living," says Parveen Begum, 45, whose home in the coastal Bhola district was engulfed when the river flooded.
She settled in Kallyanpur, on a patch of government land known as a bosti, and found work in a garment factory. In the decade since, she has seen the area's bamboo huts replaced first by tin homes and then more solid but haphazard structures along a network of paved alleyways.
Parveen and her husband pay 2,000 taka (£16) a month to rent a single room, in which they must keep the light on permanently because there is no natural light. Outside, the drains regularly clog with sewage.
"It's not that I'm good here but there are more job opportunities than in the village," she says. "We don't want to live in this dirty slum, we're always wishing we could go back."
The 300 taka monthly salary Parveen earned when she arrived in Dhaka has increased to 3,600 taka. She believes that unless there is investment in rural Bangladesh the higher wages will compel many more people to leave their villages for the city.
Dhaka could become the world's fourth most populous megacity by 2030, according to the UN, and few believe the city is well prepared for this growth.
Residential buildings keep getting higher with no regard for planning laws. There is little space between buildings, electricity cables are slung low in a tangled mess and the sewage system, which is still cleaned manually, is routinely overloaded by heavy rains.
Dhaka's air quality routinely ranks among the worst in the world and the roads are so congested that traffic has slowed to almost walking speeds of 4 mph, down from 13 mph a decade ago.
"Sometimes I think the whole of Dhaka is a bosti, you cannot simply have a decent city life, even if you have a nice apartment," says Dr Shahadat Hossain, an urban planning expert at the Technical University of Dortmund, Germany.
"You cannot see any park developments, children go to school and come home and stay inside … social infrastructure is absolutely missing," he says. "Your relation with the city is with your apartment, your workplace and the school your child goes to, but you have no relationship with anything in between because the roads, the community you live in, is foreign to you."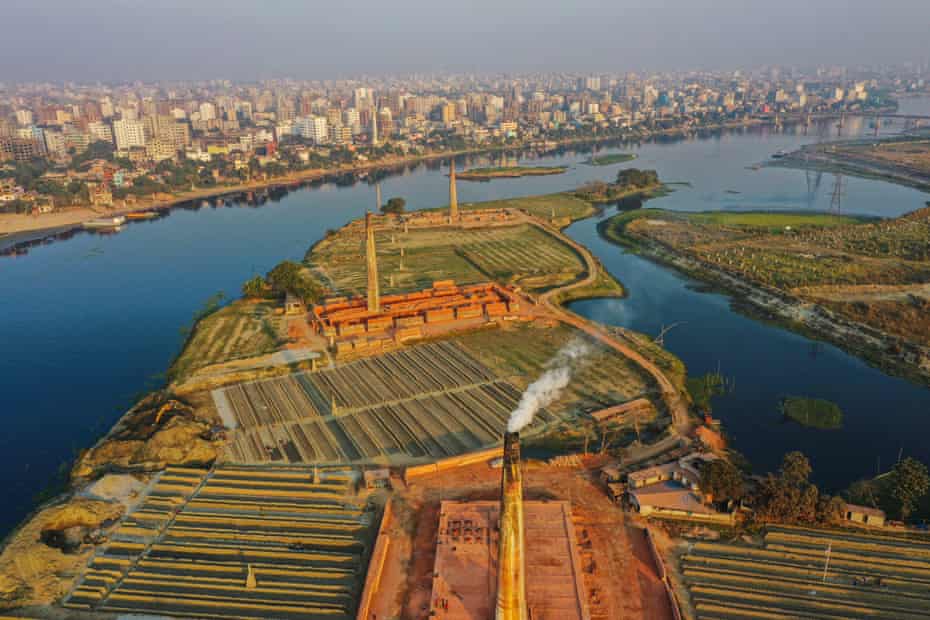 Hossain says that while industry has thrived, there is been a lack of comprehensive strategy to support the city's residents. Corruption has made things worse, leaving the powerful able to exploit laws or, in the case of the Keraniganj suburbs, buy up land for affordable housing projects then sell them at prices beyond the reach of ordinary workers.
Asaduzzaman Asad sees benefits in the changes to the small city he came to in 1966. Today his business is thriving and there are opportunities that exist nowhere else in the country. But he is worried the city is becoming an intolerable place to live.
"We need decentralisation, we need good medical treatment in villages, good education and alternative livelihoods," he says. "We can easily predict the future of Dhaka. If this unplanned development continues, this city will become uninhabitable."
'We just sleep and hope we don't perish': 2m in Tigray in urgent need of food – UN | Hunger
At least 2 million people in the northern Ethiopian region of Tigray are suffering from an extreme lack of food, with the 15-month conflict between rebel and government forces pushing families to the brink, the UN's emergency food agency has found.
In the first comprehensive assessment the World Food Programme (WFP) has carried out in Tigray since the start of the war, 37% of the population were found to be severely food insecure, meaning they had at times run out of food and gone a day or more without eating.
Families were found to be "exhausting all means to feed themselves", with 13% of Tigrayan children under five and almost two-thirds of pregnant and breastfeeding women suffering from malnutrition.
"Before the conflict we were eating three times a day but now even once a day is difficult. I was borrowing food from my family but now they have run out. We just sleep and hope we do not perish," Kiros, a single mother of six children living on the outskirts of the region's capital, Mekelle, told researchers.
The assessment, which was based on face-to-face interviews with 980 households in accessible parts of Tigray, was carried out from mid-November until mid-December.
However, researchers were unable to travel to areas where fighting is impeding humanitarian access. Moreover, since the assessment was carried out, the needs of the region are thought to have become even more acute as no aid convoy has reached Tigray for about six weeks.
"This bleak assessment reconfirms that what the people of northern Ethiopia need is scaled up humanitarian assistance, and they need it now," said Michael Dunford, WFP's regional director for eastern Africa.
"WFP is doing all it can to ensure our convoys with food and medicines make it through the frontlines. But if hostilities persist, we need all the parties to the conflict to agree to a humanitarian pause and formally agreed transport corridors, so that supplies can reach the millions besieged by hunger."
Across northern Ethiopia, where fighting has raged in the regions of Afar and Amhara as well as Tigray, WFP estimates that 9 million people are in need of humanitarian food assistance, the highest number yet.
In Amhara, hunger has more than doubled in five months, it says. In Afar, where fighting has intensified in recent days between the Tigray People's Liberation Front and forces loyal to the prime minister, Abiy Ahmed, recent health screening data showed malnutrition rates for children under five were at 28%, far above the standard emergency threshold of 15%.
Since the conflict erupted in November 2020, it has been difficult for the UN and other humanitarian organisations to gauge the level of need in Tigray due to a lack of on-the-ground access and telecommunications. The UN has accused the federal government of preventing food and essential medical supplies from coming into the region in a de-facto blockade. The government denies this.
On Wednesday, the International Committee of the Red Cross (ICRC) said it had made its first delivery of medical supplies to Mekelle since last September. The drugs are understood to have included enough insulin supplies to last about a month, after medics at the Ayder referral hospital raised the alarm over severe shortages.
Dr Tedros Adhanom Ghebreyesus, director of the World Health Organization, recently accused Abiy's government of imposing a "hell" on Tigray by denying entry to medical supplies.
"It is a huge relief that this first shipment is reaching hospitals," said Apollo Barasa, health coordinator at the ICRC delegation in Ethiopia. "This assistance is a lifeline for thousands of people, and I can't emphasise enough how crucial it is that these deliveries continue."
Asylum applications on rise in EU
The EU Agency for Asylum on Friday said the number of asylum applications in November 2021 was the second-highest in five years, narrowly below the level in September. About 71,400 applications for international protection were lodged in the "EU+" (EU, plus Norway and Switzerland) in November 2021, up by nine percent from October. "This was the second-highest level since 2016," it said.
Protests flare across Poland after death of young mother denied an abortion | Abortion
Protests are under way across Poland after the death of a 37-year-old woman this week who was refused an abortion, a year since the country introduced one of the most restrictive abortion laws in Europe.
On the streets of Warsaw on Tuesday night, protesters laid wreaths and lanterns in memory of Agnieszka T, who died earlier that day. She was pregnant with twins when one of the foetus' heartbeat stopped and doctors refused to carry out an abortion. In a statement, her family accused the government of having "blood on its hands". Further protests are planned in Częstochowa, the city in southern Poland where the mother-of-three was from.
"We continue to protest so that no one else will die," Marta Lempart, organiser of the protests, told Polish media. "The Polish abortion ban kills. Another person has died because the necessary medical procedure was not carried out on time." All-Poland Women's Strike has called on people across the country to picket the offices of the ruling Law and Justice party (PiS) and organise road blockades in the coming days.
Agnieszka was first admitted to the Blessed Virgin Mary hospital in Częstochowa with abdominal pain on 21 December. She is said to have been in the first trimester of a twin pregnancy when she arrived and was in "a good physical and mental shape", according to her family, who said her condition then deteriorated.
On 21 December the heartbeat of one of the twins stopped and, according to Agnieszka's family, the doctors refused to remove it, quoting the current abortion legislation. They waited several days until the second foetus also died. A further two days passed before the pregnancy was terminated on 31 December, according to the family.
A priest was then summoned by hospital staff to perform a funeral for the twins, the family said.
The family say that the doctors refused to terminate the pregnancy earlier, citing Poland's abortion legislation. "Her husband begged the doctors to save his wife, even at the cost of the pregnancy," Agnieszka's twin sister, Wioletta Paciepnik, said on Tuesday.
After the termination, Agnieszka was moved from the gynaecological ward and her health continued to deteriorate. Her family suspect that she died of sepsis but the cause of death was not identified in a statement released by the hospital.
Shortly after her death, a statement by her family accusing the hospital of neglect was published on Facebook, alongside a distressing video of Agnieszka's last days.
Agnieszka's death marks the first anniversary of the 2021 ruling that declared abortion due to foetal abnormalities illegal. Abortion can now only be carried out in cases of rape, incest or if the mother's life and health are in danger.
Her death comes after that of a woman known as Izabela last September, who died after being denied medical intervention when her waters broke in the 22nd week of her pregnancy. Her family claim the 30-year-old was refused an abortion or caesarean section and that the hospital cited the country's abortion laws. An investigation found that "medical malpractice" led to Izabela's death and the hospital was fined. Soon after, an anonymous man from Świdnica in south-west Poland came forward to share that his wife, Ania, died in similar circumstances in June last year.
While "selective abortion" is possible in the case of a twin pregnancy, it is unclear whether aborting an unviable foetus to save its healthy twin is permitted by the new abortion legislation. The Polish court has not referenced the questions raised by this situation, presented by opposition senators last year, in the new legislation.
"We want to honour the memory of my beloved sister and save other women in Poland from a similar fate," Paciepnik said in a video appeal. The case is now being investigated by the regional prosecutors in Katowice, who also investigated the case of Izabela.
The family are represented by Kamila Ferenc, from the Federation for Women and Family Planning, who confirmed that an autopsy of Agnieszka's body has been ordered by the court.
According to a statement from the hospital, Agnieszka tested positive for Covid before her death, although she tested negative twice when first admitted. "We stress that the hospital staff did all the necessary actions to save the patient," the statement read. The hospital did not respond to the Guardian for a request for comment.