The 1915 Armenian Genocide and its Russophobic Origins
Johann von Bernstorff (German ambassador); "The way the Armenian problem was solved was hair-raising. I can still see in front of me Talaat's cynical expression, when he emphasized that the Armenian question was solved."1
Einar af Wirsén (Swedish Diplomat) "When I kept on pestering him about the Armenian question, he once said with a smile: 'What on earth do you want? The question is settled, there are no more Armenians'".2
Henry Morgenthau (American Ambassador (He was Jewish)); "Whatever crimes the most perverted instincts of the human mind can devise, and whatever refinements of persecution and injustice the most debased imagination can conceive, became the daily misfortunes of this devoted people. I am confident that the whole history of the human race contains no such horrible episode as this. The great massacres and persecutions of the past seem almost insignificant when compared with the sufferings of the Armenian race in 1915."3
On May 30th 1915 Talaat Pasha issued the Tehcir Act, which on paper was a security measure the Turks put forth to prevent a Russian-Armenian revolt by forcibly relocating the nationals of Armenia to Mesopotamia and Syria.4 This was the story the Young Turks told the world to avoid and minimize any public disapproval or foreign resistance. The relocations involved disarmed Armenians being forcibly marched to camps in the inner deserts of Anatolia and Syria, and these camps were not stocked with necessary supplies for survival.5 The properties of these people were confiscated and sold to new arrivals, the men were often singled out to be killed first, and the women were often enslaved and raped en masse.
The accusation of Russian-aligned rebellion was used as justification and cover. American Ambassador Henry Morgenthau frantically remarked;
"Have you received my 841? Deportation of and excesses against peaceful Armenians is increasing and from harrowing reports of eye witnesses it appears that a campaign of race extermination is in progress under a pretext of reprisal against rebellion.

Protests as well as threats are unavailing and probably incite the Ottoman government to more drastic measures as they are determined to disclaim responsibility for their absolute disregard of capitulations and I believe nothing short of actual force which obviously United States are not in a position to exert would adequately meet the situation."6
A confession is considered as valuable only if it contains some true and verifiable details of the crime the investigator did not know of. This rule of criminal investigation was observed in the controversial telegram transcriptions written in The memoirs of Naim Bey.7
On March 25, 1915, Talaat states: "It is the duty of all of us to effect on the broadest lines the realisation of the noble project of wiping out the existence of the Armenians who have for centuries been constituting a barrier to the Empire's progress in civilization."8
What events led to these horrific genocide and near destruction of the Armenian people, and why are the Armenian people important for European history?
Armenians are an ethno-linguistic-religious group distinct from their surrounding neighbors. They have their own church, the Armenian Apostolic Church, which was founded in the 1st century CE, and became in 301 CE the first branch of Christianity to become a state religion. They have also their own alphabet and language which is classified as an independent branch of the Indo-European language family. The historical homeland of the Armenians sits north of the Fertile Crescent, a region of substantial importance to modern human evolution. Genetic and archaeological data suggest farmers expanding from this region during the Neolithic populated Europe and interacted/admixed with pre-existing hunter-gatherer populations.

Furthermore, Armenia's location may have been important for the spread of Indo-European languages, since it is believed to encompass or be close to the Proto-Indo-European homeland (Anatolia or Pontic Steppe) from which the Indo-Europeans and their culture spread to Western Europe, Central Asia and India. 9
The Holocaust of the Armenian people wasn't simply stopped at the borders of Turkey; Ottoman troops by the Young Turks insistence had also invaded Persia. During this invasion Christian Armenians and Assyrians alike were slaughtered. In fact, approximately half of Persia's Christian Assyrians alongside about four-fifths of the Christian Assyrian leadership were killing during this time by Turkish and Kurdish invaders.10
Two months after the (largely Jewish led) Bolshevik revolution the new Russian government began withdrawing Russian troops from the Caucasus. This withdrew the only ally the Armenians had and put their remaining people at risk of extinction. At this time the last refuge for these people was the small remaining unconquered land of historic Armenia centered around Mount Ararat.11
Mount Ararat is traditionally the Christian-accepted location of Noah's Ark in the Book of Genesis. Armenia was the first Christian country in the world. The Armenian language is the most ancestral, oldest Indo-European Language left since the extinctions of its Indo-European predecessors Anatolian and Tocharian. It's hard to overstate the ethnocultural significance in this event threatening complete extermination of the most ancestral Indo-European speakers and also the most ancestral Christians. Much of the Armenian highlands were lost; Western Armenia was renamed "Eastern Anatolia" by the invaders. With the survivors and refugees concentrated in Caucausia the impending invasion threatened complete annihilation.
The Christian leader Catholicos Gevorg V ordered Church Bells to peal for six days as all classes of Armenian people were called to take up arms with the women and children readying supplies and the entire survivors of the nation prepared for total war.12 The President of the Armenian assembly stated "If we are to perish, let us perish with honor."13
In the battles of Sardarabad, alongside Abaran and Karakilisa, the outnumbered Armenians managed to defy the odds and fight off the Turkish invaders. Historian Christopher Walker remarked that with a loss at Sardarabad "it is perfectly possible that the word Armenia would have henceforth denoted only an antique geographical term."14
The Destruction of Armenians in the Ottoman Empire resulted by most estimates with 1.5 million of the 2 million Ottoman Armenians being exterminated.
The history of Armenia is intertwined with that of Europe and Russia especially. Russia had generally had an Armenian presence through its history but after the Russo-Persian wars in 1828 Russia annexed parts of the historical Armenian nation. Since that time Russia has generally defended the rights of Christian minorities in the Ottoman lands. Russian foreign minister Sergey Lavrov is perhaps the most visible example of a Russian Armenian given that he was born to an Armenian father.
But the Armenians had, for the most part, been very well integrated in the empire as well. Armenians were formerly dubbed the "loyal millet".15 The Armenians opportunities in the region arguably increased with the transition from Greek Byzantine rule to Ottoman rule. Armenian villages traditionally had a high degree of autonomy as well. Any sort of separatist nationalism would seem unviable, and the main Armenian conflicts with the Ottoman Muslims were based about regional autonomy and protection from bandits. The primary Armenian political organizations with public protests were advocates pushing for autonomy such as the 1890's Kum Kapu demonstration.16 These requests were quite reasonable as the Armenians had suffered various attacks and murders from Muslim Kurds and other bandits who, by the Ottoman empires laws, held legal superiority in court.
During this time the Sultan Abdul Hamid II attempted to shed the "sick man of Europe" label his failing Ottoman Empire had by encouraging a modernization of the Empire, which required a stronger and more centralized government role in citizens affairs. Abdul Hamid II was attacked in the British press as the "Red Sultan" for various atrocities committed against minorities such as Armenians and for all intents and purposes was the perfect archetype of a Tyrant.17
The Young Turks who sought to overthrow him by contrast were revolutionaries. They shouted their slogans of "Hürriyet, Musavat , Uhuvvet" inspired from the French "Liberté, égalité, fraternité" meaning "Liberty, Equality, Fraternity". Turkish ethnicity is often described as a "melting pot" of all Anatolian people ranging from the gene pools of the Balkans, Anatolia, and parts of Asia."18 The Young Turks were also rationalists following a materialist ideologies like positivism which they prioritized over religion; The Islamic authorities the Ulama even denounced them as "trying to change Islam into another form and create a new religion while calling it Islam".19
The Ottoman Empire was historically a place where Jews could live without fear of persecution according to one of the Erdogan aligned newspaper the Daily Sabah.20 Indeed this tolerance extended into the post-Sultan era of the Young Turks, as the Encyclopedia Judaica noted that various Zionist groups were hopeful in 1908 for opportunities to press their interests; "the absence of antisemitism in Turkey made the idea [Jewish settlement in Palestine] possible".21 Talaat specifically was very open to these ideas;
"Four years later Talaat even propagated the fantastic idea of a 'Muslim-Jewish Alliance.' The Balkan wars had plunged the Ottoman Empire into financial ruin and Talaat, who became a key member of the CUP's ruling triumvirate following the military coup of January 1913, expected the Zionists to link the empire with the fabulous wealth of 'world Jewry.'"22
Knowing this background of the states historical pluralism, alongside the progressive and secular motto of the new government and its noted tolerance of Jewish minorities, one has to ask how a genocide could have even been possible. How could such a progressive government proceed to horrifically genocide many of the states indigenous Christian populations?
If we take a closer look at the killings we come across many disturbing disparities in the treatment of these minority groups. After all in the Great fire of Smyrna catastrophe of 1922 the Christian Armenian and Christian Greek sections of the city were destroyed while the Jewish and Turkish sections were not.23 In 1918, three years after the passing of the Tehcir law, Talaat Pasha made a Turkish Balfour declaration equivalent expressing support for the establishment of Jewish Palestine.24 Clearly it is a strange sort of nationalism the Western world is unfamiliar with when the Jewish minorities are spared.
The Armenian Holocaust was not only unexpected by the victims but in fact it is still to this day denied by the perpetrator state Turkey. And until recently, the execution of the genocide itself was only known by third party observers, with the state of Turkey claiming the genocide was really just a civil war. The only direct evidence of intentional genocide were in translated telegrams written in the 1921 published The Memoirs of Naim Bey which lost much of the source material telegrams.
In October 2016 however Prof. Taner Akçam found archived Ottoman telegrams confirming the legitimacy of various events from The Memoirs of Naim Bey and confirming that they were not mere fabrications for propaganda.25
This legitimacy was confirmed further when the "smoking gun" of April 2017 was discovered, an original telegram directly inquiring over the murder of Armenians. The official Young Turks government telegram asks directly if the deported Armenians are being killed or "merely sent off and deported".
"Are the Armenians who were deported from there being liquidated? Are the troublesome individuals whom you have reported as having been exiled and expelled been eliminated or merely sent off and deported? Please report honestly."26
This is a telegram with an Ottoman letterhead and with the Ottoman coding system acquired by an Armenian Catholic priest, Krikor Guerguerian. He held the evidence in a private archive wherein it was secured by his nephew. The issue being re-raised has re-opened conflicts between Turkey and the international community. During the Western progressive-leftist worlds drama over President Donald Trumps Holocaust remembrance statement of "11 million", an angry and emotional response from the Jewish Telegraph Agency made some very interesting admissions on the Jewish Holocausts history.27
The "5 million" has driven Holocaust historians to distraction ever since Wiesenthal started to peddle it in the 1970s. Wiesenthal told the Washington Post in 1979, "I have sought with Jewish leaders not to talk about 6 million Jewish dead, but rather about 11 million civilians dead, including 6 million Jews…"
"I said to him, 'Simon, you are telling a lie,'" Bauer recalled in an interview Tuesday. "He said, 'Sometimes you need to do that to get the results for things you think are essential.'"
Bauer and other historians who knew Wiesenthal said the Nazi hunter told them that he chose the 5 million number carefully: He wanted a number large enough to attract the attention of non-Jews who might not otherwise care about Jewish suffering, but not larger than the actual number of Jews who were murdered in the Holocaust, 6 million.
With the newly opened international drama of the Armenian Holocaust denying Turkish government, we can find some interesting admissions of the origins of the Young Turks revolution. The Young Turks Revolution broke out in Salonica. Salonica was the largest Jewish city in the world at this time with Jewish people constituting over half the population. According to a prominent Turkish Newspaper in a very recent article on October 13th 2017; 28
"The most prominent financier and mentor of the Committee of Union and Progress (CUP), which seized the government in 1908, was a Jewish banker of Italian origin from Salonica, Emmanuel Carasso. When Greeks, who had held a privileged status up until then, fell into disfavor after the Constantinople massacre of 1821 targeting Greeks, Jews were hoping for a second chance.

However, with their art facilities scattered around Anatolia, Armenians came in first thanks to their capital surplus. As a result of the Jewish lobby's recommendations, the Young Turks government removed Armenians from Anatolia in 1915. Hence, the economy of the country was left in the hands of Jewish capital.

Carasso, who was a part of the committee that informed Abdülhamid II of his dethronement, was the closest confidant of Talat Pasha, the figure responsible for the deportation law. In fact, when Talat Pasha escaped abroad in 1918, he entrusted his entire estate to Carasso. To take an active role in the foundation of the Ankara government, Carasso returned to his homeland before his death."
The allegations of the Armenian Holocaust denying Erdogan-aligned newspaper are very important and need to be explored in depth, as these allegations may help to uncover background historical interactions between Jewish groups and European/Christian groups in a multicultural environment.
In his book Banality of Indifference, Yair Auron alleges that the Jewish citizens of Turkey during this time were apathetic to the murdered Armenians. Regarding the attitude of the Jews towards the Armenians, he wrote:
"A slight grimace on their lips, a short heartfelt sigh, and nothing more. The Armenians are not Jews, and according to folk tradition the Armenians are nothing more than Amaleks! Amaleks? We would give them help? To whom? To Amaleks? Heaven forbid!"29
During the 1922 great fire of Smyrna, in which the Greek and Armenian portions of the city were burned down while the Turkish and Jewish sections were spared, the accounts of Jewish teachers alleged that either the Greeks or Armenians started the fire themselves.30
This apathetic and dismissive attitude has even been shown in the Jewish "Anti-defamation league" which as recently as 2007 campaigned against the American governments recognition of the Armenian Holocaust.
"Foxman finally acknowledged the Armenian Genocide in his remarks. It was an encouraging development given that ADL's only formal statement on the genocide is worded in such a way as to actually circumvent the intent required for a finding of genocide by the UN Genocide Convention."31
"That statement, issued in 2007, said that the "consequences" of the Turkish massacres of Armenians were "tantamount" to genocide, implying it was not a planned extermination. This statement was widely censured, but calls for an unambiguous confirmation were rebuffed by ADL."
It needs to be noted here that the American ambassador to Turkey Henry Morgenthau was himself a Jew, and quickly became of the fiercest advocates for recognition of this genocide, and even demanded American intervention to protect the Armenian victims. But of course exceptions don't break the rule.
The post-WW2 world has served to served to center all discussions of prejudice on nomadic minority ethnic groups. The topic is very well studied with any and all possible ethnic and political roots examined. By contrast, prejudice and oppression of Indo-European nationalities and their culture or religious practices are not widely discussed. While these events are minimized in the social/academic spheres of the Western world, Christophobia and Europhobia have not only happened historically but continue to happen today.
This lack of study for this sort of prejudice is very problematic for the modern "multicultural world" especially as anti-European/Christian prejudices are increasingly apparent and ignored by the mainstream media/academia.
This lack of study needs to be adequately addressed. The future and survival of European Christendom is depending on it.
---
1   A., Bernstorff (2011). Memoirs of Count Bernstorff. Kessinger Publishing. ISBN 1-169-93525-7.
2   Avedian, Vahagn (21 May 2008). "The Armenian Genocide 1915: From a Neutral Small State's Perspective: Sweden" (PDF). Uppsala University. Retrieved 17 June 2016.
3   Henry Morgenthau, Ambassador Morgenthau's Story, Page 119, Blackmask Online
4   Akçam, Taner (2006). A Shameful Act. New York: Holt & Co. pp. 165, 186–187.
5   Mikaberidze, Alexander (2015). "Tehcir Law". In Whitehorn, Alan. The Armenian Genocide: The Essential Reference Guide. ABC-CLIO. ISBN 1610696883.
6   http://origins.osu.edu/milestones/april-2015-armenian-genocide
7   https://er.anca.org/akcam-the-authenticity-of-the-naim-efendi-memoirs-and-talat-pasha-telegrams-2/
8   Naim Bey., . (1920). The memoirs of Naim Bey: Turkish official documents relating to the deportations and massacres of Armenians. London: Hodder and Stoughton.
9    http://www.armradio.am/en/2015/02/26/armenians-have-a-high-genetic-affinity-to-ancient-europeans-new-study-reveals/
10   Baumer, Church of the East, at 263. The Church of the East: An Illustrated History of Assyrian Christianity, Christoph Baumer, I.B. Tauris, 2006.
11   http://www.panarmenian.net/eng/details/179324/
12   Bobelian, Michael (2009). Children of Armenia: A Forgotten Genocide and the Century-long Struggle for Justice. New York: Simon & Schuster. p. 34. ISBN 1-4165-5725-3.
13   Akçam, T. (2006). A shameful act: The Armenian genocide and the question of Turkish responsibility. Macmillan.
14   Walker, Christopher J. (1990). Armenia The Survival of a Nation, 2nd ed. New York: St. Martin's Press. pp. 254–255. ISBN 0-7099-0210-7.
15   Dadrian, Vahakn N. The History of the Armenian Genocide: Ethnic Conflict from the Balkans to Anatolia to the Caucasus. Oxford: Berghahn Books, 1995, p. 192. ISBN 1-57181-666-6
16   "Fighting In Constantinople.; The Armenian Patriarch Mobbed – Soldiers And Rioters Killed". New York Times. 29 July 1890.
17  "Abdulhamid II | biography – Ottoman sultan". Retrieved 2015-09-29.
18   The Ottoman Peoples and The End of Empire by Justin McCarthy (2007), p. 200-205
19   Hanioğlu, M. Şükrü, The Political Ideas of the Young Turks.
20   http://archive.is/LHJkH
21   Roth, C. (Ed.). (1972). Encyclopaedia Judaica (Vol. 15). Encyclopaedia Judaica. P. 544
22   E. Karsh, Empires of the Sand: The Struggle for Mastery in the Middle East, 1789-1923.
23   Clogg, p. 98.
24   https://mosaicmagazine.com/picks/2017/12/the-ottoman-balfour-declaration/
25   http://archive.is/8gpWZ
26   http://archive.is/dzIvs
27   http://archive.is/ZINFw
28   http://archive.is/LHJkH
29   Ya'ir Oron, The Banality of Indifference:Zionism and the Armenian Genocide, Transaction Publishers, London, 2002, p.126.
30   The Post Magazine and Insurance Monitor, Volume 85, Issue 2 (1924), Buckley Press, [2] p. 2153
31   https://archive.is/WS7eA
Nazi Germany: The horror of discovering that your grandfather was an SS officer who personally murdered Jews during the Holocaust | Culture
After a long conversation about horrors, the writer and filmmaker Chris Kraus finally breaks down. He is a lively and robust man who is accustomed to dealing with terrible things, but something inside him has broken. When he's asked to explain his grandfather's role in the Nazi regime and the mass murder of Jews, he turns pale and his blue eyes tear up. "My grandfather, Otto Kraus, was part of the Baltic German minority in Latvia. Reinhard Heydrich recruited him for the SD [Sicherheitsdienst], the SS agency that served as an intelligence service and was central to the Holocaust. In 1941, he participated in the invasion of the USSR as a member of Einsatzgruppen A, one of the roving execution squads that followed the troops and killed mainly Jews. He later became the head of the SD in Riga. He rose to the rank of Sturmbannführer, an SS major. He was personally involved in at least two mass executions." In his novel The Bastard Factory, Chris Kraus recreates one of those horrific episodes. The main character is based heavily on Kraus's grandfather, and the novel faithfully follows his journey as an SS major.
In the book, on a summer day on the outskirts of Riga, the SS and their Latvian henchmen give a group of Jews the "special treatment." The scene closely resembles one of the massacres perpetrated in the Bikernieki (Bickern) forest, the main site of Latvia's massacres (out of a population of 90,000 Jews, 70,000 were murdered). They are forced to undress next to a ditch and then shot in groups. Kraus writes: "Executing someone at point-blank range often means that the victims' brain matter and blood splashes in all directions, and it did. Skull shards flew like shrapnel to where I was standing, 20 meters away. There was screaming, blood soaked the ground and the air smelled of wet iron mixed with cold sweat, excrement and urine." The scene continues as the main character approaches to shoot a young woman and peers into the pit with his Luger in hand: "In the midst of that jumble of bodies I discerned some feet that kept shaking. It was a girl whose skull cap had been blown off and landed beside her. She was looking at me with wide eyes, still hugging her baby, who seemed intact, just asleep […] Before I couldn't hold back the vomit any longer, I fired my pistol at them both."
The passage offers a glimpse into the world in which Otto Kraus (in the novel, Konstantin Koja Solm) moved, and the legacy with which his descendants grapple. "Finding out my grandfather's story was horrible, very disturbing," a distraught Chris Kraus explains. "I loved my grandfather." In 1985, as a student, he became interested in the stories Otto Kraus told him. "He talked about shootings, but he never said precise words; he used terms like 'special treatment,' and you could think that they did something else, like going into the forest to chop wood. But then I read a book about General Vlasov [the Russian defector who commanded Nazi troops], and it contained details about my grandfather and his connection to mass murder. It was horrifying. Nobody in my family knew about it. So, I went to the archives to look for information and to find out what had happened."
A dark legacy
He uncovered the whole truth, but none of his family members wanted to believe him, except his cousin Sigrid Kraus, a publisher. "I wrote an essay, Das Kalte Blut [or, Cold Blood], based on my research; it was published in 2014 in a small print run and meant for my family and our circle. I recounted everything to show that I wasn't making things up and to demonstrate how incompatible everything was with my family's memory. It didn't help…Throughout Germany, it's like the Nazis came down from Mars: most people say that their grandparents were excellent people, anti-Nazis, and that Hitler, Himmler and four psychopaths were to blame for everything."
The Kraus family's dark heritage isn't limited to Chris's grandfather. "[Otto's] two brothers also belonged to the SS and were part of the killing squads, it's an extraordinary case…madness. The elder brother, Hans, was even more involved in the atrocities, while the younger one, Lorenz, was a wartime correspondent for the SS; he was a gifted artist and drew anti-Semitic pictures."
How does Chris Kraus bear such a heavy burden? He thinks for a long time before answering. "It's hard to explain. I try to understand, to investigate what really happened, it's very difficult. I try to set things right with the truth. Of all of Otto's children and grandchildren, it has fallen to me to do it. I don't want to be a passive accomplice, I won't accept silence, even if the process is unpleasant for me." Did you ever confront your grandfather with the truth? "No, never; he died in 1989, and I didn't know his real story until 10 years later." Would you have liked to have talked to him about it? "Yes, but he commanded so much respect… I don't know if I would have dared, and I was the one who got along best with my grandfather. The others reproach me and say that he can no longer defend himself. To them, he was a good man, period. The truth is that he died without having to account for his crimes, like so many other SS elites, because Germany didn't dare to bring them to justice." Where is he buried? In Latvia? "In Nuremberg; how ironic," Chris Kraus laughs bitterly. "Although that city came to symbolize Nazi punishment after the war, it was once very anti-Semitic and quite fond of my grandfather, and of Hitler."
The Bastard Factory turns Otto Kraus's life into a nearly 1,000-page novel. He participated in secret SS missions, such as the Zeppelin operation to kill Russian leader Joseph Stalin (where he met Otto Skorzeny, famous for his daring military actions, including the rescue of Benito Mussolini). Then Otto became an agent for the CIA, the Federal Republic of Germany's new intelligence service, Org-BND, and even the KGB and the Mossad. "It's a fictionalization of his story, based on years of research and the essay I wrote for my family." Chris recounts the origins of the Krauses (in the novel, the Solms), their life in Latvia and the increasing involvement of Koja and his older brother Hub in the Nazi apparatus. The novel opens in 1974 in a Munich hospital. Hospitalized with a bullet wound, the main character tells his life story to the person in the next bed, an innocent, well-meaning, Buddhist, stoner hippie who can't believe what he's hearing.
Otto Kraus informs more than one of the novel's characters. "Both Koja and Hub reflect aspects of my grandfather. The older one is more brutal and the younger one is seemingly more sensitive and introspective, but you like him less and less. They both have evil in them. Hub at least has a coherent stance, but Koja has that personality of agents and spies who lack core convictions and navigate a universe of falsehood and lies like a fish in water. Ambiguity is the most disturbing element in the novel."
Given its subject, The Bastard Factory has a surprising sense of humor – Koja's irony; the Black lover who sings Horst Wessel; the ban on playing Monopoly because it's "a Jewish game"; the harelipped SS officer; Himmler's car stopping to let toads cross the road; the main character's circumcision so he can go undercover in postwar Israel as a Hebrew teacher named Himmelreich. "I've been harshly criticized in Germany [because of the novel's humor]. I knew that it would happen. Actually, I think the humor makes the story even more unbearable."
The novel also tells a love story. "The terrible thing is that Nazis like my grandfather were people. I didn't want to depict them as demons but rather as human beings in an inhuman regime. In Germany, people prefer to see the Nazis as monsters who were nothing like the rest of the population… humor and love are incompatible with demonizing them, which is why it's so disturbing." Can't it be seen as a form of justification? "No, they are stylistic devices, to help people understand that the human abysses I'm describing are not fiction. The key theme is morality, the character's amorality. He is despicable; humor and love draw him closer to us, but they do not excuse him. We cannot distance ourselves from evil, which is part of the human condition. My grandfather was capable of loving and being loved. How could a person I knew and loved be like that in another context? I wanted to make that experience accessible to readers. It could happen to all of us."
Kraus also portrays the world of intelligence services in which his grandfather moved following the war. The novel includes the stories of General Gehlen, Otto John, Isser Harel, the hunt for Eichmann… "It's all true, the events during the war and after. When I discovered that my grandfather was also a spy…how do you reconcile that with the importance that my family has always attached to honesty?"
The Bastard Factory has much in common with Jonathan Littell's great novel The Kindly Ones. The latter is also narrated by a Nazi criminal, and it describes the atrocities in detail. "I consider the comparison a compliment. It's an extraordinary book; I loved it. We did our research at the same time: during the 15 years that I was researching information about my grandfather, we visited the same archives and consulted the same documents, I saw his name. [Littell's] perspective is also that of the executioner. His main character, Max Aue, is a member of the SD and part of the Einsatzgruppen. But Littell worked more on the eroticism than the horror. It's a very literary book, with…all its homoerotic and perverse fantasies. It was an inspiration, but I take a different, harsher approach."
In Kraus's novel, the main characters' relationship also includes many perverse and scatological elements: Koja and Ev, his adopted sister and romantic interest, are influenced by sharing a potty as children; there's masturbation as well. "It's true, but I do that seeking the primitive, the elemental. There's also excrement, and blood, and the process of turning people into corpses in acts of mass murder. My grandfather saw all that. He smelled the excrement, the blood and the fear of the people who were murdered. What did he think then? How did he handle that experience? Some of my grandfather's comrades confessed that they enjoyed killing. Others said something that I find grotesque: they participated in the killings, yes, but in a charitable way, to avoid the unnecessary suffering of the victims."
Britons in Europe: How have you been affected by the drop in the value of the pound?
Travelling without access to the internet is almost impossible these days. We use our phones for mapping applications, contacting the Airbnb, even scanning the QR code for the restaurant menu.
If you're lucky enough to have a phone registered in an EU country then you don't need to worry, thanks to the EU's cap on charges for people travelling, but people visiting from non-EU countries – which of course now includes the UK – need to be careful with their phone use abroad.
First things first, if you are looking to avoid roaming charges, be sure to go into your settings and turn off "data roaming." Do it right before your plane lands or your train arrives – you don't want to risk the phone company in your home country starting the clock on 'one day of roaming fees' without knowing it.
READ ALSO: Ten ways to save money on your trip to Italy this summer
But these days travelling without internet access can be difficult and annoying, especially as a growing number of tourist attractions require booking in advance online, while restaurants often display their menus on a QR code.
So here are some techniques to keep the bills low.
Check your phone company's roaming plan
Before leaving home, check to see what your phone plan offers for pre-paid roaming deals.
For Brits, if you have a phone plan with Three for example, you can ask about their "Go Roam" plan for add-on allowance. You can choose to pay monthly or as you go. Vodafone offers eight day and 15 day passes that are available for £1 a day.
For Americans, T-Mobile offers you to add an "international pass" which will charge you $5 per day. Verizon and AT&T's roaming plans will charge you $10 per day. For AT&T, you are automatically opted into this as soon as your phone tries to access data abroad.
READ ALSO: Seven things to do in Italy in summer 2022
These all allow you to retain your normal phone number and plan.
Beware that these prices are only available if you sign up in advance, otherwise you will likely be facing a much bigger bill for using mobile data in Italy. 
Buy a pre-paid SIM card
However, if you are travelling for a longer period of time it might work out cheaper to turn off your phone data and buy a pre-paid SIM card in Italy.
In order to get a pre-paid SIM card, you will need your passport or proof of identity (drivers' licences do not count).
READ ALSO: TRAVEL: Why now's the best time to discover Italy's secret lakes and mountains
Keep in mind that you will not be able to use your normal phone number with the new SIM card in, but will be able to access your internet enabled messaging services, like WhatsApp, Facebook and iMessage. Your phone will need to be 'unlocked' (ask your carrier about whether yours is) in order to put a new SIM card in.
Here are some of the plans you can choose from:
WindTre
WindTre, the result of a 2020 merger between the Italian company Wind and the UK network provider Three, currently offers a "Tourist Pass" SIM card for foreign nationals. For €24.99 (it's sneakily marketed as €14.99, but read the small print and you'll see you need to fork out an additional €10), you'll have access to 20GB of data for up to 30 days.
The offer includes 100 minutes of calls within Italy plus an additional 100 minutes to 55 foreign countries listed on the WindTre website. Up to 13.7GB can be used for roaming within the EU. The card is automatically deactivated after 30 days, so there's no need to worry about surprise charges after you return from your holiday. To get this SIM card, you can go into any WindTre store and request it.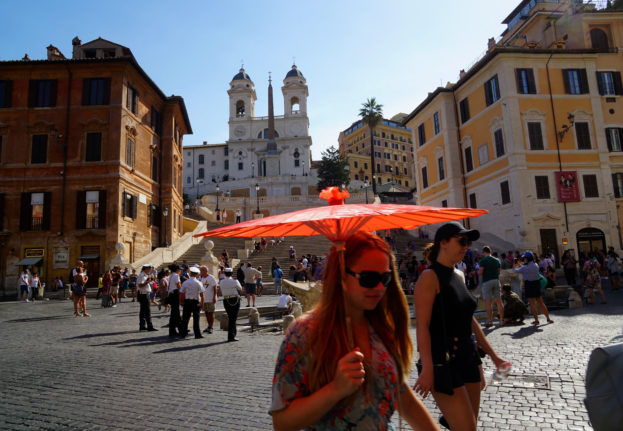 Vodafone
Vodafone has had better deals in the past, but lately appears to have downgraded its plan for tourists, now called "Vodafone Holiday" (formerly "Dolce Vita"), to a paltry 2GB for €30. You get a total of 300 minutes of calls and 300 texts to Italian numbers or to your home country; EU roaming costs €3 per day.
Existing Vodafone customers can access the offer by paying €19 – the charge will be made to your Vodafone SIM within 72 hours of activating the deal. 
READ ALSO: MAP: The best Italian villages to visit this year
The Vodafone Holiday offer automatically renews every four weeks for €29 – in order to cancel you'll need to call a toll-free number. The Vodafone website says that the €30 includes the first renewal, suggesting the payment will cover the first four weeks plus an additional four after that, but you'll want to double check before buying. You'll need to go to a store in person to get the card.
TIM
TIM is one of Italy's longest-standing and most well-established network providers, having been founded in 1994 following a merger between several state-owned companies.
The "Tim Tourist" SIM card costs €20 for 15GB of data and 200 minutes of calls within Italy and to 58 foreign countries, and promises "no surprises" when it comes to charges.
You can use the full 15GB when roaming within the EU at no extra charge, and in the EU can use your minutes to call Italian numbers. The deal is non-renewable, so at the end of the 30 days you won't be charged any additional fees.
READ ALSO: MAP: Which regions of Italy have the most Blue Flag beaches?
To access the offer, you can either buy it directly from a TIM store in Italy, or pre-order using an online form and pay with your bank card. Once you've done this, you'll receive a PIN which you should be able to present at any TIM store on arrival in Italy (along with your ID) to collect your pre-paid card. The card won't be activated until you pick it up.
Iliad
Iliad is the newest and one of the most competitive of the four major phone companies operating in Italy, and currently has an offer of 120GBP of €9.99 a month. For this reason, some travel blogs recommend Iliad as the best choice for foreigners – but unfortunately all of their plans appear to require an Italian tax ID, which rules it out as an option for tourists.
Contract
Though buying a pre-paid SIM card is a very useful option for visitors spending a decent amount of time in Italy, as mentioned above, there's a significant different difference between buying a one-time pre-paid SIM versus a monthly plan that auto-renews.
Make sure you know which one you're signing up for, and that if you choose a plan that will continue charging you after your vacation has ended, you remember to cancel it.
UK contracts
If you have a UK-registered mobile phone, check your plan carefully before travelling. Before Brexit, Brits benefited from the EU cap on roaming charges, but this no longer applies.
Some phone companies have announced the return of roaming charges, while others have not, or only apply roaming charges only on certain contracts.
In short, check before you set off and don't assume that because you have never been charged extra before, you won't be this time.
From Tom Selleck to Joaquin Phoenix: a brief history of man's love affair with the mustache: A sexual, social and political history of the mustache: "Joaquin Phoenix couldn't have had a beard in 'Her': it had to be a mustache" | Culture
In a scene from Spanish director Pedro Almodóvar's 1993 movie Kika, Verónica Forqué encourages her home-help, Rossy de Palma, to shave her top lip, on the basis it will make her more feminine and attractive. Rossy replies: "Mustaches are not the exclusive patrimony of men. In fact, men with mustaches are either gay or fugitives, or both at the same time." Even in the context of gross comedy, the observation is not entirely without basis. The history of the mustache, at least in Spain, was embedded in that myth for years. On a global scale, mustaches have been associated with war: Greeks and Romans considered a luxurious beard a symbol of manhood, but found that a mustache was better for the battlefield to prevent their enemies from grabbing them in battle. They have also been associated with love: in the 19th century, British men sported a mustache to announce that they were single and of good social standing.
Some marketing theories posit that men with carefully groomed beards and mustaches inspire confidence and help advertisers to sell more products. Others still link a mustache with the darkest side of 20th century militarism and names like Hitler, Franco and Mussolini, who have quite the opposite effect.
In the US, mustaches remain important enough the American Mustache Institute was founded in 1965 and takes its work very seriously. The institute carries out surveys, which do not always work in its best interest: in 2013, one poll revealed that 73% of respondents associated mustaches with alcoholism and only 30% believed a man in a managerial position should wear one. The institute's president, Aaron Perlut, told The Atlantic in an interview that they had saved the job of a waiter in Georgia who was threatened with being fired if he did not shave and had a student called Sebastian Pham reinstated at his high school in 2006 after he had been expelled for refusing to remove his mustache. Facial hair is politics. In fact, a mustache represents a man's entry into politics. If a five o'clock shadow is the first outward sign of adolescence being left behind, it also represents a rite of passage toward becoming a voter and taxpayer.
Today, the American Mustache Institute only exists on Twitter and Instagram, and it does not have a vast following: the mustache is no longer conflictive. Justin Bieber has one, and Zak Efron sports one for his latest movie, The Greatest Beer Run Ever. The pandemic lockdowns did a lot to normalize mustache relations: an opportunity to experiment led many people to realize the look suited them and they retained it when the streets reopened. In any case, the mustache renaissance has been underway for years.
The mustache of the future
Sergio Lopez, a Goya-nominated make-up artist, believes the current trend for top lip adornment is "an inheritance of the hipsters, a natural evolution of that bushy beard [which ruled supreme in the 2000s until it became almost a parody in the 2010s]." Spike Jonze, a totem of hipsterism, gave Joaquin Phoenix a mustache in his 2013 hit movie Her. It was such a groundbreaking move that review website Gizmondo noted: "Her looks so good that you won't care about Joaquin Phoenix's mustache." The review also wondered: "I'm not sure which is the scifi part, though: that a man could fall in love with his computer, or that an intelligent being of any sort would date a dude with that mustache." James Franco in Milk (2008) and Brad Pitt in Inglourious Basterds (2009) had sported mustaches before that but both were period pieces and the facial hair part of the actors' characterization. Her was set in the future, and the mustache was simply there.
"That was the turning point for the return of the mustache: a cool dude, well-dressed… and with a 'tache," says Blanca Lacasa, a journalist, writer and firm defender of masculine facial hair. "Furthermore, being set in the future, the movie left a prophecy: the modern and interesting man of tomorrow will wear a mustache. It wasn't random or coincidental. Joaquin Phoenix couldn't have had a beard in Her: it had to be a mustache."
Lacasa is a keen classifier of the mustache. "I didn't like those of the 1930s and 1940s very much, like Errol Flynn and Clark Gable [pencil thin and very profiled efforts]. The best mustache is the 1970s mustache. Full, bushy, not scruffy, but also not perfect. My love for them began with Robert Redford in Butch Cassidy and the Sundance Kid (1969). I also liked Elliot Gould, Tom Selleck and Burt Reynolds, who had fantastic mustaches. But my favorite is Sam Elliot's, a mustache so sexy you want to bite it off."
Alberto Mira, a student of cinema and a professor at Oxford Brookes University, is not a huge fan of the mustache himself, but he makes a compelling point about the sociopolitical connotations where they are involved. "It's interesting that it was only in Spanish cinema that a mustache implied fascism. Elsewhere, such as in Hollywood, it implied respectability." Lacasa agrees: "In Spain we associate it with Franco, with [former Prime Minister José María] Aznar, of right-wing men, with a certain military order. But overseas this wasn't the case. Think about France, of Jean Rochefort, who had a very cool 'tache, or Dennis Hopper in the US, a symbol of libertarianism. That scruffy mustache was not only sexy, it was left-wing."
Mira also highlights the sociosexual connotations of mustaches: "We cannot ignore the mustache's association with gay men, which is an evolution of the dapper mustache of the end of the 19th century and beginning of the 20th century and which in turn leads to the brimming mustache of the 1970s," an exaggeration of the hyper-masculine esthetic that reigned during that decade and that gay men ended up appropriating. "I think from that moment, when the mustache became associated with gay men, heterosexual men started to avoid it," Mira concludes.
There is of course a gay icon of the 1970s and 1980s who wore a mustache and converted it into a symbol: Queen front man Freddie Mercury, who wore his as a symbol of sexual freedom. During that era, it could be said that the mustache was both an image of American masculinity (actors like the aforementioned Reynolds and Selleck, whose heterosexuality was so overt and overwhelming that a simple mustache could not call it into question) and of European ambiguity.
Clean-shaven for MTV
"At a cultural level, the mustache has always been used to masculinize men," says López, "and in some cases it has been used as an association with a profile of power. In fiction, it also marks an era: depending on the period and the type of mustache in question, it can pinpoint a character from the 1920s to the 1970s." This all changed in the 1990s. "Then, a cleaner, more natural esthetic was being sought." For evidence we need look no further than Calvin Klein advertisements, MTV and the popularity of teem shows that invaded prime time and turned facial hair into a throwback. Beards became the symbol of men who didn't pay attention to their appearance (Homer Simpson and his ever-present five o'clock shadow) or to differentiate between a clean-cut matinee idol and a darker characterization, as when Brad Pitt sported one in Seven and Legends of the Fall to portray a tough guy type overwhelmed by tragedy.
In the 1990s, a mustache was the exclusive preserve of the extravagant homosexual (John Waters), the comedian (Eddie Murphy) or the androgynous superstar (Prince). The fact that a mustache was not for everybody was framed in a famous episode of Friends, when Chandler decided to grow one to look more like Monica's boyfriend, who was played by Tom Selleck. The results inspired the mirth of the rest of the group: during that time, only Selleck could keep his mustache and his dignity.
But a review of the history of the mustache would not be complete if it did not end at the face where it is most combative and militant: that of women. Where previously we spoke of the emergence of a mustache as a point of pride for young men on the path to maturity, in women it is seen as the first sign of a body rebelling against the supposed norm. "Few women in the public eye have had the courage to retain their upper lip hair. So few that the two who did, Frida Kahlo and Pattie Smith, are constantly remembered because of it," wrote Raquel Peláez in an article for S Moda.
In the 2000s, with the mustache still banished from the ideal of masculine beauty, it is striking to remember that the most famous mustache in pop was sported by a woman: JD Samson, of US electroclash band Le Tigre. ""Something I recommend to everyone is to try to turn that thing that makes them feel most uncomfortable about themselves into a celebration," Samson said in a video in which she explained her decision not to wax her upper lip. "Ever since I did it, it has changed my life." Let's follow her advice. Let's free the mustache.