Texas: The dramatic situation of Haitians trapped on US-Mexico border: 'Why don't they come help us here?' | USA
The border the separates Ciudad Acuña in Mexico from Del Río in the United States has become an open-air prison. Thousands of migrants, the vast majority of them from Haiti, have been surrounded by the authorities on either side of the frontier. On the US side, the Border Patrol is keeping those who have arrived there after crossing the Latin American continent in check: they are packed together under the International Bridge border crossing in a camp that lacks water, food, sanitation or shade. In Coahuila, on the Mexican side, security forces have begun to pressure migrants to accept "voluntary" detention and transfer to Tapachula, in the south of the country. In the middle of a stand-off between both governments for control over the arrival of migrants, thousands of people have become trapped in limbo.
A rope linking the two the banks of the Rio Grande was cut last Thursday, leaving nothing to hold on to when trying to cross. Despite now being fully aware of what awaits them on the other side, many people have been biding their time on the muddy slope that leads down to the water. They are still trying to make the crossing because they are scared and because Mexico will offer them no guarantees over the papers, protection and opportunities they are seeking. At 8pm the river is high, making it even more dangerous to attempt the crossing, but the Haitians clutch their bags tighter, gather up their children in their arms and throw themselves into the river. They are hardly assured a warm welcome on the other side. The administration of Joe Biden has already started an operation to deport thousands of irregular migrants, a practice described as "inhumane" by the US special envoy for Haiti, Daniel Foote, who tendered his resignation to the State Department on September 23.
Dozens of police officers arrived at the makeshift camp on the Mexican side of the border at night and cut off access. Later, border guards joined the deployment and toured the area in an effort to convince Haitian migrants to surrender to "voluntary" detention. In exchange, they offered what until this point neither the US nor Mexican governments have done: water, food, restrooms, medical attention and legal assistance. "Why don't they come and help us right here?" a woman asked the agents when they offered transportation to Tapachula in order to access these services.
In their scouring of the zone, where migrants make do in tents, tarpaulins fashioned from plastic bags or simply with cardboard to lie on, employees of the National Institute of Migration have been abundantly clear. The migrants have been informed that anyone "who is happy" where they are now is welcome to stay, while warning of the pending arrival of "extremely cold weather." The area is awash with different police branches, alongside the Criminal Investigation Agency. The National Guard and the Coahuila State Organized Crime Action and Reaction unit are also on hand, with several buses.
"They come here to scare us. They only come to deceive people," says Jonas Basel, a 31-year-old Haitian who is traveling with his wife and two daughters. Basel passed through Tapachula on his journey north from Chile, where the majority of migrants who have reached this point started out. He sees little point in accepting an invitation to go back to the border with Guatemala. "It's full of people and the Comar [the Mexican Refugee Aid Commission] has collapsed. I'm not going to get a visa in less than three or more months, and nobody has any money." Basel has $300 left from the $10,000 he set aside for the journey. "We spent everything to get this far."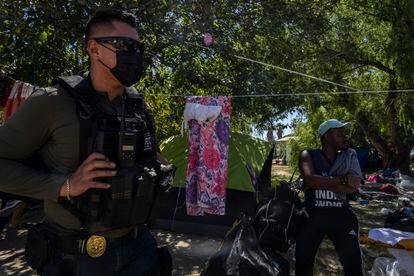 The makeshift camp on the Mexican side was thrown up on federal land controlled by the state government of Coahuila. There, there is a place known as Comedor del Migrante (Migrant's Diner), which has now been repurposed by its temporary residents as crowded rooms or restrooms in the absence of proper facilities. As of a week ago, the camp had started to take on the appearance of an organized space, with an improvised hair salon, prayer service in the evening, water and food provided by NGOs and private benefactors, as well as tents and a scattering of mattresses. But by Thursday, September 23, the mood had changed. "People are depressed. It's very stressful," said a pregnant woman.
The river had already started to swell by the afternoon when two women and a boy around eight years old entered the water. On the far bank, another migrant jumped in to help them because halfway across the child and the small toy truck he was carrying under an arm had almost disappeared under the water level. Also on the US side were a unit of US Border Patrol agents, powerless to assist but a "wall of steel" in the words of Texas Governor Greg Abbott, designed to prevent people from crossing the frontier. Later, another large group of families started to cross. Many carried a bag under one arm and a child in the other. From the far bank, the Border Patrol agents shouted from a launch that "only the children" could climb aboard. The parents handed over their sons and daughters and pleaded for help as the water rose above their chests.
The International Committee of the Red Cross (CICR) has stated that these migrants are living in conditions of "extreme vulnerability" after months spent traversing Latin America and living rough in the temporary camps set up by the US and Mexican governments in both countries. The CICR has also noted that the situation in Haiti is "complicated" and has called on the authorities to "exercise practices that include humanitarian exceptions to protect people."
"One way to do this," says Lorena Guzmán, director of the regional CICR delegation for Mexico and Central America, "could be to provide them with immigration documentation to facilitate a legitimate stay in Mexico, minimizing the risks they face and granting them full access to rights on a temporary or permanent basis."
The majority of people being held on both sides of the border are Haitians fleeing political and economic instability in their country. The poorest nation in the Western hemisphere suffered a devastating earthquake in 2010 that forced an exodus of thousands of people to countries in Latin America. The humanitarian crisis that unfolded over the past decade in the wake of that disaster has recently been exacerbated by the assassination of President Jovenel Moïse in June and another earthquake in August, measuring 7.2 on the Richter scale, that left more than 2,000 people dead and thousands injured.
Having left Haiti years ago, these migrants now face one of two choices: either they will be deported by the United States back to the country they fled from or they will be sent back to Tapachula by Mexican authorities. Almost 15,000 Haitian migrants had gathered under the International Bridge that separates Ciudad Acuña and Del Rio, a number that had fallen to fewer than 5,000 by last Friday, according to the US authorities. Many have opted to retrace their steps and cross the Rio Grande once again into the United States, in what will perhaps be their final attempt and the exact reverse of a journey they made just a week ago.
English version by Rob Train.
Italy using anti-mafia laws to scapegoat migrant boat drivers, report finds | Global development
Italian police have arrested more than 2,500 migrants for smuggling or aiding illegal immigration since 2013, often using anti-mafia laws to bring charges, according to the first comprehensive analysis of official data on the criminalisation of refugees and asylum seekers in Italy.
The report by three migrant rights groups has collected police data and analysed more than 1,000 criminal cases brought by prosecutors against refugees accused of driving vessels carrying asylum seekers across the Mediterranean.
The report by Arci Porco Rosso, the NGO Alarm Phone, and the nonprofit Borderline Sicilia, found evidence of police officers offering immigration papers and other incentives to migrants to persuade them to testify against the suspected boat drivers, who, in some cases were asylum seekers forced at gunpoint by traffickers to navigate refugee boats.
The NGOs claim the new evidence in the report confirms that Italy has spent decades pursuing a policy of criminalising asylum seekers, alleging prosecutors have been filling its prisons with innocent men used as scapegoats.
"We have examined over 1,000 court cases, spoken to hundreds of people involved," the report stated. "We spoke to persons accused of boat driving, lawyers, judges and members of the police and coastguard, to reveal the full extent of Italy's process of criminalising migration."
Using police data and evidence presented in hundreds of court cases, the report revealed how refugees were targeted for prosecution.
Before sending a boat to Italy, from Libya, Tunisia, or Turkey, the report said smugglers often choose a migrant as a driver. This can be someone who does not have enough money to pay for the trip or with experience of navigation.
When the boat enters Italian waters, the authorities ask passengers to identify the driver, who is then arrested.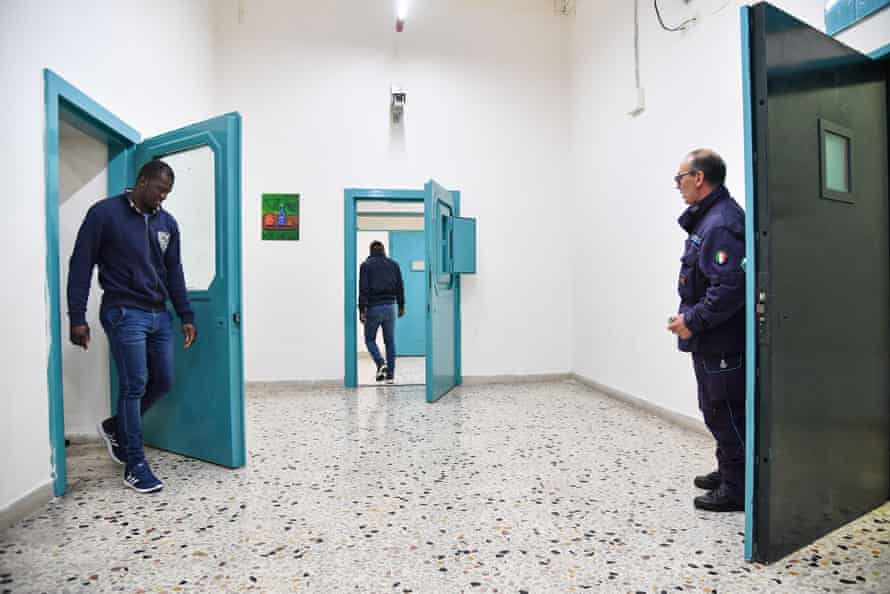 Boat drivers, who often come from war-torn countries, are accused of crimes, from illegally piloting migrant boats to the country, to trafficking in migrants, to criminal association. They can face sentences from 15 years to life in prison.
Although in several court cases judges have recognised the "state of necessity" – that the unlawful conduct is justified to protect the perpetrator or another person from imminent and serious danger – hundreds of cases are currently making their way through Italy's legal system.
Since 2013, at least 24 people have received sentences of more than 10 years, while six have been given life sentences, according to the report.
"This happens when, unfortunately, during the journey, some of the passengers die," said Maria Giulia Fava at Arci Porco Rosso. ''In that case, the boat driver is charged with murder. It is in those moments that justice is transformed into a terrible machine that risks destroying the lives of these people forever."
Four Libyan professional footballers were arrested in Sicily in 2015 and sentenced to 30 years after 49 people died during a sea crossing. The men's families and friends said they were refugees fleeing the civil war to continue their careers in Germany and were forced to pilot the boat. Last year, Libyan warlord Gen Khalifa Haftar reportedly refused to release 18 Italian fishers accused of illegally fishing in Libyan territorial waters until Italy had freed the footballers. But the move was unsuccessful.
Italian prosecutors' use of anti-mafia laws in the cases of migrant boat drivers, which the report said has been framed as a continuation of the country's prolonged battle against organised crime, has led to hundreds of boat drivers facing draconian charges, such as criminal association.
Evidence in the report appears to show that in some instances police have offered incentives to migrants to identify those driving the boat as being part of smuggling operations.
"In one case a Nigerian witness told us that the police officers promised him that, by providing an accusatory statement [against a boat driver], he would be allowed to go to school and have a bed in a hostel,", said the report. "Sometimes, the same thing happens with translators, who are asked by the authorities to find the boat drivers among the other passengers."
International monitors suspend Russia-Ukraine mission
International monitors in Russia-occupied east Ukraine have suspended operations to protect staff following protests in Donetsk over Ukraine's capture of Andrei Kosyak, who Ukraine said was a Russian national on a covert mission. "Because of safety concerns and because of our safety rules and considerations we suspended our operations," Yaşar Halit Çevik, the chief monitor of the Organisation for Security and Cooperation in Europe's 'special monitoring mission', told Reuters Sunday.
'I was born a fighter': the champion boxer changing young lives in Zimbabwe | Global development
Beneath a corrugated iron roof in the crowded Harare suburb of Mbare, a group of boys darts back and forth across a smooth concrete floor, firing a series of rapid punches into the air.
A wiry older man, dressed in low-slung tracksuit bottoms and flip-flops, watches their moves, encouraging them to "Jab! Jab! Jab!".
It's a long way from a glamorous black-tie occasion in Glasgow in January 1998, when Arifonso Zvenyika beat Scotland's Paul Weir to take the Commonwealth flyweight title for Zimbabwe.
Nicknamed "Mosquito" – reflecting his 50kg fighting weight and his deadly skills – Zvenyika is one of the country's most successful boxers.
However, there is little to show for those early triumphs. Now 45, Zvenyika lives hand to mouth, hustling like so many others in a country where up to 90% of working-age adults are not formally employed.
When he's not struggling to put food on the table for his own family, he trains young people for nothing at the Mosquito Boxing School of Excellence.
"I grew up without anything – even now I don't have anything, but I can share boxing with less privileged children," says Zvenyika, who is proud to have been born and raised in Mbare.
"The champions always come from the ghetto," he says.
Three times a week, up to 20 young people – aged from eight to their early 20s – gather for fitness training and to develop their technical skills.
Zvenyika says that he particularly focuses on boys and young men who struggle to remain in school and spend time on the streets.
"Some of the kids are totally poor and not even going to school. Some draw back from training as they don't have shoes," says Zvenyika.
One of the boys, 16-year-old Noel Sunday, says: "Both my parents are unemployed. I only did four years of school. I haven't done my O-levels."
A chalkboard in the gym reminds the young boxers to "Go hard or go home" and lists 10 rules. Eating, smoking and even laughing and jokes during sessions are prohibited.
"Boxing not only teaches discipline, but also positive values. It's a low-cost, high-impact sport," says David Mutambara, a former chair of Zimbabwe's Sports and Recreation Commission.
"But there is a scarcity of resources in this country. We get people who have natural, raw talent. The skills development needed to polish that raw talent is lacking."
Zvenyika is reliant on others to provide training space, and is constantly on the hunt for more equipment. The school is short of gloves, pads, punchbags and headgear.
The rest of the time he spends looking for work.
"I'm shy to say it, but I can't afford to feed my family properly," he says. "We eat bread without butter, we drink tea without milk."
A few miles from the centre of Harare, Mbare is chaotic and densely populated. It's a first stop for arrivals to the capital who come looking for work.
"My family makes money running around the marketplace and helping to carry people's luggage," says Tatenda Kachepa, 22, who has trained with Zvenyika for five years and is one of the club's star boxers.
The pandemic pushed many people already struggling to earn a living into desperation.
"We are now 15 people living together at my father's place," says Kachepa, who is still trying to complete his schooling. "During Covid, we haven't made any money. It's been a dog-eat-dog situation."
Substance abuse, already widespread in Harare's low-income areas, has become more of a problem during the pandemic.
Illicit alcohol, marijuana and methamphetamine – better known as crystal meth or by its street name mutoriro – are all popular among young people.
"I've been there myself," says Zvenyika of his own drug-taking past. "It hurts me to see these young kids doping. I'm trying to find ways to stop them."
Zvenyika's story is a familiar one – from rags to riches, followed by a slide into bad choices and prison.
"My mother tried her best, but she didn't have money to send me to school," says Zvenyika, who turned professional at 17. "I took up boxing as something to resolve my pain and calm me down."
After his talent took him to Zambia and Australia, as well as to Scotland, Zvenyika crashed back down to a very different reality.
Accused by a neighbour of stealing a radio – Zvenyika insists he was framed – in 2000, the boxing champion was sentenced to two and a half years in prison.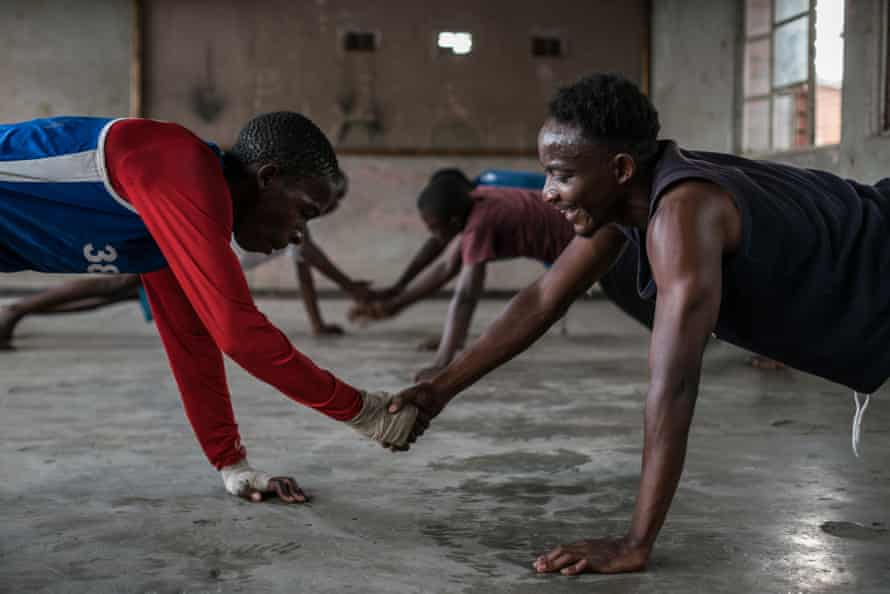 Although he continued to fight after his release, Zvenyika's imprisonment – and a stroke while in jail – effectively ended his professional career.
"I've been in prison, in hospital, in a hooligan's cell. I don't want others to fall into that pit," says Zvenyika. "I'm trying to move them to be good people."
And he is confident that Mbare's younger generation has sporting potential.
"People paint a bad picture of Mbare, but it's a talent hub," he says. "Young guys can get into bad things, but training keeps them busy."
Strict lockdowns closed the club for much of the past 18 months, but as of last month Zvenyika has welcomed back his young students.
He is determined to keep the Mosquito boxing school open, despite the challenges.
"I was born a fighter and I'll die a fighter," he says. "Boxing might leave me, but I'll never leave boxing."