Tesco admits labour abuses found in India garment supply chain | Global development
Tesco said it has found labour abuses in its garment supply chain in southern India after receiving evidence of widespread forced labour involving migrant women in cotton spinning-mills across Tamil Nadu.
The supermarket said that one of its supply chains is linked to a spinning mill included in a new report by NGOs Somo and Arisa that found evidence across the region of multiple labour abuses including deception, intimidation and threats towards vulnerable female workers, abusive working and living conditions and excessive overtime.
A Tesco spokesperson said: "We take allegations of human rights abuses in our supply chain extremely seriously … While not a direct customer of this mill, we recognise our responsibility to everyone in our supply chain and are working alongside other brands and with Somo to investigate and ensure improvements are made."
A worker at one of the mills spoken to by the researchers said: "We do not get proper sleep. We always have to work. We often have to work two shifts and sometimes even three shifts. This makes us feel tired and drowsy. But we cannot take any rest."
Another added: "Most of my life I am spending with the machines. There is absolutely no contact with the outside world."
Hundreds of workers had no choice but to live in overcrowded and "unhygienic" hostels, miles from their families and with no paid leave. Workers described severe limitations on their freedom, saying that while they were not working they had to remain in dormitories and were closely monitored.
Women reported feeling unsafe and that they were subject to sexual harassment, in the factories and their accommodation. They described male managers, supervisors, hostel staff and co-workers touching them inappropriately and making sexual comments, often under cover of loud machine noise.
The spinning mills of Tamil Nadu, which feed raw materials into India's export garment sector, have long been associated with human rights abuses. A Guardian investigation in 2018 revealed that Hugo Boss had found young female workers held captive and prevented from leaving the premises in garment factories linked to its company in Tamil Nadu.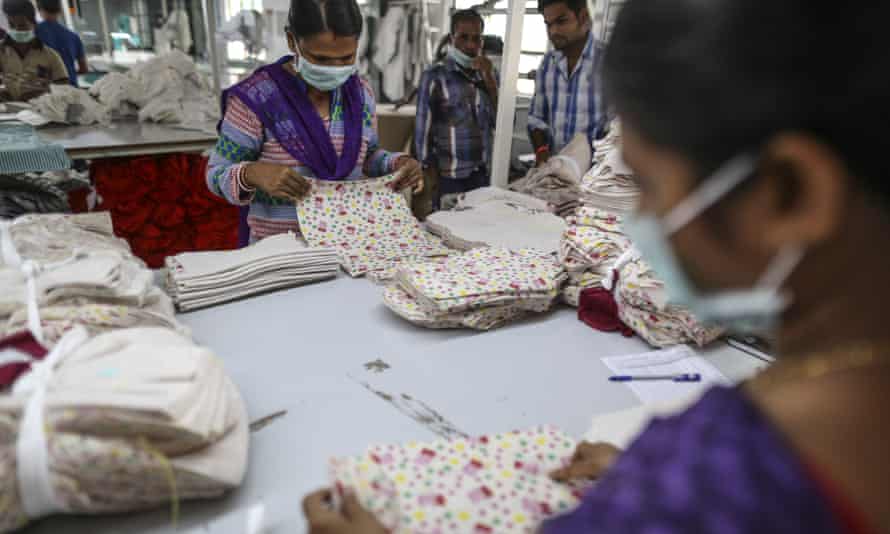 The authors of the report believe the alleged abuses they found in the 29 mills surveyed are likely to be replicated across the Tamil Nadu textile sector.
The report named international brands including Next, Sainsbury's, Gap and Ikea, which it claims were directly or indirectly linked to the mills investigated.
Next said it believed six of the 29 mills named in the report were linked to its supply chains and would be investigating. It also said it would be taking joint action with Tesco to try to stop wider abuses throughout the region.
When approached with the report's findings, Ikea denied that it had any links with the mills in the report. A spokesperson said: "The mill Somo claims has a connection to Ikea in the report is neither a supplier nor sub-supplier." It said therefore, Ikea had no legal right to enforce its code of conduct, nor carry out associated audits. It added: "Findings from reports of this manner play an important role and we will bring it with us in our future work."
Gap also denied that its supply chains are linked to any of the mills highlighted in the report. It confirmed to the Guardian that it sources from the region and said: "We recognise that the urgent labour and human rights issues in Tamil Nadu's fabric manufacturing sector are systemic, and we will continue to work with industry peers and expert organisations in addressing them."
Sainsbury's said that it sourced from the region but that it had no relationship with the mills named in the report, which it called "misleading". A spokesperson said: "All of our suppliers are expected to meet our high ethical sourcing standards. They are regularly required to demonstrate this and we work closely with our suppliers to address any concerns."
This article was amended on 27 May 2021. An earlier version said that Tesco have admitted to "critical issues" at a spinning mill named in the report. To clarify: the supermarket said that one of its supply chains is linked to a mill included in the report. It was the report's authors who made findings that there were critical issues there.
Andrés Manuel López Obrador: Mexican president downplays tensions with US over Americas summit | International
Mexican President Andrés Manuel López Obrador sought on Tuesday to downplay the tensions that have risen with the United States over the upcoming Summit of the Americas in Los Angeles. The leftist leader has said he would skip the summit and send a representative instead, if Cuba, Venezuela and Nicaragua were excluded from the meeting. But he argued on Tuesday that this position is not going to harm bilateral relations with the US. "One shouldn't think that, if, in this case, we don't agree on the summit, there is going to be any break [in relations]. That is not going to happen under any circumstance," he said at his morning press conference.
A US delegation was set to arrive in Mexico on Wednesday to discuss the upcoming summit, which will be held from June 6 to 10. The delegation, led by Senator Christopher Dodd, seeks to ensure that López Obrador will participate in the regional meeting. Ahead of the visit, the US ambassador to Mexico, Ken Salazar, said on Monday that "it is very important that Mexico participates" in the summit. If López Obrador boycotts the event, Foreign Minister Marcelo Ebrard will attend in his place.
The White House has not yet made a decision about whether to invite Cuba, Venezuela and Nicaragua, but Assistant Secretary for Western Hemisphere Affairs Brian Nichols told EL PAÍS that the US government is currently leaning toward excluding "countries that disrespect democracy."
López Obrador supported his position to skip the meeting by invoking the Mexican Constitution, which enshrines the principle of non-intervention in foreign policy. "We have to stick to the principles of our foreign policy, of non-intervention and self-determination of the people, and we believe that no one should be excluded and that the independence and sovereignty of the peoples must be asserted," he said on Tuesday. However, by actively supporting Havana, the government has shaken up regional policy and created a separate bloc with countries such as Bolivia, Chile and Argentina, which also want all countries to be included in the summit.
While maintaining his position, the Mexican president was also at pains to highlight Mexico's strong relationship with the US administration of President Joe Biden. "There is a very good relationship. And we are working in a coordinated manner in economic, trade, and of course migration and security matters," he said. "Independently of how it is resolved, we are always going to have a relationship with the US that is based on respect and friendship, and even more so with the people of the United States. The US government has treated us with respect and we also have a lot of respect and admiration for the American people."
Since Biden's arrival at the White House in January 2021, the two leaders have been in frequent contact. While they have had disagreements on issues such as security, migration and energy policy, both want to address the bilateral agenda through negotiation, which marks a change from the threats and intimidation that characterized the Trump administration.
Learn lessons of Rwandan genocide and act now to stop Ethiopian war, UN urged | Global development
African civil society groups have accused the United Nations of inaction over atrocities in Ethiopia, warning in a letter that it had not learned the lessons of the 1994 Rwanda genocide and that the "situation risks repeating itself in Ethiopia today".
Tens of thousands of people are thought to have been killed and millions more displaced since war broke out between Ethiopia's federal government and the Tigray People's Liberation Front (TPLF), the ruling party of the country's northern region, in November 2020.
All of the parties in the war have been accused of crimes including arbitrary killings, mass rape and torture, while ethnic Tigrayans across the country have been subject to mass arrests amid a spike in hate speech, which has seen the prime minister, Abiy Ahmed, refer to the Tigrayan rebels as "weeds" and "cancer".
In the letter to the UN secretary general, António Guterres, 12 African civil society groups including the Kampala-based Atrocities Watch Africa, the Institute for Human Rights and Development in Africa and Nigeria's Centre for Democracy and Development called on him to "provide leadership in ending the ongoing war in Ethiopia".
"Twenty-eight years ago, the security council similarly failed to recognise the warning signs of genocide in Rwanda or act to stop it," the signatories said, adding: "We are concerned that the situation is repeating itself in Ethiopia today. We call on you to learn the lessons from Rwanda and act now."
In November 2021, the UN security council issued a statement expressing concern over the fighting, but it has yet to take any concrete steps towards resolving the conflict.
Last month, a report by Amnesty International and Human Rights Watch accused forces from the Amhara region of waging a campaign of ethnic cleansing against Tigrayans "with the acquiescence and possible participation of Ethiopian federal forces".
Dismas Nkunda, head of Atrocities Watch Africa, said: "With reports of ethnic cleansing coming out of western Tigray, there is real reason for concern that some of these crimes reach the level of genocide, and it's essential that the United Nations grasp the seriousness of the current situation and respond accordingly."
The UN human rights council has appointed a team to investigate abuses committed during the conflict, although the government has vowed not to cooperate.
Tigray has been largely cut off from the rest of Ethiopia since the fighting began, with transport and communications links cut. About 90% of the region's 5.75 million population are in need of aid, and the region's health bureau estimates that at least 1,900 children under the age of five died of starvation in the past year.
In March, the government unilaterally declared a "humanitarian truce" to allow supplies to reach the region, but only a handful of aid trucks have arrived since then.
The letter urges the UN security council to press for "immediate and unimpeded humanitarian access [to Tigray]" and "impose an arms embargo on all parties to the conflict".
The signatories also call for deployment of an international peacekeeping force led by the African Union, which has its headquarters in the Ethiopian capital, Addis Ababa.
"Such action will be vital to assisting the Ethiopian men, women and children who have been suffering both direct hostilities, associated human rights violations and obstructed humanitarian aid," they said.
'Narco-tunnels' become a factor in US-Mexico relations | International
More than 300 meters long, 10 meters deep and fully illuminated: so is the latest narco-tunnel that authorities have found in Tijuana, on the border between Mexico and the United States. The underground corridor was used to traffic drugs to San Diego, California, and has since been closed. The discovery was not an accident: US Ambassador Ken Salazar had warned last week of the presence of over 200 tunnels during a visit to the border city.
The tunnel was discovered last weekend after a joint operation by the Mexican Army, the Tijuana Police and the Attorney General's Office. The entrance is located under a house in the Nueva Tijuana neighborhood, a few meters from the Otay border crossing where Salazar made those statements. The passageway, reinforced with metal beams, remains under police protection. Authorities have not identified which criminal group used it, nor have any arrests been made.
Mexican authorities emphasized that communication with their US counterparts had been "close" and that bilateral collaboration had been key to finding the tunnel. Less than 48 hours earlier, Salazar had made the same points. "Working with the Mexican government, we have a very good collaboration in trying to eradicate these tunnels, which should not be here, because this is where a lot of crime happens, a lot of suffering," said the ambassador in statements collected by the weekly newspaper Zeta. "This must stop," he added.
Salazar's visit to Tijuana included a tour of a narco-tunnel discovered in 2009. The passageway, which also crosses the border wall, is known as Gálvez and is 270 meters long and 30 meters deep. The structure's construction was attributed to the Arellano Félix cartel, a criminal organization created in the 1980s, which dominated the movement of drugs to the United States in that area for decades.
After the tour, Salazar, senior US anti-narcotics officials and Mexican Foreign Minister Marcelo Ebrard held a press conference announcing a $4.2 billion investment to reinforce the border. Ebrard exhorteed the authorities of both countries to "be more effective at the border against fentanyl, drugs and weapons that come and go on both sides."
"[We intend] to ensure that this border is a place where people can walk from one place to another safely and where trade continues in a better way than now," Salazar said. Last month, Texas governor Greg Abbott imposed tough security checks that virtually paralyzed cross-border trade. (More than 2,000 of the 3,000 kilometers between the two countries pass through Abbott's state.)
After the White House's urging to stop drug trafficking from Mexico, the government of Andrés Manuel López Obrador has urged the United States to do the same with the smuggling of firearms. More than 500,000 US weapons arrive in the Latin American country each year, according to Mexican authorities, who began working to prosecute the US arms industry last year.
Less than a week ago, another tunnel made headlines in Culiacán, the stronghold of the Sinaloa Cartel, the organization historically led by Joaquín "El Chapo" Guzmán. A young man who was sleeping on the sofa in his house fell after a hole opened in the ground. The hole in the floor was attributed to the existence of the underground passageway, found in 2011.
El Chapo had escaped in July 2015 from the Altiplano prison, a high-security prison in central Mexico, through a tunnel that took members of his criminal organization more than a year to build. In the videos broadcast from his cell, the criminal leader is seen disappearing from one moment to another after climbing into a hole in the floor. Guzmán traveled more than a kilometer underground on a motorcycle. The capo was captured in early 2016 and extradited to the United States a year later. Guzmán had previously managed to evade several capture operations through underground networks of passages. The first tunnel attributed to him dates from 1989.
The longest known narco-tunnel measured more than two kilometers, and its discovery was announced in January 2020. It had tracks, air conditioning, an elevator and electricity. The entrance was in Tijuana and the exit in San Diego. "The sophistication of this tunnel demonstrates the determination and monetary resources of the cartels," the US border patrol said at the time. Despite the spectacular announcement, the news came with no information about arrests, as with the last tunnel discovered last weekend.