Term starts in Uganda – but world's longest shutdown has left schools in crisis | Global development
The gate that once proudly displayed the name of Godwins primary school in Kampala has been removed. The compound, where pupils played at break time, is now a parking area for trucks ferrying goods to the nearby market, while the classrooms have been turned into a travellers' lodge.
Uganda's schools were ordered to reopen on Monday 10 January, after nearly two years of closure – the longest school shutdown in the world – but not all were able to welcome pupils back. Godwins, in Kalerwe in Kawempe division, is one of the many schools that will never reopen. It had been in existence for 20 years catering to children whose parents work in nearby Kalerwe market.
Harriet Namubiru, a charcoal seller whose two grandchildren, aged eight and 10, attended the school, says its closure is a "tragedy that has befallen us".
"The management of the school called a meeting and they told us 'It has become very hard for us to run again. We shall not open,'" she says. "It was like lightning or something [had hit us]. Some parents who were in the meeting fainted. Some fell sick for weeks."
Kampala's suburbs are littered with ghost structures that were once schools. Some buildings were sold, while others have been destroyed to make way for real estate development. Kampala Capital City Authority said that more than 40 schools in the city have closed for good. Local media is awash with reports of schools turned into bars, restaurants or travellers' accommodation.
There are no official figures on the number of schools that have failed to reopen countrywide.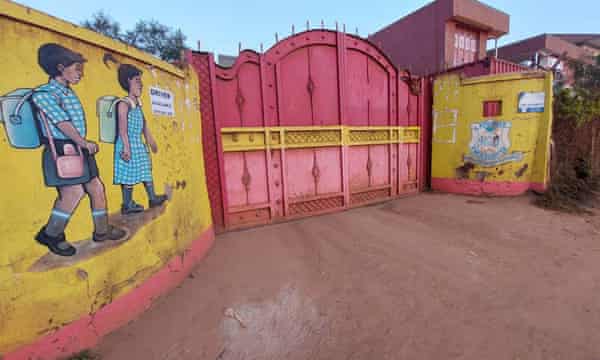 Kidcare nursery and primary school in the suburb of Najjera is now a depot for beverages. The dusty classrooms and dining hall at nearby Najjera progressive school lie empty; some of Najjera's classroom blocks have been destroyed to make way for a real estate development.
At Makerere highway school in Kivulu, a Kampala slum, pupils were welcomed by heavy padlocks. The building owner says she "no longer wants school business on her property". She says previous schools have not paid rent for two years and she has opted to use the space for other businesses.
Upcountry, some students arrived to find school roofs blown off or classrooms taken over by anthills. They were forced study under trees.
Covid guidelines mean extra costs for schools and parents. Schools unable to meet these and the demands by some landlords that they pay rent arrears will stay shut – and many may never reopen.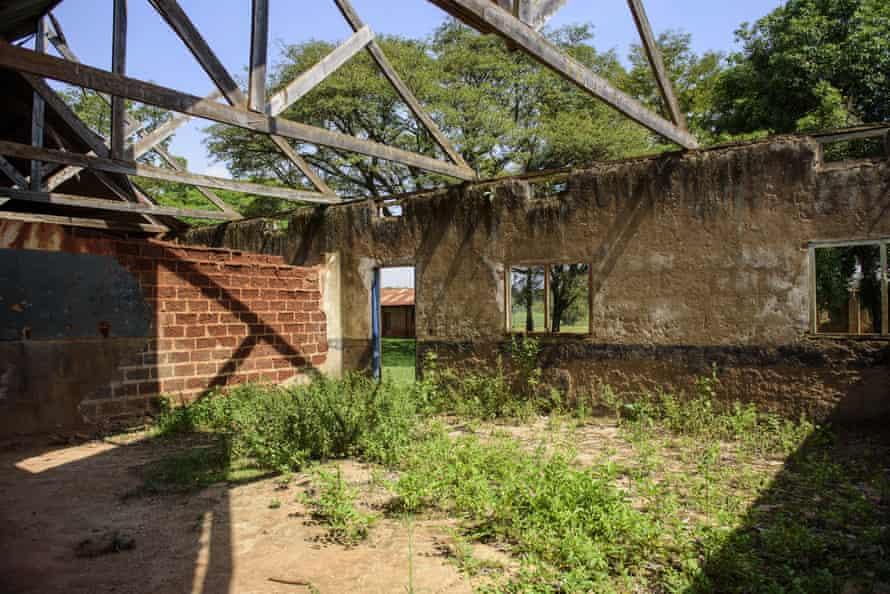 Namubiru is still searching for an affordable school for her grandchildren.
"It's difficult. Our school [Godwins] understood us. It accepted our children, and we brought tuition fees whenever we could," she says, explaining that new schools are expensive and require fees upfront.
The reopening of schools was met with relief by pupils, teachers and parents, but the turnout at many was low. At Chegere primary school in the northern Apac district, just one pupil appeared on the first day.
Local media reports zero turnouts at some schools in the central district of Nakasongola.
Nicholas Bwire, director of St Nicholas primary school in Mukono, central Uganda, says he registered few pupils but is optimistic that more will attend.
"The turnout for learners has been poor. Parents are still worried that they may bring children, pay tuition fees only for schools to be closed again after a few weeks. This happened to them early last year when schools closed just days after opening," he says. "[Parents] are telling us that 'we're coming on Monday'."
Bwire says he is happy that all his teachers except one showed up. All his non-teaching staff resigned, but he hopes to recruit new ones.
Christine Babirye, a teacher at a community kindergarten in Kampala, says parents cited fees and lack of materials as reasons for not sending their children in the first week. She says her school has lowered tuition costs and encouraged parents to bring pupils.
For those returning after 83 weeks away from the classroom, it is a cheerful moment.
"I feel very good to be back at school. [Life at] home was boring," says Mark Kibuuka, 14, a pupil at Bat valley primary school in Kampala.
Fellow pupil Shatrah Nanyange, 11, adds: "My mother told me 'If you go to school, be a good child and if you study well, I will give you everything you want.' I am doing just that."
But experts warn the impact of long closure on schools and pupils cannot be overstated. Before the pandemic, Uganda was battling poor educational outcomes. This will worsen as dropouts grow.
Dr Ibrahim Kasirye, a researcher at the thinktank Economic Policy Research Centre, says: "Inequalities in access to education have been exacerbated by the nearly two years closure of schools."
"The variation in the ability to access alternative forms of learning offered to kids during the lockdowns such as using radios and televisions, newspapers, and the internet has created two worlds within the country– – one that lost most of the two years of schooling and another, a 'first world' that managed the crisis and continued learning," he says, urging special attention for the group that did not learn at all.
Dr Mary Goretti Nakabugo, the executive director of Uwezo, a charity promoting access to learning in Uganda, says the country's education sector is "in a crisis".
"We must ensure that all learners go back to school, but also what happens when they are back matters to ensure that they are not worried and are able to stay."
Sign up for a different view with our Global Dispatch newsletter – a roundup of our top stories from around the world, recommended reads, and thoughts from our team on key development and human rights issues, delivered to your inbox every two weeks:
Assessing The Potential of The India-Middle East-Europe Economic Corridor (IMEC) Against China's Belt And Road Initiative (BRI)
(THE VOICE OF EU) – In a recent address, Indian Prime Minister Narendra Modi hailed the newly unveiled India-Middle East-Europe Economic Corridor (IMEC) as a transformative force poised to shape global trade for centuries. While the IMEC undoubtedly presents a significant development, it's vital to scrutinize its potential impact compared to China's ambitious Belt and Road Initiative (BRI).
The IMEC was jointly announced by US President Joe Biden and Saudi Crown Prince Mohammed bin Salman at the G20 summit in Delhi. Designed to fortify transportation and communication networks between Europe and Asia via rail and shipping routes, the project not only holds regional promise but also reflects a strategic move by the US in its geopolitical interests, particularly concerning China.
However, the IMEC faces a formidable contender in the form of China's BRI, which celebrated its tenth anniversary this year.
Despite facing some headwinds, including a slowdown in lending due to China's economic deceleration and concerns raised by nations like Italy, Sri Lanka, and Zambia regarding debt sustainability, the BRI remains a monumental global undertaking.
With investments surpassing a staggering $1 trillion and over 150 partner countries, the BRI has transformed from a regional initiative to a near-global endeavor.
Comparatively, the IMEC may not immediately match the scale or ambition of the BRI. While the US, Japan, and the G7 nations have introduced similar initiatives like the Global Gateway and Partnership for Global Infrastructure and Investment, none have achieved the expansive reach or influence of the BRI.
The emergence of these projects over the past five years, however, demonstrates the BRI's pivotal role as a catalyst for global economic growth.
Viewing the IMEC solely through the lens of opposition to the BRI may not provide a comprehensive understanding of its potential.
Instead, the IMEC contributes to a broader trend of transactional partnerships, where countries engage with multiple collaborators simultaneously, underscoring the complex and interconnected nature of global trade relations.
Yet, realizing the IMEC's aspirations demands meticulous planning and execution. A comprehensive action plan is expected within the next 60 days, outlining key governmental agencies responsible for investments, allocated capital, and implementation timelines.
Establishing a streamlined customs and trade infrastructure is equally critical to facilitate seamless transit, a challenge highlighted by the Trans-Eurasian railway's 30-country passage through Kazakhstan.
Navigating geopolitical complexities between partner countries, particularly the US, Israel, and Saudi Arabia, poses another potential hurdle.
Ensuring these nations maintain a unified strategic vision amid differing priorities and interests requires careful diplomatic coordination.
Furthermore, the IMEC will compete directly with the Suez Canal, a well-established and cost-effective maritime route.
While the IMEC may enhance relations with the UAE and Saudi Arabia, it could potentially strain ties with Egypt, prompting critical assessments of the project's economic viability.
Beyond trade and economics, the IMEC ambitiously aims to incorporate diverse sectors, from electricity grids to cybersecurity.
This multi-dimensional approach aligns with discussions held in security forums like the Quad and, if realized, could significantly contribute to a safer, more sustainable global landscape.
As we contemplate the potential of the IMEC, it is with hope that the lofty ambitions outlined in New Delhi will culminate in a tangible and positive transformation for the world.
---
Safe Mobility Initiative Faces Challenges In Delivering On Its Promises For Latin American Migrants
In June, the United States introduced the Movibilidad Segura, or Safe Mobility, program, a new immigration initiative aimed at expanding legal routes for refugees and migrants from South and Central America.
The program's objective is to reduce irregular migration and strengthen transportation and communication links between the Americas. While the intentions behind Safe Mobility are commendable, its execution has faced several challenges, leaving thousands of applicants in limbo.
For many hopeful migrants like Eliezer Briceño, a 40-year-old Venezuelan residing in Ciudad Bolívar, Colombia, the application process has proven to be a complex and tedious endeavor.
Briceño's experience highlights the technological barriers that applicants face, emphasizing the need for reliable internet access and suitable devices for successful registration.
Unfortunately, these prerequisites pose significant challenges for those without adequate resources.
The overwhelming response to the program has led to the temporary closure of the website in Colombia, further complicating the application process. With quotas quickly filled during the limited application periods, the backlog of hopeful migrants has grown, exacerbating the frustration and uncertainty surrounding Safe Mobility.
Of the nearly 29,000 applicants from Colombia, less than 1% have progressed through the U.S. Refugee Admissions Program (USRAP) as of August 28. This statistic underscores the significant delays and challenges faced by applicants. Eliezer Briceño, like many others, anxiously awaits news about his application status, armed only with a receipt indicating a forthcoming call.
Safe Mobility, while a response to the migration crisis in Latin America, is one of several initiatives addressing the challenges faced by millions of displaced individuals.
Its collaboration with the International Organization for Migration (IOM) and the United Nations High Commissioner for Refugees (UNHCR) demonstrates a multi-lateral effort to find solutions to the region's complex humanitarian, political, and economic issues.
However, the program's operational secrecy, with undisclosed office locations, underscores the challenges faced by its administrators.
The need to protect both applicants and program staff from potential overcrowding and disruptions mirrors the situation in Tapachula, Mexico, where large groups of migrants have sought assistance, albeit without violent incidents.
The interview process for Safe Mobility applicants introduces another layer of complexity, marked by confidentiality agreements.
While applicants are required to sign agreements consenting to share personal data with program partners, the imposition of non-disclosure clauses appears unusual and unprecedented.
The UNHCR argues that confidentiality is crucial for the protection of individuals in need of international refuge.
The uncertainty persists even after interviews, as those rejected receive prompt notifications while others remain in a state of perpetual waiting. The apparent randomness of selections and the lack of clear communication only heighten the frustrations of applicants.
As Safe Mobility nears the midpoint of its announced six-month pilot period, questions about its effectiveness and future persist.
While the initiative addresses a critical need, its slow start and operational challenges highlight the complexity of addressing the migration crisis in the Americas.
Cooperation from multiple nations, alongside initiatives like Safe Mobility, will be essential in finding lasting solutions to this pressing global issue.
---
"The Creator": A Glimpse Into A Future Defined By Artificial Intelligence (AI) Warfare
By Cindy Porter
In "The Creator" visionary director Gareth Edwards thrusts us into the heart of a dystopian future, where the battle lines are drawn between artificial intelligence and the free Western world.
Set against the backdrop of a post-rebellion Los Angeles, the film grapples with pressing questions about the role of AI in our society.
While the narrative treads familiar ground, it is timely, given the rising prominence of artificial intelligence in our daily lives.
A Fusion of Genres
Edwards embarks on an ambitious endeavor, blending elements of science fiction classics with contemporary themes.
The result is a cinematic stew reminiscent of James Cameron's "Aliens" tinged with shades of "Blade Runner" a dash of "Children of Men," and a sprinkle of "Akira" This concoction, while intriguing, occasionally veers toward familiarity rather than forging its own distinct identity.
Edwards' Cinematic Journey
The British filmmaker, known for his foray into doomsday scenarios with the BBC docudrama "End Day" in 2005, has traversed a path from indie gem "Monsters" (2010) to the expansive Star Wars universe with "Rogue One" (2016).
"The Creator" marks another bold step in his repertoire. The film introduces compelling concepts like the posthumous donation of personality traits, punctuated by impactful visuals, and raises pertinent ethical dilemmas. It stands as a commendable endeavor, even if it occasionally falters in execution.
Navigating Complexity
In his pursuit of depth, Edwards at times stumbles into the realm of convolution, leaving the audience grappling with intricacies rather than immersing in the narrative.
While adept at crafting visual spectacles and orchestrating soundscapes, the film occasionally falters in the art of storytelling.
In an era where classic storytelling is seemingly on the wane, some may argue that this approach is emblematic of the times.
AI: Savior or Peril?
"The Creator" leaves us with a question that resonates long after the credits roll: Will artificial intelligence be humanity's salvation or its undoing? The film's take on machine ethics leans toward simplicity, attributing AI emotions to programmed responses.
This portrayal encapsulates the film's stance on the subject – a theme as enigmatic as the AI it grapples with.
"The Creator"
Director: Gareth Edwards.
Starring: John David Washington, Gemma Chan, Madeleine Yuna Boyles, Ken Watanabe.
Genre: Science fiction.
Release Year: 2023.
Duration: 133 minutes.
Premiere Date: September 29.
WATCH: TRAILER
Top 5 Movies by Gareth Edwards:
1. "Monsters" (2010)
– A breakout hit, "Monsters" showcases Edwards' talent for blending intimate human drama with towering sci-fi spectacles. Set in a world recovering from an alien invasion, it's a poignant tale of love amidst chaos.
2. "Rogue One" (2016)
– Edwards helms this epic Star Wars installment, seamlessly integrating new characters with the beloved original trilogy. It's a testament to his ability to navigate complex narratives on a grand scale.
3. "End Day" (2005)
– This BBC docudrama marked Edwards' entry into the world of speculative storytelling. Presenting five doomsday scenarios, it set the stage for his later exploration of dystopian futures.
4. "The Creator" (2023)
– Edwards' latest venture, "The Creator," immerses audiences in a future fraught with AI warfare. While not without its challenges, it boldly tackles pertinent questions about the role of artificial intelligence in our lives.
5. Potential Future Project
– As Edwards continues to push the boundaries of speculative cinema, audiences eagerly anticipate his next cinematic endeavor, poised to be another thought-provoking addition to his illustrious filmography.
"The Creator" stands as a testament to Gareth Edwards' unyielding vision and his penchant for exploring the frontiers of speculative cinema.
While it doesn't shy away from the complexities of AI, it occasionally falters in navigating its intricate narrative.
As we peer into this cinematic crystal ball, we're left with a stark question: Will artificial intelligence be our beacon of hope, or will it cast a shadow over humanity's future? Only time will unveil the answer.
---
We Can't Thank You Enough For Your Support!
— By Cindy Porter
— For more information & news submissions: info@VoiceOfEU.com
— Anonymous news submissions: press@VoiceOfEU.com
---