Telegram: the app at the heart of Ukraine's propaganda battle | Technology sector
In the days after Vladimir Putin's invasion of his country, Ukraine's president, Volodymyr Zelenskiy, used his Telegram channel to send a defiant video message from the centre of the capital, Kyiv, calling on the nation to unite and resist the Russian attack.
The WhatsApp-like messaging service, co-founded by exiled Russian billionaire brothers Pavel and Nikolai Durov, has become a key weapon in a digital propaganda battle that will ultimately boost its usage and investor profile ahead of a possible $50bn stock market flotation next year.
Ukraine's 44-year-old president, a former TV actor and comedian who campaigned over Telegram in the run-up to his landslide victory in the 2019 presidential election, used the service to refute claims that the army had been told to lay down arms, that an evacuation had been ordered – and to galvanise the populace by proving he would not be leaving the capital.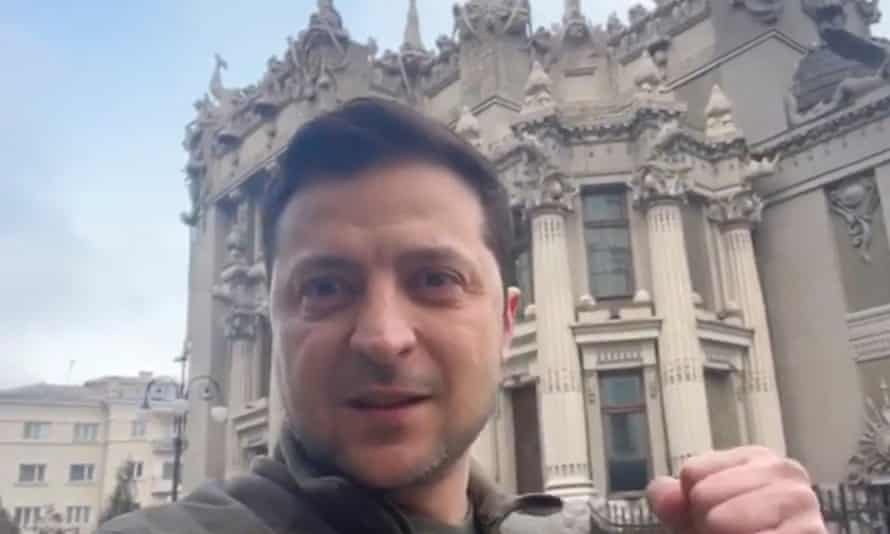 Telegram, which has more than 550 million monthly users globally, is already Ukraine's most popular messaging app. The service's much-hyped encryption and its ability to disseminate messages to groups of up to 200,000 – the limit on Facebook-owned WhatsApp is 256 members – has seen it dubbed the "app of choice" for terrorists.
Telegram was banned in Russia in 2018 after Pavel Durov refused to give the authorities access to its user data. However, the crackdown, which included blocking IP addresses, was easy to circumvent, and the service continued to grow. Russia gave in and lifted the ban in mid-2020.
The app has been adopted as a leading source of news outside state-controlled media, and in the Ukrainian war it has become a 24-hour news lifeline for civilians, journalists and even the military.
It has become the go-to platform for protest groups of all kinds, from Extinction Rebellion to anti-vaccination groups, from the US Capitol rioters to pro-democracy campaigns in states including Russian-allied Belarus, Hong Kong and Iran.
But Telegram's role in the dissemination of unverified information alarmed the 37-year-old Durov – who has been called the Russian Mark Zuckerberg, after he founded what is still by far the country's most popular social network, VKontakte (VK), in 2006.
Last weekend, he said he was considering shuttering the service in the "countries involved" for the duration of the conflict.
"We do not want Telegram to be used as a tool that exacerbates conflicts and incites ethnic hatred," Durov posted on Sunday.
Hours later, he changed his mind, following mass requests from users, who said it was their only source of information. "Double-check and do not take on faith the data that is published in Telegram channels during this difficult period," Durov advised.
Jamie MacEwan, media analyst at research service Enders, said. "This is another example of Telegram being linked to resistance movements. It has very much been part of its reputation over the past couple of years as it has boomed. It is associated with being a safe haven."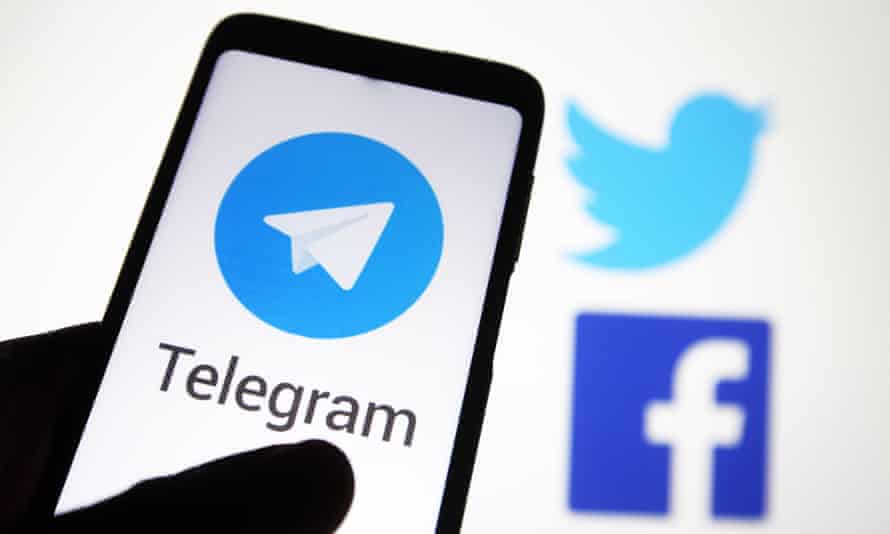 Durov is known for occasional eccentric behaviour – he once threw paper aeroplanes made from bank notes out of VKontakte's office windows, causing fights in the street below, and he publicly offered Edward Snowden a job. He is now on a mission to make his second tech venture the success story that was ultimately wrested from him first time around.
During anti-Putin protests in 2012, Durov became hugely popular for refusing to close down groups that were using the social media site to organise marches. Two years later, he was on the receiving end of a hostile investor coup that saw VK appropriated by Mail.Ru group, headed by Russian billionaire and Putin ally Alisher Usmanov. In December, the Kremlin strengthened its grip on the company when Russian insurance company Sogaz, founded by giant Gazprom, took control of VK.
Durov sold up and left the business as well as the country, becoming a citizen of St Kitts & Nevis in the Caribbean, after resisting Kremlin pressure to release the data of Ukrainian protest leaders.
It is little surprise that Telegram, which he launched with brother Nikolai in 2013 and is operationally headquartered in Dubai, is built on security and privacy.
The publicity-averse Durov, who has a penchant for dressing all in black nevertheless spends much of his energy criticising the security standards of rivals, most notably world leader WhatsApp.
In recent years security experts have in turn questioned Telegram's claims of superiority, pointing out that, unlike rivals, it does not offer end-to-end encryption by default over all its messaging options.
Moxie Marlinspike, creator of the popular Signal secure messaging app, took to Twitter last week to remind Ukrainians that Telegram is not as encrypted as people think, after what he alleged was a "decade of misleading marketing and press".
Durov's experience at VK left him with an aversion to bringing in outside investors to fund Telegram. With a fortune estimated at over $17bn, he has been able to support it for most of its early life without outside help. But the search for alternative ways to raise the funds necessary to drive growth led him into an ultimately disastrous foray into the world of cryptoassets.
In 2018, Durov embarked on a plan to raise billions through the launch of a cryptocurrency called Grams, a venture that sparked an investigation by the Securities and Exchange Commission (SEC) in the US.
Pre-sales ahead of the planned initial coin offering (ICO), which would have funded a proposed Telegram Open Network (TON) system of apps services and a store of digital and physical goods, drew a rapturous response from an initial select group of investors, raising $1.7bn.
But two years later, Telegram shut TON down and agreed an $18.5m settlement with the SEC, which had argued that Grams bypassed US financing laws. It ordered that the money be returned to investors.
The setback in fundraising has not slowed growth, however: in early 2021, Telegram reported the biggest user boost in its history – 25 million in 72 hours.
Durov, who is now also a French citizen, credited the rush of new Telegrammers to an announcement by WhatsApp clarifying its privacy policy relating to data sharing with parent Facebook. Durov added, rather grandiosely: "We may be witnessing the largest digital migration in human history."
The WhatsApp policy did not include sharing the content of messages, but it spooked many users, who defected to other platforms anyway: Telegram and Signal were the biggest beneficiaries.
"The increasing downloads of Telegram is [partly] driven by consumers' growing anxiety over the power of the biggest tech companies, and by privacy concerns," says Forrester analyst Xiaofeng Wang.
A few months after that user boost, Russian business newspaper Vedomosti reported that unnamed sources close to the company claimed a $50bn initial public offering was on the cards by the end of next year.
A successful IPO would cement the rise of Telegram, which has begun to make headway on the extremely difficult proposition of making money from the users of messaging services.
Durov, who once vowed Telegram would never carry ads, is seeking to monetise the platform through a combination of "privacy-safe" advertising and sponsorship of channels.
"The timing of the emergence of talk of an IPO is quite telling, coming almost immediately after the early 2021 boom when its user potential started to explode," says MacEwan at Enders. "I think the momentum they now have, the sheer weight of users, and the fact they are experimenting with 'privacy safe' advertising make them an attractive flotation candidate."
A Telegram spokesman confirmed that the company is pursuing plans for an initial public offering, and that some pre-IPO bonds have been sold with a five-year expiry, but cautioned that the timeline is not certain.
"As for the IPO plans, they will depend on the economic situation at the time," he said.
Open Source Software (OSS) Supply Chain, Security Risks And Countermeasures
OSS Security Risks And Countermeasures
The software development landscape increasingly hinges on open source components, significantly aiding continuous integration, DevOps practices, and daily updates. Last year, Synopsys discovered that 97% of codebases in 2022 incorporated open source, with specific sectors like computer hardware, cybersecurity, energy, and the Internet of Things (IoT) reaching 100% OSS integration.
While leveraging open source enhances efficiency, cost-effectiveness, and developer productivity, it inadvertently paves a path for threat actors seeking to exploit the software supply chain. Enterprises often lack visibility into their software contents due to complex involvement from multiple sources, raising concerns highlighted in VMware's report last year. Issues include reliance on communities to patch vulnerabilities and associated security risks.
Raza Qadri, founder of Vibertron Technologies, emphasizes OSS's pivotal role in critical infrastructure but underscores the shock experienced by developers and executives regarding their applications' OSS contribution. Notably, Qadri cites that 95% of vulnerabilities surface in "transitive main dependencies," indirectly added open source packages.
Qadri also acknowledges developers' long-standing use of open source. However, recent years have witnessed heightened awareness, not just among developers but also among attackers. Malware attacks targeting the software supply chain have surged, as demonstrated in significant breaches like SolarWinds, Kaseya, and the Log4j exploit.
Log4j's widespread use exemplifies the consolidation of risk linked to extensively employed components. This popular Java-based logging tool's vulnerabilities showcase the systemic dependency on widely used software components, posing significant threats if exploited by attackers.
Moreover, injection of malware into repositories like GitHub, PyPI, and NPM has emerged as a growing threat. Cybercriminals generate malicious versions of popular code to deceive developers, exploiting vulnerabilities when components are downloaded, often without the developers' knowledge.
Despite OSS's security risks, its transparency and visibility compared to commercial software offer certain advantages. Qadri points out the swift response to Log4j vulnerabilities as an example, highlighting OSS's collaborative nature.
Efforts to fortify software supply chain security are underway, buoyed by multi-vendor frameworks, vulnerability tracking tools, and cybersecurity products. However, additional steps, such as enforcing recalls for defective OSS components and implementing component-level firewalls akin to packet-level firewalls, are necessary to fortify defenses and mitigate malicious attacks.
Qadri underscores the need for a holistic approach involving software bills of materials (SBOMs) coupled with firewall-like capabilities to ensure a comprehensive understanding of software contents and preemptive measures against malicious threats.
As the software supply chain faces ongoing vulnerabilities and attacks, concerted efforts are imperative to bolster security measures, safeguard against threats, and fortify the foundational aspects of open source components.
---
We Can't Thank You Enough For Your Support!
— By John Elf | Science, Technology & Business contributor VoiceOfEU.com Digital
— For more information: info@VoiceOfEU.com
— Anonymous news submissions: press@VoiceOfEU.com
---
Choco: Revolutionizing The FoodTech Industry With Innovation & Sustainability | EU20
By Clint Bailey
— In the rapidly evolving world of food technology, European startup Choco has emerged as a pioneering force. With its website, Choco.com, this Berlin-based company is transforming the way food industry professionals operate by leveraging innovative digital solutions. By linking restaurants, distributors, suppliers, and producers on a single platform, Choco is streamlining the supply chain process while promoting sustainability.
Let's explore the journey of Choco.com and its impact on the overall foodtech industry.
---
Company: Choco Technologies GmbH
Website: www.Choco.com
Head Office: Berlin, Germany
Year Established: 2018
Founders: Choco was co-founded by Daniel Khachab, Julian Hammer, and Rogerio da Silva.
Industry: Choco operates in the foodtech industry, specifically focusing on digitizing the supply chain for the food industry.
Funding: Choco has secured significant funding rounds from investors, including Bessemer Venture Partners & Coatue Management.
Market Presence: Choco has a strong presence in several European cities, including Berlin, Paris, London & Barcelona.
Mission: Choco aims to revolutionize the food industry by leveraging technology to simplify supply chain management, promote sustainability, and reduce food waste.
---
Simplifying Supply Chain Management
One of the core focuses of Choco is to simplify supply chain management for food businesses. Traditionally, the procurement process in the food industry has been cumbersome and inefficient, with numerous intermediaries and manual processes. Choco's digital platform replaces the traditional paper-based ordering system, allowing restaurants and suppliers to communicate and collaborate seamlessly.
Choco's platform enables restaurants to place orders directly with suppliers, eliminating the need for phone calls, faxes, or emails. This not only saves time but also reduces the likelihood of errors and miscommunications.
By digitizing the ordering process, Choco improves transparency, making it easier for restaurants to compare prices, track deliveries, and manage inventory efficiently.
Streamlining Operations For Suppliers & Producers
Choco's impact extends beyond restaurants. The platform also provides suppliers and producers with valuable tools to streamline their operations. By digitizing their product catalogs and integrating them into the Choco platform, suppliers can showcase their offerings to a wide network of potential buyers.
Suppliers benefit from increased visibility, enabling them to reach new customers and expand their market presence. Moreover, Choco's platform helps suppliers manage their inventory, track orders, and plan deliveries effectively. These features enhance operational efficiency, reduce waste, and ultimately contribute to a more sustainable food system.
Promoting Sustainability & Reducing Food Waste
Choco recognizes the critical importance of sustainability in the food industry. According to the United Nations, approximately one-third of the world's food production goes to waste each year. By digitizing the supply chain and enabling more efficient ordering and inventory management, Choco actively works to combat this issue.
Choco's platform facilitates data-driven decision-making for restaurants, suppliers, and producers. By analyzing purchasing patterns & demand, Choco helps businesses optimize their inventory levels, reducing overstocking and minimizing food waste. Additionally, Choco supports local sourcing, enabling businesses to connect with nearby suppliers & promote sustainable, community-based practices.
Expanding Reach & Impact
Since its founding in 2018, Choco has experienced rapid growth and expansion. The startup has successfully secured significant funding rounds, allowing it to scale its operations and establish a strong presence across Europe and other global markets. Today, Choco's platform is used by thousands of restaurants and suppliers, revolutionizing the way they operate.
Choco's impact extends beyond operational efficiency or sustainability. By connecting restaurants, suppliers & producers on a single platform, Choco fosters collaboration & encourages the exchange of ideas. This collaborative approach strengthens the overall foodtech ecosystem and creates a supportive community of like-minded aiming to drive positive change within the industry.
Future Of FoodTech
Choco's rise to prominence in the foodtech industry exemplifies the reach of sustainability, innovation, and community. Through its user-friendly platform, Choco simplifies supply chain management, streamlines operations for restaurants & suppliers, and actively promotes sustainable practices. By harnessing the potential of digital, Choco is disrupting the future of the food industry, making it more efficient and transparent.
As Choco continues to expand its impact and reach, its transformative influence on the foodtech sector is set to inspiring, grow other startups, and established players to embrace technology for a better and more sustainable food system.
---
We Can't Thank You Enough For Your Support!

— Compiled by Clint Bailey | Team 'Voice of EU'
— For More Info. & News Submissions: info@VoiceOfEU.com
— For Anonymous News Submissions: press@VoiceOfEU.com
---
The Implications Of Controlling High-Level Artificial Super Intelligence (ASI)
Artificial Super Intelligence (ASI)
By Clint Bailey | 'Voice of EU'
The notion of artificial intelligence surpassing humanity has long been a topic of discussion, and recent advancements in programs have reignited concerns. But can we truly control super-intelligence? A closer examination by scientists reveals that the answer is highly unlikely.
Unraveling The Challenge:
Controlling a super-intelligence that surpasses human comprehension necessitates the ability to simulate and analyze its behavior. However, if we are unable to comprehend it, creating such a simulation becomes an impossible task. This lack of understanding hinders our ability to establish rules, such as "cause no harm to humans," as we cannot anticipate the scenarios that an AI might generate.
The Complexity Of Super-Intelligence:

Super-intelligence presents a distinct challenge compared to conventional robot ethics. Its multifaceted nature allows it to mobilize diverse resources, potentially pursuing objectives that are incomprehensible and uncontrollable to humans. This fundamental disparity further complicates the task of governing and setting limits on super-intelligent systems.
Drawing Insights From The Halting Problem:

Alan Turing's halting problem, introduced in 1936, provides insights into the limitations of predicting program outcomes. While we can determine halting behavior for specific programs, there is no universal method capable of evaluating every potential program ever written. In the realm of artificial super-intelligence, which could theoretically store all possible computer programs in its memory simultaneously, the challenge of containment intensifies.
The Uncontainable Dilemma:

When attempting to prevent super-intelligence from causing harm, the unpredictability of outcomes poses a significant challenge. Determining whether a program will reach a conclusion or continue indefinitely becomes mathematically impossible for all scenarios. This renders traditional containment algorithms unusable and raises concerns about the reliability of teaching AI ethics to prevent catastrophic consequences.
The Limitation Conundrum:

An alternative approach suggested by some is to limit the capabilities of super-intelligence, such as restricting its access to certain parts of the internet or networks. However, this raises questions about the purpose of creating super-intelligence if its potential is artificially curtailed. The argument arises: if we do not intend to use it to tackle challenges beyond human capabilities, why create it in the first place?
READ: ALL ABOUT ARTIFICIAL INTELLIGENCE
Urgent Reflection – The Direction Of Artificial Intelligence:

As we push forward with artificial intelligence, we must confront the possibility of a super-intelligence beyond our control. Its incomprehensibility makes it difficult to discern its arrival, emphasizing the need for critical introspection regarding the path we are treading. Prominent figures in the tech industry, such as Elon Musk and Steve Wozniak, have even called for a pause in AI experiments to evaluate safety and potential risks to society.
The potential consequences of controlling high-level artificial super-intelligence are far-reaching and demand meticulous consideration. As we strive for progress, we must strike a balance between pushing the boundaries of technology and ensuring responsible development. Only through thorough exploration and understanding can we ensure that AI systems benefit humanity while effectively managing their risks.
---
We Can't Thank You Enough For Your Support!

— By Clint Bailey, Team 'THE VOICE OF EU'
— For Information: Info@VoiceOfEU.com

— For Anonymous News Submissions: Press@VoiceOfEU.com
---