Spanish fan of 'Gone with the Wind' star Vivien Leigh to auction off rare memorabilia | Culture
When she was 15, Elvira Clara Bonet went to the movies in Barcelona to see Gone with the Wind, the 1939 box office hit starring Clark Gable and Vivien Leigh, which was not released in Spain until 1950. After watching the movie, Bonet became enthralled by the actress who played the vain, capricious and determined southern belle, Scarlett O'Hara. She began to buy the magazines in which Leigh appeared with her second husband, actor Laurence Olivier. After reading in a 1957 issue of Sábado Gráfico magazine that the A-list couple were spending a few days in Torremolinos in Málaga, Bonet decided to write Leigh a postcard telling her of her admiration.
It was the first of more than 40 letters exchanged between the actress and Bonet – now 80 – over the course of a decade until Vivien Leigh's death in 1967. But the relationship was not confined to written correspondence. Bonet was received on two occasions in Leigh's London home: the first with a friend who spoke better English than she did; the second, in November 1965, shortly after Bonet sent Leigh a medallion with the initials GWTW (Gone with the Wind) – a movie which won the actress the first of her two Oscars – on the 25th anniversary of its premiere. Leigh had long called Bonet "my Spanish friend," and the bond resulted in Bonet's collection of personal possessions, 50 of which will go under the hammer, along with the letters, at an online auction by the Setdart auction house on May 26.
When the actress died from tuberculosis at the age of 53, Bonet was invited to her funeral, where she rubbed shoulders with actors such as Alec Guinness, Michael Redgrave and John Gielgud. Despite Leigh's death, Bonet maintained a relationship with the actress's daughter Suzanne, with her mother Gertrude, with her last partner, John Merivale, and even with her Spanish maid, Domitila Martínez.
It was after the funeral that the family began to send Bonet personal items that had belonged to Leigh, who also played the unforgettable Blanche Dubois in A Streetcar Named Desire, a role that earned her a second Academy Award in 1951. Among the items was a silver and gold cigarette case with Leigh's initials VL containing some of her last cigarettes, two pairs of size 37 shoes, a handbag, a cup from which she drank tea, one of her nightgowns, her nail polish, one of her hats, the diary she used the year of her death with entries such as "mom's birthday" or "dinner with Bill," the gloves she used in The Roman Spring of Mrs. Stone (1961), the monocle she wore in her last film, Ship of Fools (1965), and a parasol she used in Gone with the Wind. In total, Bonet amassed around 70 of the actress's personal possessions, including 45 letters, all in English, that Leigh wrote to her from different parts of the world – the last of which she received the day before her death. Now, almost everything is for sale.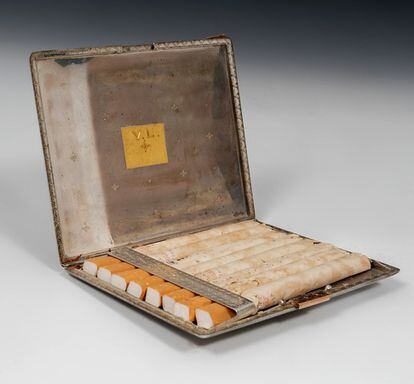 For years Bonet had a small private museum showcasing these objects, as well as photos, in one of the rooms of her home in the Barcelona neighborhood of Horta. Anyone who asked was invited in for a viewing. But now the museum's doors are closed. "I am selling because of my age and because of financial issues, though it pains me dreadfully," she says. "I hope that whoever buys them will pamper them as I have done all these years."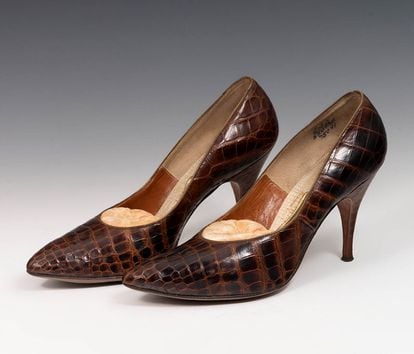 "I never asked Vivien for anything," says Bonet. "I am not a collector; the objects I have collected are gifts given to me by her family. I have known five generations of Leighs."
Bonet recalls how she felt almost disappointed the first time she met the actress. "She was not the actress of 1939," she says. "By then she was already 51; her voice was hoarse from smoking and she looked older because she was affected by her illness. But she was still a very elegant woman and had beautiful green eyes. She was a unique actress, there has been no one like her," adds Bonet, who says she has seen her 19 films thousands of times, and Gone with the Wind more than 2,000, "but not in a row!"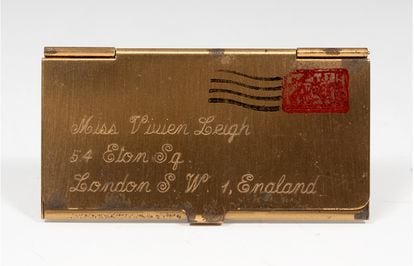 Many of the lots have a starting price of between €2,500 and €3,000, such as the cigarette case, the glasses and the parasol, but there are also cheaper lots, such as the shoes, whose starting price is between €600 and €700. There are also 23 unpublished photographs from Leigh's personal album, including five photographs of herself and Olivier on their honeymoon in 1940 in which the couple appears naked before bathing in a river. "I hope they don't get a lot of attention and I'm sorry they're coming to light," says Bonet. "I never exhibited them."
But it is precisely these photos that have the highest price tag – between €7,200 and €7,500 – and promise to be one of the highlights of the auction. Meanwhile, Bonet says that she is keeping back a handful of items, such as a cushion Leigh rested her feet on and some of the actress's ashes. "They were given to me by her mother," says Bonet. "After throwing the ashes into a lake, these remained on top of some leaves that she picked up and kept."
Any items linked to Vivien Leigh are typically a big deal for auction houses. In 2017, Sotheby's of London raised €2.5 million from the sale of items belonging to the actress. "All lots are usually sold, 100% – something that does not happen with other auctions," explains a spokesperson from Setdart.
English version by Heather Galloway.
Remains found in Dublin adds intrigue to search for Robert Emmet's grave
Skeletal remains have been found at one of the locations identified as a possible last resting place of Robert Emmet who was executed on this day in 1803.
The remains were found during an excavation at the back of St Paul's Church in Stoneybatter in Dublin.
The disappearance of the body of Robert Emmet is one of the great mysteries of Irish history.
Emmet was tried and then hanged for instigating the ill-fated 1803 rebellion. He became a symbol of Irish martyrdom for his speech from the dock in which he concluded: "Let them and me rest in obscurity and peace, and my name remain uninscribed, until other times and other men can do justice to my character. When my country takes her place among the nations of the earth, then, and not till then, let my epitaph be written."
After he was publicly hanged outside St Catherine's Church in Thomas Street on September 20th, 1803, his head was displayed to the crowd by the hangman Thomas Galvin. The remains of Emmet's body was taken to Bully's Acre in the grounds of what is now the Royal Hospital Kilmainham and buried there.
When some of his friends went to reintern his remains from Bully's Acre to St Michan's Church in Church Street, a church associated with the United Irishmen, they found there was no body there, and so began a search which endures to this day.
His great-nephew Dr Thomas Addis Emmet requested an archaeological dig at the family vault in St Peter's Church in Aungier Street to mark the centenary of Emmet's death in 1903, but that proved to be unsuccessful.
Speculation
St Paul's Church is another contender in the saga of Emmet's remains. It was the parish church of Kilmainham Gaol's doctor and effective governor Dr Edward Trevor.
In his book In the Footsteps of Robert Emmet, JJ Reynolds speculated that Trevor removed Emmet's body and put it in an unmarked grave in the grounds of St Paul's Church. This was to ensure that his grave would not become a shrine for Irish nationalism.
The church, which was the venue for the consecration of the philosopher George Berkeley as Bishop of Cloyne in 1734, has been converted into the Spade Enterprise Centre, a not-for-profit social enterprise unit.
The land where the skeletal remains were found is being turned into a shared kitchen for small business enterprises in the area.
Archaeologist Franc Miles said burials in the grounds were from 1702 to the 1860s. A extant set of burial records remain, but Emmet, if he really is buried there, would have no record.
Previous exhumations were carried out when the graveyard was closed in 1860s to make way for a school on the site.
"With all the evacuations, we were left with bits and pieces of body. There weren't many full skeletons," he said.
Mr Miles said it all the gravemarkers and stones were removed in the 1860s "so all you are left with really are bones."
Mr Miles said it would be difficult if not impossible to identify Emmet's remains even if they are buried in the grounds of St Paul's Church.
His own "educated guess" is that Emmet's body is still buried somewhere in Bully's Acre.
As many of his supporters have said over the last two centuries: "Do not look for him. His grave is Ireland."
How the cost of renting an apartment in Copenhagen compares to other cities in Denmark
Officials pushed for State to buy direct provision centres from private firms
The Government should buy a number of privately-owned direct provision centres as a "priority" as it would be more "cost effective" for the State to run the facilities for asylum seekers, international protection officials have said.
The savings arising from owning the accommodation centres rather than paying private contractors to do so "could be considerable", departmental briefing documents provided to Minister for Children and Integration Roderic O'Gorman last year state.
The vast majority of direct provision centres are currently owned and run by private companies, with accommodation providers having received some €1.6 billion since 1999, including €183 million last year.
The latest figures show some 7,150 people are in the system of seven State-owned sites and 39 private centres. A further 24 commercially-owned premises are being used to provide emergency accommodation for asylum seekers.
The briefing document, released to The Irish Times under the Freedom of Information Act, says that housing people seeking asylum in State-owned centres would provide the "best protection from the vulnerability of present market reliance".
"They are also much more cost efficient to run, and the State owns the asset," it notes.
The document suggested that State centres should aim to accommodate 5,000 people, and "allowing the private sector to supply the rest is regarded as an achievable and reasonable target".
The purchase of existing centres from private providers "to immediately boost the State's footprint in this area should be considered as a priority," the internal document said.
"Some service providers may be open to this and the market appears to be favourable at present," it said.
The internal briefing suggested the department could then seek private companies or NGOs to run the centres, which would be a "competitive cost option".
'Badly needed'
Ongoing maintenance for centres owned by the State was also "badly needed," as current pressures on the Office of Public Works (OPW) meant it was not possible "for immediate repairs to be done if required".
"In exploring the model of more State centres, we need to agree and acquire a capital budget," the briefing stated.
"State land does not require planning permission for new centres as the Minister has a power under the Acts, whereby the OPW can grant the planning permission and this is usually a three-month process. It is not subject to appeal."
The document says that State centres "can also have a bigger footprint as it will be a permanent fixture in the locality". In recent years a number of plans for private providers to open direct provision centres in regional towns have been met with protests from locals and anti-immigration activists.
Mr O'Gorman's department has sought to reform the direct provision system and is seeking to replace the network of centres with a new system of accommodation and supports by the end of 2024.
New centres
A department spokesman confirmed the State has not bought any new centres since the briefing note was written. The spokesman said under the planned overhaul of direct provision, asylum-seekers who arrived into the country would initially be housed in a number of reception and integration centres.
Asylum-seekers will spend a maximum of four months in the reception centres before moving into housing secured through Approved Housing Bodies.
"These centres will be State-owned and purpose built to provide suitable accommodation for approximately 2,000 people at any one time, to cater for the flow-through of the 3,500 applicants over a 12-month period," he said.