Spanish architecture: The story of Madrid's abandoned 'beach' for its working class | Culture
La Playa de Madrid was just 15 minutes from the Spanish capital's Puerta del Sol square when it was inaugurated. Nine decades later, the distance is the same, but the premises developed by the architect Manuel Muñoz Monasterio in 1932 to create a "beach" in the landlocked city are in a state of complete disrepair.
The great leisure project for Madrid's working class on the banks of the River Manzanares now houses fetid mattresses, crumpled beer cans, rank swimming pools, tattered tennis courts and facilities that are at risk of disappearing altogether.
Owned by the state agency Patrimonio Nacional, which manages Spain's national heritage, La Playa de Madrid has been closed for six years. Defaults in rent payments forced it to close, and it subsequently became the target of vandalism. "There is no longer even any security," says Juan García Vicente from the green group Ecologists in Action, who is upset by the state of dereliction of a site with social and architectural significance in the city's history.
The access point to the "beach," which borders La Zarzuela racetrack on one side and the Puerta de Hierro Sports Park (previously known as Parque Sindical) on the other, has not been opened since the authorities evicted staff and members at the end of October 2014. The company running the complex at that time, which belonged to the former president of the Spanish employers association CEOE, Arturo Fernández, received a court order to vacate the premises as it had failed to pay rent or any tax despite operating the five swimming pools, 11 tennis courts, four paddle courts, one roller-skating rink, four frontón courts, the cafeteria, the restaurant and the parking lot.
Arturo Fernández has left a hole in the National Heritage agency's accounts to the tune of €867,006, which will have to be paid as soon as his company's bankruptcy is resolved. The 3,000 Playa de Madrid members who had paid their fees were also denied access. Fernández's contract had been renewed in 2011, despite the fact that he was already €466,831 in arrears. It was a sum that, according to the Court of Auditors, "he paid a few days before signing the new contract."
To add insult to injury, EL PAÍS has learned that on July 30, National Heritage filed a complaint in court in a bid to evict the new company running the complex, Centro de Eventos Playa de Madrid, which is also behind on payments.
"It has not paid even one month's rent and has run up a debt of €530,523," says a National Heritage spokesperson. The new contract went into effect on October 17, 2017, after the president of National Heritage at the time, Alfredo Pérez de Armiñán, decided to lease the 184,800 square-meter property to a company that not only failed to pay rent, but also reneged on a commitment to invest €3.2 million to renovate the complex.
Meanwhile, under the National Heritage's current president, Llanos Castellanos, an initiative is underway to revamp the more than 22,000 hectares of green spaces owned by the institution throughout the country, including the Playa de Madrid complex, which will be finalized when the judicial process ends. "The aim is to turn it into a sustainable property that is financially self-sufficient, and to make sure that what has happened does not happen again," says Castellanos.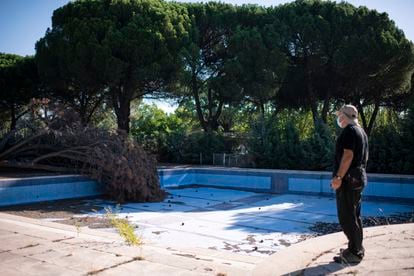 The phony beach was fashioned from a shallow river, from which "a beautiful arm of the sea" was created, to quote an ad from that period. But the dam that stored up the water to create a 300-meter shoreline was dismantled this January by the Tajo Water Confederation so that the river could follow its natural course unimpeded, according to García Vicente.
"It was a very interesting dam because it still allowed the water to flow and remain clean," says Alberto Tellería, a member of the Madrid Citizenship and Heritage Association, who still remembers the complex's dance floor and the announcement of a design competition for cheap evening dresses in 1934.
The "beach" was very popular among the working classes during the Second Republic, before Francisco Franco's air forces razed it. And it was there that the photojournalist Robert Capa constructed his iconic image of of two militiamen greeting each other under the lighthouse tower.
But unpaid dues and ignored commitments have proved the ruin of the site, which is these days trapped between two highways. "These are public facilities of extraordinary significance," says Juan García Vicente, who has been fighting for years for a path that will connect Madrid with El Pardo, on the left bank of the river.
This path should be ready in a couple of months and access to the "beach" will be reserved for pedestrians and cyclists. Meanwhile, the dignity of the complex is still to be restored, which according to Carlos Ripoll, a member of the Madrid Architects Association (COAM), has an "impeccable" language all of its own.
The simple and modern lines of the structures designed by the creator of the Las Ventas bullfighting ring and the Santiago Bernabeu soccer stadium are hidden behind pines, cork oak and poplars, and they are reminiscent of the international tone set by Swiss architect Le Corbusier. Muñoz Monasterio, who sided with the regime after the civil war (1936-1939), carried out the post-war reconstruction in 1948, refurbishing it according to Franco's taste, with slate roofs and spires. But the subsequent inauguration of the nearby Parque Sindical (now known as the Puerta de Hierro Sports Park) and water contamination ended Madrid's dream of having a beach.
English version by Heather Galloway.
Census 2022 – what difference does it make?
Next Sunday, April 3rd, is Census night. Millions of people in homes countrywide will fill in page after page of questions, some of which are deeply personal and many of which might be unfamiliar.
But what it is it all about?
At a basic level, Census 2022 will be used to inform planning of public policy and services in the years ahead, according to the Central Statistics Office.
The questions will cover a range of environmental, employment and lifestyle issues, including the use of renewable energy sources in homes.
The questions will help inform policy development in the areas of energy and climate action, and the prevalence of internet access, to understand the availability of and need for internet connections and range of devices used to access the internet.
Questions also focus on changes in work patterns and will include the trend of working from home and childcare issues, while questions are also asked about the times individuals usually leave work, education or childcare, to help identify and plan for transport pattern needs locally and nationally.
Other topics covered include volunteering and the type of organisations volunteers choose to support, tobacco usage and the prevalence of smoke alarms in the home.
And of course there is a time capsule – the chance to write something which will be sealed for the next 100 years.
In this episode of In The News, the head of census administration Eileen Murphy and statistician Kevin Cunningham about what it all means for us.
Oscars 2022: Will Smith makes Oscar history after slapping Chris Rock over joke about wife Jada Pinkett Smith | Culture
Will Smith took the Oscar for Best Actor at last night's 94th Academy Awards, but he also became the protagonist of the ceremony for other reasons. The night was following the script, until Smith slapped comedian Chris Rock on the stage after the latter made a joke about the shaved head of the former's wife, Jada Pinkett Smith. Rock had quipped that he was "looking forward to GI Jane 2," in reference to her look. Pinkett Smith has revealed publicly that she has alopecia. It looked as if the moment had been planned, until Smith went back to his seat and shouted: "Get my wife's name out of your fucking mouth."
The moment, which immediately became Oscar history but for all the wrong reasons, left the attendees with frozen smiles, and asking themselves whether it was possible that a veteran such as Smith could have lost his cool in front of tens of millions of people. After taking the prize for Best Actor, the superstar actor made a tearful apology, saying that he hoped the Academy "will invite me back." Later on, actor Anthony Hopkins called for "peace and love," but it was already too late. The incident overshadowed the success of CODA, which took the Oscar for Best Picture. Just like the time when Warren Beatty mistakenly named La La Land as the big winner of the night, no one will speak about anything else from last night's awards.
At first sight, Smith's actions looked as if they were scripted. When he first heard Rock's joke, he laughed. But his wife was seen on camera rolling her eyes, and it was then that the actor got up onto the stage and hit Rock. When he returned to his seat he raised his voice twice to shout "Get my wife's name out of your fucking mouth," sending a wave of unease and shock through the attending audience. The fact that he used the f-word, which is prohibited on US television, set alarm bells ringing that this was real and not a planned moment. In fact, the curse word was censored by the broadcaster, ABC, in the United States.
During a break, Smith's PR manager approached him to speak. In the press room, which the actor skipped after collecting his prize, instructions were given to the journalists not to ask questions about the incident, Luis Pablo Beauregard reports. The next presenter, Sean "Diddy" Combs, tried to calm the situation. "Will and Chris, we're going to solve this – but right now we're moving on with love," the rapper said.
When Smith took to the stage to collect his Best Actor award for his role as Richard Williams – the father of tennis stars Venus and Serena – in King Richard, he referred to the character as "a fierce defender of his family." He continued: "I'm being called on in my life to love people and to protect people and to be a river to my people. I know to do what we do you've got to be able to take abuse, and have people talk crazy about you and have people disrespecting you and you've got to smile and pretend it's OK."
He explained that fellow actor Denzel Washington, who also spoke to Smith during a break, had told him: "At your highest moment, be careful, that's when the devil comes for you."
"I want to be a vessel for love," Smith continued. "I want to be an ambassador of that kind of love and care and concern. I want to apologize to the Academy and all my fellow nominees. […] I look like the crazy father just like they said about Richard Williams, but love will make you do crazy things," he said. He then joked about his mother, who had not wanted to come to the ceremony because she had a date with her crochet group.
During the commercial break, Will Smith is pulled aside and comforted by Denzel Washington and Tyler Perry, who motion for him to brush it off. Will appears to wipe tears from his eyes as he sits back down with Jada, with Denzel comforting Jada and Will's rep by his side. pic.twitter.com/uDGVnWrSS2

— Scott Feinberg (@ScottFeinberg) March 28, 2022
The Los Angeles Police Department released a statement last night saying that Chris Rock would not be filing any charges for assault against Smith. "LAPD investigative entities are aware of an incident between two individuals during the Academy Awards program," the statement read. "The incident involved one individual slapping another. The individual involved has declined to file a police report. If the involved party desires a police report at a later date, LAPD will be available to complete an investigative report."
On December 28, Pinkett Smith spoke on social media about her problems with alopecia. She stated that she would be keeping her head shaved and would be dealing with the condition with humor. "Me and this alopecia are going to be friends… Period!" she wrote on Instagram.
House-price inflation set to stay double digit for much of 2022
House-price inflation is expected to remain at double-digit levels for much of 2022 as the mismatch between what is for sale and what buyers want continues.
Two new reports on the housing market paint a picture of a sector under strain due to a lack of supply and increased demand driven by Covid-related factors such as remote working.
The two quarterly reports, one each from rival property websites myhome.ie and daft.ie, suggest asking prices accelerated again in the first quarter of 2022 as the stock of homes available for sale slumped to a new record low.
Myhome, which is owned by The Irish Times, said annual asking-price inflation was now running at 12.3 per cent.
Price
This put the median or typical asking price for a home nationally at €295,000, and at €385,000 in Dublin.
MyHome said the number of available properties for sale on its website fell to a record low of 11,200 in March, down from a pre-pandemic level of 19,000. The squeeze on supply, it said, was most acute outside Dublin, with the number of properties listed for sale down almost 50 per cent compared with pre-pandemic levels.
It said impaired supply and robust demand meant double-digit inflation is likely until at least mid-2022.
"Housing market conditions have continued to tighten," said author of the myhome report, Davy chief economist Conall Mac Coille.
"The broad picture of the market in early 2022 remains similar to last year: impaired supply coupled with robust demand due to Ireland's strong labour market," he said.
"One chink of light is that new instructions to sell of 7,500 in the first 11 weeks of 2022 are well up from 4,800 in 2021, albeit still below the 9,250 in 2019. The flow of new properties therefore remains impaired," said Mr Mac Coille.
"Whatever new supply is emerging is being met by more than ample demand. Hence, transaction volumes in January and February were up 13 per cent on the year but pushed the market into ever tighter territory," he said.
He said Davy was now predicting property-price inflation to average 7 per cent this year, up from a previous forecast of 4.5 per cent, buoyed strong employment growth.
Homes
Daft, meanwhile, said house asking prices indicated the average listed price nationwide in the first quarter of 2022 was €299,093, up 8.4 per cent on the same period in 2021 and and just 19 per cent below the Celtic Tiger peak, while noting increases remain smaller in urban areas, compared to rural.
Just 10,000 homes were listed for sale on its website as of March 1st, an all-time low. In Dublin, Cork and Galway cities, prices in the first quarter of 2022 were roughly 4 per cent higher on average than a year previously, while in Limerick and Waterford cities the increases were 7.6 per cent and 9.3 per cent respectively.
The report's author, Trinity College Dublin economist Ronan Lyons, said: "Inflation in housing prices remains stubbornly high – with Covid-19 disturbing an equilibrium of sorts that had emerged, with prices largely stable in 2019 but increasing since.
"As has been the case consistently over the last decade, increasing prices – initially in Dublin and then elsewhere – reflect a combination of strong demand and very weak supply."