Spain-Morocco diplomatic crisis: Yemeni asylum seekers deported from Ceuta: 'After beating us up, they threw us out' | Spain
Between May 17 and 18, a civil servant, two workers from a pen manufacturing company and an accountant-turned-cab driver made it to the Spanish North African city of Ceuta, having slipped past the Moroccan guards who were rumored to be taking a lax attitude to border control, reportedly in response to Spain's decision to offer medical treatment to the founder of an outlawed liberation movement for the Sahrawi people in the parts of Western Sahara that are under Moroccan control.
The four Yemenis were among the nearly 8,000 migrants who entered the Spanish exclave irregularly in mid-May, in what became an unprecedented migration crisis on the border – never before had so many arrived in such a short space of time and almost half were immediately expelled in many cases without the proper formalities.
I thought that I would be treated differently coming from a country at war

Hussein, an accountant who worked as a cab driver in Yemen
Fleeing a war-torn country where 80% of the population is in need of humanitarian aid, the four Yemenis addressed the Spanish authorities shouting "Yemeni, asylum! Yemeni, asylum!" In less than 24 hours, the four were beaten and dragged back to the border, according to their accounts told to EL PAÍS from Morocco.
Last Friday, Interior Minister Fernando Grande-Marlaska insisted once again that the more than 7,000 deportations that took place during the crisis – including voluntary departures – were carried out within the boundaries of the law. He also mentioned that the United Nations High Commissioner for Refugees (UNHCR) was present in the border area "from the start" to help state security forces identify the most vulnerable migrants. Potential refugees, such as the four Yemenis, are entitled to special protection recognized under Spanish law and the international conventions that Spain has signed. They cannot be deported before their asylum claim is assessed.
Following Marlaska's statement, UNHCR quickly dissociated itself, declaring: "We cannot confirm that all the returns have been made voluntarily or in accordance with the law, since we have received a number of accounts from people who had expressed their interest in seeking asylum but were forcibly and, in some cases, violently returned." After learning of these "concerning events regarding international protection," the organization formally requested Spanish authorities open an investigation. Sources at the Interior Ministry insisted that they are not aware of any such request. "The Interior Ministry is always available and will collaborate fully with any investigation opened on possible irregular events," the same sources maintained. The Public Prosecutor for Youth in Ceuta, meanwhile, is investigating the so-called "expressed deportations" of minors.
Khaled, for instance, said he was dragged back across the border into Morocco, despite being identified as a potential refugee by UNHCR. The 28-year-old civil servant fled Yemen at the outbreak of war in 2015, and entered Ceuta via Tarajal beach in the early hours of May 18. No-one stopped him and he spent a good part of the night wandering around the city until he decided to approach the facility where the Red Cross was attending to the new arrivals. It was in those chaotic, crowded warehouses that he and two other Yemenis explained their situation to a UNHCR worker. "We told her we wanted to apply for asylum, she took a picture of our passports, we watched as she talked about us to the police and army chiefs and she told us to be calm," Khaled said during a video call with EL PAÍS. "But when she left, two soldiers and five policemen arrived to tell us off for speaking to UNHCR." He claimed they were told: "Now it's back to Morocco!"
According to Khaled, just after 8pm on May 18, the military forcibly returned the three from the Red Cross center. "On the way to the border fence [separating Ceuta from Morocco], they pushed us and hit us with their batons," he explained. "We showed our passports and shouted 'asylum' to them, but it made no difference." Questioned about these actions, the Defense Ministry declined to comment.
Khaled's case has also been taken on by the NGO, Coordinadora de Barrios (Coordinating Neighborhoods), which has denounced the forced expulsions of asylum seekers to the Spanish ombudsman. The organization has also interviewed six other Yemenis, three of whom relate similar accounts to EL PAÍS.
Ahmed, 32, and Amar, 39, who worked in the marketing department of a pen company, fled Yemen together in 2019. "The options there are limited," said Ahmed. "Either you are part of the war or you leave." The pair's plan was actually to enter Spain through the other Spanish North African city of Melilla, but they saw on Facebook that the borders would be open in Ceuta and they took a cab from Nador to Castillejos, entering Ceuta on Monday 17. "When we arrived, we searched for a place where we could find help," said Amar. "Our clothes were wet, we were hungry and very tired."
The soldiers beat us with batons, threw us to the ground and stepped on our backs

Ahmed, who use to work at pen manufactoring company in Yemen
Amar and Ahmed also ended up in the Red Cross facility in the Tarajal industrial park. "The soldiers beat us with batons, threw us to the ground and stepped on our backs. After beating us up, they threw us out," said Ahmed, who maintains they showed their passports and shouted "Asylum, Yemeni!" on several occasions in Spanish.
Hussein, 27, an accountant who worked as a cab driver in Yemen, also claims that he was forcibly deported. He swam to Ceuta with Khaled, but the pair became separated once in the city. "I was attacked and beaten," he said. "A military man pointed a gun at me and sprayed a red substance. It smelled like pepper." He ended up meeting his compatriots on the other side of the border. "I thought that I would be treated differently coming from a country at war," he said.
Aside from the Yemenis, several women from the Democratic Republic of Congo, accompanied by at least three children, reported their expulsion to the NGO, Coordinadora de Barrios. Their lawyer, Patricia Fernández Vicens, maintained that the deportations carried out in Ceuta violated the Geneva Convention for refugees and the UN Convention on the Rights of the Child, as well as Spanish law itself. "What happened in Ceuta shows that it is not possible to carry out expulsions at the border, or the so-called 'express deportations,' with the proper guarantees," she said.
English version by Heather Galloway.
EU to propose universal phone-charger law
The EU plans to propose laws harmonising mobile-phone, tablet, and headphone chargers and ports on Thursday in a bid to make life easier for consumers, Reuters reports. But Apple, whose iPhones use a special 'Lightning cable' has said the move will lead to piles of waste and deter innovation. Rival Android-based devices use so-called 'USB-C' connectors, but 'USB micro-B' and Lightning connectors account for about a third each of market-share.
Brexit: British Embassy launches survey on key issues affecting UK nationals in Spain | Brexit | International
The British Embassy in Madrid has launched a survey aimed at finding out how UK nationals in Spain have been affected by key issues, in particular, the United Kingdom's exit from the European Union, a process commonly known as Brexit.
The poll is for Britons who are full-time residents in Spain (not those with second homes) and are covered by the Brexit Withdrawal Agreement, i.e. they were officially registered in the country before December 31, 2020, when the so-called Transition Period came to an end.
Questions in the survey address issues such as access to healthcare and the uptake of the TIE residency cards, which were introduced as a replacement for green residency cards (either the credit-card size or the A4 sheet version, officially known as the Certificado de Registro de Ciudadano de la Unión).
The aim of the poll is to gather vital information on the experience of UK nationals living in Spain that will help the British Embassy provide feedback to Spanish authorities. The survey takes around 10 minutes to complete, and all answers are confidential.
Have you heard our Spanish news podcast ¿Qué? Each week we try to explain the curious, the under-reported and sometimes simply bizarre news stories that are often in the headlines in Spain.
'The challenge for us now is drought, not war': livelihoods of millions of Afghans at risk | Global development
The war in Afghanistan might be over but farmers in Kandahar's Arghandab valley face a new enemy: drought.
It has hardly rained for two years, a drought so severe that some farmers are questioning how much longer they can live off the land.
Mohammed Rahim, 30, grew up working on a farm along with his father and grandfather in the Arghandab district of Afghanistan's southern province. Famous for its fruit and vegetables, the area is known as the bread basket of Kandahar.
Like most in the valley, Rahim's family relies solely on farming. "The fighting has just stopped. Peace has returned," Rahim says. "But now we face another war: drought.
"Now we have to dig deep to pump water out of the land. It has been two years, there has been little rain and we have a drought here. I don't know if our coming generations can rely on farming the way our ancestors used to do."
Pir Mohammed, 60, has been a farmer for more than four decades. "Not long ago, there were water channels flowing into the farm and we were providing the remaining water to other farmers," says Mohammed. "Before, the water was running after us, flowing everywhere – but now we are running after water."
The water used to come free from the river but now the daily diesel cost for the water pump is at least 2,500 Afghani (£21).
"We don't make any profit. We are in loss, rather. Instead, we are using our savings. But we don't have any other option as we do it for survival," says Mohammed. "However, the scarcity of water has affected the quality of crops as well."
About 70% of Afghans live in rural areas and are particularly vulnerable to the impacts of drought.
Last week, Rein Paulsen, director of the Food and Agriculture Organization's Office of Emergencies and Resilience, said severe drought was affecting 7.3 million people in 25 of the country's 34 provinces.
He warned: "If agriculture collapses further, it will drive up malnutrition, increase displacement and worsen the humanitarian situation."
Arghandab has been a favourite destination for farming because of the abundance of water and fertile lands. Neikh Mohammed, 40, left the Dand district of Kandahar to work in Arghandab in 2005. When he arrived he was amazed to see the greenery and pomegranate farms.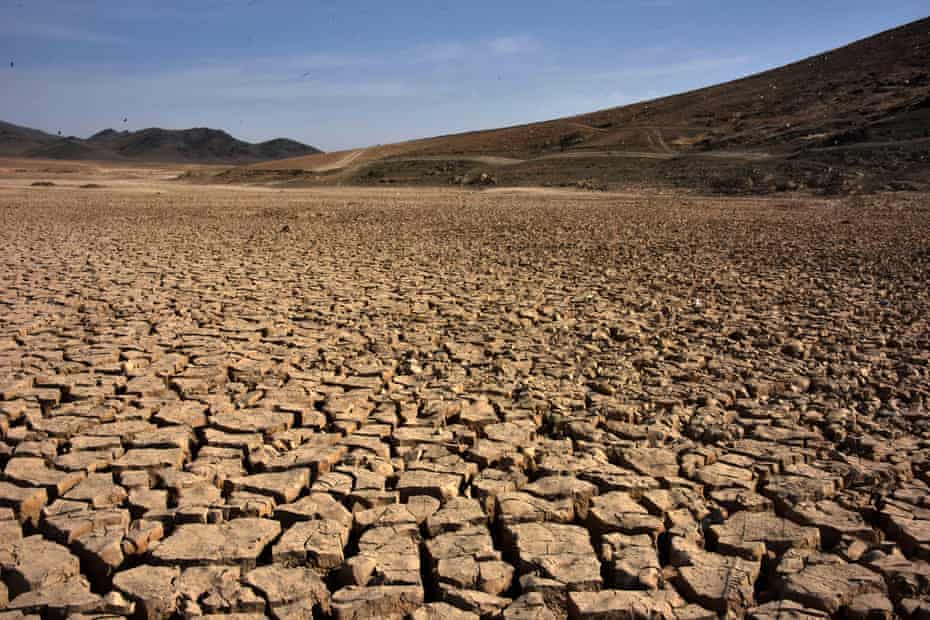 "It used to rain a lot here and we could not cross the river and come into our farms. We had a life with abundant water. But the past is another country now," he says.
According to a report by the UN mission in Afghanistan, many local farmers were caught in the crossfire between the Taliban and the Afghan security forces. The Taliban carried out attacks from thick foliage on the farms, which provided a hiding place, ideal for an ambush.
"For the past 20 years, we did not have peace and could not work after dark in our farms. But now we can stay as long as we want without any fear," says Neikh Mohammed. "Now the challenge is not just restoring peace but the drought and escalating cost of essential commodities."
Farmers say they want support from international aid agencies and assistance from the new government headed by the Taliban to help them survive.
Pir Mohammed says: "The real challenge for us now is drought, not war. We need food, water, dams and infrastructure in our country. The world should invest in us and save us."