School's out: Pakistani pupils struggle with lack of internet | Global development
Iqbal Khan works as a chauffeur in Lahore. His children are in his home village in a rural area north of Peshawar. Both of these very different areas of Pakistan have the same problem for many of their young people: no means of getting access to an education.
Online learning was not an option for Khan's children as the pandemic locked down schools across cities and countryside. Even as he worked to pay the school fees, his two sons, aged 16 and 13, were unable to access any lessons as their schools went digital.
"My children got lazy sitting at home doing nothing for the last year. They seem to have forgotten the little they did know and it's like the government has forgotten about us," he says, adding that the lack of government focus on education worries him.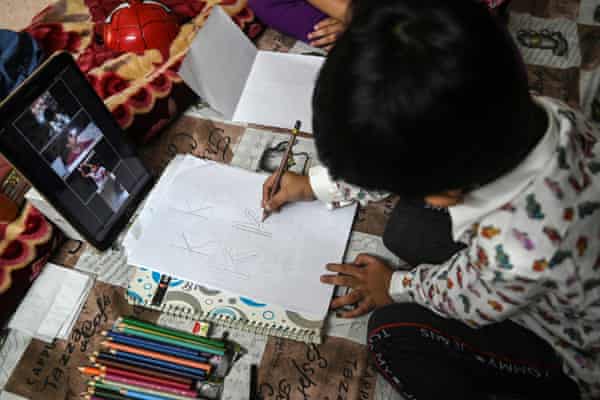 In Pakistan, more than half of the population now own a smartphonebut these are concentrated mainly in the more urbanised provinces of Punjab and Sindh, so online schooling benefits a minority of pupils in a country where 22.7 million children already do not participate in education. For Khan's 16-year-old, in his final year at school, this is a crucial time for his future.
The pressure to continue to pay the fees is draining. For Pakistan's lower-income communities, paying for education is a struggle and a difficult choice. Marvi Soomro, founder of the education charity IEI Pakistan, says that as incomes have been hit during the pandemic, fewer families can afford to keep their children in school, because they need them to bring in extra money.
"Regions like Gilgit-Baltistan have been completely isolated due to lack of technology access. Families can no longer earn through tourism and have had to sell livestock to make ends meet," she says. "It's often difficult to convince rural populations of the need for education because they don't see an immediate gratification in it."
The increased dropout rate since the Covid pandemic hit has happened despite deeply held aspirations for education. "I have met young girls who often travel four or five miles to attend school, having to bear a hefty burden of transport costs on a monthly basis," says Seema Aziz, founder of Care Foundation, Pakistan's largest education charity. Aziz worries that attendance will dwindle even more as the lack of internet outside big cities makes distance learning next to impossible. "We tried to start online learning on smartphones in a few of our schools but there's no mobile signals or internet access for many of our students at home."
Government tele-education projects also dwindled, Soomro says. She believes the solution is in changing mindsets. "There was no prior awareness campaign that television will be used for education. These are agricultural-based communities, they don't understand the concept of sitting around a television for most of the day," she says.
It is not that people do not understand the value of education, she says, pointing to the high enrolment numbers in schools, but rather that having being left to fend for themselves in lockdown has eroded their link to the wider world. Aliza Ahsan, a pupil from Misgar – a mountain village in Hunza – had to return home when hostels near her college closed. She has to travel miles to relatives' houses to get internet access and download assignments or attend classes. Being left to fend for herself with little leeway given by the college has left her feeling isolated.
Aanya Niaz, an education researcher, says there is not enough understanding of the diversity of educational experiences across Pakistan. "Digital penetration varies greatly, across provinces, urban-rural divides and socioeconomic classes, along with the impact of gender as well, none of which can be taken into account with blanket initiatives that are meant to be applied on a national level," she says.
Covid-19: Italian and Spanish PMs meet in Madrid ahead of EU recovery fund summit | International
Italy's prime minister, Giuseppe Conte, was in Madrid on Wednesday for a meeting with his Spanish counterpart, Pedro Sánchez of the Socialist Party (PSOE), to discuss their countries' joint strategy for an upcoming summit on the European Union's coronavirus recovery fund.
Spain and Italy, the two European countries to be hardest hit by the Covid-19 pandemic, are joining forces against the so-called "frugal" countries – Austria, the Netherlands, Sweden and Denmark – which oppose the idea of a €750 billion fund, of which €500 billion would be non-recoverable grants and the rest made up of loans.
Sánchez and Conte have shared interests, as their countries stand to benefit the most from the fund, according to Italian and Spanish sources who added that Germany and France back this position as well.
"This time Italy, Spain, France and Germany are clearly in sync. We all support the European Commission's proposal," said Spanish sources.
"With the meeting held today with @GiuseppeConteIT we are relaunching relations between Spain and Italy. We agree that the good understanding between our countries must be taken to the political arena. We hope to hold a new Italian-Spanish summit in 2020," tweeted Spain's Sánchez on Wednesday.
Conte and Sánchez will be traveling separately in the coming days to the Netherlands and Germany, and the Spanish leader is also planning a stop in Sweden, whose government wants to replace some of the EU fund grants with loans, according to Spanish sources. The Spanish and Italian PMs are hoping to arrive at the July 17-18 summit in Brussels with a strong negotiated position that will leave little room for resistance from the "Frugal Four."
Wednesday's meeting also served to reinforce bilateral ties that had been weak for years. The last time that the leaders of both countries had come together was in 2014, when then-prime ministers Enrico Letta and Mariano Rajoy met in Rome.
English version by Susana Urra.
'Where should we go?': thousands left homeless as Karachi clears waterways | Global development
Maqsooda Bibi, 62, did not know the house she had lived in all her life would be demolished, forcing her whole family to become homeless. But on Monday, Pakistan's supreme court backed the Sindh government in bulldozing her home and hundreds of others, legalising the eviction of thousands who live along narrow waterways – nullahs – that crisscross Karachi.
The verdict came as Bibi and hundreds of others held a protest outside the court. "We hoped that the court would ask the government not to make us homeless, but it did the opposite. Our children also protested on Sunday and urged the supreme court to stop demolition. It seems no one here cares for the future of the poor."
At least 8,000 houses are being knocked down along the nullahs. The work, which began in February, is in response to the 2020 Karachi floods that saw choked up nullahs overflow and swamp the city. Improvements to Karachi's water and sewage systems are being financed by the World Bank.
As people watched their homes being turned into rubble, civil society organisations approached the court to try to stop the evictions. They said the houses were not to blame for blocking the waterways.
But on Monday the supreme court rejected the petition.
While dozens of people told the Guardian they were renting their homes, the court said any leasing of land along the nullahs was illegal. Activists and writers have termed the decision "unjust". Writer Fatima Bhutto, of the Bhutto political dynasty, tweeted: "The supreme court's decision is a tragedy."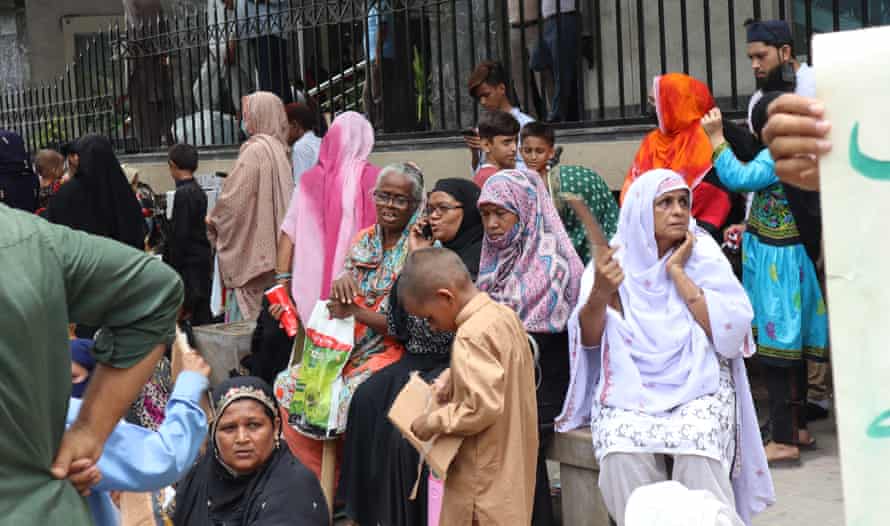 In an editorial, Pakistan's largest English-language daily, Dawn, said: "The demolition of houses situated within nine metres on either side of the Gujjar and Orangi nullahs will continue. When this exercise is completed (before this year's monsoon, according to the plan), at least 100,000 people would perhaps have been rendered homeless. As many as 21,000 children would be out of school and living under the open sky."
Bibi's house was her family's home for five decades. She shared it with four daughters and three sons-in-law. "We all started living on the lawn after they demolished our house but they will snatch the lawn now. At first, they took our shelter, now they will take our land," she says.
Muhammad Shahid is a heart patient whose house was bulldozed a month ago. He expected justice from the court. He was at home when his house was bulldozed at around 11am one morning.
"We are helpless. Where should we go? We can't die or live. I had my angiography done and now I can't work. My children aren't educated enough. My wife had a paralysis attack," says Shahid. He says that even he has not got the 90,000 Pakistani rupees (£410) promised by the government.
Muhammad Aslam did receive some compensation for the loss of his house. But he says it is not enough. He says: "I want to return the amount because it is of no use for four families." He lives with 28 others in one room and a tent after his two-storey house was bulldozed. "We are troubled in all ways, there is no gas or electricity or even sanitation. This isn't living," says Aslam.
Architect and urban planner Arif Hasan says the government had no "proper plan". "They are not doing it merely to stop the flood but to make long roads along the nullahs connecting the Lyari expressway with the northern bypass, displace poor and benefit the rich." He says the World Bank should denounce the Sindh government, as forced evictions are against the bank's policies.
Muhammad Abid Asghar was one of the first to lose his home, on 2 February. With others, he established Gujjar Nala victims committee and, with activists of Karachi Bachao Tehreek (Save Karachi Movement), went to the Sindh high court.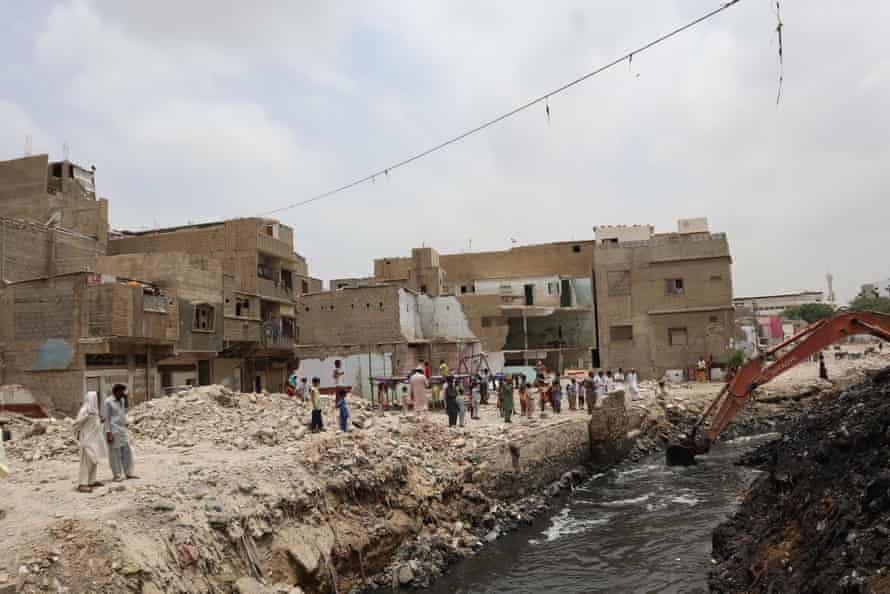 After chalking slogans against the demolitions on walls around the city, the activists say they were called by the World Bank team for a meeting in April.
"We had believed the bank was funding the evictions, but the World Bank denied it. They assured us that no leased houses would be bulldozed."
Sindh minister for information, Nasir Hussain Shah, also says the World Bank is not linked to the evictions. "The government will help residents in rehabilitation," he says, adding that "not more than 5%" of residents were against the demolition works.
The World Bank did not respond to a request for comment.
China calls Nato statement 'slander'
The Chinese mission to the EU denounced a Nato statement that declared Beijing a "security challenge," saying China is actually a force for peace but will defend itself if threatened, AP reports. The Chinese news release said the Nato statement was a "slander on China's peaceful development, a misjudgment of the international situation and (Nato's) own role, and a continuation of the Cold War mentality and organisational political psychology."