Saving Roe v Wade is not just a US battle but one for women across the Americas | Mariana Prandini Assis
As the US supreme court prepares to decide a case that could deny women the right to abortion in much of the US, Latin American activists like me are holding our collective breaths.
The continent has some of the most restrictive abortion laws in the world, in spite of recent progressive reforms in the past decade in countries including Uruguay and Argentina.
The end of Roe v Wade would deliver a frightening message throughout the region.
El Salvador's courts have sentenced women who have had a miscarriage to 30 years in prison – treating an obstetric emergency as an abortion. In Honduras, where abortion is already illegal in all circumstances, congress amended the constitution to state that life starts at conception.
Against this dismal legal backdrop, Roe v Wade has long been a source of inspiration to women in Latin America fighting for their basic rights. It has given us a strategic model as well as strong legal arguments against constitutional obstacles. Like women in the US, we have taken our cases to court, sometimes securing significant and progressive gains in the last decade.
In Colombia, the constitutional court ruled in 2006 that women could have an abortion in cases involving rape or incest, when it posed a risk to the pregnant person's life or health or when the foetus was diagnosed with severe malformations.
In Brazil, the supreme court in 2012 authorised abortion if a foetus is found to have anencephaly, a condition that leads to miscarriage, or death in the first weeks of life. And the court is considering another case that could decriminalise all abortions in the first 12 weeks. Most recently, the Mexican supreme court declared the criminalisation of abortion unconstitutional and mandated that state legislatures across the country act on that ruling.
In all of these cases, activists drew on the arguments in Roe v Wade for their successful litigation strategy and judges cited the landmark case and related rulings in making their decisions.
If the US state of Mississippi succeeds in overturning Roe v Wade after nearly 50 years, we will lose this crucial legal precedent and endanger progress on reproductive rights throughout Latin America.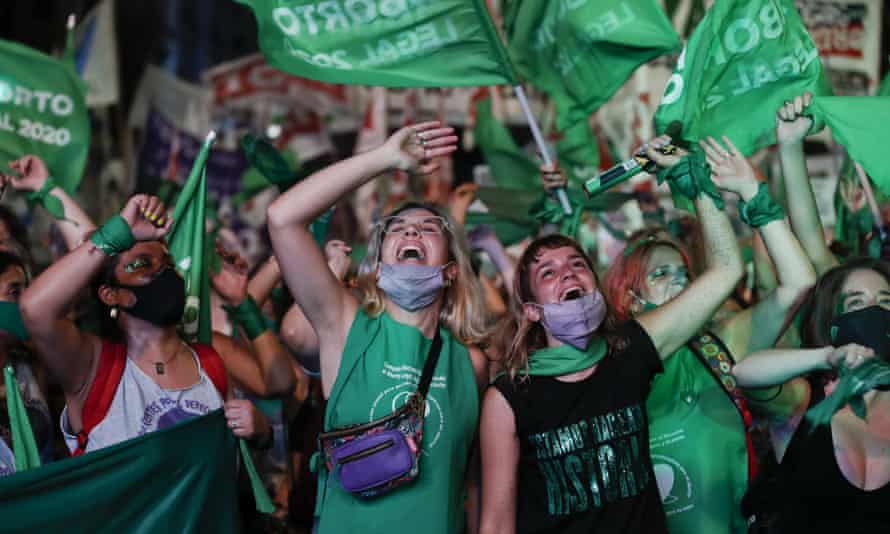 Just this month, the Brazilian senate approved the nomination of a conservative Christian pastor to the country's supreme court. President Jair Bolsonaro's choice is expected to oppose expanding abortion rights.
One glimmer of hope for Americans is the US Food and Drug Administration's decision last week to permanently lift restrictions on the abortion pill. This reaffirms that Latin American activists have long made the right choice to bet on self-managed abortion for ensuring access while waiting for rights to be granted through the legislative process.
Funders must now expand their support for these direct action strategies throughout the Americas. But few are willing to associate their names with an issue as stigmatised as abortion, which means financial backing is scarce for activists working to expand rights and access.
Philanthropists in the US have been fundamental to our success, and they will most likely want to redirect their funding to American organisations if the era of Roe v Wade does come to an end. They would be right to do so, but it would be a mistake to turn away from organisations and activists in other parts of the world that have made so much progress.
Emboldened by anti-gender movements, powerful forces have swept Latin America, Europe and Africa, seeking to undermine the quest for greater sexual and reproductive freedom – particularly access to abortion and birth control – for the women who are least likely to advocate for themselves. We cannot fight them alone.
Funding community-based self-managed abortion initiatives in countries where access is highly restricted may be the only way to save women's lives while we battle repressive policies on multiple fronts across the global south.
It may require funders to be less prescriptive in supporting our reproductive justice struggles, and to trust local advocates and the solutions we propose. Doing so will make clear that the lives of women matter, no matter who we are or where we live. We may lose Roe, but never the commitment to our fight.
Kill the Bill and period protests: human rights this fortnight – in pictures | Global development
Microphones in front of a banner outside a court in Koblenz, Germany. Anwar Raslan, a former colonel with the Syrian intelligence service, was
convicted by the court of crimes against humanity
, including 27 counts of murder. He was found guilty of overseeing abuse, sexual assault and the torture of more than 4,000 people at Branch 251. The site became synonymous with brutal abuse by security officials after the government of Bashar al-Assad stopped protests with force.
'No embargo' on meetings with Putin, EU says
EU leaders are free to meet Russian president Vladimir Putin despite his threats to start a new war with Ukraine, the EU foreign service has said. "There is no embargo on contacts and visits between member states and Russia. Each member state decides … on their own judgment," the EU foreign service told EUobserver. The comment follows reports Croatia invited Putin to visit and that Hungary's leader will meet him.
Vulnerable Malians could 'pay the price' of heavy sanctions, warn aid groups | Global development
More than a dozen aid organisations have called for humanitarian exemptions to heavy sanctions imposed on Mali after the military leadership postponed planned February elections.
The EU has announced support for the sanctions imposed earlier this month by the Economic Community of West African States (Ecowas), which include closing borders and a trade embargo.
But this week, 13 international groups working in Mali warned of devastating consequences for the population, a third of whom rely on aid.
Humanitarian access is hindered by the Malian interim authorities' decision to reciprocate border closures with Ecowas member states, except Guinea.
Thousands of people demonstrated against the sanctions last week in the capital Bamako, carrying placards saying "down with Ecowas" and "down with France".
The country is in the grip of the worst food insecurity in 10 years.
A joint letter signed by the NGOs, including the International Rescue Committee (IRC), Care and the Norwegian Refugee Council, said: "To continue their work effectively, humanitarian actors must have unfettered access for the transportation of life-saving goods including food and medicine, as well as guarantees that they can transfer funds into the country without violating the sanctions."
Mali's current insecurity dates back to early 2012 when northern separatists rebelled against the government. Islamist militants that initially allied with the separatists, including Ansar Dine, al-Qaeda in the Islamic Maghreb (AQIM), and the Movement for Unity and Jihad in West Africa, ultimately hijacked the rebellion.
France, the former colonial ruler, made a military intervention in 2013 on the government's side against the militants. The UN has also deployed an estimated 18,000 peacekeeping staff, in what was called its most dangerous mission.
The Malian military, led by Col Assimi Goïta, has conducted two coups in two years and reneged on promises to hold new elections. The junta's most recent power grab, in May 2021, was the fifth coup since Mali's independence in 1960 and it has been unwilling to commit to transition to civilian rule, despite international pressures.
Postponement of elections has been blamed on Islamist insecurity, an impasse that has deepened with the arrival of private military contractors belonging to the Russian mercenary firm Wagner Group. European states have condemned Wagner's presence, concerned it will enable the military to hold on to power.
EU foreign policy chief Josep Borrell said this month that EU sanctions on Mali were in part in response to the involvement of Russian contractors. France is withdrawing troops, but 14 other EU members, led by Sweden, had established a taskforce to replace them in a three-year mandate. As tensions intensified over the Wagner Group, Sweden said last week that it had decided to withdraw its troops.
France, which holds the rotating EU presidency, has been vociferous in its support of sanctions but Russia and China have blocked the UN security council's move to follow suit.
Ecowas has frozen financial aid and Malian assets at the Central Bank of West African States.
Elena Vicario, director for the Norwegian Refugee Council in Mali, said: "Malians are already bearing the brunt of the humanitarian catastrophe, punctuated by horrifying attacks against civilians. Sanctions must not hold us back from delivering essential assistance in a country where drought, rising insecurity, and the economic impacts of Covid-19 are already pushing millions of Malians over the edge."
Franck Vannetelle, the IRC's country director in Mali, echoed Vicario, saying: "Despite more than a third of the country's population being dependent on humanitarian aid, organisations working in Mali already face severe access constraints. It's imperative that the international community keeps responding to people's urgent needs, and that any new sanctions have concrete humanitarian exemptions. These must be monitored and implemented, or the most vulnerable people in Mali will pay the price."