Russia's Immortal Regiment Parade Is a Huge and Very Important New Phenomenon
Editor's note: The Immortal Regiment parade keeps reaching gobsmacking proportions – 1 million people in Moscow this year alone, and 10 million countrywide. Dreamt up in Tomsk, Siberia in 2012, it has caught on like wildfire in Russia, and for good reason. It is brilliant political, historical, spiritual ritual and theater. It is heartrending and moving and only the coldest of hearts could not be moved by these rivers of humanity paying homage to their ancestors, as basic a human impulse as an any, one of the 10 commandments. Now it is spreading to other countries.
Among other things, the IR is brilliant PR. A colossal, to the point testimony to the horror of war, and the shared humanity of all those who have suffered in war. Russia really knocked it out of the park with this one.
Here is some great footage from yesterday's 1 million strong Moscow march. 
https://www.youtube.com/watch?v=dVWRQcXs81c
We searched the internet for information about it, and this 2016 Christian Science Monitor article by Fred Weir about it is really very good. Enjoy.
---
MOSCOW — Sofia Serbinenko was on the streets of Moscow with about 800,000 other marchers Monday, carrying a beribboned photograph of her great-grandfather, a Soviet fighter-bomber pilot who fought the Nazis in World War II.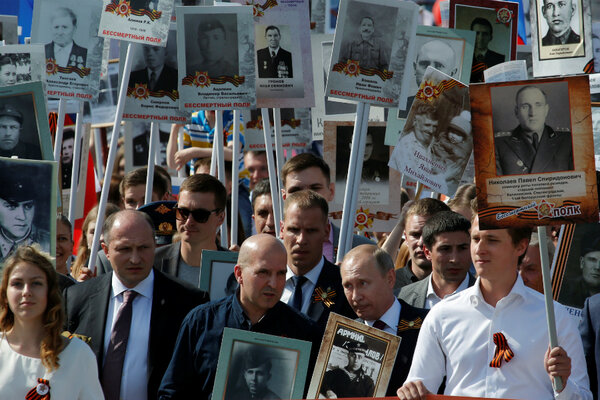 "Victory Day has always been very important in our family," says Sofia, an 8th grader. "I have read so many books about the war, and I think all the time about the people who died so that we could live. For me, with a good life today, it is only right to declare that I will always remember, and to express my gratitude."
The march of the "immortal regiment," in which Russians from all ages and walks of life carry pictures of ancestors who fought, was modest at its 2012 inception. But while the war ended 71 years ago, the efforts put into annual commemorations of that titanic victory over the Nazis seem to be actually growing in Russia.
In a remarkable feat of historical memory, today it is a vast torrent that fills the streets of every Russian city and has since spread to over a dozen other countries, including nine US cities this year, according to Russian media. This year it almost eclipsed the more familiar official military parade, in which thousands of troops, armored vehicles, and intercontinental missiles rumbled past the Red Square reviewing stand, while bombers and fighter planes roared overhead.
The originator of the "immortal" movement, Igor Dmitriev from the Siberian city of Tomsk, has complained that his idea for spontaneous, voluntary, and non-commercial acts of memory has been hijacked by the Russian state and turned into a regimented spectacle that validates official views. Some veterans also say it papers over unmet obligations of the Soviet and now Russian governments to those who fought in the war.
Yet it's hard to deny the sheer weight of public enthusiasm on display, with whole families walking together to honor their ancestors, generating a mood that seems both somber and festive.
"It is something for parents to do with their children, generation after generation," says Sofia.
'Not something you can ever forget'
It seems a bit of a mystery why the World War II anniversary, which has faded with time almost everywhere else, appears to be a growing concern in Russia.
One answer Russians give is the immensity of Soviet sacrifice in the war, which still remains largely unknown in the West. About 28 million Soviets died and much of the country was devastated, leaving almost no family untouched.
The numbers are mind-boggling. About 3 million Soviet prisoners-of-war were worked to death in Nazi camps, 1.5 million died of starvation in the siege of Leningrad, and the fates of many millions more remain unknown to their relatives.
"My two grandfathers died in the war. One was missing and has no grave, even if we know approximately where he was killed," says Grigory Kunis, coordinator of the "immortal" march in St. Petersburg, formerly Leningrad. "This is not something you can ever forget. For my family, it's an incredibly important day."
But as Russia drifts into a new era of geopolitical isolation and economic uncertainty, the unifying force of the anniversary is hard to ignore.
"Victory Day is practically the only 20th century event that all Russians, from every part of the political spectrum, can agree upon," says Nikolai Petrov, a professor at Moscow's Higher School of Economics. "Now the Kremlin is emphasizing the glorious Soviet past. But when you examine that past, almost every episode evokes controversy. All that we actually have is the victory over Naziism, and maybe Yuri Gagarin, the first man in space. So, a big part of Victory Day is about official myth-building."
Historical re-evaluation?
Serious historical controversy is brewing over the looming centenary of the Bolshevik Revolution, which arrives next year.
For many Russians the revolution remains a sacred event, and they regard the czarist regime it overthrew as odious. But President Vladimir Putin signaled that tough debate and historical re-evaluation may be in the wind when he told a group of supporters recently that Soviet founder Vladimir Lenin planted "an atomic bomb under the house called Russia," which later exploded and destroyed the state.
"The anti-Nazi victory is a great source of pride for our people, and legitimacy for our state, at a time when there is quite a lot of uncertainty," says Mr. Petrov. "So, the idea is to take every opportunity to celebrate it."
Paradoxically, polls show that overall public interest in the anniversary is gradually declining, as one might expect as the event recedes in time. Alexei Grazhdankin, deputy director of the independent Levada Center in Moscow says that 82 percent of Russians said they were actively celebrating the day in 1995, but that fell to 75 percent in 2010, to 65 percent last year, and 63 percent today.
"The 'immortal regiment' has touched a public nerve, and inspired many to take part in it," Mr. Grazhdankin says. "But, overall, the interest in Victory Day celebrations is inexorably decreasing."
Promises unfulfilled
For Russia's 3.4 million surviving war veterans, it's a day to parade in the old medal-bedecked uniforms, and accept flowers, praise, and gratitude from strangers in the street.
But there is a nagging undercurrent of criticism from some veterans, and their supporters, who complain that despite the lavish public ceremonies on Victory Day, thousands of those who fought in the war have yet to receivethe housing that was promised to them 7 decades ago. Just last month Prime Minister Dmitry Medvedev ordered local governors to urgently provide apartments to 8,350 World War II vets who are still waiting in the queue.
Another controversy concerns the millions who went missing, most of whom died anonymously, whose relatives have received minimal state assistance and have little hope of closure.
"The USSR lost 15 million military people in the war, but the general staff only recognizes the figure of 11 million to this day," says Mikhail Cherepanov, director of the Museum of the Great Patriotic War in Kazan, in the Volga republic of Tatarstan. Part of the reason for that, he alleges, is that the state does not have to pay full pensions for those who are missing-in-action to surviving families, but gives much lower allowances.
The task of locating and identifying remains of lost soldiers on Russia's far-flung World War II battlefields also falls to private groups, with little state assistance, Mr. Cherepanov says.
"I still go every summer with young people, who dig in the forests and steppe, to locate unburied soldiers and try to restore their identities," he says. "There are still so many of them. What prevents our government from making these efforts? Apparently it has too many other things to do, and different expenses to pay for."
Munster grind it out to shatter Connacht hearts at the death
Munster 20 Connacht 18
In time-honoured fashion, Munster dug deep and needed their 16th man to overcome their own faultlines and a smart, hugely motivated Connacht to ensure they marked the fifth anniversary of Anthony Foley's passing with a win.
Somehow, because of the day that was in it, you sensed they would do so in the end, and in dramatic fashion as well. Their skillset and execution, especially in the opposite 22, was flawed albeit they rolled their sleeves up and threatened to bludgeon Connacht into submission.
Save for the pre-ordained tactic of Joey Carbery cross-kicking for Andrew Conway and Mike Haley's fine counter-attacking into the first-half wind, their outside backs hardly featured. Simon Zebo hardly saw the ball.
It was hard luck on Connacht, who weren't remotely in the mood to be sacrificial lambs, with the width of the upright and two questionable decisions heavily influencing the outcome.
Their launch plays were better, they opportunistically took their scores and were defiant in the midst of Munster's second-half storm and Thomond Park's traditional fervour when the going gets tough for their team.
Connacht's defeat came at a cost too, with their outstanding flanker Cian Prendergast wheeled off the pitch with his leg in a brace. Encouragingly he didn't look in much pain, but he's a tough young player.
Prior to the game, in a classy touch, the visiting captain Jack Carty presented a Connacht jersey inscribed with the number 8 and Axel on the back to Peter O'Mahony.
Closer to kick-off, the date was formerly acknowledged over the PA system, with mention for his wife Olive and kids Tony and Dan (all of whom had been invited to the game along with the extended family) as an image of Foley in that familiar ball-carrying gait was displayed on the big screen.
This prompted a minute-long standing ovation as the Munster players completed their traditional lap after their warm-up.
Heavy rain up until an hour before kick-off ensured the pitch was very greasy before there was that rarity, a clean break with a strike move off the game's first lineout.
Even in defeat last week, Connacht's launch plays were well executed and off Niall Murray's take at the front, Carty used the decoy run of ex-Munsterman Sammy Arnold to hit Mack Hansen up the middle before he linked with Bundee Aki who had Conor Oliver, also returning to his old haunt, on his inside. When Tadhg Beirne went off his feet, Carty opened the scoring.
Connacht's scrum, not unexpectedly, was in difficulty from the off, but Paul Boyle adroitly scooped the ball from between his feet and, but for Zebo racing back and diving full-length, Carty would have executed a 50-22 from inside his own 22.
As it was, he soon did manage the feat, although Munster survived thanks to Gavin Coombes' strength over the ball.
As expected it soon became a feisty affair. When Peter O'Mahony took exception to Boyle trying to retrieve the ball from Niall Scannell after Arnold had won a penalty in the jackal it prompted the first two bouts of scuffling.
Aki wouldn't have been alone in thinking the penalty against him for holding on was ridiculous but, when he came charging again, Cloete was pinged for not releasing, although not for the first or last time in the match Chris Busby showed no inclination to wait for an advantage.
Connacht went to the corner and after the maul was held up and Aki carried up, Tiernan O'Halloran cleverly palmed a loose ball out to Hansen for a finish in the corner, but replays showed the ball had gone forward.
Only Munster's work over the ball, Cloete winning another turnover penalty, was keeping them above water. Cue a big maul and the option to go to the corner, only for Scannell's overthrow to be gathered by Oliver.
It was very stop-start.
Prendergast also thought he had scored from 45 metres but there had been a preceding knock-on, before Arnold was harshly binned for going in higher in a double hit with Aki and clashing heads with Haley. Not even the home crowd could summon much in the way of complaint when the incident was replayed.
Indicative of a patchy first-half performance, initially Munster couldn't translate their numerical advantage into anything tangible. There was a clean break by Conway from Craig Casey's sumptuously disguised left-handed behind-the-back flick, but Carty made the covering tackle and Carbery couldn't gather the low offload.
But the best feature of Munster's game had been Haley's counter-attack, and he ran Crossfield to link with Conway for a trademark grubber.
When a sliding O'Halloran couldn't gather the slippery pill, Munster recycled it and Rory Scannell crosskicked to four unmarked teammates on the left. Beirne tried to trap the ball on the volley before hacking on for Cloete to win the touchdown.
Surprisingly, TMO Brian MacNeice and Busby overlooked the still replay which clearly showed, with the help of the 10 metre line, that Beirne had been in front of the ball when Scannell kick-passed.
Carbery converted to give Munster a flattering 7-6 interval lead, and Connacht could feel rightly aggrieved with the Arnold yellow card and the award of the try.
On the resumption, Munster sought to maximise their advantage by going to the corner but Cloete was held up over the line by Carty, Matthew Burke and John Porch.
From a Coombes charge and offload to Beirne, Munster resorted to a route one, pick-and-jam assault, but when Cloete burrowed toward the line, Boyle won a penalty in the jackal.
However, Dave Heffernan's overthrow went straight to Scannell and a penalty for offside enabled Carbery to make it 10-6.
Connacht weren't done though, going up the line and stretching Munster on both edges after another clever launch saw Heffernan wrap around and hit Blade on an out-and-in line.
Boyle tapped a close-range penalty and when Jean Kleyn and Cloete both went low, he simply dived over them to score but, crucially, Carty's conversion drifted onto the outside of the post.
Connacht mucked up the restart and Munster mucked up another attack before a maul penalty lead to Carbery restoring the home lead.
In one of the season's more unusual entries, Shane Delahunt came on, immediately gathered a Munster overthrow inside his own half, hoofed upfield, saw the ball squirm away from Conway for a 50-22 and punched the air in celebration. Alas, his ensuing throw was crooked.
Even so, Connacht kept coming, Abraham Papali'i putting them on the front foot from turnover ball as they went through the phases up to the Munster 22 before he knocked on.
Whereupon, out of nothing, Carbery took too long in winding up for a downfield punt which was charged down by the alert Carty. He gathered and scored gleefully under the posts before adding a conversion.
Crucially, the referee awarded Fineen Wycherley a turnover scrum when seeming to continue playing the ball on the deck after Ultan Dillane's take.
Coombes tapped one penalty before Munster opted for a five metres and then tapped another after an exhaustive pick-and-jam before, by way of variety, Jack O'Donoghue popped the ball for Diarmuid Barron to plunge over.
Carbery calmly nailed the conversion to nudge Munster in front at the last.
Scoring sequence: 2 mins Carty pen 0-3; 10 mins Carty pen 0-6; 39 mins Cloete try, Carbery con 7-6; (half-time 7-6); 49 mins Carbery pen 10-6; 53 mins Boyle try 10-11; 59 mins Carbery pen 13-11; 69 mins Carty try and con 13-18; 78 mins Barron try, Carbery con 20-18.
Munster: Mike Haley; Andrew Conway, Keith Earls, Rory Scannell, Simon Zebo; Joey Carbery, Craig Casey; Dave Kilcoyne, Niall Scannell, John Ryan; Jean Kleyn, Tadhg Beirne; Peter O'Mahony (C), Chris Cloete, Gavin Coombes. Replacements: Diarmuid Barron for N Scannell, Jeremy Loughman for Kilcoyne, Stephen Archer for Ryan (all 54 mins), Dan Goggin for R Scannell (57 mins), Fineen Wycherley for Kleyn (60 mins), Jack O'Donoghue for Cloete (68 mins). Not used: Neil Cronin, Jake Flannery.
Connacht: Tiernan O'Halloran; John Porch, Sammy Arnold, Bundee Aki, Mack Hansen; Jack Carty (capt), Caolin Blade; Matthew Burke, Dave Heffernan, Finlay Bealham, Niall Murray, Ultan Dillane; Cian Prendergast, Conor Oliver, Paul Boyle. Replacements: Jarrad Butler for Prendergast (47 mins), Shane Delahunt for Heffernan, Abraham Papali'i for Boyle (59 mins), Kieran Marmion for Blade (61 mins), Jack Aungier for Bealham (64 mins), Greg McGrath for Burke, Eoghan Masterson for Dillane (74 mins). Not used: Tom Daly.
Referee: Chris Busby (IRFU)
Macron condemns 'inexcusable' Paris Algeria protest massacre
Macron told relatives and activists on the 60th anniversary of the bloodshed that "crimes" were committed on the night of October 17th, 1961 under the command of the notorious Paris police chief Maurice Papon.

He acknowledged that several dozen protesters had been killed, "their bodies thrown into the River Seine" and paid tribute to the memory of the victims.

The precise number of victims has never been made clear and some activists fear several hundred could have been killed.

Macron "recognised the facts: that the crimes committed that night under Maurice Papon are inexcusable for the Republic", the Elysee said.

"This tragedy was long hushed-up, denied or concealed," it added in a statement.

The rally was called in the final year of France's increasingly violent attempt to retain Algeria as a north African colony, and in the middle of a bombing campaign targeting mainland France by pro-independence militants.

Papon was in the 1980s revealed to have been a collaborator with the occupying Nazis in World War II and complicit in the deportation of Jews. He was convicted of crimes against humanity but later released.
'Much further'
Macron, the first French president to attend a memorial ceremony for those killed, observed a minute of silence in their memory at the Bezons bridge over the Seine on the outskirts of Paris where the protest started.

His comments – that crimes were committed – went further than predecessor Francois Hollande, who acknowledged in 2012 that the protesting Algerians had been "killed during a bloody repression".

However, as expected, he did not issue a formal apology. He also did not give a public speech, with the Elysee issuing only the written statement.

The president, France's first leader born after the colonial era, has made a priority of historical reconciliation and forging a modern relationship with former colonies.

But Macron, who is expected to seek re-election next year, is wary about provoking a backlash from political opponents.

His far-right electoral opponents, nationalists Marine Le Pen and Eric Zemmour, are outspoken critics of efforts to acknowledge or show repentance for past crimes.
Historian Emmanuel Blanchard told AFP that Macron's comments represented "progress" and had gone "much further" than those made by Hollande in 2012.

But he took issue with the decision to pin responsibility on Papon alone, saying that then prime minister Michel Debre and president Charles de Gaulle had not been held to account over the ensuing cover-up or the fact Papon would remain Paris police chief until 1967.
'Looking with lucidity'
The 1961 protests were called in response to a strict curfew imposed on Algerians to prevent the underground FLN resistance movement from collecting funds following a spate of deadly attacks on French police officers.

Some of the worst violence occurred on the Saint Michel bridge near the Notre-Dame cathedral where witnesses reported seeing police throwing Algerians into the river Seine where an unknown number drowned.

Macron's comments come in the midst of an an ongoing diplomatic row between Paris and Algiers fuelled by comments attributed to the president describing the country as ruled by a "political-military system" that had "totally re-written" its history.

READ ALSO: What is behind the diplomatic spat between France and Algeria?
A report commissioned by the president from historian Benjamin Stora earlier this year urged a truth commission over the Algerian war but Macron ruled out issuing any official apology.

Another historical commission set up by Macron also found that France had overwhelming responsibilities over the 1994 genocide in Rwanda, in a finding that has led to a certain thawing in ties between Paris and Kigali.
"France is looking at all its history with lucidity and recognises responsibilities that have been clearly established," the Elysee said.
 
Abueland: 'The nuclear family model has overburdened grandparents' | Society
For families today, having grandparents nearby is a lifeline. Even more so if they are present and "active" grandparents. Because parenting, especially in urban settings, has become a complex challenge in a society that only understands childcare as an individual issue, and one to be addressed with privatization.
Through the cartoon project Abueland (or, Grandparentland), journalist and illustrator Joly Navarro seeks to highlight the value of caregiving departing from the premise that "the personal is political." In her 40 vignettes, she depicts "what seems insignificant and yet is essential for life to move forward" in order to make us reflect on the unseen work of grandparents – without whom it would be even more difficult to raise children in a world in which productivity takes precedence over quality of life. For the illustrator – who has launched a crowdfunding campaign to publish Abueland as a book – the way to find balance is to reconcile ourselves to a more sustainable and slower pace of life, but also to turn generational conflicts into a learning opportunity for one and all.
Question. Your first cartoon was inspired by your own journey into motherhood in 2018. Did your personal experience change your view of raising children?
Answer. I worked in the social sector for over 10 years, and that is where I learned about caregiving and where I began to come up with theories on it. However, the experience of motherhood definitely made me understand it. It's not so much that my vision changed, but that I began to digest what I had assumed. Suddenly, all the people who had taken care of me throughout my life emerged very clearly and I experienced an intense need to appreciate and give value to what they had done.
I would say that in my case, motherhood connected me with all the women in history who have cared and continue to care for me. I felt part of it. And I discovered the way to contribute to this feeling of sisterhood was through illustration and reflecting on the crisis of caregiving.
Q. Abueland is a collection of 40 cartoons that focuses on the social era we are living in from a feminist perspective. How much is personal in these vignettes?
A. Each cartoon focuses on the everyday, on the details that may go unnoticed, on what seems insignificant and yet is essential for life to move forward. And I recognize myself in all of them. However, the situations I portray in the cartoons have not necessarily happened to me. They are a portrait of everyday situations that I observe, listen to and share; they are ones that concern me or that I find funny. They are situations that serve to address issues that are of immense social interest.
The phrase "the personal is political" perfectly defines what I was trying to convey with Abueland: that the care provided by grandfathers and grandmothers transcends the personal to become part of the public sphere.
Q. Many people between the ages of 50 and 70 and beyond provide their grandchildren with a large amount of care. In some cases, it is because they want to and in others, it is because they are forced to. There are also grandparents who are still working or live far away and cannot help even though they would like to. Parenting is not easy without grandparents. Are we aware of the role grandparents play in a country like ours?
A. Yayo Herrero, one of the most influential researchers in the ecofeminist field, talks about the difference in how caregiving duties were divided in the past and the way it is done now. Years ago, community, neighborhood and extended family networks were more common, and childcare was distributed in a balanced way. Now the nuclear family model makes this distribution more difficult and, consequently, grandmothers and grandfathers are overburdened.
Q. Particularly grandmothers…
A. Yes, in Abueland I flag up the role of grandmothers because it is older women, grandmothers, who continue to offer care, whether freely or otherwise. Childcare duties, throughout history, have been assumed by women and our society has undervalued them; this links to the feminization of poverty.
There is a cartoon in Abueland aimed at opening the debate on this situation called El Matrioskado. On the one hand, it is a play on words that prompts us to think about misunderstood matriarchies in which women continue to assume a disproportionate share of caregiving as well as making the decisions. The word also leads us to think about the impact of the patriarchal system. And finally, there is a parallel with the mechanism of a Matryoshka doll [wooden dolls of decreasing size placed one inside another]: if we put it together, we can't see the care that takes place behind closed doors.
Raising children without a network leaves less time for self-care, which can often lead to frustration and stress
Q. Those of us who don't have help from grandparents have built new support networks with friends who have become family. Is it possible to raise healthy children without a network?
A. There's a quote from Carolina del Olmo in her book ¿Dónde está mi tribu? [or, Where's My Tribe?] that says, "Only gods and monsters can be alone; people can't." I think we forget the social nature of parenting and the importance of collectivizing caregiving duties. At least in the city, this is exacerbated by the scarcity of intergenerational spaces conducive to meeting and play.
Raising children without a network leaves, among other things, less time for self-care, which can often lead to frustration and stress. Having people willing to lend a hand allows us to disconnect and so connect with ourselves. But not only that. It allows us to learn from the experiences of others and get a different perspective on motherhood or parenthood. It helps us to understand that there are different ways of parenting and therefore that we should be more respectful. In short, it involves learning that improves the quality of our lives and that of our children, who will internalize the importance of bonding and cooperation.
Q. Is it possible to achieve a balance between paid work and childcare duties?
A. I think it is possible to reconcile ourselves to a more sustainable and leisurely pace of life that allows for the coexistence of paid or unpaid work and caregiving. But this requires revising the gears of a system of production that is incompatible with enjoyment, rest, fairness and care. On the other hand, of course, this is very complicated and many pieces of what is established would have to be moved. And that not only depends on personal change, but also on large-scale change that is slow, and for which there is generally little inclination.
The general solution that we are accepting as valid is the privatization of childcare. But we need a broader long-term vision that will allow us to rebuild a fairer more accessible care system for everyone.
Q. Another question is whether we let grandparents choose their own approach to caring for our children or if we pressure them to act the way we think they should.
A. [US anthropologist] Margaret Mead said back in the 1970s that we had not thought enough about the pressure we put on grandparents to stay out of the way – not to interfere, not to coddle, not to insist. In general, I think we demand too much of ourselves and the pressure we put on ourselves is passed on to our fathers and mothers.
We live in an era of information overload and speed in which excellence is over-valued. In such an environment, we sometimes don't even know how we want to act and we have to make an effort to tune in to our beliefs. On the other hand, not being able to do everything can be frustrating and the accompanying discomfort can spill over into the family.
Q. How do you find the balance between consistency and a more each-to-themselves approach?
A. In my case, I have chosen to put the bond and the emotional well-being that Abueland brings to my children above all else. It is true that sometimes conflicts arise, but in those cases, I think it is important to talk and listen with a good dose of willingness to understand where each one of us is coming from. I also find it interesting to appreciate what the grandparents' experience brings to the children. In fact, it is my father who tells them what life was like in the countryside and what the work consisted of. He tells them about seasonal vegetables and teaches them how to plant fruit trees. In short, he connects them to ways of doing things that I have not experienced.
Abueland's proposal is to approach generational conflicts with humor and, if possible, turn it into a learning opportunity.