Russia flight bans add to crisis in EU skies
Russia has banned some Austrian and French flights, amid disarray in European skies after the Belarus hijacking.
Austrian Airlines and Air France cancelled flights to Moscow on Wednesday and Thursday (27 May) when Russia denied them permission to divert around Belarus, in line with new EU sanctions.
Russia did so because "politicisation" of flight routes was "unacceptable and would be dangerous in terms of aviation safety", Russia's ambassador in Vienna, Dmitry Lyubinsky, said on Facebook.
The EU was wrong to have accused Belarus of "air piracy" before any investigation had taken place, he added.
"The speedy, fully-fledged normalisation of the air traffic regime between Russia and Austria is in our common interests," he also said.
But that would be handled bilaterally and Russia would not bow to "political pressure," he added.
Lyubinsky's Facebook post was the only official Russian comment on its new air policy.
But Russia's Belarus-diversion ban has been selective because British Airways and Dutch carrier KLM were allowed to do it.
"It's an attempt to split European unity by applying pressure to individual airlines," an EU diplomat said.
"Air France probably has a lot of overflights via Russia to Asia, so Moscow is counting on the French getting scared and giving into its blackmail," he added.
"[Russian president Vladimir] Putin shows full solidarity with [Belarusian president Alexander] Lukashenko. EU airlines avoiding Belarusian airspace are now banned from entering Russian airspace," Norbert Röttgen, a senior German MP, also said on Russia's decision.
"If you still had doubts whether Putin at least tolerates Lukashenko's state terror, this is your answer," he said.
EU leaders declared a Belarus air-ban on Monday after one of Lukashenko's Mig-29s forced down a Ryanair passenger plane flying from Athens to Vilnius to seize a political activist.
EU-based airlines were subsequently "recommended" to avoid Belarus airspace by the European Aviation Safety Agency, an EU regulator in Germany.
A few non-EU carriers, such as Singapore Airlines and Japan's ANA, have also followed EASA's guidance.
Meanwhile, EU officials are drawing up a legally binding ban on Belarusian planes entering EU countries' airspace.
Some EU capitals have already notified Eurocontrol, an international body in Brussels which handles European air traffic, that Belarusian planes were not welcome, but EU institutions do not know which of the 27 member states have done so.
And all that added up to a crisis in European skies, where some 400 civilian planes used to fly over Belarus every day, some 100 of which were operated by EU or UK airlines, according to Eurocontrol data.
Lukashenko's hijacking also has the potential to cause long-term disruption.
The UN's International Civil Aviation Organisation (ICAO) in Montreal, Canada, has the power to expel Belarus from the '1944 Chicago convention' on air safety.
"These unacceptable actions were an attack on European aviation security and put in danger the lives of the passengers and crew as they traveled between two EU capitals," Irish transport minister Eamon Ryan told an emergency ICAO meeting on Thursday.
If the ICAO did expel Belarus, its planes might not be able to fly anywhere.
But on the other hand, "if ICAO reacts in a soft way, this could encourage other autocrats in the world, and there are many of them, to ignore and disregard the international community," Elmar Giemulla, an aviation lawyer, told British newspaper The Guardian.
"If this [Belarus-type hijacking] spreads all over the place, we can forget international aviation," Giemulla, who, in the past, represented families from the MH17 flight disaster, said.
Economic sanctions
The EU is also preparing to impose its first-ever economic sanctions on Belarus, foreign ministers said at informal talks in Lisbon on Thursday.
These will target Belarusian exports of fertiliser and oil products to Europe, which are worth €2bn a year, compared to the €85m that Lukashenko gets from overflight fees.
They will also strike Belarusian banks, German foreign minister Heiko Maas said.
"We are talking about … to what extent Belarus should be allowed in future to issue bonds, by the state or the central bank, in Europe," he said.
If Lukashenko did not release the activist, Roman Protasevich, whom he snatched off the Ryanair jet, as well as other prisoners, "this will be only the beginning of a big and long spiral of sanctions," Maas said.
Friends of Lukashenko
But for his part, Lukashenko accused Protasevich of plotting "bloody revolution" and the West of waging "hybrid war" against him in a speech in parliament.
The Belarusian leader is to meet Putin in Sochi on Russia's Black Sea coast on Friday.
And if Lukashenko looked isolated on the world stage, then he had another friend in the Black Sea region, it emerged, after Turkey's autocratic president, Recep Tayyip Erdoğan, watered down a Nato statement on Belarus earlier this week.
A draft Nato communiqué had called for sanctions, including Belarus' expulsion from a Nato cooperation project.
But Turkey vetoed that, according to two diplomats who spoke to the Reuters new agency on Thursday.
And the final Western allies' statement was more dovish.
Covid-19: Valencia health chief concerned over rise in coronavirus infections among tourists in Benidorm | Society
Coronavirus infections among tourists visiting the city of Benidorm, on Spain's Mediterranean coast, have risen sharply since October 5, according to the Valencia regional health chief Ana Barceló. But the politician, speaking on Tuesday, sought to avoid causing alarm with the news.
The incidence of the coronavirus in the city, which is located in Alicante province, is currently at 286 cases per 100,000 inhabitants over the previous 14 days, compared to the average in Spain of 46 and 49 in the Valencia region as a whole, according to the latest Health Ministry data released on Monday evening.
Of the latest cases detected in Benidorm, 53% were among the foreign population. British tourists usually account for 45% of the population of the city, although that number is currently at around 24%. In recent weeks that percentage has been rising, now that Covid-19 restrictions on travel have been relaxed.
There is no reason to create concern, either among the tourists who are currently visiting us nor among residents

Toni Pérez, mayor of Benidorm
In the United Kingdom, coronavirus infections have recently shot up once more and the situation is of great concern to health experts. The 14-day incidence in the UK is currently 928.22 per 100,000 inhabitants, according to data released on Sunday. There is currently no legal obligation in England to wear masks in any situation, although they are still necessary inside stores and some other indoor settings in Northern Ireland, Wales and Scotland.
On Tuesday, Barceló expressed the "concern" of her department given the situation in Benidorm and announced that there will be "monitoring in order to adopt measures if necessary to control the situation presented in the city." She added that the infection curve began to rise on October 5, coinciding with the arrival of mostly British tourists, although there have been recorded cases among visitors from other countries as well.
There has not been any rise in hospitalizations in Benidorm due to Covid-19, meanwhile, nor in the surrounding areas. The majority of tourists visiting the famous city are supposedly vaccinated against Covid-19 before arrival.
For now, Barceló – a member of the PSPV-PSOE, the Valencian branch of the Socialist Party (PSOE) – has ruled out modifying the system for monitoring the cumulative incidence, in order to include the floating population as well as official residents. This has been called for by the Benidorm city council, which is run by Mayor Toni Pérez of the conservative Popular Party (PP), as well as the tourism association Hosbec.
On Monday, Pérez pointed out that there are 75,000 people officially residing in Benidorm while in reality the city is home to 180,000 citizens – "three times more," he stated. He insisted that the real coronavirus incidence is "very different from what is being published by the health authorities." If the regional health chief examined the data according to the real population levels, he continued, the city of Benidorm would "be in the ballpark of the figures from any other municipality in Spain."
The mayor expressed his concern for the message that is being conveyed about Benidorm and added that "there is no reason to create concern, either among the tourists who are currently visiting us nor among residents," because "safety is a priority for us."
In a statement, Hosbec also said that the incidence data for Benidorm should be "qualified and extrapolated to the effective population," given that the data being supplied does "not reflect the real situation and creates distortions that damage the image of the destination."
The association added that if the figure of 180,000 inhabitants is used, the cumulative incidence would come in at 100 cases per 100,000 inhabitants, something that "is more in line with the real situation, and would dispel any situation of concern."
Barceló explained on Tuesday that the regional health department takes into account positive cases that are detected independently of where they take place, because even if they are among tourists "they can infect others just the same" while they are residing in the area. She insisted that they must be included in the data even if they push up the cumulative incidence, and that the region's health authorities have to register them independently of the person's country of origin.
She added that it is very difficult to determine the exact numbers of the floating population, and that not even local councils have up-to-date, accurate figures.
Sources from Benidorm council, meanwhile, claim to have a very accurate daily estimate of the number of visitors to the city thanks to the consumption of water and the amount of trash that is generated. What's more, they say that they have been monitoring the current situation of the pandemic in the main countries from which their tourists travel.
'The Taliban killed a midwife who refused to leave a woman in labour' | Afghanistan
When Afghanistan's first midwife-led birth centre opened in the impoverished district of Dasht-e-Barchi in western Kabul this year it was a symbol of hope and defiance.
It began receiving expectant mothers in June, just over a year after a devastating attack by gunmen on the maternity wing at the local hospital left 24 people dead, including 16 mothers, a midwife and two young children.
For Zahra Mirzaei, its launch – along with a second birth centre in the east of the capital – marked the culmination of a decade advocating for women's birth rights.
As president of the Afghan Midwives Association (AMA), Mirzaei was instrumental in establishing the midwife-led units promoting an ethos of respectful, bespoke care away from an over-medicalised setting.
"In our country this approach to pregnant women is groundbreaking and there was a great feeling of hope when we opened our doors," she says.
"Women who had previously experienced undignified, low quality care in poorly staffed hospitals were pleasantly surprised to discover there is another way of doing things."
The units in Dasht-e-Barchi and Arzan Qimat were established with technical support and training from the Europe-based Midwifery Unit Network (MUNet) and funding from two NGOs which we cannot name for security reasons.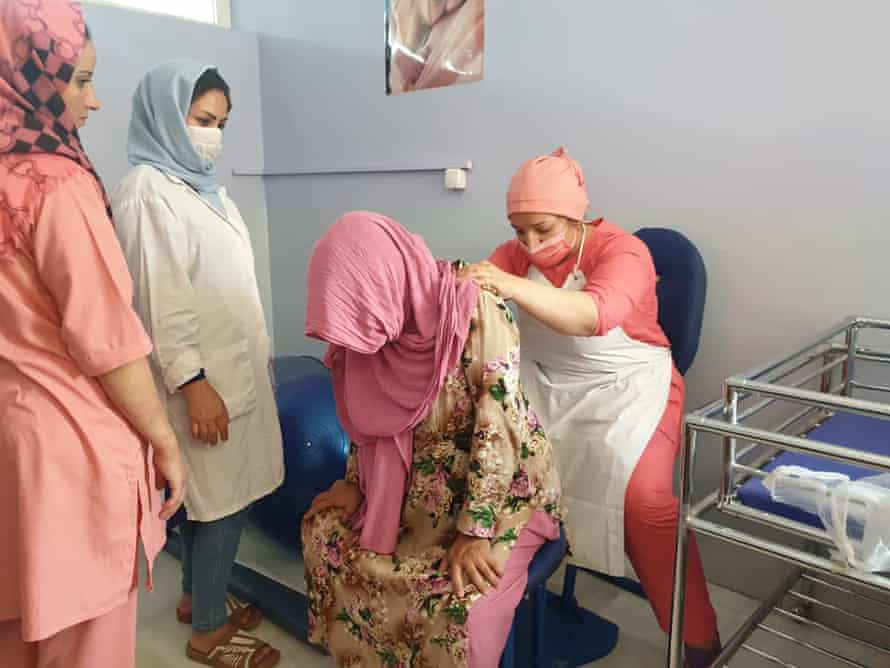 In the initial weeks the centres, staffed with a total of 75 midwives, were each welcoming 10 to 13 newborns a day. But as word spread, increasing numbers arrived and this soon climbed to 25 to 30.
By late July, Mirzaei was preoccupied with how to manage the rise in cases. But her work was overshadowed by a growing awareness of the Taliban's military offensive, which had gathered unexpected pace.
News of the Afghan government's imminent collapse amid the withdrawal of US troops was, to Mirzaei, personally and professionally shattering.
"Suddenly everything I had worked tirelessly for was under threat," she says. As a Hazara Shia and a longstanding campaigner for women's rights, the 33-year-old knew she and her three children were at risk.
"Previous Taliban governments have killed thousands of Hazara people without any reason. Also I knew my feminist work and belief in women's equality would never be accepted by the Taliban regime," says Mirzaei, who in 2020 was named one of 100 outstanding female nurses, midwives and leaders providing health services in difficult times by Women in Global Health.
As the US and its coalition partners scrambled to airlift thousands of people from the country, warnings were filtering through from Mirzaei's home town that she was a potential Taliban target.
On the day Kabul fell, plunging the country into turmoil, she left her office for the last time, fleeing in such a hurry she was unable to collect her shoes. "We didn't expect the situation to escalate so fast," she says.
Later that night she was woken by the sound of her eight-year-old daughter sobbing: "I went to her and she said: 'Mummy, I'm scared that when I'm 12 the Taliban will come and take me to get married and I won't be able to go to school.' That was so painful to hear that I promised there and then to get us out."
After calling every contact she could think of, she heard from a friend in the US who could help. Mirzaei left home with her family at 1am on 23 August, still wearing the flimsy slippers in which she'd fled her office.
They spent a harrowing 12 hours waiting in a sewer near the airport before being rescued by US troops and airlifted to Qatar. From there they were transferred to a refugee camp in southern Spain.
Speaking from the Spanish naval base in Rota, Mirzaei explains how leaving Afghanistan also meant, regrettably, stepping down as president of the AMA.
While she was heartbroken to give up the role, she remains a member of the advisory board and is working remotely to support the organisation including her successor – a woman from a different ethnic group who is more likely to be accepted by the regime.
---
As the eighth girl of 10 siblings, Mirzaei understood from a young age that boys and girls were not seen as equal. "I had two brothers but my father wanted more boys and it made me sad girls were not allowed to reach their full potential in our community."
Growing up in the province of Sar-e Pol, where poverty was widespread and literacy rates were poor, 16-year-old Mirzaei found education opportunities were limited.
An encounter at the local hospital set her on the path to becoming a midwife. In the waiting room she witnessed a woman desperately searching for a midwife only to be abused by a health worker.
"This incident really affected me – the way they treated her was shameful. When I saw the doctor I asked her what a midwife was and why it was so important.
"I liked the sound of midwifery – it spoke to the feminist in me. That kind doctor changed my life by explaining how I could enrol on a community education midwife programme."
A year later Mirzaei graduated with a diploma having already joined the AMA as a student. "I was inspired by its plans for improving the profession. For me the most important thing was for women to receive evidence-based, respectful maternity care."
But starting out as a hospital midwife in 2006 she was concerned by what she saw.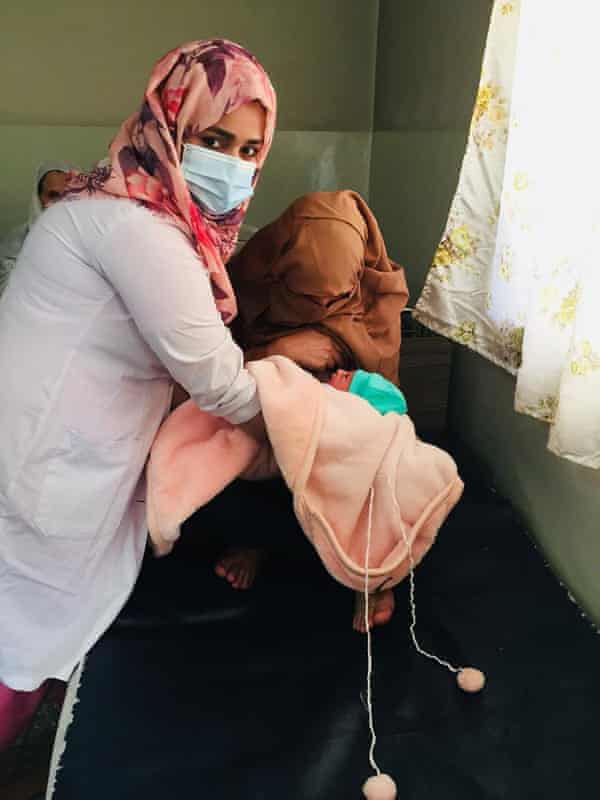 "There would be 150 deliveries a day in a hospital with only four or five midwives. Women would be left to give birth in the corner or in the toilet. The most painful thing was seeing how exhausted the midwives were – they couldn't support pregnant women emotionally and there was even physical abuse."
While women in remote areas typically give birth without medical assistance, or sometimes with a midwife, childbirth in urban hospital settings is highly medicalised.
"These facilities are staffed by doctors who don't seem to know their job description because they are overrun dealing with straightforward births," says Mirzaei. "The care is dehumanised and the use of hormone drips and episiotomies is routine practice."
Afghanistan has one of the highest maternal mortality rates in the world, although the number of women dying in childbirth has slowed from 1,450 per 100,000 live births in 2000 to 638 in 2017, according to UN data.
In 2012 Mirzaei became a provincial director for the AMA and later moved to Kabul to coordinate a midwives' mentorship programme for the organisation.
She joined a small but growing cohort to achieve a BA in midwifery after graduating from Zawul Institute of Higher Education in 2016. Two years later she was elected president of the AMA and made it her mission to establish midwife-led units.
The model would move away from medical interventions towards a focus on active birth, skin-to-skin contact and early breastfeeding.
In 2003 there were just 467 midwives operating in Afghanistan – the severe shortage brought about by the Taliban's ban on educating girls and women during the preceding years. This figure has since grown to 6,376 currently in clinical practice.
A 2018 Afghanistan Health Survey found just a fifth of pregnant women had received the recommended four antenatal care visits and fewer than 60% of births were overseen by a skilled healthcare professional.
There were 119 attacks by terrorist groups on healthcare facilities in Afghanistan in 2019, according to the World Health Organization. Then in May 2020 came the massacre at the maternity ward of the Dasht-e-Barchi hospital.
Among the dead was a midwife colleague of Mirzaei, Maryam Noorzad. "She was killed because she refused to leave a woman alone in labour. The baby was coming and after it was born a gunman entered and killed all three of them."
Not only was the attack a horrific crime against pregnant women, babies and hospital staff – it was also a devastating assault on decades of work to reduce maternal and newborn mortality in Afghanistan.
Despite the security fears, the AMA wanted to establish one of the midwife-led units in the same district to plug the gap left by the attack on the hospital, where there had been 16,000 babies born in 2019. Many of the midwives who survived the 2020 attack were among the highly trained staff taken on by the AMA to run the new centres.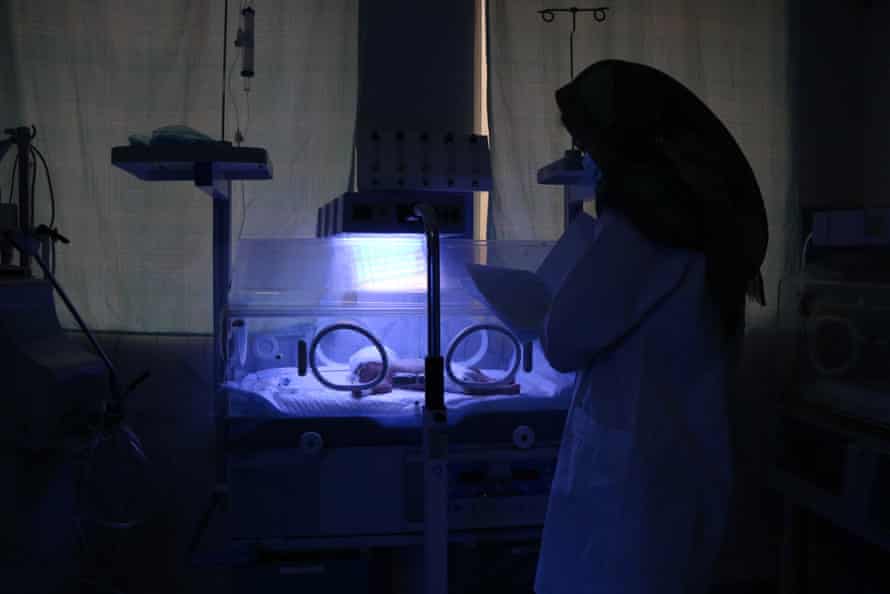 The success of the centres relies on one-to-one care and requires numbers to be kept at a manageable level. To meet the demand it was Mirzaei's ambition to open more units across Kabul and beyond.
But for now, at best, her dream is on hold. The centres closed after the Taliban takeover and while one has recently reopened many staff remain too fearful to go to work. Some midwives have already been interrogated by the Taliban for moving around without a chaperone.
The UN Population Fund (UNFPA) has estimated that without immediate support there could be 51,000 additional maternal deaths between now and 2025.
In Spain, Mirzaei is preparing to fly to the US to start the next chapter of her life. Her immediate future is uncertain but she has accepted an offer to study global maternal health at City, University of London, which she's had to defer until she can arrange a visa.
"Every day I open my phone and look at photos that were taken at our birth centres. It gives me hope. Their immediate success rests on the wider political situation but we will not cease our efforts to do everything we can for girls and women in Afghanistan."
Many midwives who have campaigned for women's rights in Afghanistan now find themselves targeted by the Taliban and have been forced into hiding, while others are at risk because of their ethnicity. The Association of Radical Midwives is raising funds to help those seeking to settle in the UK. To donate please visit this crowdfunding page.
EU to open new mission in Kabul
The EU foreign service is to open a mission in Kabul by the end of November, the FT reported Sunday, citing sources. The representation would not be an embassy, as the EU has not recognised the Taliban government. The EU office is also to be used by member states' diplomats. "There's only so much you can do from Doha," a source said. China, Russia, and Turkey never closed their embassies.